Have you ever wondered how to make a flyer for a business that grabs the attention of your target audience and drives results?
Well, you're in the right place! Here, we will provide you with a step-by-step guide on how to make a flyer that effectively promotes your business and leaves a lasting impression on potential customers.

Let's dive in and discover the secrets to designing an eye-catching flyer that gets your message across and boosts your business's visibility.
---
Table Of Contents:
---
---
What is a Business Flyer?
---
A business flyer is a printed promotional material typically used to advertise a company, its products, services, or special events. These single-page documents are designed to capture the attention of potential customers and convey key information in a concise and visually appealing manner.
They can be distributed in various ways, such as through direct mail, handed out at trade shows, displayed in store windows, or shared digitally through email and social media. The primary goal of a business flyer is to generate interest and drive action, whether it's making a purchase, attending an event, or contacting the business for more information.
---
Why Should You Make a Business Flyer?
---
Creating a business flyer offers numerous advantages for any company seeking to promote its products or services effectively. Firstly, flyers are cost-efficient marketing tools, making them accessible to businesses of all budgets. They provide a tangible and versatile means of communication, allowing you to convey essential information, such as your business's offerings, contact details, and special promotions, in a visually appealing format.
Business flyers also have a wide distribution reach, whether through physical handouts or digital sharing, helping you reach a broader audience. Moreover, they can be customized to align with your brand identity and messaging, reinforcing your business's image.
Ultimately, crafting a business flyer enables you to boost brand visibility, attract potential customers, and drive engagement, making it a valuable addition to your marketing strategy.
---
What Should Be Included in a Business Flyer?
---
When it comes to creating a powerful business flyer that captures attention and delivers results, the ingredients you include can make all the difference. Let's discuss about important elements to include in a business flyer.
Compelling Headline: Create a catchy and concise headline that grabs the reader's attention.
Eye-Catching Graphics: Use visuals like images, logos, or illustrations to enhance the flyer's visual appeal.
Business Logo: Place your company's logo prominently to reinforce brand identity.
Contact Information: Include essential contact details such as phone numbers, email addresses, and physical or web addresses.
Key Message: Clearly convey your main message or offer. Make it concise and easy to understand.
Call to Action: Encourage readers to take a specific action, such as making a purchase, visiting your website, or contacting you.
Promotional Details: If applicable, include information on discounts, promotions, or special offers.
Event Information: For event flyers, specify the date, time, location, and any relevant details like RSVP instructions.
Social Media Icons: Include icons or links to your social media profiles for additional engagement.
QR Codes: Add QR codes that link to your website, online store, or promotional video.
Brief Bio: Provide a brief overview of your business, its history, and values.
Images of Products/Services: Display high-quality images of your products or services in action.
Remember that the content and elements you include should align with your flyer's purpose and target audience.
---
How to Choose the Right Business Flyer Size?
---
Selecting the right business flyer size is a crucial element of creating effective marketing materials. The choice of size impacts how well your message is conveyed, how your design is perceived, and how your audience engages with your flyer.
There are several standard flyer sizes to choose from, each with its advantages and use cases: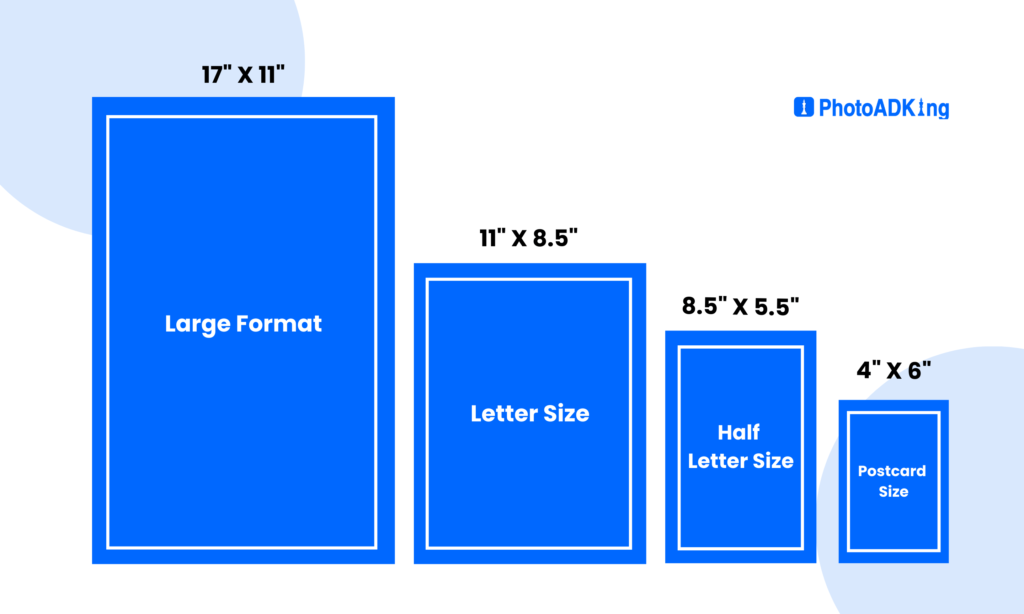 Letter Size (8.5 x 11 inches): This is one of the most common sizes and is easily recognizable. It provides ample space for detailed information and visuals. Letter-sized flyers are great for in-depth product descriptions, event details, or informative content.
Half-Letter Size (5.5 x 8.5 inches): Smaller than letter size, this option is more portable and budget-friendly. It's suitable for concise messages, quick promotions, or when you want to target a specific niche.
Postcard Size (4 x 6 inches or 5 x 7 inches): These sizes are compact and ideal for direct mail campaigns or handing out at events. Postcard-sized flyers are often used for event invitations, product launches, or brief announcements.
Large Format (11 x 17 inches or larger): These sizes are eye-catching and perfect for attention-grabbing visuals. Large-format flyers are excellent for display purposes, such as posters or window advertisements.
The right business flyer size depends on your objectives, content, audience, and budget. Carefully assessing these factors will help you choose the size that optimizes the impact of your marketing materials and ensures your message effectively reaches your target audience.
As we have covered flyer design elements and flyer size information, we will move to the next topic which is the steps to create a business flyer.
---
Steps to Create a Business Flyer
---
Step 1: Sign Up With PhotoADKing
Go to photoadking.com and sign up for free or log in if you already have an account.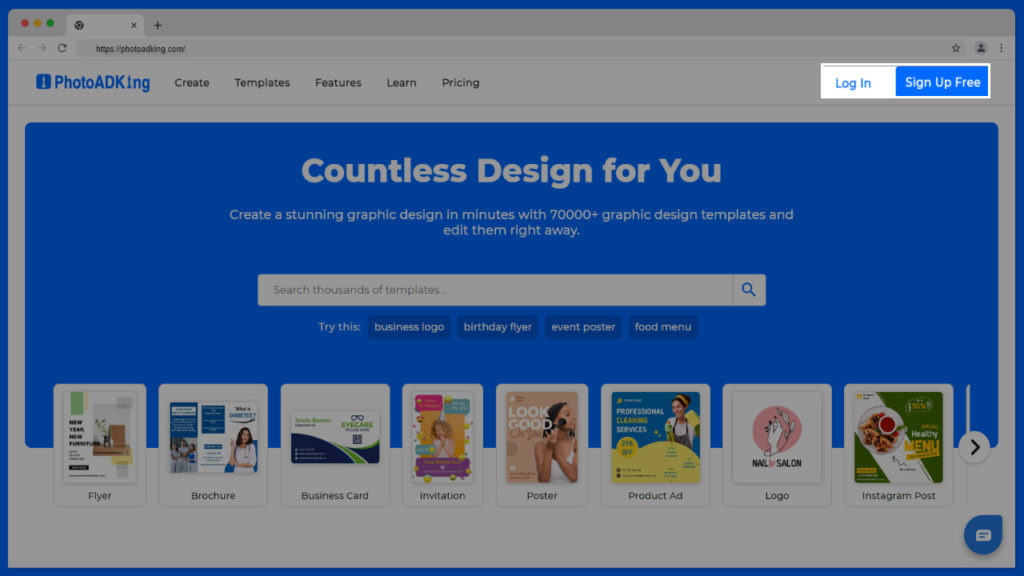 Step 2: Search For a Business Flyer Template
Visit PhotoADKing and you will find the search bar at the top side of the page. Write "Business Flyer" in the search bar and it will show you a variety of business flyer templates.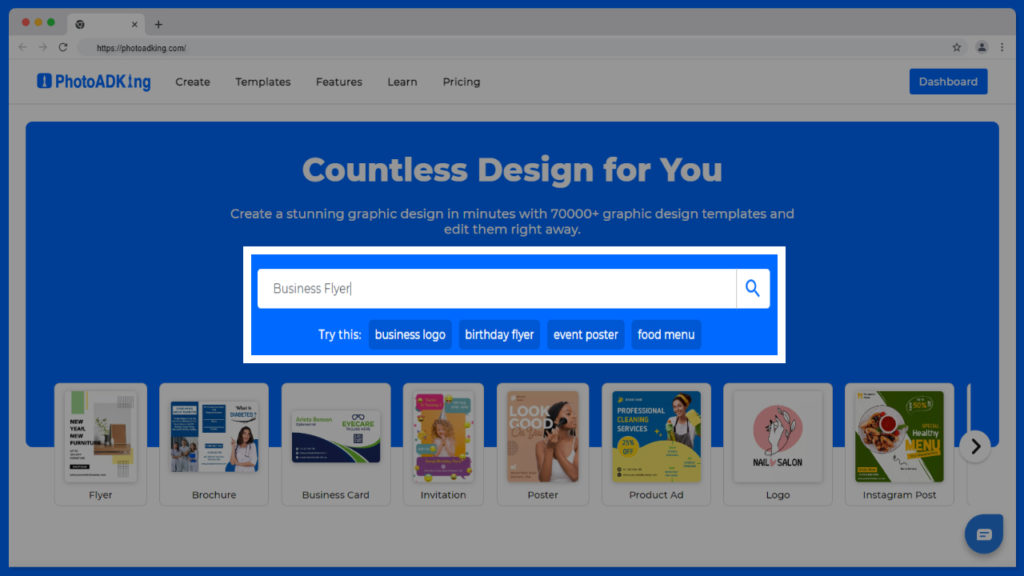 Step 3: Select a Business Flyer Template
Choose a business flyer template as per your business requirement from a wide variety of business templates. These templates are easily customizable with the editor.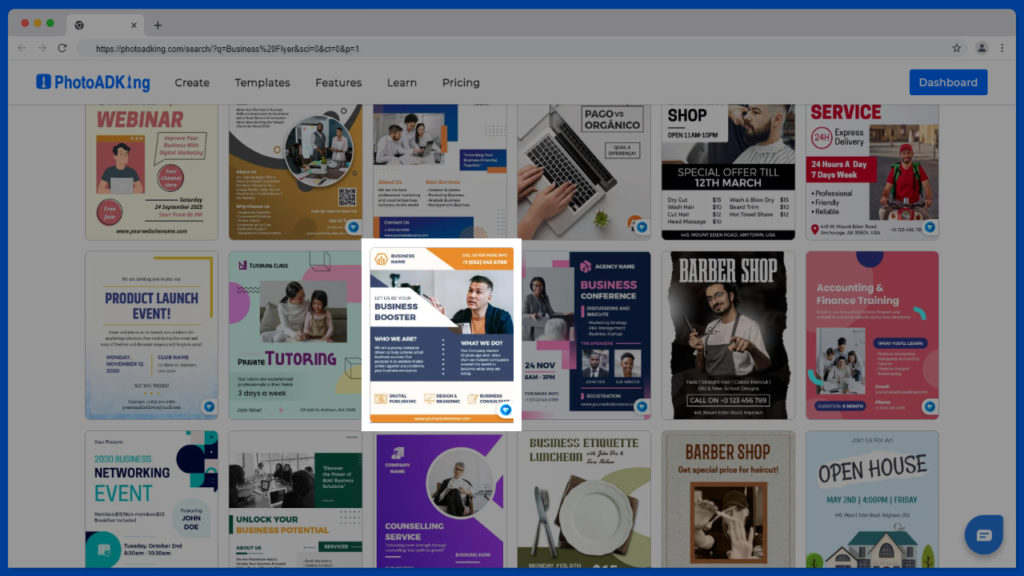 Step 4: Customize the Template
Customize your selected business flyer template as per your need. You can make any changes whether you want to change the background or want to add text, you can edit this template as per your choice.
Here we will see how to change different elements of a business flyer:
Change Logo:
You can add your own logo by uploading your logo to the editor. Go to the "Upload" section and upload your logo image.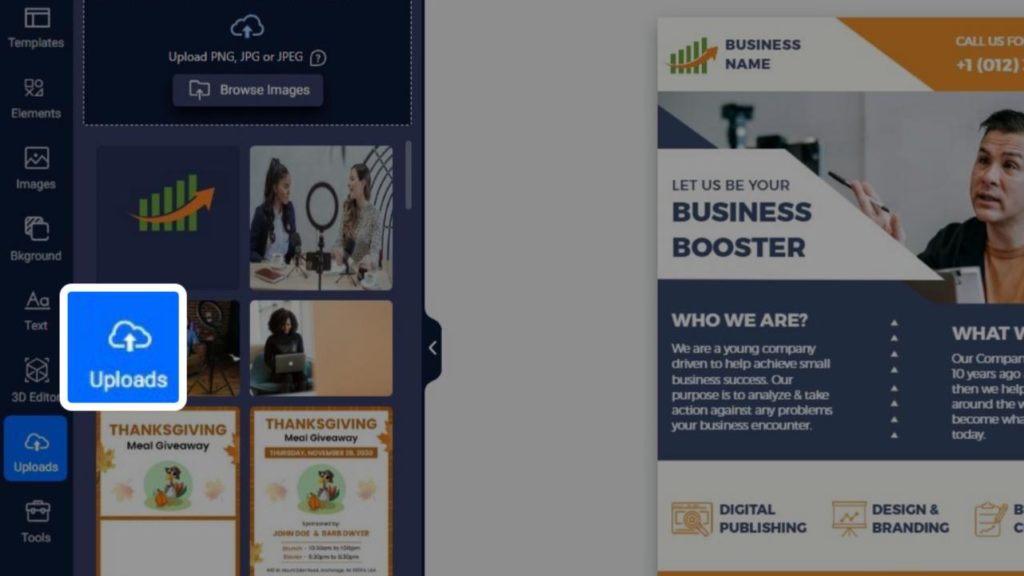 Change Background Color:
If you want to add your branding color to the template, then click on the "Background" section. You will find different color options there. Select a color you want to apply.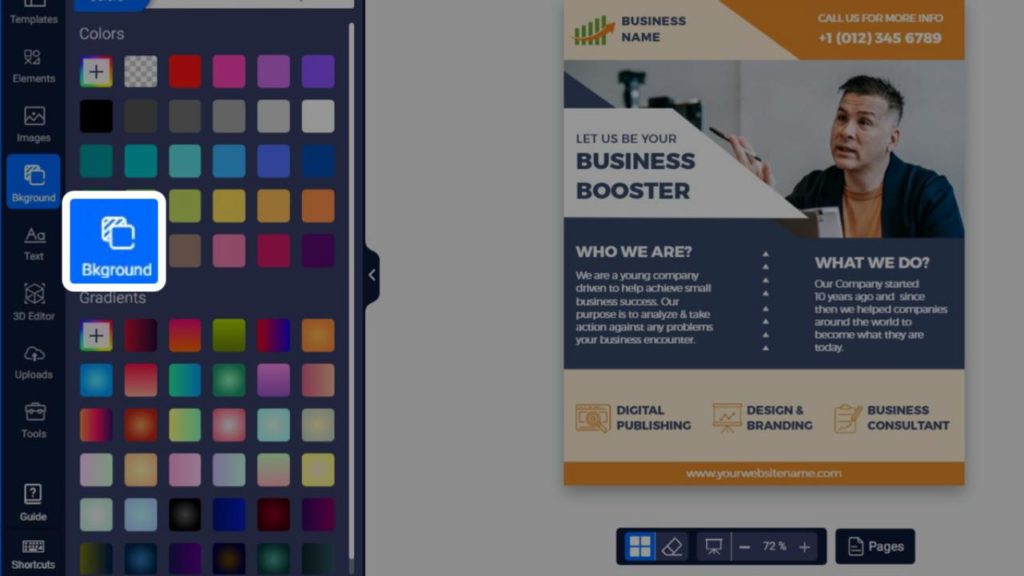 Edit Text:
Change text as per your requirement. Select the text you want to edit and you can change it's font style. You can also add new text by clicking on the "Text" section on the left side panel. It will show you different types of text styles.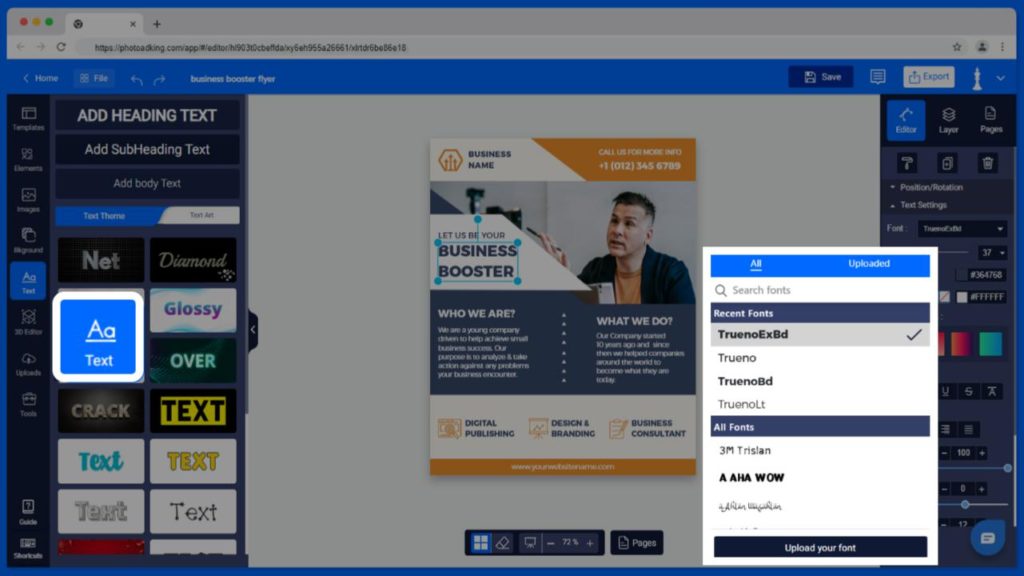 Add or Change Element:
Go to the "Element" section on the left side panel to add or change elements. There, you will have different types of elements such as shapes, stickers, and icons.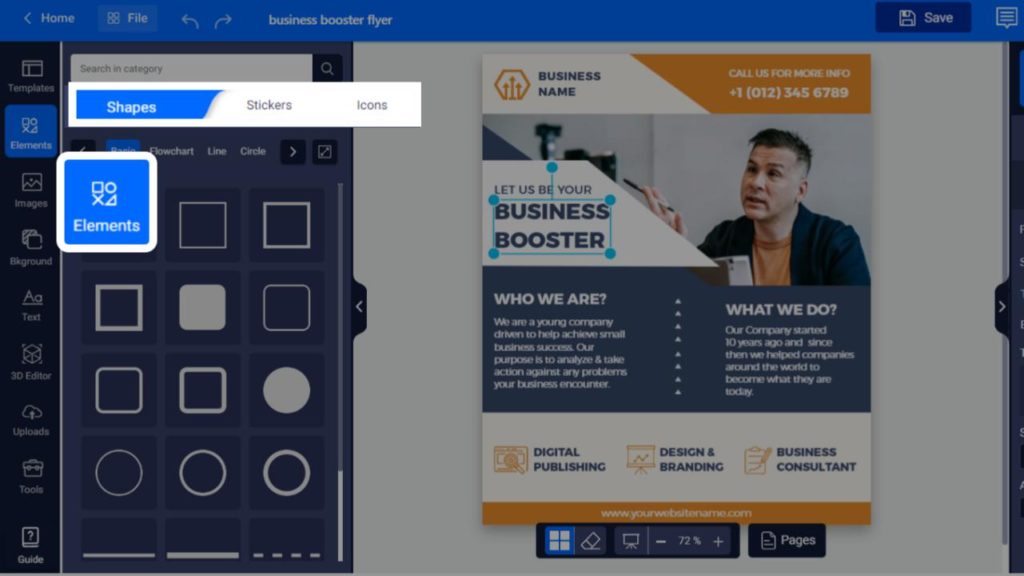 Step 5: Save Your Flyer
After you have completed the customization process, save your business flyer design. So, you can re-edit it in the future.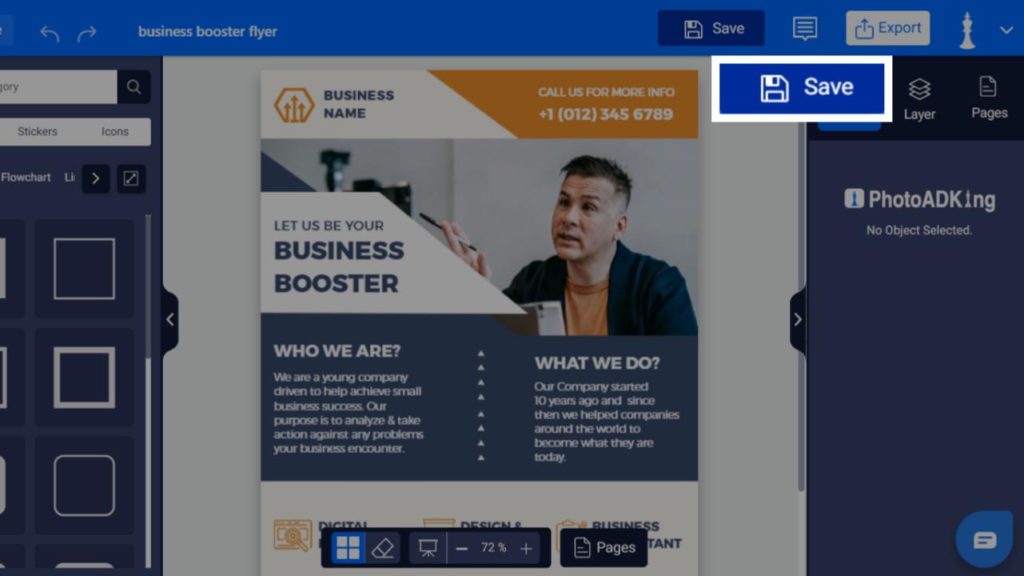 Step 6: Download and Share Your Flyer
Download your flyer in JPG, PNG, or PDF format. Also, you can share your flyer design online via Facebook, Instagram, Twitter, LinkedIn, Whatsapp, Email, and Pinterest.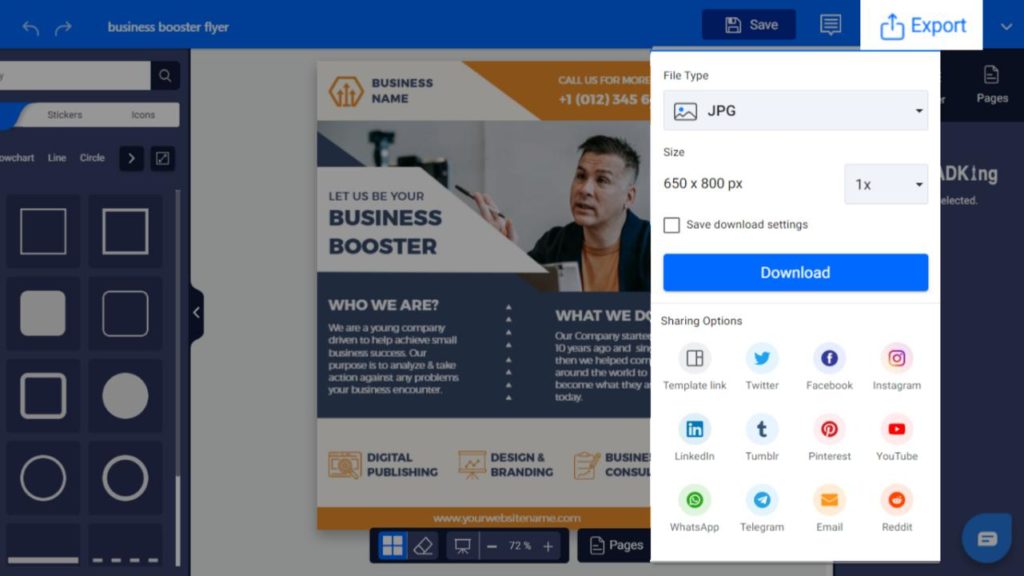 By following these steps, you can easily make a flyer with business flyer templates. After designing your flyer, you might be thinking about printing and distribution. That's why next, we will give you details on flyer printing and distribution.
---
Business Flyer Printing & Distribution Techniques
---
When it comes to making a lasting impression on your target audience, the quality of your flyer printing plays a pivotal role. In this exploration of flyer printing, we'll delve into the essential aspects that contribute to crafting the perfect flyer.
Selecting the Right Printing Method:
Offset Printing: Ideal for large print runs, offering sharp and vibrant results.
Digital Printing: Suited for smaller quantities, cost-effective, and provides quick turnaround.
Online Printing Services: Convenient, often offering design templates and customization options.
Choosing the Appropriate Paper Stock:
The choice of paper stock can significantly influence the look and feel of your flyer. Consider factors such as paper weight, finish (glossy, matte), and texture to align with your brand and message.
Print Quantity:
Determine the number of flyers you require based on your budget and distribution plan.
Proofreading and Quality Control:
Before proceeding with mass printing, meticulously proofread all content to eliminate errors. Ensure that design elements are accurately represented.
Finishing Options:
Consider finishing touches such as laminating, embossing, or die-cutting to add a professional and unique touch to your flyers.
Distribution Techniques:
Direct Mail: Send flyers through postal services to targeted mailing lists.
Street Distribution: Hand out flyers in high-traffic areas, events, or public spaces.
In-Store Placement: Display flyers at your business location or partner establishments.
Bulletin Boards: Utilize community bulletin boards in libraries, cafes, and local businesses.
Digital Distribution: Share electronic versions of your flyer on your website, email newsletters, and social media platforms.
Recommended Blogs:
Business Flyer Examples
Business Flyer Layout
Logo Ideas for Business
Business Flyer Samples
Business Flyer Background
10 Branding Designs To Business Start-Up
Standard Business Card Size
Business Card Examples
Business Card Ideas
How To Create A Business Cards
What Is A Flyer? – Definition, Purpose, & Components
Flyer Design Ideas
Flyer Samples
How to Make a Flyer
How to Create Flyers With AI Flyer Maker Tools
Flyer Background
Flyer Design Tips
How to Choose a Color Palette for Flyer
10 Basic Flyer Design Principles
Beginner Guide on Flyer Design
Flyer Purpose
How to Choose a Gradient Color Scheme for Flyers
Flyer Marketing Strategy
Different Types of Flyer Designs
How to Add a QR Code to a Flyer
How to Choose Right Typography for Flyer
---
Conclusion
---
In conclusion, mastering the art of how to make a flyer for a business is a valuable skill for any entrepreneur or marketer. This guide has walked you through the essential steps, from setting your objectives to selecting the right design elements and crafting a compelling message. Online tools like flyer maker can be useful for creating engaging business flyers easily. As you embark on your flyer-making journey, remember that a well-designed flyer has the potential to be a game-changer for your business.
So, embrace your creativity, put these strategies into practice, and let your flyers become powerful assets in promoting your business and achieving your marketing goals.

---
FAQs
---
What is the recommended size for a business flyer?
The ideal flyer size can vary based on your specific goals and distribution method. Common sizes include letter size (8.5 x 11 inches) for detailed information and postcard size (4 x 6 inches) for concise messages. Choose a size that suits your content and target audience.
How can I make my business flyer visually appealing?
To create an attractive flyer, focus on high-quality graphics, a consistent color scheme, and eye-catching design elements. Use professional images and ensure a clean, organized layout that highlights your message.
What information should I include on a business flyer?
A business flyer should include essential details like your business name, logo, contact information (phone, email, website), a compelling headline, key benefits or features of your product/service, and a clear call to action (CTA).
How can I distribute my business flyers effectively?
The distribution method depends on your target audience and goals. Options include direct mail, street distribution, in-store placement, bulletin boards, and digital sharing through email or social media. Choose methods that align with your audience's behavior.