Need a new business card design? Don't know how to design a business card on your own? Don't worry! Here is the solution.
Now create professional business cards with PhotoADKing's Business Card Templates without requiring any professional's help is possible.
A business card is still an inevitable piece of professionalism preserved by small & large businesses. Also known as visiting cards, business cards were typically used for intros & collaborations. They're now more than a rectangle holding contact information. Modern business card designs are more about brand image & focused as a potential marketing tool.
Taking this into account, we're here with some much-needed upgrades with changing trends. Here you -go! As you explore these tips, you're halfway done with how to design visiting card.
How To Design Business Cards In 3 Steps?
If how to create business cards online is your question, PhotoADKing is the answer. It's just a three-step process.
Steps By Step:
1. Scroll through the latest business card templates & select the one you like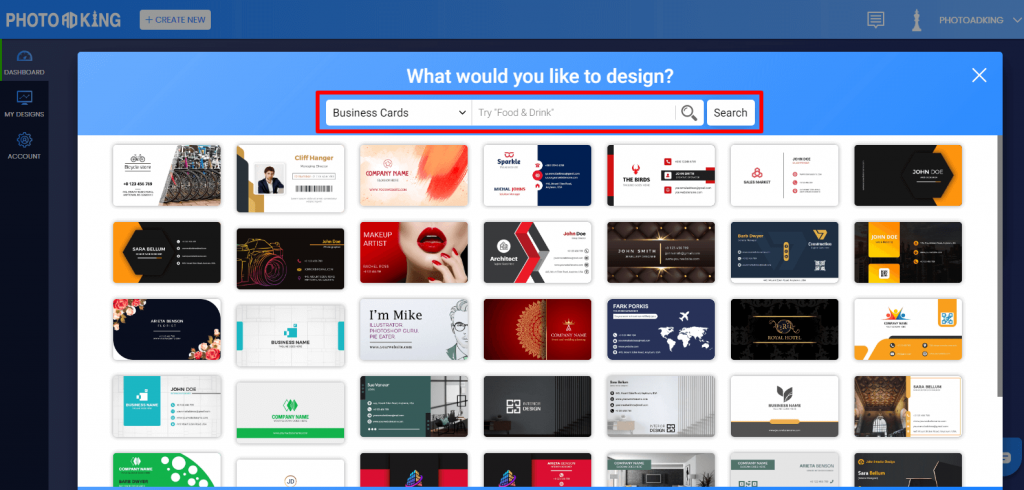 2. Edit it with PhotoADKing's powerful template editor with all the essentials at drag & drop distance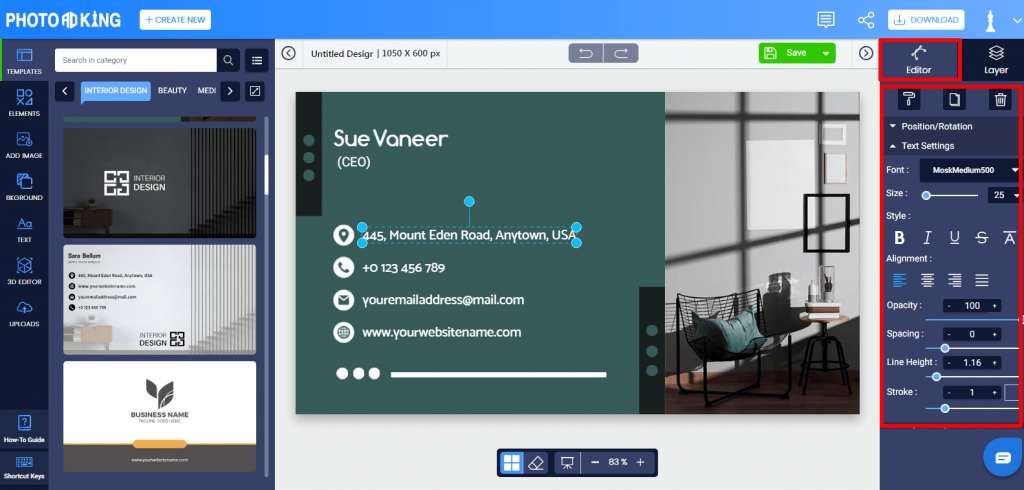 3. Download the final business card design in high-quality format & save your digital copy too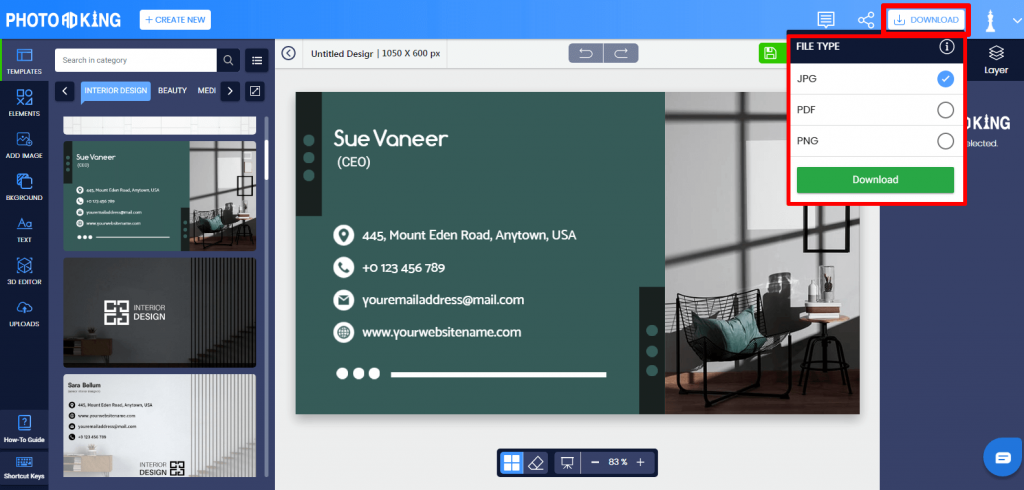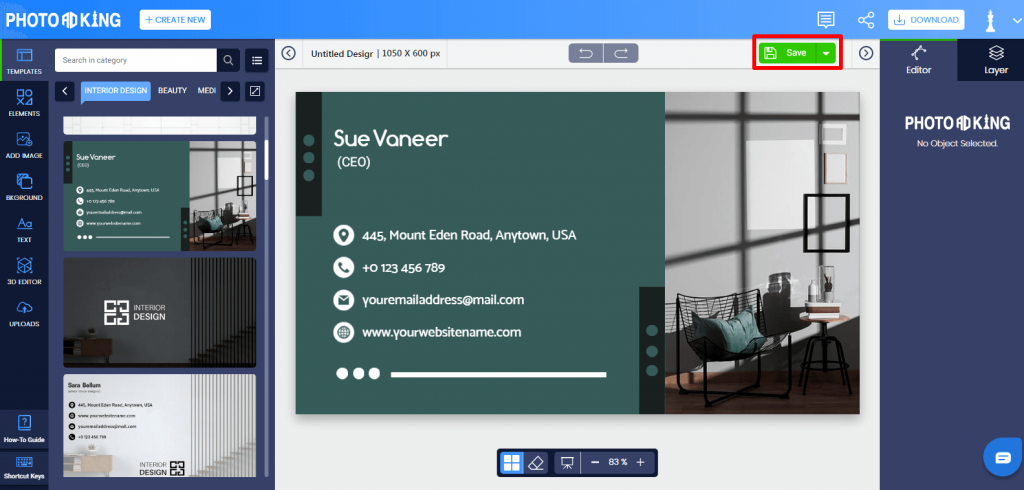 10 Simple Tips For Outstanding Business Visiting Cards
1. First Things First – Define Your Essential Details
It often seems overwhelming to add tons of information to your business card. Resist your temptation to limited details only. You don't have to make your visiting card crowded, but keep some breathable whitespace too.
You may list out the essentials – contact information, logo, business name & tagline, etc. It's important to have a CTA too. So keep this in mind.
2. Consider The Trendy Elements
As we're talking about this on a trendy front, let's not forget that business cards have changed over time. For instance, QR codes are the latest additions to business card designs. Also, professionals are willing to connect with the target audience via social media. They mention Instagram & Facebook profiles.
QR codes make your business card look smarter as you can include the basic contact information therein & save space. Take this as a shortcut to a compact & sorted visiting card design.
3. Pick An Amazing Business Card Template Design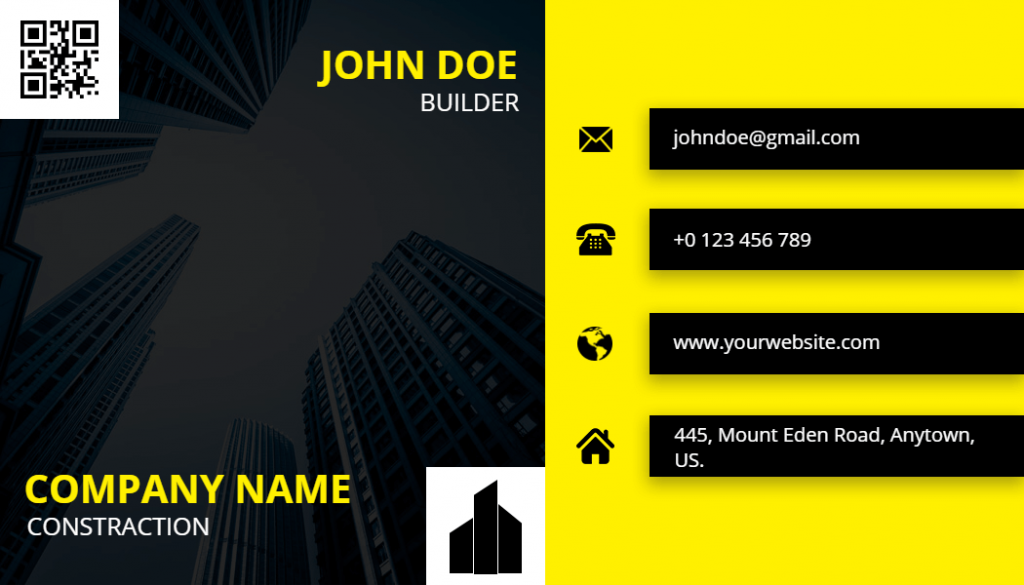 Here comes the most complex & confusing part of your business card-making process. Which design to choose & which one to let go of?
The first thing to consider is your niche. What's trending in your niche? How do you imagine your next business card to be? Have a rough idea in your mind & find one of the best DIY business card maker like PhotoADKing.
You'll have abundant template options for business cards to choose from. Sort your favorites & see what works best for you.
4. Work On A Professional Visual Appeal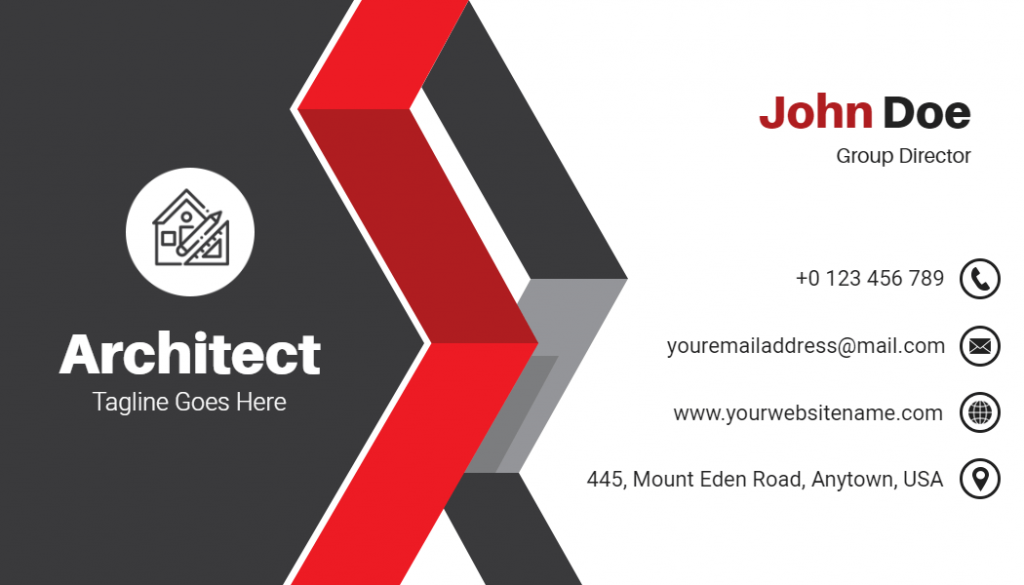 You don't have to compromise professionalism over anything. This thought should be in your mind from the beginning till the end of the designing process. The overall visiting card design MUST be professional. It makes a huge impact on your brand personality & you should also strive to do something distinct from your competitors. However, creative business card examples can help you to choose the best business card for your company.
5. Choose Unique Visiting Card Shapes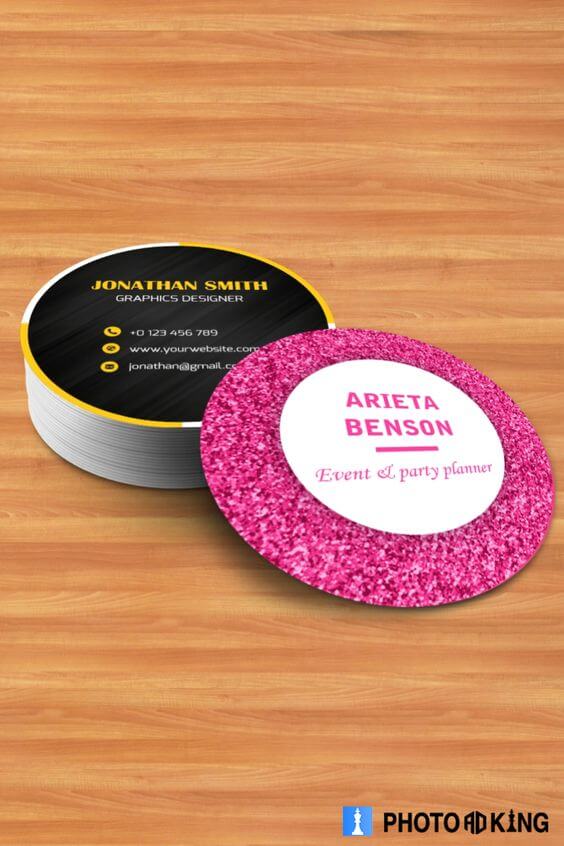 Remember the standard design of a business card? Not anymore! You can now have your business card in unique shapes & sizes. It can be a square too. Besides this, you can have it in 3D effects. Go ahead & experiment with something different than standard business cards.
6. Don't Limit Your Creativity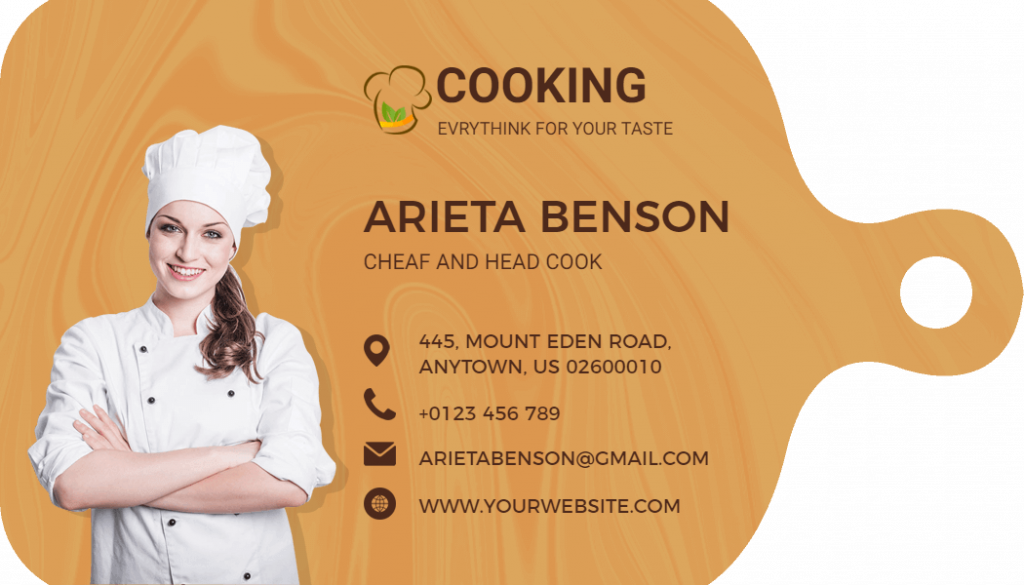 Using impressive visuals that aren't in use by others in your niche is a brave decision. It's all about how well you want to speak your business. If you find anything worth trying, don't be afraid to utilize your creative ideas. That's how you'll have much to explain if someone asks how to create visiting cards?
7. Mind Where You Place Your Logo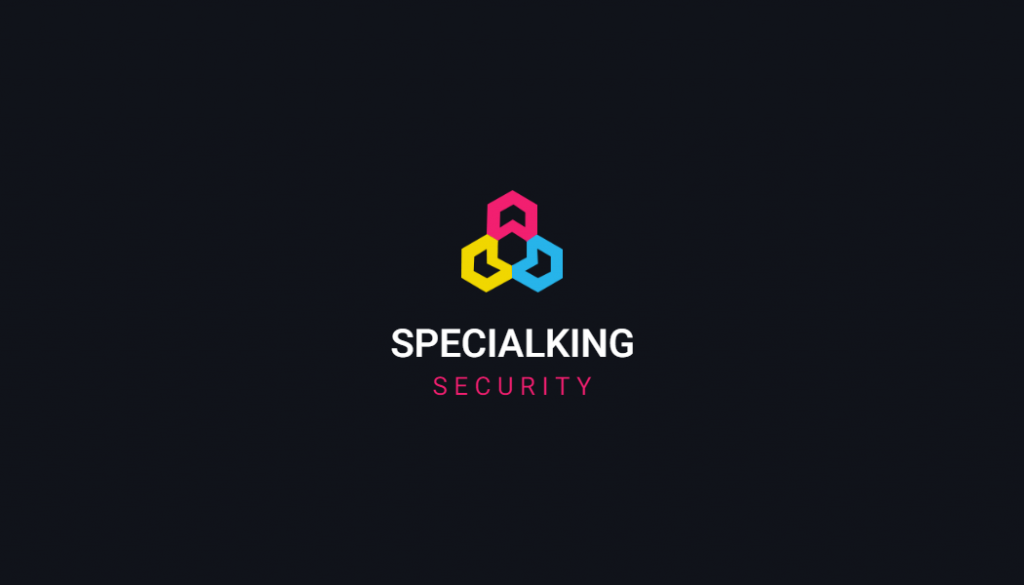 Ideally, a logo is placed at the center of the visiting card. But, it isn't a limitation. People are now trying vertical layouts instead of horizontal ones too. And you have more options to place your logo at the top-center place or align it at the center on the face side in an enlarged size. The choice is yours.
Just make sure that your logo is noticed & is preserving your brand image well.
8. Simple Design With Right Layout Makes The Best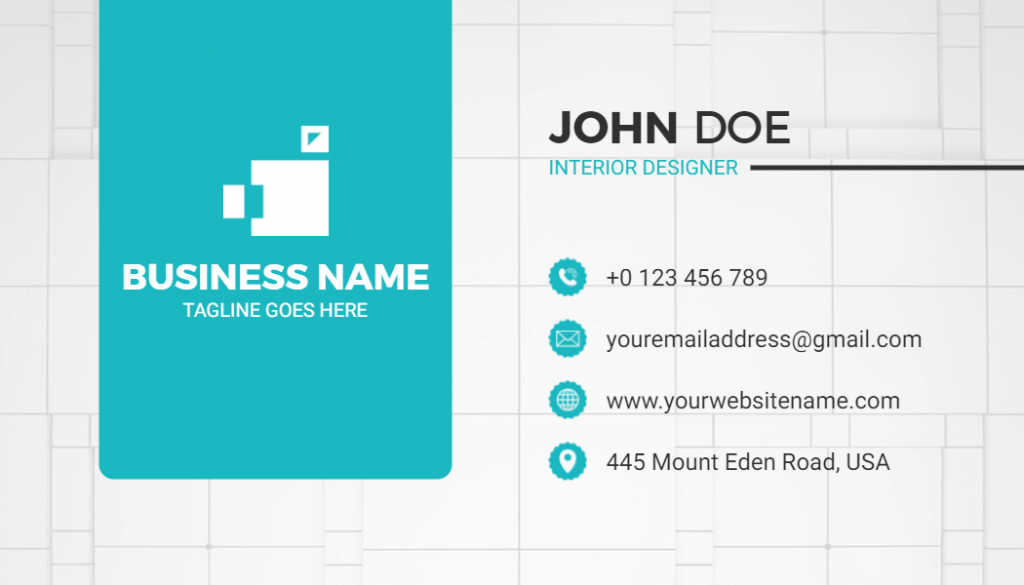 We're always thinking about that 'extra'. Why do so? You don't need the glamour & sparkle always. Even the simplest things present beauty in an unprecedented way. Let's keep it that way.
Use a simple design with a layout that fits best according to your concept. That's all.
9. Avoid Common Business Card Mistakes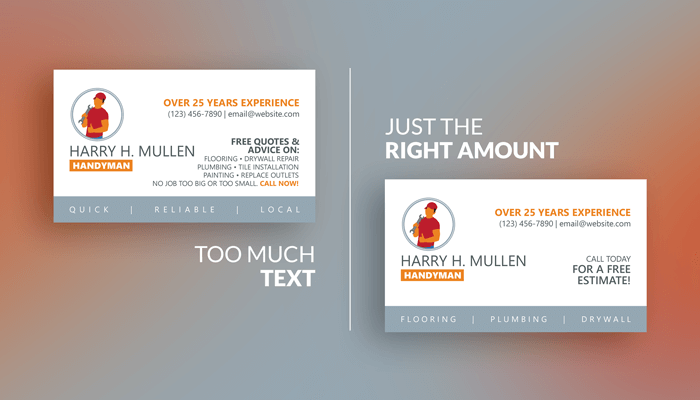 Getting your design ready isn't the only thing you should be concerned with. It takes an extra mile of effort to ensure that it's right.
Firstly, avoid adding straight borders all over your business card. It may be assumed as cutting borders.
Secondly, get the bleed area for your design from your printer. This saves you from utilizing that area for design.
Lastly, consider the font size as compared to the overall card design. Is it readable? Have you left any typo errors? Check all these necessary things & you have almost made it.
10. Opt For High-quality Finishing Only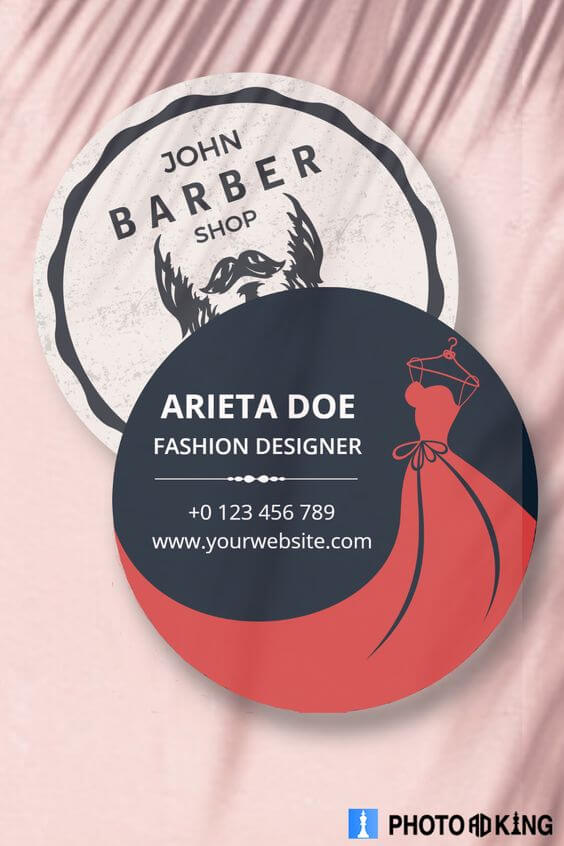 Finally, as your business card goes into printing, you should prefer high-quality finishing only. The material you choose for your business visiting card is one of the crucial decisions you'll make. Be careful & be open to feedback from your printer. Get opinions on which material will be the best for your visiting card design before finalizing anything.
Business Card Trends In 2022
It's 2022 already & you must upgrade to the latest business card ideas. After all, your business should always represent a fresh & visionary approach. Thus, staying upbeat with trends is the basic necessity for small to large businesses. Don't you agree? The best thing you can do before you design your card is to know your business and the services well that you offer because it is the only thing that represents you.
Let's see what's in the Business Card Templates trunk for you this year.
Wrapping It Up
We're living in a parallel world where no matter what advancements happen in the digital universe, some traditional stuff still feels mandatory. Just like business visiting cards. So, if you're looking for a free business card maker online, PhotoADKing is all yours. Take it as your call to implement the tips you've just learned above & make sure you customize a design that envies your competitors.
Get started now!