Need some business card ideas in this digital era? Want some major inspiration for unique custom visiting cards for your start-up? Welcome to PhotoADKing – one of the Best Free logos and Business Card makers online. We can help you make UV, Emboss, Matte, Gloss & much more business visiting card styles most conveniently.
A smartly designed Visiting Card is indeed one of the most powerful marketing tools still in use.
Digitalization has come a long way but hasn't found a replacement of this traditional networking medium yet. Imagine a situation where you met a big prospect and want to share your details in brief, you can hand over your business card & they can connect whenever they want. (P.S. your verbal website mention may be forgotten but the business card will have all the details to connect through several mediums).
Free Business Card Templates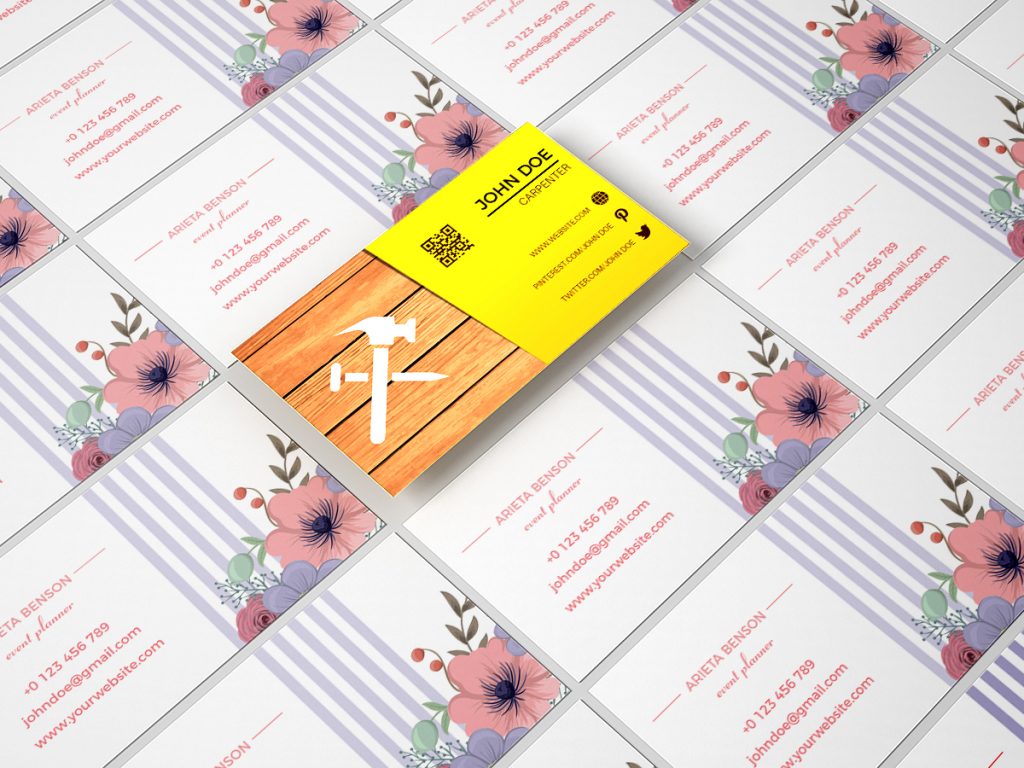 Using Free Business Card Templates is the most legit way to create custom photo business cards effortlessly. Innumerable customization options provided by several creative websites may never make users never turn back to graphic designers again.
We have broadly categorized them into three types which are as follows:
Simple Business Card Templates
We all have that image of simple business cards whenever the topic is discussed and yes, it's the most traditional one. It's a go-to pattern preferred by businesses who don't want to personalize more. A sophisticated color combination and a dash of the color-splash pattern along with the basic required details make this card complete.
You can find a stunning range of Simple Business Card Templates here!
Who should use it?
Businesses that opt for cards as a namesake or those who want a professional card design in a minimal format use this style. It's available in vertical as well as horizontal designs and users can approach designing it on the go.
If you choose this one, make sure that the font style is simple and you have basic details aligned well i.e. Firm Name, concerned Person's Name, Address, Contact Number & website. Keen alignment is desired to make it look better. You can look through the choices offered by a reliable business name generator to come up with an original and memorable business name for your minimalist card design.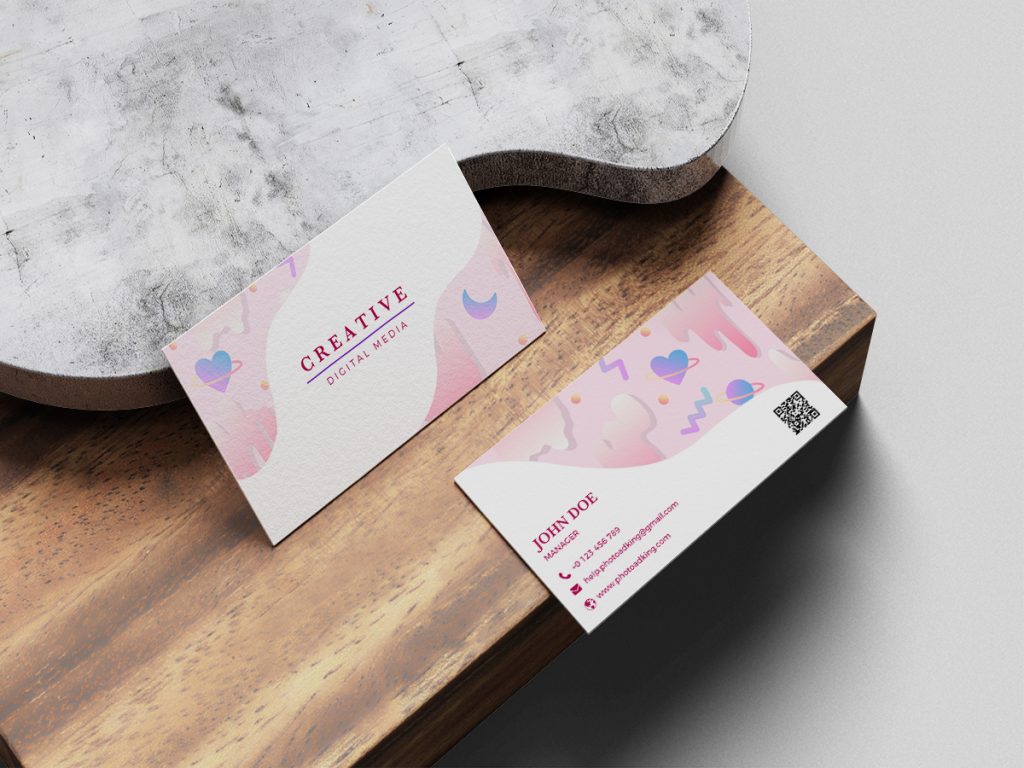 Do you know? In the 1600s, Business Cards were introduced in Europe during the reign of King Louis XIV and were referred to as 'trade cards'. It used to contain a map that directed potential customers.
Attractive Visiting Card Designs that Stand Out
Visiting card designs need to be artwork to be remembered, right?
Most of the time, whenever visiting card designs are talked about, black or white business cards pops-up in our minds. If you want to go the extra mile, you'll find that you can do a lot more with that 3.5 * 2 inches. Fusing trends in traditional business card design makes for outstanding and thought-processed cards. It inherits creativity at its best. The eye-catchy calligraphy & card shape is attention-grabbing. It is loved by those who think that Business cards are more than only sharing basic details.
Who are the most popular users here?
The following are the types of business cards popular in this category: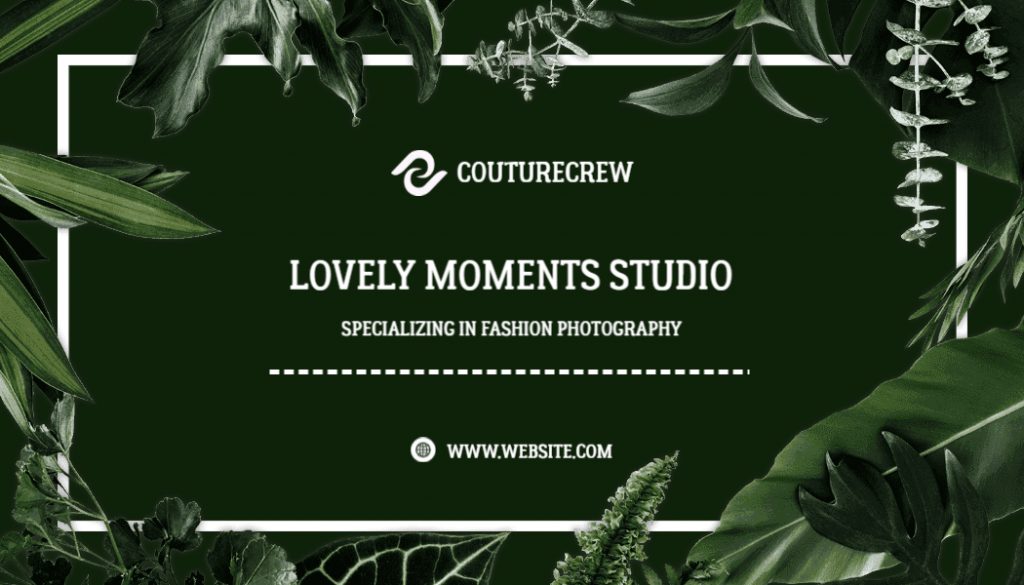 Freelancer visiting card
Makeup artist business cards
DJ visiting card design
Beauty Parlor visiting card design
Photography visiting card
DIY Business Cards Online – When to choose what?
Business cards being available in numerous options may get you confused– which one you should choose and what's right for you?
Get the basics clear – do you want to keep it simple and formal or want to make it fancy and extravagant?
If you want to keep it formal, sleek, and professional, move away from making it fancier and spoil the beauty of a sophisticated business card. For instance, an IT company may make its way with a velvet touch visiting card but would not go for an offbeat business card idea.
When your niche is demanding and you can't resist showing off your creativity on visiting cards then you should go for a funky yet neat one. For instance, a makeup artist or a DJ would rather like to experiment with colors and card shapes than be simple.
It's an Era of Digital Business Cards too…
Keeping it at the safe side, you can create both – a physical custom photo business card and a well-groomed digital business card too. A digital business card gets feasible to share online via WhatsApp, Facebook, Email, or other social media. It becomes a self-marketing tool because when it is shared further, your references will build up.
So, when you are making one, why not both?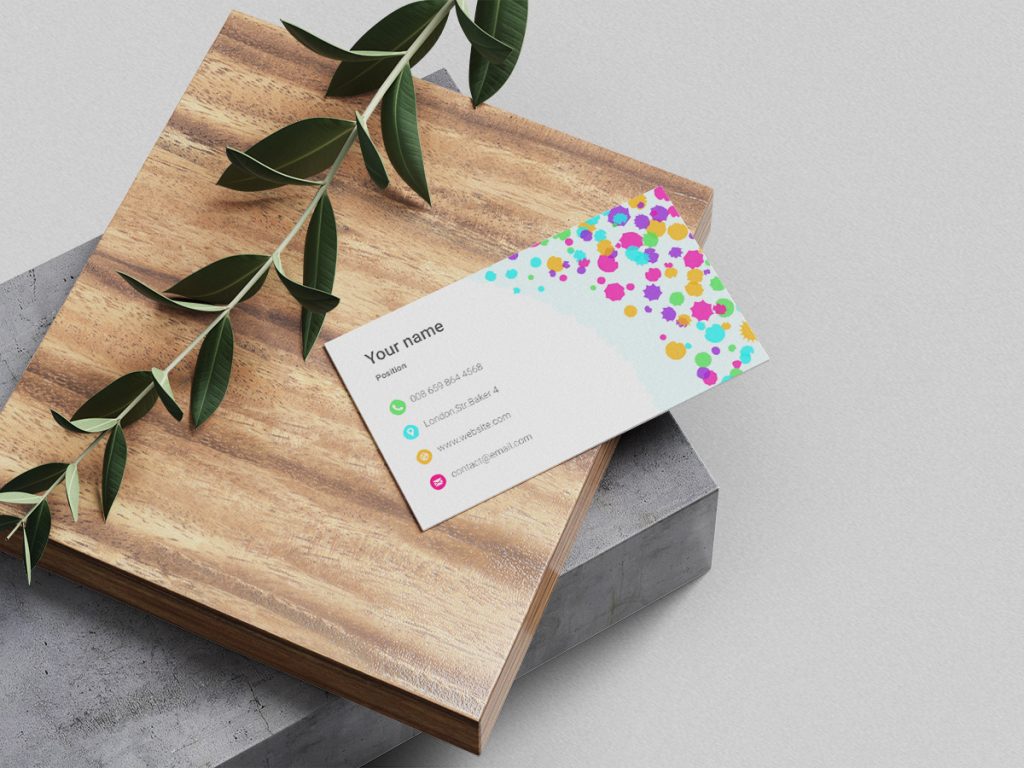 Must-follow Business Card Ideas for Lasting Impressions
Stick to the Basic Rules – the details & their placement
Beware of the common drawbacks, know where the printing cuts can make you weep & align everything accordingly
Remember that simplicity can be achieved under different constraints, and you should know that special finishing can make a difference. Make your way through with a variety of special finishes like foil blocking, UV, Metallic & more.
Use uncommon materials like metal and wood to achieve uniqueness.
Have at least one element on your personalized visiting card that nobody else has. You can also choose to make your business card useful in a way that represents your business. For instance, a chair repairer can create a rectangular (common) business card design with cuttings transforming it into a chair so that it is easily remembered because of its out-of-the-world feature.
You can integrate your ideas into your Business by creating a Logo. No worry if you have some questions about it. We have some tips to create a logo design.
Are you looking for Business Card Trends? We would love to serve you with the best-in-class designs right now!
We would love to know your ideas regarding business cards…