The commercialization of every business requires a logo for identification purposes. A business logo is the accreditation of your brand identity, clear phenomenal integrity which is ideally responsible for particular recognition among other brands.
Why 3D Logo?
Stay updated with the latest trends:
In the digital world, it is likely to stay updated as technology gets renewed every day. To be duly concerned with rising trends, for every brand it becomes essential to stay up-to-date. As they are prone to social media and online presence every now and then.
Let's have a look at the Android logo than VS now. It is observed that the 3D effect on the icon and text is applied to the older version of Android. The newer logo looks well-defined and dimensioned.
By this, we need to make sure that we make our logo in a 3D environment and be volatile to the use of the 3D editor.
Successively become popular:
Reiterating the fact of staying up-to-date, is directly proportional to the quotient of your brand popularity. Popularity is something that evolved from your service users and referral itinerary.
Increasingly apart from your service users, word-of-mouth plays the role of emerging from slice to thrice. A 3D logo beholds your identity and spices the game. Use PhotoADKing's simple and easy to use 3d logo maker to make stunning 3d logos with just a few clicks.
Look Dynamic & Lively
Dynamic term proclaims to be constantly changing, and so does your logo style should be. It is the typology that your logo can be perceived as. It doesn't mean you need to keep it changing.
But by contemplating a visual affair, you will come across the liveliness your logo can possess. Have a look here, process the flexibility of your brand identity, and select what suits best to your approach.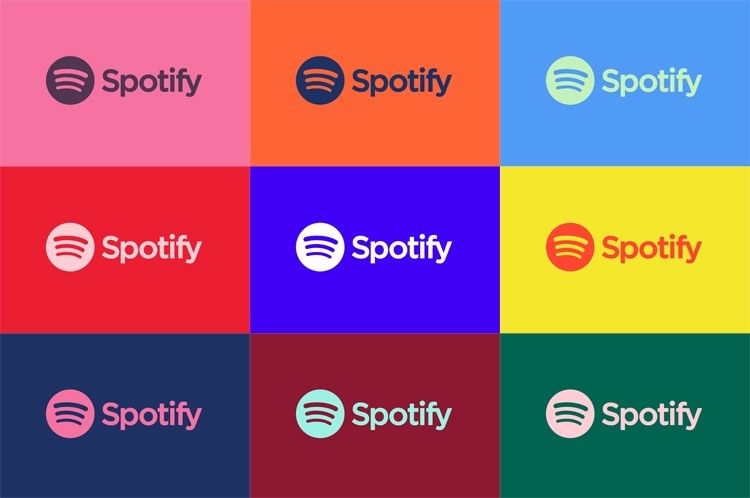 Have Distinct Visual edge
To be distinctive is to have your brand identity/logo specific, individualistic, and incomparable to any entity in the world.
Plus having a visual edge to your craft can be obtained by affixing a perspective to the shape you choose. Later to this segment comes the steps on how to achieve an interactive prospect from your brand identity.
The aesthetic should be borne to a clear dimension proliferating your brand personality in every aspect.
How to use 3D Editor?
1) Start from scratch/customize available logo templates
First & foremost from the logo section, you get availed by a bunch of tags and templates.
Pick one and get started. Then you get the below screen where you can either customize or 'erase' and develop it from scratch.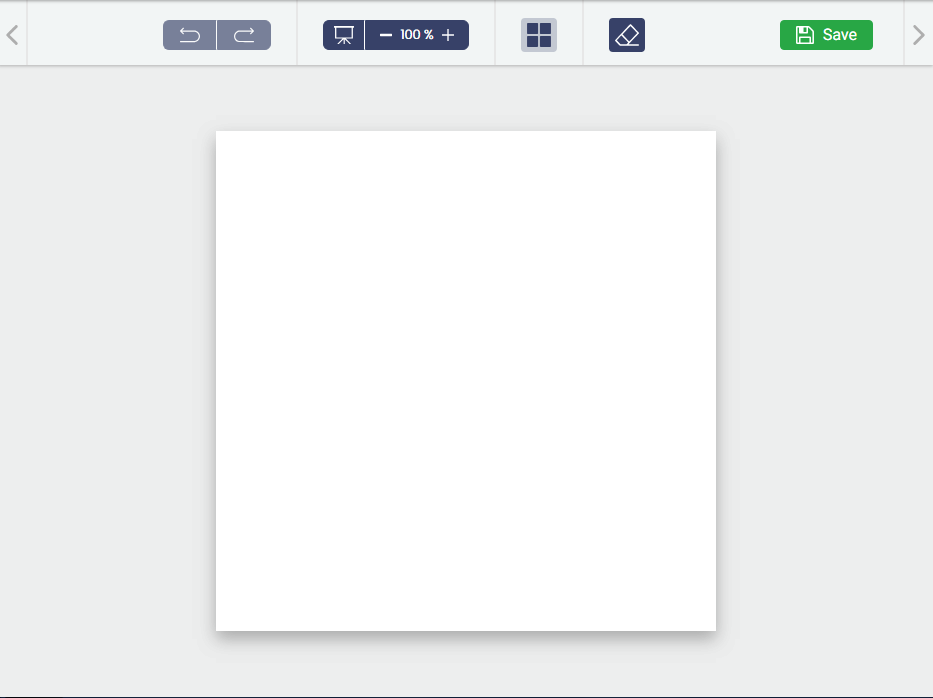 2) Pick a background from the color palette
To start with, under the 'backgrounds' section; choose the desired background type namely from 'color', 'gradient', 'collection' & 'images' sections.
In case you want to add 'images', type in a brand niche or relative images. You can choose an itinerary from the gallery collection.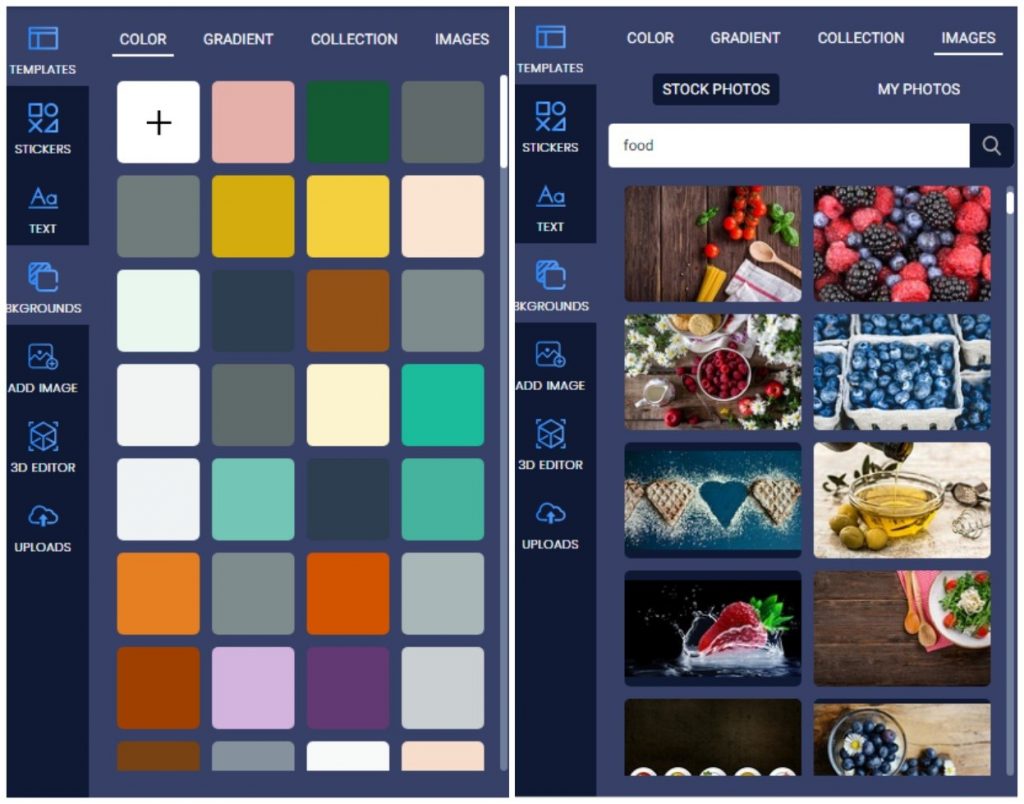 3) Select from a bunch of 3D text
Now navigate towards the '3D editor' section and you'll find plentiful 3D text & shape options. Go for what you prefer customizing first. Here is the imagery of 'Text' choices you have, for choosing what suits best to you.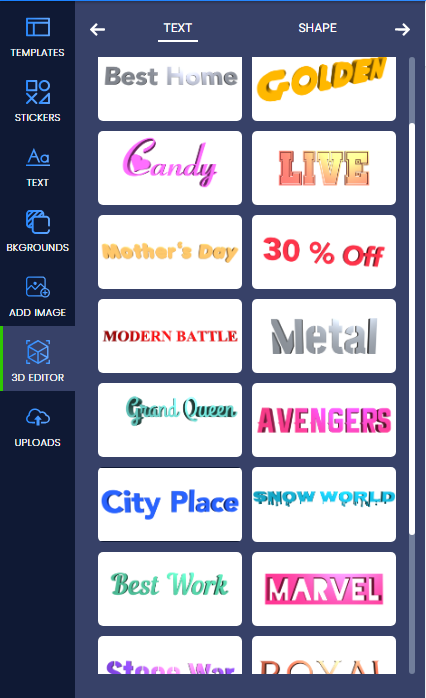 4) Select from a bunch of 3D shapes
Choose an appropriate 3D 'Shape' which is suitable for your brand identity. Among a bunch of shapes available you can browse over and choose what is most appropriate to your niche.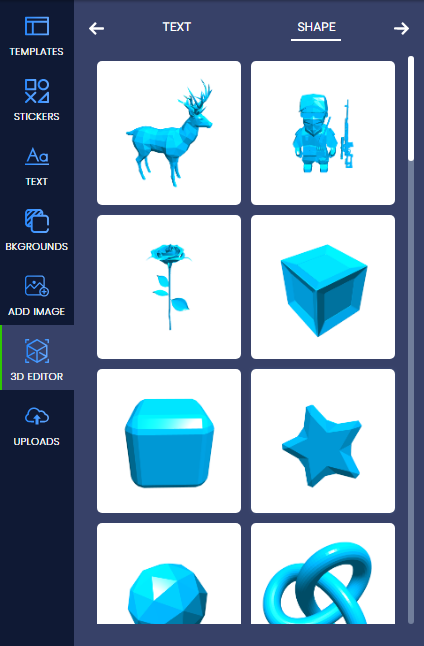 5) Move the desired text into 3D space
Once you've decided upon what text to customize, then you have wider space. Where you can adjust the lateral axis and also change the perspective and view you want to achieve.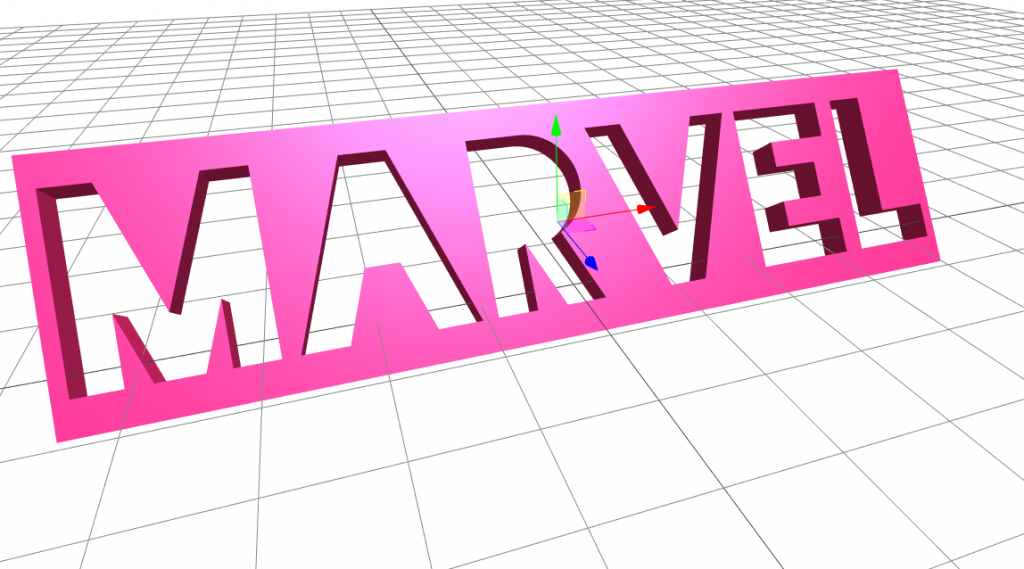 6) Move the desired shape into 3D space
Once you've decided upon what shape to customize, then you have wider space. Where you can adjust the lateral axis and also change the perspective and view you want to achieve.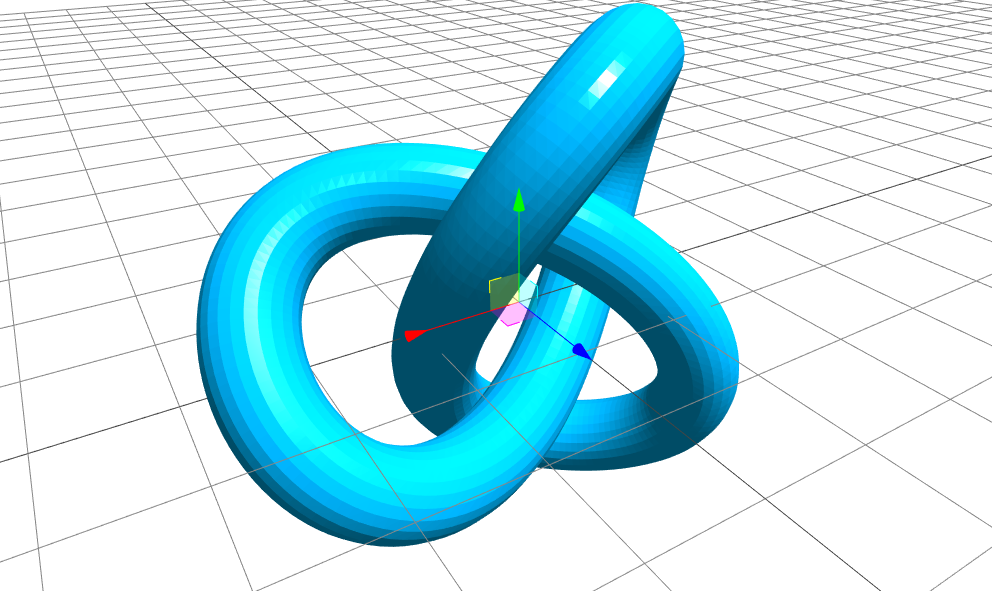 Learn how to make a 3D Logo with PhotoADKing
Sample 3D logo for reference: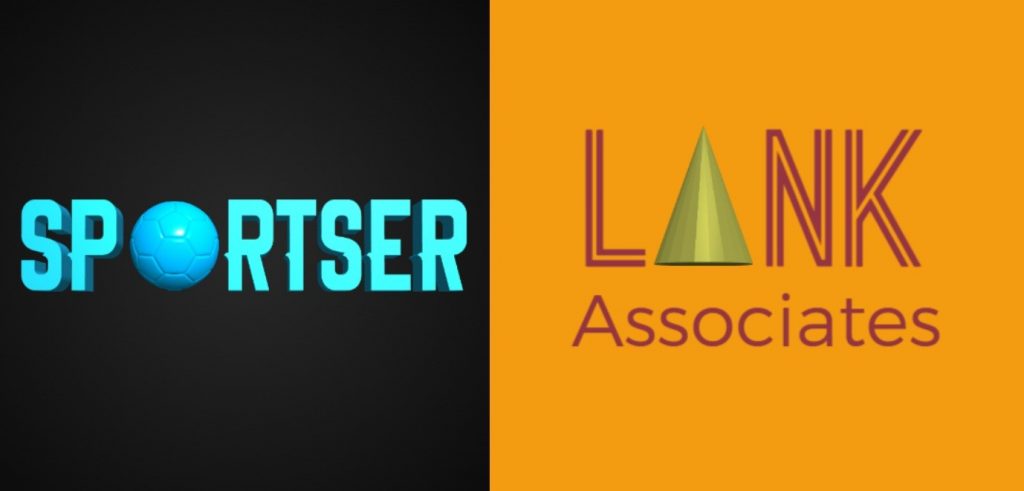 Why use PhotoAdking?
Unfold your logo in JUST 3 steps:
Type in your brand/logotype
Customize or create from scratch
" Every brand success is due to its quality service, but an effective logo helps it enhance and prosper impact over people's minds." – PhotoAdking
Whatever your need is, make it with PhotoADKing.
Make your 3D logo with just a few clicks. Multiple shapes, symbols, logo templates & typography styles. Implement your logo conception and make your ideas concrete.