With the right design and messaging, a flyer can catch the attention of your target audience and drive traffic to your business or event. In this article, we will guide you through the steps to how to make a flyer that will grab your attention and get results. Also, you'll go from scratch to how to make a flyer in minutes using PhotoADKing.
Flyers can be used for advertisements, invitations, and announcements and can also come in different forms and sizes. Moreover, design is essential for your business promotion. Also, that can help businesses increase brand visibility, attract potential customers, and boost sales. By designing an attractive and informative flyer, businesses can convey their message to a larger audience and generate interest in their products or services.
Moreover, flyer designing is a cost-effective marketing strategy that can help businesses save money on advertising expenses. Besides, even non-designer can also make a flyer design. Besides, If you're wondering how to make a flyer, using a flyer maker tool can be a great option. A flyer maker provides you with a pre-designed customizable flyer templates option to create a flyer in no time.
How to Make a Flyer
Determine Your Purpose and Audience
Create a Compelling Headline
Use Eye-Catching Graphics and Images
Keep It Simple and Focused
Add Contact Information
Proofread and Edit Carefully
1. Determine Your Purpose and Audience
The first and most crucial element of how to create a flyer is to determine its purpose and target audience. Your flyer's purpose should be specific and measurable, whether it's to promote an event, generate leads, or drive sales. By defining your goals, you can create a flyer that effectively communicates your message and motivates people to take action.
Similarly, understanding your target audience is critical to creating a flyer that resonates with them. Consider their age, gender, interests, and preferences, and tailor your flyer's message and flyer design to meet their needs. By doing so, you increase your flyer's chances of getting noticed and generating a response.
2. Create a Compelling Headline
The headline is the first thing people will see when they look at your flyers, so it must be attention-grabbing and compelling. Use action verbs, humor, or a sense of urgency to pique people's curiosity and encourage them to read further. Your headline should communicate your flyer's primary message and benefit, so people know what they stand to gain from reading it.
3. Use Eye-Catching Graphics and Images
Images and graphics are powerful ways to grab people's attention and create a flyer that stands out. Choose high-quality images that are relevant to your message and audience and avoid using generic stock photos. Use colors and fonts that align with your brand or event and make a flyer visually appealing and easy to read.
4. Keep It Simple and Focused
One of the most common mistakes people make when making a flyer is trying to communicate too much information. Keep your message simple and focused, with a clear call to action that encourages people to take the desired action. Use short sentences, bullet points, or numbered lists to break up the text and make it easy to read.
5. Add Contact Information
Your flyers should include contact information that makes it easy for people to get in touch with you. Moreover, when making a flyer include your phone number, email address, website, or social media handles, depending on your goals and audience. Make sure your contact information is easy to find and stands out from the rest of the text.
6. Proofread and Edit Carefully
No matter how compelling your flyer design is, it will lose its impact if it contains spelling or grammatical errors. Proofread and edit your flyer carefully, and have someone else review it before printing or distributing it. Use tools like Grammarly or Hemingway to check for errors and improve your writing style & that's how you can create a flyer more impactful.
How to Make a Flyer using PhotoADKing
If you are confused about how to make a flyer. Don't worry, here is the step-by-step guide to creating a flyer using PhotoADKing's flyer maker. Designing stunning flyers has never been easier! Choose from our wide range of templates or start from scratch and let your creativity run wild. So, create flyers that make an impact with PhotoADKing.
Step 1: Create a Free Account
Go to photoadking.com website.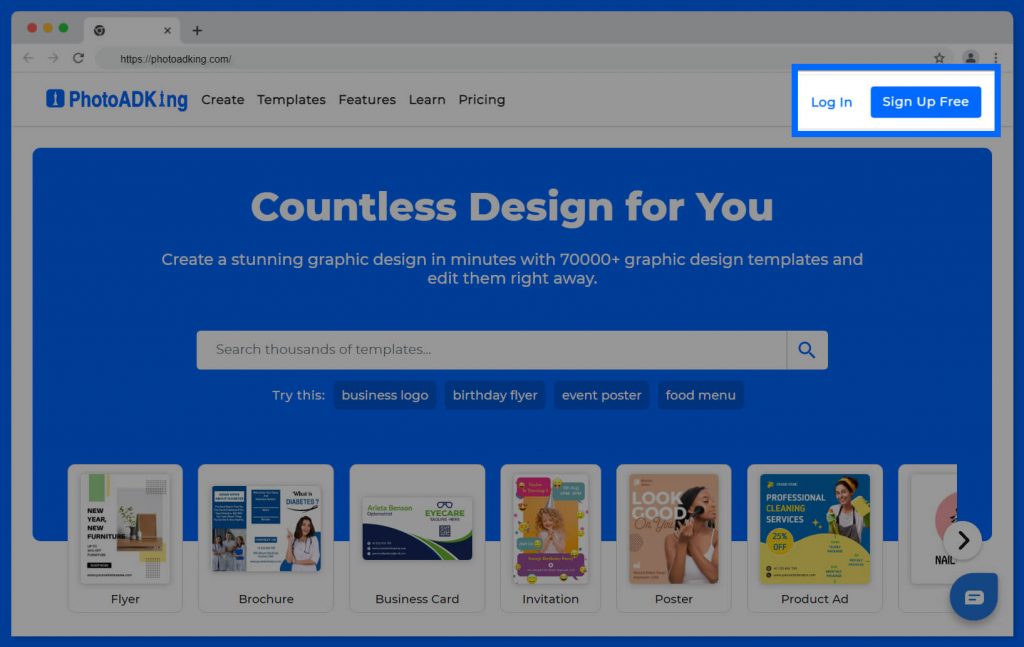 Click the sign-up button to create a new account for making a flyer.
After sign-up, you will see PhotoADKing's home page. On this page, you will see the dashboard button.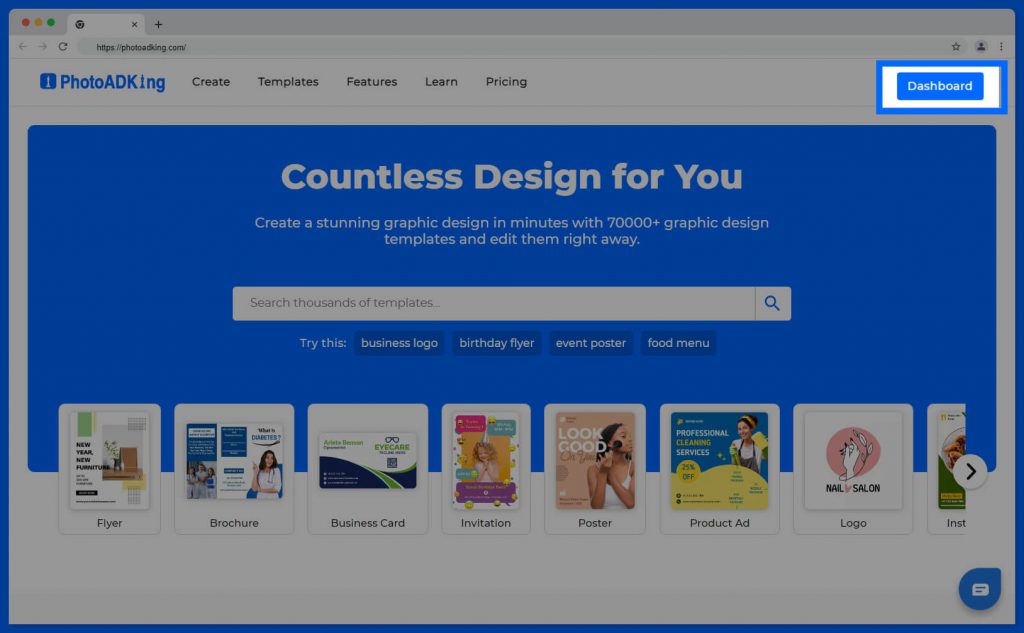 Click the button & you will be directed to PhotoADKing's dashboard page.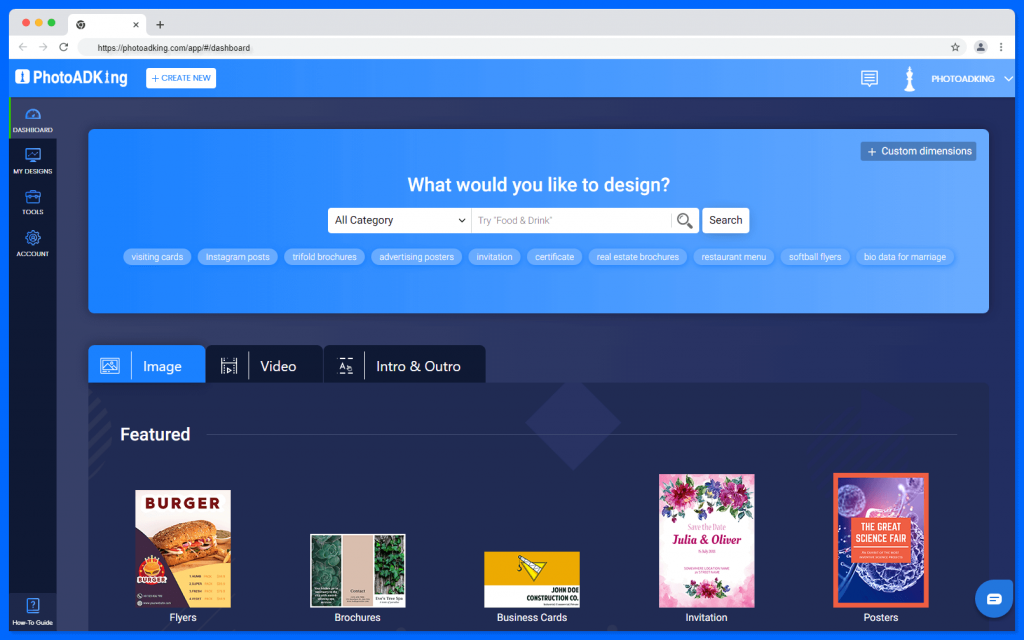 Step 2: Select a Flyer Template
On this dashboard page, you can see the "create new" button for creating a flyer. Just click the button and make a flyer for your business. Also, you can edit your previously designed flyer, just click on my designs and redesign your flyer.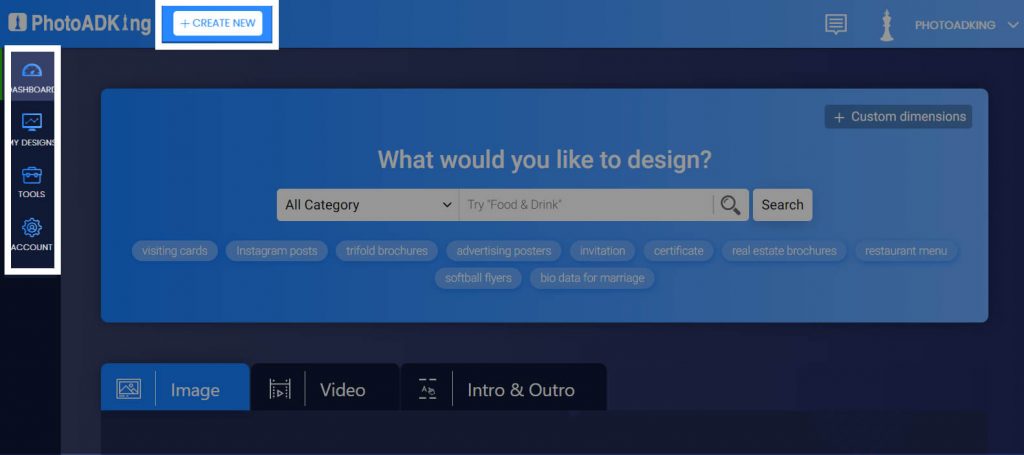 Choose a template for making a flyer or you can make your own flyer design from the start. The flyers template is pre-set at the perfect flyer size, so it will be easy to print directly if you don't want to modify the font size.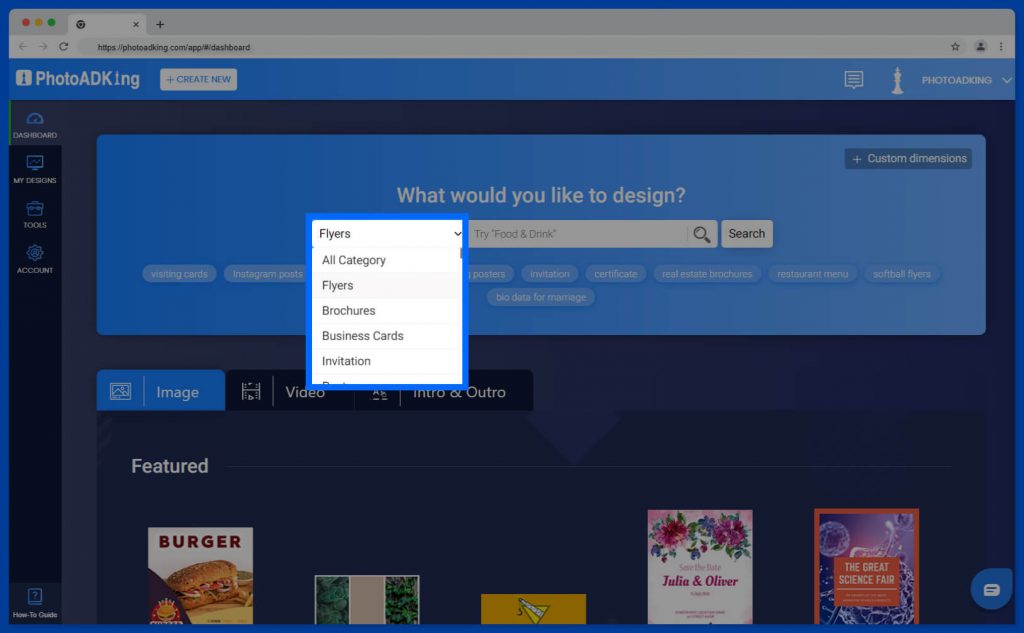 Choose a template category, in which you want to modify and create a flyer such as a shop, business, festival, etc.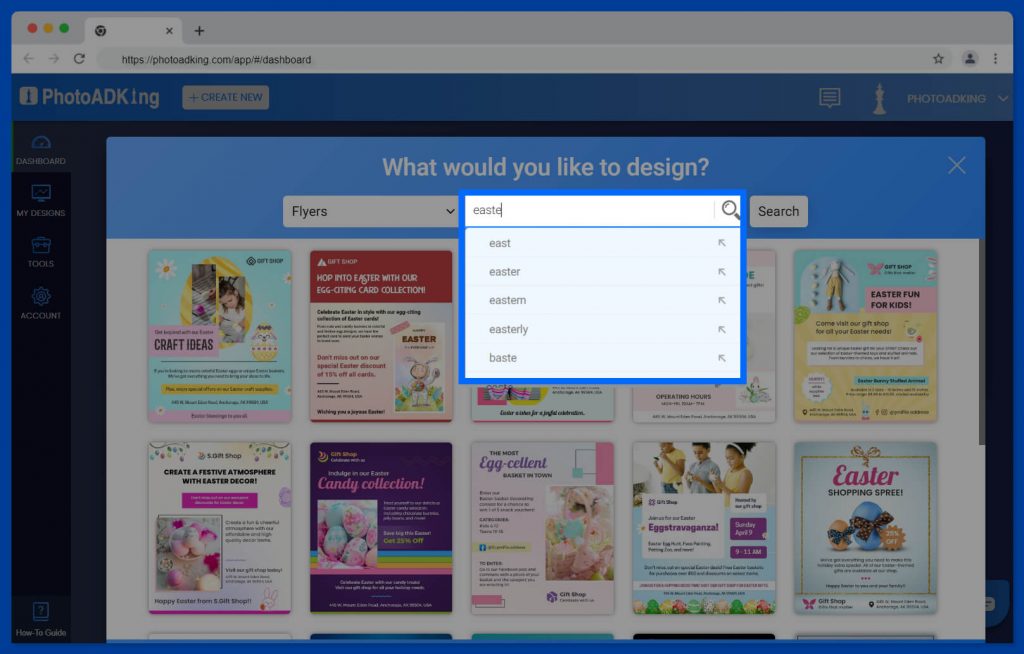 Next, select the template which you want to edit.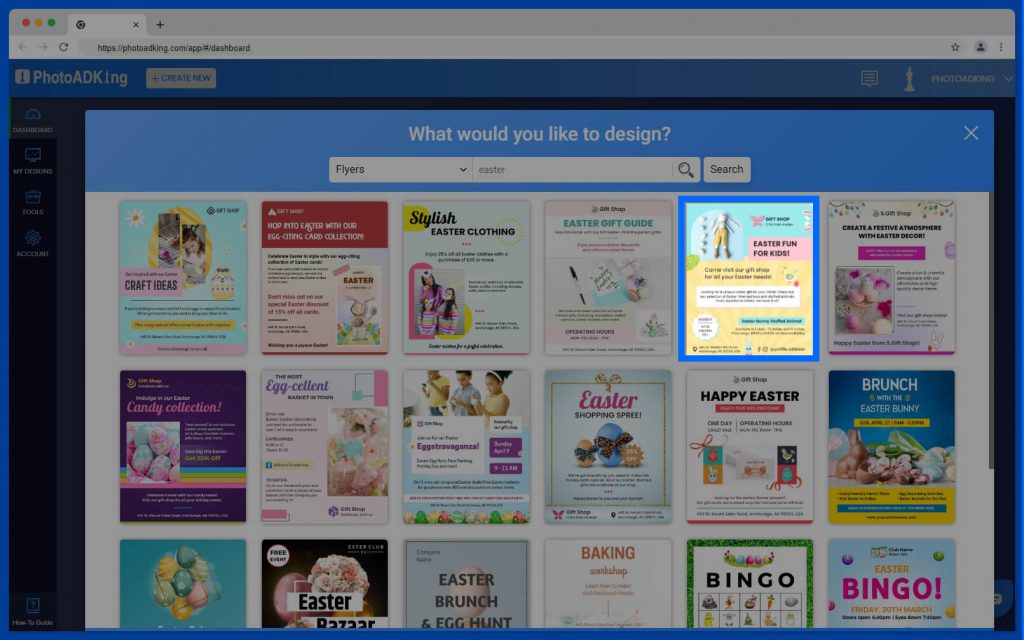 Step 3: Customize Your Flyer Template
Change or edit this template according to your requirements. Also, make flyers unique by uploading your own images, or you can choose different colors, borders, stickers, and many more from our edit panel. Also, we have over 1M+ beautiful stock images.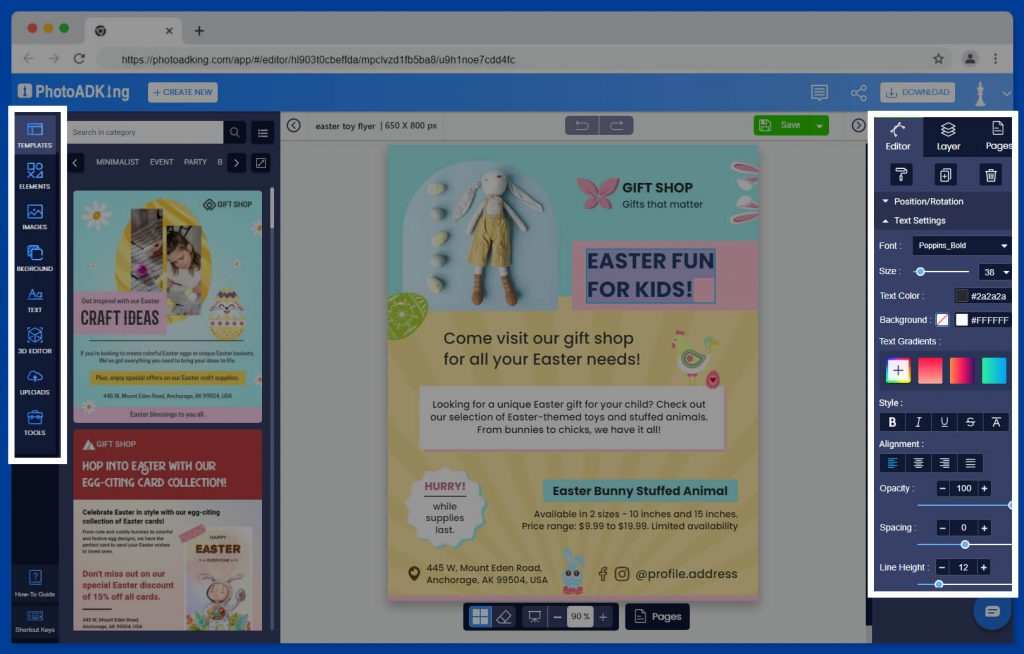 Step 4: Download, Print, or Share Your Flyer.
Finally, your Flyer is ready to download and use/print. PhotoADKing provides high-quality file downloads so that you can get a print of your template or share it with your audience without losing that professional feel.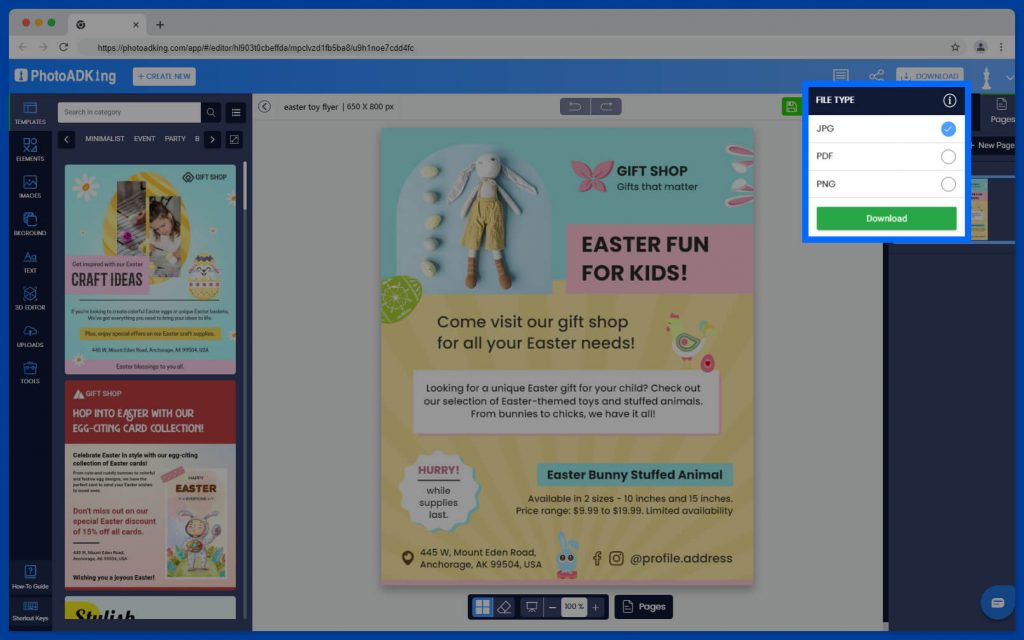 That's it! Following these simple steps, you can create a professional-looking flyer using the PhotoADKing flyer maker tool. Also, you can share the flyers on social media. Save your flyer in flyer maker because you can edit it later too.
Customize, Publish, and Promote Your Flyers with PhotoADKing.
If you are worried about creating a flyer, you should know that an online flyer maker will provide step-by-step guidance through the flyer design process. Moreover, PhotoADKing's flyer maker offers digital flyer templates for digital promotions. You can create a flyer with our free online flyer maker in just a matter of minutes!
Our fully customizable flyers templates are the best solution if you are designing flyers for the first time or you don't have much time for flyer design. PhotoADKing flyer maker lets you easily create, share, and promote your flyers in just minutes.
After creating a flyer design you can click the Share button and choose to post your new design to your social media accounts. Don't worry if you are not aware of the social media image size guide. Besides, we can help you to grow. Getting perfect flyer design ideas is the best way to get more about making a flyer. Whether you prefer to promote in print or online, PhotoADKing is an easy and affordable solution to making a flyer online.
Conclusion
In conclusion, making a flyer requires careful planning and attention to detail. By defining your goals and target audience, choosing the right format and size, creating an eye-catching design, crafting a compelling headline, writing clear and concise copy, and including a call to action. Also, if you want flyer design ideas about making flyers you can follow this link. It shows 60+ cool flyer design ideas you can follow if you want to make your own flyers. you can create a flyer that stands out from the rest and achieves your desired results.