Before we dive into the detailed steps let's have quick steps to make a flyer.
How To Make a Flyer
Open PhotoADKing
Search for the "Flyer" Template
Choose a flyer template that suits you
Customize and personalize the flyer template
Download and share the flyer design
Picture this: You have a brilliant idea for an event, a business, or a cause that you're passionate about. You want to spread the word, engage your audience, and make a lasting impact. What's the perfect way to achieve all of that? Yes, you guessed it right– designing flyers!
But wait, you might be wondering, "Where do I even begin?" Don't worry, my friend, because today we're going to embark on an exciting journey into the world of flyer design. In this ultimate design guide on how to make a flyer, we will unravel the secrets behind making exceptional flyers that grab attention and engage your audience.

As you already know, flyers have long been an effective tool for promoting businesses, events, and causes. However, designing compelling flyers that capture your attention and communicate your message can be a daunting task. But the flyer maker can save your precious time by making the designing process easy.
Flyer Maker offers a vast library of fonts, images, and graphics, allowing you to easily add creative elements to your flyers. It also provides a user-friendly interface where you can easily customize every aspect of your flyers, from text and images to colors and fonts. The extensive collection of high-quality graphics and design elements ensures that your flyers will stand out from the crowd.
To see more features, click on the link below to visit the flyer maker.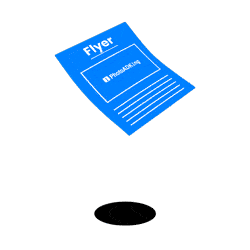 Create a Compelling Flyer With Flyer Maker
Now it is easy to make a flyer with PhotoADKing's user-friendly flyer maker.
Make Your Own Flyer
In this blog, we will provide you with step-by-step instructions, essential elements of the flyers, valuable tips, and flyer's size details to help you create captivating flyers that leave a lasting impression.
Why Are Flyers Important in Promotion?
Flyers have long been a staple in business promotion and for good reason. They provide a tangible and cost-effective way to promote products, services, events, and special offers.
Here are three key reasons why flyers are important in promotion:
Cost-effective Promotion: Flyers are a cost-effective marketing tool that can yield significant results. Compared to other forms of advertising such as television or radio ads, which can be expensive, flyers offer a more affordable option for businesses, particularly small and local ones with limited marketing budgets.
Tangible and Personalized Approach: In today's digital age, where information overload is a common challenge, flyers provide a tangible and personalized approach to marketing. When people receive a physical flyers, they have something they can hold in their hands and refer back to later.
Wide Reach and Local Targeting: Flyers offer businesses the opportunity to reach a wide audience and tailor their marketing efforts to specific locations. Whether you distribute them door-to-door, hand them out at events, or place them in strategic public spaces, flyers can effectively target local communities and generate local awareness. This is especially beneficial for businesses with a physical location or those looking to target a specific geographic area.
When used strategically, flyers can effectively promote your business, increase brand awareness, and drive customer engagement.
After learning about the importance of flyers in marketing, let's talk about the essential elements that are a must in flyer design.
What Are the Essential Elements of a Flyer?
1. Determine Your Purpose and Audience
The first and most crucial element of making a flyer is determining its purpose and target audience. Your flyer's purpose should be specific and measurable, whether it's to promote an event, generate leads, or drive sales. By defining your goals, you can create flyers that effectively communicate your message and motivate people to take action.
2. Deciding Your Target Audience
Similarly, understanding your target audience is critical to crafting flyers that resonate with them. Consider their age, gender, interests, and preferences, and tailor your flyer's message and design to meet their needs. By doing so, you increase your flyer's chances of getting noticed and generating a response.
3. Thoughtful Layout and Hierarchy
The layout of your flyer is vital for guiding the reader's eye and emphasizing the essential elements. Use a clean and organized layout that allows for easy readability. Don't throw so much information together.
Create a visual hierarchy by using different font sizes, styles, and colors to emphasize important information such as headlines, subheadings, and call-to-action statements.
For effective flyer design, it is necessary that your audience can focus on the important information first.
This bakery flyer design has a perfect layout and visual hierarchy that make this flyers easy to read.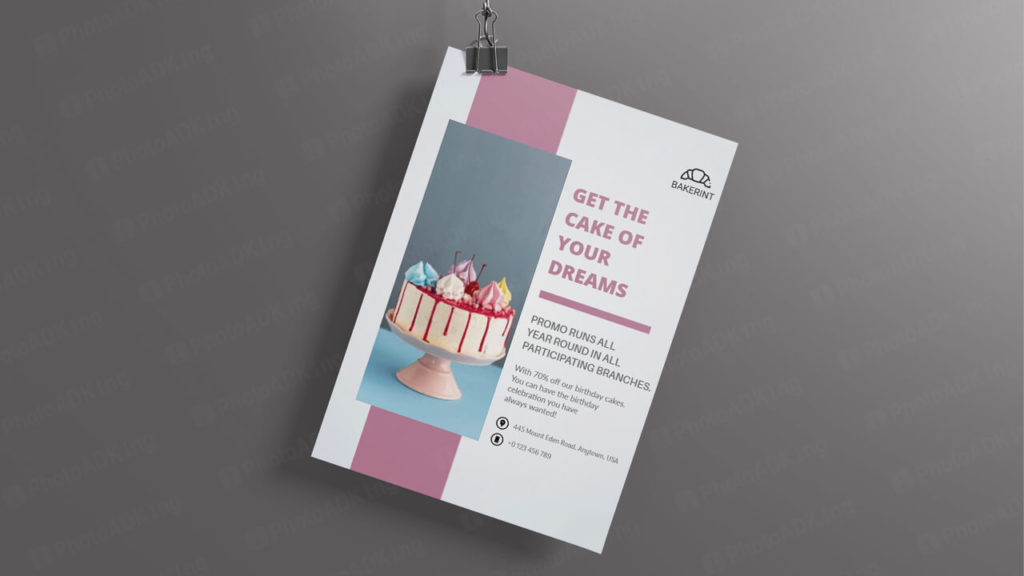 4. Create a Compelling Headline
The headline is the first thing people will see when they look at your flyers, so it must be attention-grabbing and compelling. Use action verbs, humor, or a sense of urgency to pique people's curiosity and encourage them to read further.
The headline is the first thing people will see when they look at your flyer
Your headline should communicate your flyer's primary message and benefit, so people know what they stand to gain from reading it.
Look at these flyers with attention-grabbing headlines.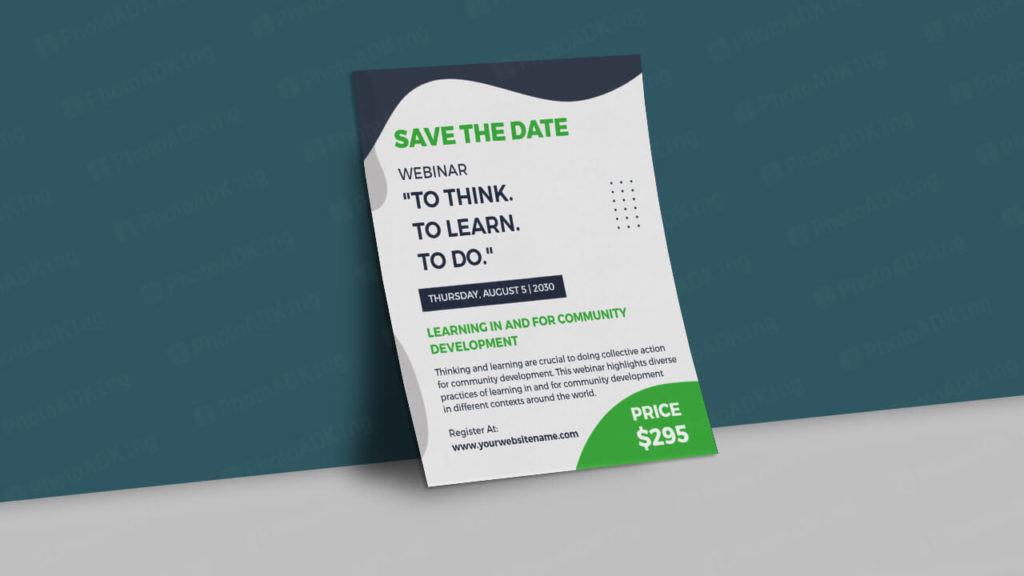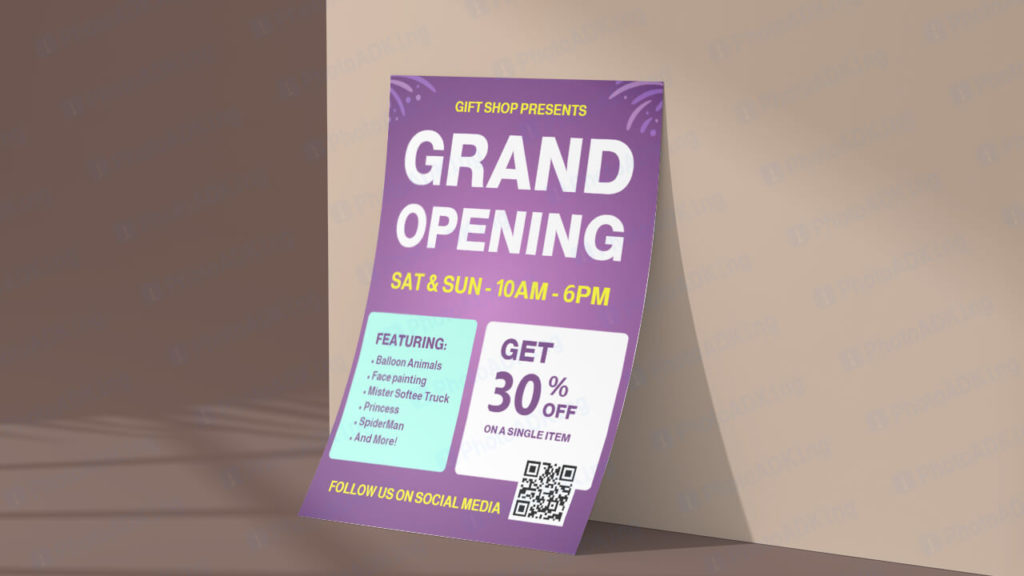 5. Use Eye-Catching Graphics and Images
Images and graphics are a powerful way to grab people's attention and make your flyers stand out. Choose high-quality images that are relevant to your message and audience and avoid using generic stock photos.
Use colors and fonts that align with your brand or event and make your flyers visually appealing and easy to read. For example, this template has high-quality images and graphics with an attractive layout.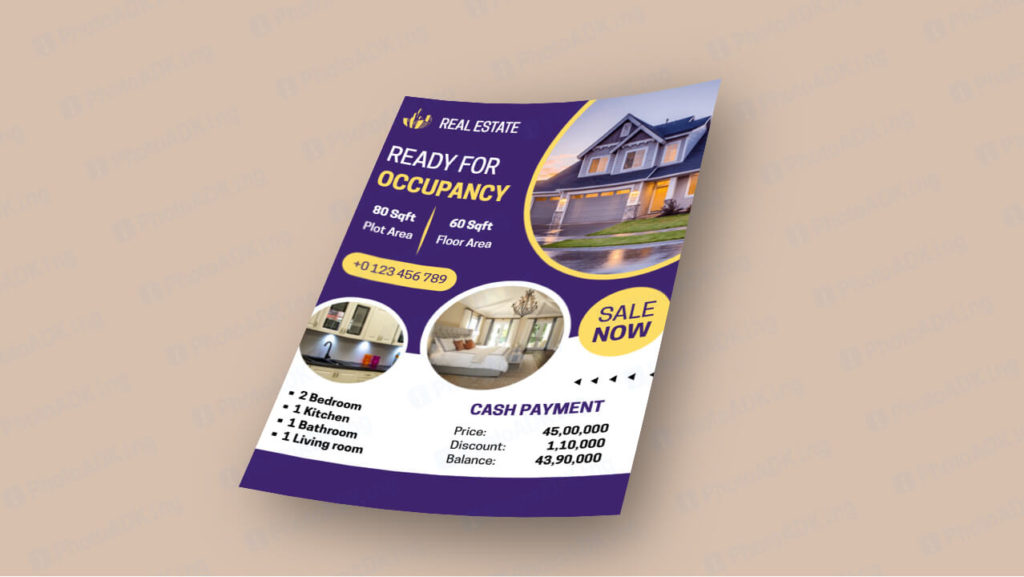 6. Strategic Use of Color
Color can evoke emotions and convey messages effectively. Choose a color scheme that aligns with your brand and evokes the desired emotions in your target audience. Use colors strategically to draw attention to specific elements, create contrast, and make your flyers visually appealing.
When used thoughtfully, color enhances the overall aesthetic appeal of your flyers and helps them stand out from the competition. If you want more insight on which color scheme to use, then read our blog on 8 exquisite color schemes.

7. Keep It Simple and Focused
One of the most common mistakes people make when creating flyers is trying to communicate too much information. Keep your message simple and focused with a clear call to action that encourages people to take the desired action.
Simplicity is essential in capturing the attention of your target audience and effectively communicating your message. Use short sentences, bullet points, or numbered lists to break up the text and make it easy to read.
Check out this ice cream store flyer's design. It has a minimal layout with less information.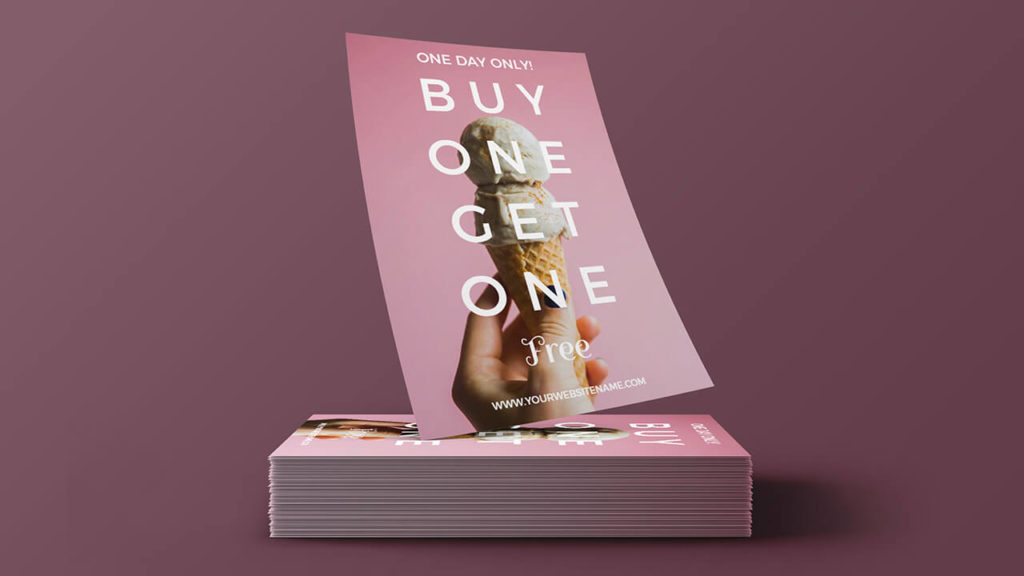 So, now you know all the essential elements for flyer design. But, it is also important to determine the size of the flyers you want to make. That's why, next, we will take you to the flyer size guide.
Which Size Is Suitable for Your Flyer?
The size of your flyers can greatly impact their effectiveness and how they resonate with your target audience. Let's explore some different flyer sizes and when they can be used to maximize your marketing efforts.
A3 size (11.7 x 16.5 inches): for advertising concerts, festivals, or large-scale events.
Standard A4 size (8.5 x 11 inches): for promoting new products, special offers, and upcoming events.
A5 size (5.8 x 8.3): for creative ventures, art exhibits, or fashion events.
A6 size (4.13 x 5.8): for mini ads, promoting sales, offers & discounts.
A7 size (2.9 x 4.13): for small businesses, pocket ads, and quick marketing.
Square size (4.13 x 4.13): for social media, visual showcase & flair.
This information will help you decide the flyer's size for your marketing campaign. For more detailed information on flyer size, check out this blog on flyer size guide.
For in-depth details on the campaign, check out the below blogs on different subjects related to the flyers.
Also, read blogs related to flyers:
What Is A Flyer? – Definition, Purpose, & Components
Flyer Design Ideas
100+ Creative Flyer Examples
Flyer Samples For Different Industries
Flyer Background
Flyer Design Tips
Beginner Guide on Flyer Design
Flyer Layout Ideas
Flyer Purpose
Flyer Marketing Strategy
Different Types of Flyer Designs
25 Flyer Design Terms
How To Make a Flyer For a Business
Business Flyer Layout
Once you have decided on the flyer's size, you can move on to the next part, which is about steps for how to make a flyer.
But first, you have to choose an online design tool to easily make a flyer. In this blog, we are going to use PhotoADKing. PhotoADKing is an online tool that offers numerous benefits when it comes to flyer making. Firstly, it provides a user-friendly interface that makes designing flyers a breeze, even for those without prior graphic design experience. It offers a wide range of pre-designed templates, allowing you to choose from various layouts, styles, and themes to suit your needs.
Now, we will learn about the flyer design process with PhotoADKing.
Steps for How to Make a Flyer
By following these steps, you can create a flyer for your business or brand without any prior design experience. Let's start designing!
So first, we will start with this template and after customizing it, it will look like this.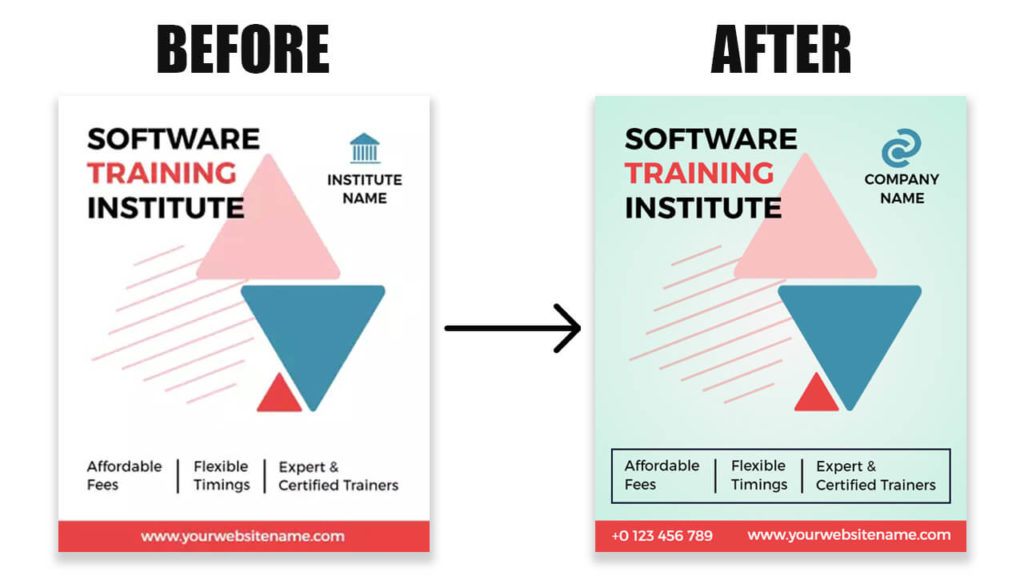 Step 1: Create a Free Account
Go to photoadking.com and sign up for a free account.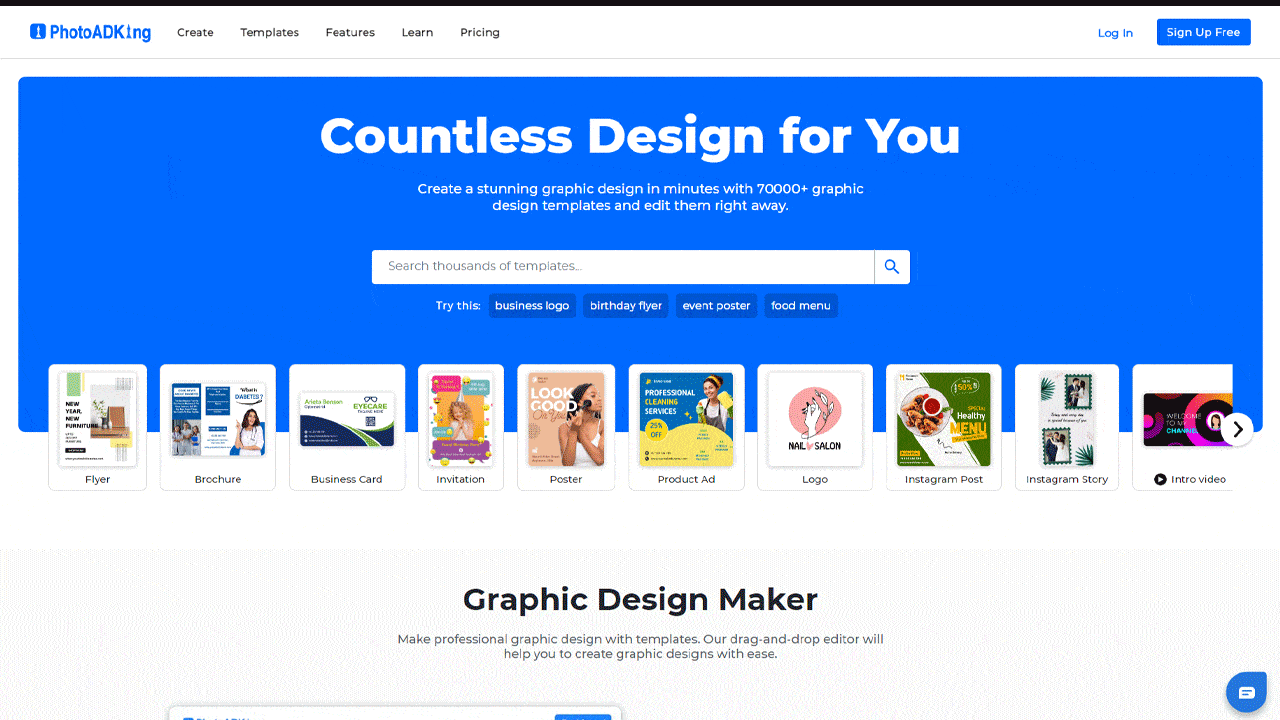 Click the sign-up button to create a new account. Fill up your details.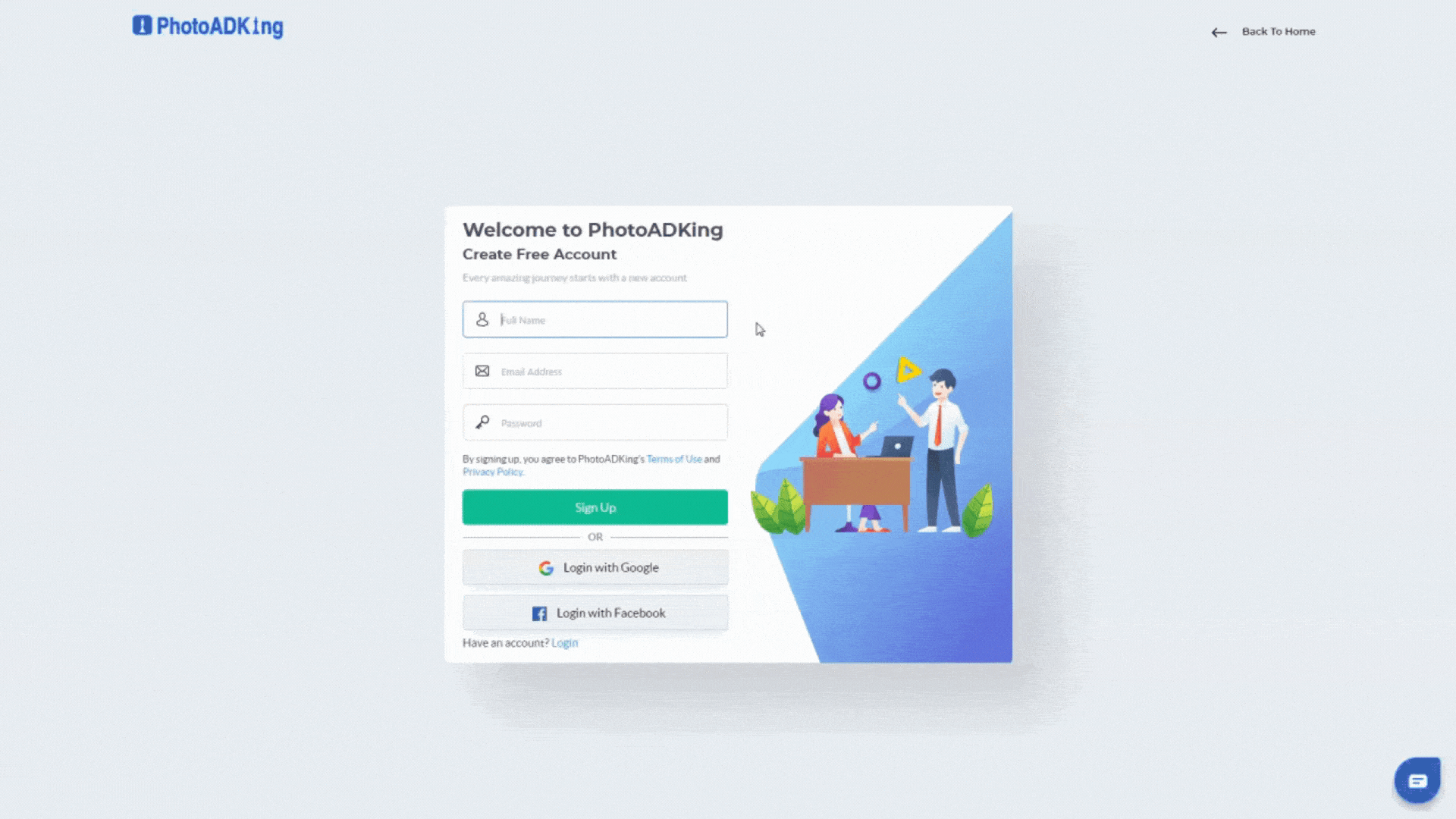 After signing up, you will be taken to PhotoADKing's home page.
Step 2: Search for a Flyer Template
Here you will find the search bar on the home page. Write down the category of flyers you want to customize in the search bar. Like we wrote here "software training flyers". It will show a variety of templates for different purposes.
Step 2: Choose a Template
Now, select a template that suits your purpose or business. The flyers template is pre-set at the perfect flyer's size, so it will be easy to print directly if you don't want to change the size.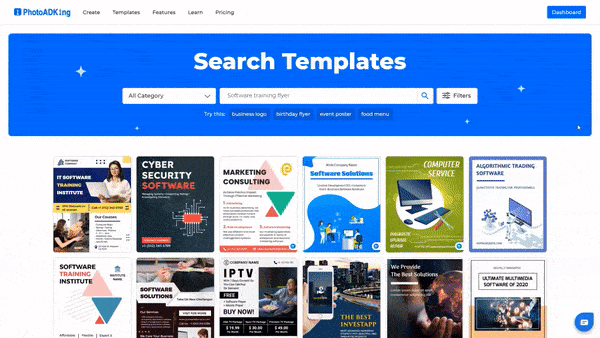 Step 3: Customize Your Template Design
After selecting the template, the next step is to customize it according to your requirement.
These are the changes we are going to make to this template:
Change the background
Change logo and company name
Change fonts
Add or change content
Change elements
Change The Background: To change a background you need to click on the background button in the side panel. There you will find a different color background option. Select the background that matches your brand color or you can select the color as per the flyer design.
Read now about color palettes in flyers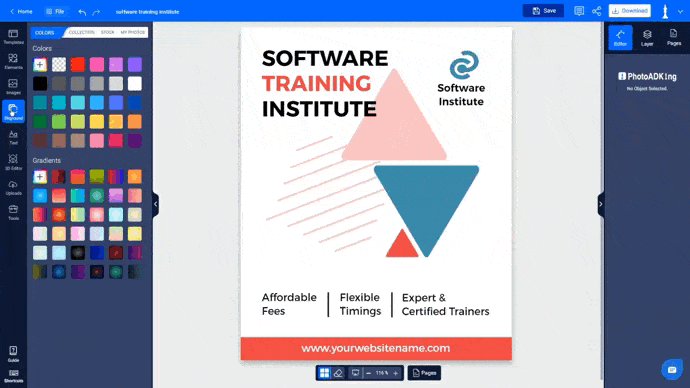 Change Logo and Institute Name: You can change your logo by uploading your own logo. If you don't have your logo ready yet, you can make a logo from our variety of logo templates. PhotoADKing also has a user-friendly logo maker, that you can use if you want to create your own logo from scratch. Write your institute's name. Make it bold with big letters or just keep it in small letters beside the logo.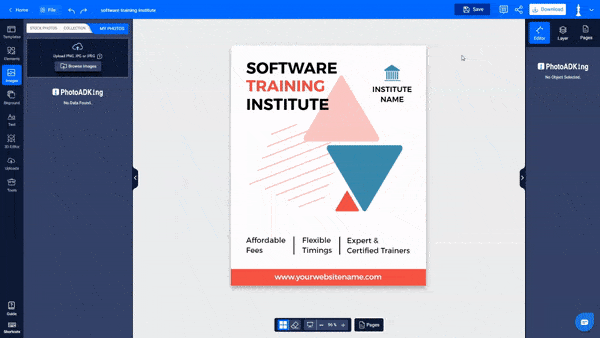 Change Fonts: Fonts are also an important factor in attractive flyer's design. There are different types of fonts available for you. Also, you can upload your own fonts that are suitable for your brand theme or your business.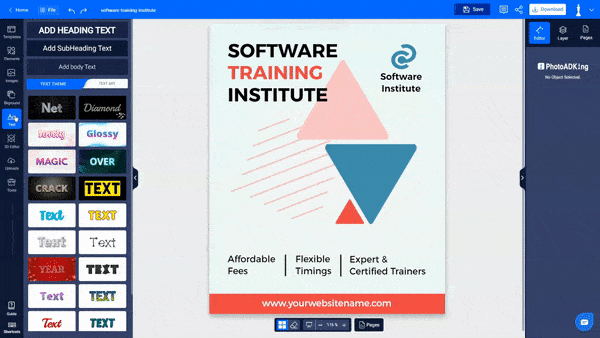 Read our blog on best fonts for flyers, if you are confused about which fonts to choose for your flyer.
Add or Change Content: You can add your institute's details like website address and contact numbers. Properly written content makes your flyer easy to read. Use text in large size for important details. Make sure the color of the text is in contrast with your background.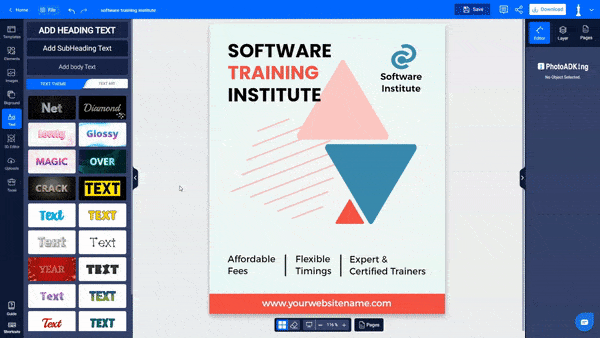 Change Elements: Elements play an important role in this minimal flyer design. By changing elements as per your needs, you can make your flyer more attention-grabbing. You can add shapes, stickers, and icons to your flyer design if needed. Also, add a border if it suits your flyer's design.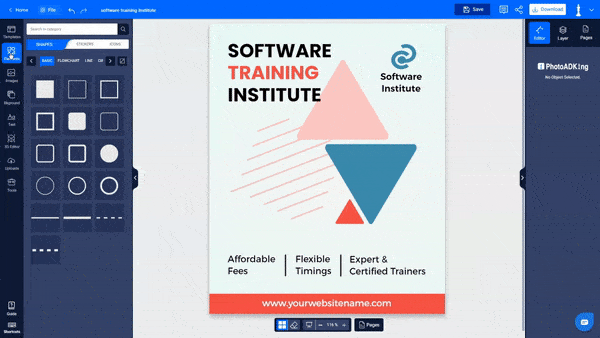 Step 4: Save and Download
After you are satisfied with your flyer design now it is time to save it, so you can edit it in the future. You will find the save and download button at the top-right corner of the editor. PhotoADKing provides high-quality file download options in JPG, PNG, and PDF formats. So that you can print your flyer in high quality.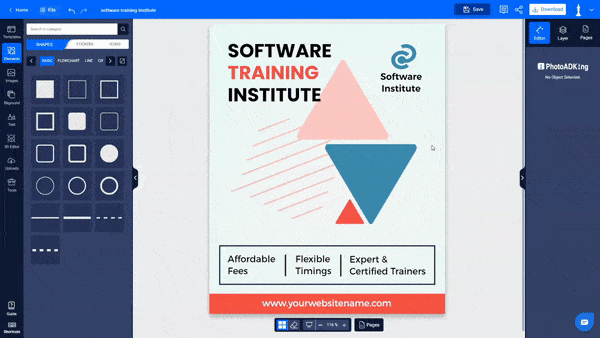 Step 5: Share Your Flyer Online
Sharing flyers on social media sites is a must in today's digital world. You can directly share it from the edit panel. It can be shared on the following social media sites.
Facebook
Twitter
Whatsapp
LinkedIn
Telegram
Email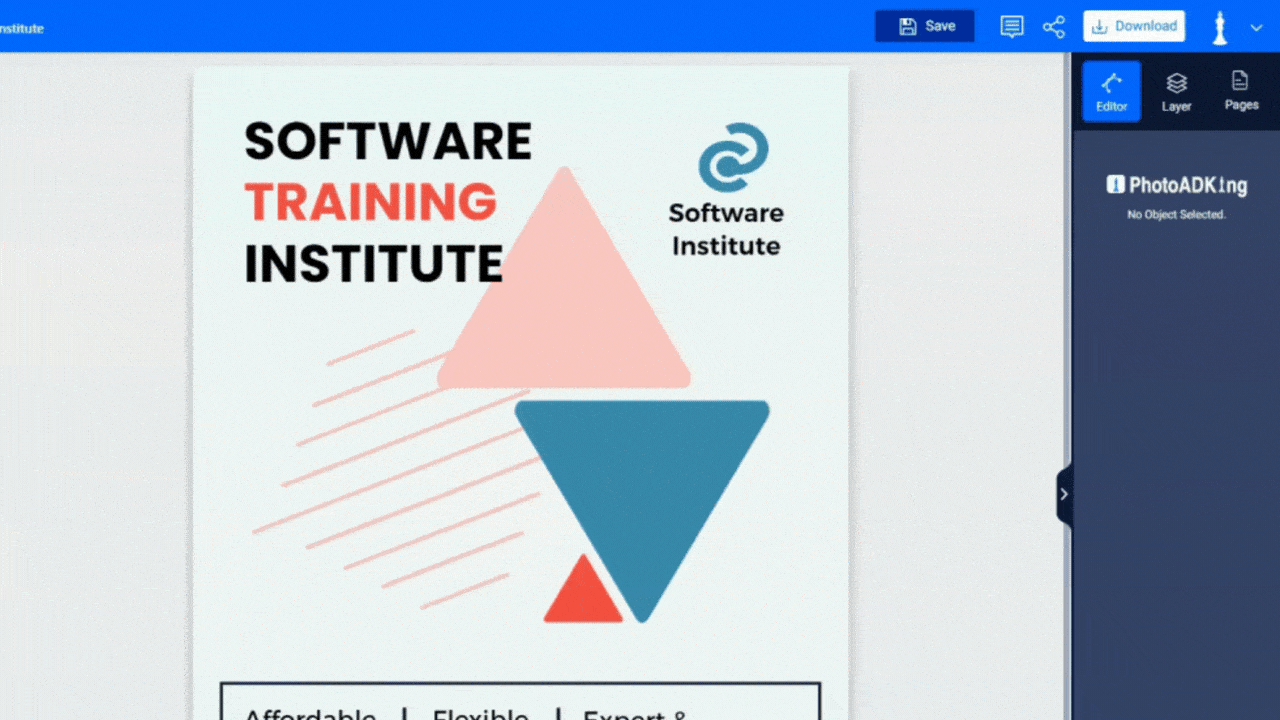 That's it! Following these simple steps, you can create professional-looking flyers using PhotoADKing.
Using different marketing materials is necessary for better marketing of your business. If you have decided to use different marketing materials and want a guide on how to design them, then check out these blogs.
Recommended Read:
How to Make a Flyers On iPhone
How to Maker AI Flyers
How to Create a Brochure
How to Make a Tri-fold Brochure
How to Design a Poster
How to Make a Pamphlet
How to Make a Logo
How to Design a Business Card
How to Make Invitation Cards
How to Make a Gift Voucher
How to Make a Gift Card
How to Use the Golden Ratio in Flyer
How to Make a Babysitting Flyer
How to Add a QR Code to a Flyer
Guide to Choose the Right Typography for Flyer Design
Now that you have understood the flyer's design process, you are obviously thinking about the printing process. Don't worry! We will also guide you here through important points to consider before printing your flyers.
What Points to Consider for Flyer Printing?
Printing flyers involves several important considerations to ensure a high-quality and professional result. First and foremost, it is essential that you choose the right printing method. Depending on the quantity and desired finish, options such as digital printing or offset printing can be selected.
Next, selecting the appropriate paper stock is crucial to achieve the desired look and feel. Factors like weight, texture, and finish (glossy, matte, or satin) should be taken into account.
These are the different paper finishes for flyers:
Glossy: It uses glossy paper to give the flyers a glossy effect.
Matt: It has a duller surface without shine.
Satin: It gives a perfect balance between glossy and matte finishes.
It is also important to ensure that the design file is prepared correctly for printing, with the right color mode (CMYK), proper resolution (usually 300 dpi), and suitable bleed and trim settings.
You should proofread the content thoroughly to avoid any spelling or grammatical errors before sending the final design to the printer. Lastly, choosing a reputable and reliable printing service provider is essential for timely delivery and high-quality prints.
Also Read: 10 Basic Flyer Design Principles
By considering these factors and paying attention to detail, one can ensure that the printed flyers effectively convey their message and leave a lasting impression on the target audience.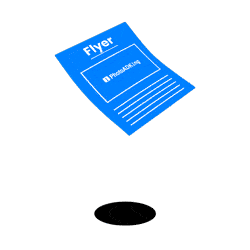 20000+ Flyer Templates Available for Customization
It is now easy to create a flyer with a wide range of easy-to-edit flyer templates.
Explore More Flyer Templates
Conclusion
In conclusion, this ultimate guide provides you with a comprehensive roadmap to creating compelling and impactful marketing materials. From determining your purpose and target audience to selecting the right layout, headlines, graphics, and colors, each element plays a crucial role in the overall success of your flyers.
Additionally, selecting the right flyer's size based on your objectives and distribution method can maximize its impact. Finally, by following the steps outlined for creating flyers, you can streamline the design process and produce a professional and effective marketing tool.
So, roll up your sleeves, unleash your creativity, and let your flyers make a lasting impact on your target market.
FAQs:
How do I determine the purpose and audience for my flyer?
Start by clarifying the main objective of your flyer. Is it to promote a product, announce an event, or offer a service? Next, identify your target audience by considering their demographics, interests, and needs. This will help you tailor your messaging and design to resonate with them.
How important are the layout and hierarchy of a flyer?
The layout and hierarchy of a flyer are crucial for guiding the reader's attention and organizing information effectively. Use a clear and logical flow, with headings, subheadings, and bullet points to create a visual hierarchy. This ensures that your message is easy to understand and key elements are emphasized.
What makes a compelling headline for a flyer?
A compelling headline should be concise, attention-grabbing, and clearly convey the main benefit or message of your flyer. It should pique the reader's curiosity and entice them to explore further. Consider using action words, asking questions, or highlighting a unique selling proposition to make your headline stand out.
How can I create eye-catching graphics and images for my flyer?
Use high-quality and relevant visuals that capture your attention and enhance your message. Incorporate professional photographs, illustrations, or icons that align with your brand and purpose. Consider using design software or hiring a graphic designer to create visually appealing graphics and images for your flyer.
What is the strategic use of color in flyer design?
Color can evoke emotions, convey meaning, and create visual interest. Choose colors that align with your brand identity and evoke the desired response from your audience. Use color strategically to create contrast, highlight important elements, and establish a cohesive visual theme throughout your flyer.
How can I keep my flyer simple and focused?
Avoid cluttering your flyer with excessive text and images. Focus on the key message or call-to-action you want to convey. Use clear and concise language, incorporate white space, and maintain a clean layout to ensure your flyer is easy to read and visually appealing.
How do I select the right flyer size?
Consider the purpose, content, and distribution method of your flyer. A standard 8.5 x 11-inch size is versatile and commonly used. However, if you need something more compact or eye-catching, you can opt for smaller or larger sizes accordingly. Choose a size that complements your design and suits the intended use of the flyer.