In today's digital age, designing creative flyers has become even more accessible with the help of AI flyer maker tools. AI tools leverage the capabilities of artificial intelligence to design professional-looking flyers that can capture attention and convey messages effectively.
However, streamlining your flyer creation process with the innovative flyer maker to save you both time and money and say goodbye to the hassle of designing flyers from scratch or outsourcing expensive graphic design services. With the flyer maker, you have the power to create eye-catching, professional flyers in a matter of minutes.


In this article, we will explore step-by-step guidelines for how to use AI flyer maker tools to make creative flyers that leave a lasting impression. As well as, the various benefits of using AI tools that we are going to explore further.
Table of Content
Firstly, will see, the meaning of AI maker tools, how they work, and their features. Let's learn.
What are AI Flyer Maker Tools?
AI flyer maker tools have revolutionized the way flyers are designed. These tools utilize advanced algorithms and machine learning to create visually appealing layouts, select appropriate colors and fonts, and even generate text that resonates with the target audience. With AI, you can achieve professional-quality designs without the need for extensive graphic design skills.
Now, let's move to the topic we are going to learn what are the key features of AI flyer maker tools and will explore the AI flyer maker tools available that we are going to use in this article.
---
Different AI Tools to Be Use
Here, we are going to use the top three tools to create stunning AI flyers. There are;
Midjourney
AI Image Generator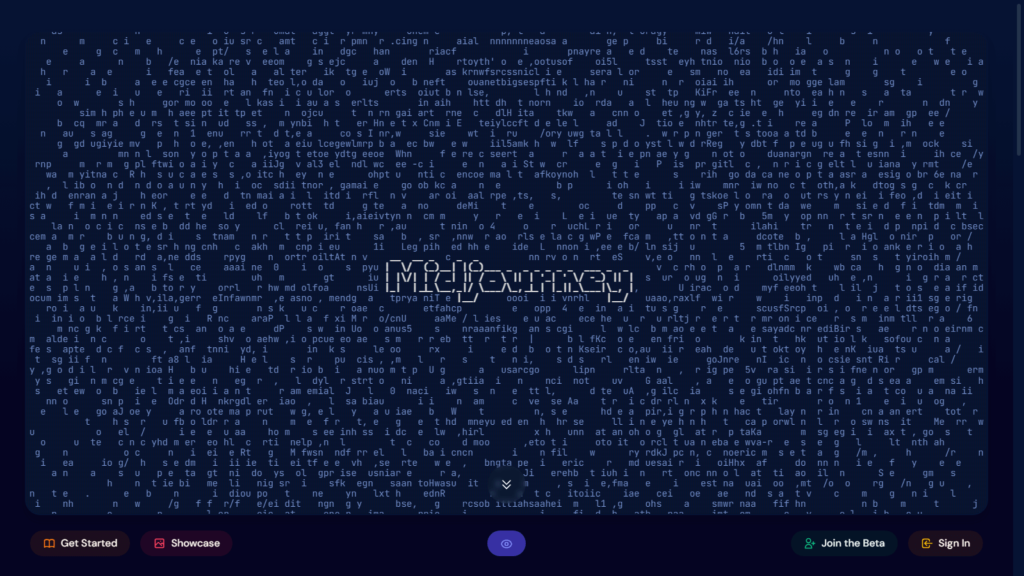 The Midjourney is an image AI generator which is an impressive tool. It works with the Discord server and helps you to generate images from textual prompts. What's special about this AI tool is that it can make images that look real and lifelike. It's also really fast at creating pictures, which makes it even more exciting.
Midjourney Parameters and Commands
Alterations to the prompt in Midjourney (utilized through Discord) can include additional parameters added at the end. These parameters are introduced by using a double hyphen or an em dash, followed by the parameter name and its corresponding value.
–no consider negative prompt, which means that you can write what you don't want in your image.
For example, –no plants would try to exclude plants from your image.
For more such basic parameters, have a reference from MidJorney parameters lists.
Midjorney also provides the commands introduced through the use of a slash (/) in the text generation platform and allows you to provide detailed descriptions for the images you want to generate.
/imagine prompt: type the description in the message field for the image you want to generate.
For example, /imagine prompt: Square, church flyer, Nigeria church flyer design, church building, black man, worship, attractive background
Key Features of Midjourney:
Customizable prompts: by adding extra parameters to fine-tune the output.
Speedy creation of AI-generated images.
4 images are generated per time.
High-quality images upto 8k resolution
Why Do We Use Midjourney for Creating Flyers?
We are going to use Midjourney to generate images that we will use in our AI-made flyer.
---
ChatGPT
Generate Text Prompts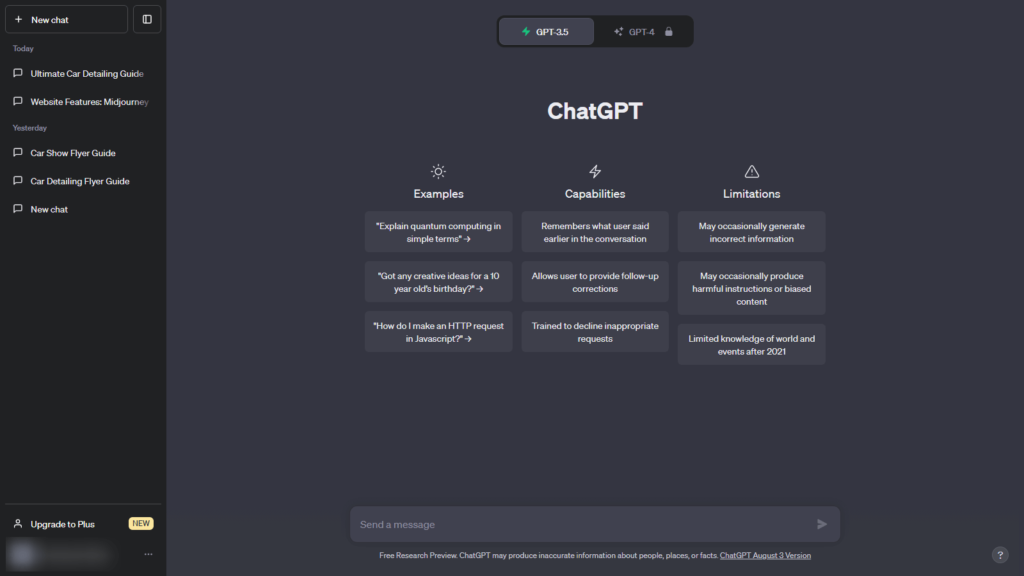 ChatGPT, a notable advancement in today's technological landscape, has become increasingly important as a versatile tool for communication and problem-solving also it is an advanced language model created by OpenAI that can understand and generate human-like text based on the input it receives. You can interact with ChatGPT by providing text prompts, which are sentences or questions that guide the model's responses.
Key Features of Chat GPT:
ChatGPT is an advanced language model developed by OpenAI.
Text Generation and Understanding
Quick and Accurate Responses
Assistance in Various Tasks like content creation, problem-solving, brainstorming, and more, across a wide array of topics.
When Do We Use Chat GPT for Generating AI Flyers?
We are going to use Chat GPT to generate the text in the flyer.
We have covered the top three AI tools that we are going to use while creating the flyers. So, let's move further to the easy steps to make creative flyers using AI maker tools.
---
PhotoADKing
Graphic Design Platform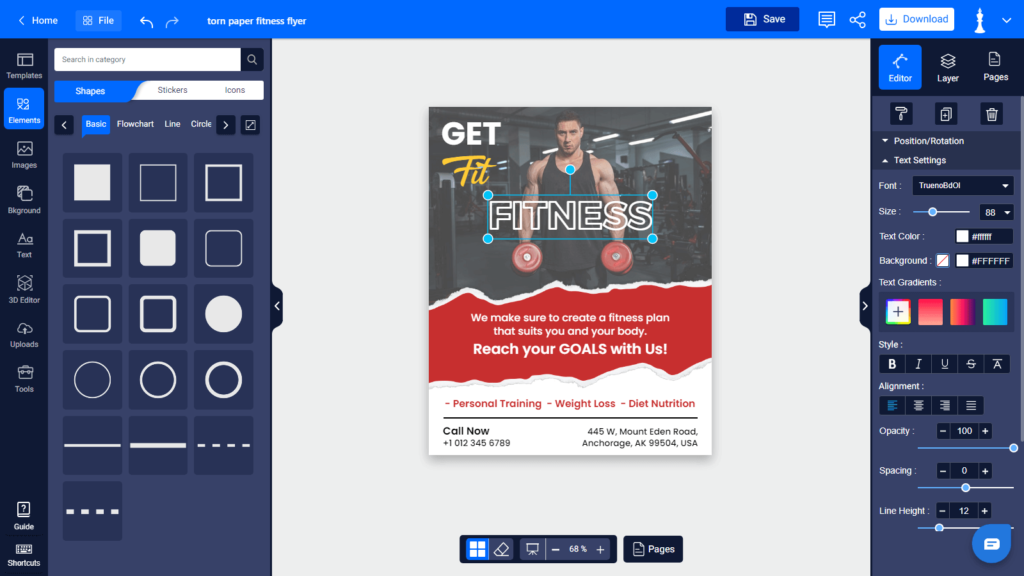 PhotoADKing is a graphic designer tool that helps you to create or edit your flyer templates and many more. PhotoADKing offers you a wide range of customizable features for editing flyers, enabling users to customize layouts, add text, and add elements, images, and graphics with ease so that you can ensure your flyer truly represents your brand or event.
Notably, this tool also offers features to adjust and enhance images, allowing users to fine-tune every aspect of their design. Whether it's resizing, cropping, adding filters, or adjusting colors, PhotoADKing's intuitive tools make the process seamless.
Key Features of PhotoADKing:
Fully customizable layer editor
Customize layouts, and add text, elements, images, and graphics without requiring advanced design skills.
Image enhancement features such as resizing, cropping, filters, and color adjustments, empower users to refine every detail.
Custom canvas sizes
Custom fonts in your flyers
While creating it has an autosave design feature.
When Do We Use PhotoADKing for Designing AI Flyers?
We are going to edit the images on the flyer using PhotoADKing.
Also Read: Types of Fonts
---
Step-by-Step Guide to Create Flyers with AI Tools
Now, we will walk you through the steps using three popular AI tools i.e. Midjourney, PhotoADKing, and ChatGPT to prepare the flyer.
Make Images with Midjourney
Step 1- Sign-up or Log-In To Discord
Firstly, you have to access the Midjourney Bot through the Discord server.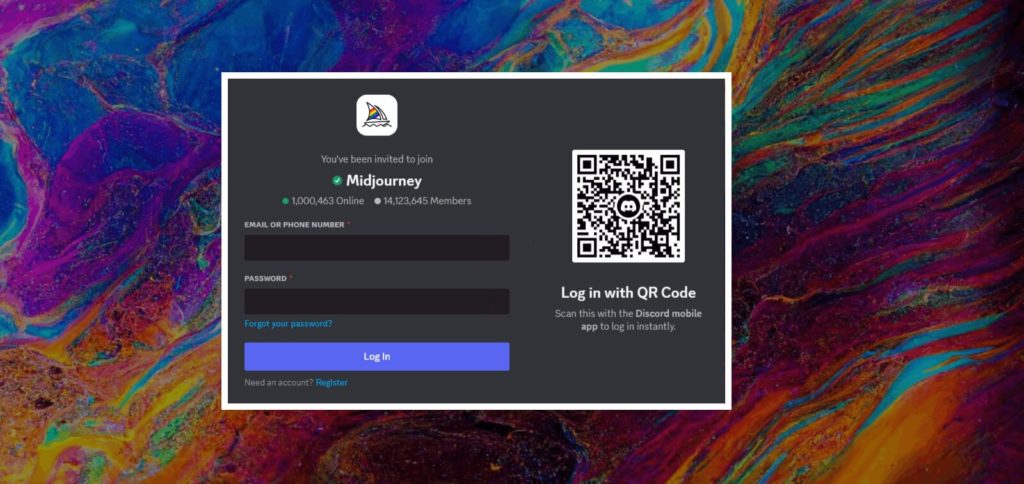 Step 2- Join the Midjourney Server on Discord
Join the Midjourney Server on Discord to connect with like-minded individuals and engage in discussions or to generate flyers, posters, and many more AI images also expand your network and share your insights within a vibrant and welcoming community.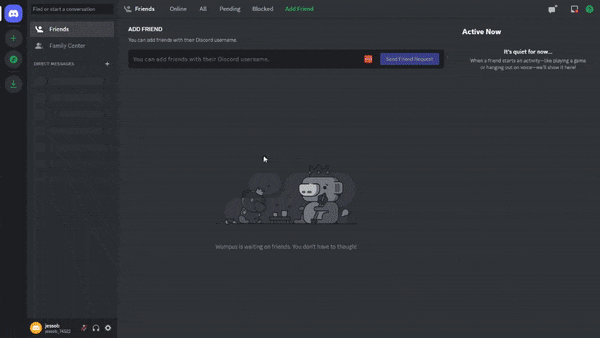 Step 3- Go to any #General or #Newbie Channel
As soon as you join the Midjourney server on Discord, you'll see a list of channels on the sidebar, and join those channels to generate the creative flyer the way you want.

Step 4- Use the /imagine Command
Utilize the /imagine Command to generate captivating AI-designed flyers on Midjourney's Discord Server also create stunning promotional materials for your events and initiatives with just a simple command.
In the message field, type /imagine prompt. From the list of available slash commands, you may also choose the /imagine prompt command.
In the prompt section, enter a description of the image you wish to generate. For example; /imagine prompt: a blonde girl with green eyes working out in the gym doing bicep curls with 20-pound dumbbells.
After the Bot receives your written command, it will start to create the images.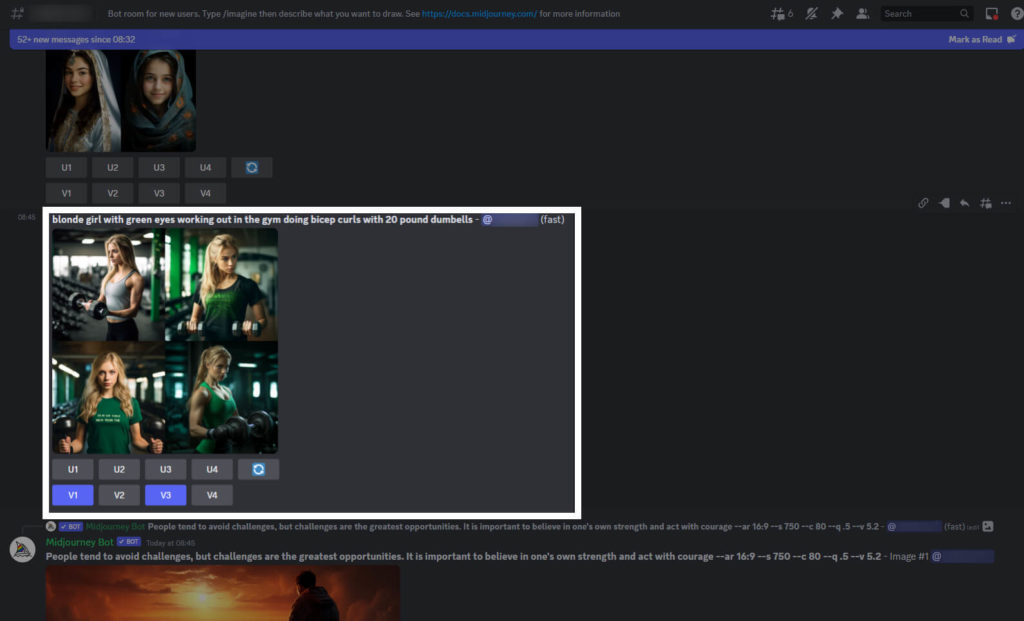 Step 5- Select and Save Your Image
Lastly, after generating your AI flyer using the /imagine Command, choose the perfect image that resonates with your design, and then click on the image to open it to full size and save the finalized image for your flyer to effectively promote.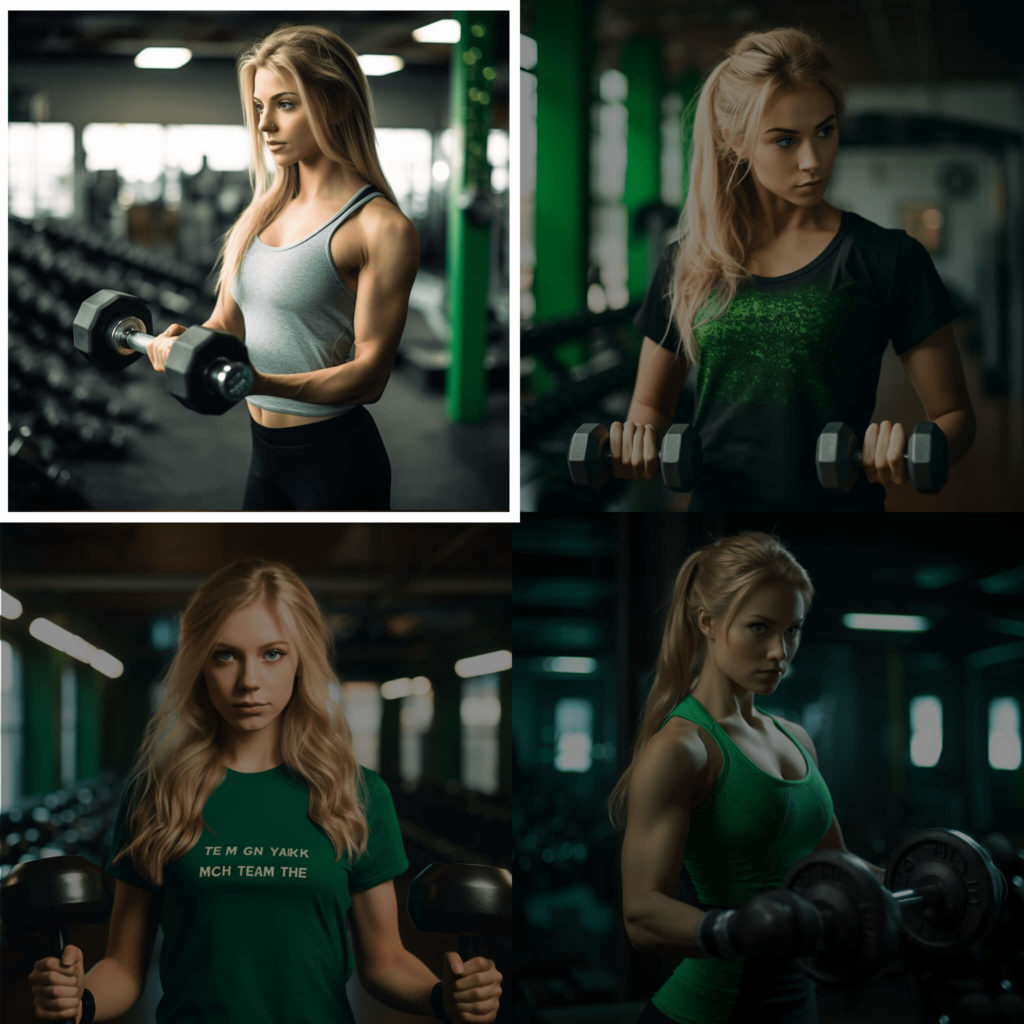 After generating the image for your flyer we are going to design the gym flyer using the PhotoADKing, and for text prompt with the Chat GPT AI tool simultaneously. Let's get started.
Also read, Fitness Flyer Ideas and Examples
---
Generate Text Prompts with ChatGPT
Step 1- Sign-up or Log-In To ChatGPT
First, you simply just have to sign up or log in through your email to engage in natural language interactions and receive helpful responses for a variety of tasks and inquiries.
Step 2- Write Your Topic in the Search Bar
Enter your desired topic or keyword into the search bar on ChatGPT's quotes prompt, and instantly receive a curated selection of relevant and thought-provoking quotes that match your chosen subject.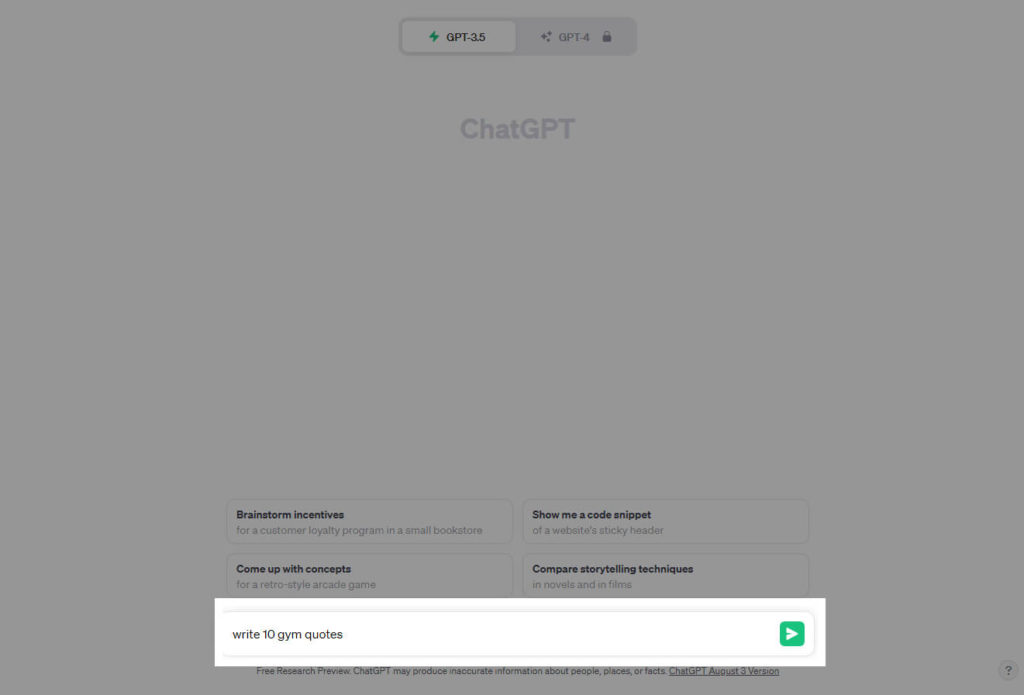 Step 3- Choose the Quote and Apply Into Your Flyer
Select your preferred quote from the list provided by ChatGPT and seamlessly integrate it into your flyer design, adding an impactful touch of inspiration or creativity to your promotional material.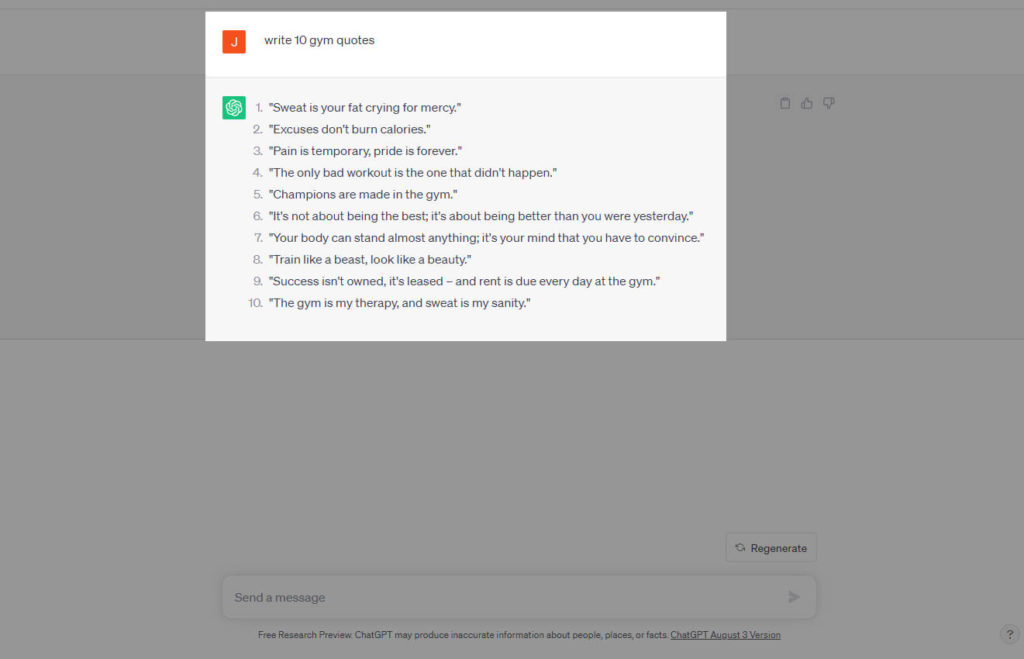 ---
Create Gym Flyer with PhotoADKing
Step 1- Sign-up or Log-in to Edit Your Flyer
To begin the flyer editing process, either sign up for a new account or log in if you already have an existing one.

Step 2- Search Gym Flyers
In the next step, search for "gym flyer" templates from PhotoADKing's collection to find the perfect design that suits your needs.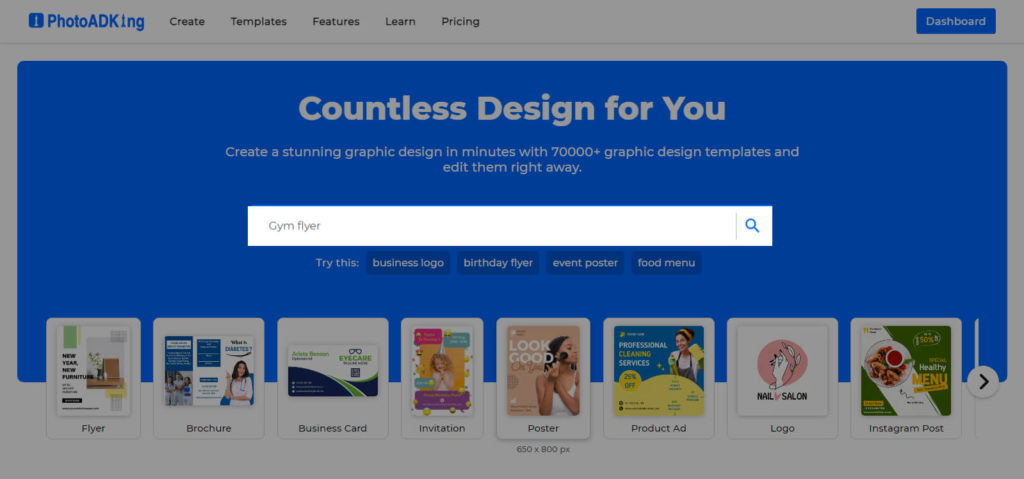 Step 3- Choose the Perfect Gym Flyer Template
Select the ideal gym flyer template that aligns with your preferences and promotional goals, ensuring it effectively showcases your fitness services and engages your target audience.
Step 4- Customize your Flyer
After choosing the flyer template start customizing your gym flyer by adding your own text using the Chat GPT tool, images, and branding elements, making it uniquely yours and compelling for your potential customers.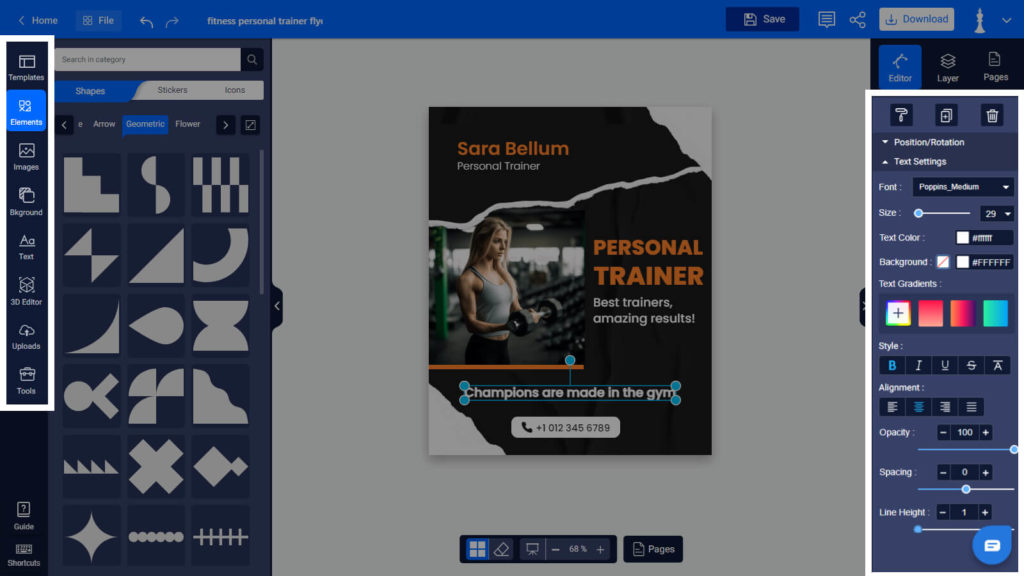 Step 5- Save and Download
Once you're satisfied with your customized gym flyer, save your changes and download the final design in a preferred format, ready to be printed or shared digitally to promote your fitness offerings effectively.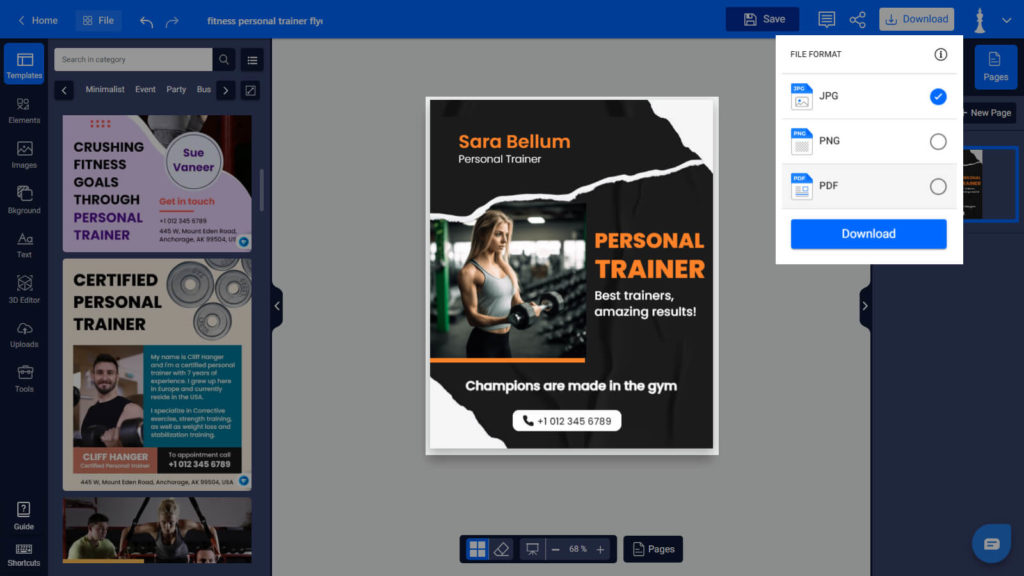 Also read, Gym Flyer Ideas and Examples
However, I am sure you will get an engaging flyer after using these AI flyer maker tools. This step-by-step guide demonstrates how to leverage Midjourney, PhotoADKing, and ChatGPT to design eye-catching flyers that effectively convey your message and capture your target audience's attention.
---
Recommended Blogs:
How to Make a Flyer
How to Choose a Gradient Color Scheme for Flyers
Flyer Size
The Golden Ratio in Flyer
Graphic Design Flyer Ideas
Flyer Samples
Creative Flyer Examples
What Is A Flyer? – Definition, Purpose, & Components
10 Basic Flyer Design Principles
Flyer Layout Ideas
Flyer Purpose
Flyer vs Poster
Types of Flyer Design
How to Add a QR Code to a Flyer
Flyer Style
---
To Sum Up
The integration of AI flyer maker tools has revolutionized flyer design in the digital age, empowering users with the ability to effortlessly create captivating and professional-quality flyers. By harnessing the capabilities of tools like Midjourney for image generation, PhotoADKing for graphic design, and ChatGPT for text prompts, individuals can streamline the creative process and produce eye-catching flyers that effectively communicate their messages, making flyer design more accessible and efficient than ever before.
Now it's your turn to unleash your creativity and craft amazing flyers with the aid of these remarkable AI flyer maker tools also, embrace the future of design by harnessing the power of Midjourney's image generation, PhotoADKing's graphic design prowess and ChatGPT's text prompts to effortlessly bring your ideas to life.
---
FAQs
Are these tools suitable for beginners with no design experience?
Absolutely, AI flyer maker tools are designed to be user-friendly, allowing beginners to create professional-looking designs with ease.
Can I adjust the layout and design suggestions provided by the AI if I have specific preferences?
Yes, AI flyer maker tools provide suggestions that you can customize according to your preferences. You have full control over the design elements and layout.
Can AI tools assist in content creation for the flyer?
Yes, Chat GPT is the tool where that can help you to generate the perfect text prompt for your flyers.