Crafting heartfelt cards is a cherished tradition that spreads joy and warmth during the festive season. However, creating personalised Christmas cards will leave a lasting impression on your loved ones. From selecting the perfect and unique Christmas card materials to adding that special touch, discover the art of how to make Christmas cards with our simple yet creative techniques.
PhotoADKings' Christmas card maker tool allows users to create one-of-a-kind, printable Christmas cards with ease. With a vast selection of unique Christmas greeting images and customizable options, it offers a seamless platform to design custom Christmas cards that truly stand out. Whether you're looking to add a personal touch or showcase your creativity, this tool provides the perfect canvas to craft memorable holiday greetings.

In this blog, we will delve into the festive world of holiday greetings, to create one we'll explore the easy steps on how to create your own Christmas cards as well as how to add photos to Christmas cards. Additionally, we'll also share tips while creating Christmas cards. Let's get started.
Table of Contents
How to Make Christmas Cards With Photos
Tips While Creating Christmas Cards
Similar Blogs
Conclusion
FAQs
Step 1: Open the PhotoADKing
To begin, visit the PhotoADKing website and either sign in with your existing account or register for a free one if you haven't already.
Step 2: Search Christmas Greeting Card Template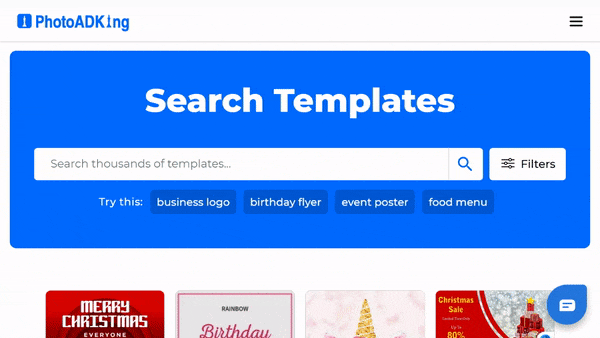 To start crafting your Christmas greeting card templates using PhotoADKing, start by visiting the homepage or dashboard. Locate the search bar and type "Christmas Greeting Card" to discover suitable templates. Once you've identified the template you prefer, click on it to begin.
Step 3: Choose a Christmas Card Template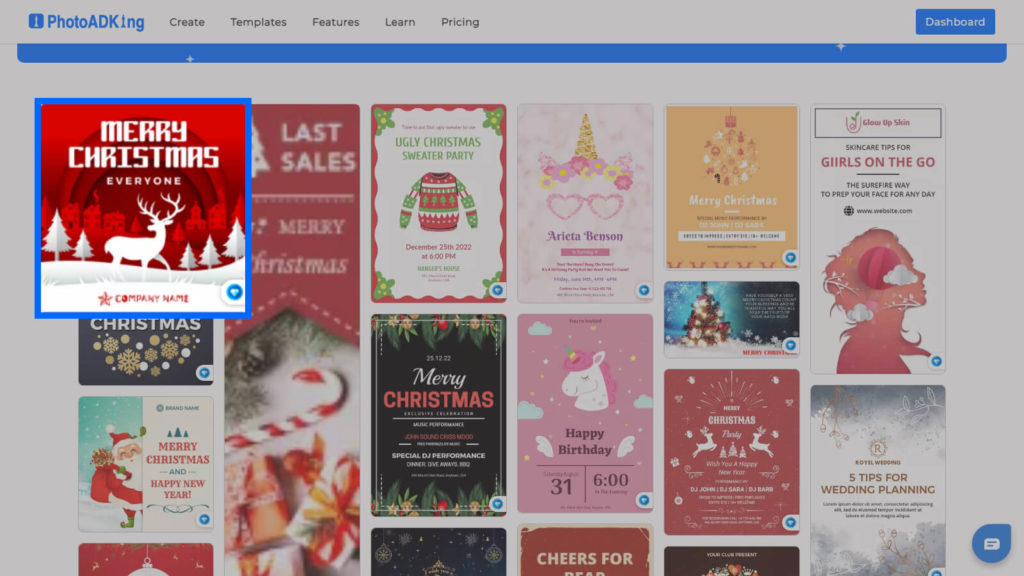 To kickstart the process, selecting the appropriate Christmas greeting card template is crucial for designing a greeting card. So, visit PhotoADKing and explore their vast array of templates to discover the ideal match for your event.
Step 4: Start Customizing
Once you've chosen a template that aligns with your preferences, it's time to add your personal touch. PhotoADKing offers the flexibility to adjust elements like text, graphics, background hues, additional components, and many more elements and tools that we can use while creating custom Christmas cards.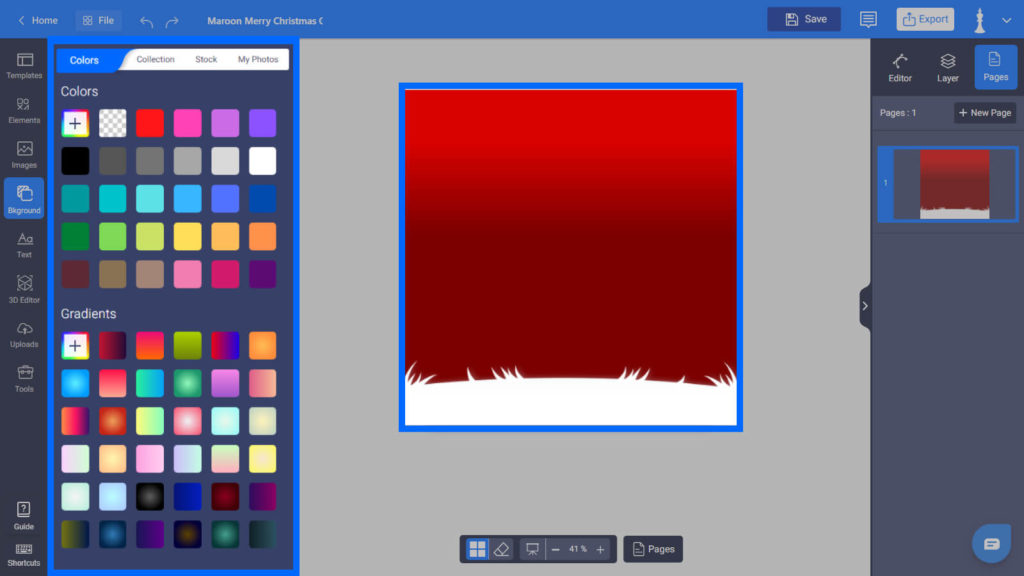 Apply a suitable background color according to your Christmas theme or card, like red and white, to attract your guests.
Alternatively, you can browse how to choose a color palette using this link.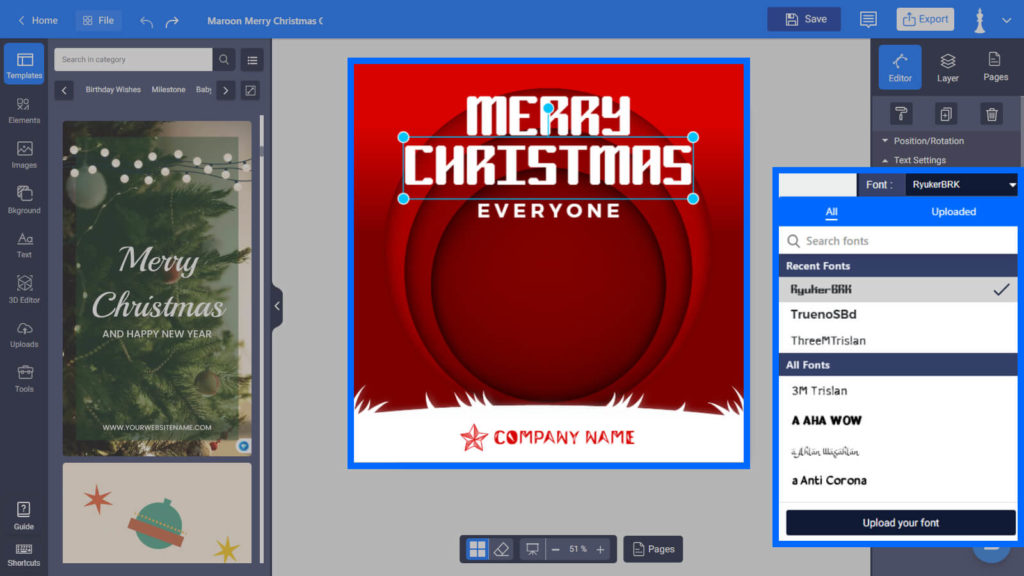 You have the option to switch up your font style by choosing typography that complements the style or theme of your greeting card.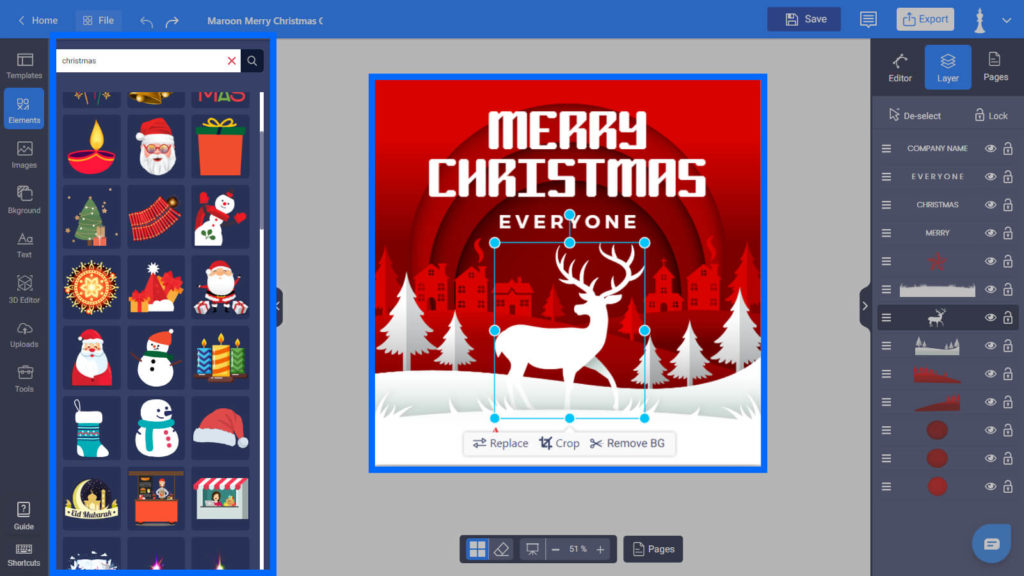 Incorporating elements into your greeting card adds decorative shapes and icons to enhance the overall design, allowing you to create a unique and memorable card that stands out.
Step 5: Save, Download, and Share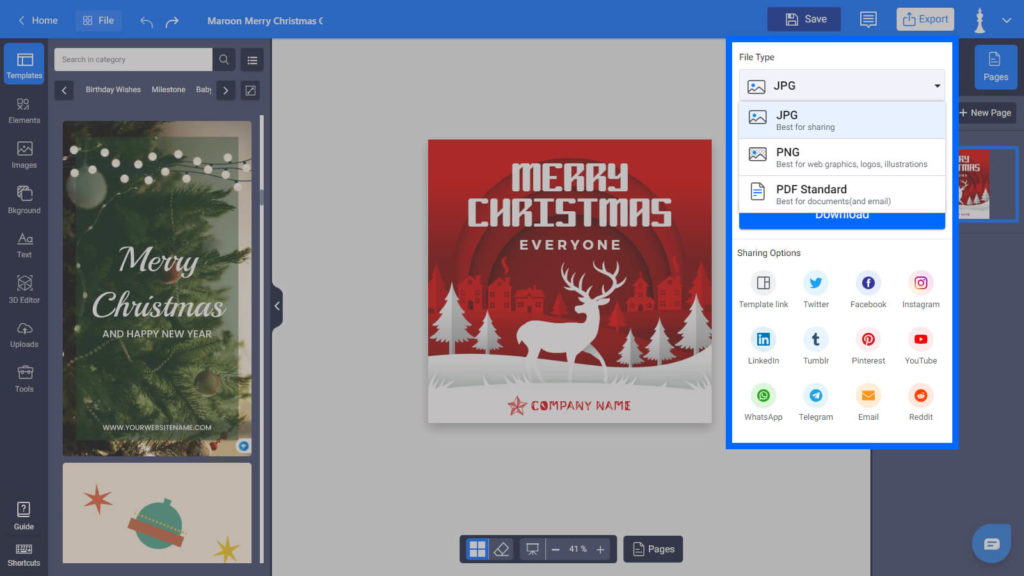 Finally, once you're satisfied, click save to your Christmas card, so that you can re-edit your design whenever you want to form the dashboard, after that download it, and you can also share it on various platforms.
Apart from the method we discussed earlier for creating greeting cards, you also have the option to design cards with personalized photos. Let's explore the steps to incorporate your own photos into Christmas cards.
---
How to Make Christmas Cards With Photos
---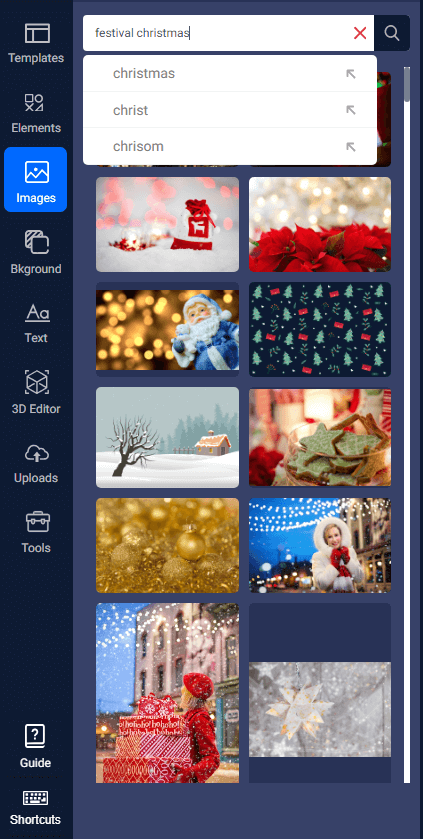 Either, you can pick images from PhotoADKing's sock photos or collections that show on the left side of the panel, or else you can directly search above for the images, for example; Christmas, or festival Christmas.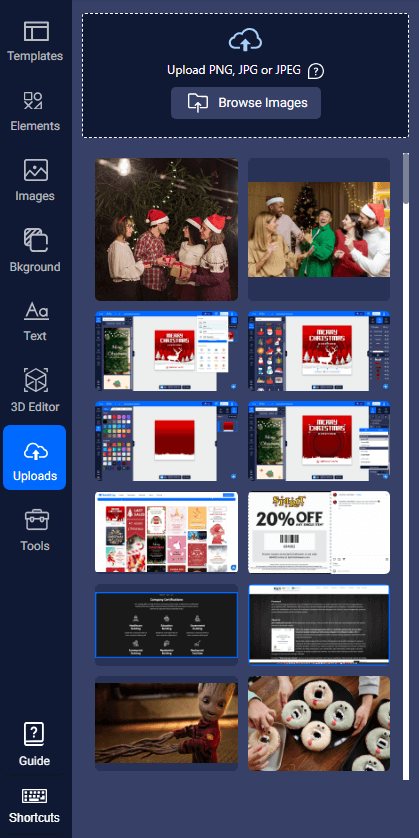 Additionally, the second option is that you can upload the image of your choice, but the file should be in a JPG, PNG, or JPEG format up to 5 MB. Also, free users can upload a maximum of 5 images.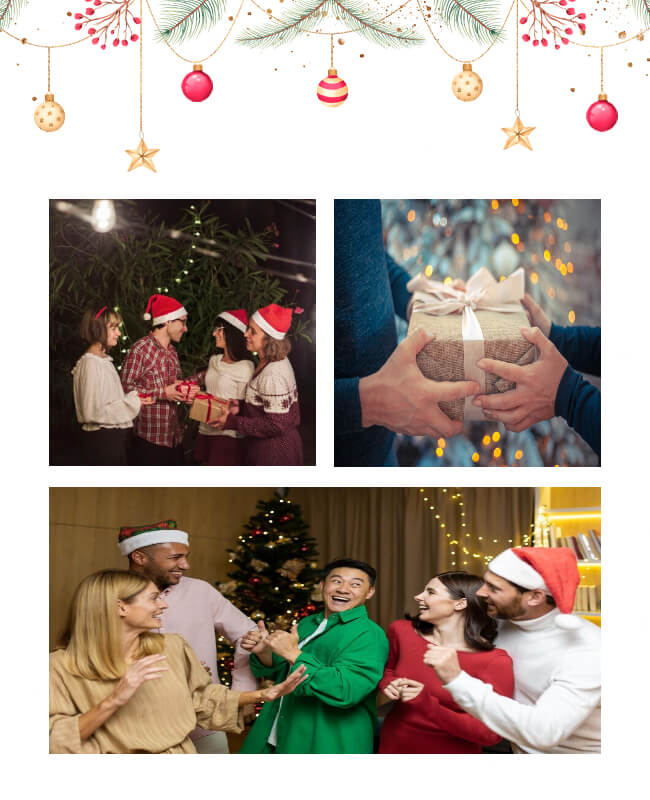 Finally, with the incorporation of the images, the Christmas greeting card has achieved its final form. Here is the completed design, showcasing the festive spirit in all its glory.
We have completed the different methods to create your own Christmas cards with or without images. Now, we will delve into essential tips for card creation. This will encompass key considerations as well as what to avoid during the process.
---
Tips While Creating Christmas Cards
---
Choose a Theme or Style
Firstly, decide on a theme or style that reflects the mood you want to convey. It could be traditional, modern, minimalist, or even whimsical.
Select High-Quality Images
Use high-resolution images for a crisp and clear result. Look for festive pictures that evoke the spirit of Christmas.
Balance Text and Images
Ensure a good balance between text and images. Avoid overcrowding the card with too much information.
Incorporate Personal Touches
Add personal elements like family photos or signatures to make the card more special.
Add Greetings and Wishes
Lastly, write warm, heartfelt wishes that convey the holiday spirit. Be creative and personalize the message.
Similar Blogs
How to Make Halloween Cards in 5 Easy Steps
Christmas Greeting Card Backgrounds
How to Create a Halloween Menu
Creative Christmas Gift Card Ideas
15+ Christmas Greeting Card Ideas
How to Design a Thanksgiving Menu Using Templates?
Customizable Christmas logo Ideas
Guide to Choose the Right Typography for Flyer Design
How to Use the Golden Ratio in Flyer Designs
How to Choose a Gradient Color Scheme for Flyers
Christmas Marketing Ideas for 2023
Christmas Flyer Backgrounds
How to Add Blur Effect on Image in PhotoADKing
Innovative Christmas Invitation Ideas for Festive Season
Captivating Christmas Gift Card Background Ideas
How to Design a Christmas Menu
Christmas Menu Design Ideas and Examples
Creative Christmas Party Flyer Ideas & Examples
Christmas Poster Ideas & Examples
Amazing Christmas Cards Design Ideas
How to Create Flyers With AI Flyer Maker Tools
20+ Creative Halloween Card Backgrounds
10+ Halloween Invitation Backgrounds to Spook up Your Designs
15+ Halloween Greeting Card Ideas
---
Conclusion
---
In conclusion, creating your own Christmas cards can be a delightful and heartfelt way to spread holiday cheer. We've explored the 5 easy steps to creating Christmas cards, including personalized options with photos, which can truly make your greetings special. Additionally, our tips for crafting cards with care can help you add that extra touch of warmth to your Xmas greetings. Whether you're searching for card templates, backgrounds for Christmas cards, or printable Christmas cards, this guide has you covered. 
However, this year's holiday season, let your creative Christmas card ideas shine through and send out those unique Christmas cards filled with love and festive spirit.
---
FAQs
---
What are some ideas for creative Christmas cards?
Creative Christmas card ideas can include pop-up cards, cards with interactive elements, handmade ornaments attached to the card, or cards with a unique shape or format.
What are some tips for choosing the right colors for my Christmas card design?
Consider traditional Christmas colors like red, green, gold, and silver. You can also opt for a color scheme that complements the theme or the recipient's preferences.
Can I add a personal photo to my Christmas card design?
Absolutely! Including a personal photo can make your Christmas card more intimate and special for the recipient.
What are some tips for choosing the right font for my Christmas card message?
Opt for legible fonts that match the overall style of your card. Consider script fonts for a more elegant look or bold fonts for a modern touch.