Designing a Thanksgiving menu using templates can be a great way to save time and ensure that you have all the necessary dishes for a successful holiday meal. Whether you are an experienced cook or a novice in the kitchen, creating a Thanksgiving menu can be a daunting task. However, with the right tools and resources, you can make the process simple and stress-free.
We understand the importance of having a well-planned Thanksgiving menu that caters to the needs of your guests. That's why we have put together a comprehensive guide on how to design a Thanksgiving menu using templates that will not only save you time but also make your holiday meal memorable.
Choose a Menu Template
The first step in designing a Thanksgiving menu using templates is to choose the right one. With the abundance of templates available online, it can be overwhelming to make a choice. However, it is crucial to select a template that aligns with the style and theme of your Thanksgiving gathering. A cohesive theme will make your menu stand out and create a lasting impression on your guests.
Determine the Number of Guests
Knowing the number of guests you will be serving is essential in designing a Thanksgiving menu. The quantity of each dish you will need to make is dependent on the number of people you will be serving. By determining the number of guests, you will be able to create a precise shopping list, preventing wastage or shortage of food.
Select Appetizers
Appetizers are a great way to keep your guests satisfied while they wait for the main meal. Choose a variety of appetizers that are easy to prepare and complement the flavors of your main dishes. Some popular appetizers for Thanksgiving include stuffed mushrooms, cheese and crackers, and deviled eggs.
Choose the Main Dishes
Choosing the right main dish for your Thanksgiving menu can be challenging, but it doesn't have to be. Traditional Thanksgiving main dishes include roasted turkey, ham, or a vegetarian option like stuffed squash. Consider the dietary restrictions of your guests when choosing your main dishes. You can also experiment with new recipes to add a unique touch to your menu.
Add Side Dishes
Side dishes are an integral part of a Thanksgiving meal. Mashed potatoes, sweet potatoes, stuffing, and green beans are some staples that cannot be left out. Choose side dishes that complement your main dishes and offer a variety of textures and flavors. Don't be afraid to incorporate new recipes and try out different flavors.
Plan Desserts
No Thanksgiving meal is complete without dessert! Pumpkin pie is a classic Thanksgiving dessert, but you can also consider other pies, cakes, or cookies. Adding a variety of desserts to your menu will cater to the preferences of your guests and make the meal even more enjoyable.
Customize Your Menu
Once you have selected your dishes, it's time to customize your menu. Adding your personal touch to your menu will make it unique and memorable. You can add descriptions or photos of each dish and consider incorporating a Thanksgiving theme or color scheme into your menu design. Personalizing your menu will make your guests feel special and appreciated.
Step-by-Step Guide: How to Design Thanksgiving Menu Using Templates
Designing a thanksgiving menu can be a fun and unique process. But it also requires careful planning and attention to detail. If you're looking to create a thanksgiving menu for your company, using a template can save you time and effort.
Our step-by-step guide walks you through the process of designing a thanksgiving menu using pre-designed photoADKing templates. Check out our recommended thanksgiving menu templates and get started on creating a professional and visually appealing thanksgiving menu for your customers to enjoy.
Step 1: Create a Free Account
Visit the PhotoADKing website and sign up for an account.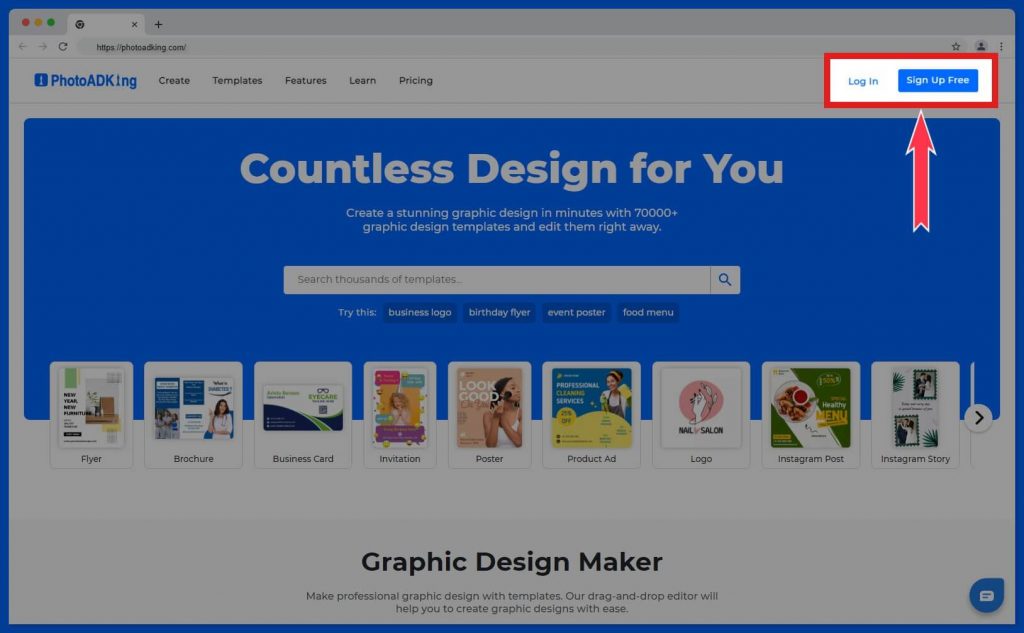 Step 2: Search Menu Template
Once you are logged in, type 'Thanksgiving Menu' in the search bar. Next, you will see so many pre-designed thanksgiving menu templates.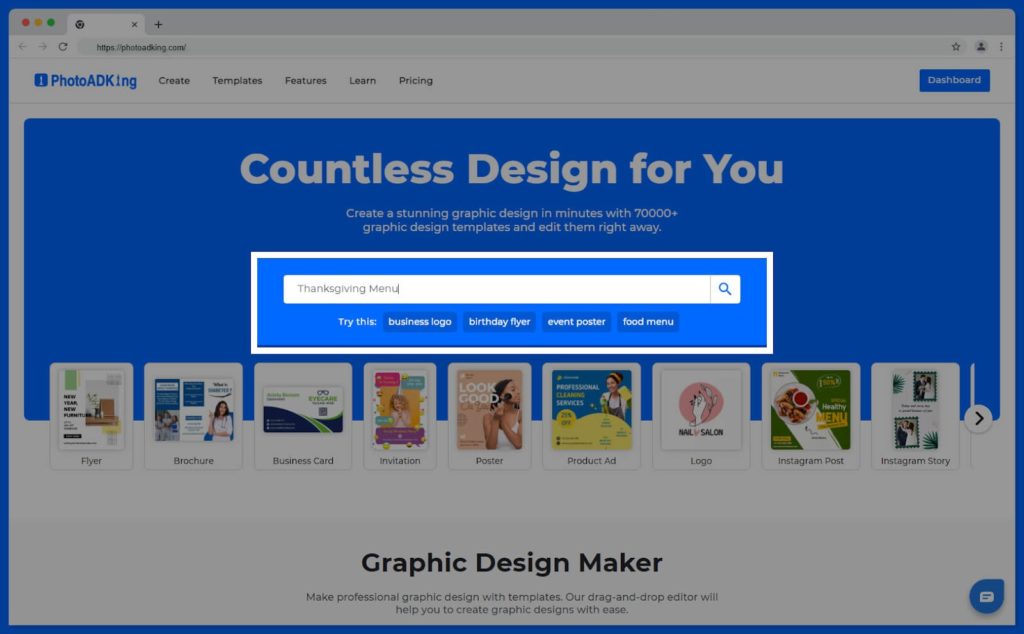 Step 3: Choose the Right Menu Template
Choose the right thanksgiving menu template according to your need and whether you want to edit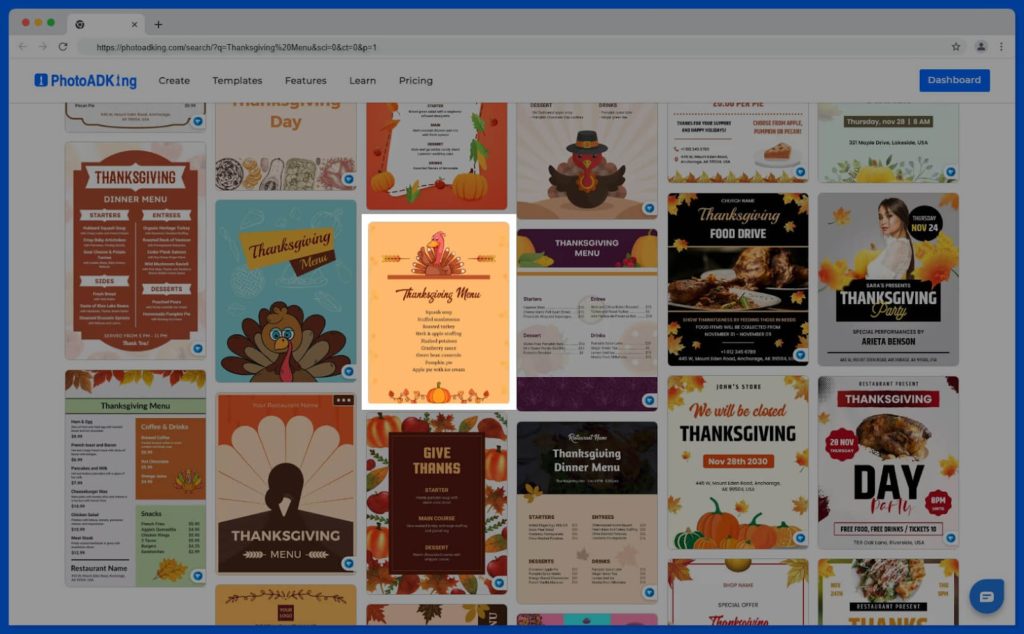 Step 4: Customize Menu Template Design
Customize the layout and design of your thanksgiving menu, including the color and other visual elements.
Additionally, designing a thanksgiving menu can be hard. But with the right tools and templates, it can be a breeze! Check out these Thanksgiving flyer ideas for inspiration on how to create a menu that showcases your treats.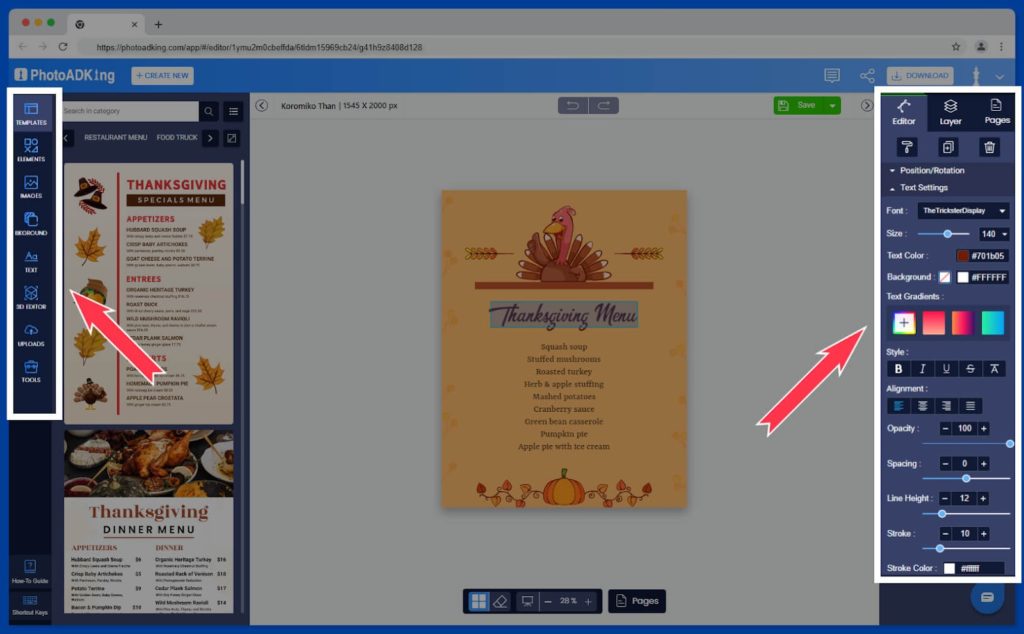 Step 5: Download Menu Template
After changes, you can download or print your template.
On this page, you will see the top right corner button download. Click the button and download the flyer template.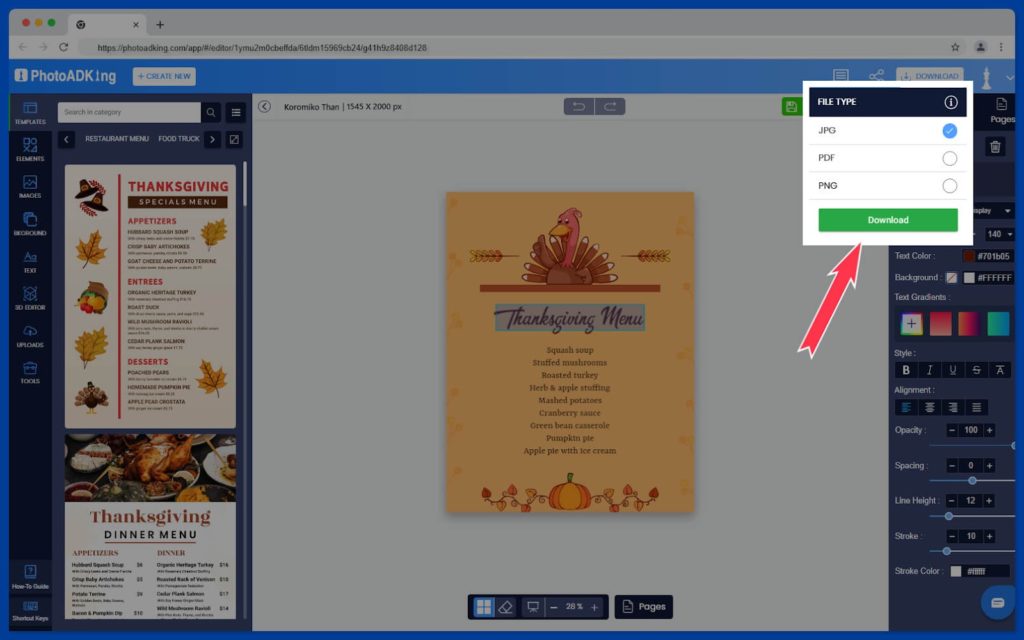 Moreover. if you're looking to create a thanksgiving menu that truly stands out. Then check out this menu maker can be a great tool to help you achieve your vision. With a menu maker, you can easily design and customize your menu. Give a menu maker a try and see how it can take your thanksgiving menu to the next level.
Tips for: How to Design a Thanksgiving Template Using Templates
Decide on your theme: Consider the type of Thanksgiving meal you want to serve. Will it be traditional, modern, or something in between? Decide on a theme and try to incorporate it into your menu template.
Plan your dishes: Plan out your menu, including appetizers, main courses, side dishes, and desserts. Also, be sure to consider any dietary restrictions or preferences your guests may have.
Consider your budget: Factor in your budget when planning your menu. Look for affordable ingredients and try to limit the number of expensive or exotic items.
Balance flavors and textures: Aim to create a balance of flavors and textures in your menu. For example, pair a rich and savory main dish with lighter, refreshing sides.
Add a personal touch: Consider adding a personal touch to your menu, such as a family recipe or a special ingredient. This will make the meal more memorable for your guests.
Include a beverage selection: Don't forget to include a selection of beverages to accompany the meal. This could include wine, beer, cocktails, or non-alcoholic options.
Get feedback: Show your menu to a trusted friend or family member and get their feedback. Also, they may have ideas or suggestions that you haven't considered.
Also, if you're looking for a quick and easy way to design a Thanksgiving menu. Using restaurant menu templates can be a great option. With a variety of templates to choose from, you can easily customize the design and layout to fit your needs. So that you can check out these restaurant menu templates that will make your work easy and fast.
Conclusion
Designing a thanksgiving menu using templates can be a great way to save time and ensure that you have all the necessary dishes for a successful holiday meal. Furthermore, by following the steps outlined in this guide. You will be able to create a thanksgiving menu that is unique, delicious, and memorable. Don't be afraid to experiment with new recipes and add your personal touch to your menu. Your guests will appreciate the effort and time you put into designing a perfect thanksgiving meal.