Now the grand festival of Christmas is coming soon. People are doing a lot of shopping for the upcoming great festival and many people are also very excited about this festival. The celebration seems incomplete without remembering our loved ones. Also, people are in a hurry to meet many other people during this Christmas festival. During The Christmas season, many people jump into Google and social media looking for fresh Christmas poster ideas.

Many people keep discovering new ideas and new discoveries at these festivals. Also can be one of the most effective marketing strategies. Here are some other benefits why you should use Christmas ideas. Also, a Christmas poster is a great way to your Christmas party celebration and give product offers and discounts, etc.
In this article, all you know about Christmas is posters. You will know why you should use Christmas posters, who can use Christmas posters, where you can use Christmas posters, what to include in the Christmas poster, and how to design a Christmas poster.
Table of Content
List of Christmas poster ideas
Who can use the Christmas poster
Why use Christmas posters
What to put on a Christmas poster
Where to use Christmas posters
How to make a Christmas poster
In Conclusion
Let's explore some creative Christmas poster ideas that will bring the holiday spirit to life.
---
Christmas Poster Ideas
---
Now it's time to learn different creative Christmas poster ideas that you can design. You can use below Christmas poster ideas as a reference or you can directly edit that Christmas Poster Template using PhotoADKing.
Red Theme Christmas Poster
A red-themed Christmas poster can create a warm and inviting atmosphere, making it a great choice to capture the festive spirit. Furthermore, red is a traditional Christmas color associated with Santa Claus and holiday decorations. Using red in your poster design can help it stand out and convey the holiday mood effectively.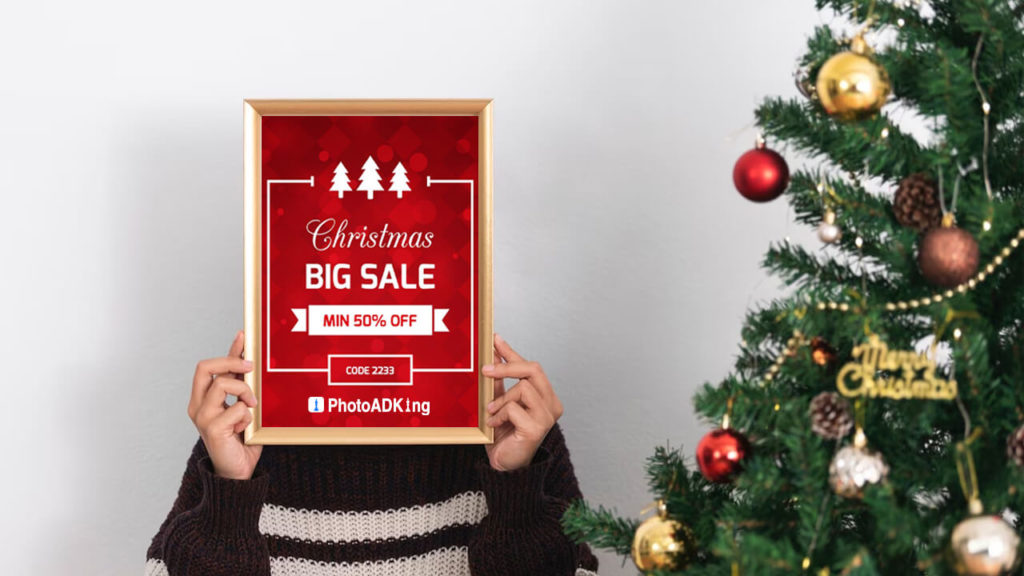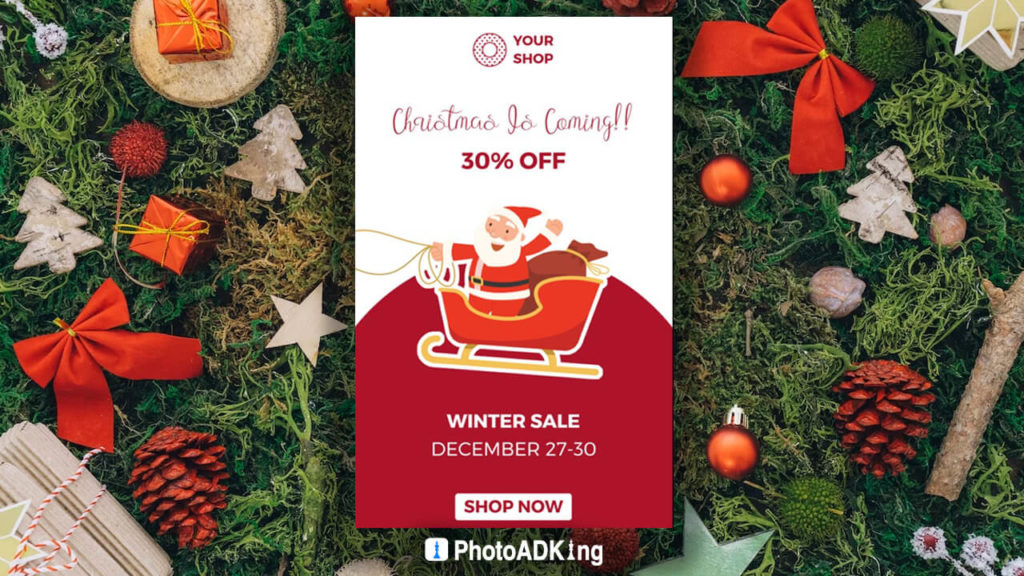 Christmas Sale Poster
A Christmas sale poster is an excellent way to attract customers during the holiday season. In addition, people are often looking for discounts and special offers for their holiday shopping, so promoting a sale prominently in your poster can draw attention and boost sales.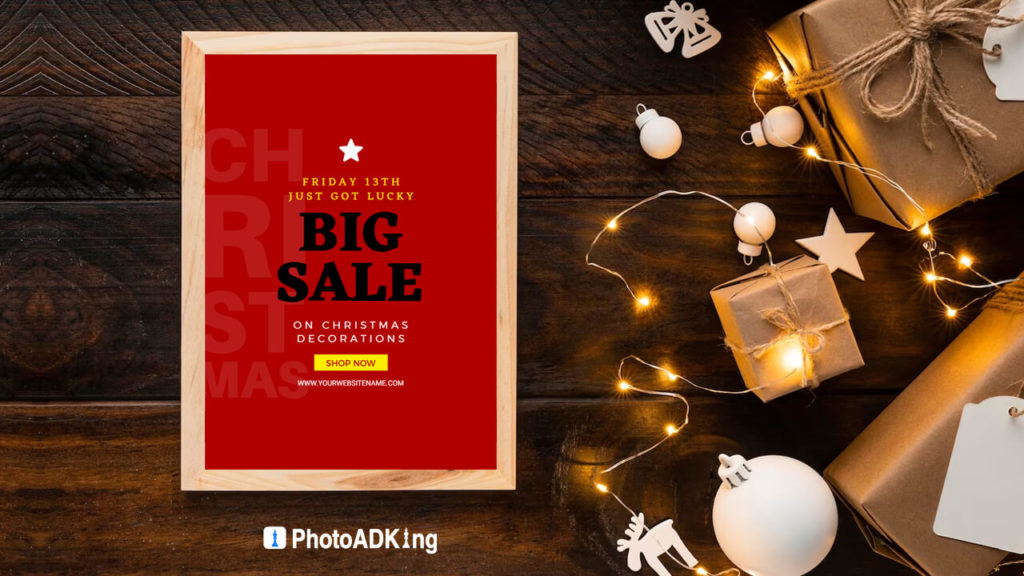 Christmas House Party Poster
Hosting a Christmas house party? A well-designed poster can help you spread the word. Moreover, a creative and visually appealing house party poster can set the tone for the event and generate excitement among your guests.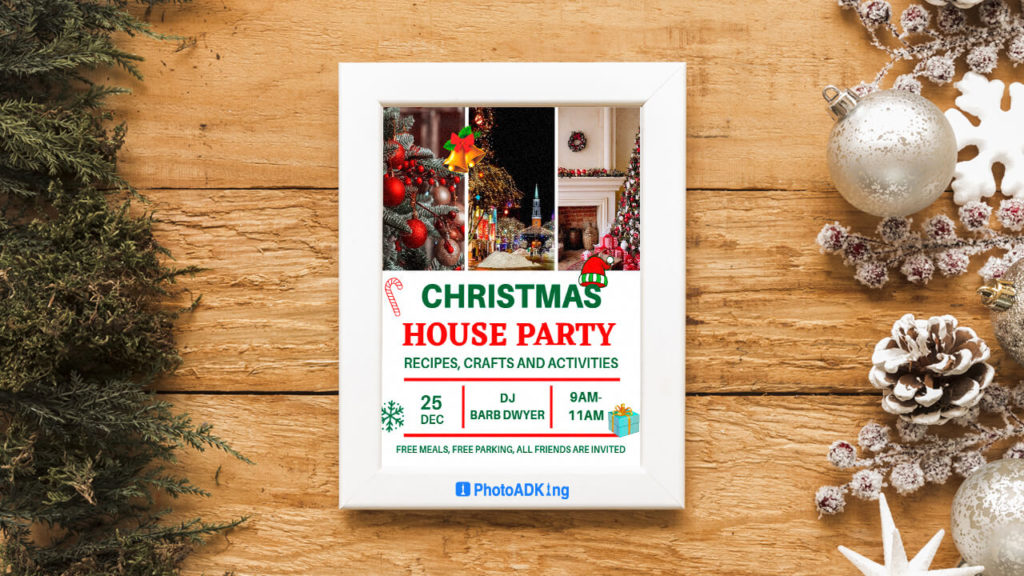 Product Sale Christmas Poster
If you're a retailer, a product sale Christmas poster can showcase your merchandise and entice shoppers. In fact, Christmas is a peak shopping season, and a poster highlighting your products with holiday-themed visuals can lead to increased sales.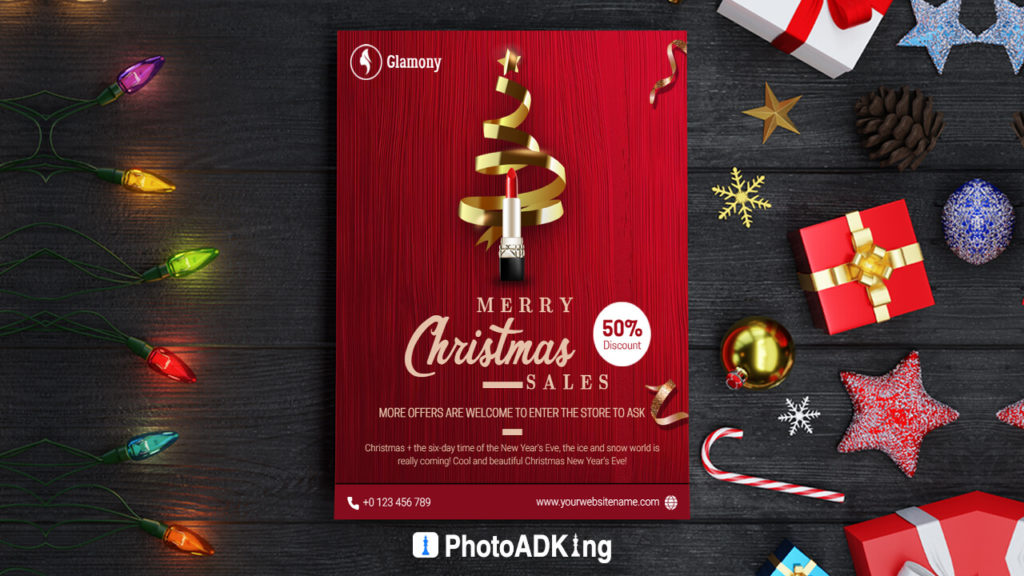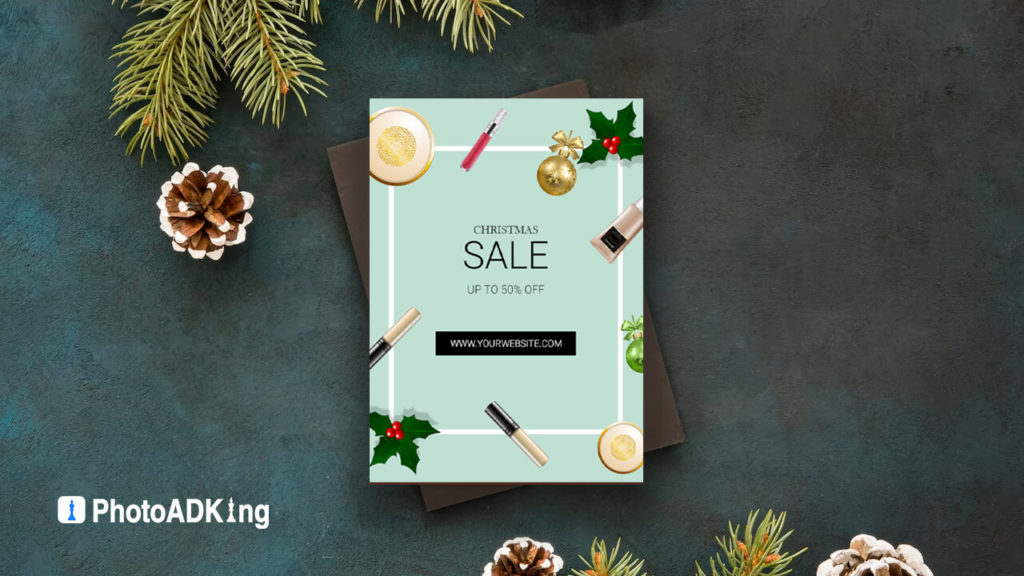 Christmas Music Event Poster
Most people celebrate Christmas music parties with their family or with their friends. Use your Christmas poster theme as inspiration for the colors and patterns of your Christmas music events.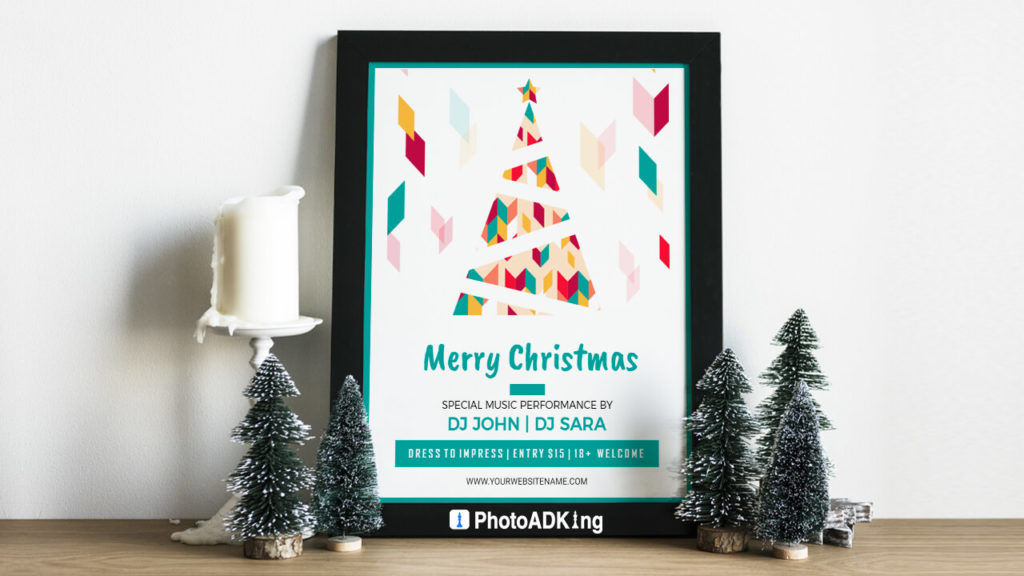 Minimalist Christmas Poster
A "Minimalist Christmas Poster" is a modern design approach that uses simplicity and clean lines to convey the essence of Christmas. In conclusion, it relies on minimalistic elements to capture attention and create a unique holiday visual.
Green Theme Christmas Poster
Similar to the red theme, a green-themed Christmas poster can evoke feelings of festivity and connection to nature. Additionally, green is often associated with Christmas trees and represents renewal, making it a suitable choice for a Christmas poster.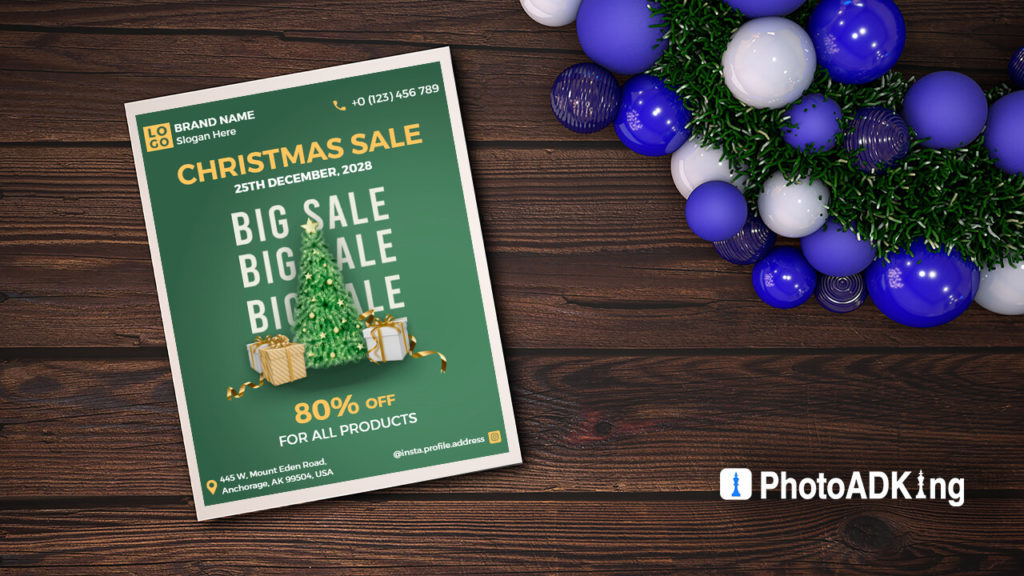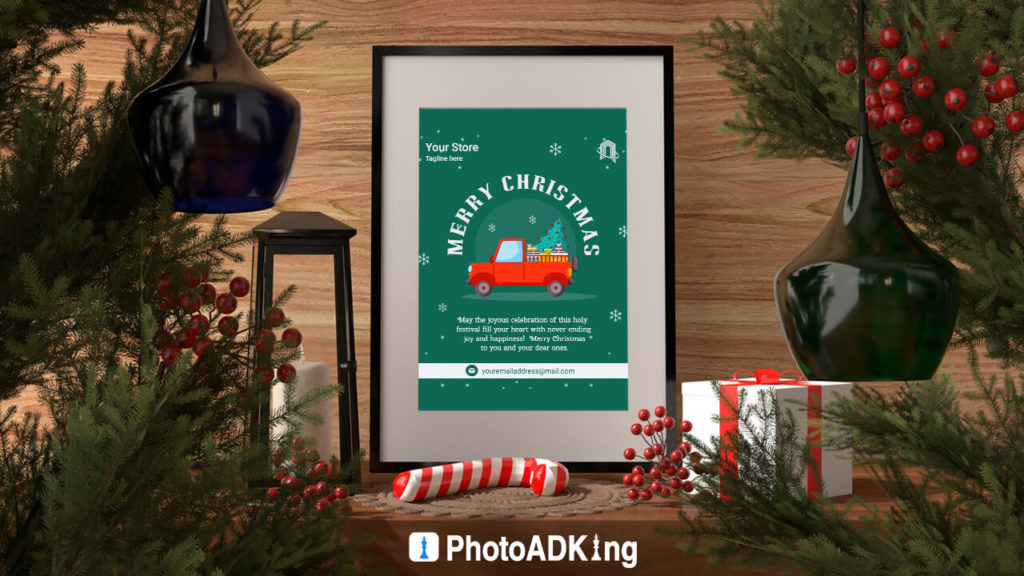 Merry Christmas Poster
Sometimes, a simple "Merry Christmas" poster with a beautiful design and warm wishes can be the most effective. As a result, it can convey the holiday message directly and leave a positive impression on viewers.
Christmas Promotion Poster
Promoting a special offer or deal during Christmas? A Christmas promotion poster is a powerful tool for showcasing your promotion and attracting customers. Hence, it's essential to design it in a way that highlights the offer and the holiday spirit simultaneously.
Business Christmas Promo Poster
Businesses can use a Christmas promo poster to strengthen their brand image and connect with customers on a personal level. Indeed, a well-crafted business promo poster can emphasize corporate values and foster goodwill.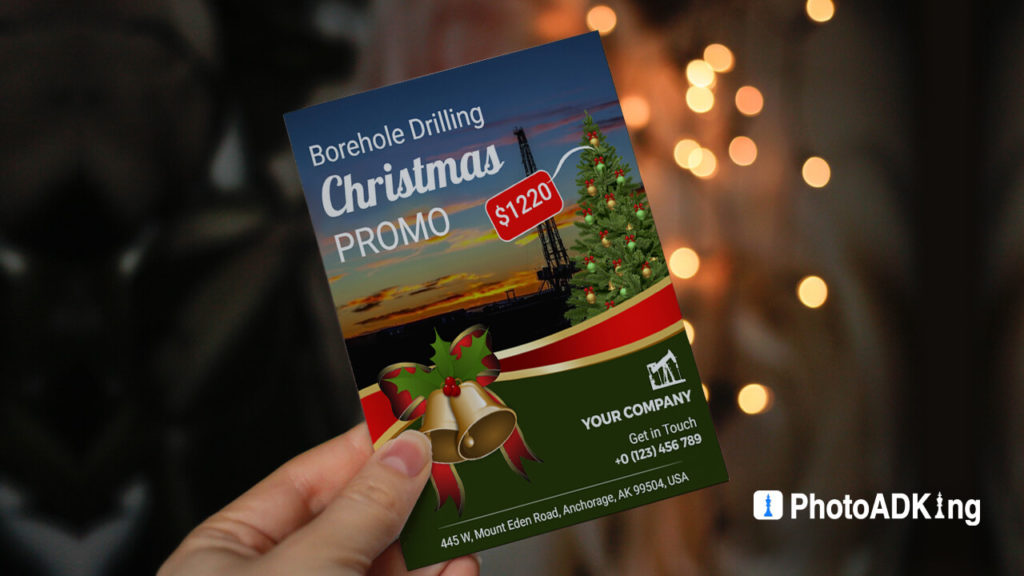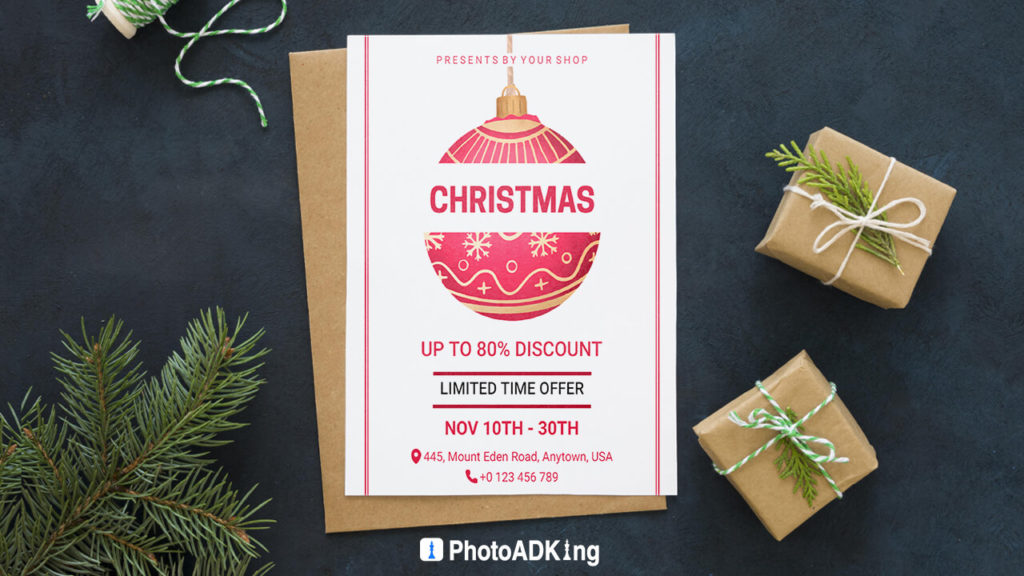 Christmas Toy Drive Poster
If you're organizing a toy drive for those in need, a Christmas toy drive poster can encourage people to donate toys and participate in the spirit of giving. So, design it in a way that tugs at the heartstrings and promotes generosity.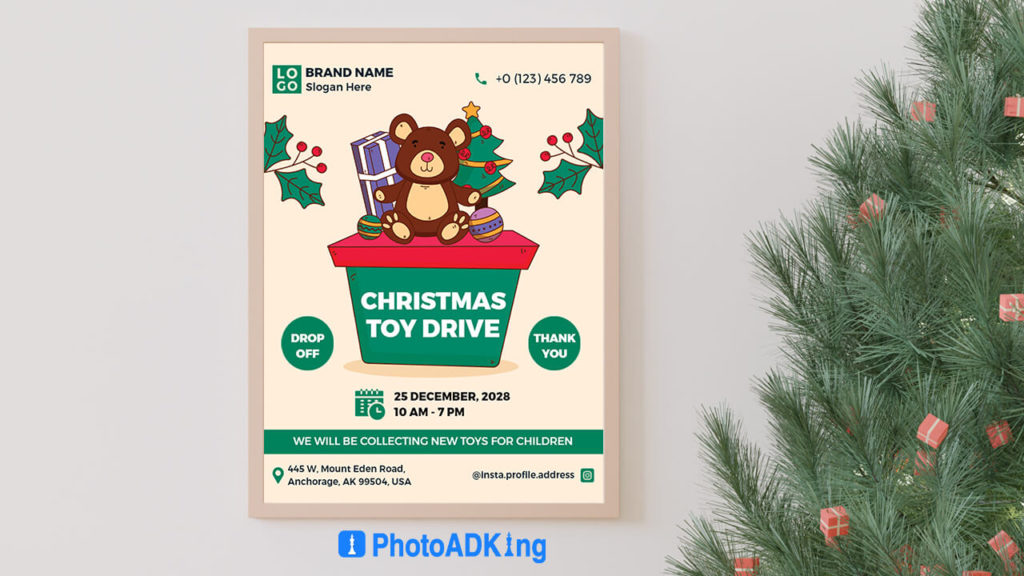 Christmas Xmas Poster
An Xmas poster is a trendy and concise way to celebrate the holiday season. Thus, it can be a great choice for modern and minimalist designs, conveying the essence of Christmas without unnecessary elaboration.
Coffee Shop Christmas Poster
Coffee shops can create Christmas posters to promote seasonal drinks, treats, and events. Furthermore, a coffee shop Christmas poster can reflect the cozy and comforting atmosphere that many people associate with the holidays.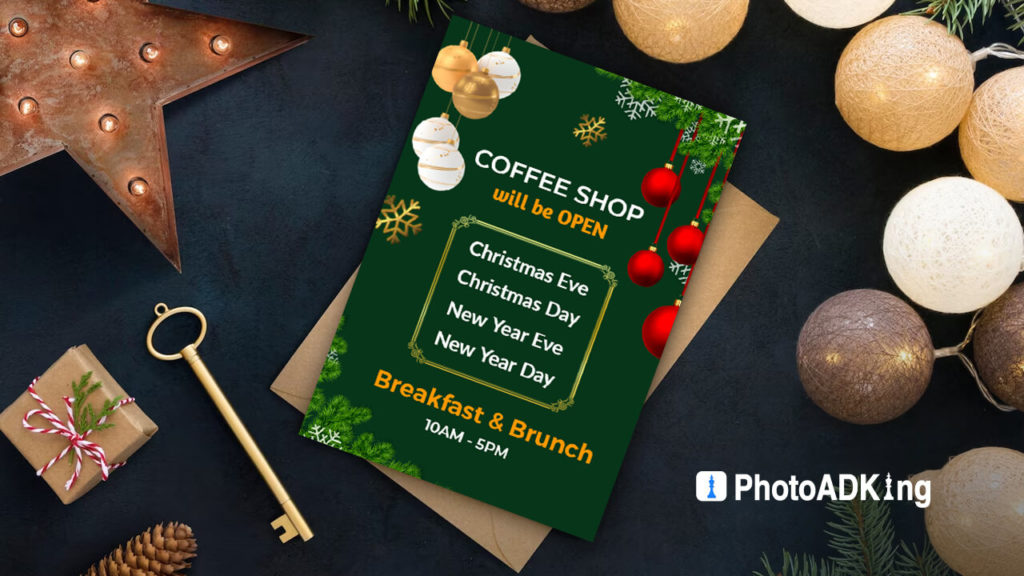 Christmas Party Invitation Poster
If you're hosting a Christmas party and want to invite friends and family, a Christmas party invitation poster is an engaging way to do so. In conclusion, the poster can capture the party theme, date, and venue, making it a memorable and informative invitation.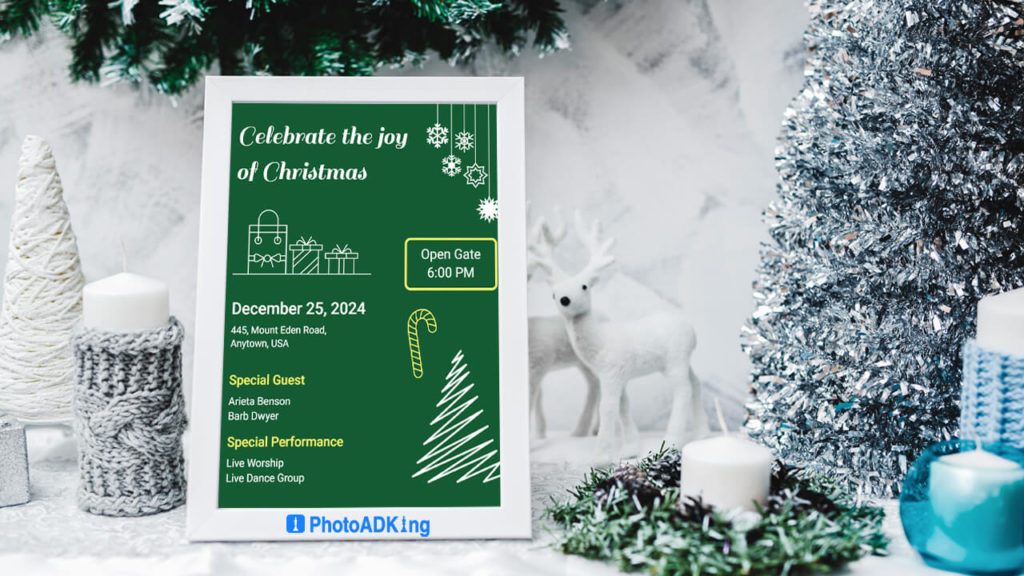 We have covered most of the Christmas poster ideas but it is not limited to. Find more Christmas ideas from PhotoADKing. You also can design your own Christmas poster using a poster maker from scratch as you need. You just need to have a PhotoADKing account and you can design your Christmas poster by selecting your desired size. Put all your creativity and ideas into your Christmas poster and your Christmas poster is ready to save, share, and download. Also, amazing Christmas card design Ideas are shown in detail.
More Useful Articles for You
Christmas Gift Card Background
Christmas Menu Design Ideas
How to Design a Christmas Menu
Christmas Party Flyer Ideas
Christmas Invitation Ideas
Labor Day Flyer Ideas
Christmas Flyer Ideas
Ever wondered who can use Christmas posters? Well, the good news is that anyone can! Whether you're an individual, a business, a school, or a community organization, Christmas posters are for everyone.
---
Who Can Use the Christmas Poster?
---
The Christmas poster can be used by various people and groups for different purposes. Here are some easy points to understand who can use it:
Families: Families can use Christmas posters to create a festive atmosphere in their homes. Kids can enjoy colorful posters featuring Santa Claus, reindeer, and more.
Schools: Teachers and students can use Christmas posters for classroom decorations. They can also create posters for school events or holiday parties.
Businesses: Stores and businesses often use Christmas posters to promote holiday sales and special offers. It's a way to attract customers during the holiday season.
Churches: Churches can use Christmas posters to advertise their Christmas services and events, such as nativity plays or choir performances.
Community Groups: Neighborhoods and community organizations can use Christmas posters to announce holiday gatherings, tree-lighting ceremonies, or charity drives.
Event Planners: Event planners can use Christmas posters to advertise holiday-themed parties, fundraisers, or corporate events.
Restaurants and Cafes: Eating establishments can decorate their interiors with Christmas posters to create a festive ambiance for diners.
Digital Marketer: Digital Marketers use Christmas posters in the marketing of business clients. After all, They use Christmas posters in a variety of ways such as for content posts on social media, fitness websites, and digital advertising.
Wondering why you should consider using Christmas posters? Let's uncover the reasons.
---
Why Use Christmas Posters?
---
For Offer & Sales
Many shopkeepers announce shopping sales during the Christmas festival so people are attracted to it and they also shop during Christmas sales.
Target more Ideal Audience
You can reach target wider prospects by using Christmas posters for your business so that you connect to the ideal target audience.
Promote Business
This creates a great opportunity to promote your business. Especially if you are starting your promote business.
What should you include on your Christmas poster to make it merry and bright? Let's find out!
---
What to Put on a Christmas Poster?
---
Here are points on what to put on a Christmas poster:
Title: Start with a catchy title like "Merry Christmas" or "Holiday Cheer."
Images: Use festive and cheerful Christmas-themed images such as Santa Claus, Christmas trees, ornaments, or snowflakes.
Date and Time: Clearly mention the date and time of the event or celebration.
Location: Include the venue or address where the Christmas event will take place.
Activities: Highlight the fun activities or attractions at the event, like carol singing, gift exchange, or games.
Contact Information: Provide a phone number or email for inquiries and RSVPs.
Special Guests: If there are special guests or performers, feature their names and pictures.
Dress Code: Mention if there's a specific dress code, like ugly sweaters or formal attire.
Sponsors or Partners: Recognize any sponsors or partners who are supporting the event.
Social Media: Include social media icons or hashtags for attendees to share their experiences online.
These elements will help make your Christmas poster informative and appealing to your audience. Let's discover the various places and occasions where you can display your Christmas posters.
---
Where to Use Christmas Posters?
---
At College and School
Putting up Christmas posters on the walls of high schools or colleges is a great way to draw more people to a high school Christmas celebration you're planning.
On Social Media Platforms
Many Christmas Posters use social media platforms. Many people consider those posts to be very influential. You also can use social media platforms to share your Christmas Poster.
On Blogging Website
Bloggers can design and use the Christmas poster on their websites and on their blogs. Bloggers also can use Christmas posters on social media platforms and content posts to get more reach.
Ready to create your own Christmas poster? Let's dive into the simple steps to make one.
---
How to Make a Christmas Poster?
---
With PhotoADKing it is quite easy to make an attractive Christmas Poster. Here are some steps you can follow to make a Christmas Poster.
In Conclusion
Christmas posters are versatile and fun! Anyone, from businesses to schools, groups, or individuals, can use them for decoration or promotion. They're great for spreading holiday cheer and important messages. When making one, use cheerful images, bright colors, and clear information. Display them in stores, schools, churches, or online. To create a Christmas poster, use these poster designs, festive fonts, and your creative touch. In short, Christmas posters are a creative way to share holiday spirit and information with a wide audience.