Think about all the posters that you came across in your life. Do you remember all of them? Well, the answer is clearly NO. You might be having very few images in your mind, particularly the ones that are from your favorite brands; or the ones which made a poster design so good that it got stuck in your brain.
If you want your brand to be remembered, you need to do the same. Creating a great poster can be both fun and frustrating at the same time. Colors, fonts, background images – everything needs to be in perfect harmony to create a desirable and eye-catching output!
What if you get a platform where you can design your own poster using Poster Maker? Here's an ultimate list of 17 poster design ideas by PhotoADKing, that you can use to craft your kickass design!
Poster Design Ideas
1. Less Is The New More:
You might have seen minimalist designs taking over the internet. Using a minimalist design, it is guaranteed that you can make your audience focus where you actually want them to. Try to dabble with words and use fewer elements to hook the viewers to your poster such as hiring poster templates.
2. Play With Visuals:
A Te is one that can be scanned even from a long distance. Giving fine details to your poster is the only key to success. The image that you use should indicate an action happening like in a real time dashboard. The text and headlines provide additional and detailed information about the event or service.
3. Use An Eye-Catching Background:
If you want to send out an important message, try using a background image that will immediately grab the attention of the viewer. When you have their consideration, you can make them read the actual message behind the poster. Tricky, but worth it!
4. Use Bold Colors:
While designing your poster, use colors that are associated with the poster maker. If those do not go with the idea that you want to present in the poster, go with a bright, bold, and saturated color. Then use a contrasting color for the text, and Voila! The result will be amazing!
5. Make The Graphic Elements Work Together:
Compose the colors, text, and images in a way that they coordinate with each other, giving out a harmonious output. Use only 2-3 colors so that the viewers do not get distracted. For Example business poster templates
6. The Retro Rush:
More modern than ever; the retro poster template designs are clearly in trend right now. Specific grime and grains, textures, and shapes – a perfect mixture of these creates a flawless retro vibe and look super attractive. A design including all the shades of brown will clearly stand out from the crowd.
7. Take Advantage Of Typography Poster Designs:
Do not want to use any image and still want to make all eyes stick to your poster? Using our typography poster templates, you can make a superb design in the blink of an eye! Pick up a minimum of two complementing fonts and see how so much can be done just by using text in your poster design.
8. Use 3D Effects:
Make use of the 3D image as a background to attract the viewer at first glance itself. Decide on one bright color, select an outstanding background, and use one colored text in the entire 3D poster templates. With our online poster making software, you will get endless options to make a cool poster!
9. Try Out Different Shapes And Patterns:
Another way to catch your audience's eyes is by using shapes in your poster design. Combine different shapes to design your product or object. The bold text overlaying on an interesting background will really make for a creative food poster template design.
10. Use Directing Lines:
Leading lines direct the eyes to the central point of an image. Readers will be compelled to follow the directions of the text and read the entire message. This designing concept is a great way to create a memorable poster.
11. Experiment With Overlays:
Keep your background image's transparency low, and use bold text with interesting fonts as an overlay. This idea is great when you are making inspirational or motivational poster templates design; and will make the message pop up.
12. Create An Atmospheric Feel:
If you are making a poster to promote your event, make sure that the viewers get a sense of the kind of atmosphere which they will experience at the event. In case your event is for a relaxing beach party, use soothing colors and images in your poster design to match it with the actual vibe with party poster templates.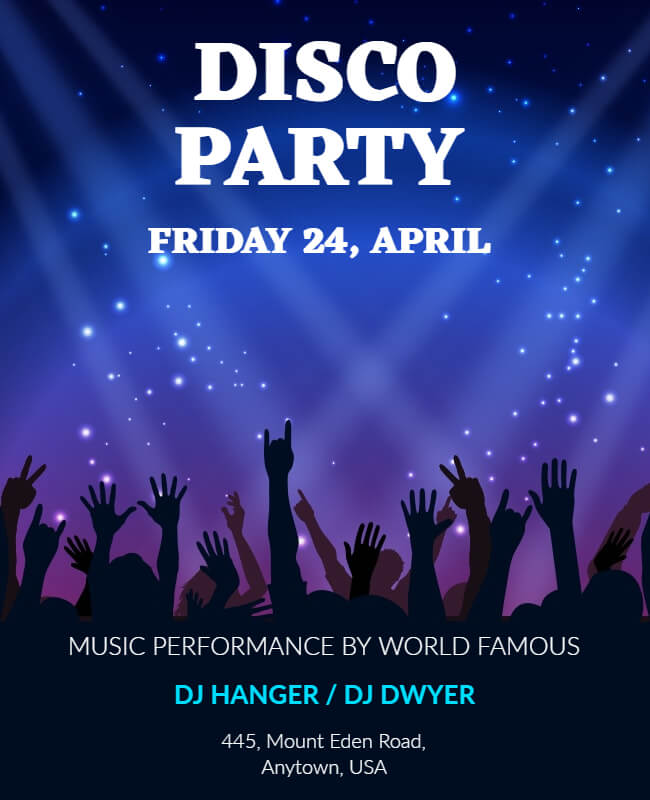 13. Include Icons Instead Of Images:
Ditch complete background images and opt for icons to catch the attention of people. Club a good number of icons or graphics together to portray a message. Maintain uniformity in the color of icons and the text used to get a creative and cool poster design as an output with a poster maker!
14. Create Magic With Black And White:
One can never go wrong with the classic combination of black and white posters. If you go for a white background, keep your images and text entirely black – or vice versa. Use the negative or white space to form a clever configuration.
15. Get Inventive With Dimensions:
Play with the dimensions and add life to your posters! Make your poster as interesting as possible by using bright colors and elements. Highlight what's important for the viewers to know and make it stand out.
16. Incorporate Modern Colors:
Posters made with fascinating color combinations are certainly going to steal the spotlight. Combos of blue, pink, neon colors, 3D effects, and semi-transparent effects look as if they have come straight from the future.
17. Illustration Based Posters:
Sometimes, a picture is worth more than a thousand words. Often, we come across photographs that say something that the text or descriptions can't. Including such images in your poster design will definitely create a long-lasting impact on the viewer's minds.
Eager to make your own poster design with poster templates? Need more designing ideas? Visit PhotoADKing right away!
Read More: