Searching for the perfect 4th of July poster ideas to make your celebrations truly remarkable?
Search no more!
If you're struggling to find and create your poster for your 4th of July posters, we have the answer you've been looking for.


Introducing PhotoADKing's poster maker tool, your ultimate companion in unleashing your creativity and designing captivating posters that capture the essence of Independence Day.
So, why wait? Give it a try.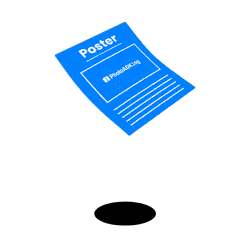 Design Your Poster in a Few Steps with PhotoADKing
Unlock your creativity with our poster maker, and meet a world of design possibilities at your fingertips.
Make Your Own Poster
Alright, so now let's give you a glimpse of what you'll learn in this article. Here, we will provide you with a range of 4th of July poster ideas that will captivate your audience. In addition, we'll provide you with some tips and the importance of posters too.
Table of Content
Importance of 4th of July Posters
Posters play a vital role in promoting events, conveying messages, and creating a visual impact. When it comes to the 4th of July, signs hold even greater significance as they evoke a sense of patriotism and national pride. Whether it's a community parade, a fireworks display, or a local picnic, well-designed posters attract attention and generate enthusiasm among the audience. Hence, they serve as a powerful medium to communicate the details of the event and instill a sense of excitement.
Key Importance of 4th of July Posters
Creating a visual impact
Evoke a sense of patriotism
Powerful medium to communicate
Attract attention
Tips for Creating Impactful 4th of July Posters
Before diving into 4th of July poster ideas, let's understand and consider the following tips to make your poster more impactful and engaging:
1. Keep it Simple and Focused: Avoid cluttering your design with too many elements. In addition, keep the focus on the key message and use minimal text to ensure readability.
2. Use Bold and Eye-Catching Visuals: Make your posters visually striking by using bold graphics, vibrant colors, and high-quality images. Moreover, this will grab your attention and make your poster stand out.
3. Incorporate Relevant Symbols and Imagery: Choose symbols and imagery that resonate with the 4th of July theme. Also, integrate them seamlessly into your design to reinforce the message and evoke emotions.
4. Include Event Details and Calls-to-Action: Clearly display the date, time, and location of the event on your poster. Additionally, include compelling calls to action to encourage attendance or participation.
5. Ensure Readability and Legibility: Use fonts and font sizes that are easy to read from a distance. Furthermore, pay attention to the contrast between text and background colors to ensure legibility.
4th of July Poster Ideas
Let's explore a world of creative possibilities as you personalize your 4th of July poster templates and bring your celebrations to life. We have some ideas to inspire you.
So, get ready to explore the 4th of July posters:
Vintage-Inspired Poster
Vintage-Inspired posters can evoke a sense of Americana and pay homage to the country's history. This poster, meanwhile, uses vintage-inspired illustrations, fonts, and colors to give a nostalgic feel.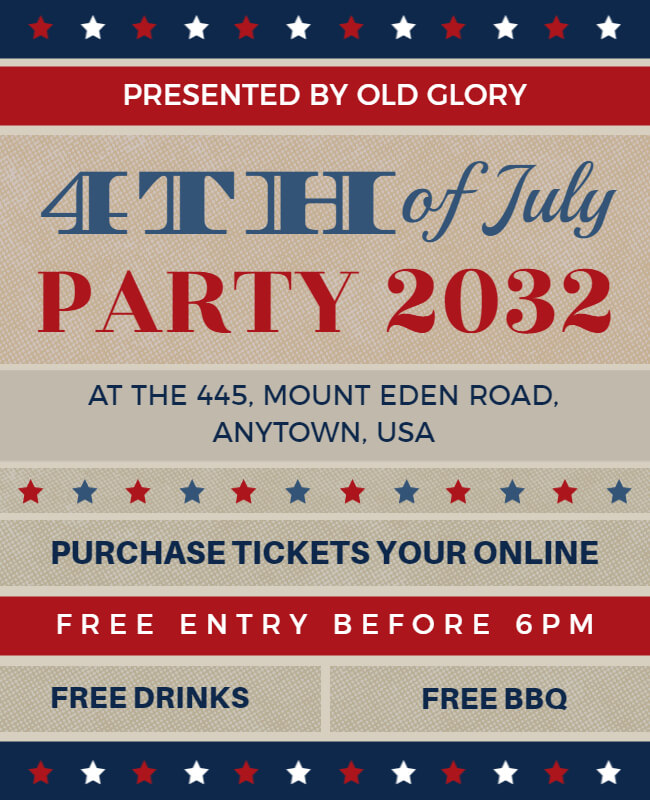 Patriotic Quotes or Slogans on Poster
Patriotic quotes or slogans on posters can serve as powerful focal points and hence they can resonate with the audience. For example, take a look at this design, it Incorporates quotes about freedom.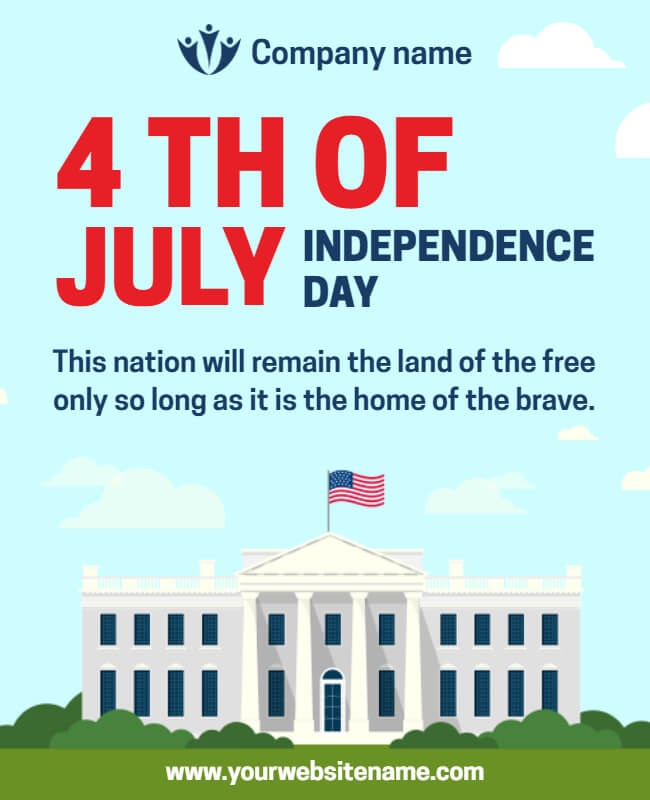 Fireworks-Themed Poster
Fireworks are an integral part of the 4th of July celebrations. This design poster, in addition, showcases vibrant colors in the background and a fireworks display on it to capture the attention of viewers.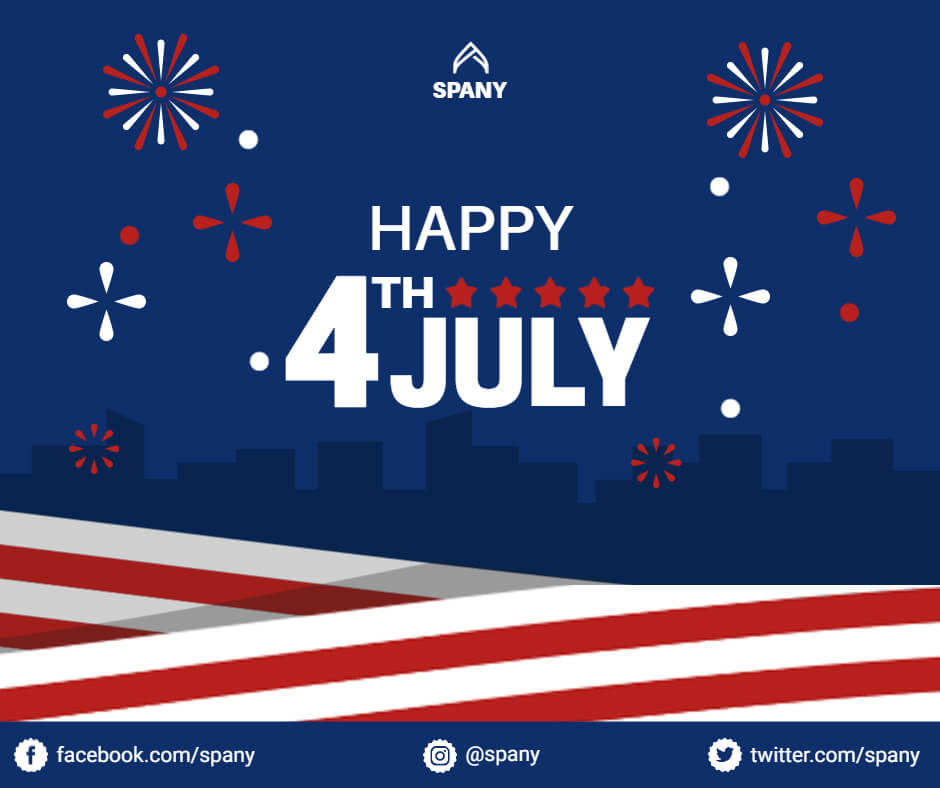 4th of July Sale Poster
If you're promoting business, design posters that highlight the festive atmosphere. Moreover, take a look at this poster design, the colors of American flags are used in the text. In addition, the star as an element is used to give a patriotic vibe to this poster.
Family-Friendly Poster
Create posters that appeal to families. Notably, this poster features an image of children with parents, holding flags. Additionally, these designs can evoke a sense of togetherness and inclusivity.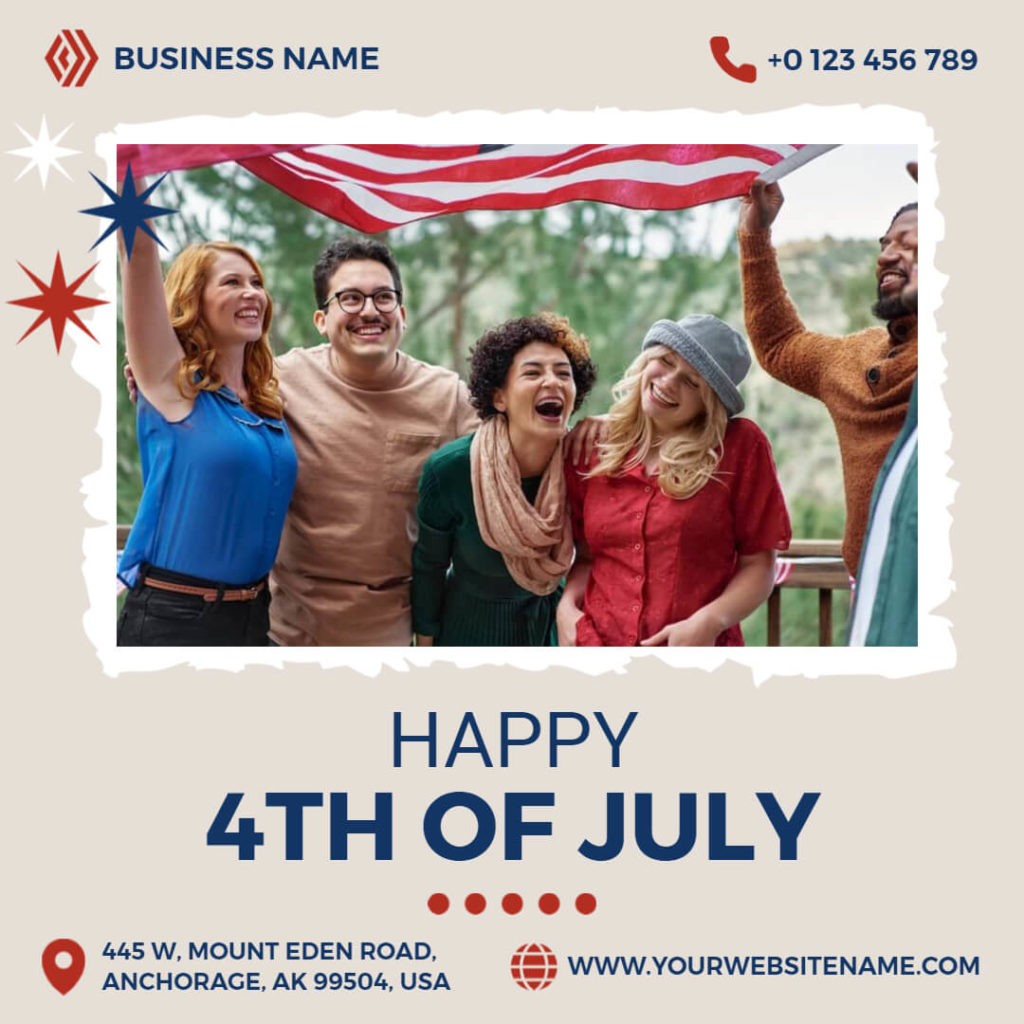 American Flag-Inspired Poster
Incorporate elements of the American flag into your posters. This poster, on the other hand, uses elements of the flag like stars and stripes which symbolize patriotism and national pride.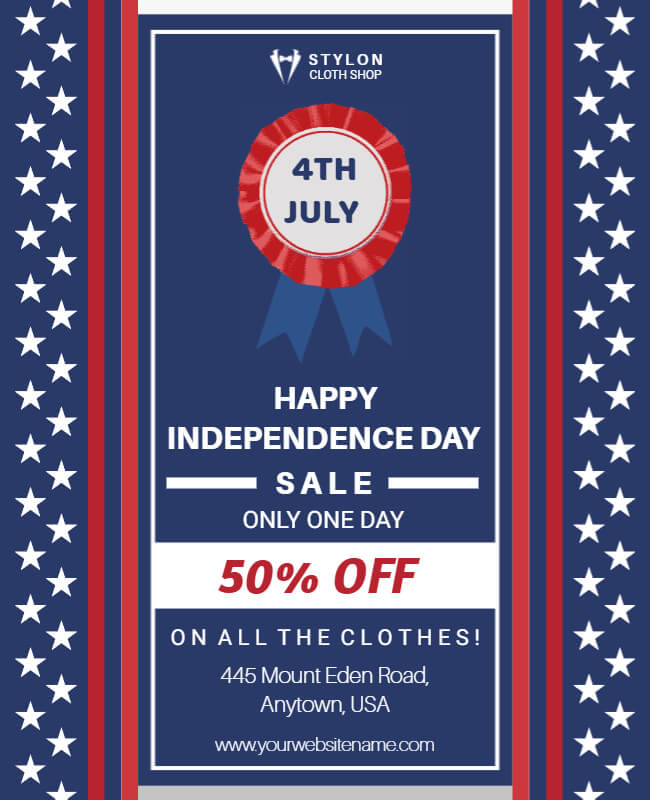 4th of July Pool Party Poster
Celebrate Independence Day with a splashing good time! Additionally, this poster highlights the joy of outdoor gatherings with fun pool party text and water splash elements in the background to give a complete pool party feels.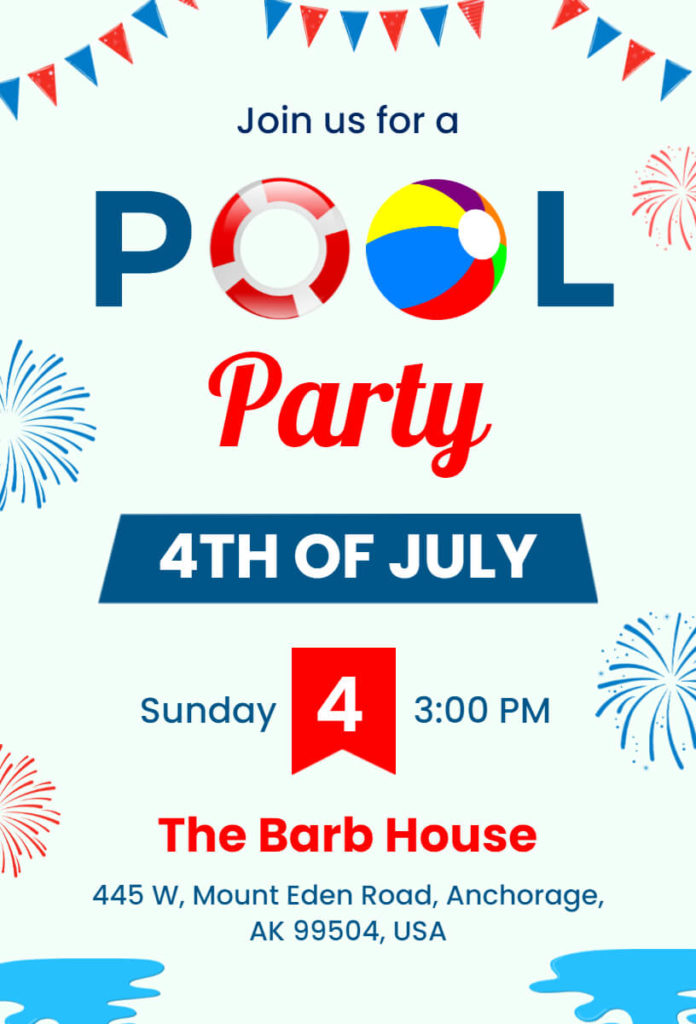 BBQ Party Invitation Minimalistic Poster
Food, fun, and BBQ! Moreover, this poster uses a minimalist design for a BBQ party invitation with simple white background and red and blue color text on it.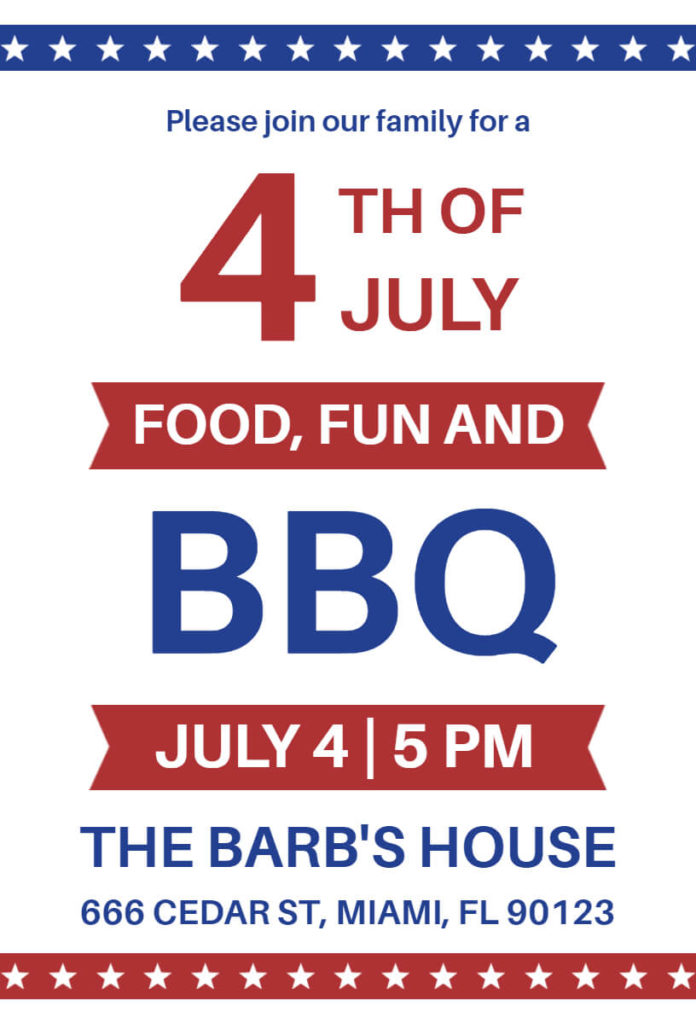 Furthermore, if you're craving a more in-depth exploration of 4th of July-related articles, make sure to check out the articles listed below, as they provide valuable insights.
Recommended Read:
Conclusion
In conclusion, designing the 4th of July posters provides an opportunity to celebrate and express the patriotic spirit of Independence Day. By considering the poster ideas mentioned in this article you can create visually stunning and engaging posters that capture the attention of your audience. So, let your creativity flow, and design posters that inspire a sense of pride, unity, and excitement for this important holiday.


In addition, check out the recommended article for a wealth of knowledge and insights on posters. It's an invaluable resource for learning and expanding your understanding of this field.
---
Recommended Blogs
How To Design A Poster Online With PhotoADKing
The Different Types of Posters
Common Poster Design Mistakes Made By Non-Designers
10 Tips For Poster Promotion In This Year
Guide For Designing Flyers And Posters
Flyer vs Poster
How to Make Poster Design With Your Massage
17 Creative Poster Design Ideas 2023
Halloween Poster Ideas
Thanksgiving Poster Ideas
New Year Poster Ideas
Labor Day Poster Ideas
Veterans Day Poster Ideas
New Year Templates For Social Media Marketing
Easter Poster Ideas for Gift Shops
Christmas Poster Ideas & Examples
Earth Day Poster Ideas
Creative Women's Day Posters Ideas
Patriot Day Poster Ideas
FAQs
What are some popular themes for the 4th of July posters?
Popular themes for 4th of July posters include vintage-inspired designs, patriotic quotes or slogans, fireworks-themed posters, American flag-inspired posters, and family-friendly designs.
How can I create a memorable 4th of July sale poster?
To create a memorable 4th of July sale poster, use bold colors, and patriotic imagery, and incorporate phrases like "Independence Day Sale" or "Biggest Savings of the Summer" to attract attention.
What elements should be included in a family-friendly 4th of July poster?
A family-friendly 4th of July poster should feature vibrant colors, and images of families or children enjoying the festivities, and include details about fun activities like fireworks displays, picnics, or parades.
How can I design an eye-catching BBQ party invitation poster?
For an eye-catching BBQ party invitation poster, opt for a minimalistic design with bold typography. Include mouth-watering food images, the event date, time, and location, and encourage guests to bring their appetites.
How can I evoke a patriotic vibe in an American flag-inspired poster?
To evoke a patriotic vibe in an American flag-inspired poster, use the colors of the American flag (red, white, and blue) prominently. Incorporate stars, stripes, or a stylized flag design to emphasize the patriotic theme.
Ready to make your 4th of July poster shine? So, don't miss out on the fantastic templates offered by PhotoADKing! Embrace the ease of customization and start designing now!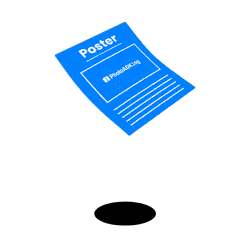 5000+ Pre-designed Poster Templates from PhotoADKing
It is now easy to create a poster with a wide range of easy-to-edit poster templates.
Explore Poster Templates Now