When you create a flyer for personal branding or business it becomes very essential to know what size of the flyer is ideal for what sort of content. Flyers were known to be available for special and publicizing purposes since great times however others accepted that unrefined types of flyers existed before times. Today, flyers are as yet utilized by numerous organizations and associations, and they presently come in different arrangements, shapes, and sizes, which will be explained further below. Here in this blog, we will help you to select the appropriate flyer size and where you can use them.

Before we get started learning about flyer sizes, We would like you to recommend PhotoADKing's flyer maker tool that can help you design professional flyers in a matter of few clicks. It has all the flyer designing tools that you may require.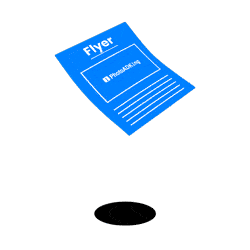 Create a Compelling Flyer With Flyer Maker
Now it is easy to make a flyer with PhotoADKing's user-friendly flyer maker.
Make Your Own Flyer
Table of Content
Standard Sizes for Flyers Used Across the Globe
The standard flyer sizes and dimensions in pixels, inches, mm, and cm are mentioned in the given table.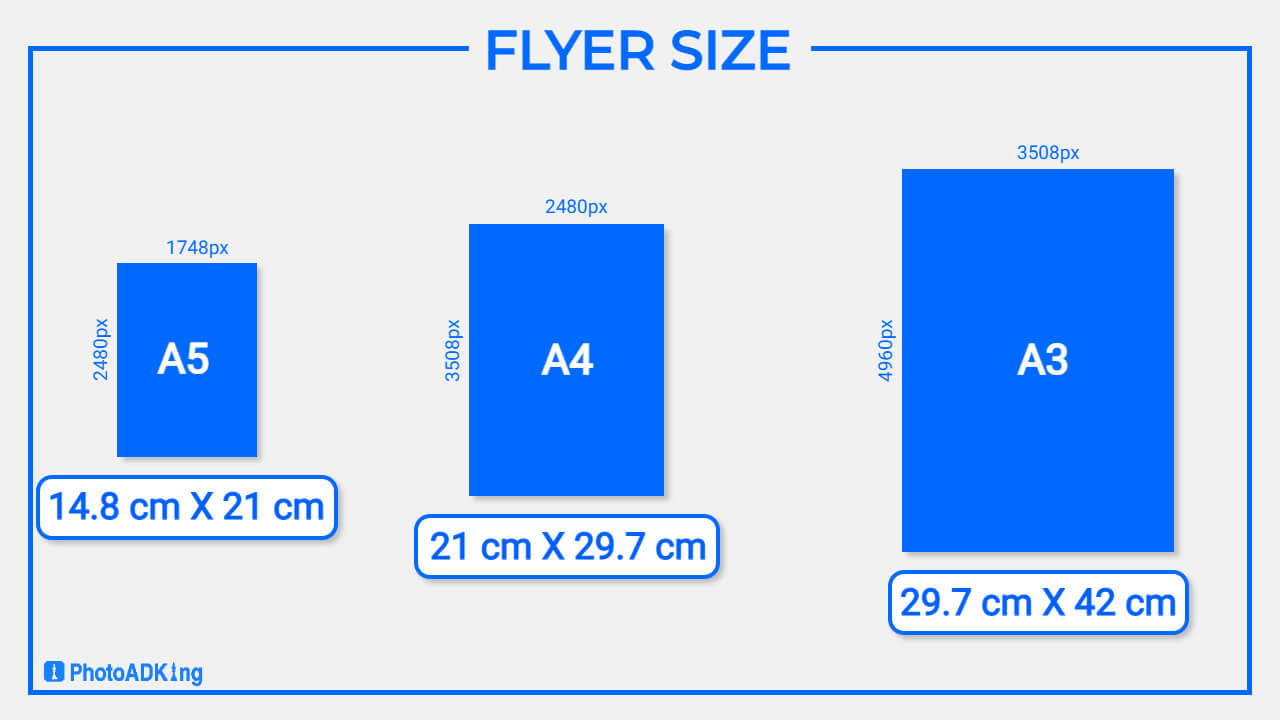 | Flyer Sizes | Size in pixels | Size in cm | Size in mm | Size in inches |
| --- | --- | --- | --- | --- |
| A3 | 3508 x 4960 | 29.7 x 42.0 | 297 x 420 | 11.7 x 16.5 |
| A4 | 2480 x 3508 | 21 x 29.7 | 210 x 297 | 8.3 x 11.7 |
| A5 | 1748 x 2480 | 14.8 x 21 | 148 x 210 | 5.8 x 8.3 |
| A6 | 1240 x 1748 | 10.5 x 14.8 | 105 x 148 | 4.13 x 5.8 |
| A7 | 874 x 1240 | 7.4 x 10.5 | 74 x 105 | 2.9 x 4.13 |
| Square | 1240 x 1240 | 10.5 x 10.5 | 105 x 105 | 4.13 x 4.13 |
| DL | 1300 x 2600 | 11 x 22 | 110 x 220 | 4.33 x 8.66 |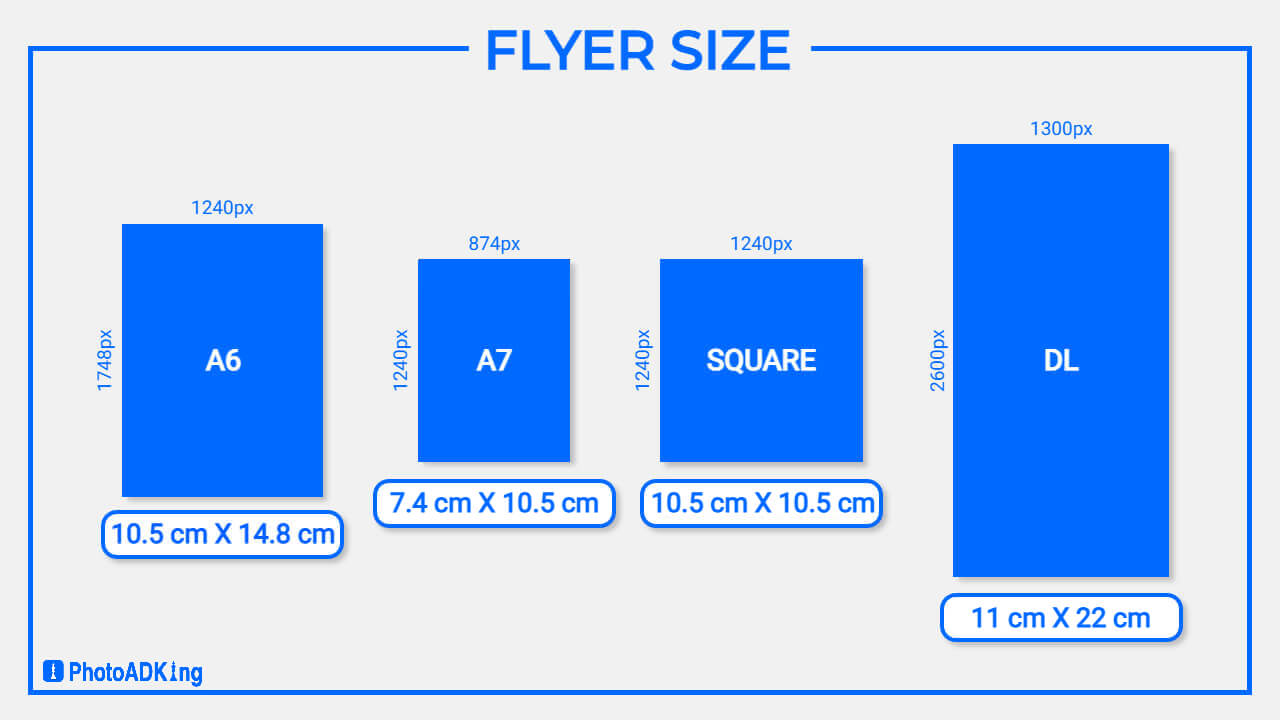 Specifications of Each Flyer Size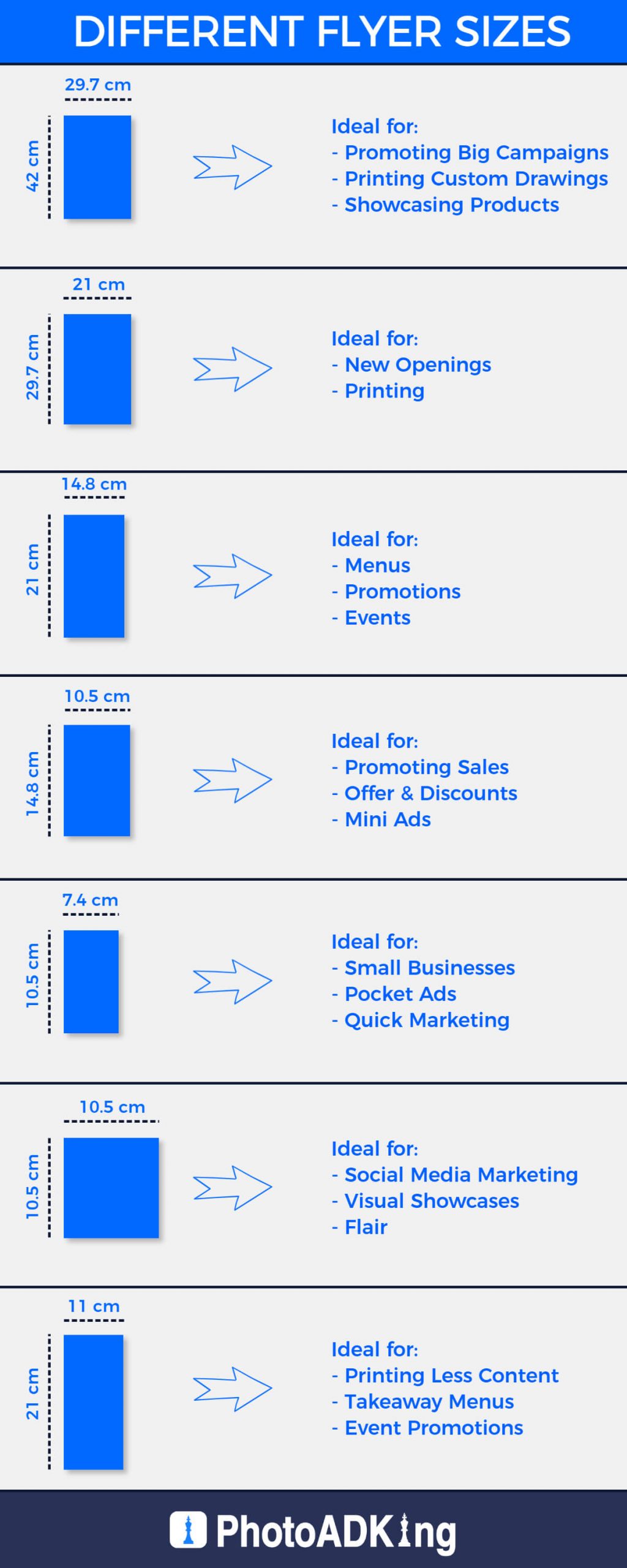 A3 Flyer Size
The measurement of 8.5″ x 11″ makes it large enough for anyone to notice, offering great space for content and making it eye-catching. You can use 297 x 420 mm to showcase gorgeous product imagery so customers can really see the details.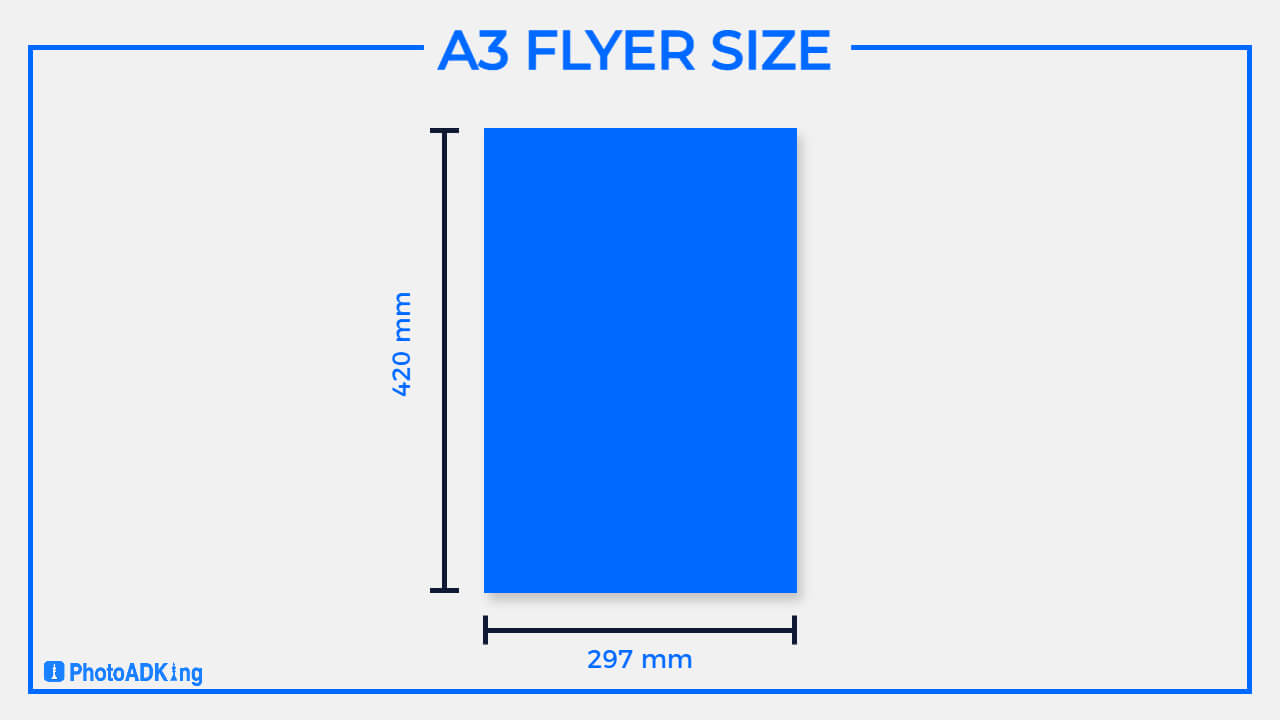 A4 Flyer Size
A4 flyer size 210 x 297 mm can be folded in various ways, and it can also be printed from most home and office printers.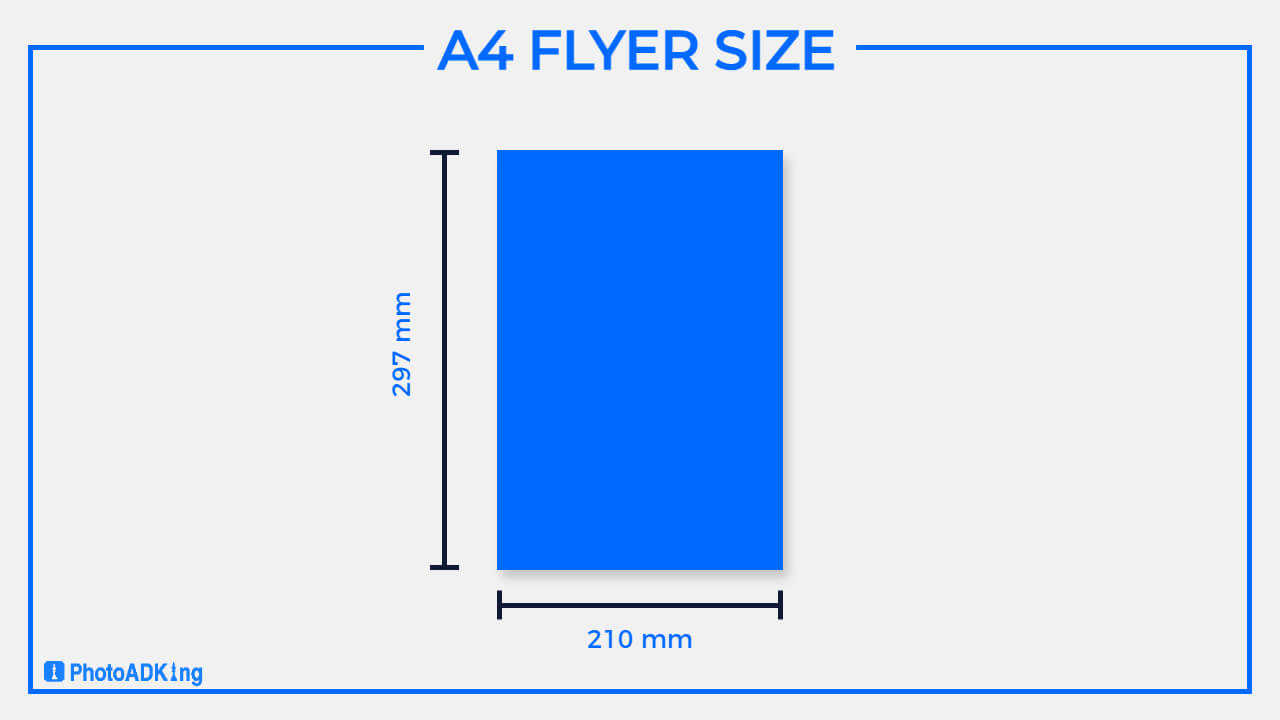 A5 Flyer Size
Slightly wider than a DL size, at 148 x 210 mm, this small size is also often used for pamphlets and is cost-effective. This is also the most widely used digital flyer size.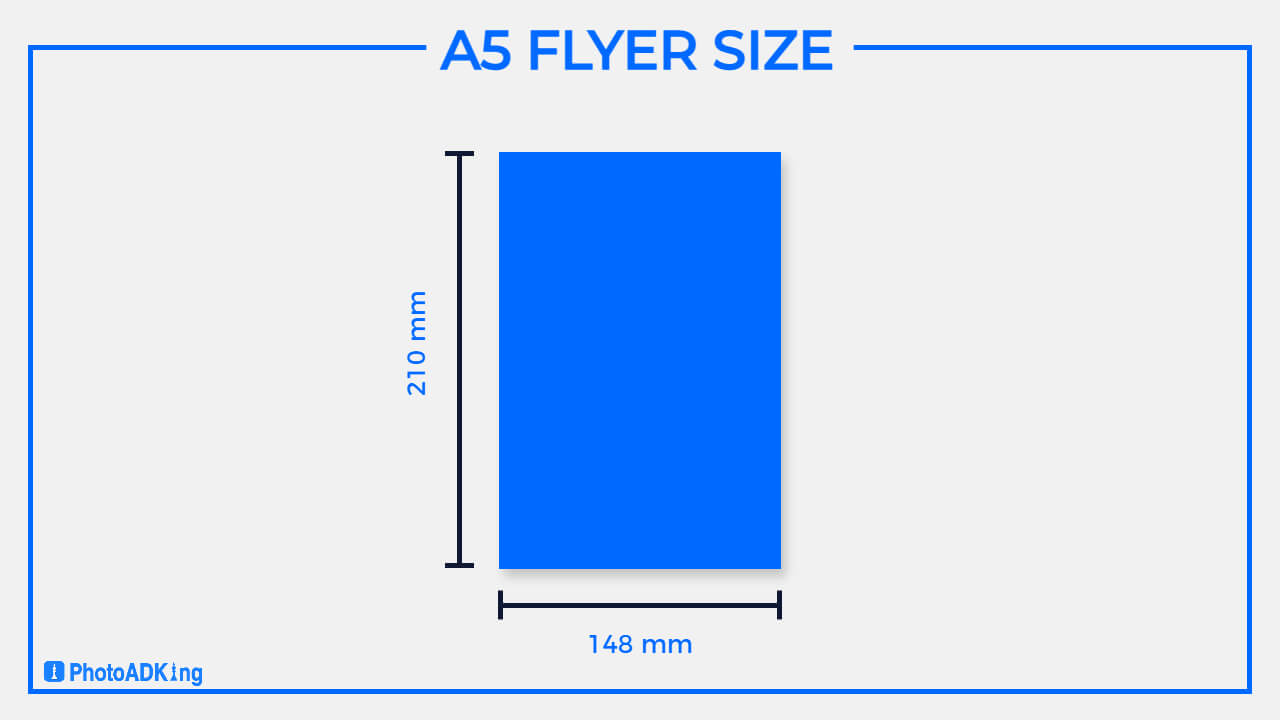 A6 Flyer Size
These are the smallest flyers that you can use, but they're more than capable of making a big impact. They are portable. You can carry them while at any events or shows. Easy to fit!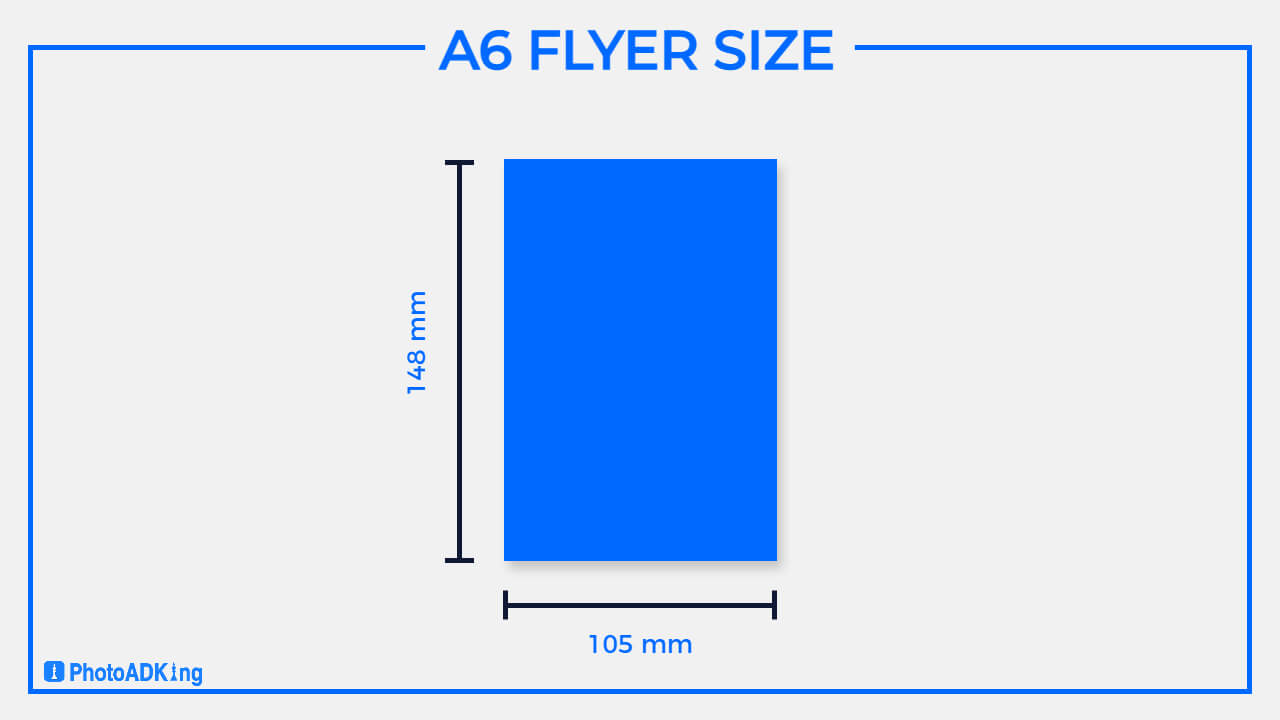 A7 Flyer Size
A7 measures 74 mm x 105 mm, which may seem small enough for holding content, but they offer both portability and cost-effectiveness. This is among small flyer sizes. Though the 5*7 flyer which is almost A8 size is smaller than this.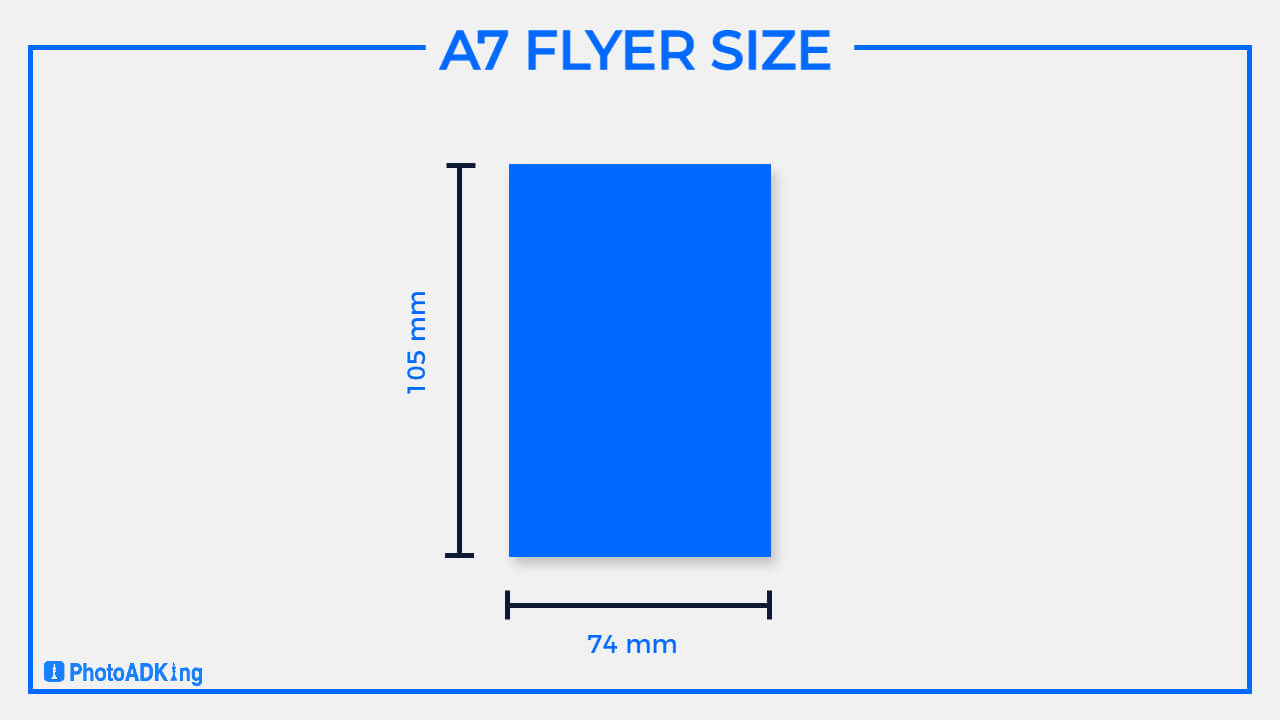 Square Flyer Size
The square flyer is perfect for showing off your creative approach and ideas. It's also a great choice for social media content.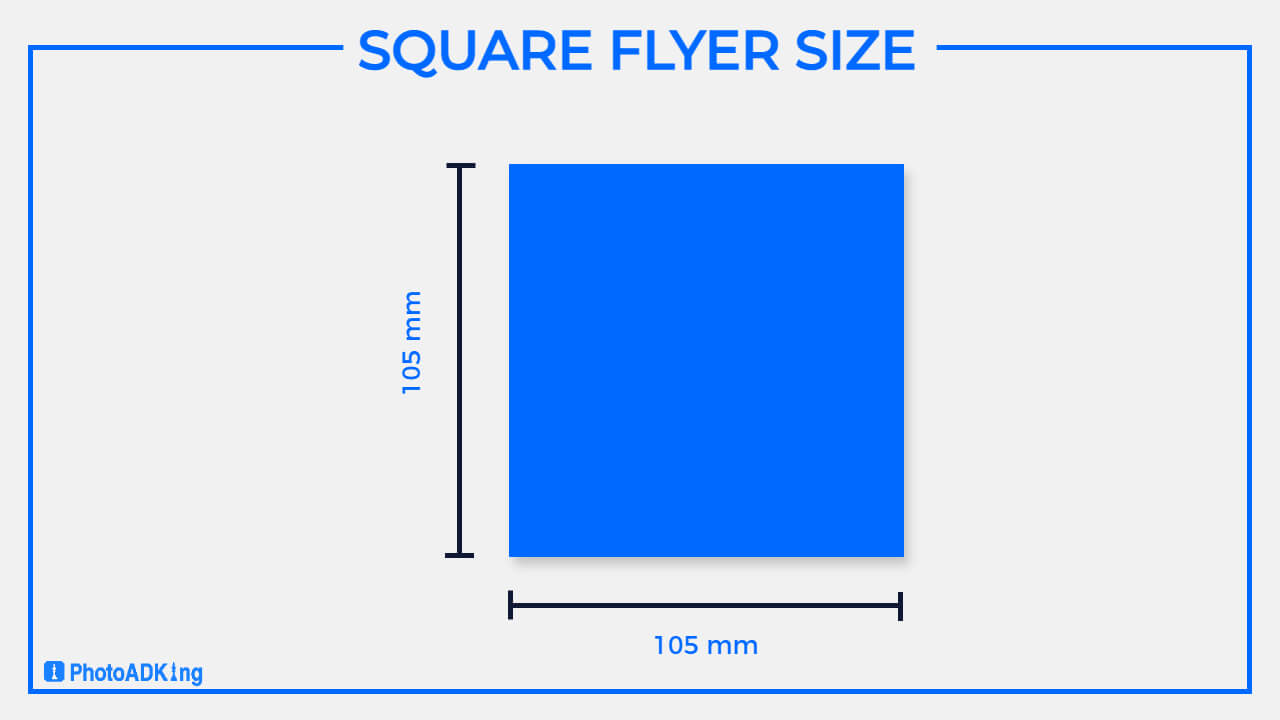 DL Flyer Size
DL stands for 'dimension lengthwise'. This flyer size is one-third of A4 (99 x 210 mm). Therefore, the flyer is designed to fit inside a DL envelope.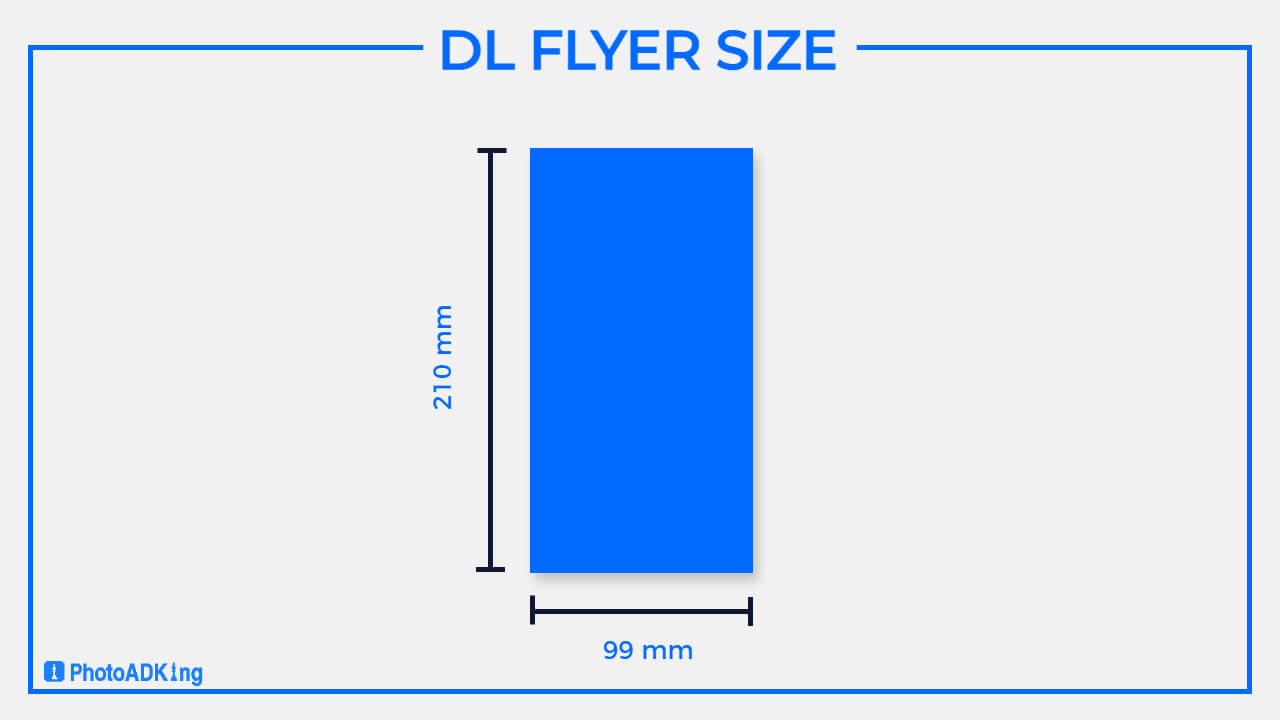 Moreover, this format is tall and slim and works well for pamphlets promoting a single offer in a great way.
Confusion Between Portrait and Landscape
When to use portrait and when to use landscape flyer size, Confused? Here is the answer to all. At the point when many people consider a flyer, they're most likely envisioning a picture format with the primary text at the top edge. However, there's nothing preventing you from turning the show on its edge and doing it landscape style. There is no such typical flyer size but it is always better to adhere to some custom flyer sizes.
The picture might be a characteristic decision for most organizations since it repeats how text is spread out in a book or magazine. It's not difficult to partition the substance down the page utilizing sub-headings and segments, and you can boost the effect of a primary heading or picture at the top since that is where individuals' eyes are accustomed to looking.
In the event that you truly do take the landscape choice, really focus on the design of the flyer and evaluate a secluded construction, maybe with symbolism on the left and text on the right. This will also prevent your text from extending across the entire length of the page and being tiring on the eye.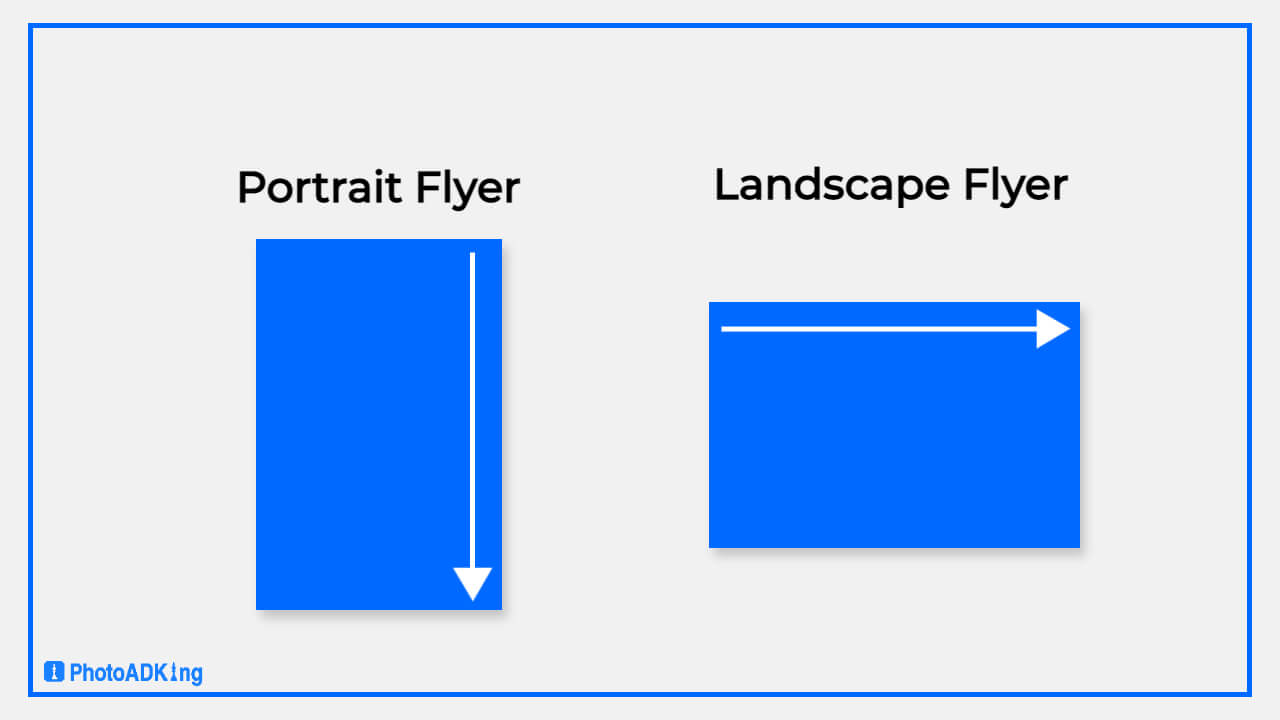 Standard Paper Qualities Used While Making a Flyer
Flyers are typically made from the following kinds of paper:
Glossy paper: This paper gives a shiny, high-quality finish and also makes colors appear more vibrant.
Matte paper: Matte paper has a smooth, non-reflective finish and is often used for text-heavy flyers.
Semi-gloss paper is a combination of glossy and matte paper and is used for flyers that also have a mix of text and images.
Cardstock is a thicker paper option that gives flyers a more substantial feel and is also used for promotional materials.
The weight of paper can also vary, usually from 80lb to 100lb.
It's also important to consider the size of the paper, which can be a standard letter, legal, or a custom size.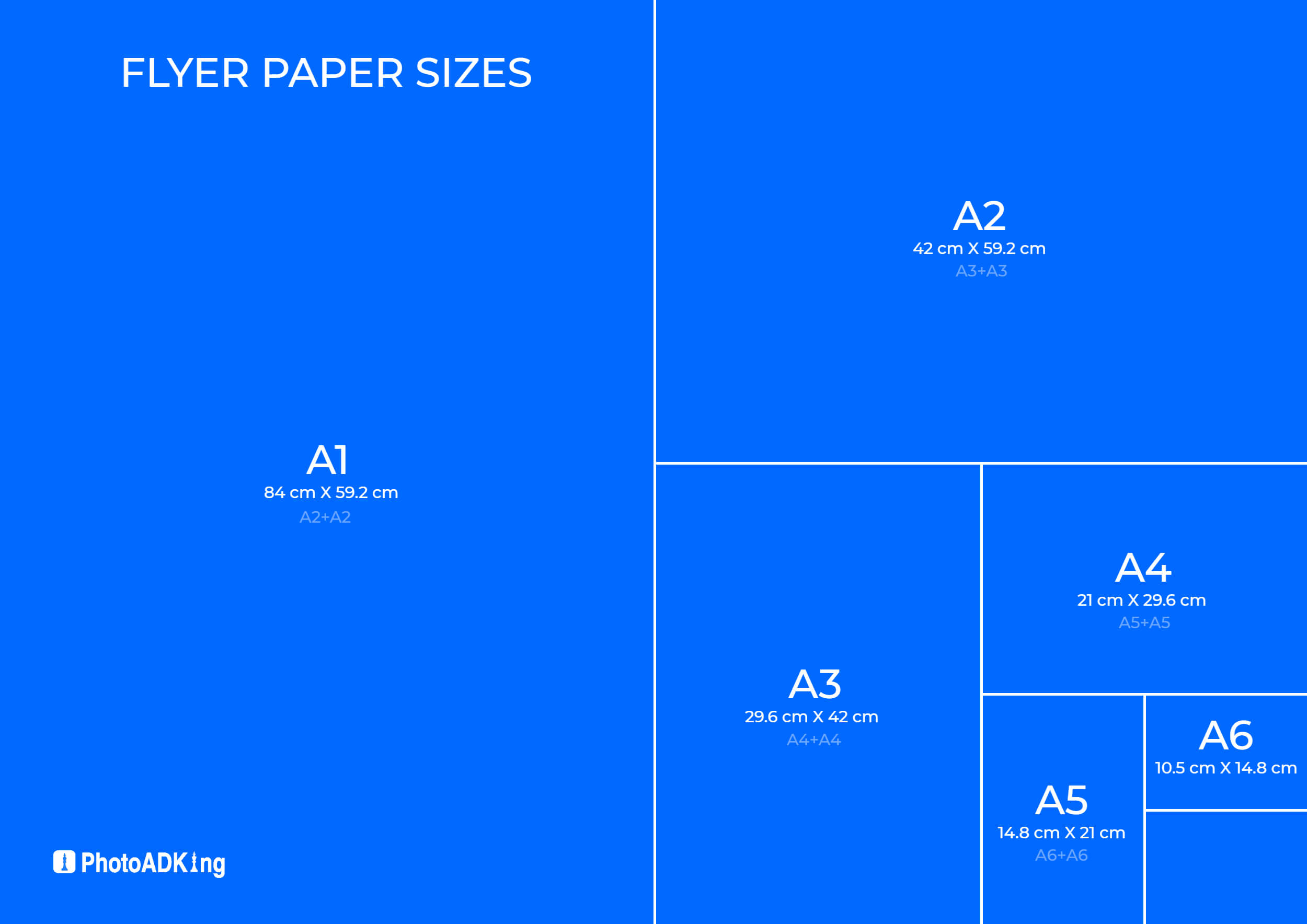 Flyer Design Tips for All Sizes
What is your intention behind creating a flyer? The overall quality of the flyer will give an impression of your brand and business. So it becomes of utmost importance to keep these flyer design tips in mind when designing your flyer:
Colors and spacing: You might be tempted to think that bright colors are the best way to stand out, but as a general rule, the attraction comes from both the color choice and the color contrast.
Clear image: Show pictures of your item or service to attract your audience, as it evokes a strong response and ensures a wide reach.
Strong message: Your message should have a clear, attention-grabbing title and a concise, yet impactful body that clearly communicates the purpose of your flyer.
Call to action: Promote your business by showing an engaging call to action on your flyer. So, you can encourage and aware the audience of your offerings.
Contact information: Incorporate your organization name, logo, telephone number, and site. You could likewise incorporate your location and active times, contingent upon the reason for your flyer.
Lastly
While creating a digital flyer keep in mind the flyer size in pixels should be less than 600 in length. You could also turn a flyer into a digital flyer-making journey by encouraging customers to put them on social media. Designing flyers online is supremely awesome, so try making your own flyer with the ideal flyer size and custom flyer size as per your wish.
Also read How to create a AI flyers using flyer maker.
Finally, visit PhotoADKing now, which offers flyer templates suitable for any type of business. Choose your favorite template and customize it according to your needs. So, now that you know what to do, what are you waiting for?