"A Flyer is either a breathtaking layout or nothing."
We all agree on the fact that an impressive flyer design begins & ends with its layout choice. No matter if you've got groundbreaking content to feature, if your layout lacks visual impact, your efforts could be in vain.
You may wonder why we're putting so much stress on the flyer layout ideas here?! Well, it's 2024 & you surely need a good dose of motivation to make it happen this year.
We have some freshly brewed flyer design ideas that'll be a turning point for marketers & entrepreneurs, only if you implement them well. You can also go for the flyer design terms that will help you to stand out from the crowd!
10+ Flyer Layout Ideas to Try in 2024
1. Futuristic Flyer Layout Ideas
A flyer is more than a combination of text and graphics and the Flyer Maker Android app helps you design flyers quickly and easily. Whether you're looking to create a flyer online for your business, event, club, or school, Flyer Maker iOS app helps your flyers look professional while keeping the design process quick and easy.
The more you give it a thought, the more interesting it turns out to be. 2024 is about to see major changes in flyer design when futuristic layouts will gracefully replace traditional layouts.
You'll likely think 'What's different about futuristic layouts?' and we have the answer already!
Futuristic flyer layout ideas are rich in detail display. As you can see, this flyer has everything from vibrant color combinations to QR codes, social media icons, and details that are to the point. As you can see, it has ample information for a good-looking flyer as well as it is a handy one for the target audience to approach the business if they're interested.
Above all, it makes a good first impression that your business is walking shoulders with trends & you're not outdated. You can extend your business to the top through various business flyer ideas.
2. Graphic Play Flyer Layout Ideas
Flyer designs automatically turn 10x attractive & curiosity-rising when you have one side as a cover & reserve the flip side for details. This is what brands prefer when they don't want to disclose everything at a glance. Also, this is done for a purpose.
For instance, if you wish to feature your brand logo, contact details & key highlight in a way that it doesn't get mixed with other details, the flyer cover will get to be your strong point.
Your major supporter here is a graphic play theme that's truly mesmerizing & captures your target audience to pick the flyer & see what's there on the flip side. You may use HD pictures or our free stock images instead of geometrics & shapes to make it different.
3. Color-Blocked Flyer Layout Ideas
Only if the theme permits, can you make your flyer colorful to trigger all those good emotions together. Color-blocked layouts are former choices for kids' nurseries, paint companies, event planners, travel agencies, photographers, etc. Not only a bunch of colors will make your flyer attractive, but you'll also get some easy spots to highlight focus text.
It can be some circles, squares, triangles, or appealing shapes filled with colors. You'll see it as a brilliant & simplest addition to your flyer that's making a positive difference.
4. Playful Invite Flyer Layout Ideas
Flyer invites are as popular as marketing invites, right? Usually preferred for grand events, flyer invites are getting popular like anything & 2024 is about to give you more reasons to love them.
Fun characters always gain attention. Also, they give an overview of the theme. Let's say for example if your college is hosting a dance party, how will you design a flyer? As it is all about the young generation, Party Flyer Ideas make sense. Here is an instance of a playful invite that's short & sweet.
5. Pricing & Offer Flyer Layout Ideas
It's always a matter of concern for businesses that are promoting their newly launched products or sharing price drops on services/packages as to how to say it differently. Here is what 2024 pricing flyers will look like. Smart, clean & amazing!
If you've only noticed, graphics are replacing text & making it easy for people to understand what the text box is trying to explain. The major shout-out offer has a dedicated bubble. Contact details are organized neatly without making the flyer look messy. That's what you want!
6. Collage Flyer Layout Ideas
It usually happens with the fashion industry, photographers, makeup artists & similar niches when they've got too much to display but flyer design doesn't permit it. Collage is the only solution to achieve that 'flaunting' look.
7. Floating Flyer Layout Ideas
You can also name this flyer version as a modified version of typical flyer designs that you've been using to date. The only difference is the way details turn out after gradient touch-up & how neatly the details are presented without extra effort. That's the beauty of a floating layout.
8. Super Realistic 3D Flyer Cut-Out Theme
There are two types of flyers. 'See & Forget' and 'Read & Remember'. If you want to give realistic feel to your target audience, make your flyer so powerful that it touches their heartstrings.
Architectures & interior designers are great at giving a surreal view of the property without even finishing the entire work. Thanks to the 360-degree digital view. You can do this too without going digital. All thanks to the 3D Cut-out theme.
If you want to stand out, you'll have to put in some extra effort & the results will be extravagant.
9. Infographics Flyer Layout Ideas
Explaining complicated processes to end-users is often a difficult task. But, it is something that increases your brand value. When your flyer is about the processes, what's better than utilizing graphics & illustrations to create an infographic flyer? Besides using the structure for processes, you can also show the timeline of your products & services to display how far you've cherished the success. These little details make a big impression.
10. Reusable Flyer Layout Ideas
Just like a souvenir, if you want your flyer to not get dumped in the bin or used as a rough page, plan it differently. Take the opportunity to make it useful & it will make your brand stay in the eyes for as long as it is useful.
For example, you can create a calendar flyer that can be used as a desk calendar with some space dedicated to your promotional material. Isn't it a good idea? If you haven't tried these flyer layout ideas before, do it this time.
Hopefully, these flyer layout will give inspiration for your next flyer design. If you are looking for business flyer design, then check out these blog on business flyer layout.
How to customize a flyer layout online instantly?
If you're very new to 'how to create a flyer' then you're at the right place. PhotoADKing is your one-stop marketing material & instant graphic designing tool you wish you'd come across earlier.
Let us show you the easiest way you can customize any trending flyer layout in minutes with PhotoADKing's powerful editor tool.
Step By Step Guide:
1. Browse PhotoADKing's flyer category & scroll through our collection to find your match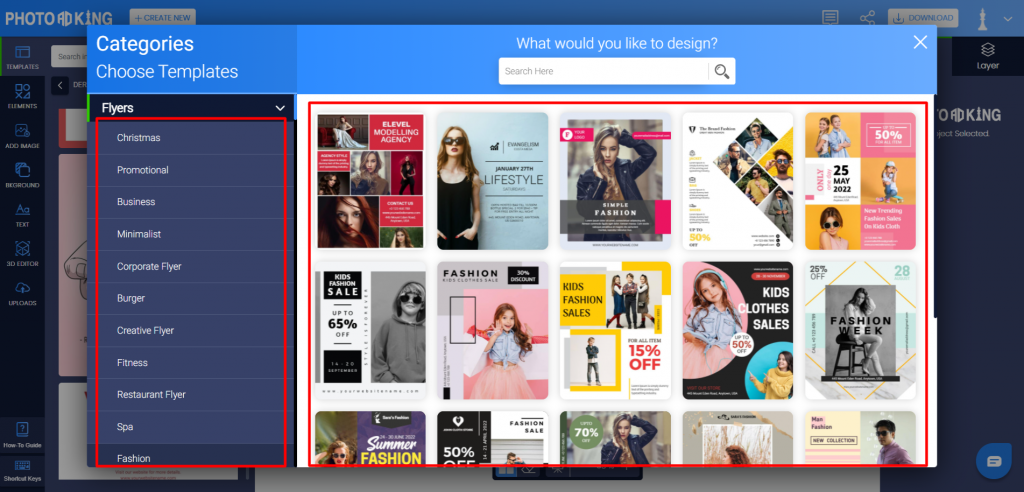 2. Select the flyer layout you like & you'll enter the Edit mode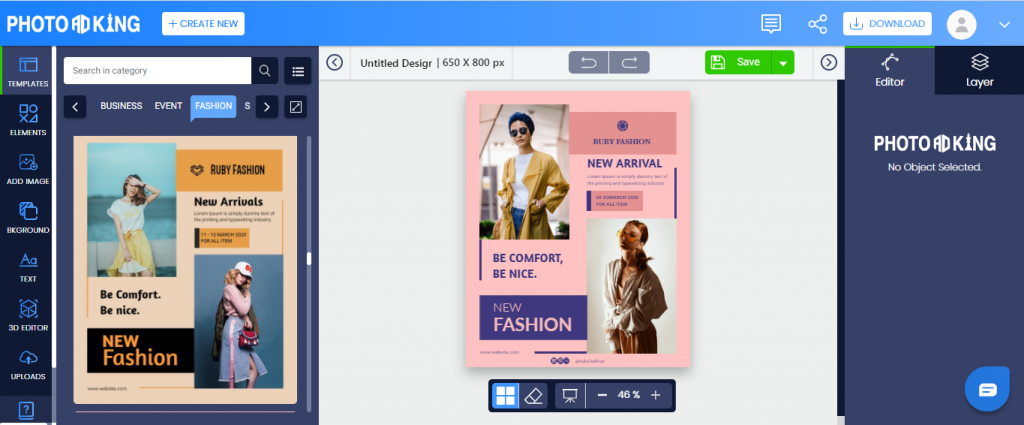 3. Personalize your flyer templates with every essential available right there. Drag & drop graphics & illustrations, upload your photo or browse our stock images to add HD pictures, change typography styles, and perform every necessary editing you need.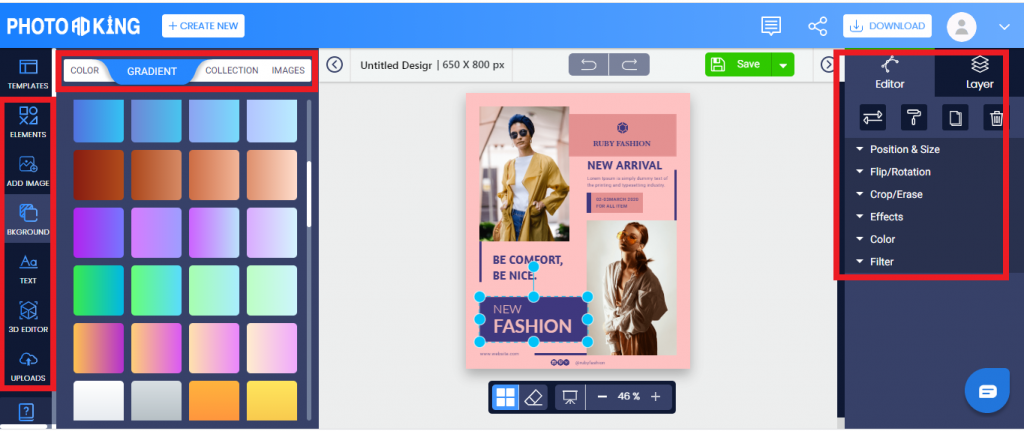 4. Download your flyer design & save it for printing. You can also share it with your team with one click only.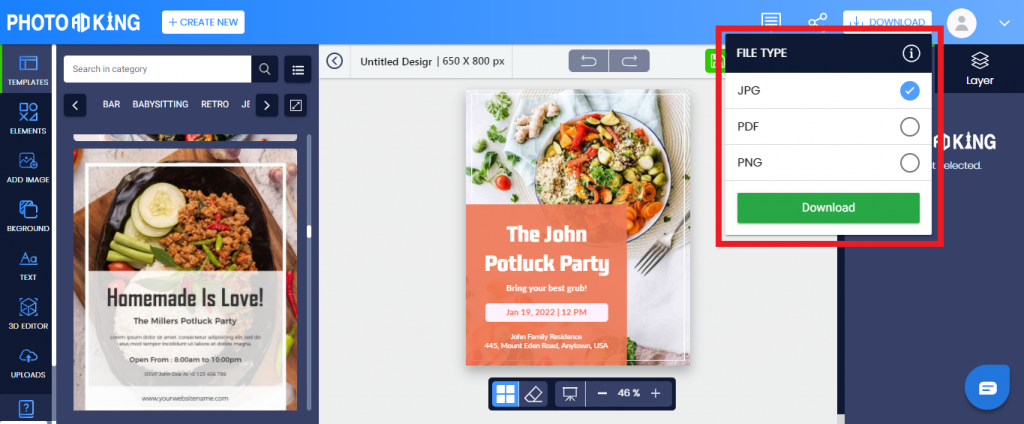 It seems like a perfect day to proceed with the flyer maker. Create a free flyer with our Free Flyer maker. Also, don't forget to check out flyer design ideas! Let's go!
Also read about how to create flyer using AI flyer maker