Are you arranging an exciting party but having trouble creating an attractive flyer that will entice guests?
If so, you are not alone. It might be difficult to create a memorable party flyer. Flyers that showcase your party's unique elements should be innovative and well-designed.
But how do you create a party flyer?
Don't worry, you've come to the correct place. You may use PhotoADKing Flyer Maker to create your own flyer here.
Go nowhere as we're about to unveil the coolest and most stunning party flyer ideas you'll crush over throughout. Whether it is about a movie night with friends, a BBQ party with your family, an extravagant Birthday Bash, or any party ideas you have, we've got you covered. Let's check them out.
List of party flyer ideas for various events
1. Night Club Concerts Party Flyers
The millennial generation is party-crazy. What's more wanted than a nightclub concert or live music party? Probably, nothing! If you've been waiting for the new year just to resume your nightlife, you'll need to plan some out-of-the-way party flyer ideas that are worth grabbing attention.
Music concerts, Karaoke nights, and similar party themes are like – "the more, the merrier." So, will you not like to design a flyer that you can stick around the city & invite people who share the same party mood as you do?
It's a big shout-out to the event organizers! Create these ultimate trending music & club party flyers using templates.
2. Disco Night Party Flyers
3. Concert Music Party Flyers
4. Christmas Eve Party Flyers
Christmas is yet to arrive this year, so, if you want to make your Christmas Eve Party invitations unique, you'll definitely want to use these ideas earlier than anyone else. Pick from decent black & gold themes if you're too bored with red & greens. Use playful themes with adorable cartoon characters, Santa, reindeer, a Christmas tree, and many more.
5. New Year Party Flyers
New Year parties are much-awaited of them all, right? Inspire youngsters to join the celebrations & welcome New Year with a bang by customizing any of these outstanding flyers that are instant edited & ready to use in no time.
You'll find all the impressive graphics & illustrations just in case you want to design one from scratch. Add a dash of excitement with the actual high-quality pictures from your past events. After all, the more you keep it real, the more it appears attractive. You can also hit flyer design terms to get more flyer design ideas!
6. DJ Party Flyers
DJ nights are the craziest nights that make people forget if the rest of the world exists. You can use PhotoADKing's flyer maker to make it different this time which has tons of rocking templates to choose from.
Do you know what sets a DJ Party flyer apart? The layout speaks for itself & the booming theme that's truly unique.
7. DJ Night Concert Party Flyers
8. Happy Hours Party Flyers
The way the 'happy hour' trend is going right now, it seems like it is going to be big in the coming years. Let's make it more happening with our super gorgeous weekend happy hour flyers. Believe us; you'll find fascinating themes for bars, restaurants, and more. Also, if you're unable to find the theme you're looking for, feel free to pick & personalize any flyer template of your choice. You'll surely end up with a stunning one.
9. Bachelor Weekend Party Flyers
10. Movie Night Party Flyers
Okay, you're hosting a movie night & you want to announce it in style. What if we say you can get a high-quality printable copy instantly with PhotoADKing?
You'll find dreamy movie night themes with cutesy graphics & innovative layouts that you'll love to make yours.
11. BBQ Party Flyers
A party theme that could stay in demand all around the year could be a BBQ party. Whether you're hanging out with friends for a BBQ night, enjoying a family get-together at a BBQ dinner; or hosting a BBQ evening at your Bistro, PhotoADKing's BBQ Party flyer themes will make your mouth water.
12. Brunch Party Flyers
13. Birthday Night Party Flyers
Wave goodbye to traditional Birthday bash invites as it is the time for some eye-popping birthday flyers. Make it a big event with enticing colors & newly-launched color-blocked birthday themes loaded with awesomeness. Don't you think your best birthday ever with these incredible designs?
14. Potluck Party Flyers
When it comes to partying, how can we skip mentioning potluck parties? A celebration of food at the office or home, potlucks are so popular. Don't miss out on these piping-hot themes that'll bring a spark to your potlucks. Also, you can gain all those praises by shouldering the responsibility to design the most creative potluck flyer for the evening.
15. Farewell Potluck Party Flyers
16. Office Potluck Party Flyers
17. Wedding Potluck Party Flyers
18. Winter Potluck Party Flyers
19. Thanksgiving Potluck Party Flyers
20. Pizza Party Flyers
21. Back to School Party Flyers
The options are almost limitless if you're about to enjoy your 'back to school' days with your favorite people. Announce this happy event with awe-inspiring back-to-school party flyer ideas that would create a buzz in no time. And the best part is – you can create those flyers, stick them around the neighborhood & also share them online with your batch-mates so that they know something exciting is organized.
Ditch the old-school formal invites & make your way to eye-catchy back-to-school flyer templates.
22. Tea Party Flyers
Invite your kitties or host a casual meet with your buddies with unique tea party flyer ideas. Use exciting graphics, add a hint of the menu, and spill the beans with your group to join the most happening tea party event. If you're falling short of ideas, we'll get you covered.
23. Cookie Party Flyers
24. Lunch Party Flyers
Let's agree to the fact that lunch & dinners are often underrated & so we find those invites as 'Oh-so-formal'. We're about to break the rules with lunch party flyer ideas that are as impressive as the idea of hosting lunch. Meanwhile, you may enjoy the privilege of designing lunch party flyers that truly reflect your personalized lunch theme so your guests know that they're attending a meticulously thought-out event.
25. Holiday Lunch Party Flyers
26. Anniversary Lunch Party Flyers
27. Retirement Party Flyers
Your senior is retiring or your family member just took a retirement. They're about to enjoy a relaxed period of their life after a lot of hard work. Grab this opportunity by drafting a loving retirement party flyer you've never attempted before. Let us tell you, PhotoADKing has a very touching range of retirement party flyer ideas that'll make this year memorable.
28. Retro Party Flyers
Retro party flyers are still wanted. If you're looking for some polished ideas, we're ready to stand up to your expectations. From prom night themes to the retro orchestra, we're about to get you indulged in the era of the 50s, 70s & 90s, but with a refreshing twist. Don't you believe this? Have a look!
29. Summer Pool Party Flyers
Expect this summer to be the coolest one as we're introducing you to some pool-worthy summer party flyers. To all the private beach & pool resort owners out there, have you ever felt like rising above the mainstream designs? Well, you'll now want to go overboard as PhotoADKing's mind-blogging pool themes are all set to turn your party mood ON!
30. Halloween Party Flyers
Are you looking to organize the scariest Halloween theme party? Wander nowhere a Halloween flyer collection with some spooky themes, so you can invite your favorite people to get as weird as possible at your place. Prepare for the upcoming Halloween a little earlier with some haunting graphics, stickers & scary illustrations.
31. Housewarming Party Flyers
32. Selfie Party Flyers
33. Graduation Party Flyers
34. Wine & Cheese Party Flyers
35. Bowling Party Flyers
36. Ice Cream Party Flyers
37. Neon Party Flyers
38. Tiki Party Flyers
39. Sunset Party Flyers
40. Paint Party Flyers
41. Fundraiser Party Flyers
42. Spring Party Flyers
43. Gender Reveal Party flyers
44. Chocolate Party Flyers
45. Carnival Party Flyers
46. Easter Party Flyers
47. Valentine's Day Party Flyers
48. Holi Party Flyers
49. Corporate Party Flyers
50. Rockin Party Flyers
Alright, you've arrived because you thought this blog was interesting. It is possible that you could be interested in other blogs as well.
You Can Also Read Our Article
You can make your own flyer utilizing mobile applications if you are a mobile user.
---
Flyer Maker Apps for Mobile Phones
Please find the links below for downloading the flyer maker app.
Flyer Maker App for Android
Flyer Maker App for iPhone
One of the best flyer apps provided by flyer makers for both Android and iOS apps. It offers a wide range of flyer templates like nightclub performances, Christmas Eve parties, New Year's Eve parties, bachelor weekend parties, and many more flyers.
---
How to create a party flyer with PhotoADKing?
After reading a lot about party flyers, you must be curious to discover the trending themes, aren't you? Let us share a brief about how to create a flyer so that you'll get help in making them straight away from here.
1. Step: Search for the relevant Party Flyer Templates with a time-saving approach.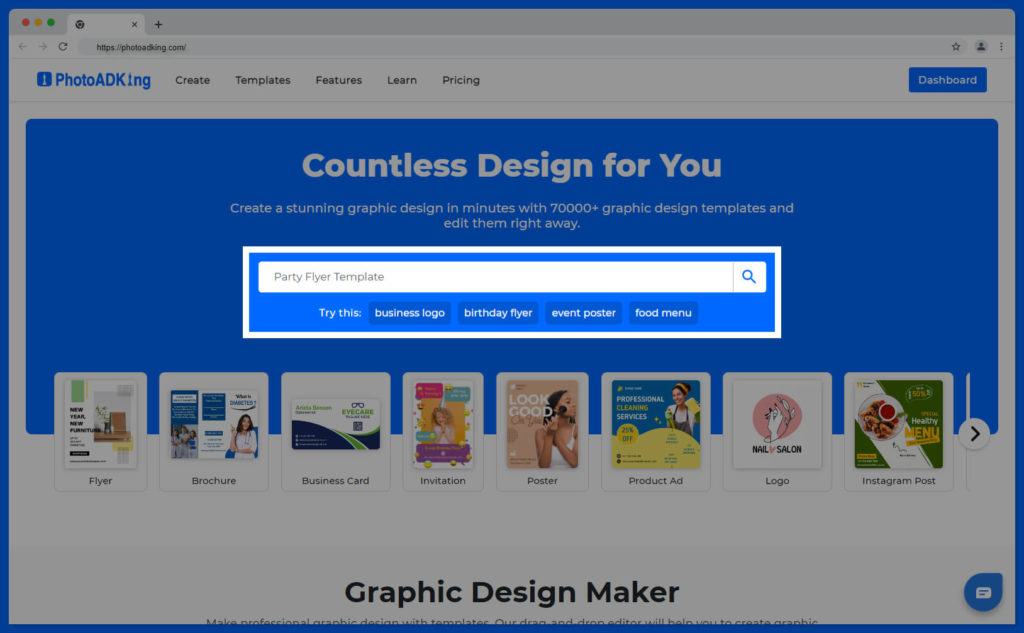 2. Step: Scroll through the respective flyer templates & find your match.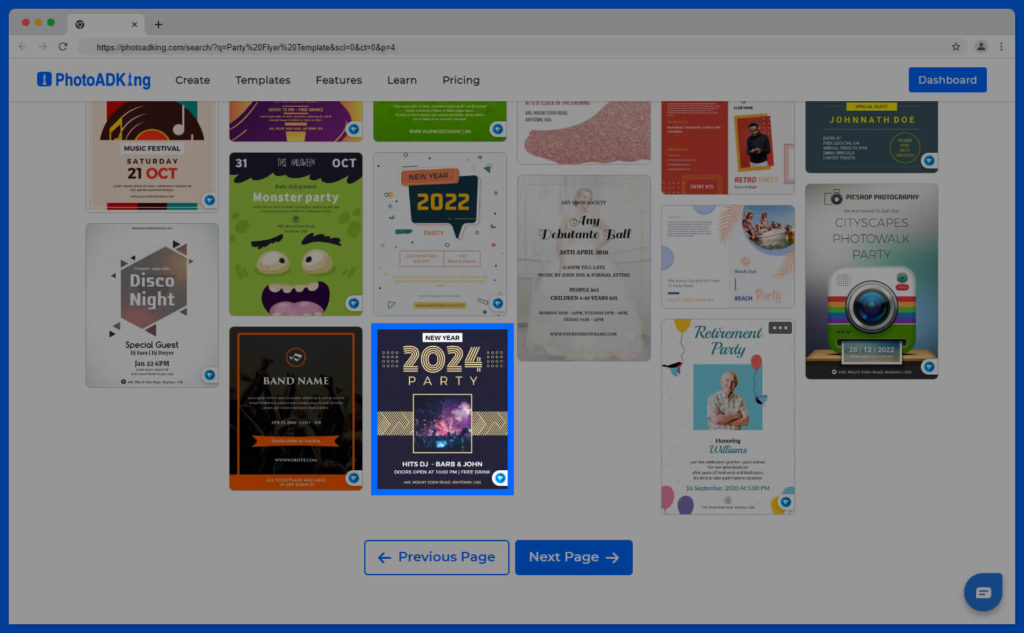 3. Step: Edit the party flyer template using PhotoADKing's powerful editor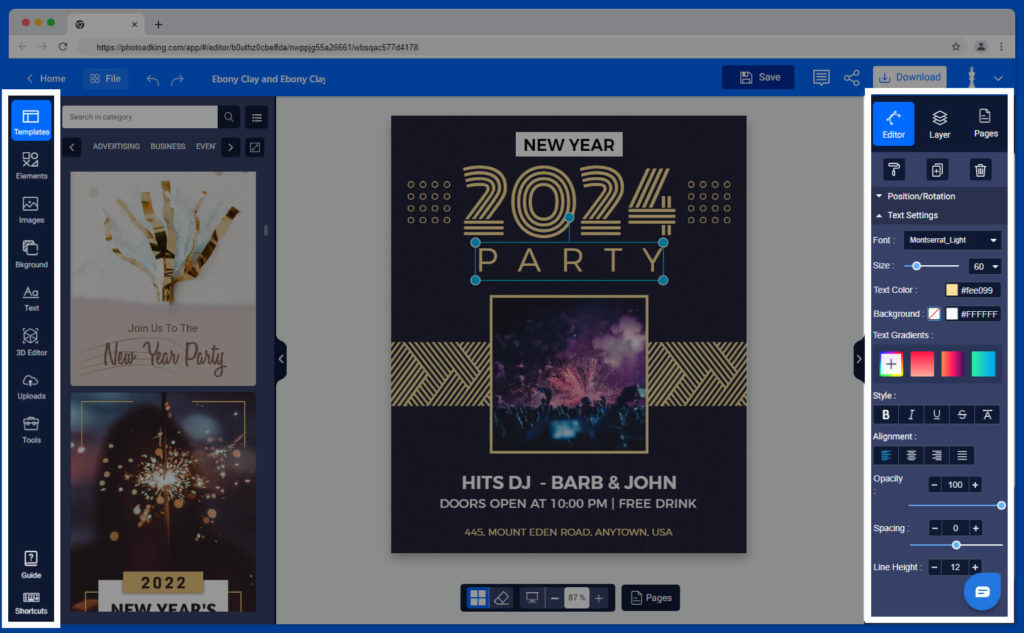 4. Step: Download or share your copy instantly with one click only!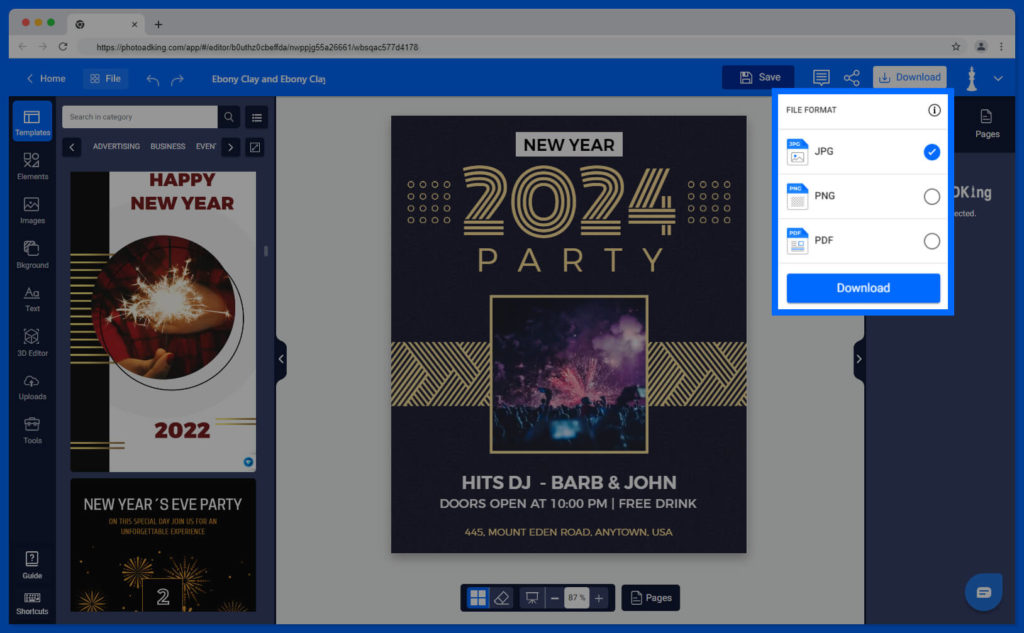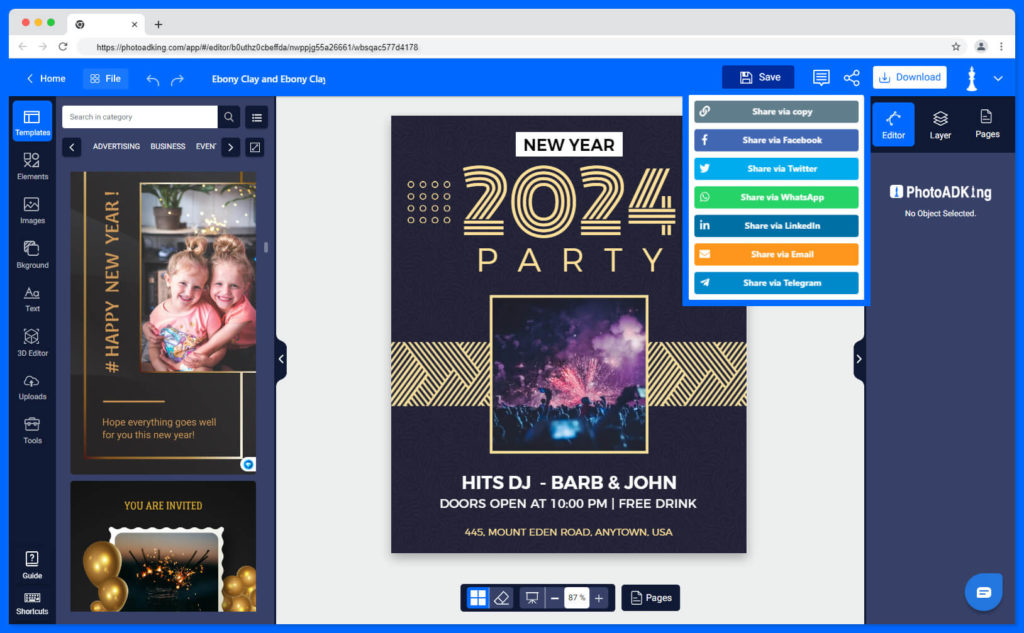 That's all folks!
We hope your this year gets better with PhotoADKing's latest party flyer ideas. Keep coming here for the trendiest collection of flyer design ideas.
Overall,
In conclusion, creating a stunning party flyer is essential for making your event a grand success. Whether it's a movie night, a BBQ party, an extravagant birthday bash, or any other theme you have in mind, the right flyer can attract attention and fill up the seats in no time. With PhotoADKing's Flyer Maker, you can easily design eye-catching and innovative flyers that showcase the unique elements of your party. So, don't hesitate to explore the countless party flyer ideas and examples available and make your event the talk of the town.
FAQs