The holiday season is just around the corner, and for businesses, that means one thing – Black Friday is fast approaching. As one of the biggest shopping events of the year, Black Friday presents a golden opportunity for retailers to boost sales and engage with their customers. To get the best results during this shopping craze, you should carefully plan your Black Friday marketing ideas.
Many shopper minds have started hunting and wish-listing their long-awaited products to hit "Buy Now" on Black Friday and Cyber Monday when the hottest deals pop up. Also, Black Friday Sale Flyers are the biggest showdown influencing buyers. Businesses expect a high incline in their sales chart as Thanksgiving, Black Friday and Cyber Monday arrive.
In this article, we will explore what is Black Friday, why Black Friday is important for Marketers, and a wide range of Black Friday marketing ideas that can help your business stand out and achieve remarkable success during this bustling holiday season.
---
What is Black Friday?
---
Black Friday is a big shopping day when stores offer huge discounts on many products. It usually happens on the day after Thanksgiving, which is the fourth Thursday in November. People often start their holiday shopping on Black Friday because they can get things at much lower prices. It's a day when lots of people go to stores and shop online to find good deals on gifts and other things they want to buy.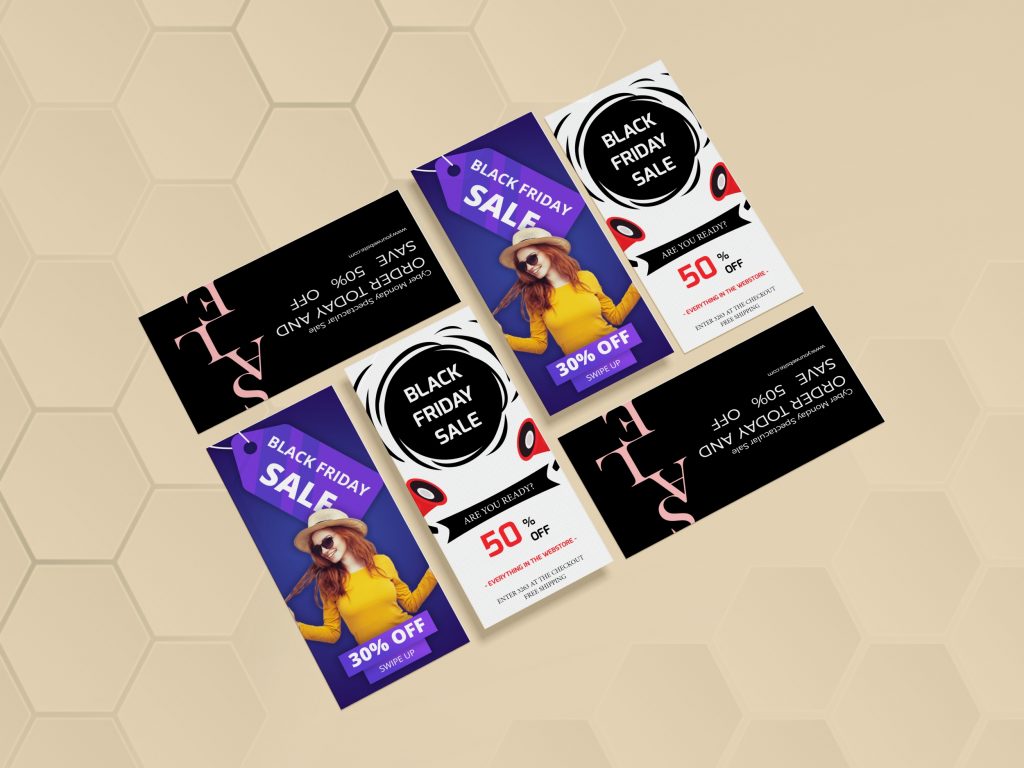 The heavy traffic and violence created by shoppers gave birth to an idea for online and offline businesses to offer whopping deals and discounts. It is much like a clearance sale when businesses expect 50% of their revenue for the entire year to be made during these four days (Thanksgiving to Cyber Monday).
When everyone is ready with their fishnet to hook customers, what have you planned? Do you have your to-do list ready for Black Friday offers? If yes, it's great, if not, do consider this read as a guide to boost up your marketing campaign and get the cream out.
---
Why Black Friday is important for Marketers?
---
Black Friday is super important for marketers. It's a chance you can't afford to miss if you want to make more money. This day is perfect for selling off your old stuff and making space for new things.
Missing this chance to multiply revenue greatly for this day (or through Black Friday Weekend) is what you should never do.
This is the best time to wave off your existing products and make some space for fresh stock.
Some store owners are interested in extending the offers throughout the weekend, starting from the evening of Thanksgiving to Cyber Monday.
Finder Black Friday Statistics 2019 reports that Americans are expected to drop $87 billion on Black Friday & Cyber Monday this year.
This is very encouraging for every online business as well as a brick-and-mortar store to hook new customers.
---
When do Black Friday Sale Ads begin?
---
Black Friday Sale Ads start to roll out from the beginning of November which is informally referred to as Pre-Black Friday Offers while some begin promotions from mid-November. Black Friday Deals Flyers are also the most used ones to inform users of upcoming offers.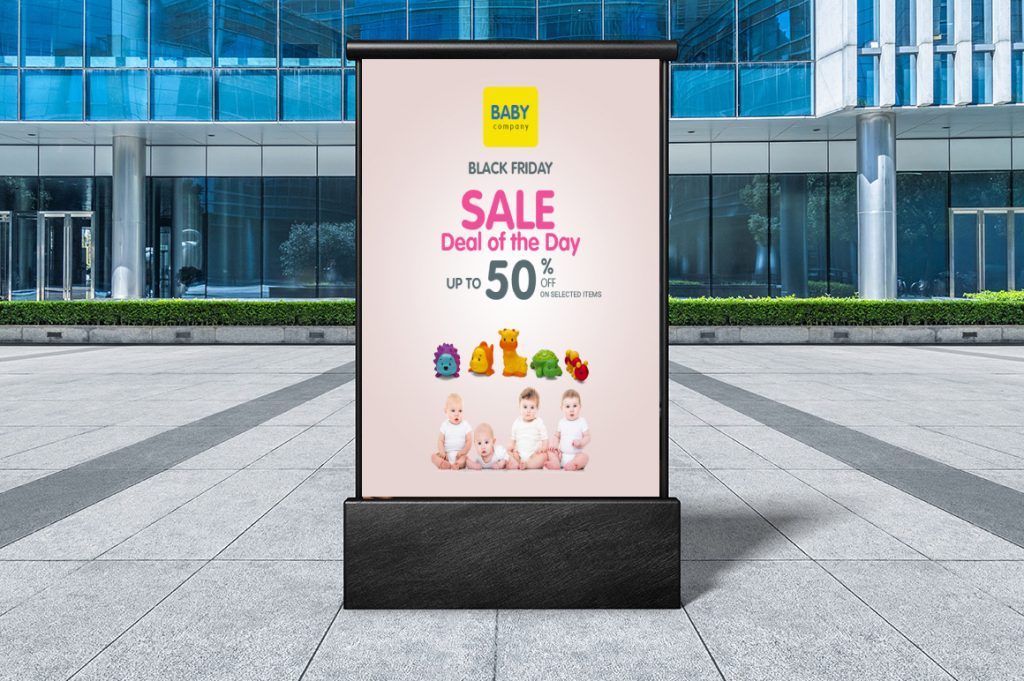 Whatever you do, make sure that your Black Friday Shopping is a big hit & we're here with seven outstanding ideas to prepare you for a ground-breaking and store-rushing sales experience this year.
---
Black Friday Marketing Ideas to Boost Black Friday Sales
---
Let's explore eight Black Friday marketing ideas to help you boost your Black Friday sales.
1. Creating Eye-Catching Black Friday Marketing Materials
Black Friday is all about grabbing your customers' attention, and one way to do that is by designing attractive marketing materials. Let's explore some key elements:
Black Friday Flyer
The Black Friday flyer is a dynamic design that captures the essence of this exciting shopping event. With its bold black background and vibrant red accents, it immediately grabs your attention. The sleek typography and eye-catching graphics showcase the incredible deals and discounts that await shoppers.
Also Read: Black Friday Flyer Ideas and Examples
Black Friday Poster
A Black Friday poster is a big, bold, and attention-grabbing image or sign you put up in your store or online. It's like a giant announcement saying, "Hey, we've got some fantastic deals for Black Friday!" Posters use eye-catching graphics and text to get people excited about your discounts.
Also Read: Black Friday Poster Ideas
Black Friday Logo
Your Black Friday logo is a special version of your store's logo. It's like dressing up your regular logo for the Black Friday party. You can add festive elements or change the colors to match the holiday spirit.
Black Friday Social Media Post
This is when you use your store's social media accounts (like Facebook or Instagram) to spread the word about your Black Friday deals. You'll create cool posts with pictures and info about your discounts. It's like shouting from the virtual rooftops to let everyone know about your offers.
Black Friday Announcement
A Black Friday announcement is like sending out a virtual invitation to your customers. It's a message you share through email, social media, or your website, letting people know that Black Friday is coming and they should get ready for some fantastic discounts.
When you put effort into creating these Black Friday marketing materials, you'll make it easier for customers to notice your deals and get excited about shopping at your store. So, let your creativity flow and design some eye-catching materials to make your Black Friday a huge success!
2. Create Deals of the Hour
Understand the customer's psychology when you design a Black Friday Flyer or create promotional social media posts. Have something exciting for the users whenever they open up your App, Website, or even their Facebook or Instagram. "Limited Period Offer", "Weekend Sales", "Deal of the Day", "Offer of the Hour", etc invokes a feeling of 'Let me see if I like something & I can shop it at best prices now' and voila! An order arrived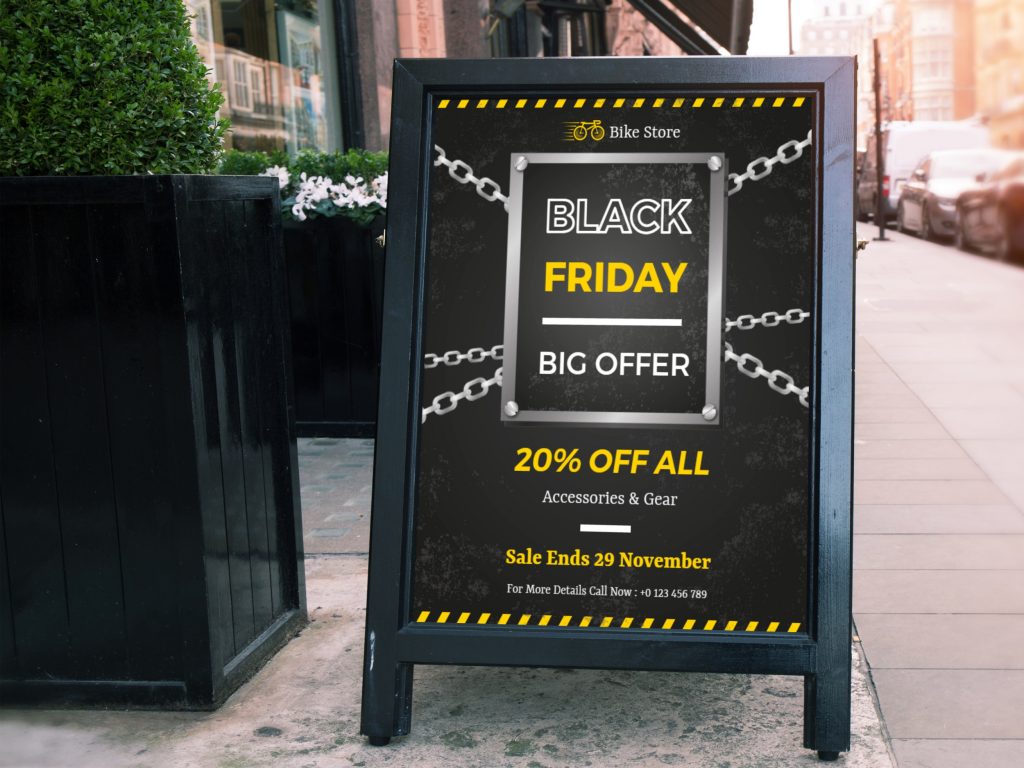 3. Offer a "Free Gift" with every Purchase
Getting something free with every purchase is a hidden desire. No matter what you shop for, getting something for free is so cool! You can create a Black Friday Sale Poster highlighting "FREE GIFT" which is an old-school marketing strategy that will not only work for this day but any shopping festival. Set a cart amount of minimum purchase on which users become eligible for the gift.
For instance, if you are an online makeup store, create an offer like "Get lipstick free on the purchase of 999", "Get a lip stain Free on the purchase of at least 3 products from the same Brand", etc.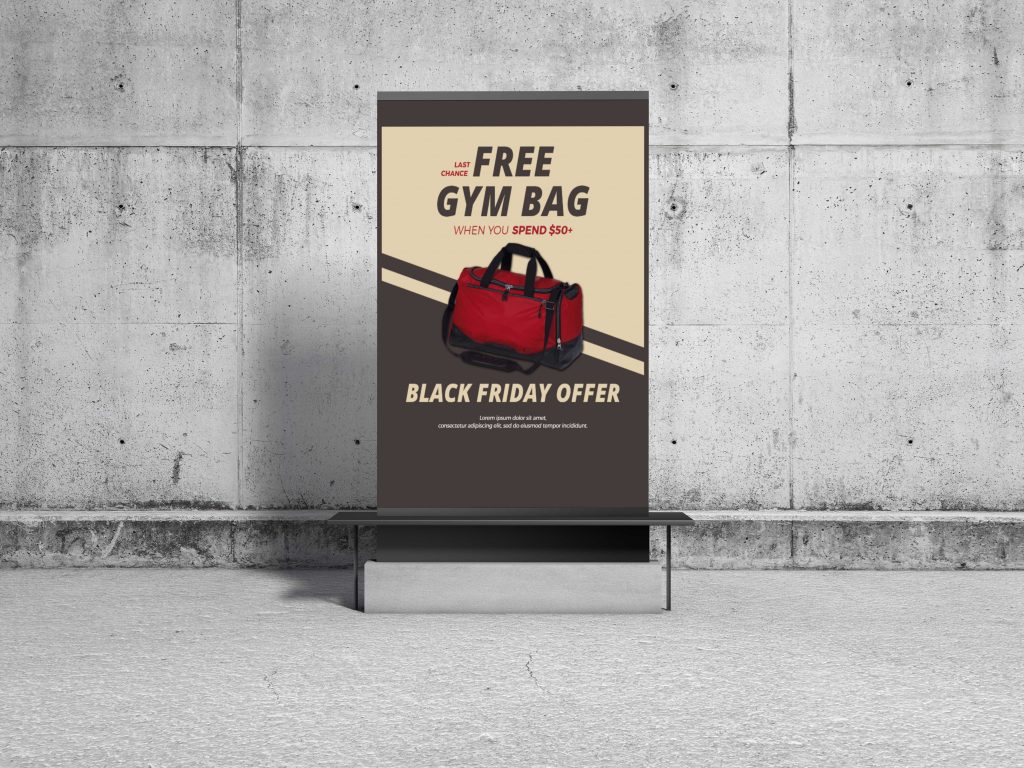 4. Take Full Advantage of Hashtags
While sharing Black Friday deal images for Facebook or Instagram, add relevant hashtags. For instance, #blackfriday #blackfriday2019 #blackfridaydeals #blackfridaysales #blackfridayoffers are to be included as a must. Remember that search trends are changing and users find their best offers from social media itself.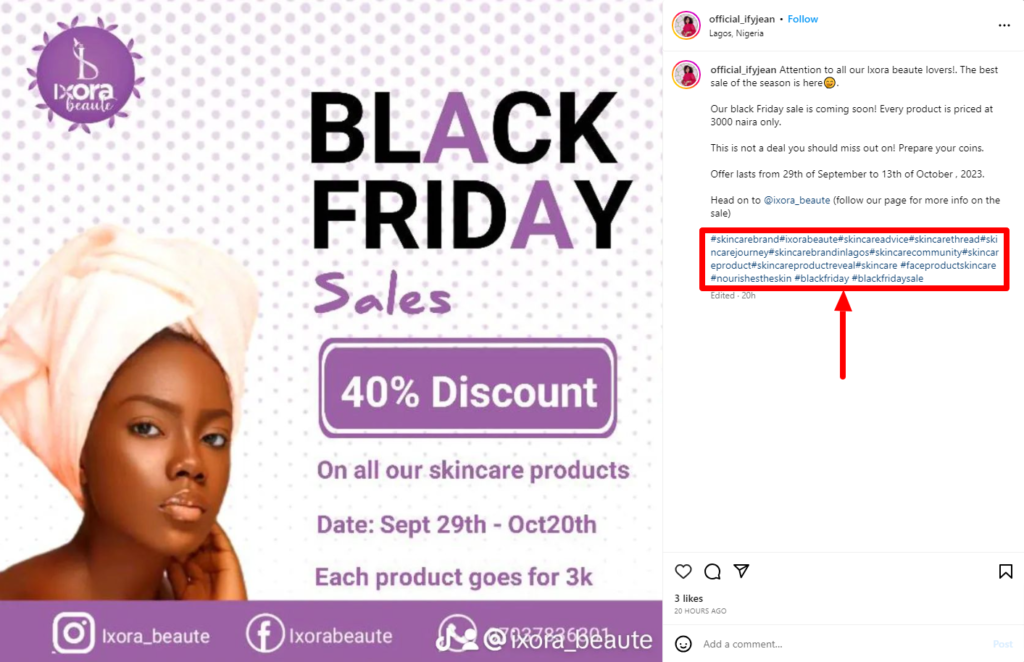 5. Use a New Black Friday Offer Page
Get your developers ready to create a Black Friday Offer Page that can be used as a landing page for your website or mobile application. Not just websites, but many eCommerce shopping apps are also in line. This is a working strategy for sure. You only need to design it well and showcase your best products categorized well. Once it is ready, you can boost it on Facebook or Instagram to make your efforts worthwhile.
6. Run Countdown Timers
You can make a countdown timer on your website or social media to create excitement. This timer shows how much time is left until Black Friday deals start. People love a good countdown because it makes them feel like they need to hurry up and shop. So, give it a try and watch your Black Friday sales soar!
7. Don't Forget Banners
Black Friday Banners have already started to slide and stick on websites and this page is dedicated to exclusive deals. This should become your signature deal until the sale ends. Create a Black Friday cover image or video for Facebook with the same banner. Offline Banners and Posters can also be adopted as an innovative idea. Get your store ready to welcome increasing walk-ins by setting a charming standee outside.
Also Read: Creative Banner Ads Marketing Strategy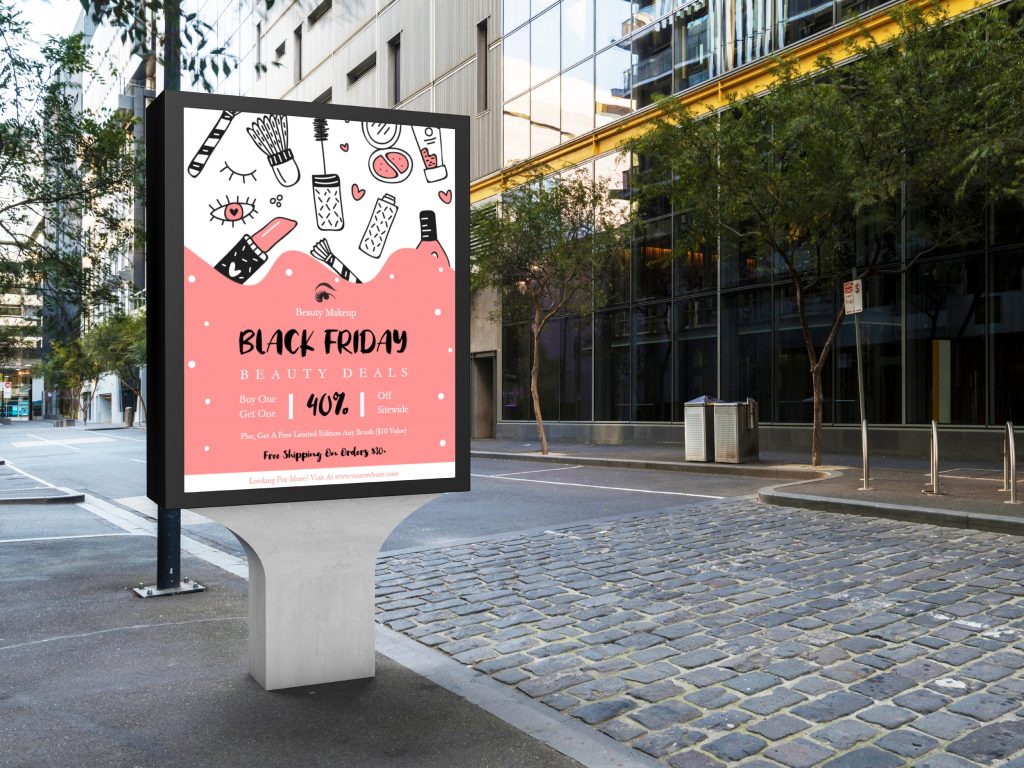 8. Exclusive VIP Offers for Loyal Customers
One of the most effective strategies to bolster customer loyalty and drive repeat business during the Black Friday shopping frenzy is to offer exclusive VIP deals. By recognizing and rewarding your loyal customers, you not only show appreciation for their continued support but also create a sense of exclusivity that can generate excitement and anticipation.
9. Make Printable Gift Cards
The Holiday season is the best gifting season. Everyone is looking to gift something to their loved ones. You can either choose to create a Gift Combo on your website or provide an option for shoppers to make printable gift cards. Pay attention to the Black Friday Gift Card Design and also offer customization options. This will excite users who are confused about shopping for their loved ones but will be satisfied to create a wonderful gift card that looks and feels good.
Also Read: Latest Gift Card Ideas For Business
10. Utilize the Email List like a Pro
You must have subscribers who are frequent buyers and have users who purchased products or availed services at least once. This is when you should approach them and provide Loyalty offers and discounts. Having an email arrive with a customized Black Friday Sale Poster showcasing items based on past purchases has more chances to trigger sales. As the user has experienced shopping with you before, they will at least check what's the deal.
Also Read: 10 Actionable Email Marketing Tips
If you like what you read on our blog, you might also be interested in checking out some of our other blogs.
---
---
Conclusion
---
Black Friday presents a golden opportunity for businesses to boost their sales and end the year on a high note. By implementing these eight marketing ideas, you can create a winning strategy that not only attracts customers but also keeps them engaged and satisfied throughout the shopping frenzy. Remember that successful Black Friday marketing requires careful planning and execution, so start early and stay agile to adapt to changing consumer trends. With the right approach, you can make Black Friday a profitable and memorable experience for your business and your customers alike.
---
FAQs
---
What are some key elements of eye-catching Black Friday marketing materials?
Eye-catching Black Friday marketing materials include a Black Friday flyer, poster, logo, social media posts, Instagram posts, and announcements. These materials are designed to grab customers' attention and highlight special deals.
How can I effectively use hashtags in Black Friday marketing?
In Black Friday marketing, use relevant hashtags like #blackfriday, #blackfridaydeals, and #blackfridaysales when sharing deal images on social media. This helps potential customers discover your offers.
How can I encourage customers to shop on Black Friday?
You can encourage customers to shop on Black Friday by offering "Limited Period Offers," "Deal of the Day," or "Weekend Sales" to create a sense of urgency and excitement.