Content marketing for restaurants is a unique beast. Smart, appealing, strategic content assists restaurants in driving sales, attracting customers, and staying in touch with their customers.
Content marketing ideas for restaurants are a vital tool to utilize to grow your customer base and promote yourself as an authority in a specific niche.
Examples include gluten-free, keto, vegan, healthy eating, or establishing your restaurant as a culinary genre mainstay.
Any restaurant's reputation effectively improves through content marketing.
However, to reap all of these benefits, you'll need well-thought-out content marketing ideas for your restaurant.
Traditional Marketing Versus Content Marketing Ideas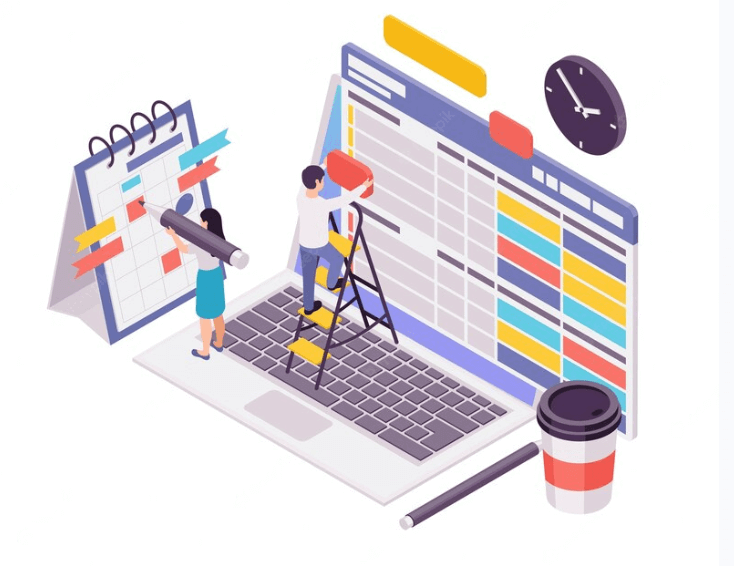 People are becoming increasingly tired of traditional marketing ideas for restaurants according to recent studies. After seeing food-related content online, 86 percent of millennials try a new restaurant.
As a result, your efforts in content marketing ideas for the restaurant can yield significant results. This is because traditional marketing strategies do not deliver the same level of transparency as content marketing.
The following are steps to take to do content marketing ideas for restaurants in 2022.
Create a Content Calendar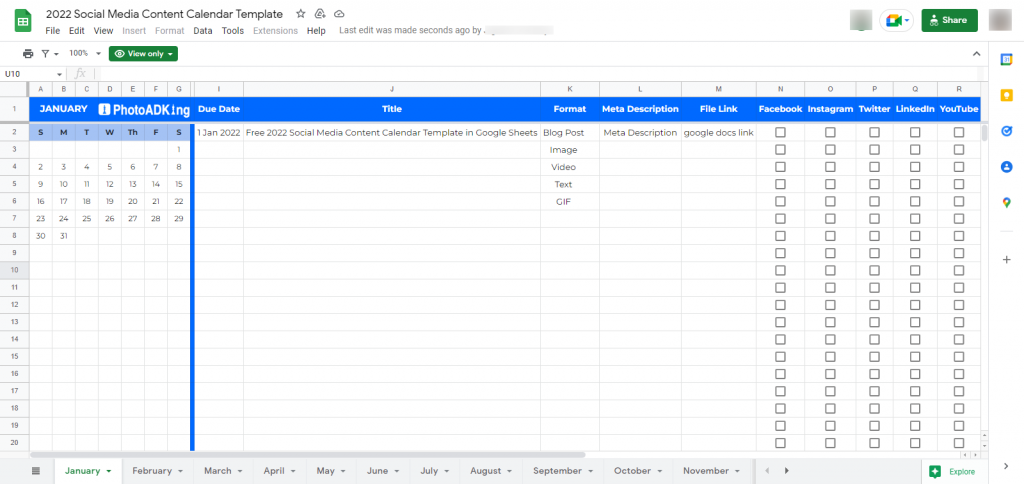 First and foremost, you must design a comprehensive content generation strategy. You must provide your clients with something new and helpful frequently. Additionally, PhotoADKing offers a social media content calendar that helps you to create content according to events.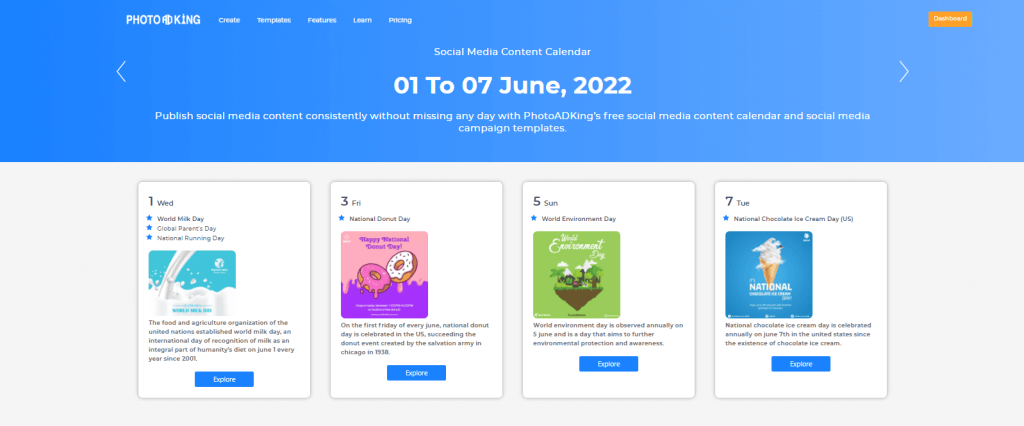 Create Quality Content
Content marketing relies heavily on high-quality content. As a result, you must invest appropriately in good content.
Content marketing ideas for restaurants are in a variety of ways. The most popular types of content are:
Tell the Story of Your Restaurant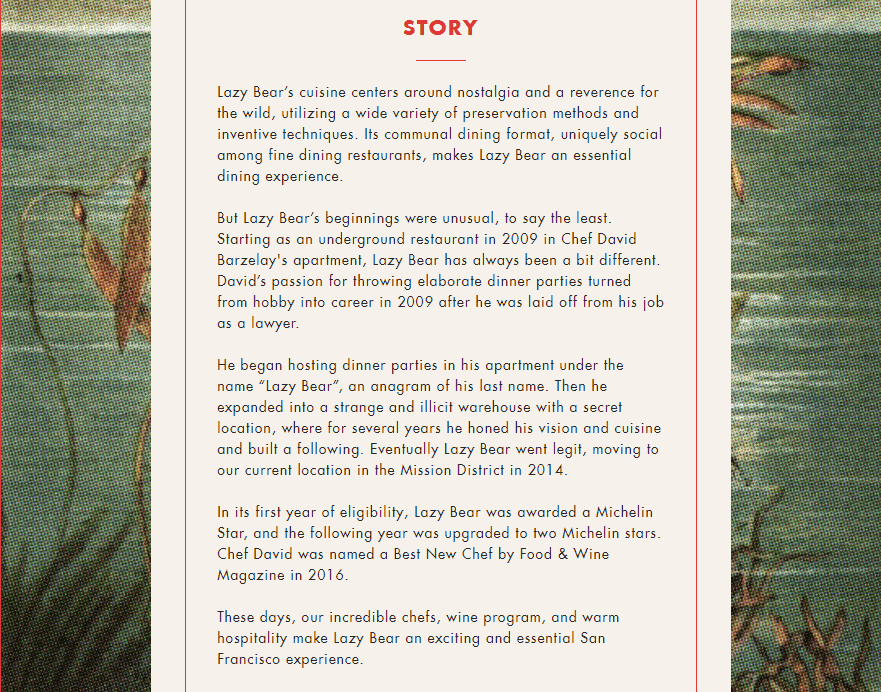 As a restaurant owner, you're bound to have a lot of interesting stories to tell. Such as stories about your journey from idea to business and your setbacks.
Your followers are interested in more than simply your food. They want to know where the restaurant came from and where you hope to go in the future.
People enjoy hearing about other people's successes because they are honest and relatable. That indicates you'll be getting more reservations through this content marketing for restaurants.
Food Images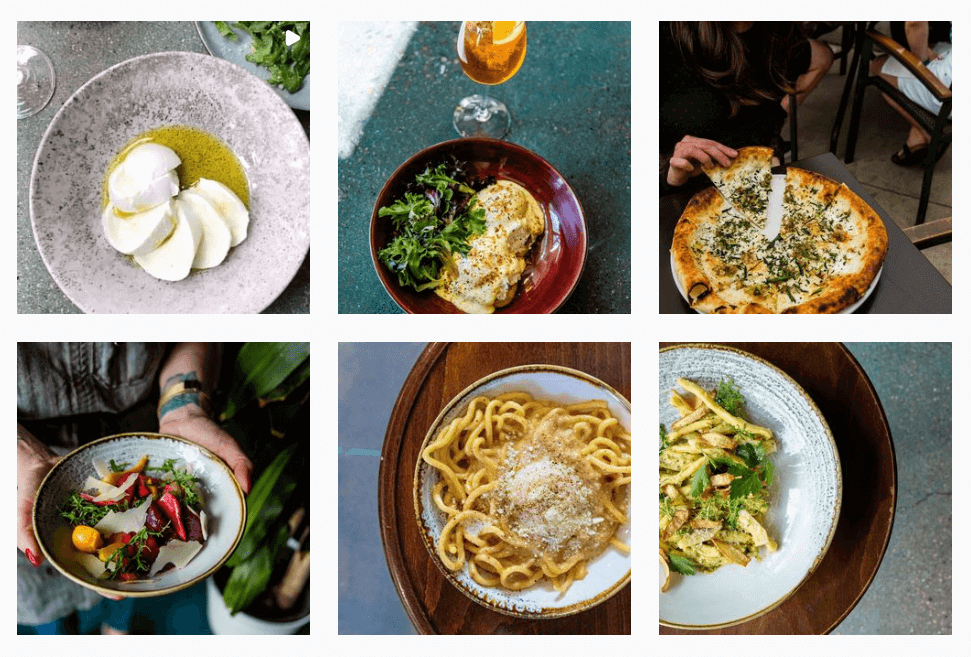 Customers are drawn in by mouth-watering images. Use your food photography to tell the story of your cuisine and restaurant.
This is a great way to provide more information to customers, putting you ahead of restaurants whose food remains a mystery. Customers can also interact with the restaurant directly through social media posts.
Articles About Food

An important content marketing idea for restaurants is you can write articles on your restaurant's blog.
Visitors will be able to read the material and navigate your website to learn more about the types of meals and services you offer.
SEO optimization with distinct keywords in your articles will help improve your restaurant's searchability and organic growth. Post clickable previews of your content to make it easy for followers to find.
Recipes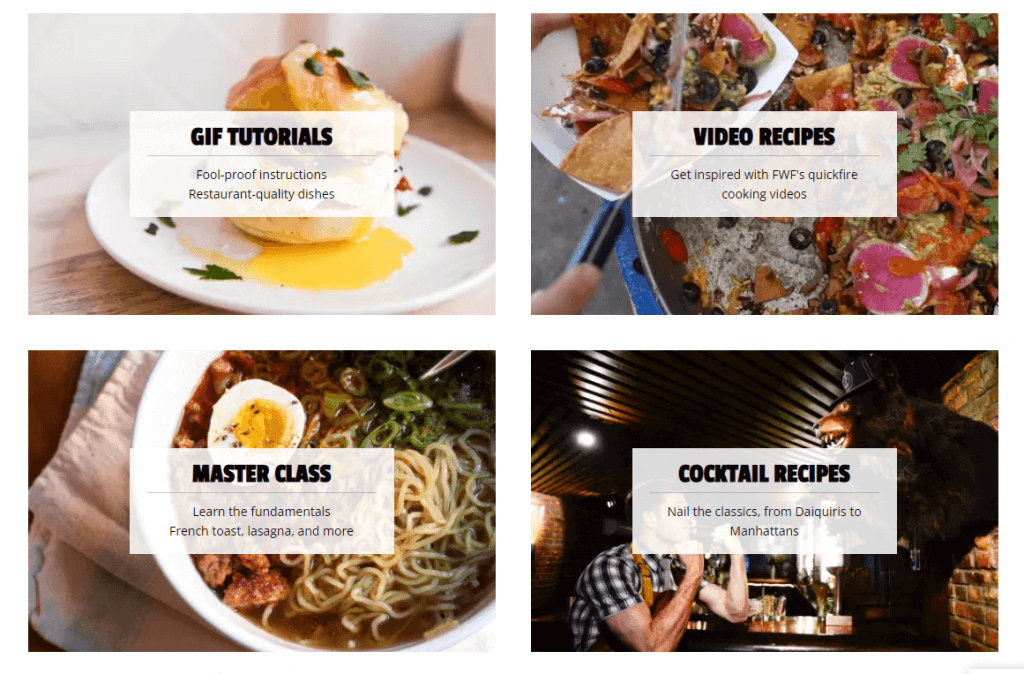 Creating and sharing recipes for your special food items is a great way to share content with your customers.
Sharing recipes for popular dishes contrary to popular belief does not diminish your status as an expert. It improves the bond between your food and your customers. It is the connection that creates a devoted following. Also, you can a create recipe card online for any kind of recipe you share.
Keep your recipes short, precise, and above all easy to read. The long-term consequences of this content marketing idea for restaurants could be a game-changer.
Create An Engaging Menu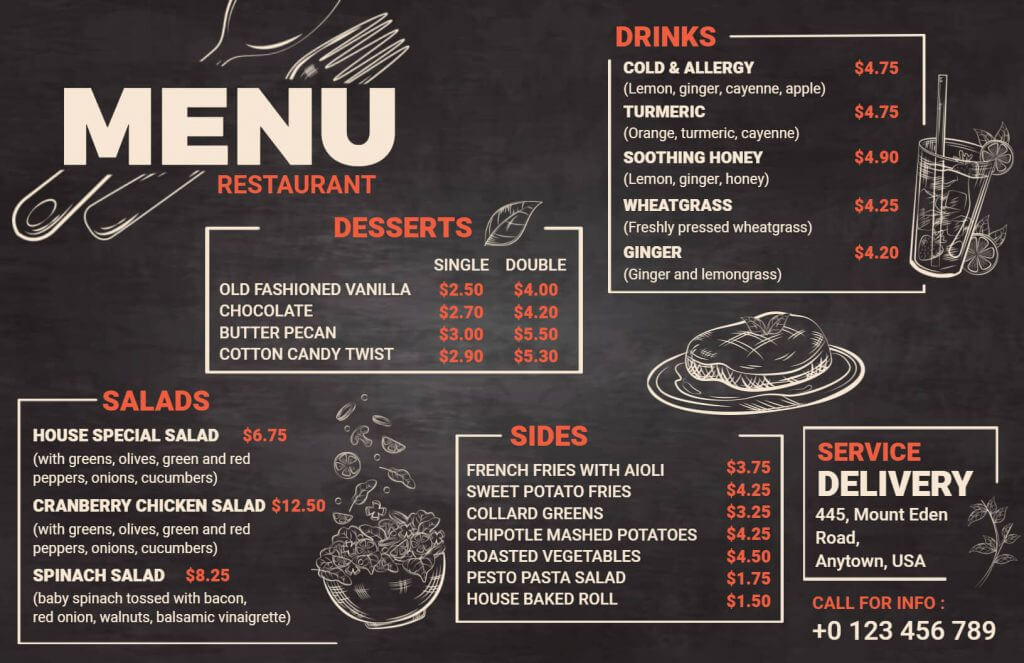 One of the reasons people avoid new restaurants is that they are unsure of the type of food they will be served. It's thrilling to try new meals, but many people are afraid that they won't like them and will end up wasting money.
This is why it's a good idea to create an engaging restaurant menu online so that your customers can see it. Indicate all of the main ingredients and potential allergens.
Be clear if and when the menu changes to avoid confusion or disappointment. Further, you can take advantage of creative menu template ideas that perfectly suit your needs.
Videos
People enjoy watching restaurant videos. It can send a strong message to users in a short period. Diners enjoy seeing how their cuisine is prepared. If you still don't believe this, consider all popular television shows about chefs, cooking, and restaurants.
By showing how the food is prepared in your kitchen you may quickly attract new guests. All you have to do now is a film and share what you've already accomplished.
Make a brief instructional video on how to properly chop onions, decant a bottle of wine, or the ideal crema-to-espresso ratio. In addition, you can also make creative videos online that literally save a lot of time.
Live Streaming
Restaurant live streaming can quickly transform your restaurant into a must-eat destination. Whether your restaurant is well-known or a hidden gem in your neighborhood, live streaming can help you attract more customers.
This content marketing idea for restaurants will help gain more traction among foodies in your city if you trend on social media.
Instagram, Facebook, TikTok, and YouTube all have channels where you can live stream from your kitchen.
Local Events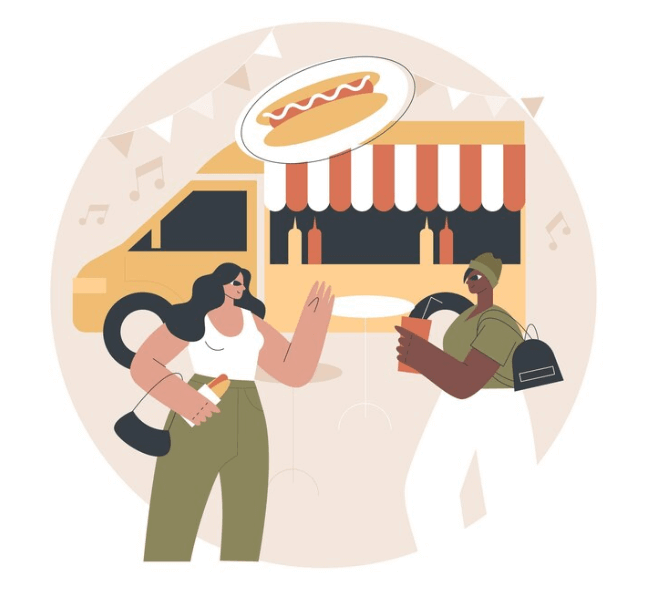 Who doesn't enjoy a food-themed event? Because they get people talking. Events are an excellent content marketing idea for restaurants.
Hosting local events has the potential to bring in new customers who have never tried your food before. This not only increases sales but also establishes your restaurant as a fixture in the community. If you're planning to host an event, you can create an event flyer that simplifies your work.
Make sure to publicize these events as soon as possible and you'll have a full house in no time.
Market the Content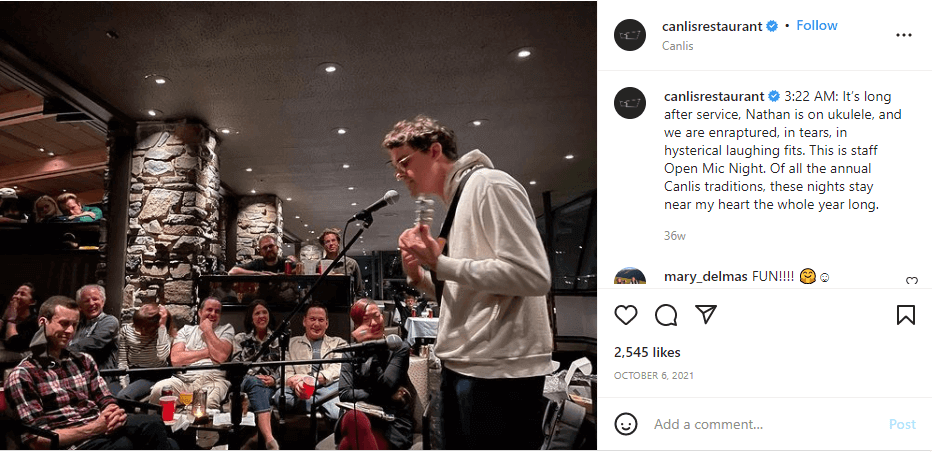 Once you've created high-quality content you can start sharing it on social media platforms to attract customers' attention.
Learn more about multi-channel ideas and how to market your restaurant effectively.
Track and Measure Your Progress
Track the progress of your content marketing ideas for restaurants to see if you're on the right track.
Having a process in place to monitor and measure your restaurant performance regularly can assist owners in identifying best practices and developing strategies to foster business growth.
Optimize and Improve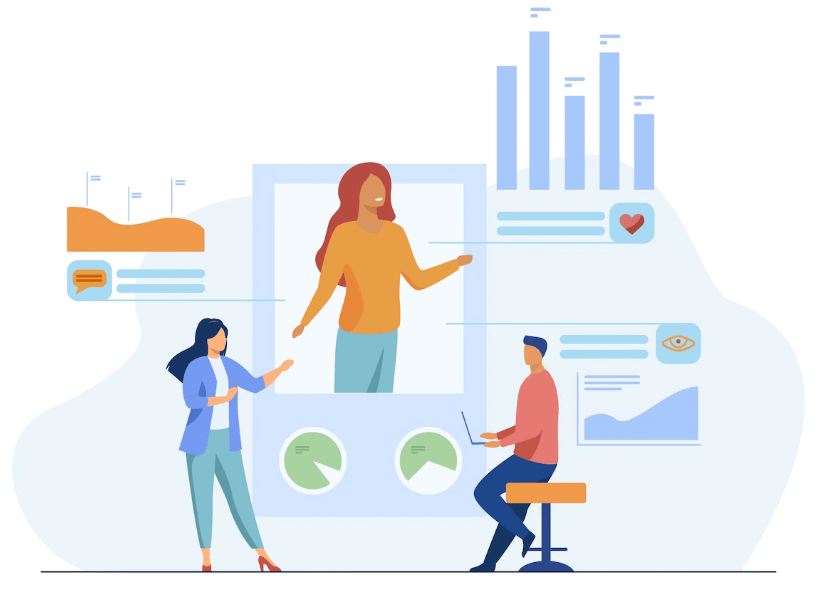 You'll need to optimize a content marketing idea for your restaurant if you want it to be more effective. Instead of working on your own, you can delegate this to someone with experience.
This will save you time and enable you to concentrate on the more vital aspects of running a restaurant.
Wrapping Up Content Marketing Ideas For Restaurants
Creating high-quality content marketing ideas for restaurants has become one of the most popular strategies.
People develop trust in you by reading about you and viewing your content on social media and your website.
Therefore, establishing a 2022 content marketing idea for your restaurant now will allow you to plan and collaborate as needed throughout the year.
Begin 2022 by spreading the word about your restaurant, cultivating loyalty, and establishing your reputation and brand.