Restaurant menu templates are as important as ambiance & dining experience.
To be frank, creative menu ideas leave an everlasting impression among walk-ins. Let's agree that the menu is not the only thing that dominates over taste. But still, great menu designs with restaurant marketing could be a great start to attracting customers. (After all, they are just a glimpse of how much importance you give to your restaurant!)
It is just a sheet of paper that details the cuisine & dishes for some. While some are smart enough to apply restaurant menu template design ideas that are super awesome.
Browse 10 Best & Trending Restaurant Menu Templates
From vintage classics to trendy minimalism, you have a grand library of restaurant menu templates to choose from. What you want is what we have! These menu design ideas are beyond basics for every type of restaurant or food joint owned by you.
Have a look at this fabulous collection of the best restaurant menu designs.
What is your idea for a modern restaurant menu design? Here are some ready-to-use templates you must have a look at. Pay attention to the classic color combinations with visually appealing graphics & illustrations that go well together.
Here is a cool menu design with a two-fold layout. Best for restaurants willing to balance the menu with graphics & text, these are simply amazing.
Next are the three-fold layouts with vibrant colors & background options. It will be quite difficult for you to decide which one to pick & which not. They are designed considering the usability & convenience of restaurant menus.
You can also count on these three-fold menu layout ideas for takeaways. Yes, you can just put it along with the parcel with the best-sellers on your menu. If the customer like your food, they will try your exotic dishes too.
2. Restaurant Menu For Burger
Do you know the secret key to making your burger joint popular? Bring your burgers into the limelight with a fancy restaurant menu for burgers. You don't need to limit your creativity but feel free to get experimental with these burger menu templates.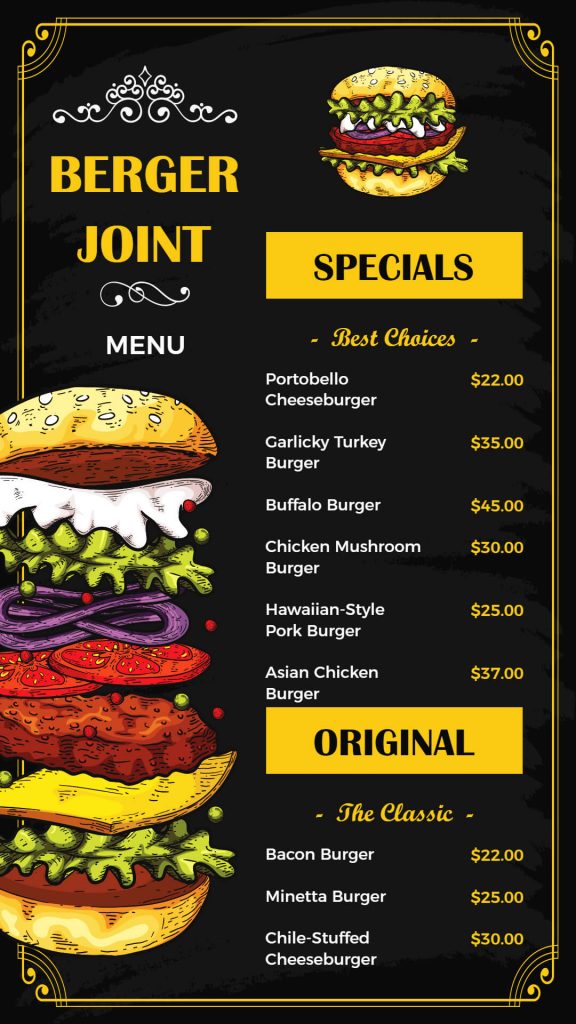 Inspired by big shots like McDonald's, KFC, Burger King, and more, these menu templates are hot & popular. Pen down the number of items you make in your kitchen & then go with the relevant menu style.
Give a special touch with a catchy color & font combination with hints on the quality ingredients that you use. (Then take your seats & sell burgers! That's how these menus are crafted for)
3. French Restaurant Menu
Do you know? The French restaurant menu is different from any regular restaurant menu. 
You see fewer images, sleek fonts for menu items & a little description right below each dish. It is usually a description of the ingredients or some fun text that triggers people to order the dish.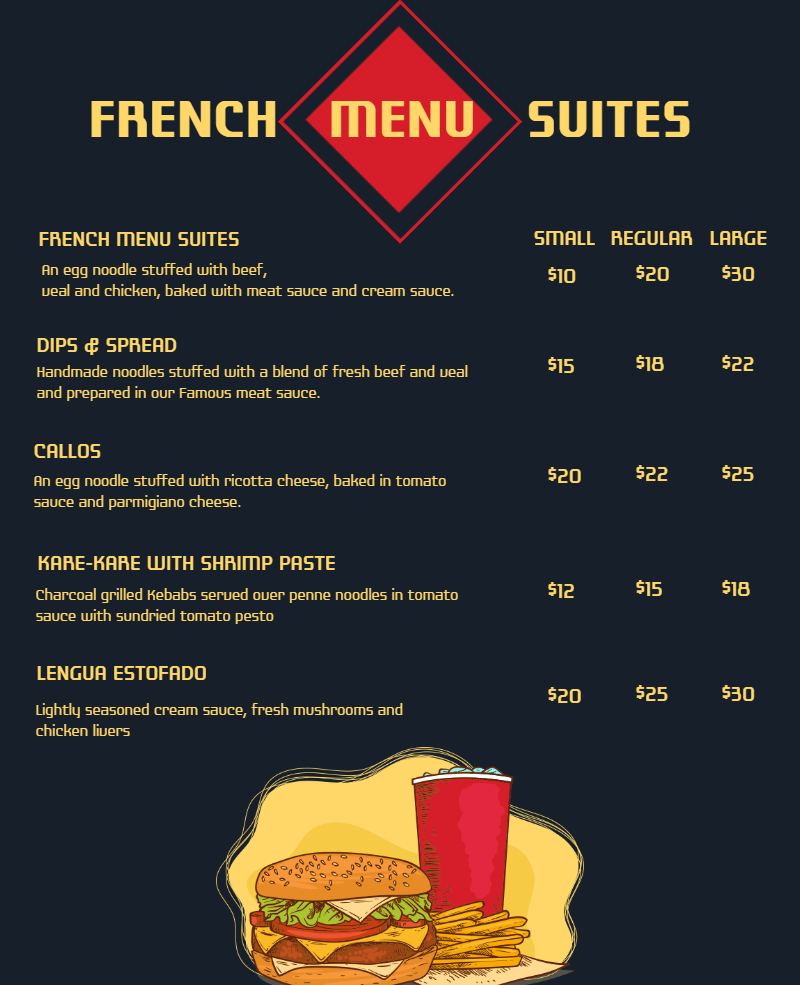 The beauty of the French restaurant menu template is truly suave. Would you not like to try it out?
4. Menu For Ice-Cream House
Now, you may think that who needs a menu for an ice cream house? Well, you need one!
Not everyone wants to order vanilla or chocolate. And, how will you display the grand range of flavors churned at your ice cream parlor? We won't let you be confused anymore. Here are menu designs for ice-cream houses that are as adorable as the feels people get on visiting you.
5. Menu For Food Café
Are you looking out for some offbeat menu designs? We have menu layout ideas that will bring thrills and chills to the entire menu designing process. Also, we know that the best menu designs are not the ones that follow someone else but are benchmarked with Flyers, Poster Maker, Graphic Design, Banner Maker. 
Mute the background with a screen overlay effect. Add text as you wish & your dishes are on point.
Okay, do you want something else or simply more options? We won't disappoint you. Contrast the background image with text & also highlight the special prices. You can also use this menu design for limited period offers at your food joint.
This richly designed restaurant menu is worth giving a try. With ample space to share ingredients & draw attention to the richness of colors, this menu template is up to the mark.
6. Dessert Menu Design
Dessert menu designs are as too irresistible to handle. They fall into one of the most creative menu design categories.
Remember the Golden rule: The more images you include, the more exciting it will appear.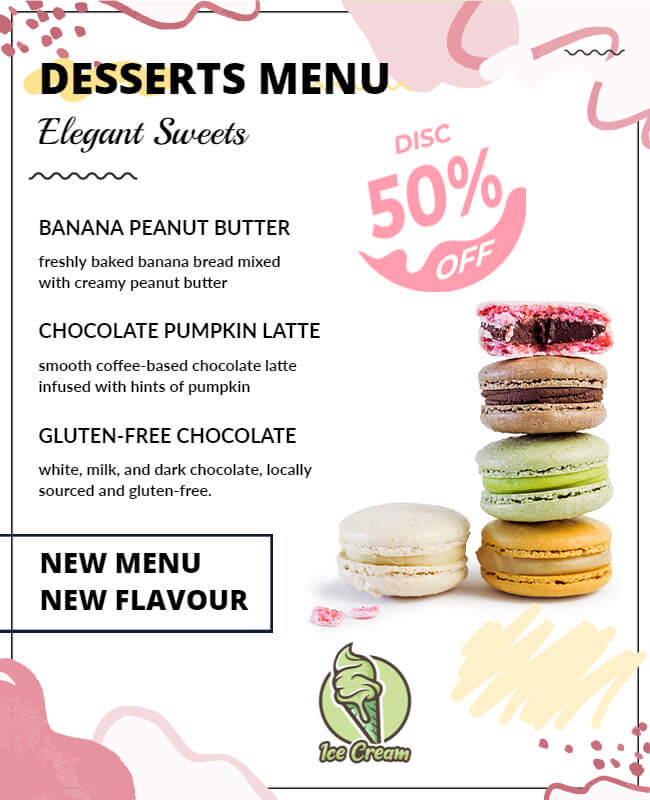 Just look at the menu covers. So cute & yummy! If you were a customer, you will be dying to try what's in the picture. You now know why you should go for these templates. From a free-flowing backdrop to a plain background, everything fits well.
7. Salad Menu Layout
Who says the tri-color menu cannot be the best restaurant menu design? Look at this one.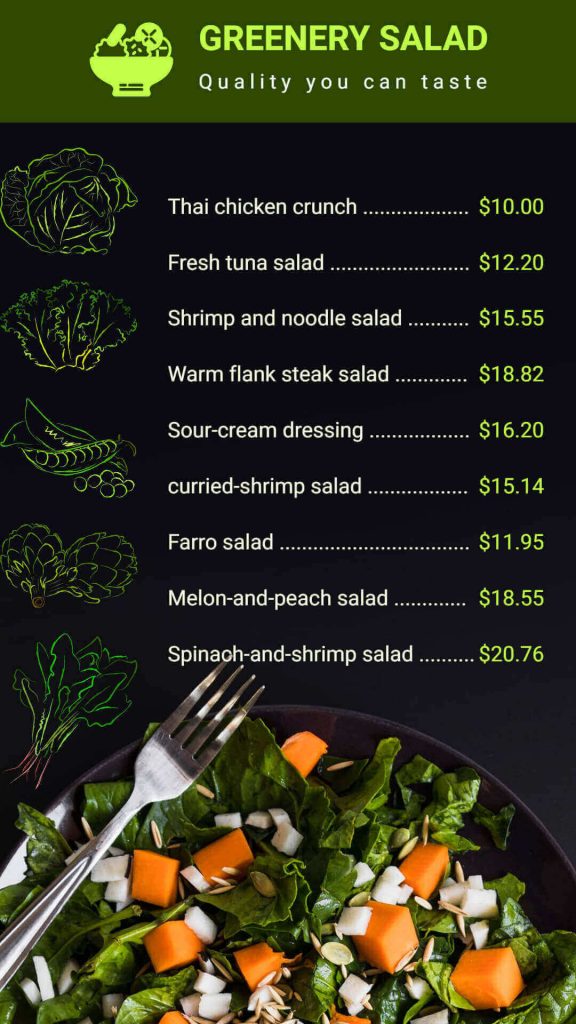 This isn't just another salad menu you see everywhere. Its storytelling feature is so unique & compelling. Flaunt your special salads & share some insights on how you make it or where it originates from. The properly differentiated heading & content fonts make for clear readability in the compact layout too.
Can you wish for something else?
8. Pizza Menu Design
The best menu design for Pizza hubs is the ones that give pizza cravings. Are you wondering how it is possible? We will show you how…
The vintage chalkboard style or glossy finish menu – both will be gorgeous choices. Make sure that everything is in harmony with the pizzeria theme. If you sell brick-oven pizza, a wooden theme will do justice. Similarly, you can focus on what inspires you the most & that's it.
9. Café & Bar Menu Ideas
It's better to have well-designed printable menus than to make it your minus point. No matter if your competitors are doing it or not, make your café & bar menu happen like these…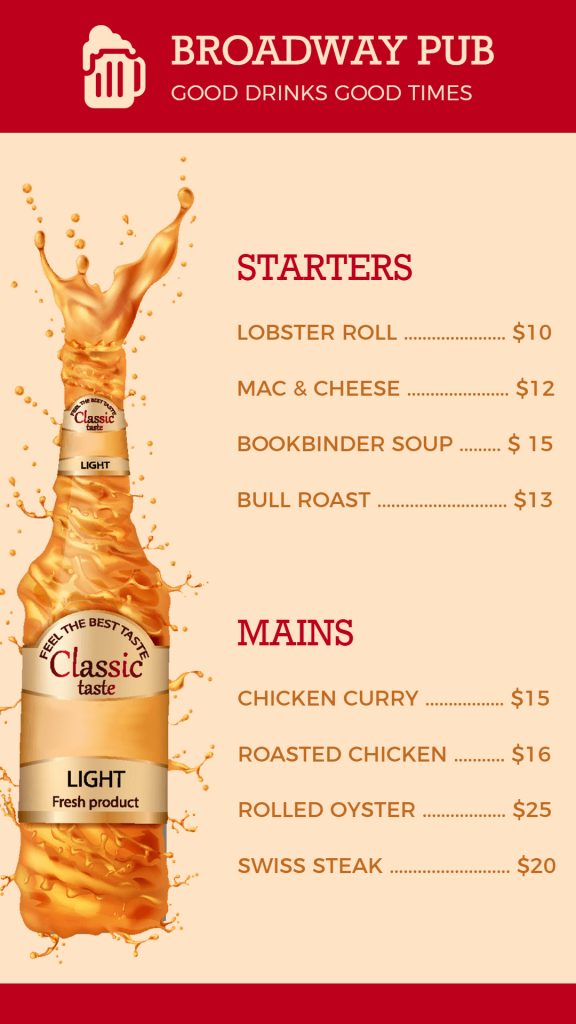 They are order-triggering café menu designs, aren't they? Also, be specific about the color palette you choose because it will shoulder the look completely. You can also keep font styles according to the items you sell. We don't need to mention that fonts are magically used to expel emotions!
10. BBQ Party Menu Designs
Some restaurants are BBQ-based while some have special days when they host BBQ parties or serve a BBQ menu during the weekend. It may be a BBQ sizzler or any of your bestsellers, make it break your sales chart with a rocking BBQ Restaurant Menu.
The key highlight areas of these menu designs are pricing, dining timings & the show-stealing picture, of course!
11. Special Event Restaurant Menu Templates
The restaurant menu templates are no different than mood chargers. Also, they are like mood boards. You can have your favorite ones pinned.
You may want to announce 'Today's special' or 'Heavy Discounts on Weekend Food'. Let's get closer, you are a restaurant serving vegan food or utilizing best-in-town ingredients. Make it noticeable with a single-page restaurant menu layout.
Here are some instances we swear by…
The last template above is an example of the occasional menu offered by restaurants. It may be for Thanksgiving, Halloween, New Year's Eve, and so on. Don't miss a chance if you have such great menu items on board.
How can I make my menu looks good?
After scrolling through all such beauties, you must have got the answer to 'How can I make my menu looks good?'
You can do so in four easy steps.
1. Signup/Login to PhotoADKing
2. Search for Restaurant Menu Templates
3. Select the desired menu template & you will be taken to the editor. Edit & modify the template elements visible on the screen.
4. Download the menu design instantly
You have everything that can make your menu look better than the rest with the menu maker app for iPhone, and menu maker for android. We hope we have helped you out with the best restaurant menu designs free online.