Every modern brand recognizes the importance of marketing in allowing its growth strategy, and Zomato is certainly one of them. Zomato's marketing strategy has been outstanding from its inception.
How did they do it? What steps did they take to expand their customer base? What did they do to have their customers coming back for more? It is believed that Zomato's digital marketing strategy had a significant role in all of this.
This article examines several of Zomato's marketing strategies to provide you with an understanding of what they have been working on.
What is Zomato?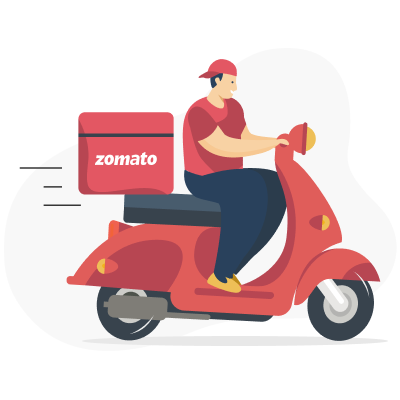 Zomato set out to be the best restaurant search and discovery tool when it first began. It lists the names of various restaurants, as well as their menus, pricing, reviews, and other information. Zomato offers detailed information on over 1.4 million eateries in 23 countries.
Zomato has evolved into an online meal delivery platform over the years. People can now use their app or website to order food from eateries near them. It employs delivery executives who pick up the orders from the restaurants and deliver them to the customers' addresses.
Zomato's Target Market
Zomato's target demographic consists of people between the ages of 18 and 35 who have access to smartphones and are familiar with utilizing apps. It caters to two types of customers, those who prefer to order their cuisine at home and those who prefer to dine out.
Working professionals who require food at their offices. Students who need food in their dormitories. People who don't have time or room to cook for themselves, and people who want to eat out on occasion are part of Zomato's target demographic.
What Are Zomato's Marketing Strategies?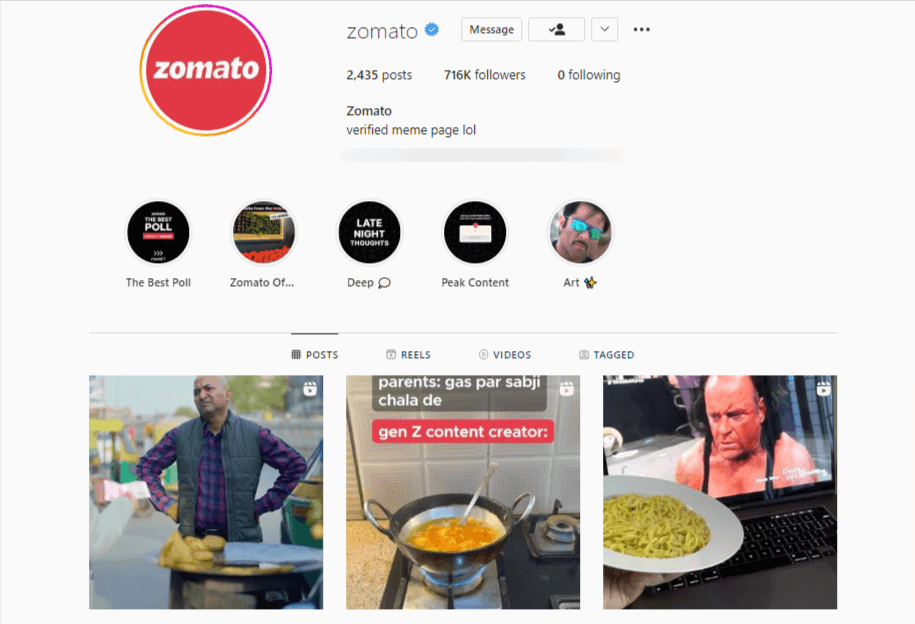 Zomato focuses on harnessing market trends and connecting them to the brand in a unique way. So from comedies to athletic events to any other market trend, Zomato's marketing team has generated content that generates interest.
The essential point of Zomato's advertising strategy is not only how it develops distinctive and trendy material, but also how it distributes it. Information distribution is just as crucial as developing individualized and intriguing content, and many brands know this.
What Distribution Tactics Does Zomato Use?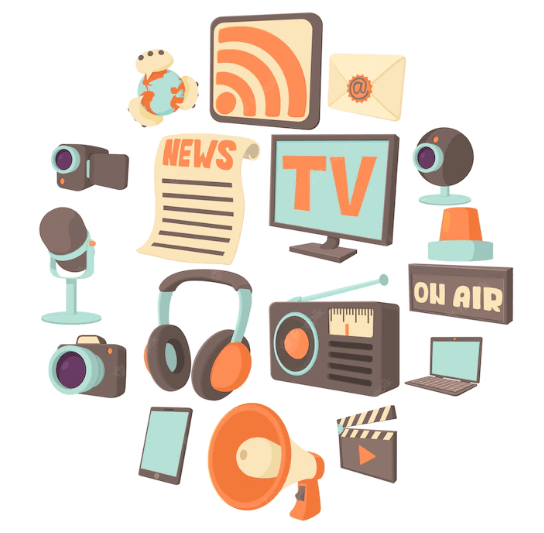 Zomato's marketing strategy entails not just developing new content, but also recycling it across several distribution platforms and refining it. This ensures it is appropriate for each channel. Its content ranges from social networks and email marketing to SMS messages, TV adverts, and billboards. Zomato's marketing strategies speak to the audience's wants and interests without being overbearing.
Eight Winning Digital Strategies for Zomato
As a marketer, the following are the eight important points to learn from Zomato's marketing strategy.
Customer-Centricity and Content Relevance
When deciding on several channels for content distribution, it is critical to understand what type of material works best for each platform. During the onset of the COVID-19 pandemic, Zomato actively liaised with the government to ensure that their services could continue to run smoothly during the crisis.
Not only that, but Zomato also assisted a large number of people who worked for their delivery network. This was done by establishing a fund to cover any earnings they would have ended up losing due to the crisis. They also made certain that their delivery colleagues were outfitted with masks.
Furthermore, restaurants in their partner network had everything they needed to maintain quality standards throughout this period.
Notifications for All Moods


Apps nowadays employ notifications and relevant messages to attract attention. But if the messaging is overly aggressive, customers are more likely to ignore or even block it.
Zomato makes sure that even its notifications are entertaining and something the user looks forwards to. Simple yet effective messaging is part of Zomato's marketing strategies. Humor is a powerful tool that should be used whenever possible.
Emails That Catch Your Attention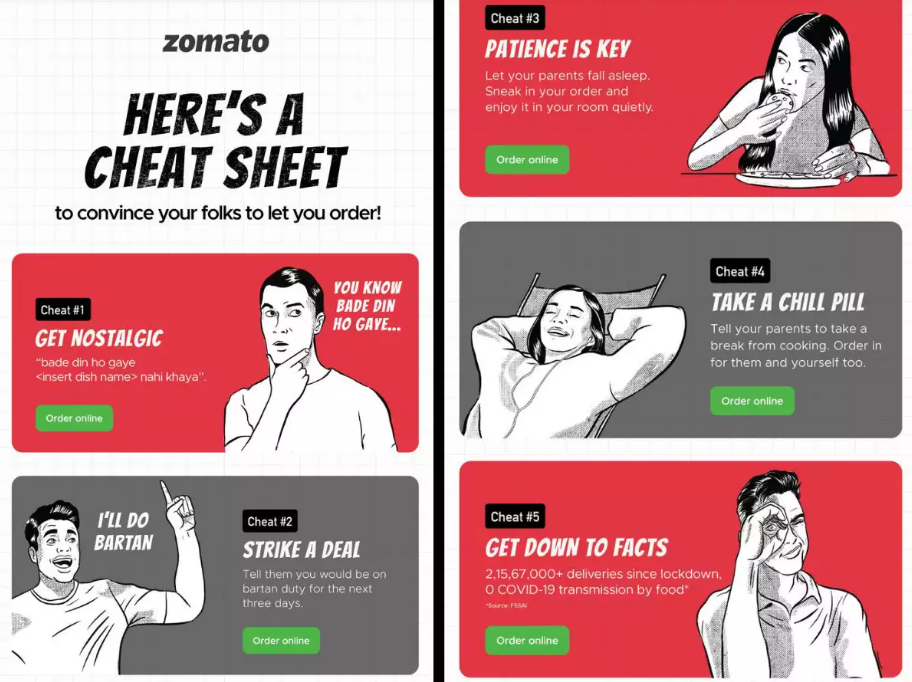 Many organizations make ongoing efforts to develop email marketing techniques that will help them connect with their target audience.
Zomato's advertising strategies accomplish this by releasing offers and other crucial communication. They also retain brand loyalty through the use of humorous one-liners in subject lines (not to mention the body text, which is just as amusing).
It Has a Lot of Fun With Statistics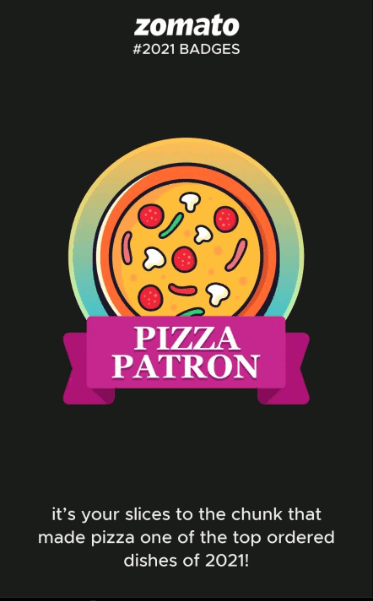 It is given that the brands you engage with capture your data. Zomato's marketing strategy has a unique approach to letting customers see a glimpse of its excellent analytical powers.
Consider the recent Zomato badges, which appear not only on the app but also in tailored email campaigns and social media posts. It's a fun way to engage users with the company.
It has something to do with your eating habits. Zomato utilizes infographics in an easy-to-understand manner. 96 percent of young people would instantly recognize the image.
Zomato's Search Engine Optimization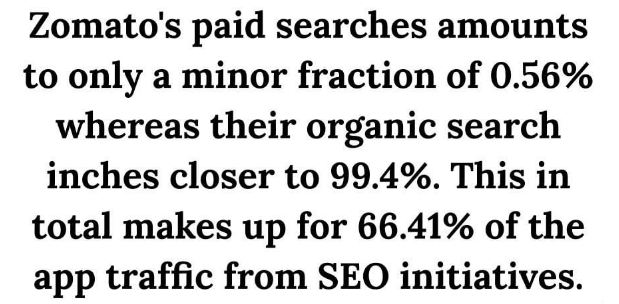 Zomato invests much in content, but its SEO methods are equally impressive. SEO is more of an accelerator than a medium, and Zomato knows how to lay the groundwork.
Finally, SEO is all about providing content that is both user-focused and searches engine-optimized.
How Has Zomato's SEO Been Able to Do So Well?
It is tough to learn about Zomato's search engine optimization strategies because they have prevented any SEO tools from analyzing their sites. However, you can learn some of their competitive strategies listed here:
Keywords in URL-Zomato develops webpage URLs based on the top keywords in their field. It tells the search engine that the pages they're linking to are relevant to the user's search query. This is an excellent method for ensuring that your website ranks.
Backlinks: Zomato receives backlinks from many different domains and high-authority domains such as.gov and.edu. All of this boosts Zomato's domain authority and helps it rank better.
Relatable Memes on Social Media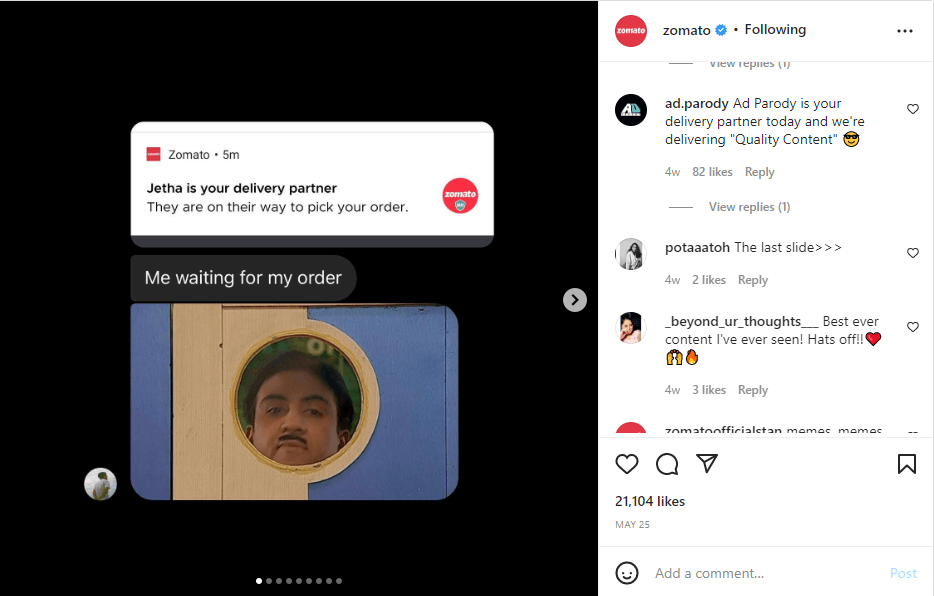 Zomato is a household name on social media, not only for its services but also for the wonderful material it develops to interact with its vast client base. The brand not only makes memes about trendy topics and current affairs, but it can also make fun of itself.
Its social media profiles are chock-full of amusing content that ultimately focuses on the brand's offers. Zomato's marketing team recognizes that eating cravings are real. In line with this, it releases content that is amusing while also prompting the viewers to order food from them.
From Billboards to Display Ads, Advertising Is All-Around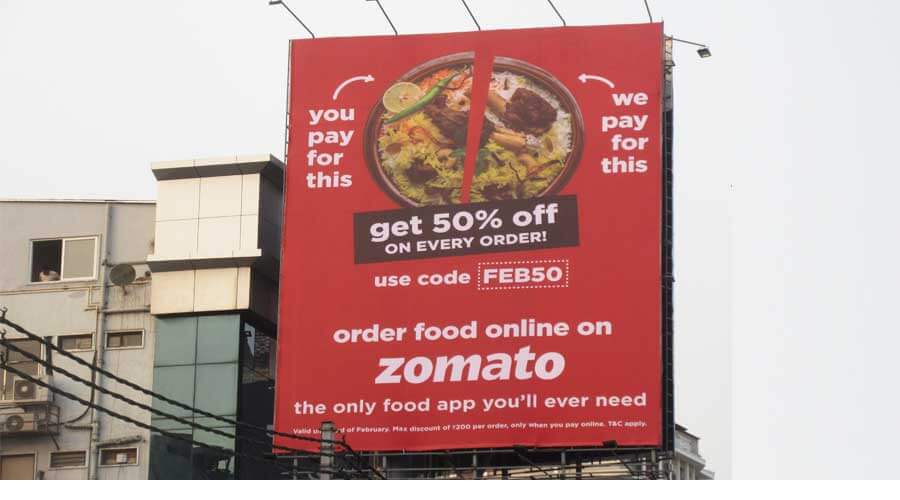 Any great brand understands the importance of targeted social media advertising and Google ad strategies. Zomato's marketing strategy accomplishes the same thing by running ads for food, online ordering, and even some of the best eateries in cities.
It analyzes user data to determine which foods to mention in its ads based on their location and purpose. If you would like to create ads like the ones Zomato runs, PhotoADKing has a number of restaurant ad templates.
Make Attractive Menus That Catch Attention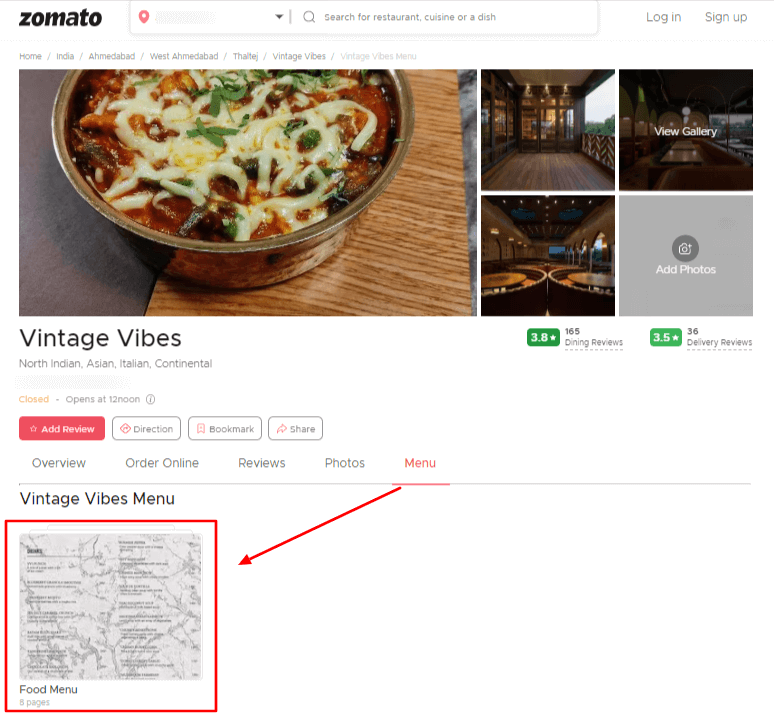 Zomato uses its various platforms to promote restaurant menus and their prices online. To market to viewers online, it uses relatable topics and mouth-watering graphics.
Just by glancing at such beautiful photographs, you can relate to them. You will like, share, comment, and probably make an order. That's part of Zomato's marketing strategy. Interaction and engagement with you, a real-life user. Additionally, menu design examples are an excellent resource if you are still unsure how to create an online menu.
Some Attractive Restaurant Menu Examples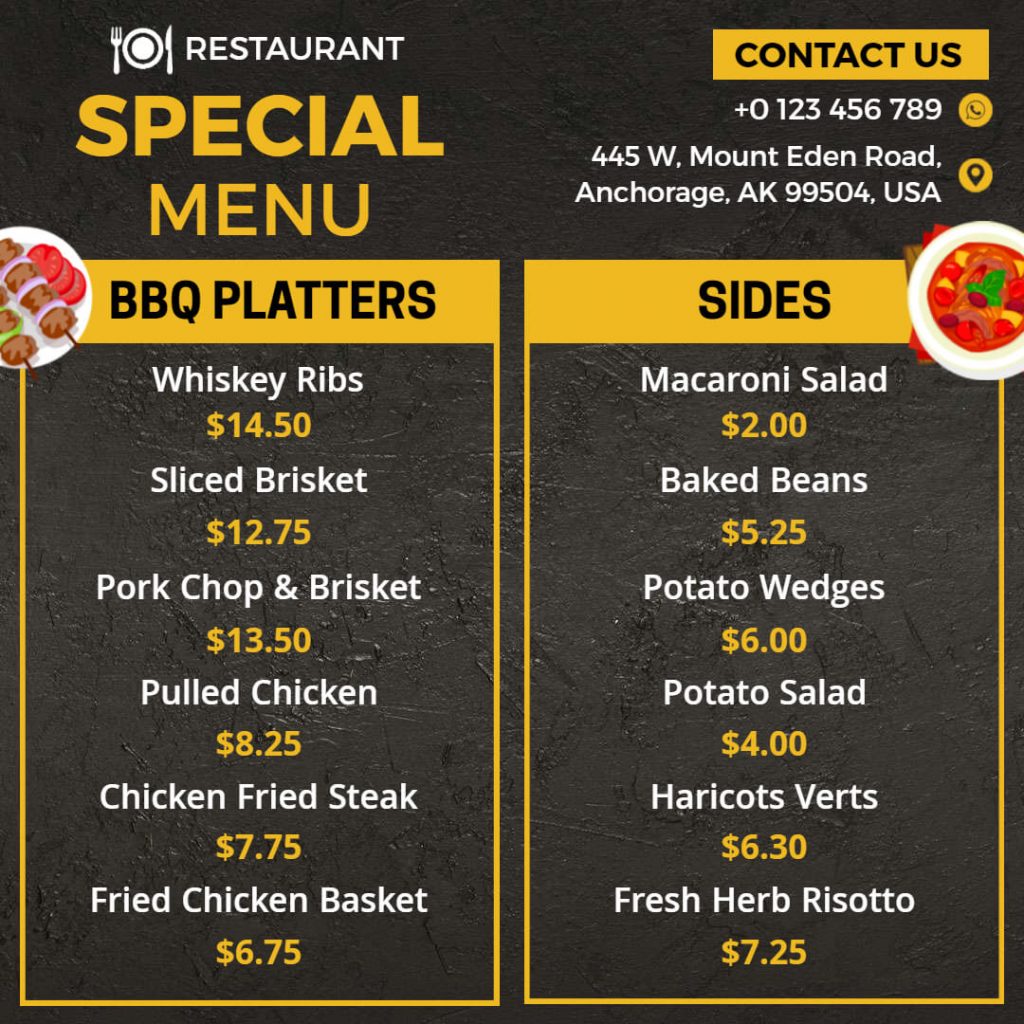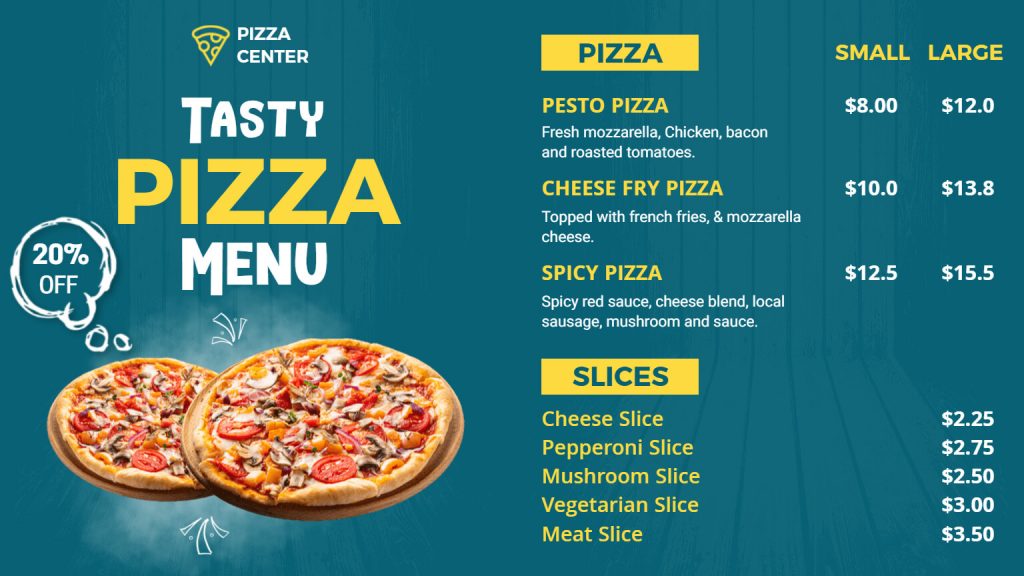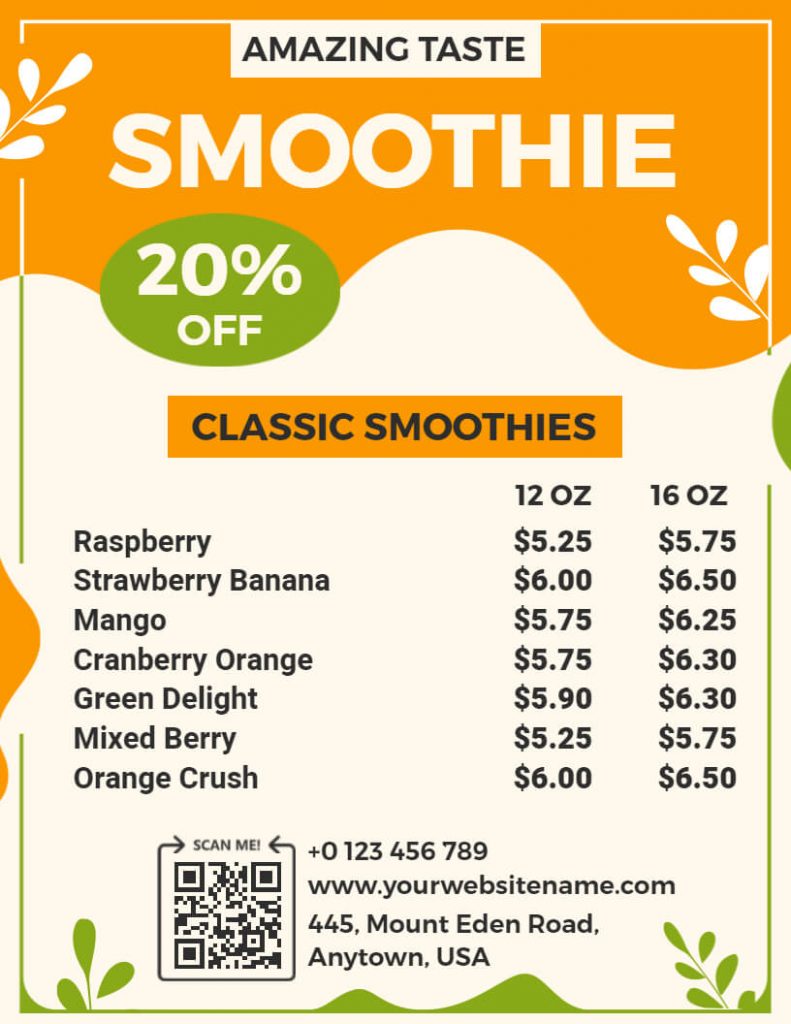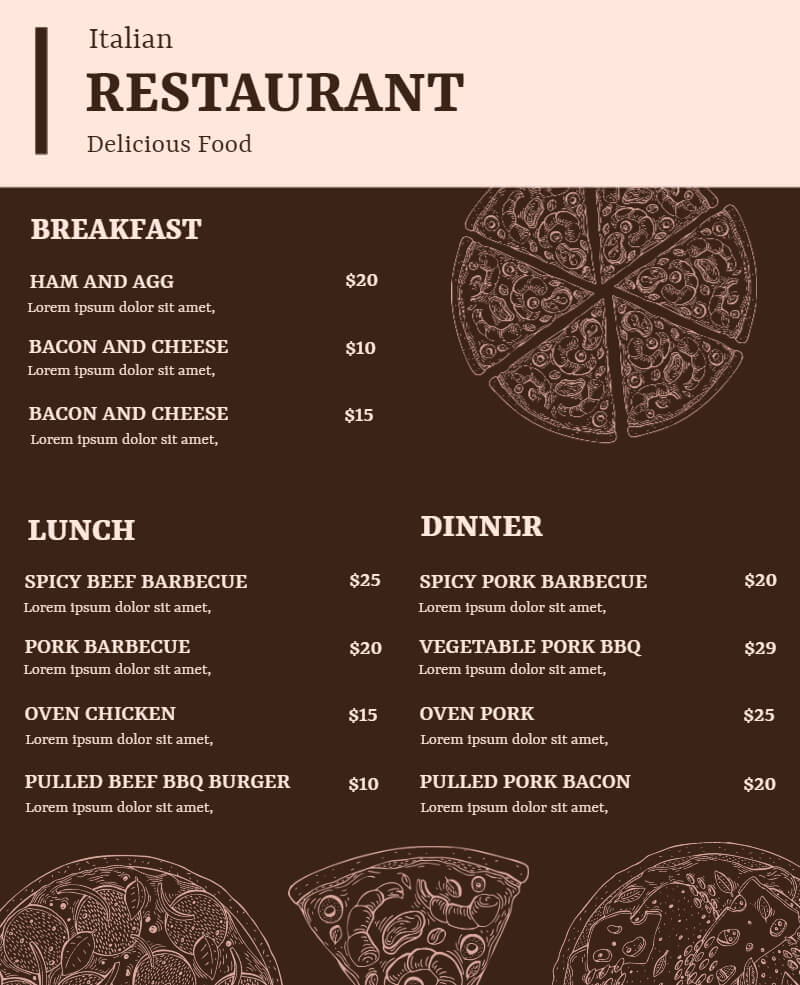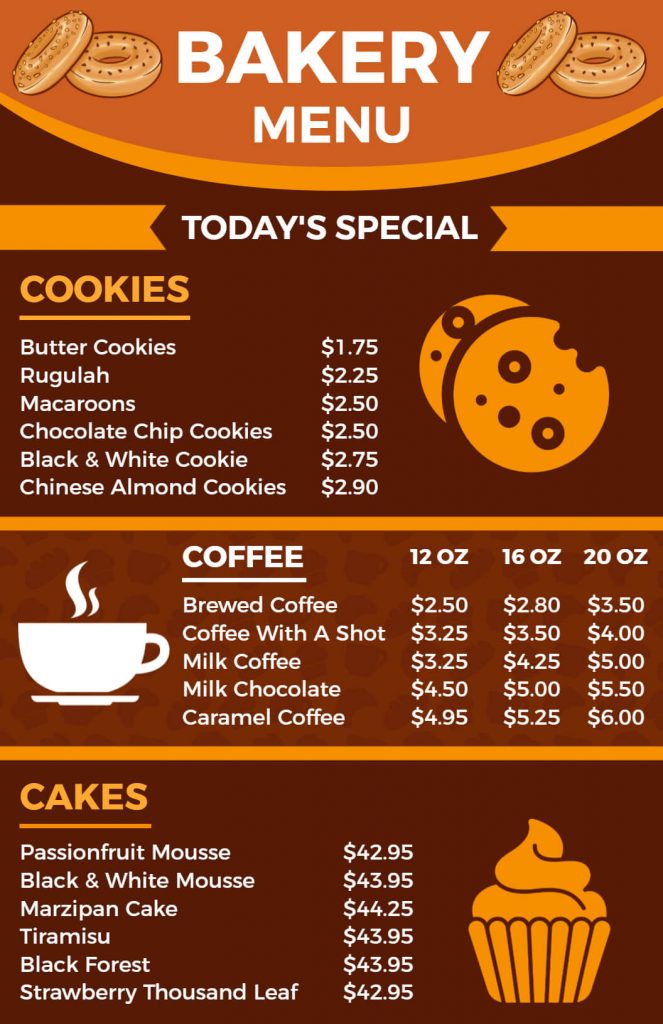 Key Take Away: Zomato's Marketing Strategy
Simple yet relatable messaging is effective. Humor is a powerful tool that should be used whenever possible.
Strong imagery and bright colors are great for striking out, whether on a billboard in a busy intersection or online.
Sticking to brand identity and colors is key-Even if you aren't told that Zomato is behind a particular ad or billboard, you can tell because of consistency.
Adding value- Zomato's marketing strategies are usually unique and geared towards filling a market gap. You can tell that the offerings have been carefully considered.
Knowing your target client is critical, and Zomato excels at this by identifying what moods or experiences its customers seek. Zomato's advertising strategies recognize what's popular whether it's sports, comedy, or viral trends, and they uniquely connect them to their content.
The Future of Zomato
Zomato's marketing strategy is outstanding, and it has only gotten better over time. It is no surprise that Zomato has risen to become one of the major online meal delivery platforms, and its continual focus on its target demographic contributes to the brand's prominence.
You may also have noticed that Zomato appears in a variety of places. These include search engines, advertisements, and television. As well as billboards, social media, and any other channel you can think of. Furthermore, you can create restaurant flyers online if you prefer traditional marketing.
A new strategy for digital marketing must be developed in order for Zomato to keep up with current trends. To capture the interest of their clients, they will need to devise novel techniques. They're doing an excellent job right now. They will gain numerous benefits if they continue to work hard on it.