Are you prepared to enhance your business's online visibility this Halloween season?
Look no further, as we have a comprehensive array of creative Halloween-themed design concepts that are certain to engage your target audience and distinguish you from your rivals.

In this article, we'll explore many Halloween design ideas that can promote your businesses using these design ideas in different marketing materials like flyers, posters, invitations and websites, social media posts, and ads even better for Halloween. Get ready to feel inspired!
---
Halloween Design Ideas for Business Promotion
---
During Halloween, we can do various things to attract more customers. We can make cool flyers, posters, and website banners. These things help us sell more stuff. We can also come up with creative Halloween design ideas and use them on flyers, posters, logos, banners, and social media posts to make more money. So, let's explore using these design ideas in…
Flyer Design for Halloween
Craft eye-catching Halloween-themed flyers that capture the spirit of the season. Incorporate spooky imagery, bold fonts, and vibrant colors to effectively promote your business events or promotions during this festive period.
Logo Design for Halloween
Transform your business logo into a Halloween delight by infusing it with thematic elements like pumpkins, ghosts, or eerie color schemes. A Halloween-inspired logo can help your brand stand out and connect with audiences during spooky celebrations.
Poster Design for Halloween
Design compelling posters that resonate with the Halloween theme. Blend captivating visuals with event details, ensuring that your posters pique curiosity and effectively communicate your business's special offerings or activities for the Halloween season.
Invitation Design for Halloween
Entice guests to your Halloween-themed events with enticing invitations. Merge thematic elements, event details, and a hint of mystery to craft invitations that not only inform but also generate excitement among recipients.
Halloween Facebook Post Design
Engage your online audience with attention-grabbing Halloween posts on Facebook. Incorporate visuals and copy that aligns with the holiday's spirit, encouraging likes, shares, and comments, ultimately boosting your business's online presence.
Halloween Instagram Post Design
Create scroll-stopping Instagram posts by combining captivating visuals and trendy hashtags. Craft posts that showcase your business's unique Halloween offerings, fostering interaction and attracting potential customers.
Halloween Greeting Card Design
Spread eerie greetings to clients, customers, and colleagues with creatively designed Halloween cards. Add a personal touch by incorporating spooky graphics and thoughtful messages, enhancing the festive connection and showing appreciation.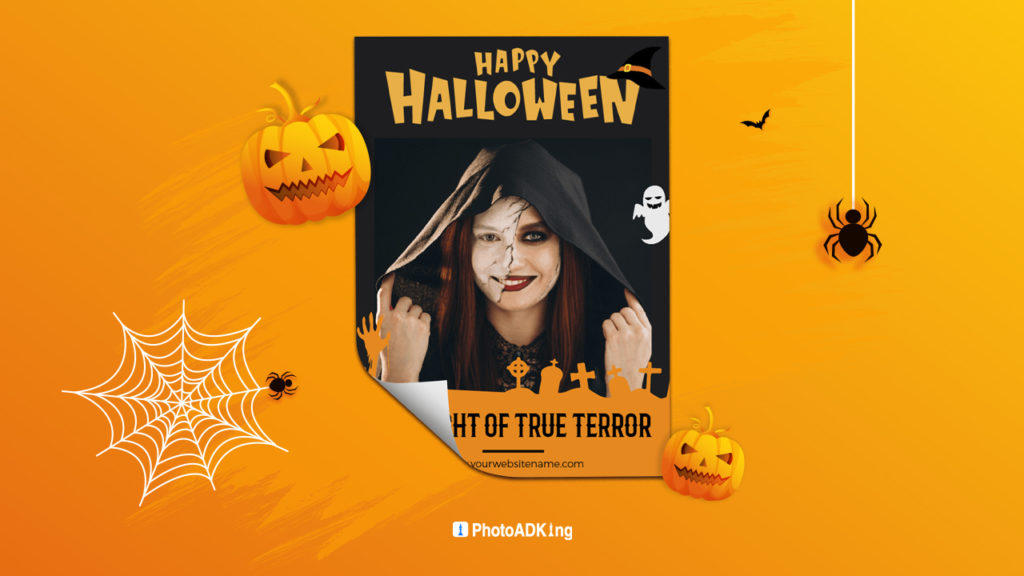 Restaurant Menu Design for halloween
Revamp your restaurant menu with a spine-tingling Halloween twist. Incorporate thematic graphics, spooky dish names, and possibly limited-time seasonal offerings to entice customers to dine with you during the holiday period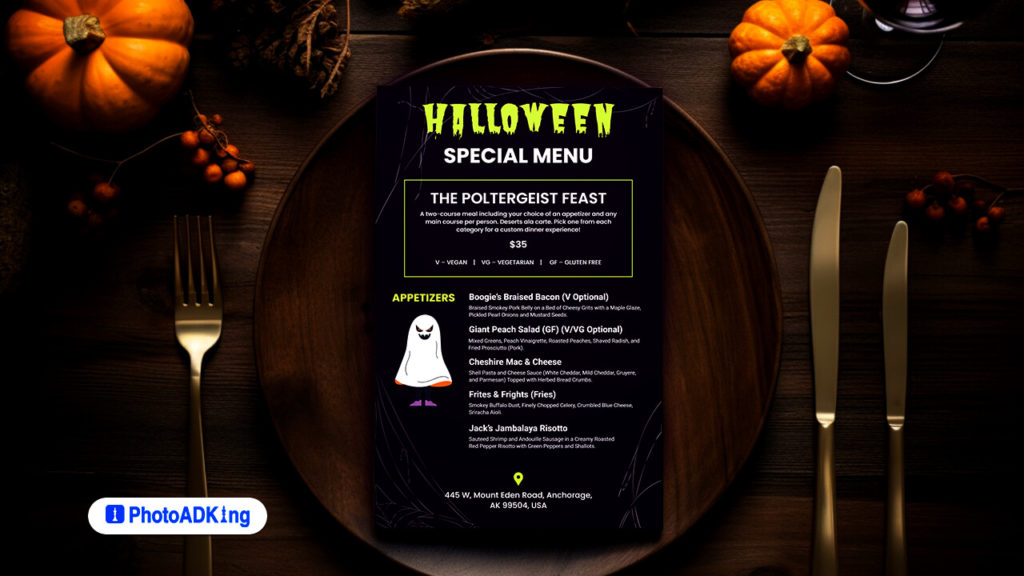 ---
Tips for Select Halloween Design for Your Business
---
Crafting the ideal Halloween design for business promotion requires a blend of creativity, relevance, and effective communication. Here are tips to help you choose an attention-grabbing design:
Know Your Audience: Understand your target audience's preferences—spooky, fun, trendy—and tailor your design accordingly.
Stay True to Brand: Embrace Halloween while maintaining your brand identity with colors, fonts, and style.
Prioritize Clarity: Ensure easy recognition and understanding at a glance, avoiding clutter and conveying a clear message.
Include Halloween Elements: Utilize iconic symbols like pumpkins, ghosts, witches, and more for an immediate holiday connection.
Add a Catchy Slogan: Pair your design with a memorable Halloween-themed slogan aligning with your business.
Experiment with Typography: Play with Halloween fonts for thematic appeal while ensuring readability.
Narrate a Story: Weave a narrative capturing Halloween's essence and your business's role in the festivities.
Engage User-Generated Content: Encourage customers to share Halloween experiences with your products, featuring some in your design.
Seek Feedback: Gather input from colleagues for fresh perspectives and improvements before finalizing the design.
Analyze Results: Monitor your Halloween promotion's performance for insights to enhance future campaigns.
Strike a balance between Halloween and brand identity. With these tips, create a design promoting your business while resonating with your audience during the holiday.
---
Conclusion
---
Lastly, we've delved into a myriad of Halloween design ideas that have the power to elevate your business's online presence during this spooky season. Embrace the festive spirit, engage your audience with visuals, and stand out your brand in the Halloween season. Whether on your website, social media, or marketing materials, these Halloween design ideas will help you stand out online.
So, why wait? Let your creativity go wild and enjoy the Halloween vibes to connect with your audience in new and exciting ways. If you want more ideas for creating Halloween designs, be sure to check out the suggested articles.
---
FAQs
---
Why is Halloween a good opportunity for business promotion?
Halloween is a widely celebrated holiday, making it a prime time to engage customers with themed promotions, enhance brand visibility, and drive sales.
How can I incorporate Halloween elements into my design?
You can use symbols like pumpkins, ghosts, witches, and spooky imagery to create a recognizable Halloween theme in your design.
What types of businesses can benefit from Halloween promotions?
Almost any business can join in Halloween promotions – retail, restaurants, online stores, and service providers can all tap into the holiday excitement.