Booking.com, the world's largest online travel agency, has been using social media as part of its tourism marketing strategy since 2009. The company uses paid and organic tactics to reach its target audience on various platforms, including Facebook, Instagram, and YouTube.

In recent years, Booking.com has increased its focus on visual content, mainly through Instagram. The company has also used influencers in its tourism marketing strategy to reach new audiences and promote its brand.
Booking.com's tourism marketing strategy on social media has helped it build a strong presence online and connect with travelers worldwide. The company has also used social media to drive bookings and grow its business.
This case study will look at how the company uses social media to reach and engage customers. In addition, It will also discuss some of the tourism marketing tactics it uses to boost its online presence.
Additionally, you can create a travel flyer with PhotoADKing that boost tourism marketing easily.
So, if you're looking for some inspiration for your social media campaign, be sure to check out this case study!
About Booking.com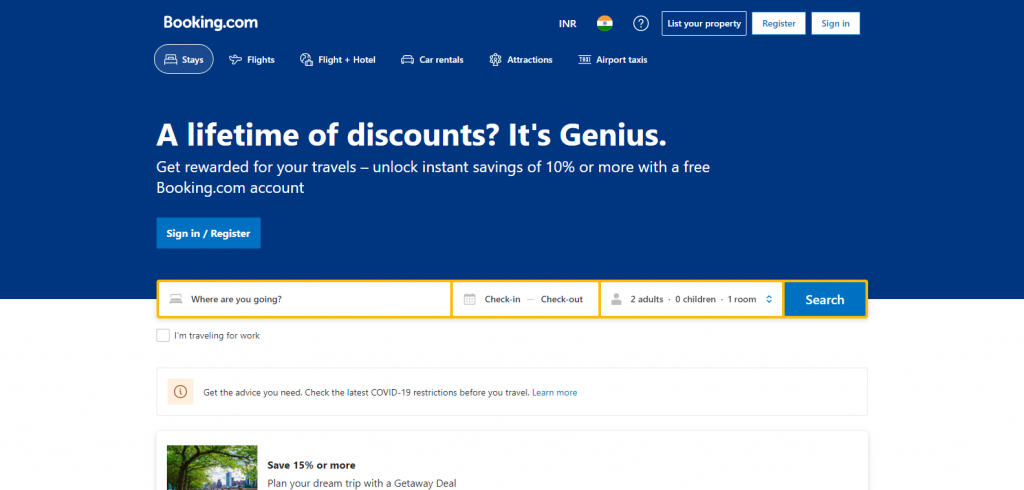 Source: Booking
Booking.com is a travel fare aggregator website and travel metasearch engine for lodging reservations. It is owned and operated by Booking Holdings, the largest online travel company globally. The website is available in 43 languages.
Founded in 1996 as Booking.com BV, it was acquired in 2005 by Priceline Group.
Booking.com offers travelers a wide variety of accommodation options, from hotels and apartments to vacation rentals and hostels. Travelers can also find activities, tours, and transportation options on Booking.com and mobile apps.
In 2018, Booking.com was ranked as the second most valuable brand in the travel industry, behind only Expedia Group.
In July 2019, Booking.com had 697 million visits and an 87% rating as a top company in terms of mobile experience.
The Tourism Marketing Strategy Behind Booking.com's Online Success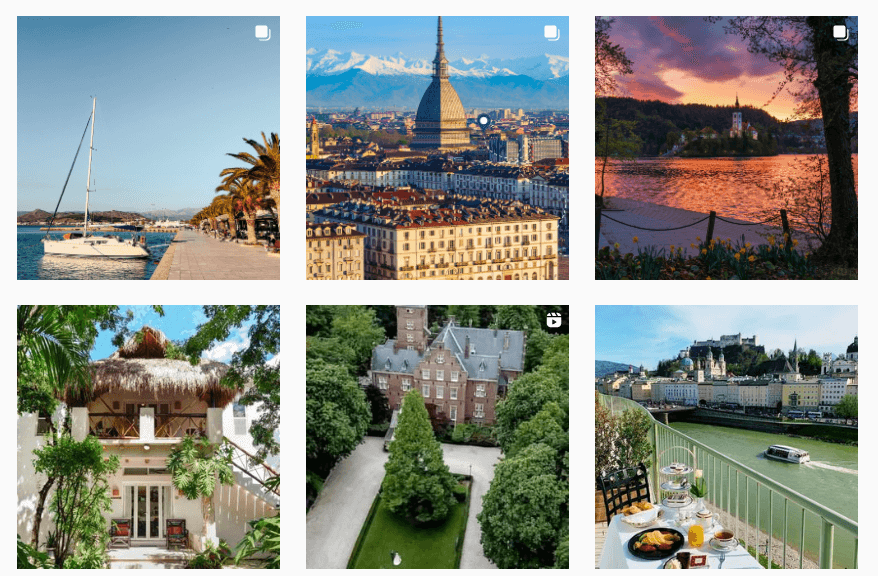 Online communities are a great way to connect with your audience and engage them in meaningful ways. In order to keep your followers engaged on social media, you need to use the right tactics.
If there's one brand that's mastered this art, it's Booking.com. In order to build trust and communicate directly with a large international client base, an online travel agency must work hard. With their tourism marketing plan, they focus on the customer while using powerful storytelling techniques. Additionally, if you run a travel agency, a tourist brochure can be a helpful addition to your tourism marketing strategy.
Due to the popularity of its social media accounts, Booking.com's content strategy is clearly working.
And it's easy to see why. Each piece of content is well-planned, carefully crafted, and tailored to the audience. No matter what their followers want to see, Booking.com's marketing team knows what they want and how to deliver it.
Booking.com Tourism Marketing Strategy for Facebook
Source: Facebook
Travel booking website Booking.com has over a billion visitors per year, with a rapidly increasing user base.
One of the keys to their success has been their tourism marketing strategy on social media platforms like Facebook. Through interactive posts, contests, and giveaways, their marketing team engages with users and creates content relevant to their target audience.
Facebook's Book.com page has more than 15 million fans and extremely high engagement rates. Storytelling can lead to a sense of belonging when people see their company's values or mission statement through rose-colored glasses.
Some of Booking.com's Most Successful Tourism Marketing Tactics for Facebook include: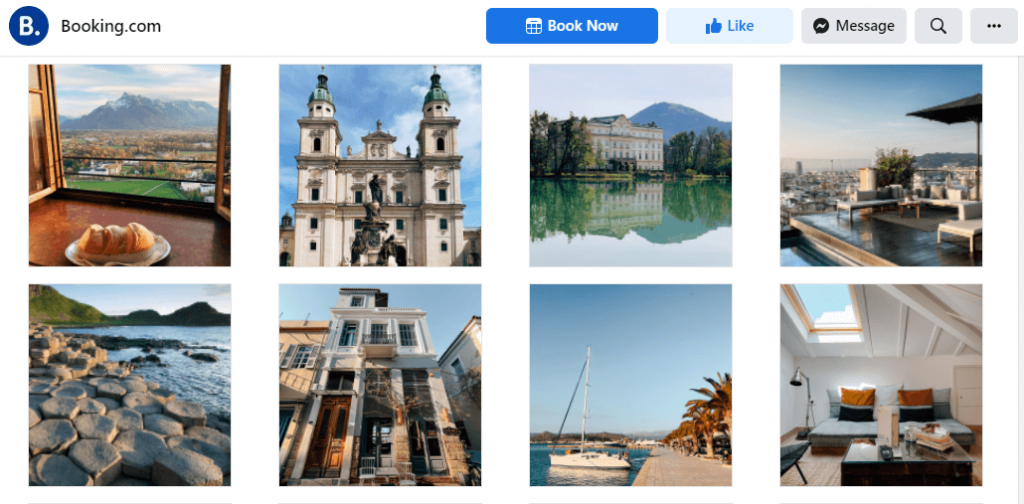 Creating visually appealing and engaging content is essential for any business, but it is crucial for companies that rely on online bookings, like Booking.com. The company uses high-quality images and videos optimized for different mobile devices to attract users' attention and encourage them to share the content with others.
Booking.com's Facebook page is an excellent example of tourism marketing as it uses visuals to engage potential customers. Pictures of destinations worldwide and videos take you behind the scenes of staying in one of the company's hotels.
Encouraging interaction and engagement through contests and giveaways. Booking.com hosts regular online contests to offer users prizes like free hotel stays and flight vouchers. Tourism marketing tactics also encourage people to share their contest entries on Facebook, increasing their chances of winning.
One unique feature that makes the Booking.com Facebook page stand out is its highly interactive. Booking.com usually replies to users to their comments, often personalizing responses to each user. Interaction in their tourism marketing has earned a loyal following and positioned it as the most customer-focused travel site online.
With its well-rounded travel marketing strategy on Facebook, Booking.com has grown its business significantly, becoming one of the most popular travel booking websites.
Booking.com on Instagram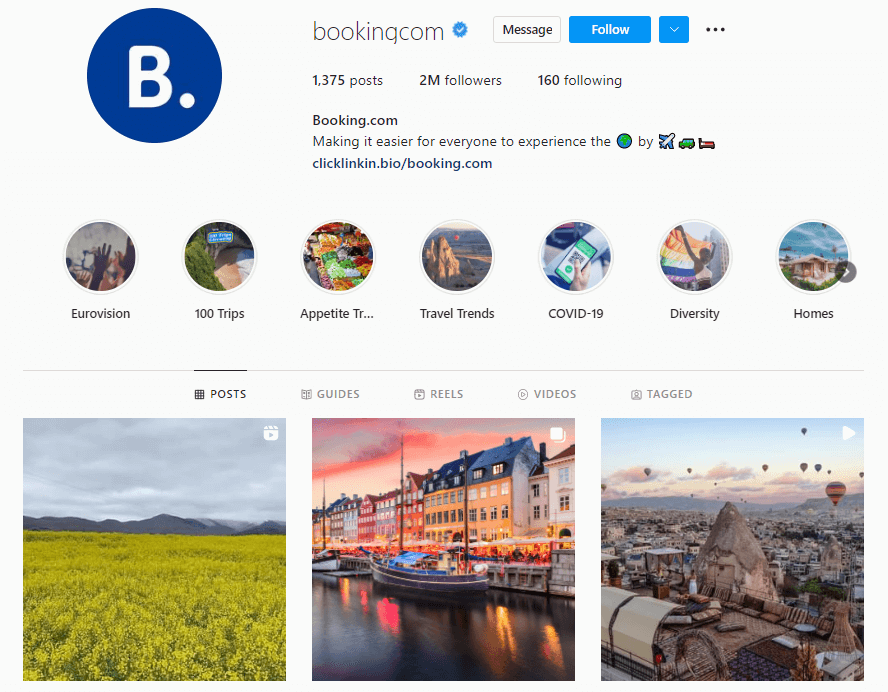 Source: Instagram
On Instagram, this brand shares all kinds of content related to traveling and exploring new places, be it videos or pictures. The visuals are always immaculate, with just enough editing to bring out the best of each photo or video.
This tourism marketing strategy is very similar to the one used on Facebook, with a mix of content that inspires users to travel and use Bookin.com's services. However, the brand does make good use of the Instagram platform by utilizing features such as carousels and reels from time to time.
As a whole, Booking.com's Instagram page is very well managed and provides its followers with great content that stimulates them to explore more of the world.
Booking.com on YouTube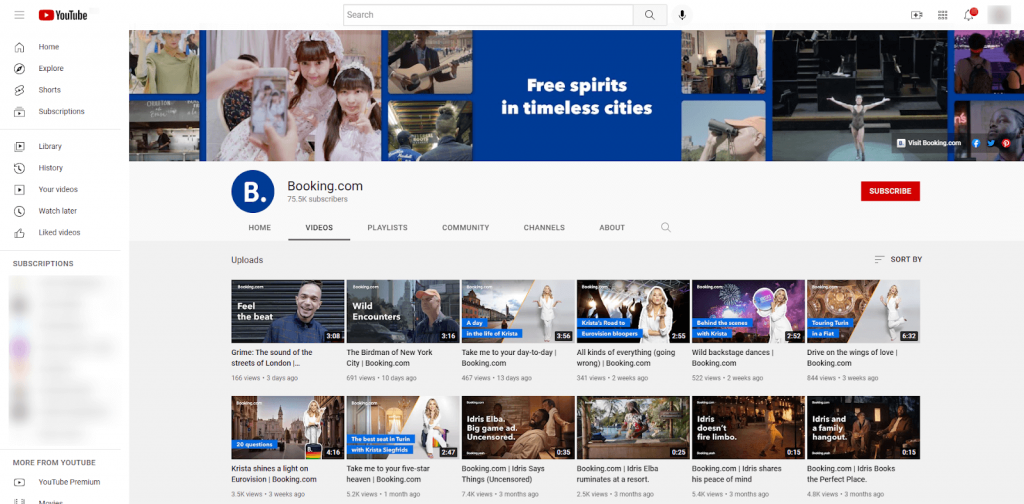 Source: YouTube
One series that will catch our eye is Booking.com's "Local Guides." This series features locals from various towns who show off the best places to visit in their hometowns. Each host has a unique story about why their neighborhood is particular and what makes it such a great place to stay.
What you will love most about these videos is how personal and relatable they feel – it's like getting travel advice from a friend!
The Most Powerful Tourism Marketing Campaigns of Booking.com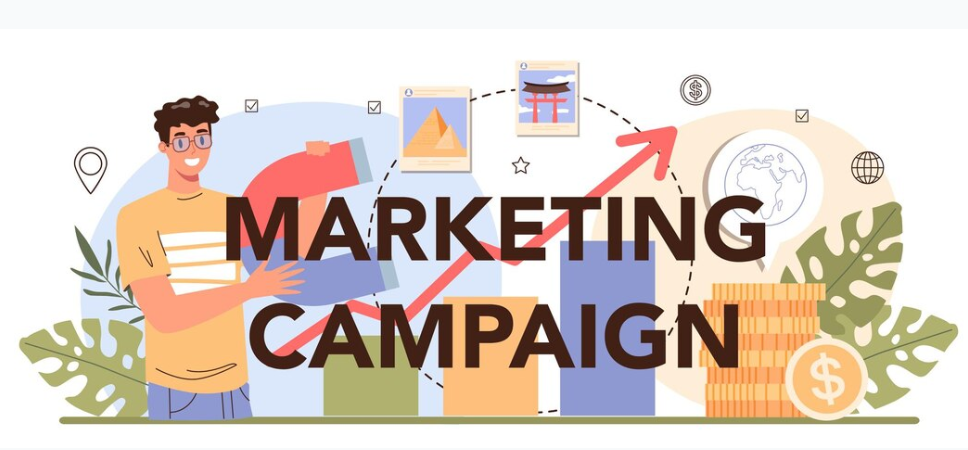 Booking.com is one of the world's leading online travel agencies, helping millions of travelers daily to find the perfect hotel. But what makes Booking.com so successful?
Booking.com knows how to get people talking when it comes to social media. The travel company has run many successful travel marketing campaigns online, using innovative strategies to engage and promote its brand.
Booking.com has some of the most creative and effective social media campaigns in the industry, reaching a broad audience and driving significant results.
Here are just a few examples of Booking.com's most successful tourism marketing campaigns:
#BackToTravel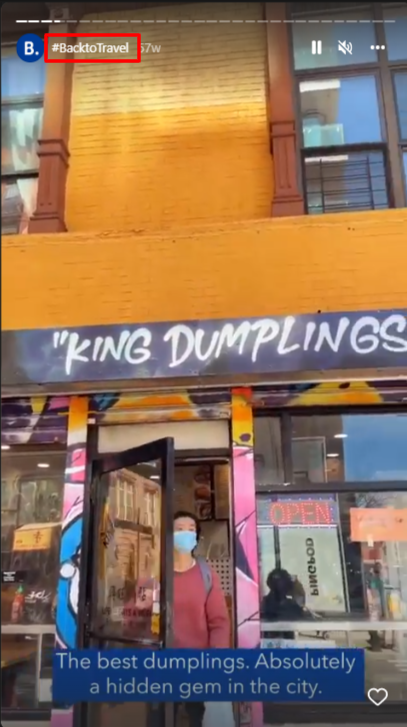 With the early signs of a global slowdown in 2020, many people were worried that they would have to put their travel plans on hold. But Booking.com launched a campaign called #BackToTravel to help people get excited about traveling again and reclaim their love for exploring new places.
This tourism marketing campaign included a co-content created with popular influencers who shared stories of thrilling adventures from all over the world and tips and advice on planning a successful trip. It also featured inspiring content on Instagram highlighting beautiful destinations and must-visit attractions, helping people get back into the travel mindset.
By encouraging people to pick up where they left off before the downturn hit, Booking.com helped millions of travelers worldwide reconnect with the joys of traveling.
#AmericaIsForEveryone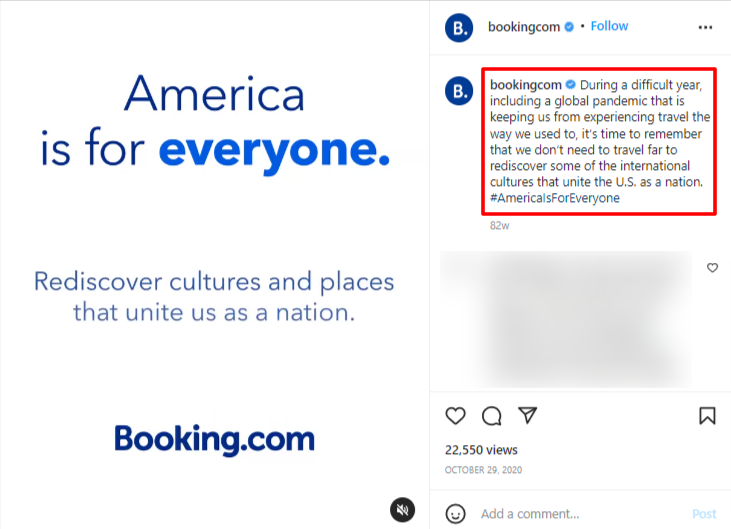 Booking.com launched a new tourism marketing campaign on social media called #AmericaIsForEveryone.
A travel marketing campaign aimed to inspire people across the United States by acknowledging how different cultures and communities worldwide live. The company did this by partnering with various organizations and groups representing different demographics in America.
One example is their partnership with Asian Americans Advancing Justice | AAJC. This organization works to protect the civil rights of Asian Americans and to advance their community's civic engagement. Booking.com featured Asian American businesses on their site and shared stories about how these businesses are thriving.
This tourism marketing campaign is just one example of how Booking.com is committed to diversity and inclusion. The company has a long history of supporting various communities around the world. And they continue to find new ways to show their support.
#BookingHero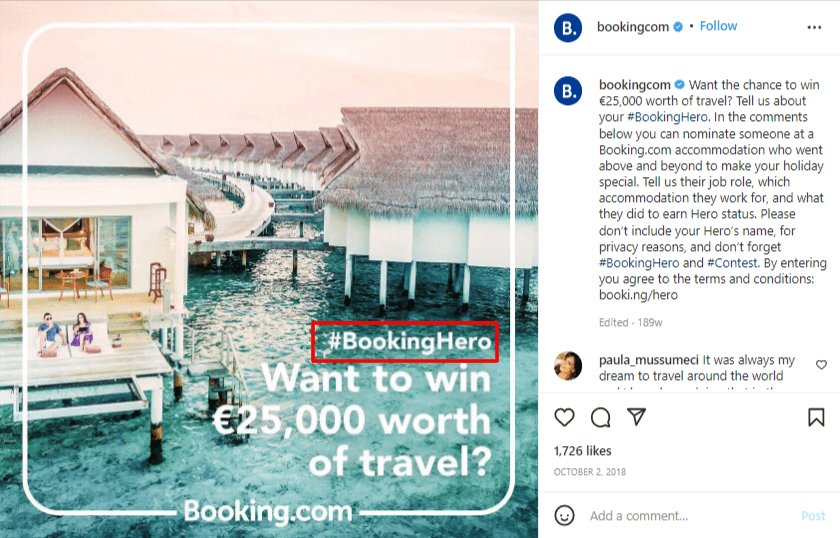 The #BookingHero, a tourism marketing campaign, is all about bringing people together. Starting from the simple idea that what makes traveling memorable are the people we meet along the way, Booking.com challenged travelers to share their stories and nominate their #BookingHero: an individual who works at their accommodation and goes above and beyond to make their trip unforgettable.
Whether it's a bartender who gives stellar travel advice, a hotel concierge who takes you on off-the-radar adventures, or just another guest staying at your hostel who turns out to be your new best friend, no one knows better than travelers themselves what makes a trip worth taking.
With the #BookingHero tourism marketing campaign, Booking.com recognizes these unsung heroes in the travel industry by highlighting the individuals behind some of the most memorable travel experiences.
Role of Videos in Their Travel Marketing Campaigns
Booking.com has used videos very creatively in its tourism marketing campaigns as part of its social media marketing strategy, which has helped boost its reach and engagement levels.
Their tourism marketing video campaign features short videos that showcase different destinations worldwide. The videos are meant to inspire audiences to travel. They are highly popular with audiences.
In addition to using video in their various campaigns, Booking.com has also utilized other social media platforms for this tourism marketing to reach out to potential customers. The company has an active presence on Facebook, Instagram, and Twitter, and they regularly post updates and offers on these platforms.
Overall, Booking.com has successfully used social media to reach new customers and promote its brand. The company's use of video campaigns has been particularly effective, which is likely to continue.
Marketing Budget of Booking.com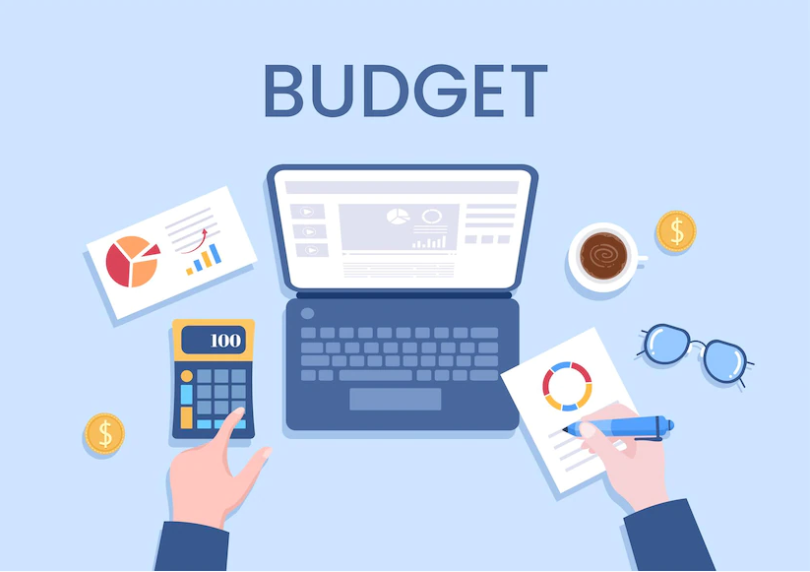 Booking.com is a subsidiary of Booking Holdings Inc.
The company has seen its marketing expenses increase sharply in recent years, reaching 3.8 billion U.S. dollars in 2021. This represents an increase of 74 percent over the previous year, after a sharp decline in 2020 due to the coronavirus (COVID-19) pandemic.
Booking.com's marketing budget is the largest in the travel industry, and they're constantly innovating marketing strategies to stay ahead of the competition.
Conclusion
Booking.com's secret to success during this challenging time appears to be its aggressive marketing campaigns and its focus on providing a great customer experience. The company has also been quick to adapt to the changing travel landscape, offering new services such as contactless check-in and virtual tours of hotels.
Booking.com has also focused its tourism marketing strategy on storytelling to compete in this competitive digital space. Though, beyond pricing, room selection, and easy-to-use products, the brand knows that consumers are also looking for a story.
Therefore, to stand out from the competition, Booking.com has worked to create content that reaches more audiences organically. Moreover, the brand's social media channels are full of images and videos showing different destinations worldwide.
And, while other travel brands might provide a list of hotels in a given city, Booking.com goes one step further by suggesting specific experiences and sights that users can enjoy during their stay. In this case, Booking.com has built a strong relationship with its customers by demonstrating the high value it places on their travel experience.