Facebook is a social media platform with approximately 2.3 billion monthly active users worldwide. This state about is popularity & signals, marketers, to consider the potentials of Facebook in growing revenue.
Facebook is still a major attraction for users as well as brands & marketers, Thanks to its highly-engaging features! Marketers are consistently keeping an eye on smart Facebook tools that aid in the marketing & help them reach their goals.
With Facebook consistently evolving, you need the right tools to let you multitask & smartly manage campaigns besides making them fruitful.
We've shared a huge list of the Best Content Creator Tools for Marketing (2021 Updated) for marketing enthusiasts and we're here again with a list of Facebook Marketing Tools that'll make your efforts count.
10 Handpicked Facebook Marketing Tools for 2021
Index
No matter if you're interested in increasing your follower's count or generate subscriptions, leads, revenue, etc, these tools will get you closer to your goals. Here are the best picks for you.
1. AdEspresso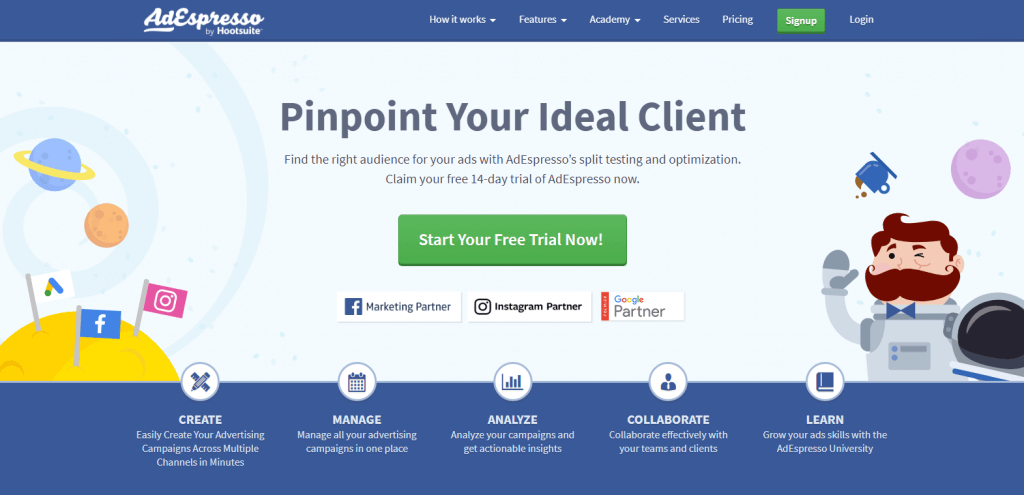 Are you done with Facebook Ad Management thinking that it's a tough job? Leave it all to AdEspresso. It's amazing for creating & managing Facebook Campaigns.
You can define a set of rules for executing your campaigns and perform easy analysis & optimization as AdEspresso automates the processes.
Also, when we're into advertising, we cannot settle with one. We keep trying variants until we find one that best fits our needs. AdEspresso does the same for you with A/B testing with which you can create thousands of Facebook Ad variants. Just focus on your key metrics with feasible customizable dashboards.
2. SocialOomph

Do you want to grow user engagement & follower count? You can rely on SocialOomph to do the needful. With Free Basic Plan, it also offers advance, professional, and business plans with amazing benefits for each.
Besides making Facebook marketing handy, it is also a great tool for LinkedIn, Twitter, Discord, Pinterest, Reddit, and more of such popular social platforms.
Benefits
Budgetary Facebook Marketing Tool
Post sorting can be done with Tags
Excellent Customer Support
Bulk content upload available
You may cancel your subscription anytime
Best Features
RSS Feed Automation
Post & Tweet scheduling available
Self-destruct feature for outdated posts
Easy new follower's monitoring
Publishing Limit Automation
3. Heyo

To all the lead-focused marketers out there, you must have heard about Heyo. Organizing contests, creating sweepstakes, and Hashtag campaigns for Facebook are your cup of tea with Heyo. And you'll love using this tool for Facebook Marketing & websites too.
It provides the quality you seek from a Facebook Marketing Tool & this is the reason it charges for basic to standard & premium plans. No matter what you go for, it is extremely easy to use. Moreover, it facilitates convenient integration with MailChimp, Madmimi, and similar tools.
Why you should use Heyo?
If you're willing to run quizzes, sweepstakes, Hashtag campaigns, photo & video contests, etc. then Heyo is a must-have for you. Also, it lets you collect email addresses from potential customers & grow your email list with the least effort.
4. PhotoADKing: All-in-one Facebook Graphics Designer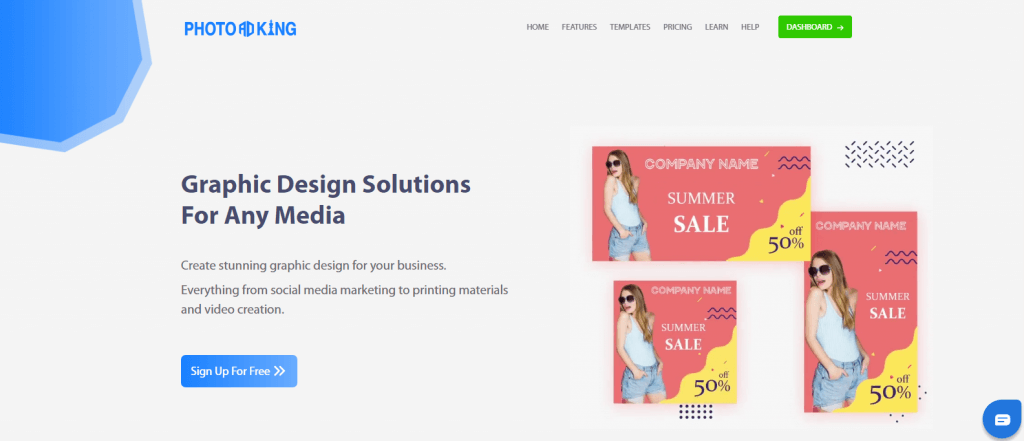 While you're exploring Facebook Marketing Tools, let's not forget that impressive graphics are inevitable part of any marketing campaign.
Don't forget to try PhotoADKing that does the incredible job of being your handy graphic designer whether you're setting a campaign, customizing an attractive cover for your Facebook page, making a YouTube promo video, or designing daily posts or stories.
Thanks to the abundance of choices with PhotoADKing, your graphic designing efforts are reduced to the least modifications & your design is ready to publish.
What is the role of PhotoADKing for Facebook Marketing?
It's a DIY graphic designing tool that serves as:
5. Pagemodo

Did you ever think about a complete Facebook Business Page Makeover? Let Pagemodo do it for you with spellbinding cover photos, customized tabs & designing user-engagement contests effortlessly.
What does Pagemodo do for you?
Schedules posts on social media platforms like Facebook, Twitter, and LinkedIn
Design & Optimize great-looking Facebook Ads
Make Contact Forms
Create Product Listings with site links & CTAs
Benefits
Makes professionally designed templates easily accessible
Handovers full control over contests
Mobile-friendly Marketing Tool
Excellent Customer Support
6. Driftrock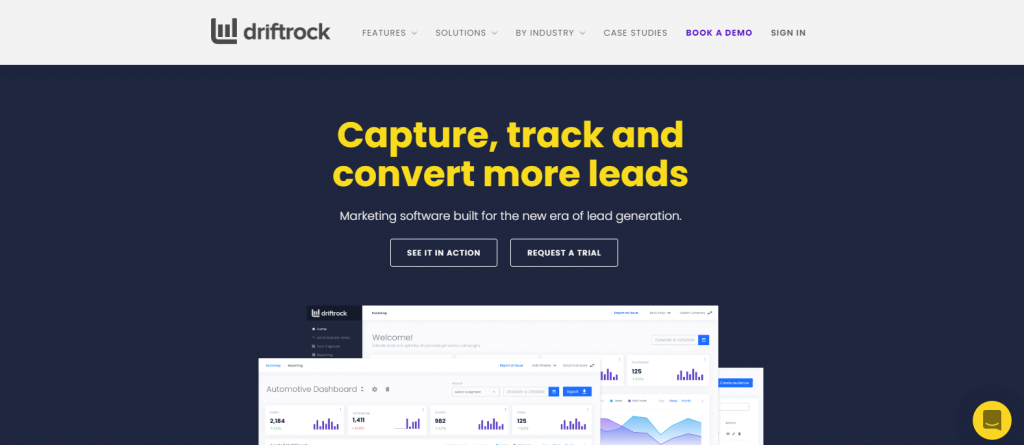 Popular as lead generation software, Driftrock is meant to boost conversions for Facebook marketers. Driftrock isn't a standalone tool, but a suite with multiple tools where each of them serves a specific purpose.
You may use any of them as desired or utilize all of them together if you're looking for a complete Facebook Ad Management Solution.
In a nutshell, Facebook Ad creation, optimization & management as well as automation needs are satisfied by this tool. It is centered on helping you test Ad variations & launching ads easily.
7. Fanpage Karma

You get a multi-functional tool for Facebook Management in the form of Fanpage Karma.
Not only has it eased composing & publishing Facebook posts, but also shares useful insights on posting. Additionally, it makes monitoring endless Facebook pages & profiles handy. This includes analyzing & comparing key metrics of your competitor's pages as well as your fans and followers.
8. Hootsuite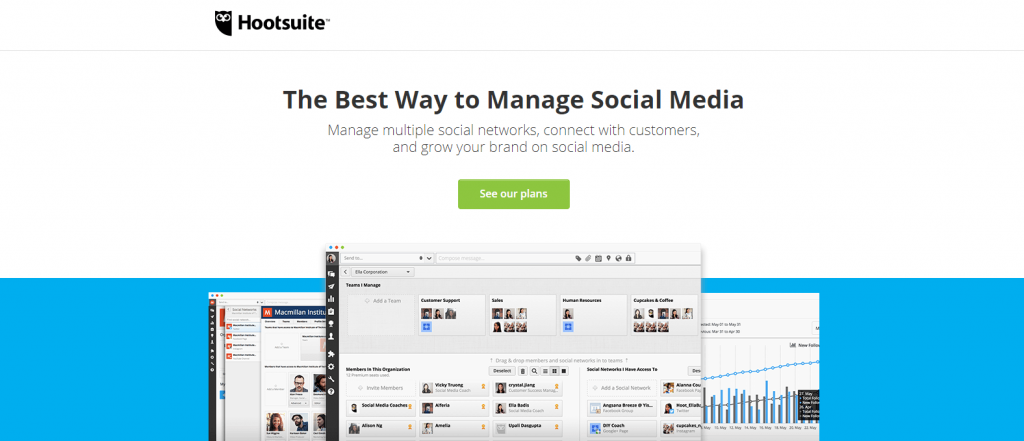 Facebook Ad Campaign optimization is your staple task when you're into Facebook Marketing. Thanks to Hootsuite, targeting & retargeting an audience for potential conversions is possible.
In other words, if you're looking forward to getting some real leads by staying on the top of analytics then Hootsuite is for you. Hootsuite is great for user engagement.
9. Post Planner

Social media management just got smarter with Post Planner. As the name suggests, this Facebook Marketing Tool helps you discover great content that can be planned well for posting & user engagement.
The best thing about this tool is its recommendation engine that brings the top-performing content for you. It isn't ordinary content, but the one with the most likelihood of engaging your target audience.
Once you start using this tool, you'll never have enough of it & use it for your publishing calendar too.
10. AgoraPulse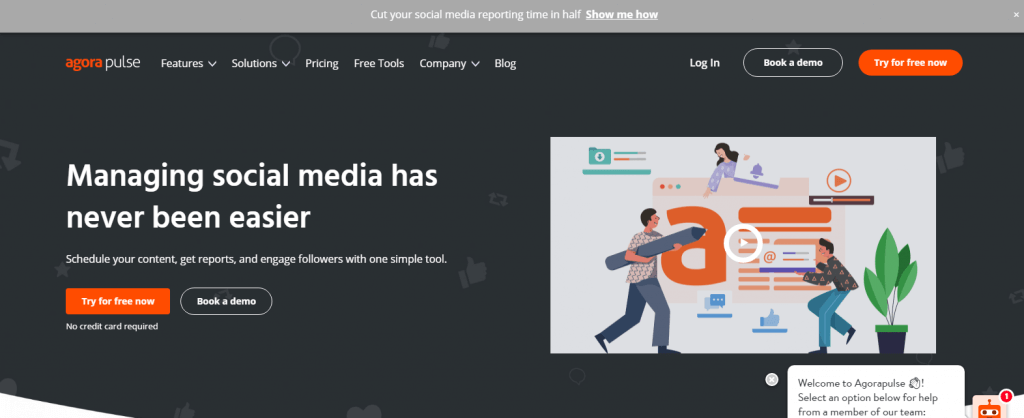 Managing content & Facebook engagement is done simply & effectively by AgoraPulse. Schedule & publish posts as desired, monitor user engagement and activity on your posts with AgoraPulse.
If you want to keep an eye on your competitors, AgoraPulse Barometer assists you with plenty of reports for tracking & improvising your efforts. If you're a Facebook Ad Management Team, AgoraPulse has amazing workflow collaboration tools for you. Isn't it exciting?!
Are you ready to spice up your Facebook Marketing Campaigns?
You've explored almost all types of tools useful for Facebook Marketing Campaigns. Try the ones you find most helpful as per your needs & don't forget to share the feedback. Even if you aren't having any plans for Facebook Advertising Campaigns, you've still discovered a tool that'll make your posts & stories engaging – PhotoADKing.