As a business owner, it's essential to have a solid online presence and a robust Instagram real estate marketing plan. One of the best ways to connect with your target audience is through social media in today's digital age. Over the past few years, Instagram has become one of the most popular social media platforms, with over 1 billion monthly active users.
This platform presents an excellent opportunity for businesses to promote their brand and connect with potential customers. However, it's essential to understand how Instagram real estate marketing works and what tactics you can use to build trust with your followers.
This blog post will discuss using Instagram for real estate marketing and some tips for building trust with your audience. Stay tuned for more!
Why Brand Building on Instagram is Essential for Real Estate
[Source: https://www.instagram.com/wsjrealestate/]
Real estate is a highly competitive industry. To stand out from the competition, it is necessary to create Instagram real estate marketing strategy to build a strong brand on Instagram.
By creating a consistent look and feel for your posts, using relevant hashtags, and engaging with your audience, you can create a strong presence on Instagram that will help you attract more clients and grow your business.
While many real estate agents focus on Twitter or Facebook to build their brand, Instagram should not be ignored. With over 1 billion active users, Instagram is one of the most popular social networking platforms today. And according to a recent study by The Real Estate Tomato, 78% of millennial homebuyers use Instagram when searching for homes.
If you're not using Instagram real estate marketing, you're missing out on a huge opportunity. So, even if you're new on Instagram, you can create real estate flyer template that easily reach to potential clients.
Instagram Statistics for Real Estate Marketing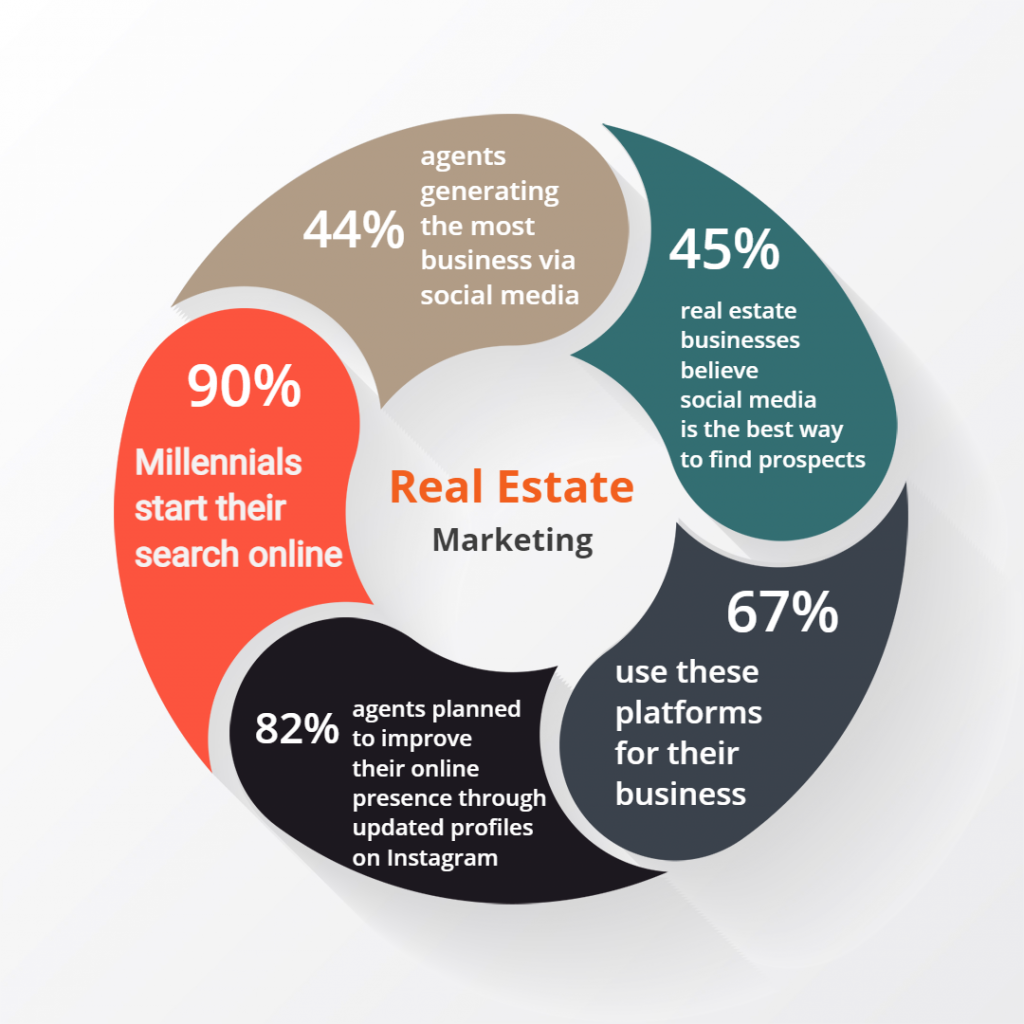 As a realtor, it's essential to have an active presence on social media if you want to stay ahead of the competition. And when it comes to social media for real estate, Instagram is one of the most important platforms you can be on.
Why? According to a recent study from the National Association of Realtors, social media is now integral to scoring clients and closing deals across the industry. Here are some key findings from the report:
The real estate market is becoming more and more competitive, with 44% of agents generating the most business via social media. Referrals only top that!
The real estate industry has taken advantage of social media. 77% use some form or another, which means over two-thirds (67%) use these platforms for their business!
45% of real estate businesses say that social media is the best way to find prospects, unlike email or referrals.
Most Millennials (and 90% of baby boomers) start their search online – this is especially true for getting a good deal on a fantastic property!
In 2021, 82% of agents planned to improve their online presence through updated profiles on sites like Instagram!
As you can see, Instagram has ample opportunities, and as a realtor, you must consider Instagram real estate marketing now. Additionally, you can also create business card with the help of real estate business card template online for your business.
How to Start an Instagram Account for Real Estate?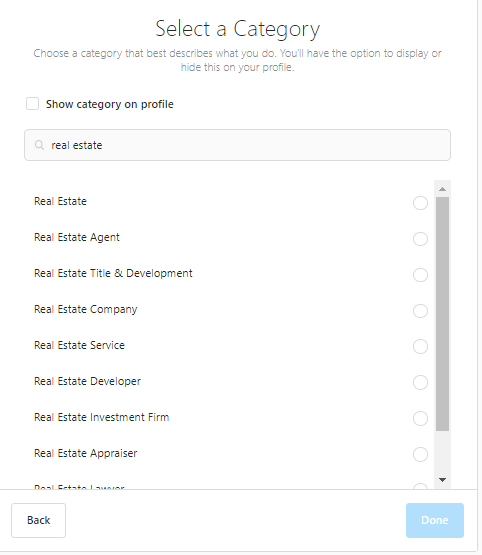 Now that you know why you should be using Instagram for real estate marketing let's walk through setting up your account.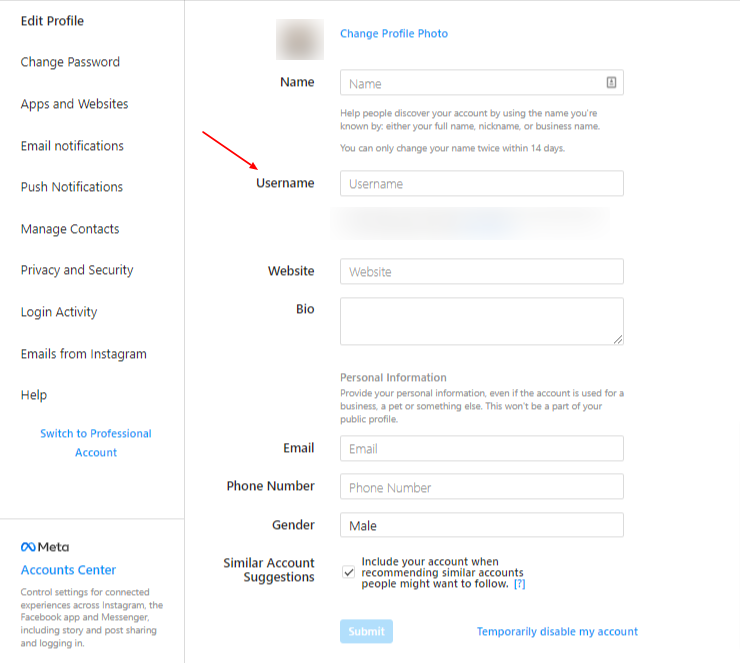 1. Choose a username that reflects your brand. Your username should be easy to remember and relevant to your business. For example, if your name is "David Park," you might want to use "DavidParkRE" as your username.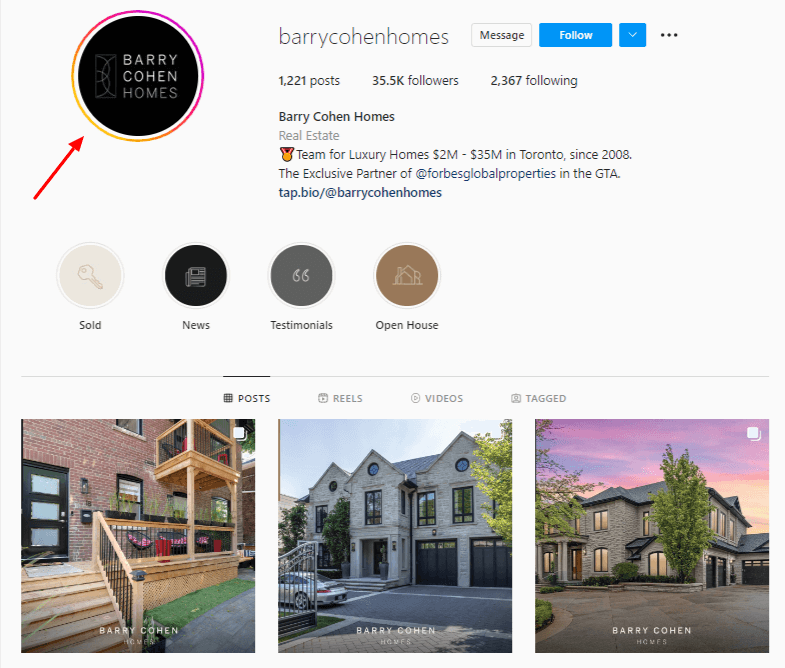 2. Create a profile image that is attention-grabbing and professional. This is often the first thing potential clients will see when they visit your profile, so make sure it makes a good impression! You can also add a real estate logo as your profile picture.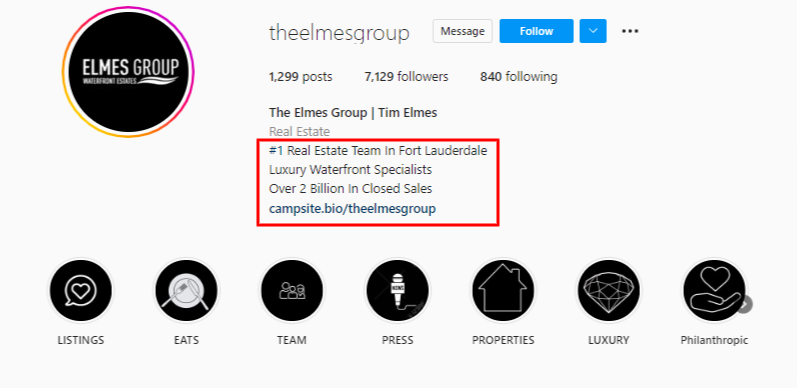 3. Fill out your bio. Your bio should be a brief, but informative, description of who you are and what you do. Be sure to include a link to your website or blog so that interested parties can learn more about you and your business.
Instagram Business Account for Real Estate
Real estate is a very lucrative industry, and many people are now using Instagram real estate marketing to get their properties noticed. There are many potential customers that you can connect with by having an Instagram business account.
If you're not familiar with Instagram business accounts, they're like regular Instagram accounts but with a few extra features perfect for Instagram real estate marketing.
For example, you can add contact information and links to your website or blog so that potential customers can quickly get in touch with you. You can also access insights showing how well your posts are performing and who's seeing them.
Overall, using an Instagram business account is a great way to promote your real estate business on Instagram and reach a wider audience. If you're not sure what to post everyday then these amazing real estate instagram posts will really help you out.
Brand Trust Building Strategies for Instagram Real Estate Marketing
Social media is a great way to connect with potential clients and market your listings if you're in real estate. And when it comes to social media, no platform's more popular right now than Instagram for real estate marketing.
But if you're new to Instagram or you're not getting the results you want from your posts, then these tips will help you take your Instagram real estate marketing to the next level:
1. Use Attractive Visuals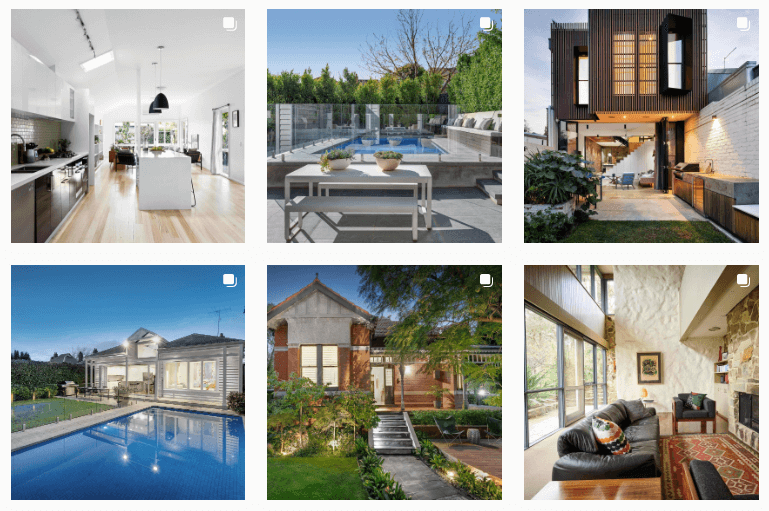 It's no secret in Instagram real estate marketing that using high-quality visuals is one of the most effective ways to get people to stop and take notice of your posts. Professional photos and videos that are well-lit and composed can make all the difference in whether or not people will take the time to read or watch your content.
In the age of social media, first impressions are everything, so it's essential to make sure that your visuals are up to par. If you're not using high-quality visuals in your Instagram real estate marketing, you miss out on a critical opportunity to engage potential customers and followers.
2. Use Hashtags Strategically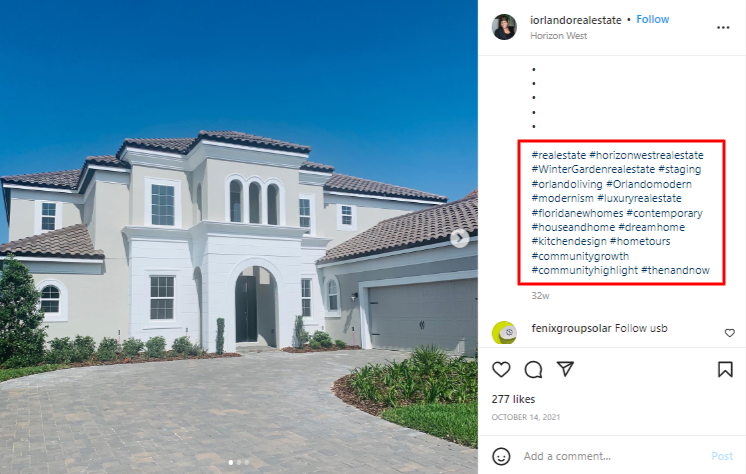 Hashtags are a great Instagram real estate marketing strategy to connect with people who might be interested in your listings. But don't just use any old hashtag—make sure you're using ones relevant to your business and that potential clients are searching for. For example, if you specialize in luxury homes, you'll want to use hashtags like #luxuryhomes or #luxuryrealestate.
And if you're looking to reach people in a specific city or region, be sure to include hashtags like #NewYorkRealEstate or #LosAngelesRealEstate. By using the right hashtags, you can ensure that your listings are seen by the people who are most likely to be interested in them.
3. Post Regularly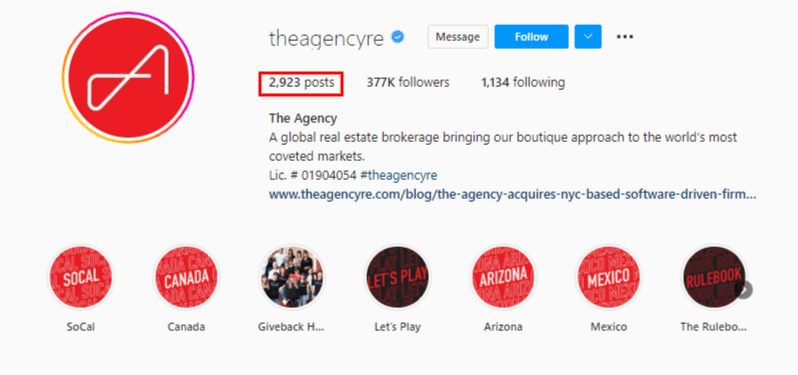 You can ensure that your page is always fresh in people's minds by posting at least once a day. More frequent updates also give you more opportunities to show off your listings, which can help to drive traffic to your page. Also, you can take help of social media content calendar which gives you the exact ideas on what to post everyday.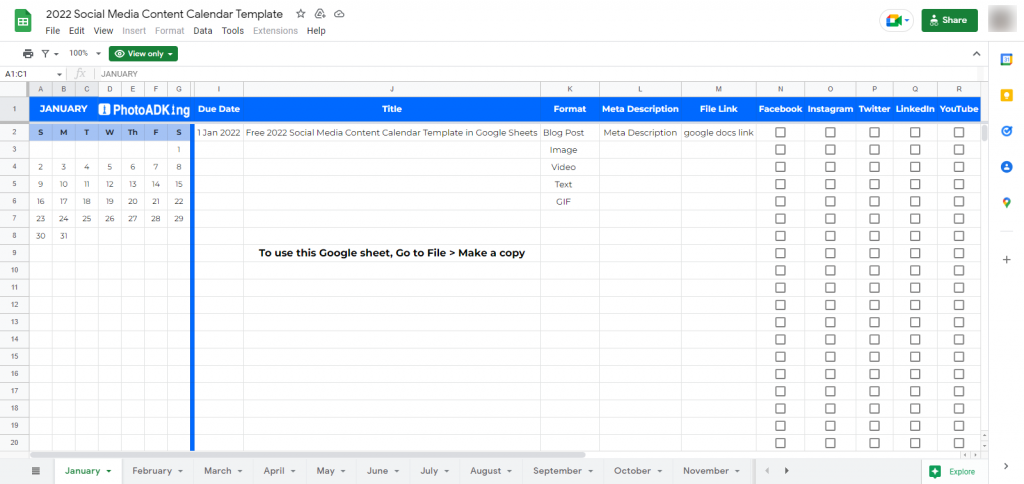 In addition, regular updates give you a chance to build relationships with potential clients by responding to their comments and questions. By making your page a source of information and support, you can encourage people to keep coming back.
4. Mix Up Your Content

While repetition is essential for Instagram real estate marketing, you don't want to post the same thing repeatedly. Mix things up by sharing photos, videos, behind-the-scenes looks, etc. This will help keep your followers engaged and prevent them from becoming bored with your content.
In addition, make sure to vary the types of content you share. For example, if you typically post photos of homes for sale, mix in a few videos of open houses or home tours. Or, if you usually post articles about the housing market, mix in a few infographics or blog posts. You'll keep your followers engaged and ensure that your content is always fresh by mixing things up.
5. Use Calls to Action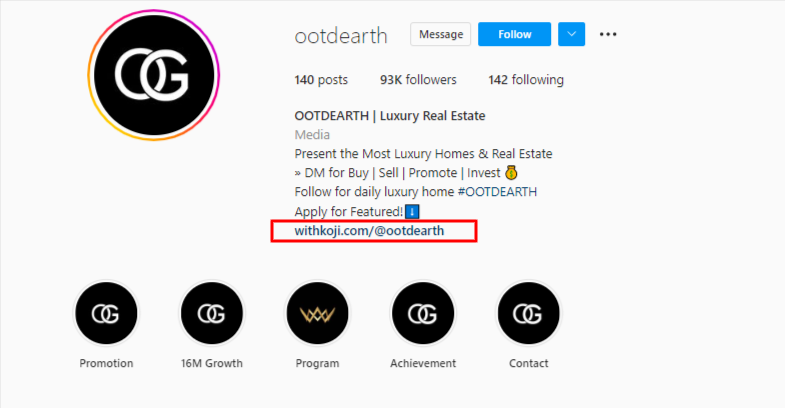 In Instagram real estate marketing, your ultimate goal is to get people to take action, whether buying or selling a home or contacting you to learn more about your services. And one of the best ways to encourage people to take action is to include clear calls to action in your posts.
A call to action is simply an instruction telling people what you would like them to do, such as "call us for more information" or "visit our website to learn more." By including calls to action in your Instagram real estate marketing, you can help increase leads and conversions and ultimately grow your business. So if you're not already doing so, be sure to start incorporating calls to action into your real estate posts today.
6. Offer Valuable Content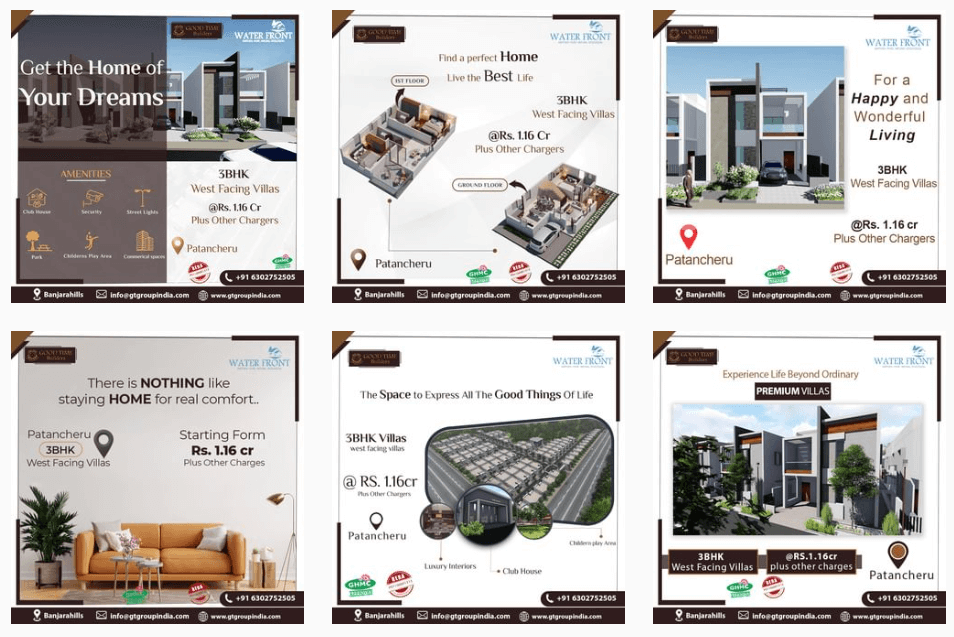 Capturing the interest of potential clients on social media can be a tricky business. Your Instagram real estate page should provide valuable content to potential clients as well as promote your listings. This could be anything from buying or selling a home to advise on remodeling projects.
By providing helpful information, you'll not only capture the attention of potential clients, but you'll also establish yourself as an expert in your field. And when it comes time to list their home or find their dream property, they'll know exactly who to turn to.
7. Take Advantage of Stories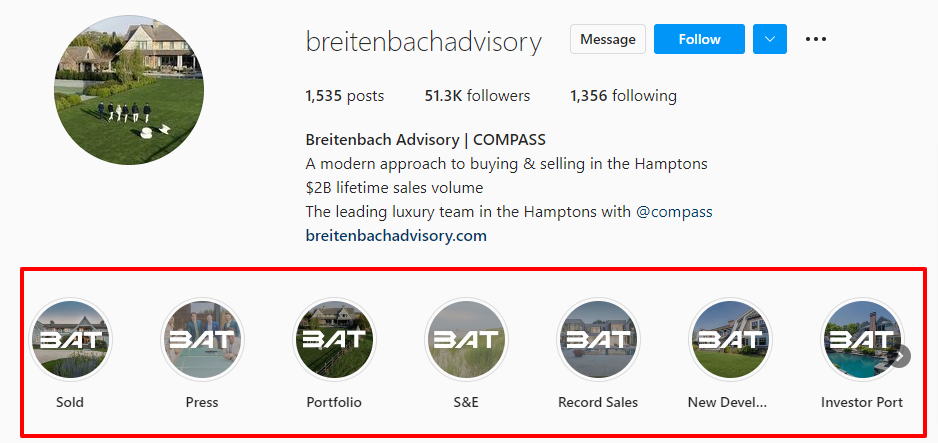 If you're in the business of selling homes, then you know that first impressions are everything. On Instagram, you can share behind-the-scenes glimpses into your business and give potential buyers a peek into your day. You can also include customer testimonials and their experience through stories to engage and inspire potential real estate buyers.
You can use it to showcase new listings before they hit the market or give people an inside look at the process of buying and selling homes. Stories are a great Instagram real estate marketing strategy to connect with potential clients and build your brand no matter how you use it.
8. Use Paid Advertising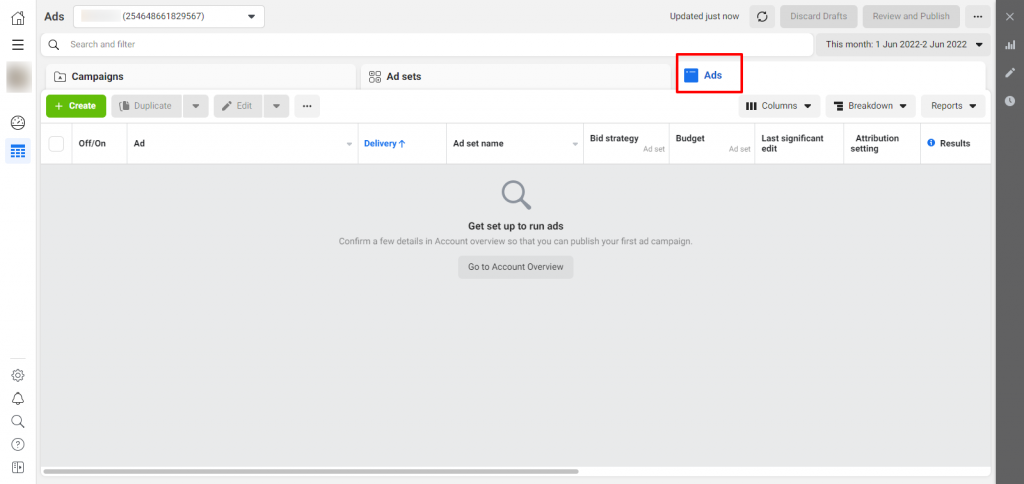 [Source: https://www.facebook.com/adsmanager/manage/ads]
Instagram is a powerful tool that allows you to reach a large audience with your content. However, if you want to target a specific demographic, you can use Instagram's paid advertising features.
These Instagram real estate marketing features allow you to target people based on their age, location, interests, and other factors. As well as get your content in front of people who are more likely to be interested. Paid advertising on Instagram is an effective way to reach your target audience and promote your content. Moreover, you can create real estate poster online for your paid advertisement.
9. Pay Attention to Analytics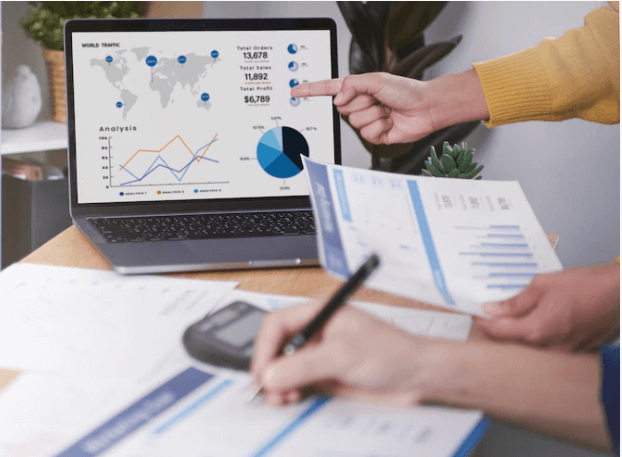 Instagram offers built-in analytics that can give you insights into who's watching your content and how they're interacting with it. You can use this information to fine-tune your Instagram marketing strategy and create relevant content for your audience.
10. Use Location Tags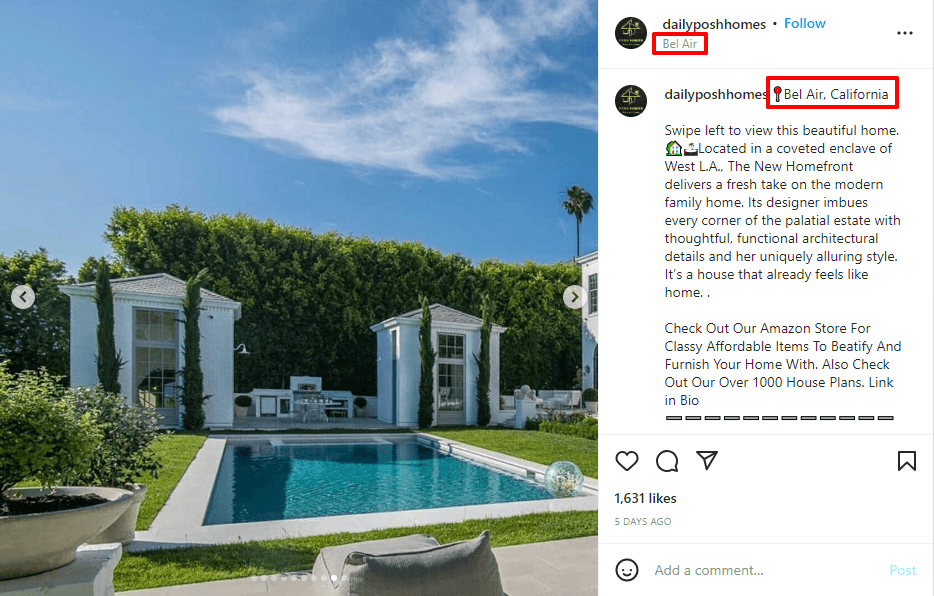 When you're trying to reach people in a specific area, location tags can be a helpful way to ensure that your content appears in search results. By tagging your location in posts, you're more likely to appear in the search results of people looking for content from that area.
This is especially true if you're using popular hashtags associated with your location. Additionally, location tags can be used to connect you to users who are interested in the same topics. If you want to reach a local audience or connect with like-minded users worldwide, location tags can prove valuable.
11. Post-User-Generated content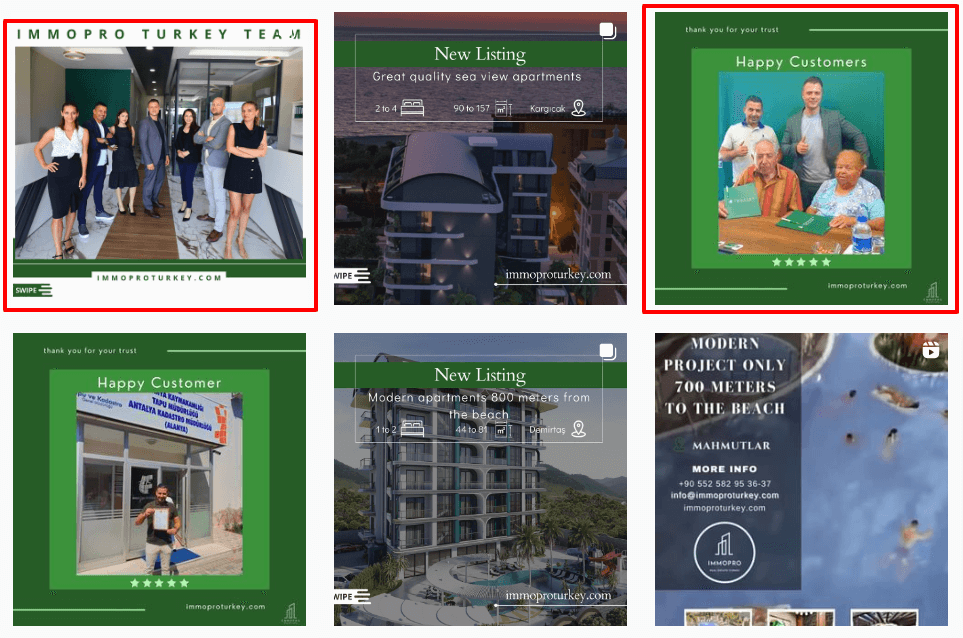 User-generated content is an excellent Instagram real estate marketing strategy to show off your listings while getting free exposure. If your customers are happy with their new home, ask them to share it on Instagram with your business tag. You can also encourage clients to write reviews on Google or Yelp, which can help attract new leads.
And be sure to post your photos and videos of listings as well – potential buyers will appreciate getting a sneak peek of what's on the market. By utilizing user-generated content, you can quickly build up a database of high-quality photos and videos that will help showcase your listings in their best light.
These are just a few tips to help you use Instagram for your real estate business. If you're unsure where to begin, start by following some of your area's top real estate agents and companies. Then, take some time to experiment and see what works best for you. And before you know it, you'll be an Instagram pro!
Conclusion
Building trust with your potential customers is essential to your success as a real estate agent. By following the tips outlined in this blog, you will be well to establish strong relationships built on trust. Just remember to avoid anything that could damage that trust, such as being dishonest or pushy. If you can do that, you will be sure to succeed in your real estate marketing efforts on Instagram.