Are you struggling to create eye-catching open house flyers that attract potential buyers and make your property stand out in a crowded market?
Many real estate agents and homeowners face the challenge of designing captivating flyers that effectively showcase the features and advantages of their property.
No need to look any further! It is important to create an appealing and informative flyer that attracts the attention of your intended audience.
If you lack time and don't know how to design an eye-catching flyer that stands out. Don't worry about that we have a PhotoADKing flyer maker. With its user-friendly features and extensive template library, also you can create visually appealing and impactful flyers that captivate potential buyers and drive attendance to your open house events.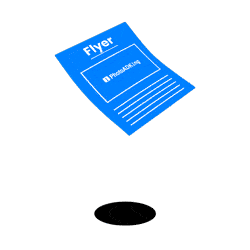 Discover the Perfect Flyer for Your Open House
Easily design your flyer with the user-friendly PhotoADKing Flyer Maker for a quick and effortless experience.
Explore Flyer Maker Now
Alright, now let's go to the summary that you are going to learn. Here in this blog, we will share creative open-house flyer ideas and examples that will help you stand out from the competition, also talk about the importance and distribution strategies for open-house flyers.
Table of Contents
Open House Flyer Ideas and Examples
Minimalistic Open House Flyers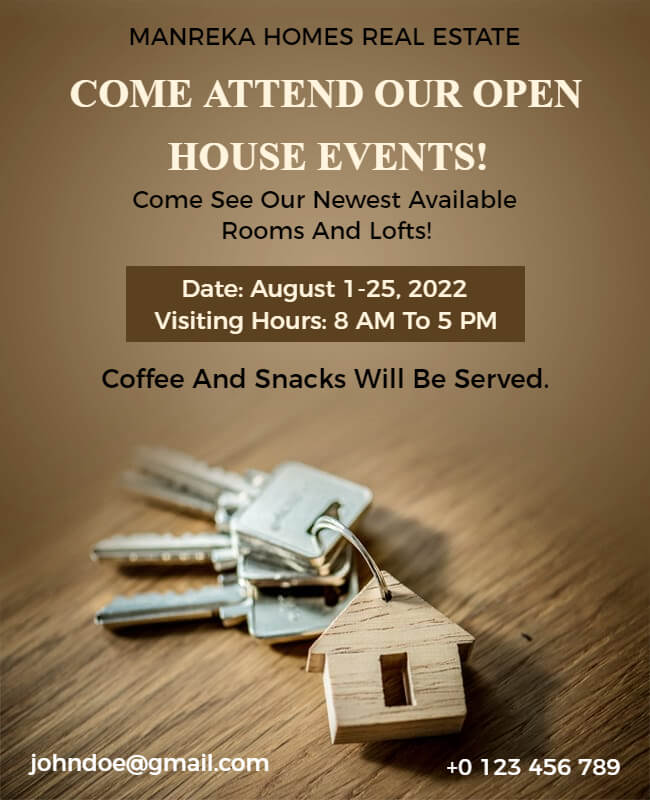 Minimalistic open house flyers are perfect for busy agents or those who don't want to distract potential buyers from important information. These flyers focus on the key features of the house, such as photos, basic information, and any details that may be listed.
This gives prospects a chance to quickly review the home and decide if it fits their needs. With minimalistic designs, potential buyers can easily understand why they should consider attending the open house.
Single Image Open House Flyer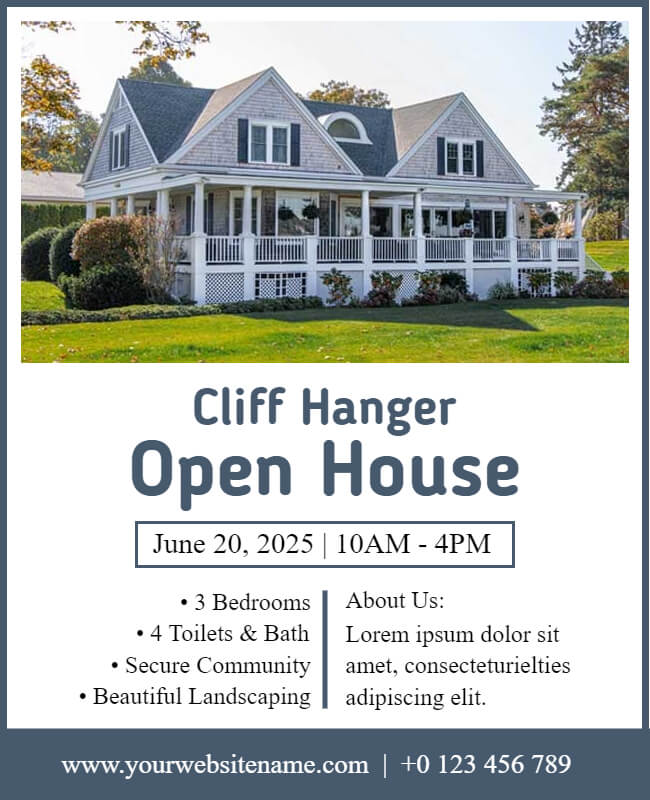 A single-image open house flyer is a great choice if you are selling a house with an impressive garden or a beautiful front side. This type of flyer also showcases the house's best features and draws potential buyers' attention.
It is a cost-effective way to reach out to prospects and create more connections. Moreover, the simple design and color palette will make sure the main image is the protagonist of the flyer.
Feature Focus Open House Flyer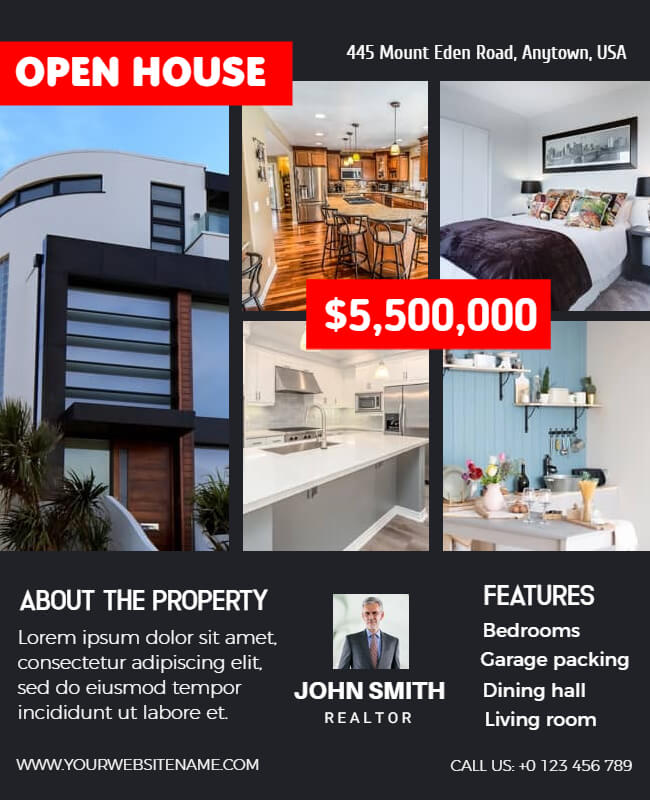 This type of flyer provides detailed information about the house, such as the dining hall, garage parking, bedrooms, and more. This way, buyers have a complete picture of the house rather than relying solely on pictures. Many people are looking for the best open house flyer ideas, so this guide will be very useful for them.
Visual Open House Flyer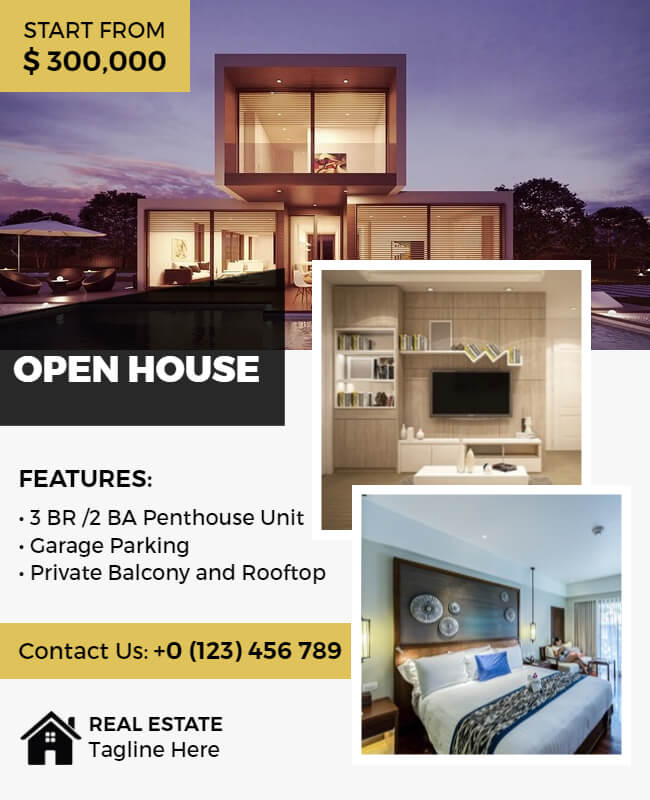 A visual open house flyer is the perfect way to advertise your open house! This modern flyer template focuses on the property and won't distract from it. So it features images from different angles, allowing potential buyers to visualize what it would be like to live in the house.
Classic Open House Flyer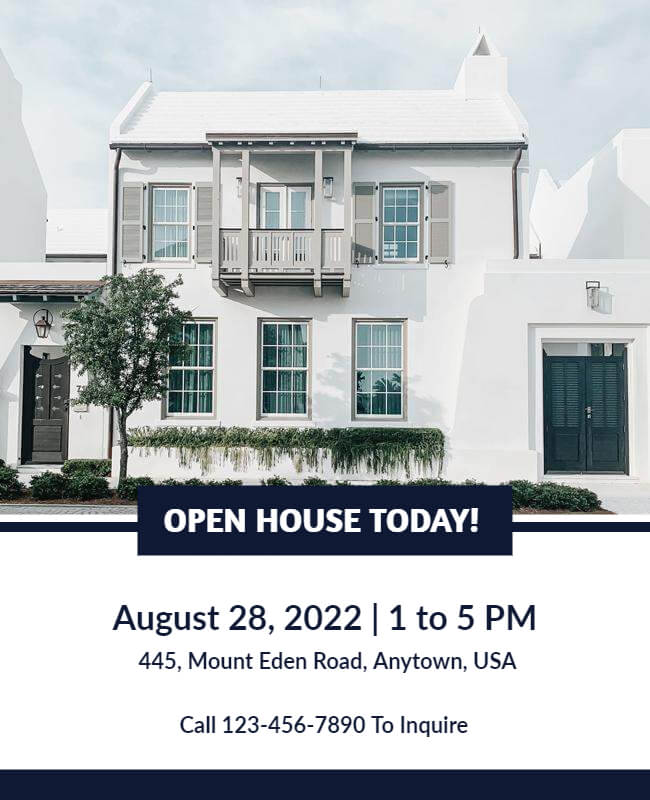 Classic open house flyer is the perfect choice for agents looking to advertise their events without spending too much time or energy on designing. Its timeless and traditional look makes it appropriate for a range of audiences, and with its clean and simple design, you can easily add your own branding and colors.
Modern Open House Flyer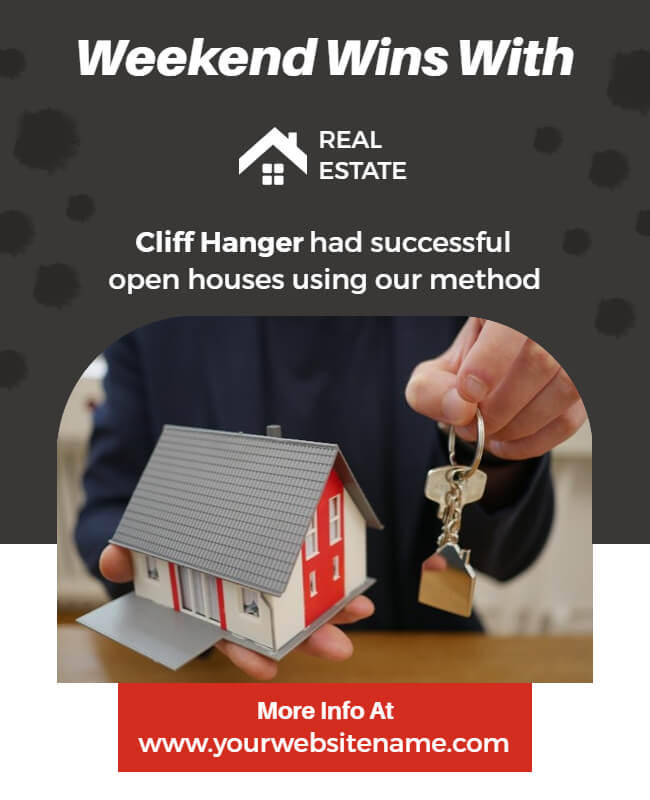 Modern open house flyers are the perfect way to attract younger buyers to your property. With their eye-catching shapes and unique designs, also these flyers stand out from traditional flyers and create a visually appealing look that won't go unnoticed. They're perfect for agents that want to be slightly unconventional to get the attention of potential buyers.
If you're looking for more pre-designed templates, feel free to visit our page dedicated to open house flyer templates, where you can find a wide range of examples. Also, you can edit these templates according to your preferences.
Importance of an Open House Flyer
Open house flyers are an important marketing tool for real estate agents. They provide potential buyers with a snapshot of a property, helping them decide if it could be their future home. An effective open house flyer should include all the necessary information about the property and be attractive enough to draw interest and potential buyers to the open house.
Now let's move to the important part of the open house flyer that can help you to create a flyer. Check out open house flyer ideas and examples.
What to Include in an Open House Flyer?
An open house flyer design to inform buyers about an upcoming open house event. The flyer should include the following essential information:
Property Information
The flyer should include basic details about the property, such as the address, the number of bedrooms and bathrooms, and the square footage.
Date and Time
It's important to include the date and time of the open house event so buyers know when to visit the property.
Contact Information
Include contact information for the real estate agent or broker handling the property, Such as their name, phone number, and email address.
Photos
Set high-quality photos that showcase the property's best features. It's also a good idea to include a floor plan, if available.
Special Features
Highlight any special features or upgrades that make the property unique, such as a large backyard, a pool, or a renovated kitchen.
Directions
Include directions to the property and any helpful tips for finding it.
Call-to-Action
Encourage potential buyers to attend the open house event by including a call-to-action, such as "Don't miss your chance to see this amazing property! So let's join us for the open house on [date and time]."
Including these essential elements in your open house flyer can help generate interest and also encourage potential buyers to attend the event.
Now let's move to another important part of the open house flyer that can help you to get more clients. Check out distribution strategies for your open house flyers.
Distribution Strategies for Your Open House Flyers
Many open house flyer ideas for potential buyers or renters to your event exist. There are several distribution strategies that you can use to ensure your flyers reach the right audience.
Direct Mail
One effective strategy is sending the open house flyers directly to people interested in buying or renting a property in the area. So you can obtain mailing lists from local real estate agents or purchase them from list brokers.
Local Newspapers
You can also advertise your open house event in local newspapers. This can be an effective way to reach a more targeted audience and generate interest in the property.
Online Advertising
Utilize online advertising platforms such as social media, real estate websites, and classified sites to promote the open house event.
Door-to-Door
Another strategy is to distribute flyers door-to-door in the neighborhood where the property is located. This can be particularly effective if you target potential buyers or renters already living in the area.
In-Person Handouts
You or your team can also distribute flyers in person at local events or other locations where you know potential buyers or renters may gather.
You can also read our article.
Are you tired of spending hours designing a flyer from scratch?
No need to worry, we have a solution for your problem. You can use PhotoADKing's flyer templates. They offer a variety of pre-designed flyer templates for you to choose from. You just edit the information, and It's ready to download and share it.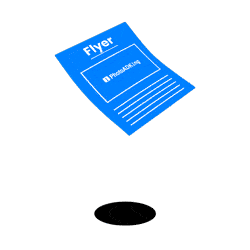 20,000+ Pre-designed Flyer Templates from PhotoADKing.
Explore a diverse selection of flyer templates and easily customize them to suit your needs.
Choose Flyer Template Now
Conclusion
In conclusion, open house flyers are an effective way to ensure your open houses succeed. They allow you to spread the word about your showings and reach more potential buyers. With the right design, content, and distribution, you can use open house flyers template to generate a large crowd of interested buyers. With a bigger crowd, there's a greater chance that someone will make an offer on your home. Hope this guide on open house flyer ideas will help you.
FAQs for Open House Flyer
What is the purpose of an open house flyer?
The purpose of an open house flyer is to market a property and attract potential buyers to visit the open house event. Also, it provides essential information about the property, and its features, and encourages interested individuals to attend.
How can I distribute my open house flyers effectively?
You can distribute your flyer through direct mail, local newspapers, online advertising, door-to-door, and In-person Handouts.
What should I include in an open house flyer?
In an open house flyer, it is important to include the property's basic details (address, bedrooms, bathrooms, square footage), date and time of the event, the contact information of the agent or broker, high-quality photos showcasing the property, special features or upgrades, directions to the property, and a compelling call-to-action.
What are some creative ideas for open house flyers?
Creative ideas for open house flyers include minimalistic designs, focusing on key features, single-image flyers, highlighting impressive aspects, feature-focused flyers providing detailed information, visual flyers with multiple images, and classic or modern designs targeting specific audiences.