A Realtor flyer is a significant marketing approach. It is a solid strategy for brand awareness as well as getting your property/services to sell swiftly. However, knowing how to use realtor flyers will help you make the most out of this legit promotion technique.
Your realtor flyer can be just another one or visually gripping for prospects. It's you who decide whether your realtor flyer campaign will be successful or not.
The good news is, we're living in a modern world that has everything instant. You can utilize pre-designed real estate flyer templates to ensure a professional touch in your flyers. How do you make this happen? Well, you've got many choices from basic to advanced-level DIY flyer making. You may use software tools or make one online based on your preferences like you can use the PhotoADKing's flyer maker tool. One of such easy-going & freebie online flyer makers is PhotoADKing. We'll see how you can create, download & use flyers in a few minutes using this flyer creator. Before exploring the same, we'll take you through a real-world experience with this real estate flyer maker.
About Urbane Spaces
Urbane Spaces is a realtor firm established in 2010 in the USA. Founded by a best-friend duo, John & Emily, it is now setting examples for the infrastructure world. This constantly spanning business is on a mission to make this planet a better space to live in by prioritizing environment-friendly urbane space developments. It also focuses on developing modern, affordable architecture.
The Experience With PhotoADKing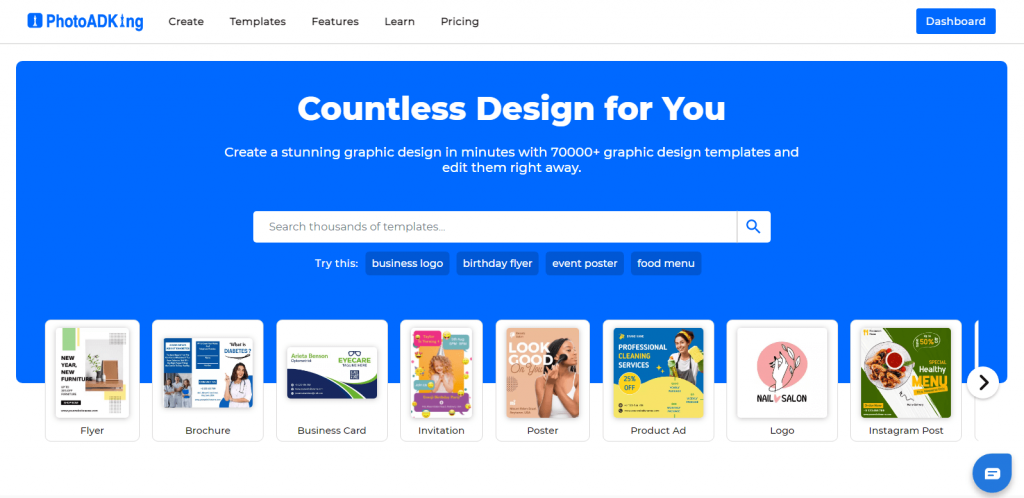 When this realtor business was initiated, they were dependent on graphic designing professionals for their advertising material needs. As the business was growing, they were looking for a sustainable tool to fulfill their marketing requirements cost-effectively. These people have brains for real estate & lack knowledge and skills for graphic designing. So, they also wished for a design alternative that wants minimum inputs.
Emily searched for the best graphic makers online & discovered PhotoADKing as one of them. After navigating through this online tool, their marketing team decided to give it a try. They personalized & published their very first DIY realtor flyer with PhotoADKing. It created a boom!
From seeing their social media follower count increasing gradually to getting daily inquiries on social media, this realtor flyer attempt was surely winning.
The investment here was time to design the flyer with a free flyer template with unlimited graphics, illustrations & fonts access. In return, Urbane Spaces got calls, texts, and some potential prospects. Never did they know that they had the guts to design a flyer by themselves & it would turn out to be so amazing. The firm converted leads into clients. Urbane Spaces scored many long-term customers with this daring effort.
How Do Urbane Spaces Use PhotoADKing for Branding?
The success achieved with the first attempt encouraged Urbane Spaces to keep going. They started utilizing PhotoADKing anytime they were looking for promotional materials. Here is what Emily has to say on behalf of the entire team:
"PhotoADKing is for any individual or brand who manifests dreams to come true. It is the graphic designing tool that stands as a strong backbone to make sure that your promotional materials are unique & professional. The best part is to be less prepared for the designing part as everything premade is just perfect. We usually replace the dummies and their print-quality flyers, and social media images, and everything is ready to set fire."
Furthermore, she added "I came across PhotoADKing while searching for free graphic maker tools online. Honestly, it wasn't the first tool I tried. I have used many & as I accessed this one, it mesmerized me with its user-friendly interface, trendy templates & enormous graphic collection. I could not resist & tried making my realtor flyer. It was that time & today that I use nothing but PhotoADKing."
Make Your Realtor Flyer in a Snap
In this tutorial, we'll be sharing how easy it is to use PhotoADKing for personalizing realtor flyers. Please find that you can design anything on your mind besides a flyer. We're just sharing an instance with a flyer.
How to Make a Realtor Flyer With PhotoADKing
PhotoADKing is a graphic designing platform favorite among individuals and businesses for DIY graphic designs.
You can visualize your imagination with this legit graphic maker. It helps you with pre-designed templates by professionals along with facilitating an unlimited graphics source. PhotoADKing goes hand in hand with social media graphics, online & offline promotion materials, Infographics, and whatnot! It has both paid and free templates which make it an ideal platform for one and all. Use it at your convenience & it will deliver nothing but the best. Moreover, check out some different flyer templates then you can use in your business.
Get Started
Search for 'realtor flyer' or 'real estate flyer' in the search bar.

Select the realtor flyer template you want to edit.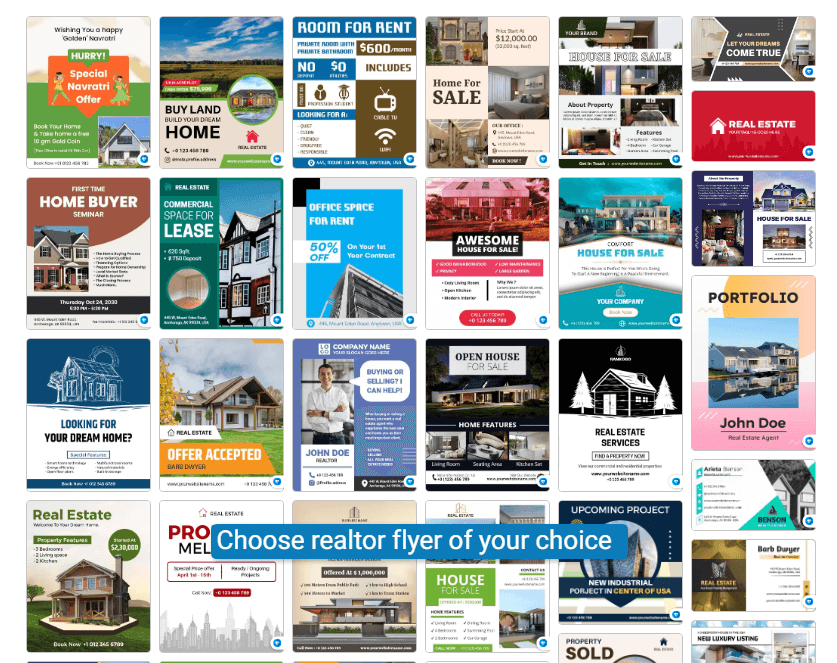 Edit the template by adding text, background color, layers, shapes, and images.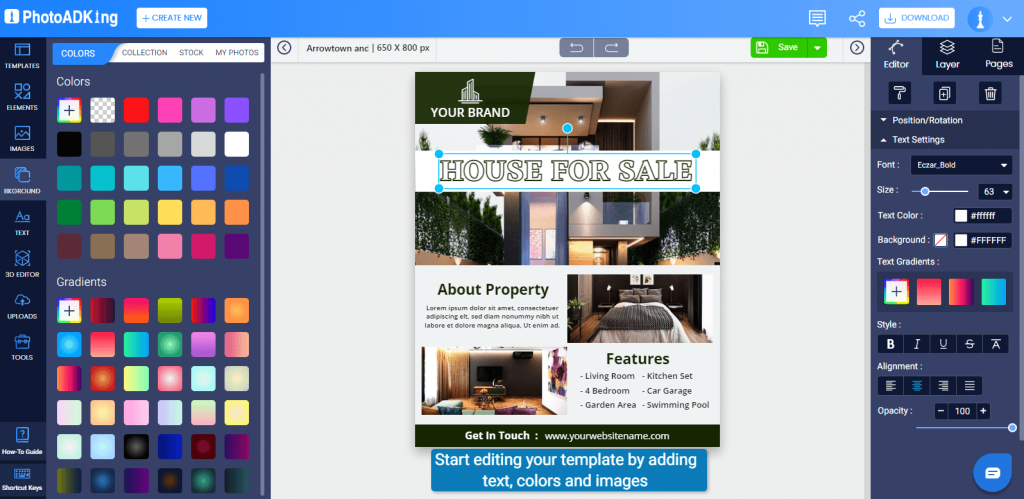 Once done editing, download and share your realtor flyer template.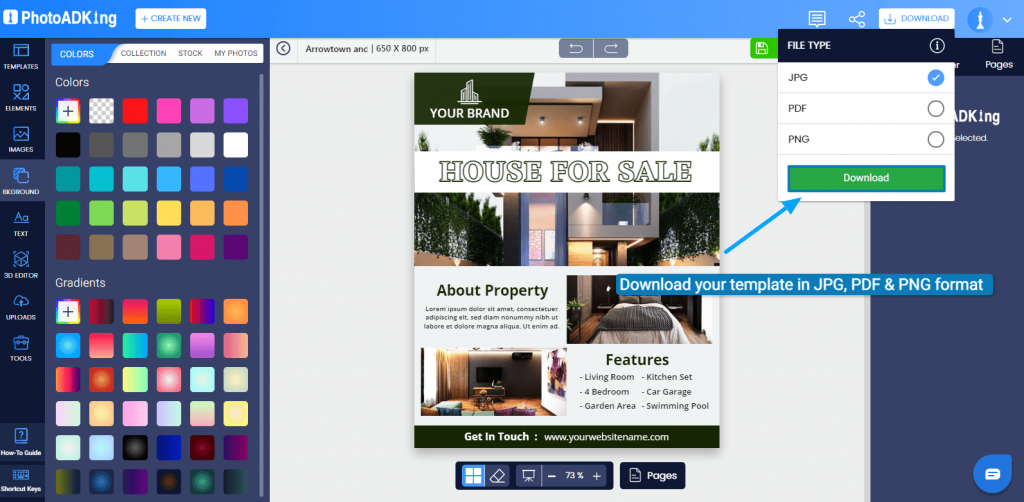 Customize Your PhotoADKing Realtor Flyer
As you pick a flyer template design, click on the same to get started. You'll view the editing screen as shown below. Perform editing of this flyer template by adding images, accessing stock images from the tool, updating the text, or doing any desired modifications.
It's better to get familiar with the interface first. Hover and click on every visible element to see what it can do. You'll get to know how you can make the best use of the same.
Next, access the Toolbar on the left panel to see what you've got to add to your flyer design. You can see graphics, illustrations, fonts, logos, and much more.
We'll now see how you can edit the text on your flyer template. Select the dummy text on your flyer design and you can replace it with custom text. Also, if you want to change the fonts then you can do it using the toolbar. You can change the font color too.
Here is how you can change the background. You may either switch to a colorful backdrop or add a high-quality image. Upload an impactful & HD image from your system or replace one from the stock image library.
Now, we'll add the logo. Upload your logo. Drag and drop & place it at the top-right or top-left of the flyer.
If you need to edit the uploaded images on the flyer template then you can do it with minimum hassle. You may edit or zoom and perform desired modifications.
Save and download your flyer design in the desired format. Look up to the top-right corner of the editor tool and you'll see a download icon. Click the same & you'll see multiple options to save your flyer template. Ideally, it is downloaded in PDF – print quality to make sure that you don't lose quality while printing your flyer.
If you are one of those who also want to get benefits like Urbane Spaces then you must need to know all real estate marketing materials that will give you wings to your business.
The Takeaway
PhotoADKing has a lot many things to bring to the table. It depends on how efficient you are in utilizing its features effectively. If you haven't heard about this tool yet then give it a try! Thank us later.