Flyers are the best in business for advertising your products and services. They're quintessential for Real Estate whether used for unveiling new projects, selling properties, or satisfying any promotion purpose. You may be an architect looking for inspirational real estate flyer examples, a well-established real estate business, a broker, an interior designer, or someone within this niche. All you need is an exceptionally dashing flyer design to flaunt your mastery.
Professional Flyer Examples Online
Online flyer makers are increasingly popular for creating & using advertising materials without much hassle. PhotoAdKing is that one tool and Its magnificent range of professionally designed Real Estate flyer templates has something for everyone. In this blog, we'll be exploring some fresh & trending real estate flyer examples. No matter what your requirement is, they'll gel like they're designed for it.
Meanwhile, if you wish to discover the range of professionally designed real estate flyer examples straightaway from here, go for it.
25 Go-To Real Estate Flyer Examples & Templates That Go Perfect
The real estate flyer examples we're about to explore are just a glimpse of the grandeur yet easy-to-use flyer templates available at PhotoADKing. If you have a creative instinct, you may go ahead & personalize yours with custom dimensions too.
Clean & Classic Real Estate Flyer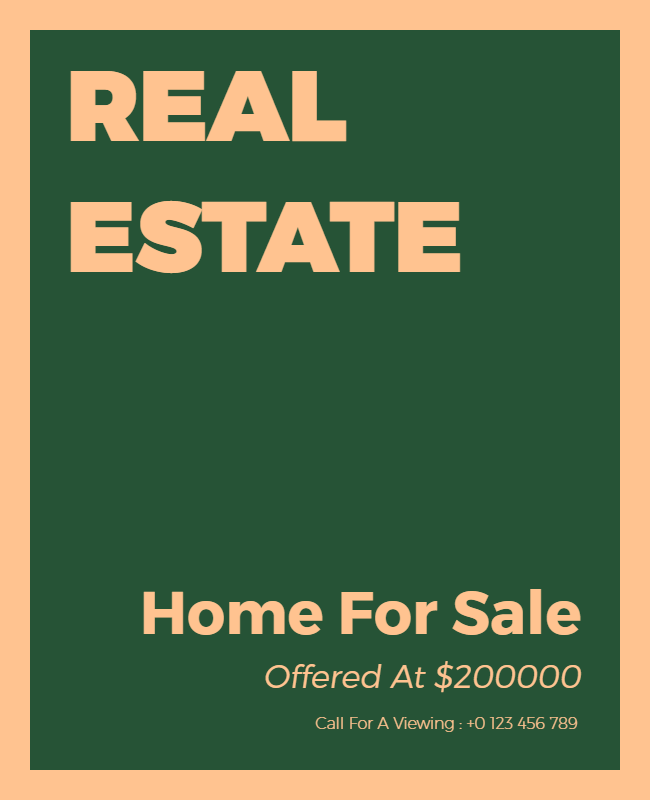 Attract your prospects with quick insights into your projects with neat & clean real estate flyers. As the name suggests, they're quite simple yet classic to highlight the key points with the least effort. It's great for beginners as well as professionals as you have to worry less about placing different elements. Just work on the content of the layout and your flyer is ready to publish.
Abstract Aesthetics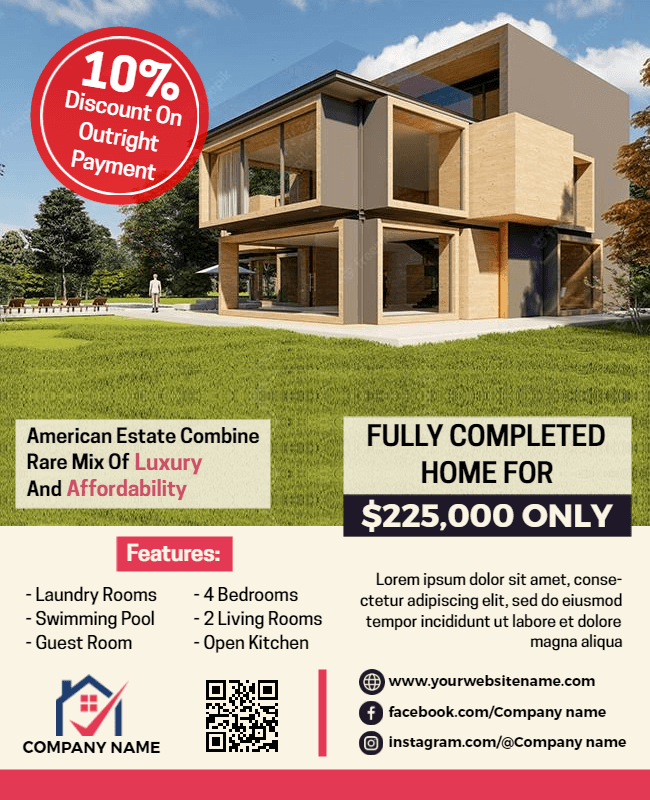 The abstract category of real estate flyer examples is mostly chosen for reflecting hard-to-understand stuff in the easiest possible manner. This goes perfectly when you're promoting your projects or properties. No matter if you have more or less information to share, abstract aesthetics will do the job.
Minimalist Real Estate Flyer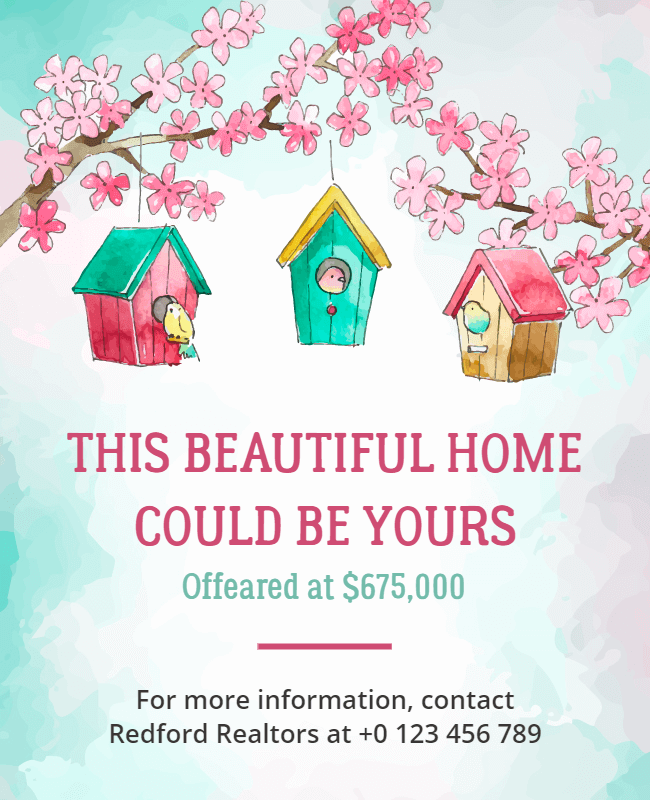 Needless to say, minimalist flyers are to-the-point. Be it about images or text details, they're clear-cut mentioned. Even though these flyers don't reveal much, they're still evergreen. All you have to do is pick a flyer design & replace the contents with yours. You seem good to go!
Real Estate Flyers With A Lot Of Images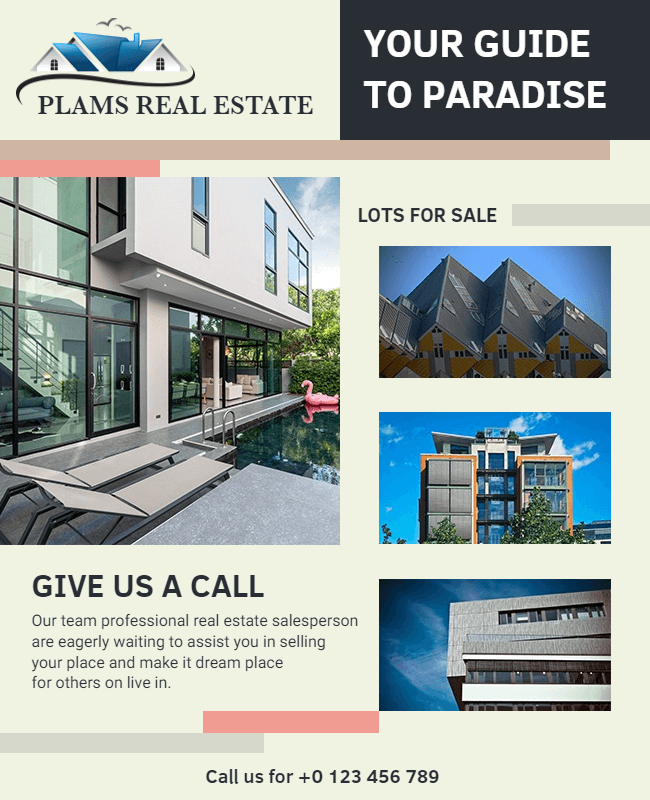 Some properties are better marketed with their images. No content can do justice to writing praises about them. If you're looking out for such real estate flyer examples dedicated to displaying more images in an uncluttered way then here's your take. Make sure to add high-quality ones from your gallery to enhance the print quality.
Modern Real Estate Coordinating Flyer Set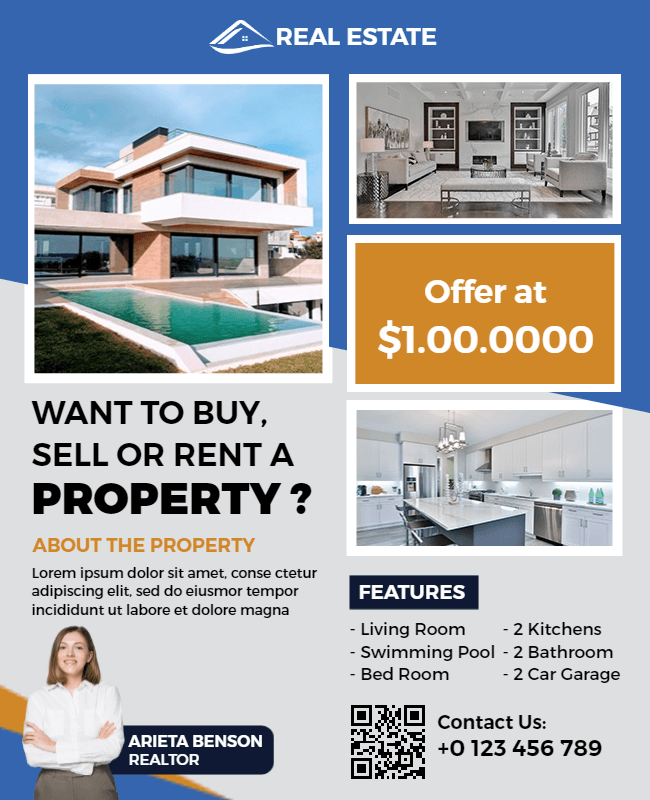 Modern Real Estate flyer examples are a combination of awe-inspiring flyer themes as well as beautiful fonts. They're the showstoppers of modern flyers that make this flyer type heart-winning at the very first glance. Flaunt your images & make the best use of graphics. You may even drive the target audience to your mobile app or site by adding a QR code to your poster design.
Simple yet Elegant Real Estate Flyers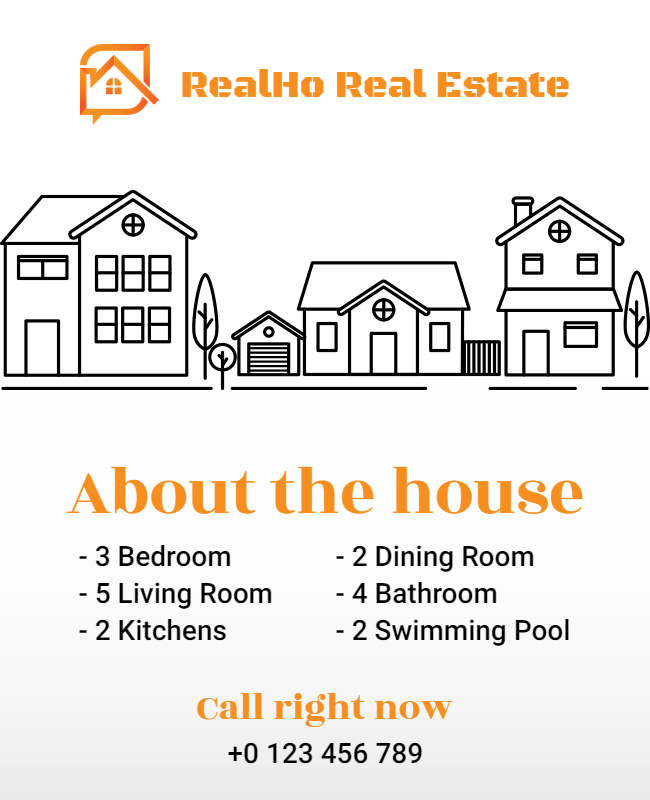 Even if modernized designs are available, many people prefer nothing over simplicity. After all, beauty is simplicity, right? Here we present simple yet popular flyers for real estate. They're handy designs best for advertising new projects, property on sale, houses on rent, auctions, and anything encompassing the real estate business.
Sleek Stylish Real Estate Flyer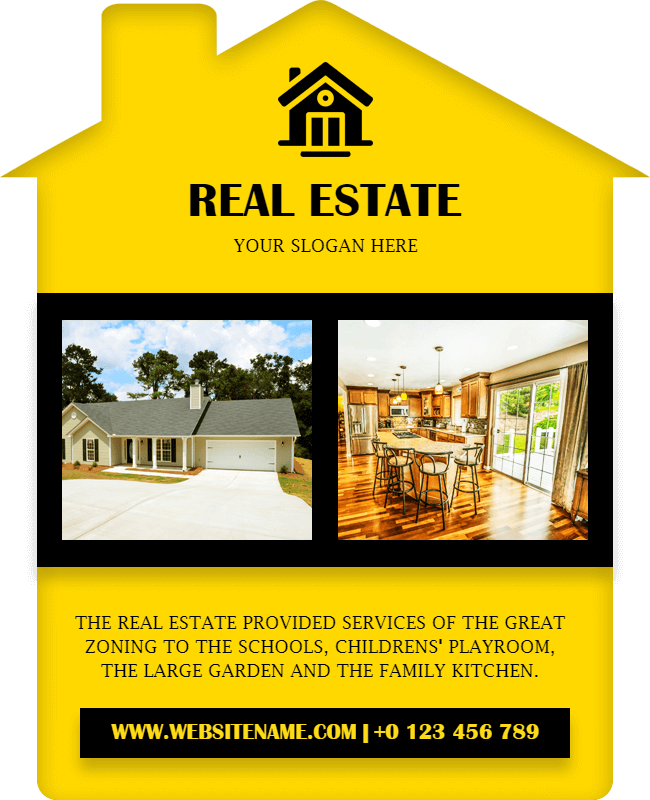 People love experimenting with their advertising strategies especially when they're associated with the Real Estate business. You may have marketed hundred times with flyers. What's new that'll stun the prospects? Try sleek and stylish real estate flyer examples and you'll never regret it. These are the poster designs with a stylish touch of graphics and content placeholders you'll surely melt for.
Bi-fold Real Estate Flyers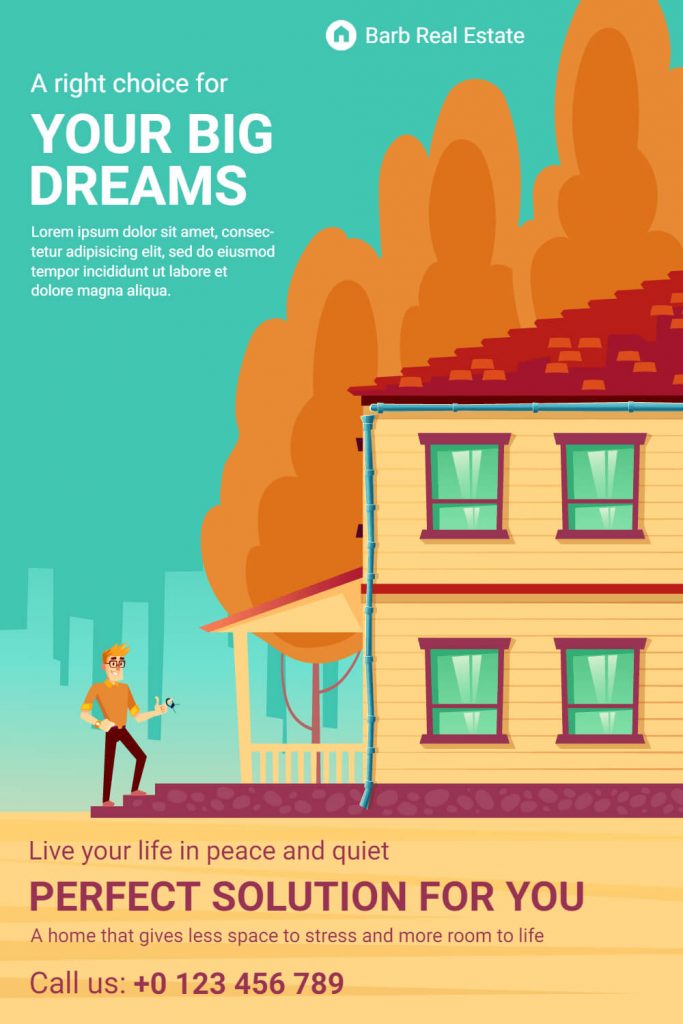 Are you willing to make a switch to a distinct flyer design? Make a good decision with bi-fold real estate flyers. These flyers become leaflets ready to contain more information with each fold. These real estate flyer examples work best for reflecting in-depth information regarding your projects or properties. In a nutshell, they're ready to contain the nitty-gritty like none. Additionally, real estate brochures can be designed to resemble bi-fold real estate flyers.
Multi-Property Real Estate Flyer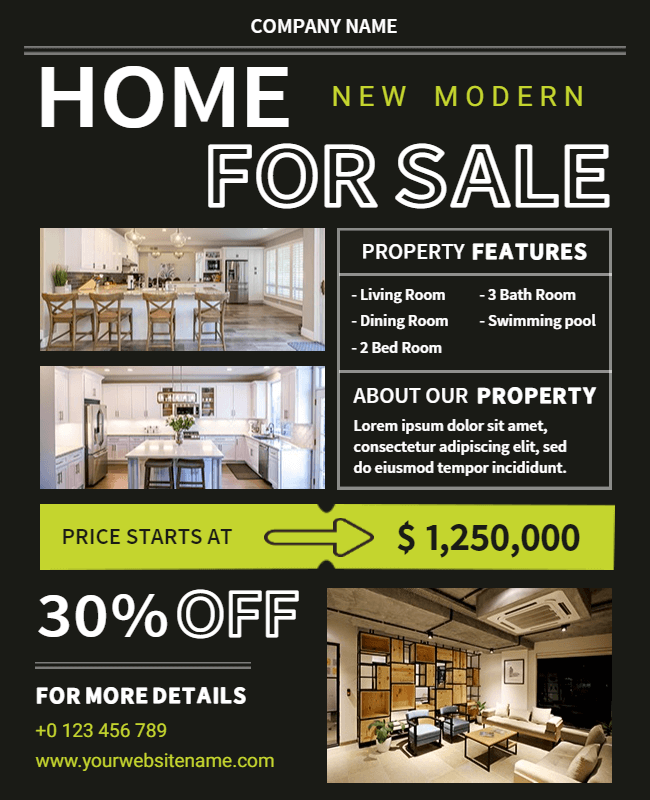 Flyer promotion can be a big benefit if you're marketing multiple properties into one. You don't necessarily need to add extra details and add images of the properties you're advertising. Multi-property real estate flyers are so welcoming to fulfill this purpose. They're predesigned to advertise multiple properties into one.
House On Rent Flyer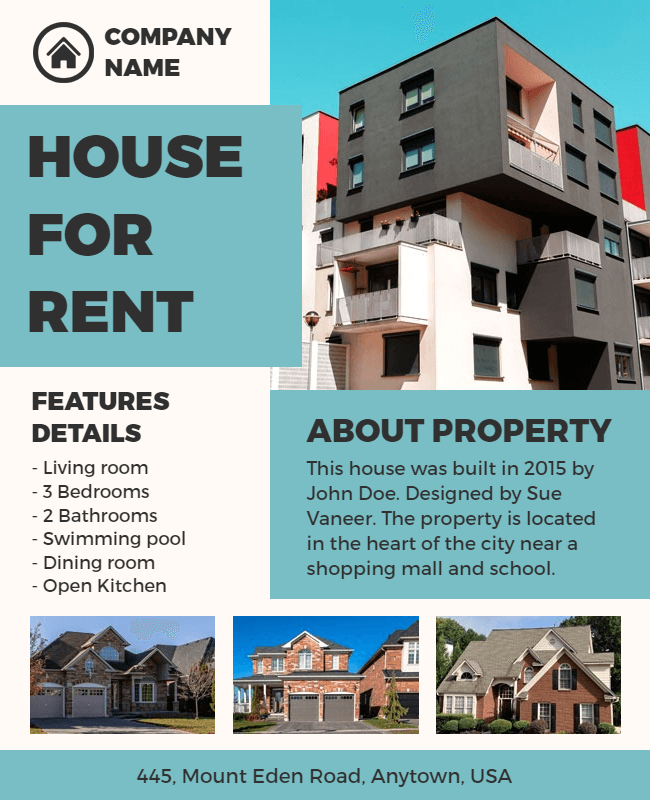 You surely need a stunning 'house on rent' type of real estate flyer example for impressing prospects to come & rent your properties. Don't underestimate the power of a bonny flyer. You can make people do things you want them to. Here are some handy poster instances ready to customize & showcase for a house on rent.
Property On Sale Real Estate Flyer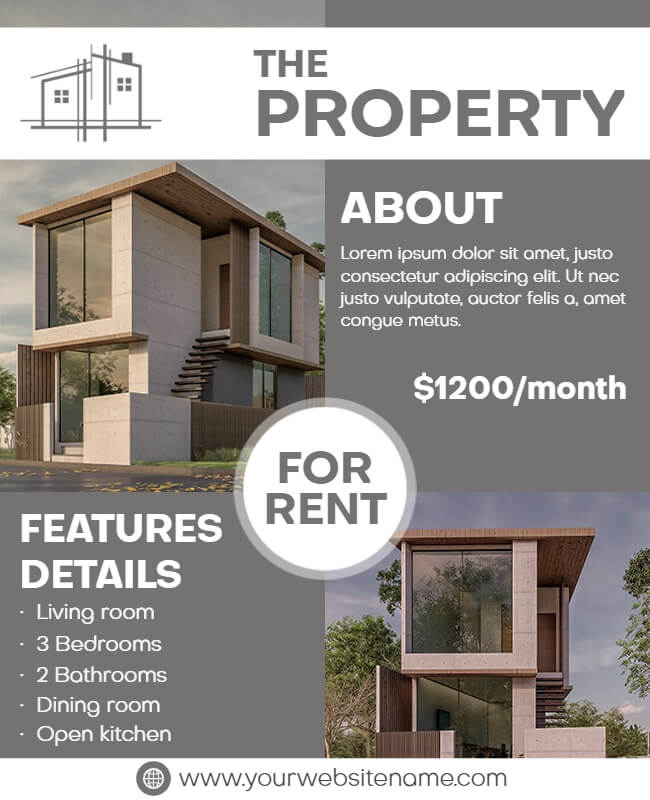 Selling a property could be a daunting task. Let's say it is a responsibility to sell a property otherwise, your money and mind will be stuck in the same. PhotoADKing's property on sale real estate flyers are made to influence. They'll amaze your prospects with the least effort invested in designing them. Have a look at breath-taking designs and customize yours in minutes.
Vibrant & Colorful Real Estate Flyer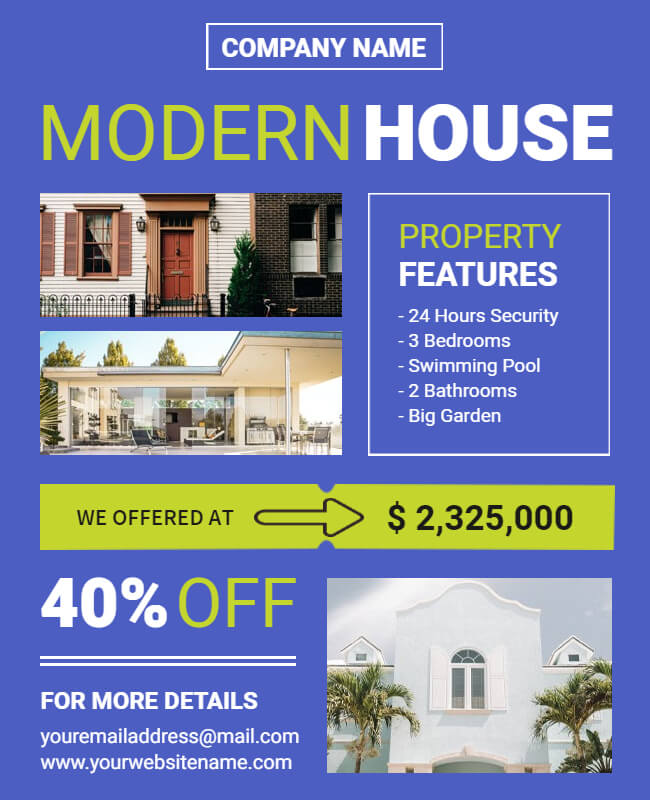 Flyers are meant to be innovative and not boring. Play with colors if you don't have to stick to a specific brand or project theme. Gradient effects & vibrant color play bedazzle the prospects with a professional appeal. You can change the look and feel of any desired flyer template by altering its color scheme. Give it a try and you'll be in awe too.
Dark Theme Real Estate Flyer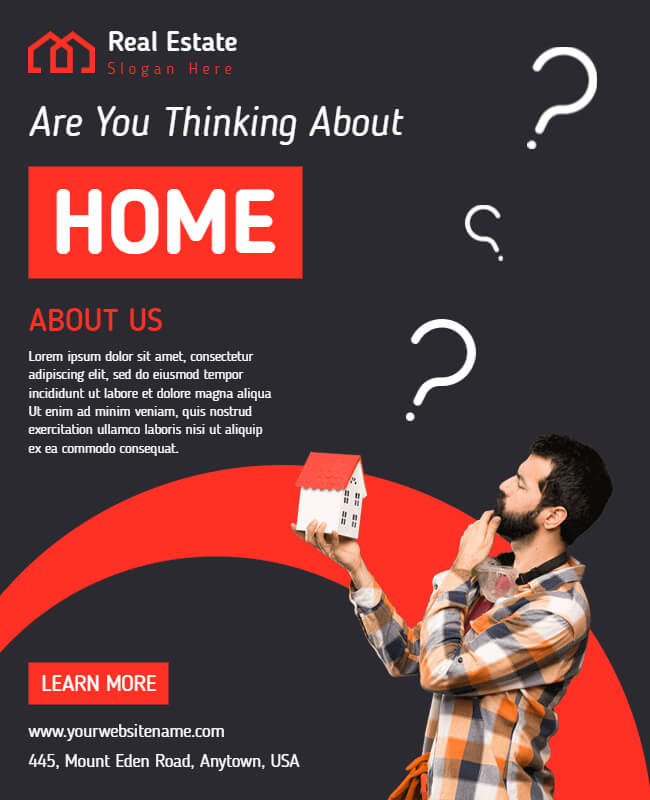 People are used-to common flyer patterns. This time, make the difference with dark theme flyers for real estate. These real estate flyer examples are for those who're willing to go offbeat and make a difference. Meanwhile, you should have a good knowledge of contrast to make it work. And, even if you aren't a graphic designer kind of person, the default dark theme flyer templates are at your rescue.
Skyscraper Real Estate Flyer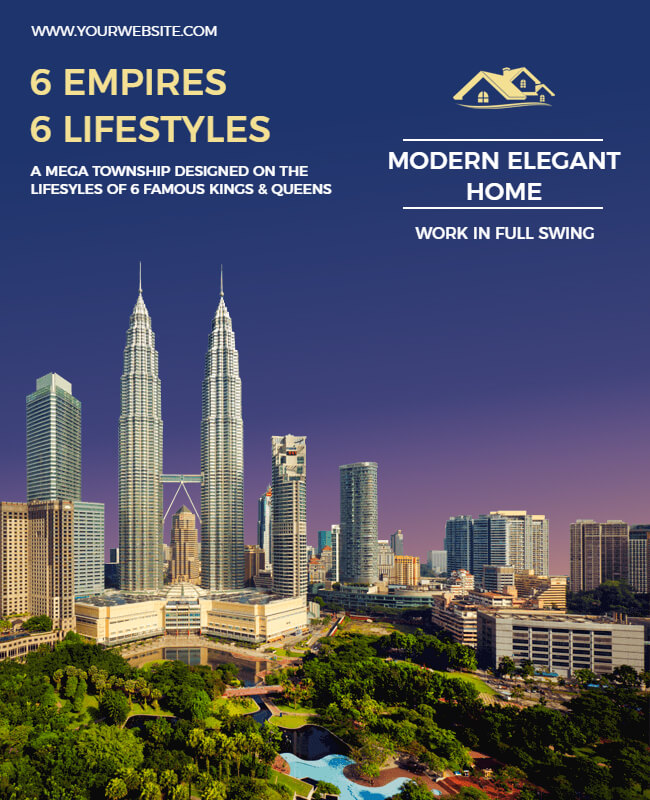 Promoting a skyscraper is a real deal because they have luxurious features that must be advertised richly. Least say, they are for a distinct class of society and your flyer must mesmerize them to head over for bookings. You'll be heavily charged by the professionals while online tools bring the exotic skyscraper flyers to your fingertips.
Single House Real Estate Flyer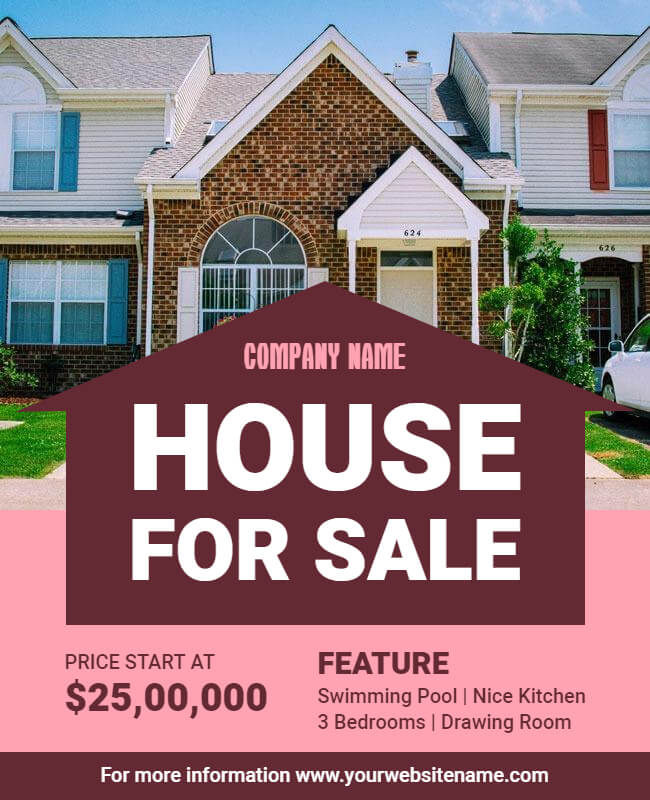 Whether you're marketing single or multiple properties, it should be an extraordinary thing. Here, for a single house, you're more specific in displaying its features and specialties. Let's say, this property is a dream for the buyer. Hence, it deserves to be promoted in a way that makes them feel the same. Explore the best-fitting real estate flyer examples for this purpose & make it happen.
Ultra Modern Real Estate Flyer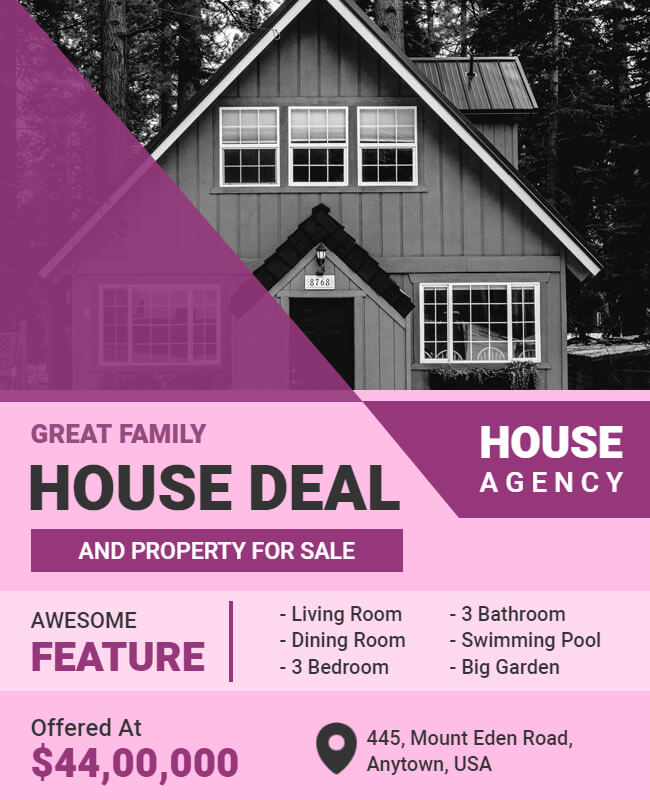 Let your project be the talk of the town with ultra-modern real estate flyers. They're straightforward in speaking class and that's exactly what you need. Add the details on the go and you're all set to flaunt them.
Informative Real Estate Flyer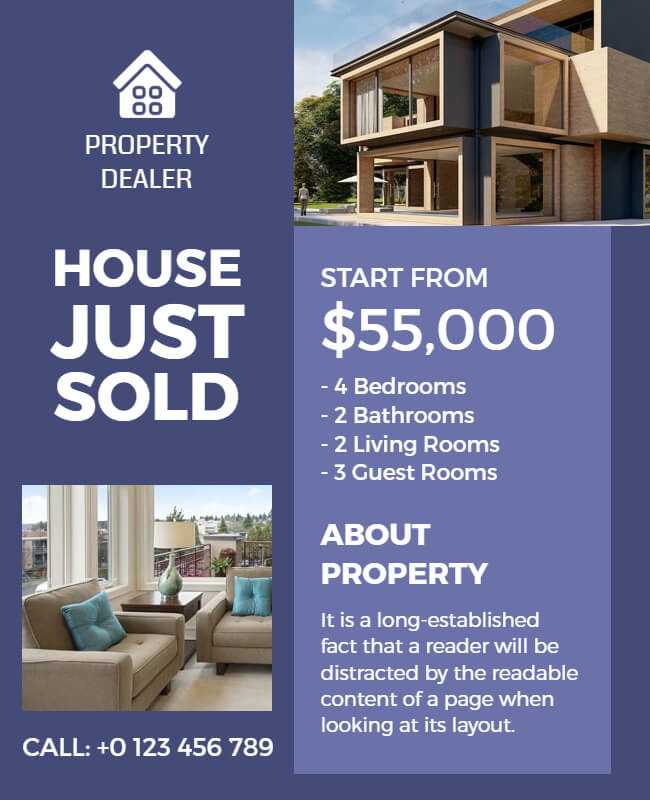 Most of the time, flyers contain bullets and minimum text only. However, it isn't necessary all the time. In the meantime, if you're willing to share more details regarding your real estate project/business then go for informative real estate flyers. Below is the perfect instance of how you can make the best use of an informative poster.
Bookings Open Real Estate Flyer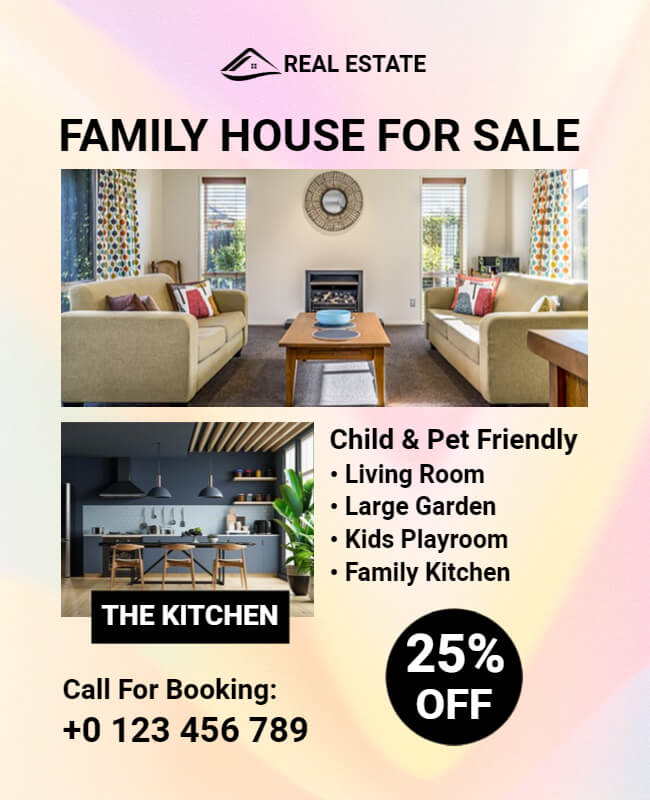 Share the good news of 'bookings open' with the fresh and trending collection of real estate flyer examples. They're so legit that your essential CTA will be clicked in the prospect's minds.
Dreamy Real Estate Flyer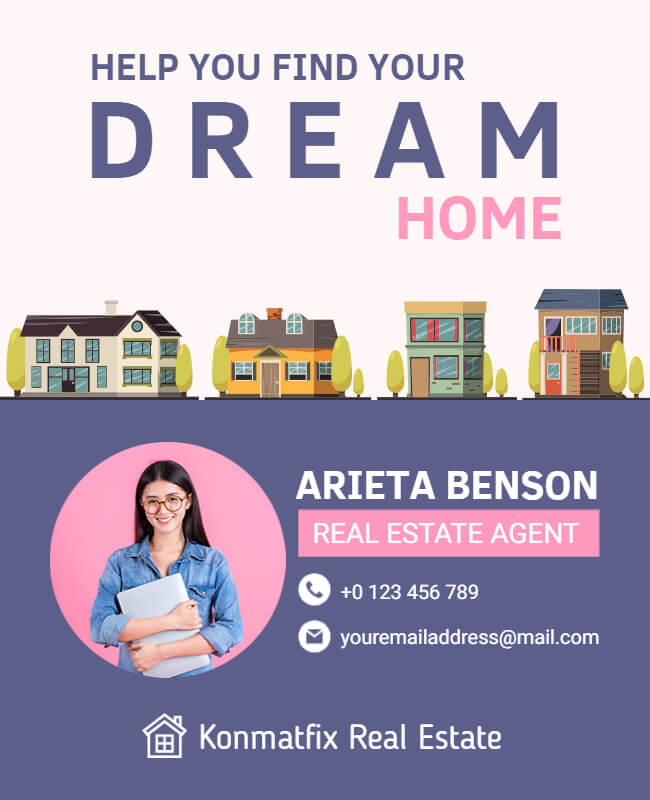 If you're searching for that one flyer design that resembles a dreamy outlook then here it is. It is unique in all aspects and our professionals have drawn inspiration from internationally loved posters for putting them at your disposal. If you have found your dream home, now is the time to invite your friends and family for a housewarming invitation. Create a housewarming invitation before you move to a new house and invite your near ones.
Auction Real Estate Flyer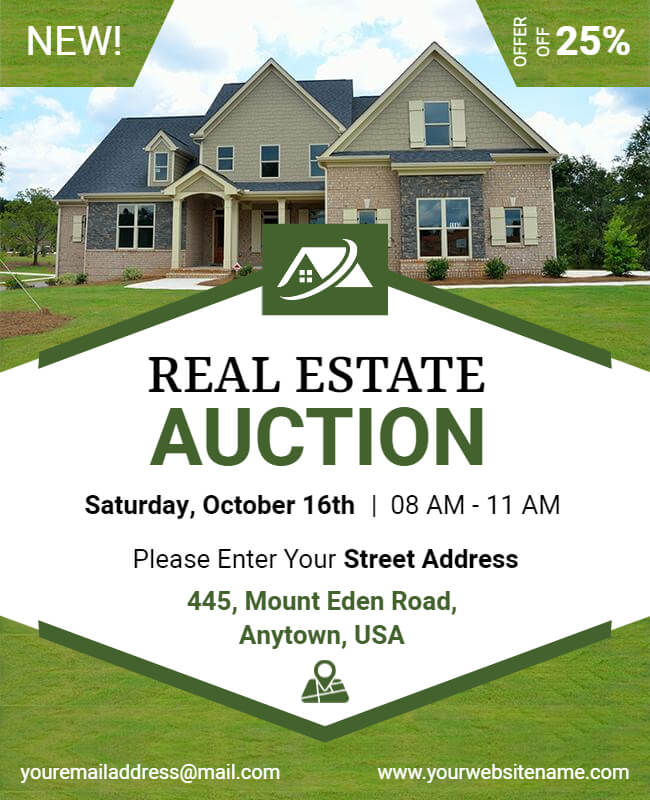 Auction is a real estate category that holds equal importance in advertising new properties. It has a distinct target audience who must be impressed by your flyer marketing. Auction flyers differ in certain ways and you don't need to think much about them. Our readymade real estate flyer examples are all set to be personalized.
Fuss-Free Real Estate Flyer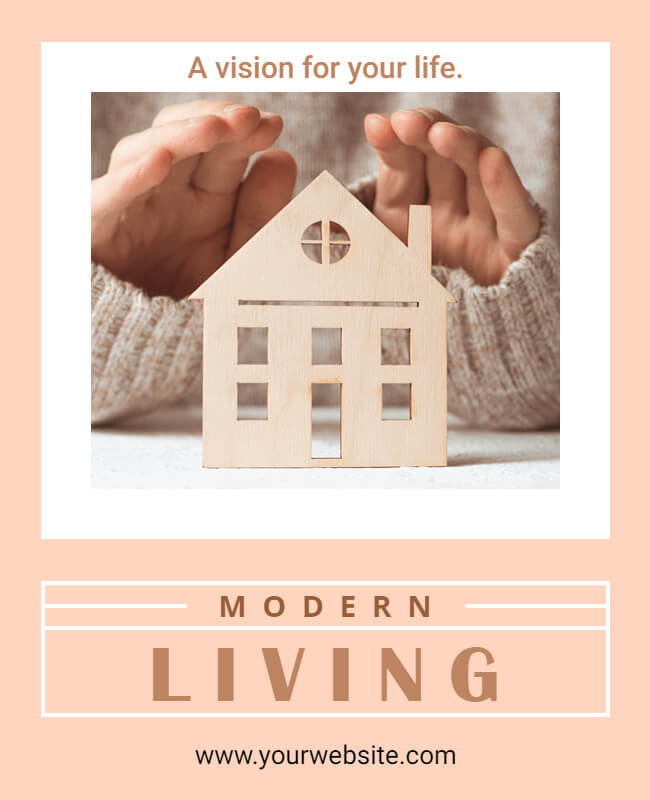 Probably the best of the flyers are those that need minimum design effort with a spectacular outcome. This goes well with fuss-free real estate flyer examples. In other words, fuss-free real estate flyers relate to those that are mess-free and uncomplicated. They're easy to design & understand by the target audience.
Double-Sided Real Estate Flyer
You can go with double-sided real estate flyers for many purposes. For instance, if you're willing to create flyers in two languages or you have details that'll take more than one side to represent. They go great with the idea of real estate listings as well as realtor promos.
Coming Soon Real Estate Flyer
Launching the first look of your upcoming project or dropping hints is so much fun. You're stirring excitement among prospects & also driving inquiries. This first impression deserves to be charming. Give it an opulent feel with unique coming soon real estate flyer ideas.
White Real Estate Flyer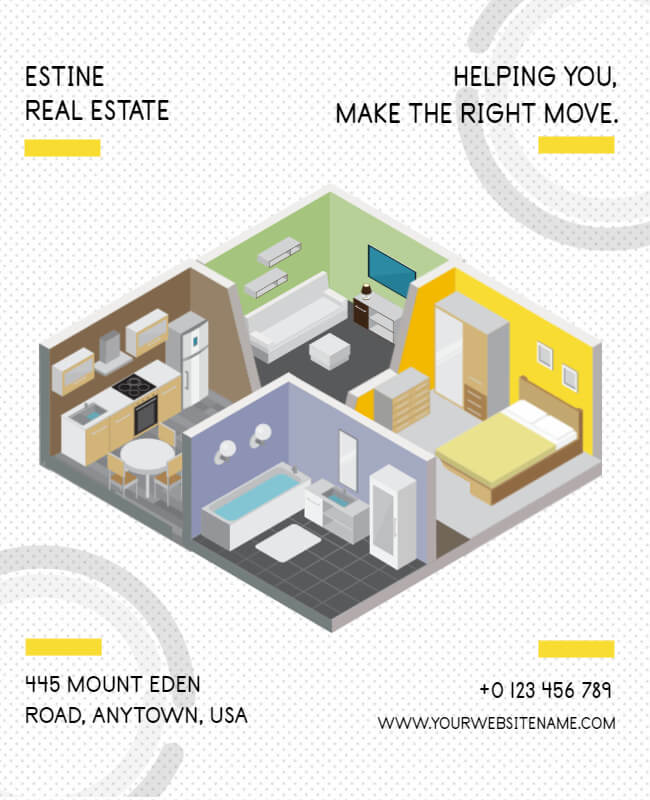 Nothing defines grace as loudly as white. Imagine a simple white backdrop with sophisticated graphics and images highlighting it. What a beauty! The best part about white real estate flyer examples is you don't have to scratch your head for color combinations. Pick any color and it will enhance the overall look and feel of a white backdrop.
Blue Real Estate Flyer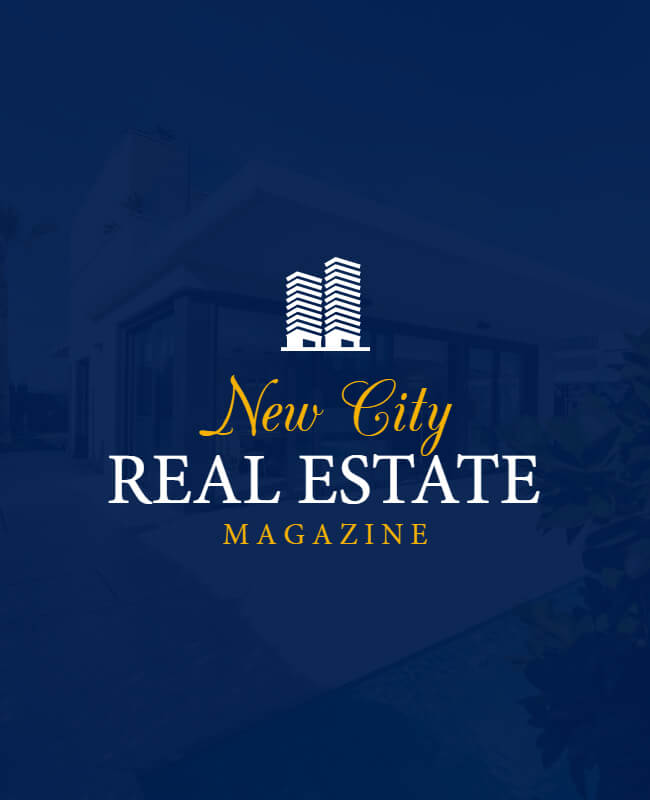 Some real estate people are specific about colors. They choose basics like blue. We would rather say that they're making a bold choice as blue never goes out of fashion. So, if you have a thing for blue flyer designs then we have abundant options to choose from.
The Takeaway
Whatever you choose, it will be a three-step process. Signup or Login to PhotoADKing, slide through flyer templates, and customize & it's print-ready. Give it a try!