Are you interested in offering your babysitting services but unsure how to make a babysitting flyer and how to attract clients? Creating well-designed and informative babysitting flyers is a great way to showcase your skills and experience.
In addition, embark on a design journey with PhotoADKing. It's a platform that helps you create eye-catching visuals that will stay in your memory.

In this article, we will guide you through the process of how to make a babysitting flyer. Also, provide tips while creating a flyer that will help you stand out from the competition.
How to Make a Babysitting Flyer: Step-by-Step Guide
Babysitting is a rewarding and popular way for individuals to earn extra income. While providing care and support for children. Moreover, to attract potential clients, it's important to create an eye-catching and creative babysitting flyers. So, let's jump into the process of how to make a babysitting flyer in just few clicks.
How to Make a Babysitting Flyer
Step 1: Open the PhotoADKing site and signup
Step 2: Search the babysitting flyer
Step 3: Choose a babysitting flyer template
Step 4: Customize your babysitter flyer template
Step 5: Save & download your flyer
Here are some steps you can follow to create a babysitting flyer for your business. Let's start designing!
Step 1: Open the PhotoADKing
Open your web browser and go to the official website of PhotoADKing at photoadking.com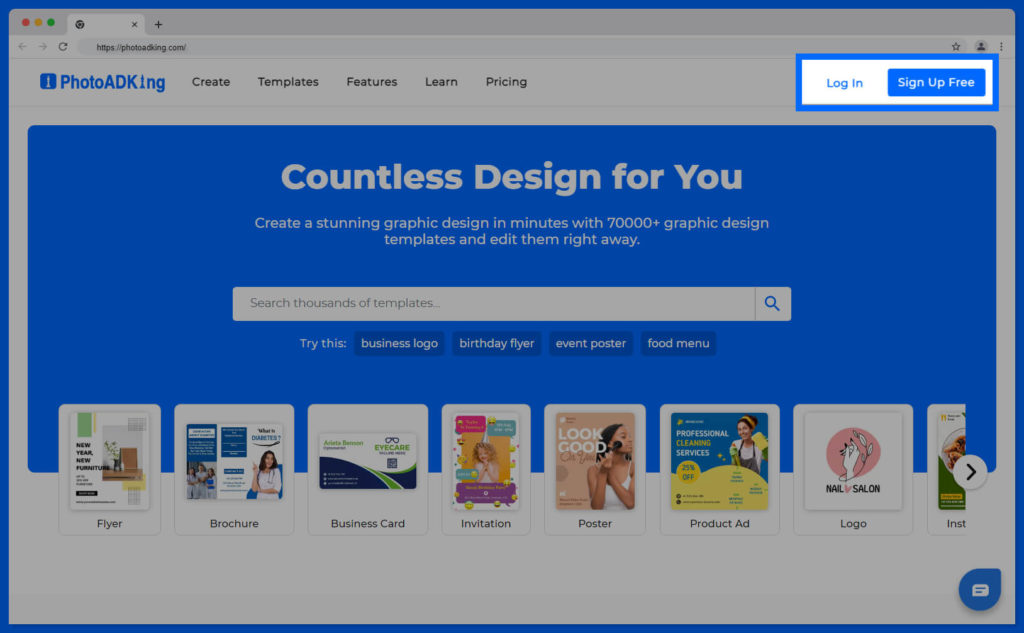 If you're a new user, click on the 'Sign Up' button and create a new account.
By providing the required details or simply logging in using your credentials.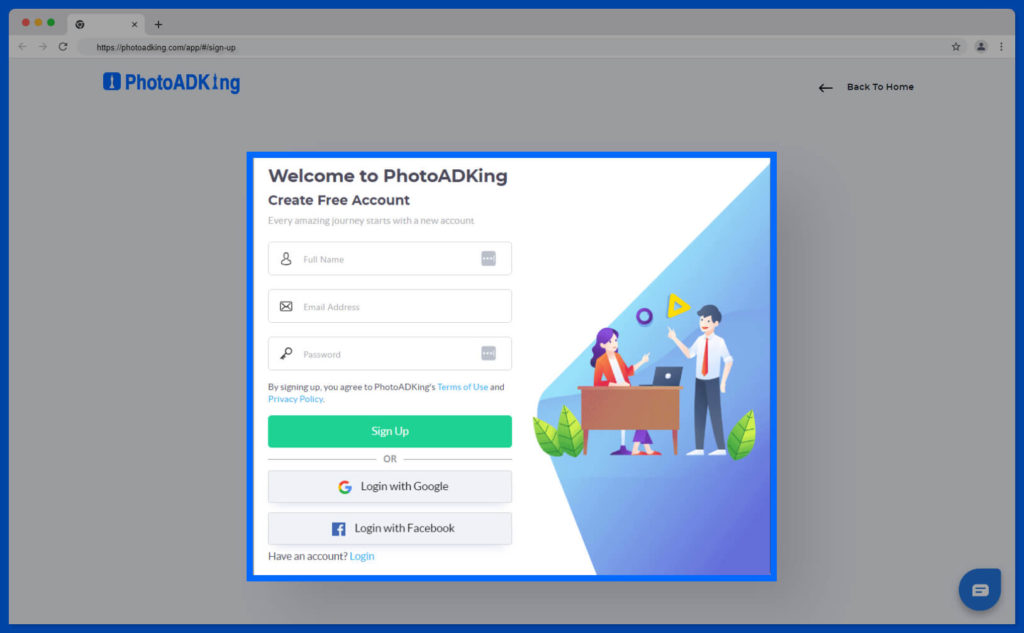 Step 2: Search for the Babysitting Flyer Templates
Once you're logged in, find the search bar and search for "Babysitting Flyer" templates on the PhotoADKing website. You can find a variety of babysitting flyer templates available on the website.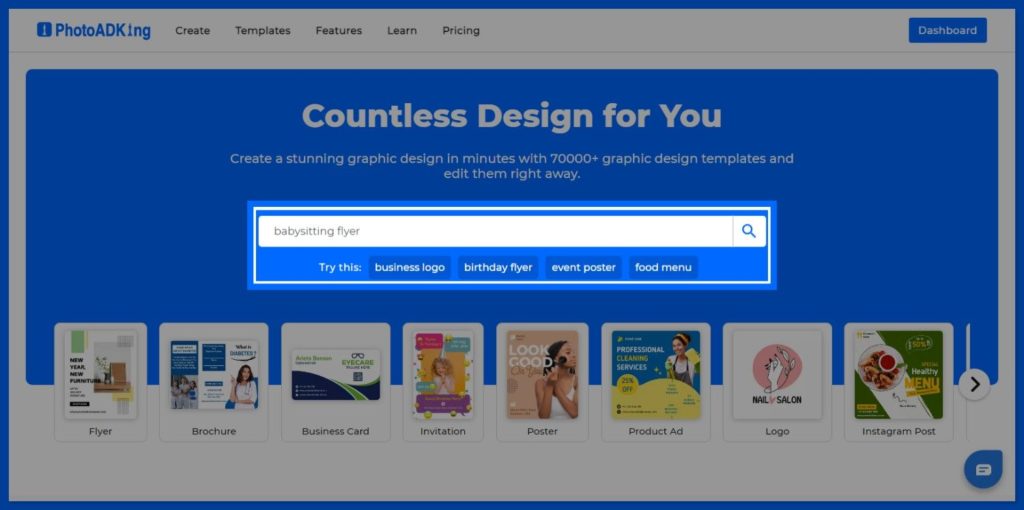 Step 3: Choose a Babysitting Flyer Template
Choose a template that fits your babysitting business. The babysitting flyer templates are pre-set at the perfect flyer size, so it will be easy to print directly if you don't want to change the size.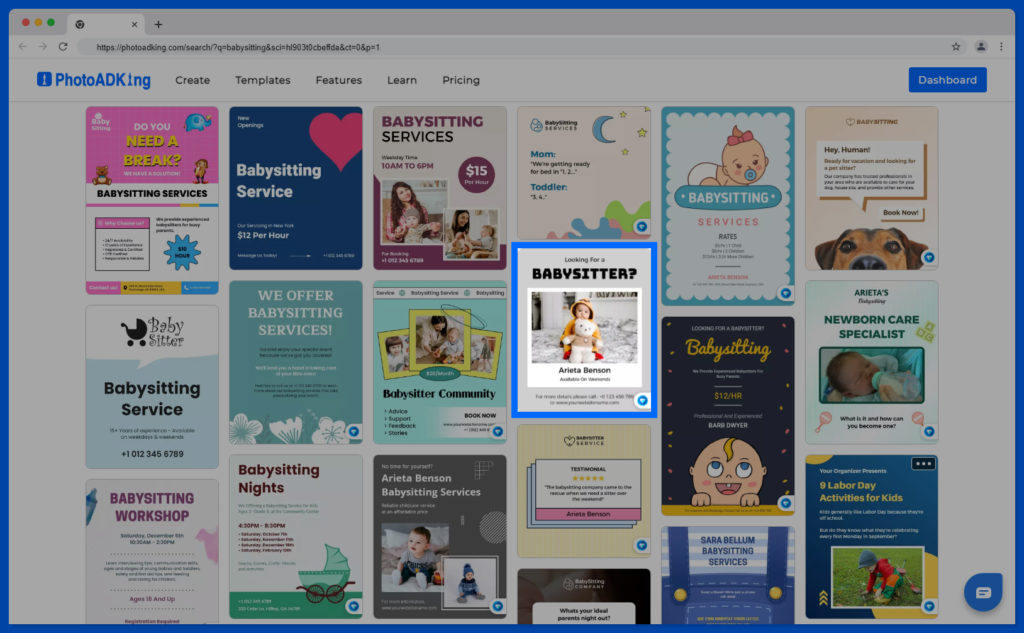 Step 4: Customize Your Babysitter Flyer Template
After selecting the template, the next step is to customize it according to your requirement.
Here are the changes we will make to this template:
Change fonts
Change the background
Also, you can change the images, and colors of the text to match your business.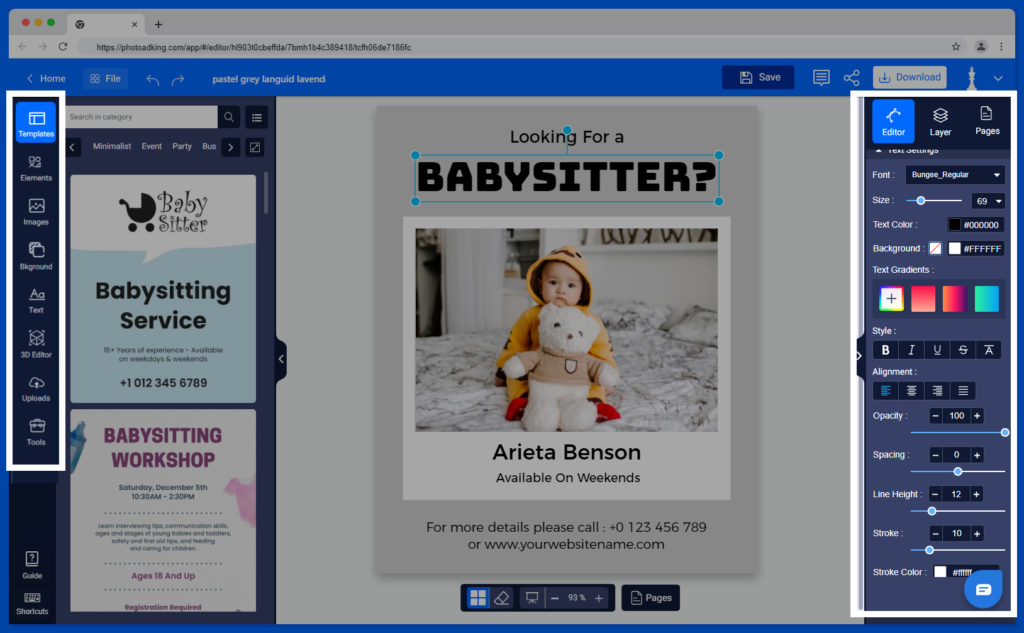 Change Fonts: Fonts play a vital role in creating appealing flyer designs. A variety of font types are at your disposal, and you also have the option to incorporate custom fonts that align with your brand's theme or business identity.
Also Read:- Best Fonts for Flyers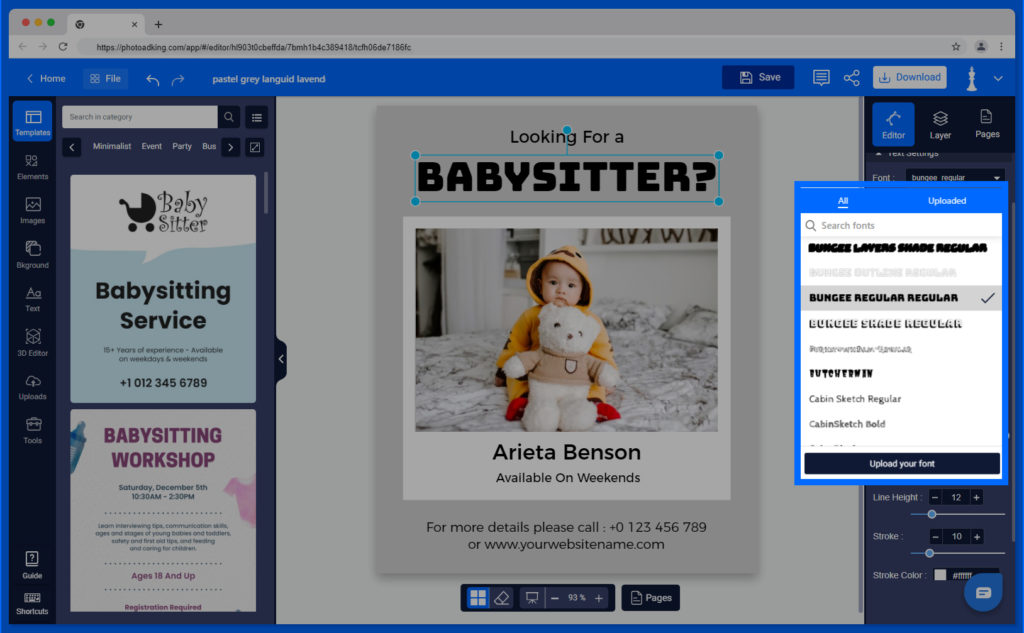 Change The Background: Changing the Background: To modify the background, simply click the background button located in the side panel. Within this section, various background color options are available. Choose the background that aligns with your brand's color scheme, or opt for a color that complements the flyer's design.
Also Read: Flyer Background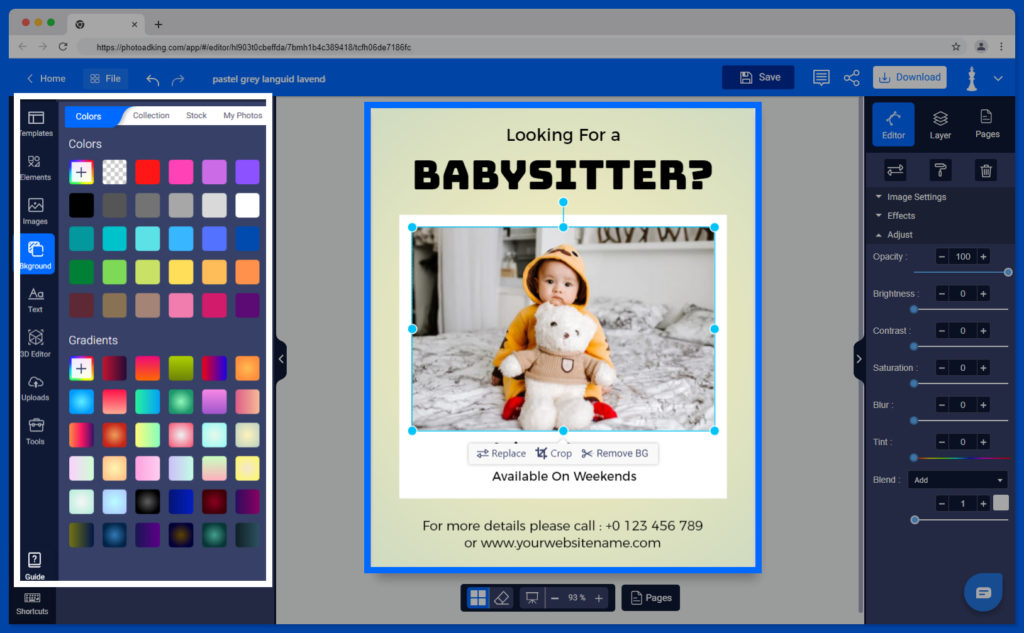 Step 5: Save & Download Your Flyer
Once you're satisfied with the flyer design, save your work and preview it.
Click on the "Download" button to save the flyer file to your computer in the desired format (e.g., PNG, JPEG, or PDF).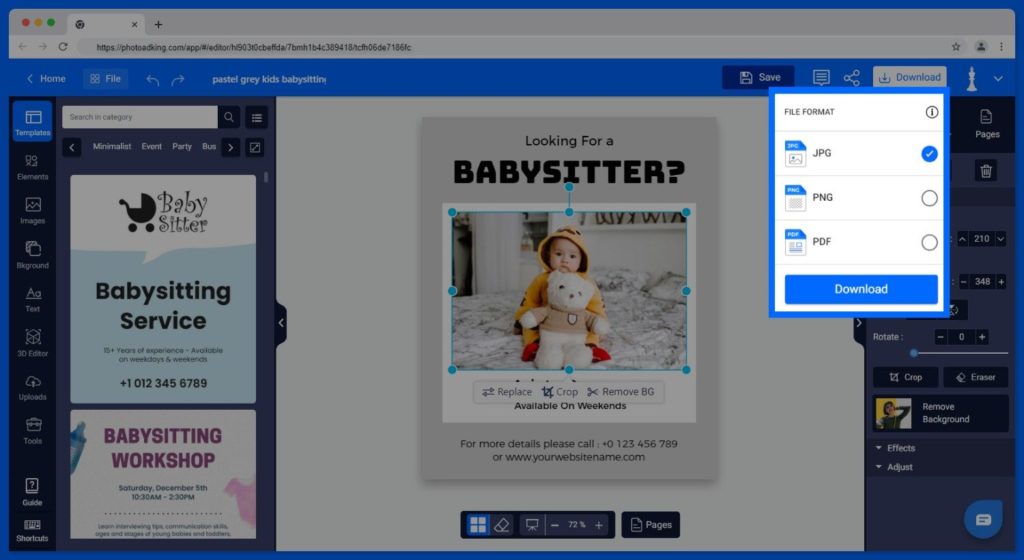 Furthermore, you can easily make them in just a few minutes. So we recommend you take a look at this article if you'd like to read more about babysitting.
Also Reads:
Creative Babysitting Flyer Ideas
Daycare Flyer Design Ideas
Quick Steps to Design Baby Shower Flyer
Preschool Flyer Ideas
Pet Sitting Flyer Ideas
Kids Menu Design Ideas
Before delving into useful tips for creating babysitting flyers, let's quickly review how to make a babysitting flyer.
I hope you found it valuable and gained some insights from it. Now, let's explore some helpful tips for creating babysitting flyers.
Some Useful Tips While Creating a Babysitting Flyers
Eye-catching headline: Begin with a catchy headline that grabs attention, such as "Experienced and Reliable Babysitter Available."
Include your contact details: Clearly state your name, phone number, and email address so interested parents can easily reach you.
Highlight your experience: Mention your relevant experiences, certifications, and any special skills you possess, such as CPR or first aid training.
Age range and availability: Specify the age range of children you can care for and include your availability, whether it's weekdays, weekends, or evenings.
Mention your location: Let potential clients know the area you cover, whether it's a specific neighborhood or a wider radius.
Emphasize safety: Assure parents of your commitment to their child's safety. Moreover, by mentioning any safety precautions you take or any security measures you have in place.
Highlight activities: Mention the fun and engaging activities you can provide for the children, such as games, crafts, or educational activities.
Conclusion
Crafting exceptional babysitting flyers is essential for attracting clients and standing out in a crowded marketplace. Also, by following the tips outlined in this guide. You'll be well on your way to creating a flyer that captures attention, showcases your skills, and helps you outrank. Besides, a well-designed and compelling flyer is a powerful tool for growing your babysittings business. Moreover, you can use this amazing PhotoADKing's flyer maker to create a flyer on your own. It will ease your work and give you the best flyer.
FAQs
How do I create a babysitting flyer that stands out?
To make a good babysitting flyer, use eye-catching colors and fonts, add attractive images, and highlight keywords such as "Babysitting service" and "babysitter flyer" in headings to grab attention.
What should I do after customizing the babysitting flyer?
Once you've customized your babysitting flyer, review it for any errors or changes. Then, save the final version and consider printing copies to distribute physically or sharing it online through social media or email.
Can I share my babysitting flyers on social media?
Yes, sharing your 'babysitting flyers' on social media platforms can help reach a broader audience. Be sure to use relevant hashtags like #babysitting and #babysitterflyer to increase visibility.

What size should my babysitting flyer be?
The standard size for a babysitting flyer is 8.5 x 11 inches. Make sure to use bold headlines and relevant keywords like 'babysitting service' to catch the reader's eye.
Can I customize the text and images in a babysitting flyer template?
Yes, most babysitting flyer templates are editable. You can customize the text, name, contact information, and services offered, and add images that represent your babysitting business.
What information should I include in my babysitting flyer?
Include your name, contact information, services offered (e.g., babysitting, age range, available hours), and any relevant qualifications. Don't forget to mention 'Babysitting service ' and 'Babysitter flyer' in your description.