Do you want to create attention-grabbing daycare flyers that stand out from the competition?
If you're a trained qualified caretaker looking to promote your services, creating a flyer is an effective way to reach potential clients. But with so many flyers out there, it can be difficult to stand out from the crowd. That's why we have curated some daycare flyer ideas and examples that can help you create daycare flyers.
If you want daycare flyer design on your own then try using PhotoADKing's flyer maker is a great choice for you. With its user-friendly interface, surely you can easily create a stunning daycare flyer.
In this article, we'll look at some daycare flyer ideas, examples, and important information, as well as how to choose your best daycare flyer design for making eye-catching daycare flyers that promote your daycare services and help you stand out from the crowd.
Table Content
Daycare Flyer Ideas & Examples
Getting inspiration to create your own daycare flyers with exploring a range of daycare flyer ideas can be incredibly valuable. These examples showcase various design approaches, and color schemes capturing the attention To make the process even more efficient, you can also explore a variety of these daycare flyer templates available online. These templates provide a solid foundation, allowing you to customize and personalize the design of your daycare flyer.
Nurturing Early Daycare Development Flyer
This flyer is thoughtfully crafted to visually reflect the warmth and care we provide. With soothing colors and a clear layout, the flyer aims to convey the safe and engaging environment we offer for your child's growth and learning.
Basic Daycare Center Flyer
The basic daycare center flyer is simple and clear, making it easy to understand at a glance. Also, with child-friendly visuals and organized information, the flyer effectively communicates the essential details about our daycare services.
Daycare Service Flyer Ideas
Service flyer of daycare is all about using colors and pictures that show happy children engaged in various activities. The design aims to give a glimpse of the fun and safe space where kids can learn and play.
Family Daycare Flyer Ideas
It showcases the warmth of a family-centered daycare on your flyer. Highlight the personalized care, cozy environment, and nurturing approach that sets your family daycare and homely atmosphere for their children.
Children Simplistic Daycare Flyer
Capture the essence of childhood innocence with a simplistic daycare flyer design. It also utilize vibrant colors, playful fonts, and joyful imagery to communicate the fun and educational experiences your daycare offers.
Minimal Design Daycare Flyer Idea
A sleek, minimalistic daycare flyer using clean lines, an open layout, and subtle colors. Also, this appeals to parents valuing simplicity and sophistication in childcare.
Creative Daycare Solutions Flyer Idea
Make your daycare stand out with a creative solutions flyer! Colorful and engaging, our flyer showcases how we provide a nurturing environment for kids to learn and play.
Child Daycare Service Advertising Flyer
Advertise your services of child daycare through this informative flyer. With vibrant visuals and clear details, we highlight the safe and educational space we offer for your children. Trust us to care for your kids while providing a fun learning experience.
Senior Daycare Center Flyers Idea
Highlight your senior daycare center through this inviting flyer! We emphasize companionship and tailored care for older adults. So this flyer uses clear fonts, warm color schemes, and images that reflect a nurturing environment.
Daycare & Preschool Hiring Flyer
Promote your daycare's career opportunities with a vibrant hiring flyer for daycare. Also, showcase the joyous environment, nurturing staff, and growth prospects, enticing educators and caregivers to join your dedicated team.
Advance Institute for Child Care Flyer Idea
Introduce an innovative and advanced institute childcare flyer, highlighting specialized curricula, modern facilities, and expert faculty. Also, empower parents with the assurance that their children will receive top-tier education and care.
Daycare Centre for Seniors Flyer
Elevate the concept of daycare by offering a welcoming flyer for a senior-focused center. Also, it includes engaging activities, personalized attention, and a supportive community that ensures seniors' well-being and enjoyment throughout the day.
Early Learning Preschool Flyer Idea
Early Learning Preschool flyer shows bright colors, playful fonts, and joyful images that reflect the exciting world of exploration and growth that awaits young learners. So keep it simple yet engaging, and stimulating educational environment.
Nursery Kids Daycare Flyer Idea
Capture the essence of your daycare's environment with a charming nursery-themed flyer. Interactive learning, and safe haven your daycare offers, inviting parents to entrust their little ones to a space that feels like a second home.
Daycare with Child Development Flyer
Present your daycare as a hub for child development through a purposeful flyer. So it shows a balance of play and education, underscoring the cognitive, social, and emotional growth children experience under your attentive guidance.
---
Key Information to Include
In order for your daycare flyer design to be effective, it is important to include key information. Here are some of the most important details to include:
Contact Information: Specifically, make sure that families have a way to get in touch with you. Include a detail such as your phone number, email, and physical address.
Offered Services: Let families know what services you offer, such as after-school programs, preschool, and more.
Operating Hours: Let families know what hours you are open for business.
Apart from this, there are a few more things to keep in mind such as the Name and location of the daycare center, the Age range of children accepted, Qualifications of the staff (e.g. certifications, experience), Safety and security measures in place, Tuition and payment options, Availability for tours or open house events, and Unique features or programs offered by the daycare center.
How to Make a Daycare Flyer?
You're probably wondering how and where I can easily produce a flyer for my daycare flyer. With the use of PhotoADKing's awesome flyer maker, which offers a tonne of flyers, high-quality images, stickers, and incredible editing capabilities, also you can create your daycare flyer quickly and easily. Surely by taking these steps, you can make your daycare flyer.
1. Open PhotoADKing and Login or Sign up
2. Search for Daycare Flyer Template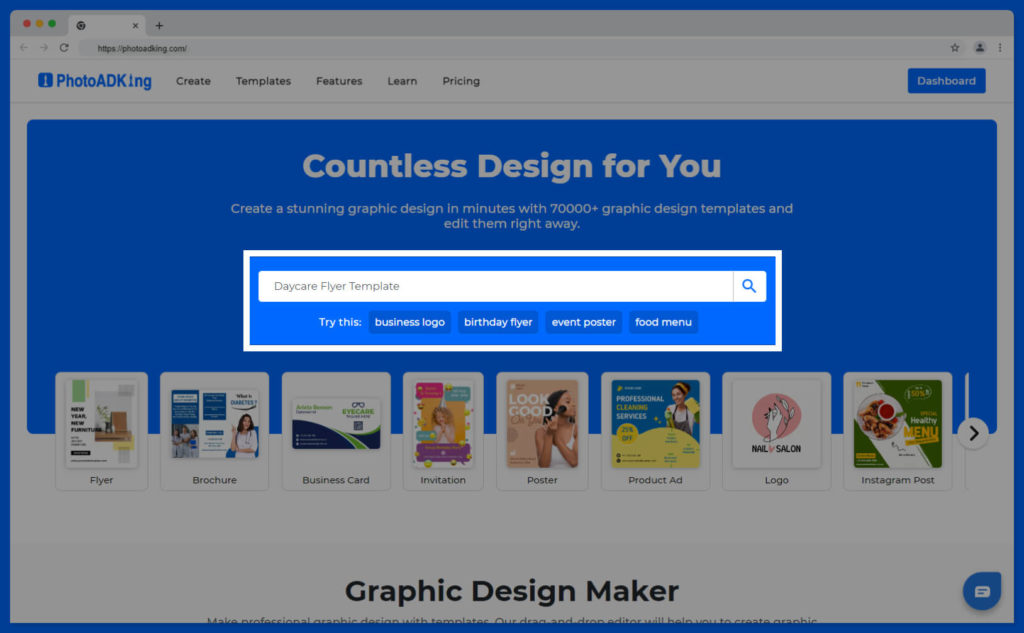 3. Select a Daycare Template Flyer
4. Customize Your Daycare Flyer Design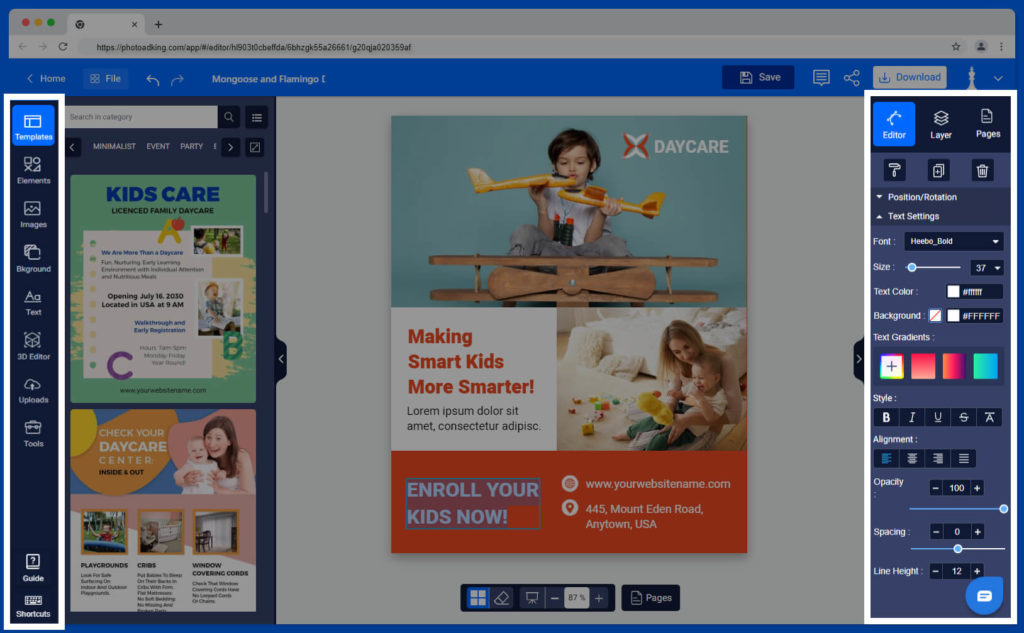 5. Download, Print, and Share Your Daycare Flyer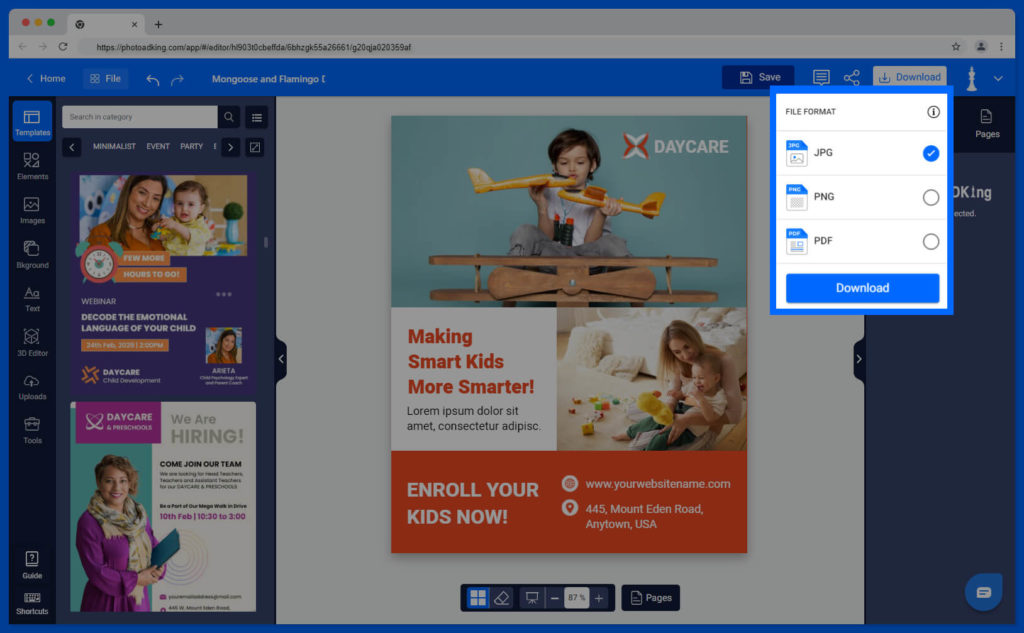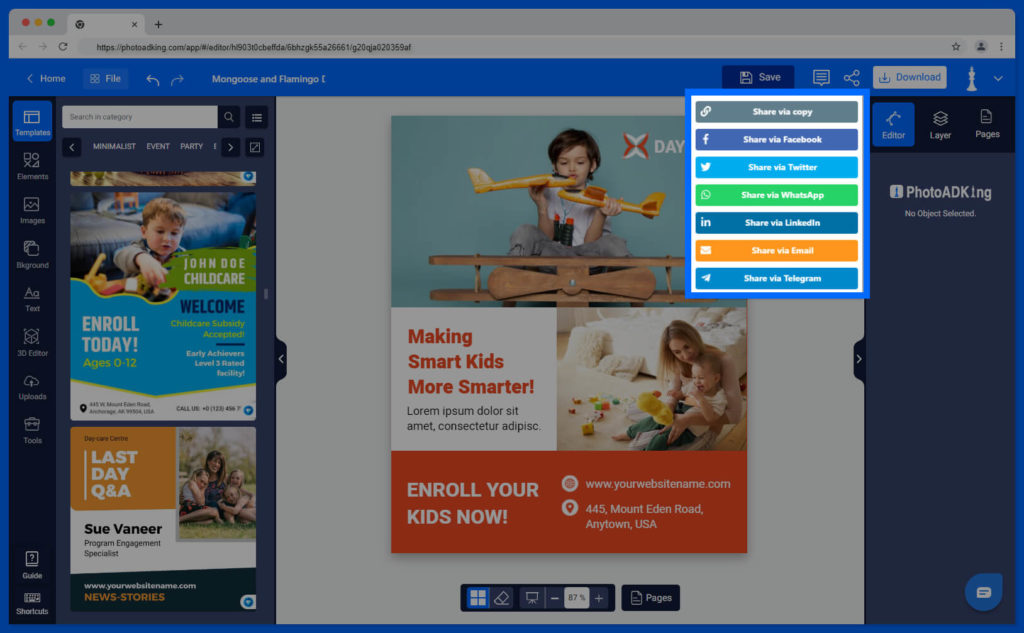 By following these 'how to make a daycare flyer' steps you are on your way to creating a daycare flyer that stands out. Remember that a well-designed daycare flyer not only promotes your services but also builds trust and credibility, which leads to improved consumer involvement and company success.
---
Effective Methods for Sharing Your Daycare Flyer
Once your daycare flyer is designed and printed, it's time to share it with families. Here are a few effective methods for sharing your daycare opening flyer:
Direct Mail: You can send flyers to prospective parents via direct mail, either individually or as a mass mailing.
Social Media Platforms: Share your daycare flyers on social media platforms such as Facebook, Instagram, and Twitter to reach a wider audience.
Online Listings: Post your daycare flyers on local online directories and classifieds such as Craigslist, Google My Business, and local parenting forums.
Local Businesses: Surely, you can share with partners or, local businesses to distribute your daycare flyers in their stores or display them in their windows.
Community Centers: Additionally, distribute your daycare opening flyers at local community centers, libraries, and other public places where parents may be gathering.
Friends & Family: Surely you can share your daycare flyers with friends, family, and other local parents who may know someone in need of daycare services.
School Partnerships: Simultaneously, Consider partnering with local schools to distribute your daycare opening flyers to parents of school-aged children.
---
In Conclusion
Crafting an outstanding daycare flyer design goes beyond aesthetics, it's about effectively communicating the value of your childcare services to your target audience. By implementing the aforementioned design ideas, you can create captivating and informative flyers that not only stand out but also resonate with parents seeking reliable daycare options for their children. Remember, a well-designed flyer is a powerful marketing tool that can drive inquiries, boost enrollment, and also solidify your position in the competitive daycare industry.
Creating an attractive daycare flyer can be challenging, but with the help of tools like PhotoADKing, you can easily design eye-catching flyers. Start by selecting a relevant flyer template, then customize it with your event details, theme, and graphics. Finally, download or share your flyer instantly
FAQs