In today's competitive business landscape, it's crucial to have effective marketing materials that can grab the attention of potential customers. A well-designed tri-fold brochure can do just that. Whether you're promoting a new product, advertising an upcoming event, or showcasing your services, a tri-fold brochure can convey your message concisely and professionally.
With the right tools and design, you can create professional-looking tri-fold brochure templates that capture the essence of your journey. In this article, we will discuss how to create an effective tri-fold brochure, from design tips to printing considerations.
The Importance of a Tri-Fold Brochure
A tri-fold brochure is a valuable marketing tool that can be used by businesses to promote their products or services. It is a printed piece of paper that is folded twice, creating three panels or sections on each side of the paper. The brochure can include information such as company history, product features and benefits, pricing, and contact details. You can also consider this guide on brochure importance for more information.
One of the main advantages of a tri-fold brochure is its compact size, which makes it easy to distribute to potential customers at trade shows, conferences, or other events. Unlike digital marketing materials, brochures are tangible and can be easily taken home or passed on to others, allowing for continued exposure to your brand.
Additionally, tri-fold brochures allow for a visually appealing layout that can capture attention and convey important information in an organized and concise manner. By using high-quality images and graphics, businesses can create a professional and engaging design that showcases their offerings.
Overall, a well-designed tri-fold brochure can help businesses establish credibility with potential customers, increase brand awareness, and ultimately drive sales.
Things to Consider Before Making a Tri-Fold Brochure
When creating a tri-fold brochure, there are several key factors that you should consider to ensure that your brochure is effective in conveying your intended message to your target audience. These factors include:
Purpose and Audience
Clearly define the purpose of your brochure and identify your target audience. Consider what information you want to communicate and who you are trying to reach with your brochure. Understanding your purpose and audience will help you make decisions about content, layout, and design elements.
Content
Decide on the content you want to include in your brochure. This may include text, images, graphics, and other visual elements. Make sure your content is clear, concise, and relevant to your target audience. Avoid cluttering your brochure with too much information, and focus on the key messages you want to convey.
Layout
Consider the layout of your brochure carefully. A tri-fold brochure typically has six panels, including a front cover, a back cover, and four internal panels. Plan how you will organize your content across these panels to create a logical flow of information. Use headings, subheadings, and bullet points to make your content easy to read and understand. Also, consider brochure size and dimensions. For that, you can read the guide on standard brochure size and dimensions.
Recommended Read:

Tri-Fold Brochure Layout
Tri-fold Brochure Size
Design and Branding
Your brochure should reflect your brand identity and be visually appealing. Choose colors, fonts, and images that are consistent with your brand and convey the desired tone or mood. Use high-quality images and graphics to enhance the visual appeal of your brochure, but be mindful of file sizes to avoid slow loading times.
Call to Action
Your brochure should have a clear call to action that tells your audience what you want them to do next. Whether it's to visit your website, make a purchase, or contact you for more information, your call to action should be prominent and easy to follow.
Printing and Paper Quality
Consider the printing and paper quality of your brochure. Choose a high-quality printing method and paper stock that complements the design and content of your brochure. The right printing and paper quality can greatly impact the overall look and feel of your brochure.
Proofreading and Editing
Finally, make sure to thoroughly proofread and edit your brochure for grammar, spelling, and formatting errors. Mistakes can undermine the credibility of your brochure, so take the time to review and revise your content carefully before printing.
By considering these key factors, you can create a well-designed and effective tri-fold brochure that effectively communicates your message to your target audience.
Step-by-Step Guide on How to Make a Tri-Fold Brochure
You can use PhotoADKing's tri-fold brochure maker to create an attractive tri-fold brochure, so follow the below steps.
Step 1: Sign Up or Log In to PhotoADKing
Go to the PhotoADKing website and click on the "Sign Up" button to create a free account. If you already have an account, you can simply log in using your credentials.
Step 2: Search for the "Tri-Fold Brochure" Template
After logging in, use the search bar to look for "Tri-Fold Brochure" templates. PhotoADKing offers a variety of templates to choose from.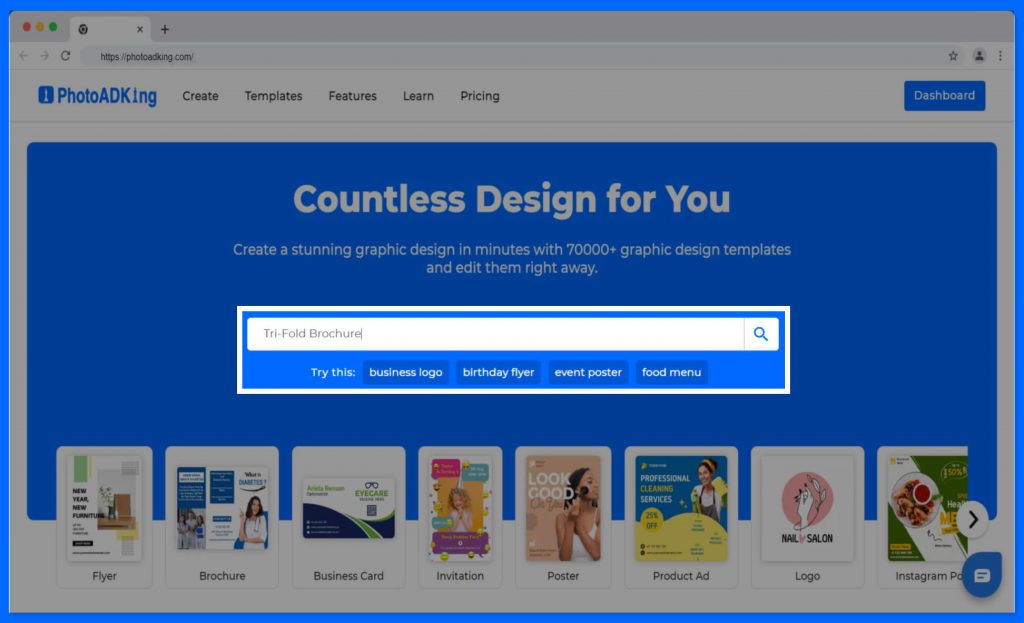 Step 3: Choose a Template
Select a template that best fits your style and purpose for the brochure. You can also start from scratch and create a custom design if you prefer.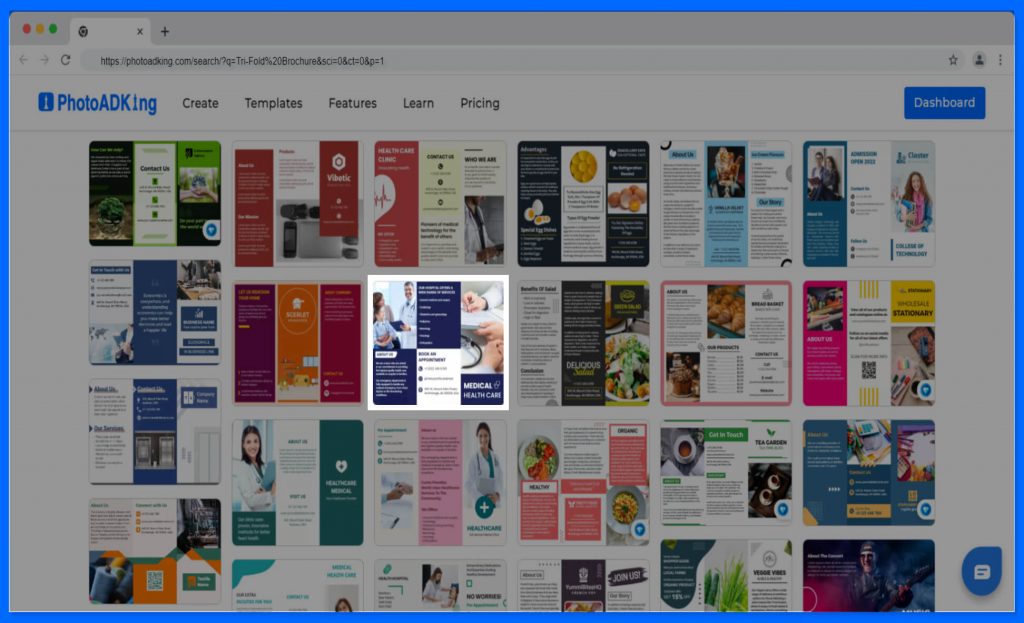 Step 4: Add Your Content
Once you have selected a template, you can start adding your content to the brochure. This includes text, photos, and any other graphics or information you want to include. Make sure to highlight the important details of your business or event.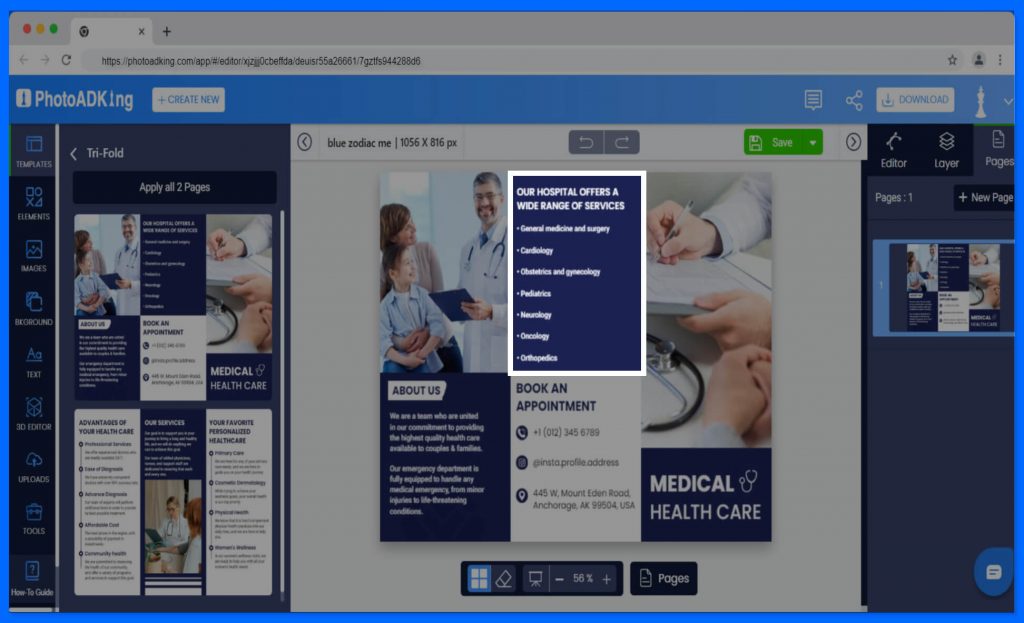 Step 5: Customize Your Design
Customize the design of your brochure to make it unique. You can change the font, color scheme, and layout, and add additional elements such as stickers or icons to enhance the visual appeal of your brochure.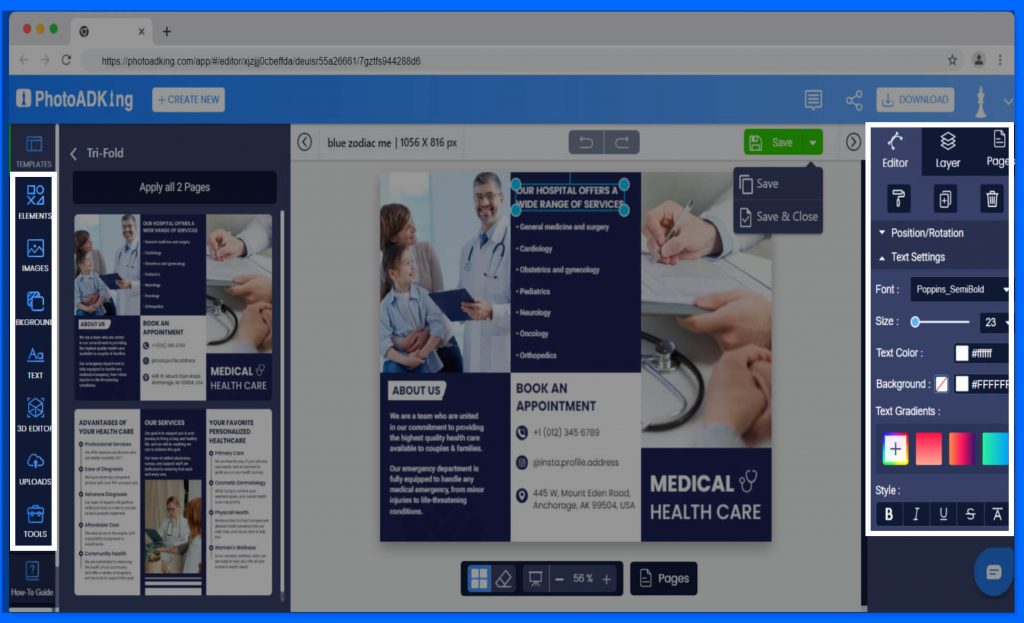 Step 6: Save and Download
After you are satisfied with your design, save your work. You can then download it in various formats, such as PDF, JPG, or PNG, depending on your needs. If you plan to print your brochure, use high-quality paper and ink for a professional finish.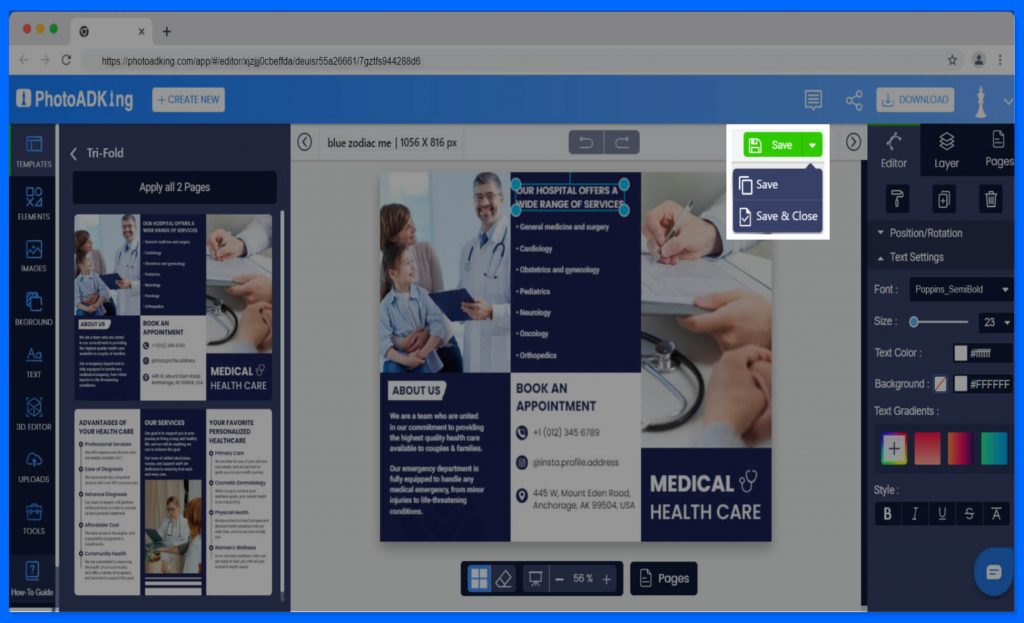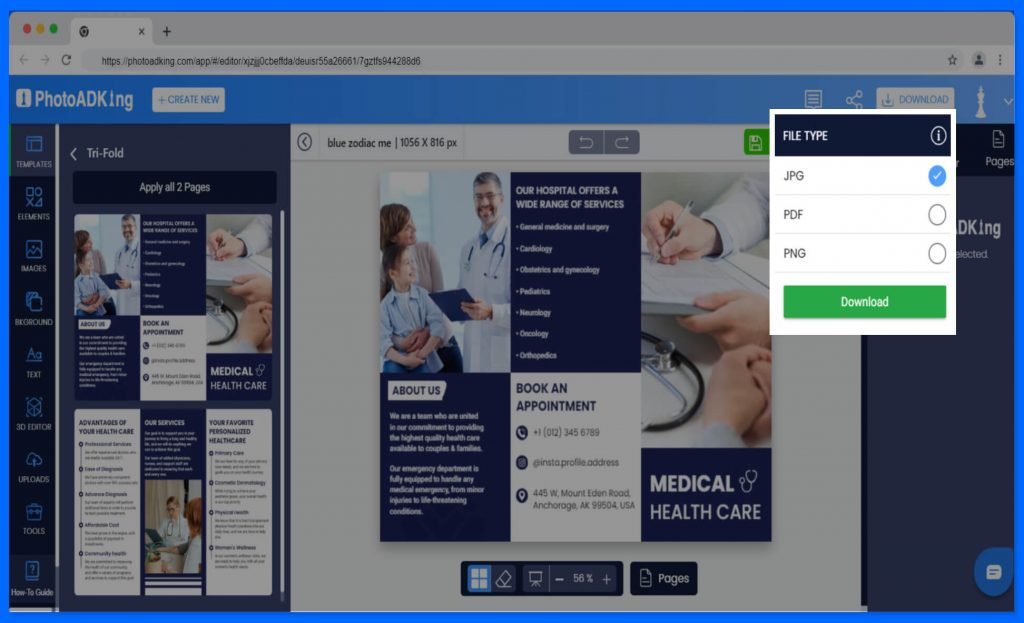 Step 7: Print and Share
Once you have downloaded your brochure, you can print it out and distribute it as needed. Tri-fold brochures are typically printed on letter-sized paper, with each panel containing different content. You can also share your digital brochure online through email, social media, or your website to reach a wider audience.
Furthermore, we deeply appreciate your presence on our blog and your interest in its content. For more tri-fold brochure design inspiration, explore the articles listed below.
Recommended Read:

Tri-fold Brochure Design Ideas
Brochure Design Ideas
Fashion Brochure Design Ideas
Education Brochure Design Ideas
Gym Brochure Design Ideas 
Creative Brochure Design Ideas
Real Estate Brochure Design Ideas
Real Estate Brochure Examples
Business Trifold Brochure
Corporate Brochure Examples
Restaurant Brochure Examples
Spa Brochure Examples
Company Brochure Examples
Construction Brochure Examples
Hotel Brochure Examples
Salon Brochure Examples
Product Brochure Samples
Nonprofit Brochure Examples
Conclusion
In conclusion, creating a tri-fold brochure can be a highly effective way to convey your message and promote your business or organization. By following the tips and steps outlined in this blog, you can create a professional-looking brochure that captures your attention and engages your target audience. To get some inspiration, you can also check out some tri-fold brochure examples. Remember to choose high-quality photos, include relevant information, and be creative in your design.