Are you searching for salon brochure examples to spark your creative design process? Have you had difficulty creating an engaging salon brochure that truly showcases your services and style?
If this challenge sounds familiar in beauty and wellness marketing, fret not – a solution is within your reach.
Introducing PhotoADKing's brochure maker tool, your key to effortlessly creating exquisite salon brochures. This easy-to-use tool provides a wide range of templates, graphics, and fonts that you can personalize. It helps you create a brochure that perfectly represents your salon's special style and brand.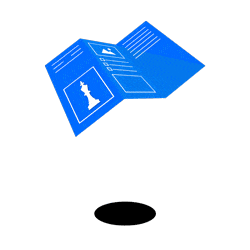 Design Your Brochure in a Few Steps With PhotoADKing
Utilise PhotoADKing's brochure maker to create stunning brochures. Test it out!
Explore Brochure Maker Now
Alright, let's delve into the summary of what you'll learn. Further in this article, we will explore salon brochure examples that will inspire you to create a stunning design for your own salon.
Table of Contents
Exploring Stunning Salon Brochure Examples
Explore a range of customizable salon brochure templates in this collection. Additionally, these templates come with different styles and arrangements to assist you in improving your salon's visibility and getting your message across effectively.
So, let's explore!
Beauty Salon Trifold Brochure Template
Beauty salons can use trifold brochure templates to promote their services and products effectively. Hence, it's a valuable tool for promoting their salon.
Nail Salon Trifold Brochure Template
Nail salons can leverage this template to efficiently display their services and nail art designs. Thus, making it a perfect fit for their marketing needs.
White Minimalistic Beauty Salon Trifold Brochure
A minimalist brochure template design can evoke a sense of elegance and simplicity, making it an attractive choice for beauty salons. Furthermore, it can help convey a modern and sophisticated image for the salon.
Recommended Read:

Trifold Brochure Size
Trifold Brochure Layout
How to Make a Trifold Brochure
Trifold Brochure Example
Trifold Brochure Design Ideas
Bifold Brochure Template for Salon Service
Bifold brochure templates are suitable for providing detailed information about a salon's services. Moreover, they offer a neat and organized layout for presenting this information.
Modern Men's Salon Bifold Brochure Template
This specific template caters to men's salons, emphasizing its modernity and style. In addition, it can effectively target the male clientele and highlight the services designed for them.
Explore more Modern Brochure Templates
Bifold Nail Salon Brochure with QR Code
Including a QR code in a brochure can link customers directly to the salon's website or social media. Indeed, this interactivity can enhance the overall customer experience.
Recommended Read: Bi-Fold Brochure Size
Women's Hair Salon Pamphlet
Pamphlets are concise marketing tools suitable for women's hair salons. As a result, they can quickly convey essential information about hair services, making them a practical choice.
Neon Nail Salon and Spa Pamphlet
The use of neon colors in this pamphlet template design conveys the vibrancy and trendiness of the nail salon and spa. Thus, the design and color scheme of the pamphlet can attract a younger and fashion-forward clientele.
Leaflet for New Salon Product Launching
Salon brochures aren't just for services; they can also be used to introduce and promote new products. In fact, a well-designed leaflet can generate excitement around a product launch.
Black and Golden Nail Salon Leaflet
The color combination of black and gold exudes luxury and sophistication. In conclusion, this leaflet brochure template is suitable for a high-end nail salon aiming to attract a more upscale clientele.
Now that we've explored various salon brochure examples, let's understand the importance of salon brochures.
Why Salon Brochures Matter
Salon brochures are not just pieces of paper; they are powerful tools that:
Convey Information: Brochures provide a concise yet complete way to tell potential customers about your services, prices, and where you are located.
Showcase Your Brand: They reflect your salon's identity and style, giving potential clients a taste of the experience they can expect.
Build Trust: A well-designed brochure instills confidence in your professionalism and competence.
Call to Action: They encourage potential clients to take the next step, whether it's scheduling an appointment or visiting your website.
How Brochures Boost Your Business
The impact of salon brochures on your business is substantial:
Increased Visibility: Brochures can be given out at nearby stores, during gatherings, or sent to people's homes, so more people can see them.
Targeted Marketing: You can tailor your brochure to speak directly to your ideal client, making it more effective.
Cost-Effective: Compared to other marketing materials, brochures are affordable to produce and distribute.
Brand Consistency: Brochures ensure that your salon's messaging is consistent across all platforms.
Top Design Principles for Salon Brochure
When designing your salon brochure, keep these key principles in mind:
Simplicity: Less is often more. A clean design with concise information is more engaging.
Consistency: Use your salon's branding elements such as colors, fonts, and logos consistently.
Visual Hierarchy: Important information should be prominent, guiding the reader's eye.
Whitespace: Don't overcrowd your brochure; allow space for a clean, modern look.
Furthermore, we're grateful for your blog readership and interest in our content. Check out our other blogs on various topics if you're enjoying this one.
Blogs Worth Your Attention:

Types of Brochures
Brochure Layout Ideas
Brochure Background
Best Brochure Fonts
Brochure Examples
Brochure Design Ideas
Standard Brochure Sizes
How to Design a Brochure
Conclusion
In conclusion, the inclusion of salon brochure examples in this article highlights the transformative potential of a well-crafted brochure for your beauty business. Thus, these examples serve as tangible representations of your salon's style and services. By incorporating the design ideas and templates outlined here, you can produce a brochure that not only grabs the attention of potential clients but also ensures a memorable and lasting impression.
Want to design a brochure with your unique touch? Explore PhotoADKing's customizable brochure templates for a quick and easy design. Enhance your message with eye-catching graphics. So, check out PhotoADKing now for a straightforward and personalized brochure-making experience!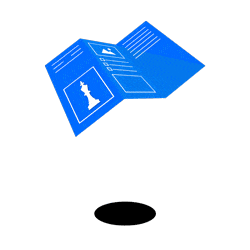 5000+ Pre-designed Brochure Templates from PhotoADKing
Choose a brochure template from a wide range of collections and customize it with ease.
Choose Brochure Template Now
FAQs
How many pages should my brochure have?
Brochures typically range from one to three pages. However, the number of pages you need depends on the amount of content you want to include and your design preferences.
Can I use QR codes in my salon brochure, and how do they work?
Indeed, QR codes are a great addition. They can link to your website, appointment booking page, or special offers. Further to use them, clients scan the QR code with their smartphones, which takes them to the designated online destination.
How can I make my brochure stand out? 
To make your brochure stand out, you should focus on unique design elements, high-quality images, and compelling content. Additionally, consider your target audience and tailor your brochure to their preferences.
Should I include client testimonials in my salon brochure, and if so, how many? 
Client testimonials can add credibility to your salon's offerings. Furthermore, including 2-3 short, positive testimonials can help build trust and showcase client satisfaction.