Most people always boast about the digital marketing medium as a power-packed facility for any type of promotion. Yes, it is. But, have you ever heard a businessman denying brochure marketing. No!
A business has only two functions – marketing & innovation. You may see enthusiastic marketers & DIY advertisers searching for how to design a brochure or how to make a brochure online. It's because the popularity of brochures has never diminished.
"Brochures are beyond promotional campaigns. You make your target audience realize your worth."
Whether you are distributing brochures at an event or handing them to your walk-ins for new launch introductions, they should be fascinating. Don't make them just another brochure. Instead, make sure that it always carries a surprise when they are your brochure design templates.
Learn the basics of brochure designing before you start & competitive hacks on preparing creative brochures. We've also shared a step wise guide on tri-fold brochure designs with one of the best brochure makers. However, here's PhotoADKing provide easy breezy guide to customize the brochure!
5 Basics To Clarify Before Designing A Brochure
You may wonder why we aren't taking you to the brochure designing process directly. Well, we think that knowing the basics is like preparing your homework before appearing for the class. These essential details will make the design process smooth & sorted. Let's begin.
1. Brand Personality
A polished entrepreneur is the one who knows the brand personality & utilizes it full-strength. Realize your brand value inside out & know how to use it for empowering branding.
For instance, your business is less likely the only one in the niche. But, you differ from your competitors with some qualities. So, why don't you highlight it as your brand personality?
2. Target Audience
Your brochure is always designed for an intended target audience. Hence, it's important to define your ideal customers, the type of services/products they expect from you, the way they'll be more convenient to interact, etc. Additionally, defining the target audience will help you set the tone of your brochure marketing from formal to fun, humorous, or informal.
You never know that you can make crucial brochure designing decisions based on your ideal customers.
3. Brochure Goals
A brochure is informational, announcement, invitation, etc. Make your intents clear with the message you want to convey. It is the same thing that will be used as a brochure headline & will be more often described in the brochure differently.
Before working on attracting your target audience, make it clear for you. Set brochure goals so that you can analyze & evaluate your final design based on this.
4. How You Will Measure Success?
Brochure designs should accompany success metrics too. Look up to your goals for setting success metrics. For instance:
If you're intending to drive traffic to your website, adding a URL is inevitable. Give hints on exciting offers they can avail of by visiting your website.
Do you want your target audience to walk into your store? Attach a coupon or voucher in your brochure they're supposed to bring for availing of the offer.
You may use this concept based on your niche & business goals.
5. Budget
Your budget defines your eligibility for spending on designing as well as printing costs. Prepare your budget for the brochure marketing campaign as a whole. It will help you explore options within your budget. Also, you can decide on the type of printing par, ink, and more based on the limits your budget permits.
5 Hacks For Preparing Your Creative Brochure Designs
1. Define Your Brand Design Standards & Stick To Them
Your brand identity is the constant that remains unaffected regardless of the marketing campaign you attempt.
This means that you should have certain principles that are unchanged, no matter if you're promoting brochures, flyers, or digital marketing. Be it certain design elements like color contrasts, typefaces, images, etc. Some brands choose to keep color family consistent whether they're marketing online or offline. It makes a uniform impact.
So, if you're incorporating brochures, define your visual elements & carry them well for the upcoming campaigns too.
2. Always Have Your Target Audience In Mind
You must be feeling overwhelmed to describe all the goodness about your brand. But, your target audience isn't here for the praises. They look up to your business as a solution. Your products or services make a difference in their lives. And you should focus on their perspective for your brochure promotions.
Answer this for yourself: What would I look out for in this brochure if I were a target audience? How is my business use to them? Which information they're seeking in my brochure?
It will get you sorted.
3. Pick The Best Brochure Type That Fits Your Theme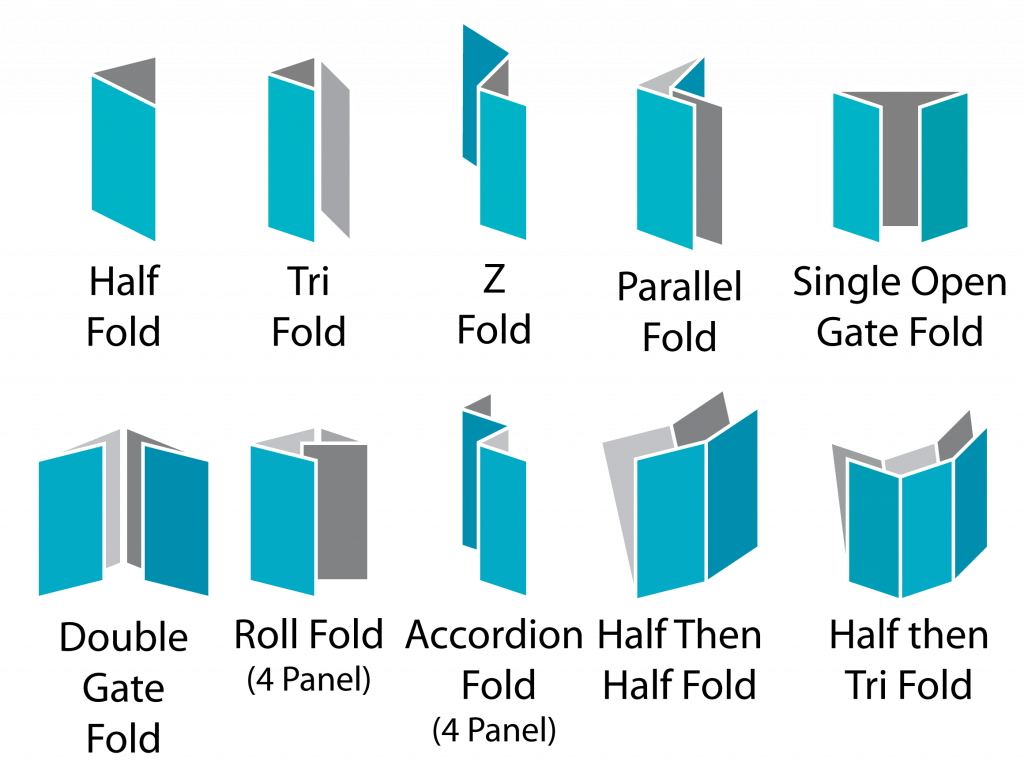 Half-fold brochures & tri-fold brochures are no doubt the most popular ones. But, they are not the only ones. You have around 11 brochure types to choose from. No wonder they all belong to the brochure-family based on the way they're folded.
Are you curious enough to explore them? Here are they listed below:
Half-fold
Tri-fold
Z-fold
Parallel fold
Single open gatefold
Double gatefold
Roll fold
Accordion fold

Half + half fold

Half + tri fold
You've got many choices depending on the brochure's purpose. Choose what fits best for your current brochure campaign.
4. Use Brochure Design Templates
It's quite overwhelming to start brochure designing from scratch. But, how many of you are well-trained as a graphic designer? This doesn't mean that you cannot move ahead without a professional.
You should look out for budgetary options like DIY brochure maker online. The premade brochure template collection will be over to you. And you'll only have to choose the template style you like. Editing feels like a few minute tasks then.
Using readymade brochure design templates reduce your efforts & make you explore smart brochure templates without much hassle.
5. Mention a CTA
Your entire brochure settles down on one point – What do you want your target audience to do? After receiving your brochure, your potential customer must take an action. And you'll tell them what to do by mentioning a CTA as a focal point.
Make it noticed & it will help receivers to go for it.
Your Brochure Template is ready. What next?
The brochure designing process does not end at creating brochure templates. They'll be your offline promotion material. You must care about evaluation & printing jobs too.
Evaluate The Brochure Template Design
You'll always look up to your brochure as an amazing creation. What if it lacks certain things that are out of your scope? It would be a costly mistake if you realize this after it goes for the printing job.
Let us save you from such weeping. All you can do is ask a few questions to yourself & evaluate your brochure template design.
Is it eye-catchy?
Am I clear with my message?
Does my CTA make sense?
Is it uplifting my brand identity?
Feel free to get second opinions from someone genuine. You'll get to know if some loophole prevails. Correct it & repeat the evaluation until all the answers are YES. However, brochure maker also can help you to design a stunning brochure easily.
Work closely with the Printer
After spending all this planning & efforts on brochure designing, please make sure that it isn't a no-no with prints. Every brochure design has that one relevant print paper & ink option in your budget. Your job is to figure that out. You should consult multiple printers, get printing options & estimates and then continue with one that matches.
How To Create A Brochure Design In 3 Steps With PhotoADKing?
PhotoADKing is the only 3-step brochure maker app you need by your side. No matter which brochure-type you're looking to customize, we can help you do it in three steps only. Here you go!
1.Discover PhotoADKing's vibrant Brochure Template collection & select a design for your campaign
2. Edit your Brochure Template with hundreds of visual element variations available with our grand library
3. Download & save your brochure design instantly
How To Make A Trifold Brochure?
Trifold brochure templates are one of the most popular brochure types at PhotoADKing. Let us share the steps for customizing yours.
1.Select the Brochure category from your Dashboard & enter 'trifold'. You'll be viewing all the available options for tri-fold brochure templates.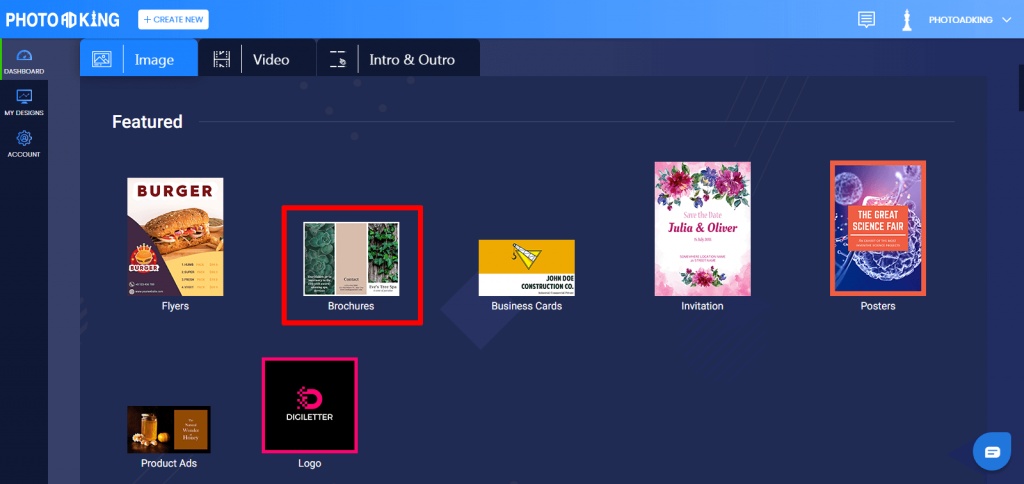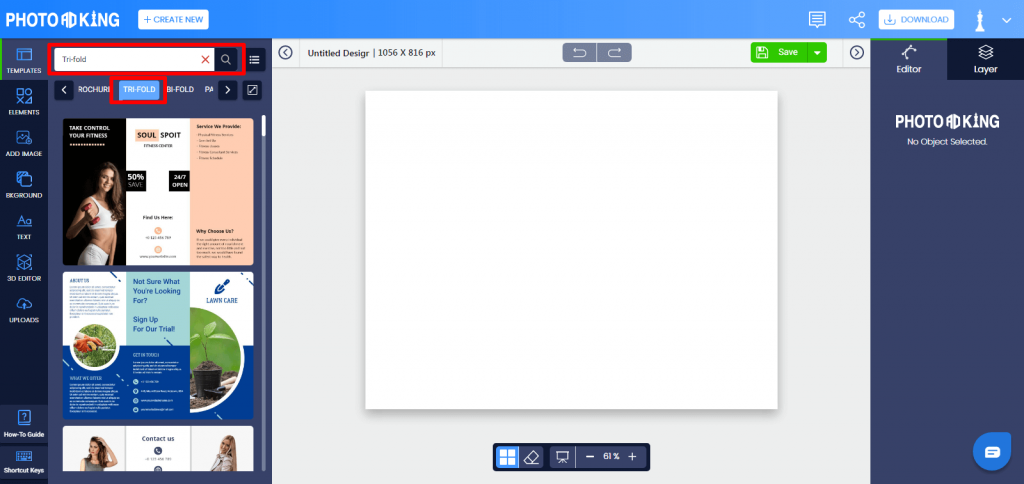 2. Pick the template you like & start editing with PhotoADKing's huge resource library. Everything you see on the template is editable.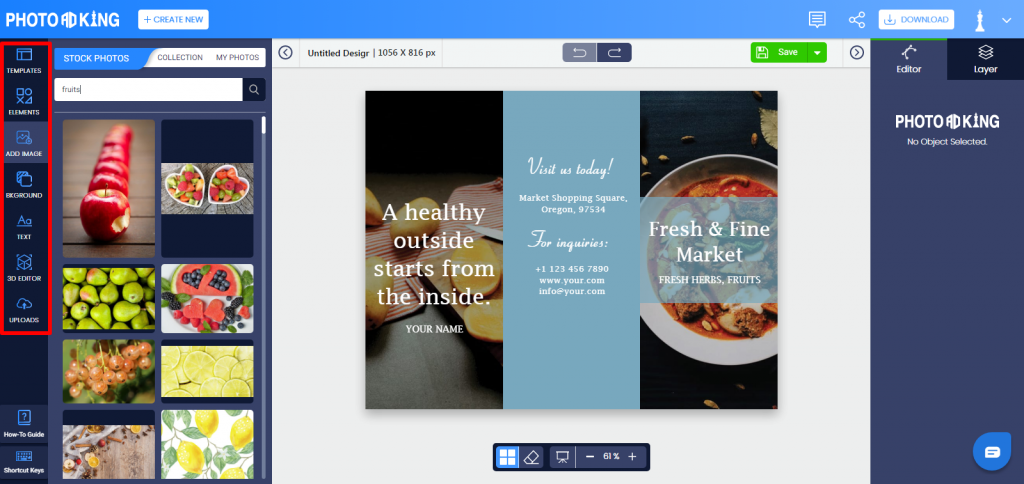 3. Save your Tri-fold brochure design, download high-quality format, or share immediately in one click only.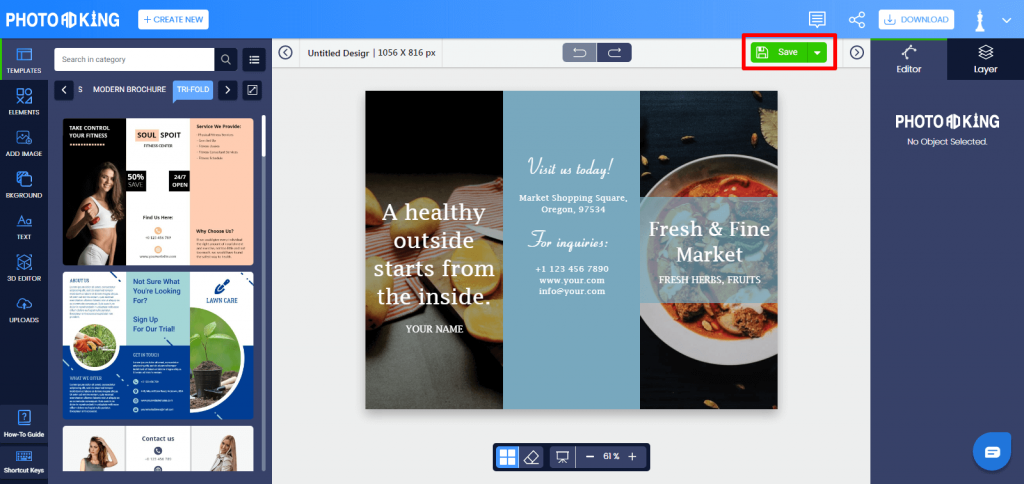 Trifold Brochure Templates For 2021
Scrolled down here? We think you're quite impressed with PhotoADKing already. Why don't you start personalizing an awe-struck brochure template right now?!