Are you struggling to design captivating hotel brochures that effectively showcase your establishment's amenities and attract potential guests? Do you find yourself endlessly searching for hotel brochure examples online, only to be disappointed by the lack of inspiration and originality?
Well, you're definitely not alone in facing this challenge!
Many hoteliers and marketers encounter the difficulty of creating brochures that stand out from the competition and immediately catch the eye of potential visitors.
However, worry not, as there is a solution that can help you overcome this problem.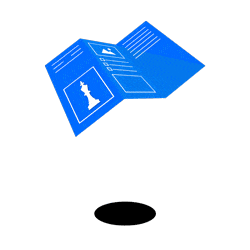 Design Your Brochure in a Few Steps With PhotoADKing
Utilise PhotoADKing's brochure maker to create stunning brochures. Test it out!
Explore Brochure Maker Now
Introducing PhotoADKing's brochure maker tool, which provides you with the means to easily create stunning hotel brochures. This user-friendly tool offers a vast array of customizable templates, graphics, and fonts, allowing you to design brochures that perfectly align with your brand's identity and style.
Now, let's delve into the summary of what you'll learn.
Table of Contents
Exploring Elegant Hotel Brochure Examples
Explore a range of customizable hotel brochure templates in this collection. Furthermore, these templates feature various designs and layouts to help you elevate your hotel's brand visibility and communicate your message effectively.
So, let's explore!
Exclusive Luxury Hotel Trifold Brochure Template
This trifold brochure template oozes exclusivity and opulence. Hence, it's tailor-made for high-end hotels looking to showcase their lavish amenities and world-class services. Consequently, this template is the epitome of luxury in the realm of hotel brochure designs.
Trifold Brochure Template for 5-Star Hotel
Crafted with precision, this template caters specifically to 5-star hotels, thus ensuring that every detail reflects the hotel's prestigious reputation. It meticulously conveys the grandeur and excellence that guests can expect from such a top-tier establishment.
Elegant White Trifold Brochure Template for Hotel
This brochure template is a symphony of elegance, with its clean, white design. Moreover, the pristine white color palette exudes a sense of sophistication and serenity. As a result, it's the perfect choice for upscale hotels seeking to convey an air of refinement.
Recommended Read:

Trifold Brochure Size
Trifold Brochure Layout
How to Make a Trifold Brochure
Trifold Brochure Example
Trifold Brochure Design Ideas
City Space Delight Hotel Bifold Brochure Template
Designed to captivate the urban explorer, this bifold brochure template is an ode to the city experience. Furthermore, it meticulously highlights the hotel's prime city location, making it an ideal choice for hotels in bustling metropolises. Indeed, it is a brochure that screams cosmopolitan charm.
Minimalist Bifold Hotel Brochure Template
This template embraces the 'less is more' philosophy, resulting in a design that is refreshingly uncluttered. Moreover, its minimalist approach places the hotel's booking info and image at the forefront, allowing the content to shine without distractions.
Explore more Minimal Brochure Templates
Retro Hotel Bifold Brochure Template
Stepping back in time, this brochure template captures the essence of nostalgia. Furthermore, its retro design is a journey to yesteryears, making it an enticing choice for hotels looking to offer guests a unique, old-school experience.
Recommended Read: Bi-Fold Brochure Size
Tropic Tranquility Hotel Pamphlet
With visuals that evoke the serene tropics, this pamphlet template is the embodiment of relaxation. Additionally, it's perfect for hotels in idyllic beachside locations. Furthermore, it conjures images of swaying palm trees, crystal-clear waters, and the ultimate tropical escape.
Premium Hotel Pamphlet
Exuding a premium aura from cover to content, this template is the epitome of sophistication. Moreover, it's tailored for marketing high-end accommodations and top-tier services. As a result, it's a beacon of exclusivity and luxury.
Contemporary Comfort Hotel Leaflet
This leaflet brochure template personifies modern comfort and style. With a design that's both sleek and contemporary, it mirrors the hotel's focus on comfort and convenience. Furthermore, it's an ideal choice for hotels that offer a fusion of style and relaxation.
Black and White Background Hotel and Resort Leaflet
With a timeless black and white design, this leaflet template is a canvas of classic appeal. Additionally, its versatility is unparalleled, making it suitable for various hotel and resort types. Consequently, it can be easily customized to align with different themes or branding strategies.
Now that we've explored hotel brochure examples, let's understand the benefits of using hotel brochures.
Benefits of Using Hotel Brochures
Tangible First Impressions
When guests hold a beautifully designed brochure, it leaves a tactile impression that digital media cannot replicate. Moreover, the physicality of a brochure adds a personal touch and makes your hotel more memorable.
Concise Information
Brochures allow you to highlight key information about your hotel, amenities, and local attractions. Consequently, this, in turn, provides a comprehensive overview in one convenient package. Guests can easily reference this information during their stay.
Personalization
Tailoring your brochures to your brand's personality creates a unique guest experience. Simultaneously, the use of personalized brochures gives your hotel a distinct identity and helps convey your values and the experience you offer.
Versatility
Hotel brochures come in various formats, including single-page brochures, trifold brochures, and booklet brochures. Consequently, this versatility ensures that you can choose the format that best suits your marketing needs.
Offline Marketing
In an era dominated by online marketing, hotel brochures provide an opportunity to connect with guests offline. Additionally, they can be strategically placed in lobbies, local businesses, and tourist information centers.
Recommended Read: Importance Of Brochures
Designing Your Hotel Brochure
Utilizing Eye-Catching Imagery
Captivate your audience with high-quality images of your hotel's amenities, rooms, and local attractions. Visuals speak louder than words, and a well-chosen image can make all the difference. Hence, using professional photography or hiring a skilled photographer is a wise investment.
Crafting a Captivating Cover
Your brochure's cover is the first thing potential guests will see. Furthermore, ensure it's visually stunning and includes your hotel's name and a compelling tagline. Moreover, use vibrant colors and an elegant font to make it stand out.
Organizing Content Logically
Structure your brochure logically. Moreover, information about rooms, dining, amenities, and nearby attractions should flow seamlessly. Additionally, don't forget to include contact details. So, in this way, readers can easily find what they're looking for without flipping back and forth.
Distribution Strategies
In-House Placement
Place brochures in your hotel's lobby, rooms, and other common areas for easy access by guests. Therefore, guests can grab a brochure at their convenience, allowing them to explore your hotel's offerings.
Partnering with Local Businesses
Collaborate with local restaurants, tourist attractions, and businesses to display your brochures. This creates a win-win situation, as you can promote each other's services. Moreover, it expands your reach to a broader audience.
Mailing Campaigns
Send brochures to potential guests on your mailing list. Include them in welcome packages and promotional mailings. Consequently, this targeted approach ensures your brochure reaches individuals interested in your hotel.
Online Presence
Feature your brochures on your hotel's website as downloadable PDFs. This allows potential guests to access your brochure instantly. Additionally, it's an eco-friendly alternative to printed brochures, reducing your environmental footprint.
Printing Strategies
Quality Paper Selection
Choose high-quality paper stock to make your brochure feel luxurious and professional. The high-gloss paper enhances the visual appeal, while matte paper offers a sophisticated touch. Therefore, the paper you select should align with your hotel's branding and style.
Professional Printing Services
Consider professional printing services for a polished finish. In addition, they have the expertise to ensure your brochures look their best. Moreover, they can provide recommendations on paper selection, finishes, and printing techniques that suit your hotel's image.
Eco-Friendly Printing Options
For eco-conscious hotels, explore printing options that use sustainable materials and processes. This not only reduces your carbon footprint but also resonates with environmentally conscious travelers. In fact, it can be a selling point for your hotel.
Furthermore, we're grateful for your blog readership and interest in our content. Check out our other blogs on various topics if you're enjoying this one.
Blogs Worth Your Attention:

Types of Brochures
Brochure Layout Ideas
Brochure Background
Best Brochure Fonts
Brochure Examples
Brochure Design Ideas
Standard Brochure Sizes
How to Design a Brochure
Conclusion
In conclusion, a nicely made hotel brochure serves as a powerful marketing tool that can make your hotel stand out in a highly competitive industry. By following these hotel brochure examples you can unleash your creativity and develop a brochure that captivates your audience, builds trust, and leads to new opportunities.
FAQs
Can I create a digital hotel brochure for my website or email campaigns?
Yes, you can create a digital version of your hotel brochure in PDF format. As a result, this PDF can be easily shared on your website or through email campaigns. In fact, this is a great way to reach potential guests online
Should I include guest testimonials in my hotel brochure?
Including guest testimonials can be a powerful addition to your brochure. Moreover, they provide social proof and build trust among potential guests. Therefore, consider featuring short, compelling quotes from satisfied customers.
Can I create a multilingual hotel brochure to cater to international guests?
Yes, creating a multilingual brochure can, indeed, be highly beneficial for attracting international guests. Furthermore, translate your brochure into key languages spoken by your target audience. Consequently, this will make it more accessible and appealing.
Can I use a hotel leaflet to promote seasonal offers or events?
Indeed, a leaflet is an excellent choice for promoting seasonal offers, special events, or limited-time promotions. Moreover, its compact size is perfect for conveying the urgency and excitement of such offers.
How can I make my hotel pamphlet stand out from competitors in the same area?
To stand out, focus on unique selling points that differentiate your hotel from competitors. In addition, highlight exclusive services, awards, or special local partnerships. Further, ensure your design and content reflect these distinct advantages.
Want to make a unique brochure? Well, try out PhotoADKing's brochure templates. Not only is it easy and fast, but you can also add cool pictures to make your message pop. So, don't wait – check out PhotoADKing now to personalize your own brochure, as easy as pie!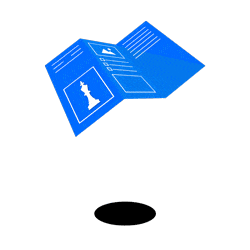 5000+ Pre-designed Brochure Templates from PhotoADKing
Choose a brochure template from a wide range of collections and customize it with ease.
Choose Brochure Template Now