Are you planning an exciting event, but confused about how to make an event flyer that will attract your target audience? You're not alone. Crafting the perfect event flyer can be a daunting task, especially when you want to make a lasting impression and ensure a strong turnout.

But fear not, because we have the solution to your flyer-making woes: PhotoADKing's flyer maker tool. With this flyer maker, you can easily enhance your flyers' creativity with fonts, images, and graphics. Its user-friendly interface facilitates the customization of every facet of your flyers, from text and visuals to colors and fonts. So by using our top-notch design assets, you can create a flyer that will leave a lasting impression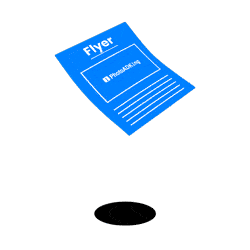 Create a Stunning Flyer With PhotoADKing Flyer Maker
Now it is easy to make a flyer with PhotoADKing's user-friendly flyer maker.
Make Your Own Flyer
In this blog, we will provide you step-by-step instructions how to make an event flyer. Also provide valuable tips to help you create captivating event flyers that leave a lasting impression.
How to Make an Event Flyer
1: Open the PhotoADKing website and signup
2: Search the event flyer
3: Choose an event flyer template
4: Customize your event flyer template
5: Save & download your flyer
If you prefer learning by watching a video, you can watch the video on how to make an event flyer. In addition, we have created a step-by-step guide that you can follow as well.
Step 1: Open PhotoADKing's website on your browser And Sign up or log in
If you already have an account, log in. Otherwise, sign up for a new account to access the design features.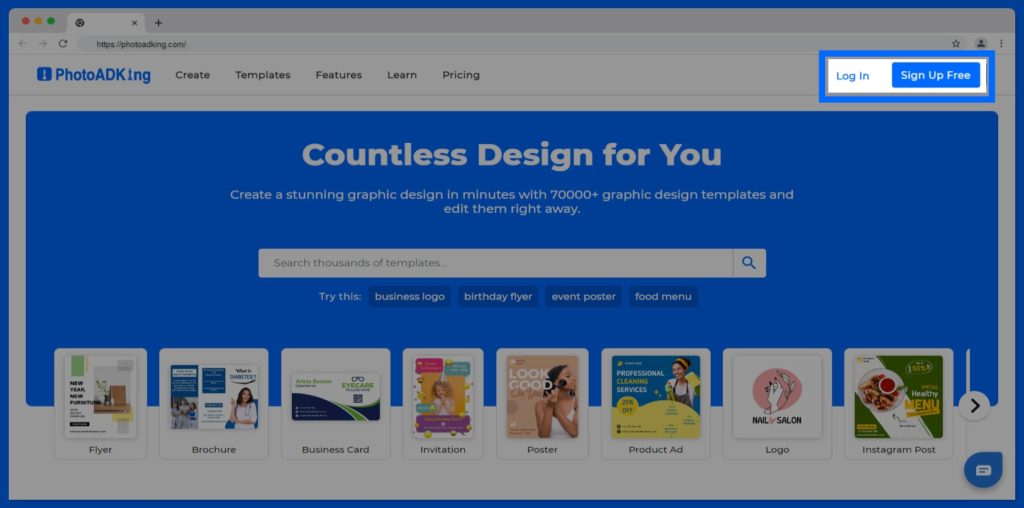 Step 2: Search for the Event Flyer
Search for "Event Flyer" templates on the PhotoADKing website. You can find a variety of event flyer templates available on the website.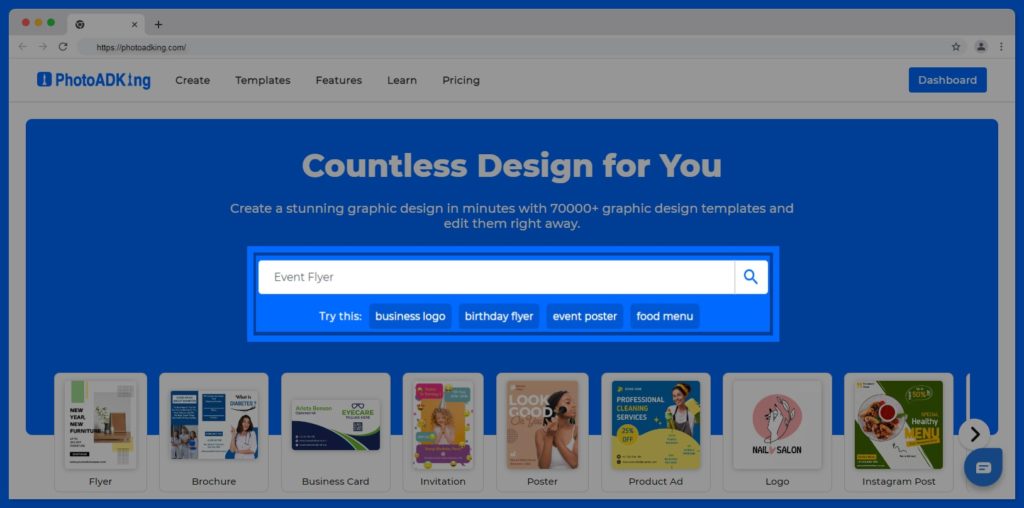 Step 3: Choose the Right Flyer Template
Once you have found the templates, you should choose the right one that suits your event's theme and style. You can select the template that matches your event's color scheme, font style, and overall design.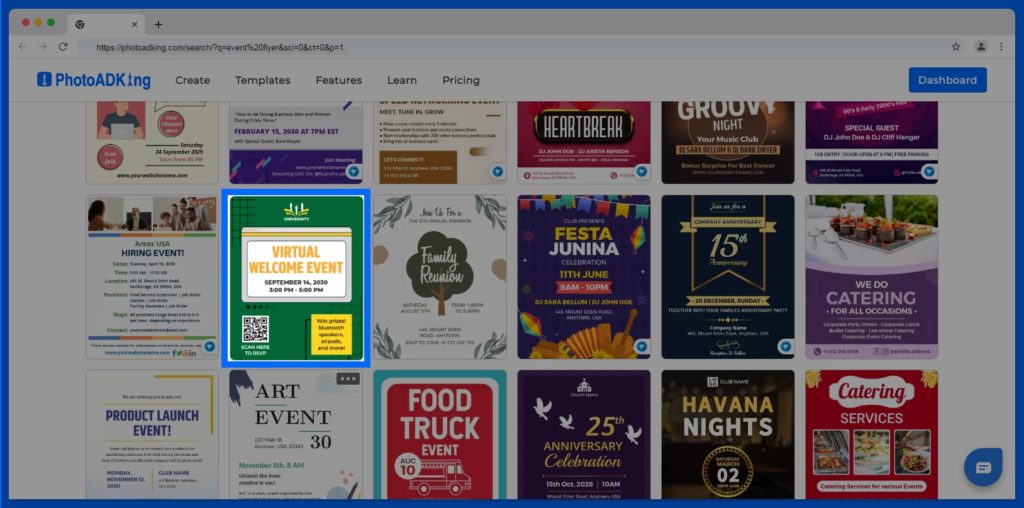 Step 4: Customize the Template
After selecting the template, you can customize it to suit your needs. You can add your logo and branding Also, you can change the colors, fonts, and text.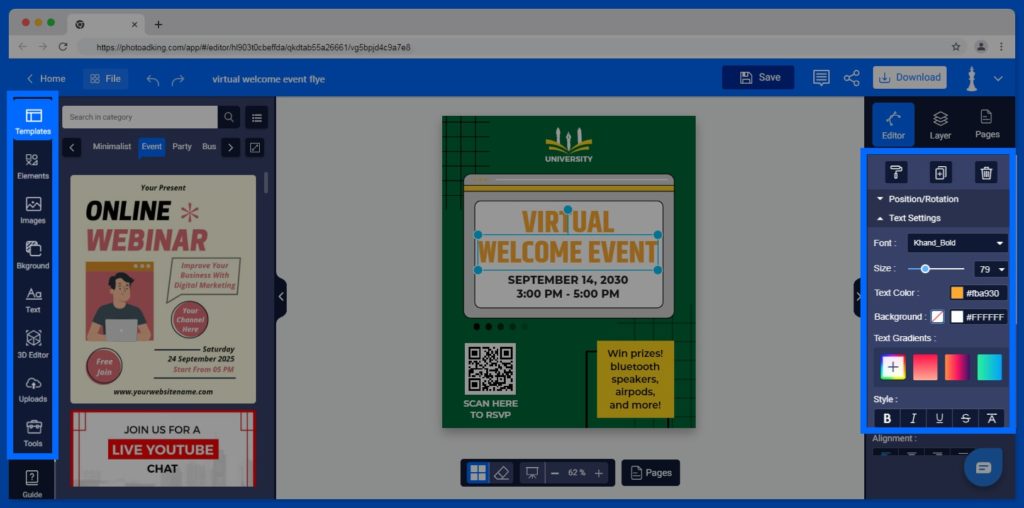 Step 5: Save and Download
Once you have completed the customization process, you can download the final design in PDF, JPG, and PNG format and save it.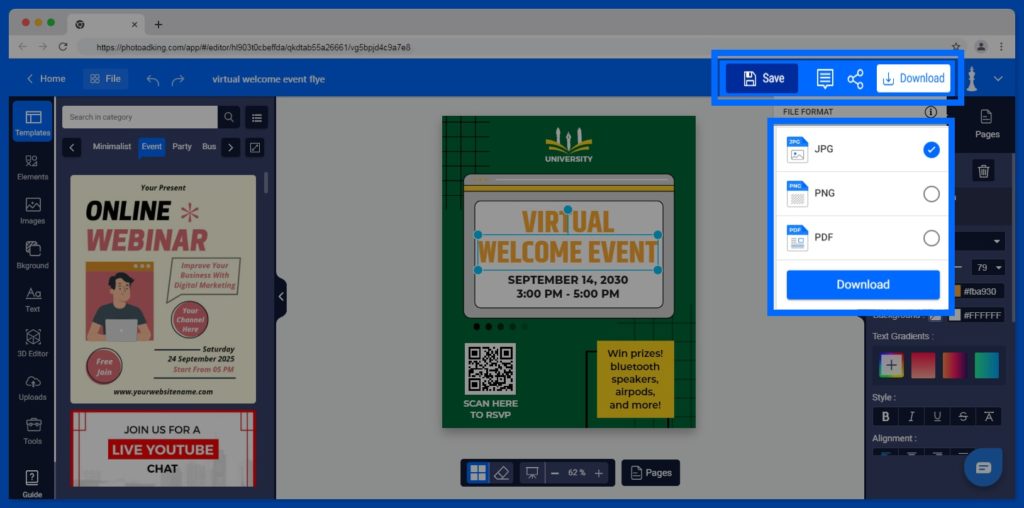 I hope now you easily create a flyer for an event, if you are looking for more inspiration on event flyer-related blogs, check out this articles.
Read More Related Articles
Elements You Must Include in Event Flyer
Event Title and Theme: Clearly state the event's name and theme at the top of the flyer, using a bold and eye-catching font. The title should give potential attendees a quick idea of what the event is about.
Date, Time, and Location: Provide the date, time, and venue of the event prominently. Use a legible font and format to ensure attendees can easily find this critical information. Including a map or directions can also be helpful.
Compelling Imagery: Use high-quality images or graphics that are relevant to the event's theme or purpose. Visuals can grab attention and convey the event's atmosphere or what attendees can expect.
Event Details: Beneath the imagery, include a concise description of the event, highlighting its key features, such as guest speakers, performers, activities, or any special attractions. Make sure this information is easy to read and not overwhelming with excessive text.
QR Code: Include a QR code that directs viewers to a webpage for more information or to purchase tickets online. This can make it easy for smartphone users to access additional details.
Contact Information and Call to Action: Include contact details for inquiries, RSVPs, or ticket purchases. Additionally, incorporate a clear call to action, such as "Buy Tickets Now," "RSVP Today," or "Learn More," along with any relevant website or social media links.
Typography and Layout: Choose fonts that are easy to read and align with the event's style. Pay attention to the layout, ensuring that the information flows logically and is visually appealing. Use different font sizes, styles, and colors to create hierarchy and emphasize important details.
Tips for Creating an Event Flyer
Clear and Concise Information: Keep the event details straightforward and easy to understand. Include the date, time, location, and a brief description.
Eye-Catching Headline: Craft a compelling and attention-grabbing headline or event title to pique interest.
High-Quality Visuals: Use high-resolution images and graphics that are relevant to the event and evoke the right mood or theme.
Balanced Layout: Create a well-organized layout with a good balance of text and visuals, ensuring readability and aesthetics.
Key Details Stand Out: Make important details such as the date, time, and venue stand out using bold fonts or contrasting colors.
Call to Action (CTA): Include a clear and visible CTA, such as "Buy Tickets Now" or "RSVP," to encourage immediate action.
Contact Information: Provide contact details for inquiries and support, including phone numbers, email addresses, and website links.
Whitespace Utilization: Use whitespace effectively to enhance readability and create a clean, uncluttered design.
Consistent Branding: Ensure the flyer aligns with your brand's visual identity, using consistent colors, fonts, and logos.
Have you ever spent hours trying to design a flyer from scratch?
Worry no more! We've got the ideal answer to your issue. Allow us to introduce you to PhotoADKing's flyer templates. We provide a diverse range of pre-designed flyer templates for your selection. Just make the required edits to your information, and presto! Your flyer is ready for download and sharing.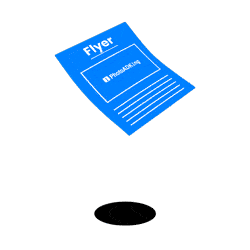 20,000+ Pre-design Flyer Templates From PhotoADKing
Choose a flyer template from a wide range of collections and customize it with ease.
Explore Flyer Templates Now!
Conclusion
Creating a flyer can be challenging, but you can make it a lot simpler by using the PhotoADKing flyer maker tool. Also, you can develop aesthetically appealing and simple-to-navigate flyer-style concepts that represent your branding with the right template and a few customization tweaks.
Furthermore, if you are looking for additional flyer examples for events or business promotional design inspiration, we recommend that you read this informative article.
Recommended to Read
What Is A Flyer? – Definition, Purpose, & Components
Flyer Design Ideas
Flyer Size Guide
100+ Creative Flyer Examples
Flyer Background
Flyer Design Tips
How to Make a Flyer
How To Make a Flyer For a Business
Flyer Purpose
Beginner Guide on Flyer Design
Flyer Layout Ideas
Flyer Samples For Different Industries
Different Types of Flyer Designs
Flyer Marketing Strategy
25 Flyer Design Terms
How to Make a Flyer on iPhone
How to Make a Party Flyer
Flyer vs Poster
How to Make Halloween Cards in 5 Easy Steps
FAQs
What to put on a flyer for an event?
In event flyers you can put event name, date, time, location, a short description, contact info, visuals, and links if needed.
Is it essential to include contact information on the flyer?
Yes, including contact information is crucial in case attendees have questions or need more details about the event. It adds credibility to your flyer.
What are 5 elements you must use to design an event flyer?
You can use eye-catching imagery, event details, QR code, typography, contact information to design an event flyer
How to make an event flyer?
To make an event flyer, visit PhotoADKing's website, choose a template, edit with your details, add an image, customize the design, highlight the venue and contact information, save or download the design and share digitally.