Are you seeking inspiration for designing creative and impactful landscaping flyers to promote your landscaping services?
When it comes to designing impactful landscaping flyers, simplicity and visual appeal are key. Incorporating elements like vibrant colors, high-quality images of lush gardens, and clean typography can instantly grab attention and convey the essence of your landscaping expertise.
Creating a landscaping flyer can be a difficult task without any design experience. But fear not. With PhotoADKing's flyer maker, you can create landscaping flyers easily.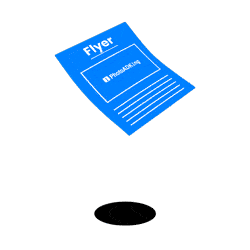 Design Your Flyer in Few Steps with PhotoADKing
Create a Landscaping Flyer with PhotoADKing's Flyer Maker. Give it a try.
Explore Flyer Maker Now
In this article, we will explore some inspiring landscaping flyer ideas and examples to help you design captivating flyers that effectively promote your landscaping services. So, get ready to level up your marketing game.
Table of Contents:
So, are you ready to discover the secrets to creating eye-catching flyers that will attract potential clients and boost your business? Before we dive into landscape flyer design ideas, let's check why a good landscape flyer design is important.
The Importance of a Good Landscaping Flyer Design
A well-designed landscaping flyer plays a crucial role in attracting potential customers and effectively promoting your landscaping services. The design of your flyer is the first impression potential clients will have of your business, and it can greatly impact their decision to engage with your services.
A good flyer design should be visually appealing, simple, and easy to understand. It should include captivating images of your previous work, showcasing the quality and variety of your landscaping projects. The use of vibrant colors, clean fonts, and concise content will grab the reader's attention and convey a sense of professionalism and reliability.
Additionally, the flyer should clearly highlight your contact information, including your phone number, email, and website, making it convenient for potential clients to reach out to you.
Now it's time to check the main part of our topic, landscaping flyer design ideas, and we will give you the exact way to design your first flyer.
Landscaping Flyers Design Ideas
It takes careful planning and consideration of many design elements to create a creative and eye-catching landscaping flyer. When creating a flyer for landscaping, the following should be kept in mind:
Adding High-Quality Images
Any landscaping flyer must include photographs of a high caliber. Images can be used to illustrate the caliber of a company's work, draw attention to distinctive products and services, and produce visually appealing designs. When choosing photographs, it's crucial to pick high-quality pictures that accurately depict the products and services of the company while also being appealing and interesting.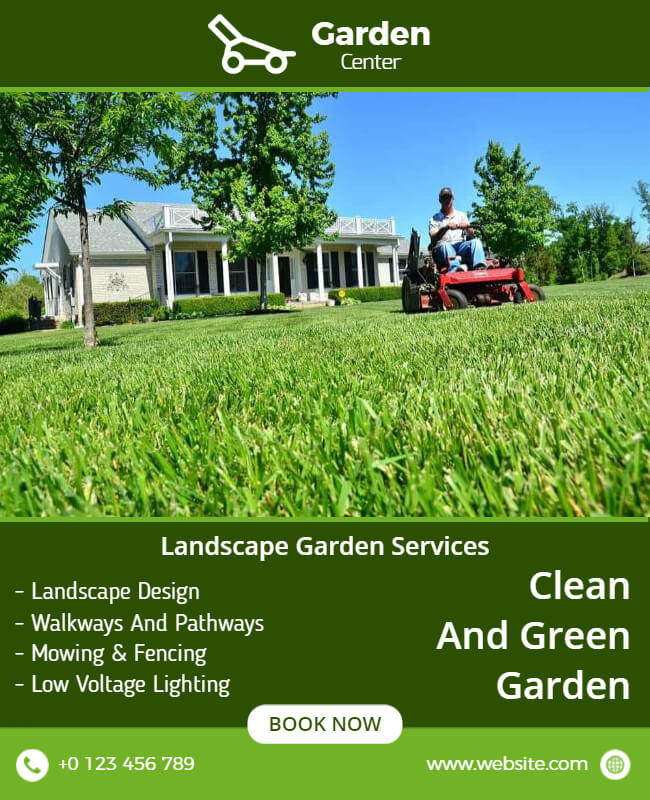 Utilizing Simple yet Effective Graphics
Doesn't matter if your design is simple, but it has to be effective. Effective graphics will help to break up the text on a landscaping flyer. Meanwhile makes the information easier to understand. It also helps to highlight key information plus make a flyer more visually appealing. For instance, simple icons. Moreover, graphics can be also used to represent different services offered by the business.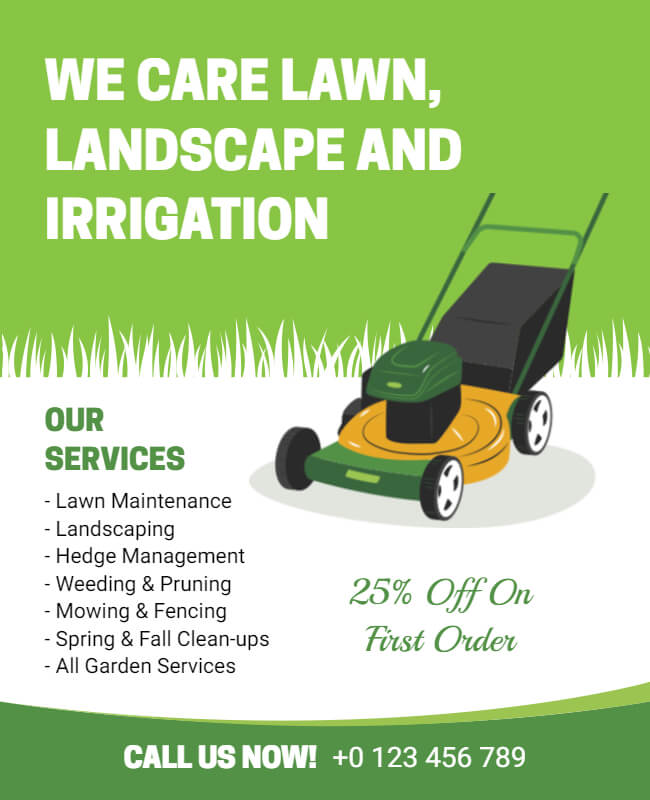 Highlighting Your Services
While captivating images are essential, it's equally crucial to clearly communicate the range of services you offer. Your flyer should include a comprehensive list of services such as tree trimming, lawn maintenance, garden design, and irrigation system installation. Potential customers need to understand the breadth of your expertise and feel confident that you can fulfill their specific needs. Highlighting your services prominently ensures that no potential client overlooks the full range of what you can offer.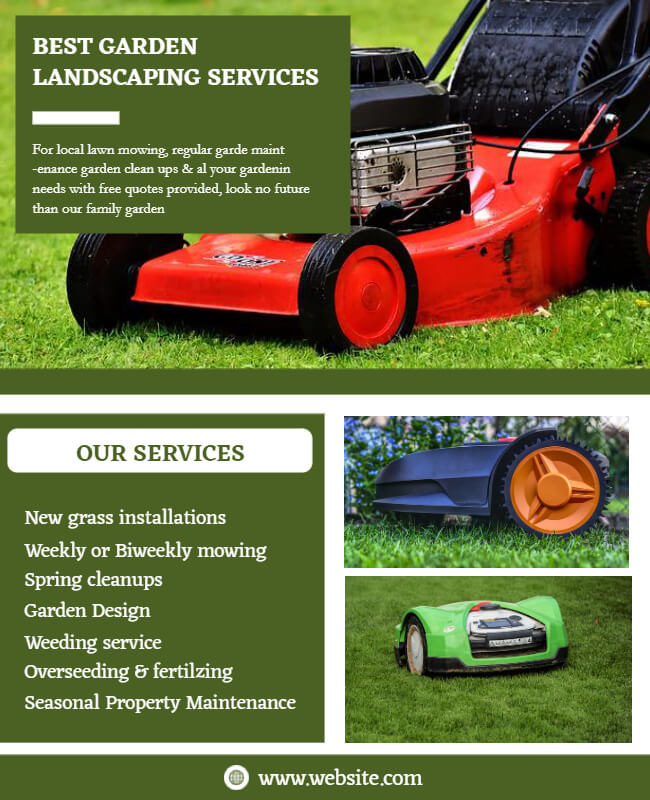 Utilizing Bold Typography
Once you have the attention of potential customers, it's important to make your message easily readable and memorable. Select a font that is clear, legible, and stands out from the background. Consider using bold typography that grabs attention and conveys a sense of professionalism. Additionally, using contrasting colors for the text can make it pop and increase its visibility. A visually appealing and readable design enhances the effectiveness of your flyer.
Offering Promotional Deals
To entice new customers and encourage them to choose your services, consider offering promotional deals or discounts. Everyone loves a good deal, and by providing an introductory offer, you create a sense of value and incentive. It's an effective strategy to attract potential customers who are on the fence about trying a new service. A limited-time discount or a special promotion can be the nudge they need to take action and become loyal customers.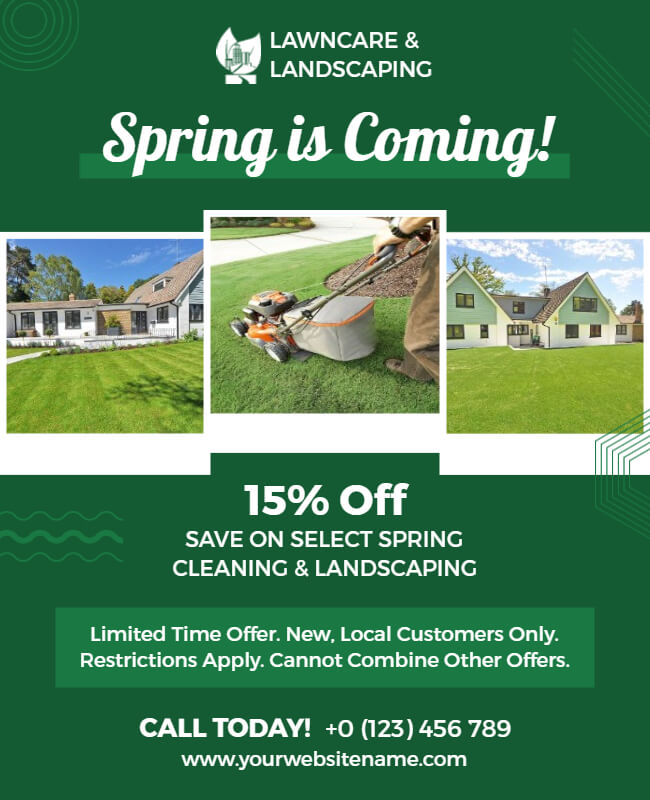 Keeping the Flyer Simple
While it's essential to include relevant information and eye-catching images, it's equally important to avoid overwhelming potential customers with too much content. Keep your flyer clean, uncluttered, and focused on the key message. A simple and well-organized design enhances readability and ensures that potential customers can quickly grasp the benefits of choosing your services. Less is often more when it comes to flyer design.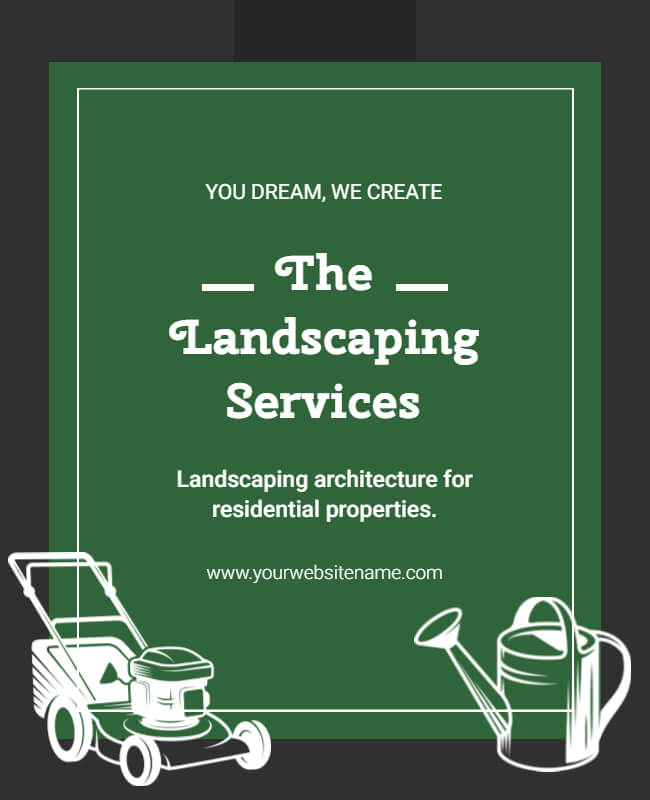 So have you gotten clear now about landscaping flyer design ideas? If so, then you have also checked landscaping flyer examples with pre-design landscaping flyer templates to get more inspiration.
Moreover, if you want to know some related blogs to flyer inspiration, then you can check them out here.
Read more Related Blogs:
Landscaping Flyer Examples
When creating a landscaping flyer, it's important to consider the message you want to convey. There are many examples of effective landscaping flyers that you can draw inspiration from.
Residential Landscaping Service Flyer
One type of landscaping flyer is the residential landscaping service flyer, which is geared toward homeowners who are looking for assistance with their yard maintenance. This type of flyer may include information about mowing, trimming, and fertilizing services and design and installation services for flower beds, trees, and shrubs.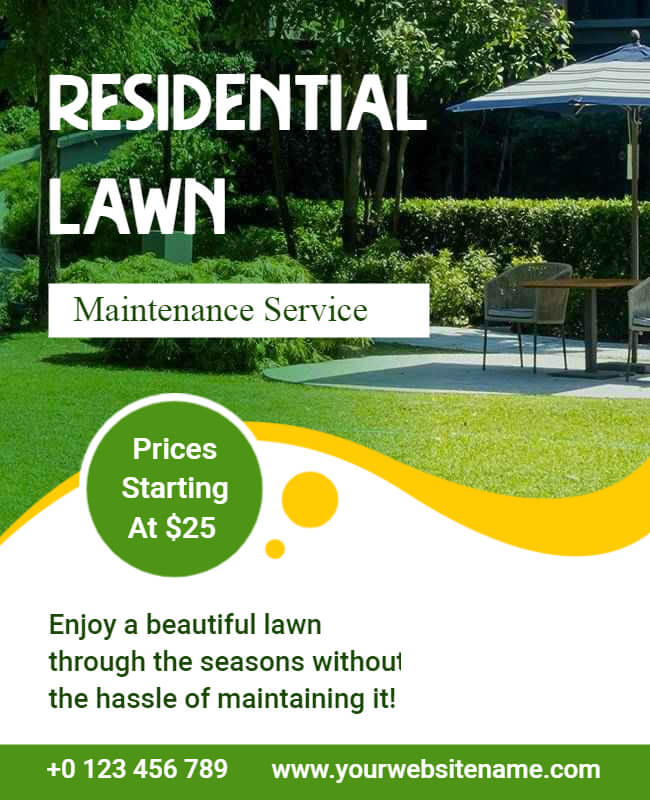 Lawn Care Services Flyer
Another popular type of flyer is the lawn care services flyer, which focuses specifically on lawn maintenance. This might include information about weekly mowing, edging, and watering services, as well as seasonal services like aerating and overseeding.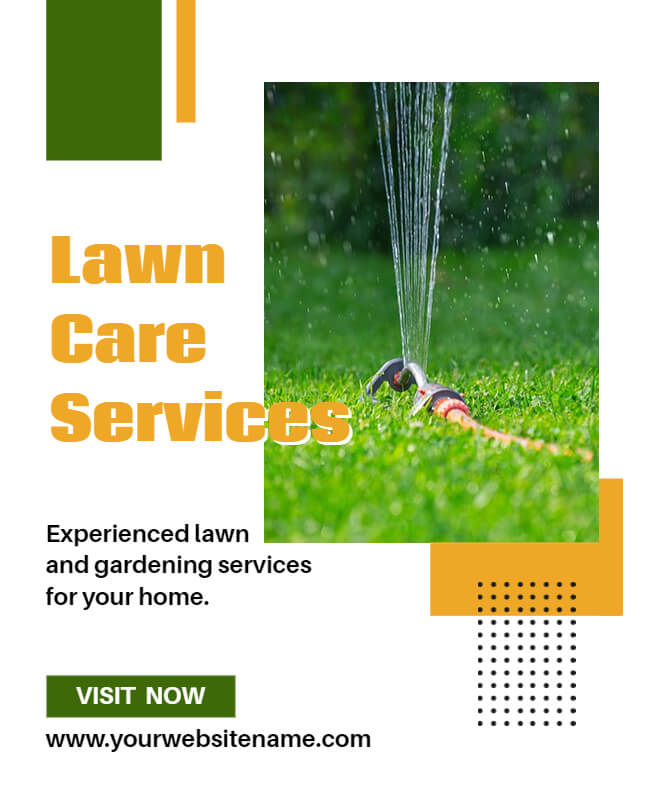 Lawn Care Expert Flyer
If you're positioning yourself as a lawn care expert, you may want to create a lawn care expert flyer that highlights your experience and credentials. This type of flyer can help you stand out from other landscaping companies and attract clients who are looking for someone with specialized knowledge in this area.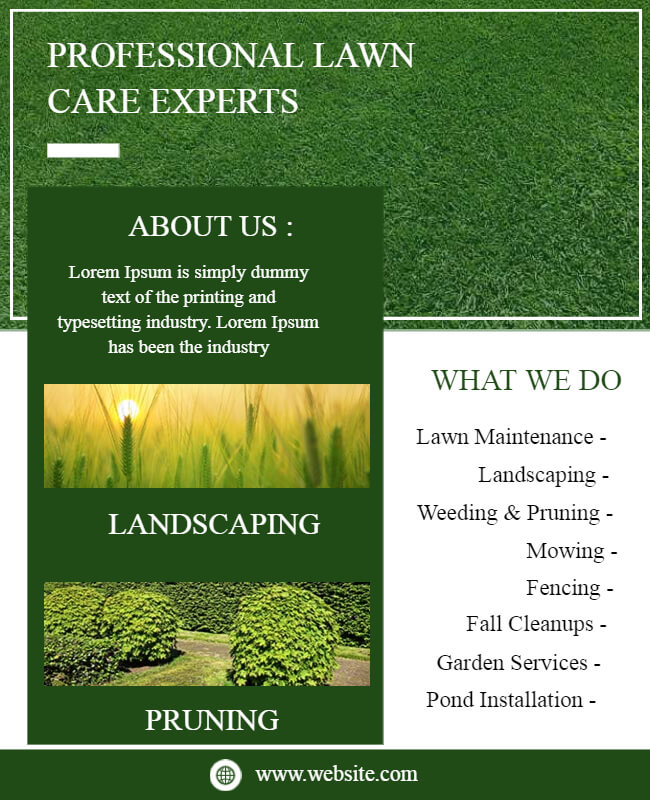 Landscaping Service Flyer
For a more general landscaping service flyer, you can include information about all of the services you offer, from lawn care to hardscaping and irrigation systems. You might also include testimonials from satisfied customers and photos of some of your past projects.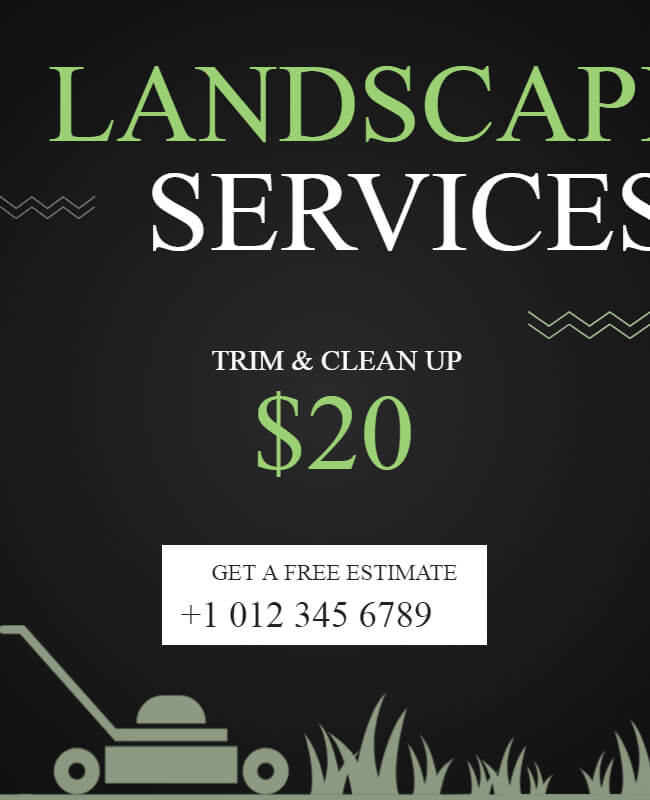 Before and After Landscaping Flyer
Before and after landscaping flyers are another great way to showcase your work and demonstrate the impact that your services can have on a property. These types of flyers typically include side-by-side photos of a property before and after your landscaping work has been completed.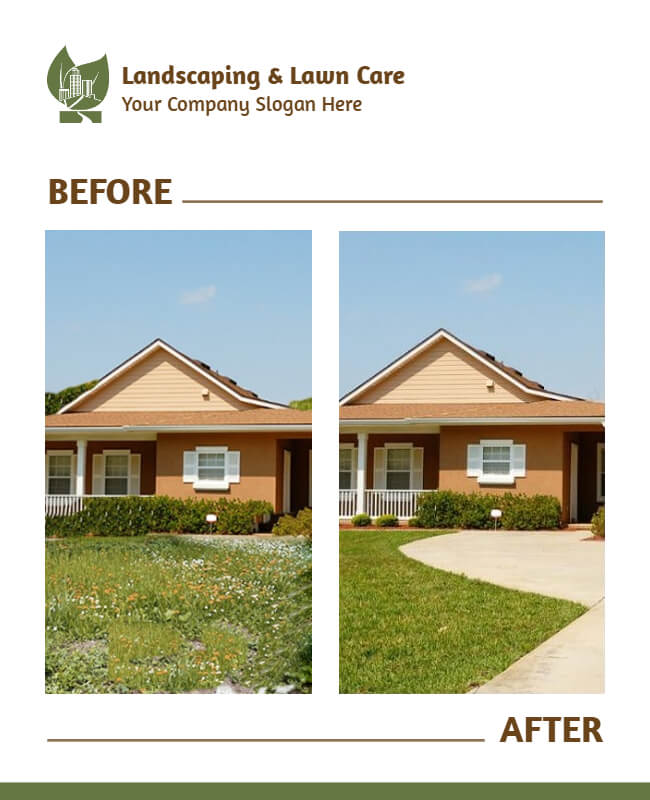 Luxury Landscaping Flyer
Finally, a luxury landscaping flyer can be a great way to target high-end clients who are looking for custom-designed outdoor living spaces, water features, and high-end plantings. This type of flyer should be designed to reflect the upscale nature of your services and appeal to clients who are interested in investing in their outdoor spaces.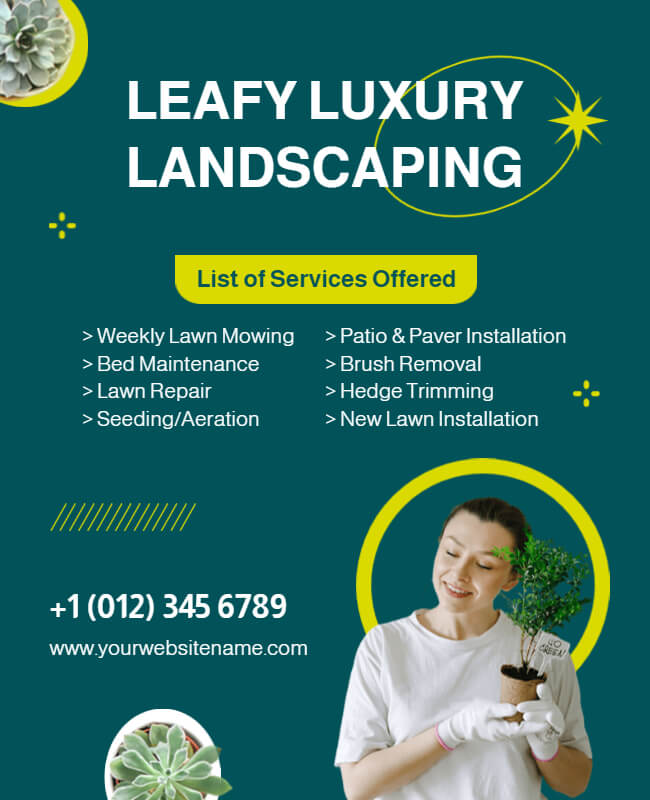 Nature's Feature Landscaping Flyer
For a nature's feature landscaping flyer, showcasing your ability to create stunning natural habitats and outdoor environments that blend seamlessly with the surrounding ecosystem can be a powerful selling point. Incorporating imagery of native plants, water features, and wildlife can help communicate your dedication to sustainability and environmental stewardship. Highlighting your experience in designing low-maintenance landscapes that require minimal water and pesticides can also appeal to eco-conscious clients.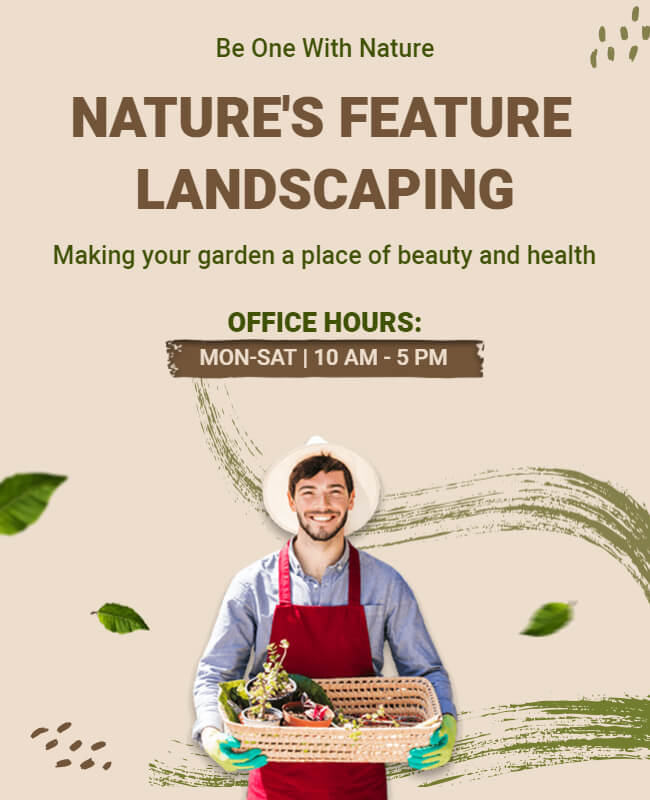 That's all with these basic to advanced landscaping flyer ideas and examples now, you can easily design your flyer. But if you want to try out some of the latest pre-design flyer templates, then you can try them here.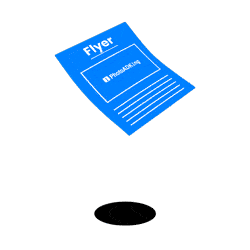 20,000+ Pre-designed Flyer Templates from PhotoADKing
It is now easy to create a flyer with a wide range of easy-to-edit flyer templates.
Explore Flyer Templates Now
To Wrap Things up
To put it in a nutshell, would like to say a perfectly designed. Further, effectively distributed landscaping flyers can be a dynamic tool for catching new customers towards you and generating leads. By considering elements such as bold colors, high-quality images, simple graphics, a clear call-to-action, and a compelling message, a business can create a flyer that stands out and captures the attention of the reader. Lastly, a landscaping flyer can be a cost-effective and impactful marketing tool with the right printing material, printing method, and distribution strategies. I hope you were able to obtain all the landscaping flyer ideas from this blog.
Read more Related Blogs
FAQs
How to create an effective landscaping flyer?
To create an effective landscaping flyer, you should first identify your target audience and determine what message you want to convey to them. Then, choose a design that is visually appealing and relevant to your message. Use high-quality images and graphics, concise language, and a clear call to action.
What should be included in a landscaping flyer?
A landscaping flyer should include your business name and logo prominently displayed at the top, followed by a brief description of your services. This can be supplemented with visually appealing images of your previous work to catch people's attention.
How to distribute landscaping flyers effectively?
Effective distribution of your landscaping flyers is key to reaching your target audience. Consider distributing them in local neighborhoods, leaving them on doors or mailboxes. Handing them out at community events or placing them in local businesses can also help get your message across.
What are some tips for successful flyer design?
When designing your landscaping flyer, keep in mind the importance of visual appeal and readability. Use contrasting colors and fonts that are easy to read and include only essential information to avoid overwhelming the reader. Use also white space to give your flyer a clean, uncluttered look, and include high-quality images showcasing your work.
How to measure the success of a landscaping flyer campaign?
Measuring the success of your landscaping flyer campaign can be done by tracking the number of inquiries or leads generated as a result of your distribution efforts. If you're using a unique phone number or email address on your flyers, you can track how many contacts came specifically from the flyer campaign.