Planning a football tournament requires that you want people to come to see this incredible football game. If you are planning a high school football game, a football night match at the stadium, or even throwing a football party, a football poster is the best way to showcase all the details of the event.
These inspirational football poster ideas will definitely help you attract more attention from the audience and make your tournament a huge success.
Table Of Content
1. Who Can Use Football Posters?
Football Event Organizers
It is extremely useful for those who organize football matches regularly to display posters for upcoming football matches.
Marketers
When it comes to planning a successful football tournament, many marketers often follow digital as well as traditional marketing strategies including showcase football posters.
Students
Students can post football posters on school walls for an upcoming football game with the help of football posters.
Football Fundraisers
Besides being a sport, football also brings people together for a charitable cause and helps those who need it most. Therefore, displaying posters about football fundraising is one of the main ways to bind the community together.
2. Why You Should Use Football Posters?
Target More Audiences
It will be easier to reach more audiences with football posters, especially those who are interested in football and enjoy watching it.
Further, you can also advertise in your football poster that you will provide them with free food after the event or that you will hold a party after the event in order to attract more attendees.
Promote Your Football Event
A football poster is an ideal way to promote your event, especially if you're starting out. This is the best marketing material to start with if you're unsure of how to proceed.
Awareness Among People
Local communities can be made aware of upcoming events by displaying football posters. Additionally, you will be able to attract more viewers if you schedule your event for the weekend.
3. What to Put in a Football Poster?
Organizing Company or Game Sponsor's Name
The initial information at the top should include your organization's name if you sponsor football events. This way, you will not only promote the upcoming football event but also your company.
For instance, you may display your company name at the top of the poster as "XYZ company presents."
You may also include your company's website and contact details on the poster so that visitors can learn more about the upcoming event and buy tickets online.
Event Name
What type of occasion are you planning? Is it a football night tournament or a football party that you're organizing? Or are you planning a football fundraising event?
No matter what kind of event you're planning, your poster needs to emphasize the key reason why it's happening.
Date and Time of the Event
The key thing to state in a football poster is when and at which time this forthcoming match will take place so that people may arrange their other activities in advance to attend this fantastic tournament.
Sports Location
Aside from stating the date and time, it's crucial to highlight the venue of this future event.
Ticket Details
Information about the event's tickets, such as the price or whether it's free? You may also include special offers and bonuses in your tickets, such as free meals or other fun activities.
Football logo
You can display your football logo on a football poster if you have one, or you can make a podcast logo. Because that will connect with your viewers.
4. Where to Use Football Posters?
High Schools and Colleges
Putting up football posters on the walls of high schools or colleges is a great way to draw more people to a high school football game you're planning.
Billboards
Are you a well-known football organizer in your community? Then, advertising the most important upcoming football match on billboards will easily capture the attention of the entire community.
Social Media Platforms
Social media platforms are better options to share your incredible football posters online when you are running low on budget.
However, you must share football posters on all your social media platforms to reach the right targeted audience. You can also take the help of paid or sponsored ads if you want.
5. How to Make a Football Poster?
Here are some simple steps to take while designing a football poster based on your preferences:

1. Open PhotoADKing, Sign up or Log in to it.
2. Search 'Football Poster' in the search bar or simply open the Football Poster Template page.
3. Choose any football poster template as per your choice.
4. Make changes to your template as you want in the editor.
5. Once you finish editing, download it and share it.
Football Poster Ideas
PhotoADKing not only allows you to edit your football posters as per your requirements but also provides you with these amazing football poster ideas that give you so many options and let you design in just a few minutes with its easy-to-follow editor. Take a look at these simple yet outstanding football poster ideas to make your posters stand out.
Football Final Game Poster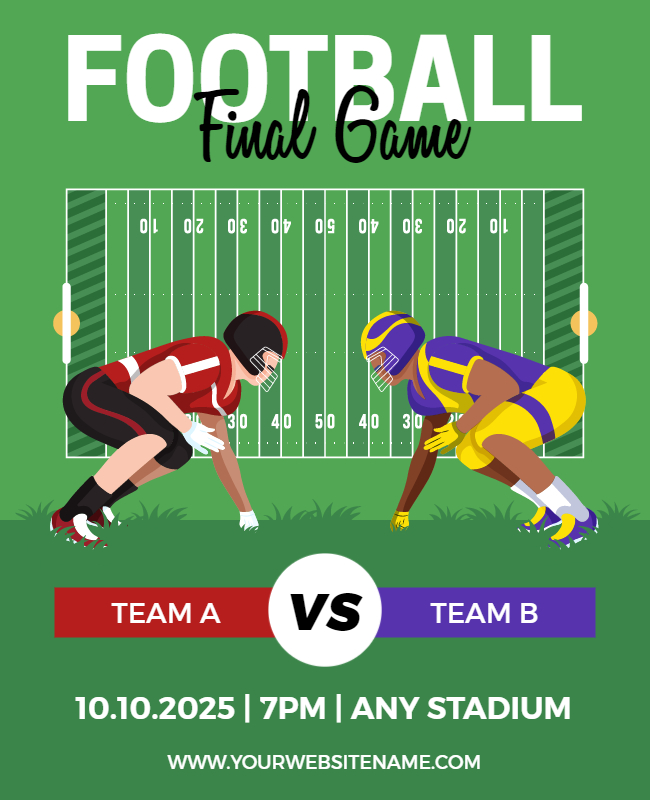 Football Camp Poster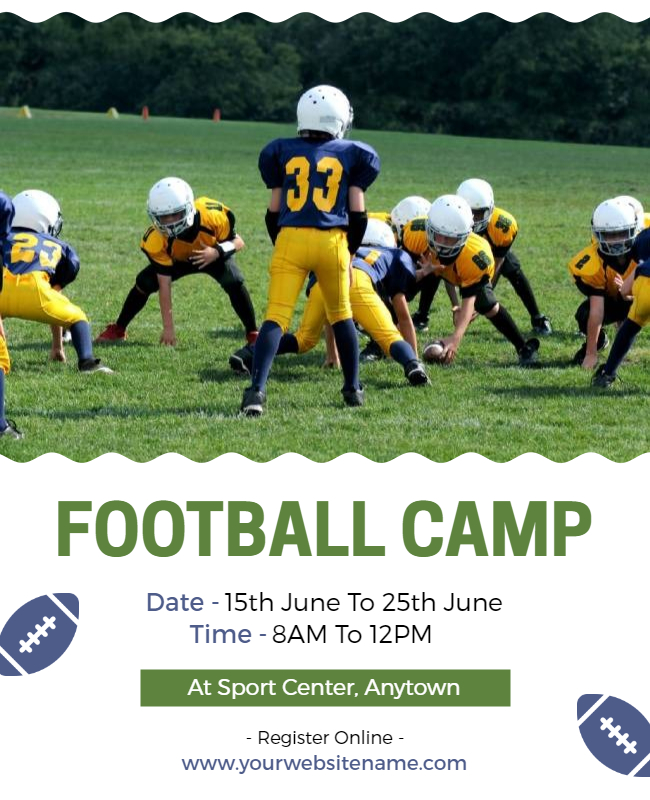 Football Party Poster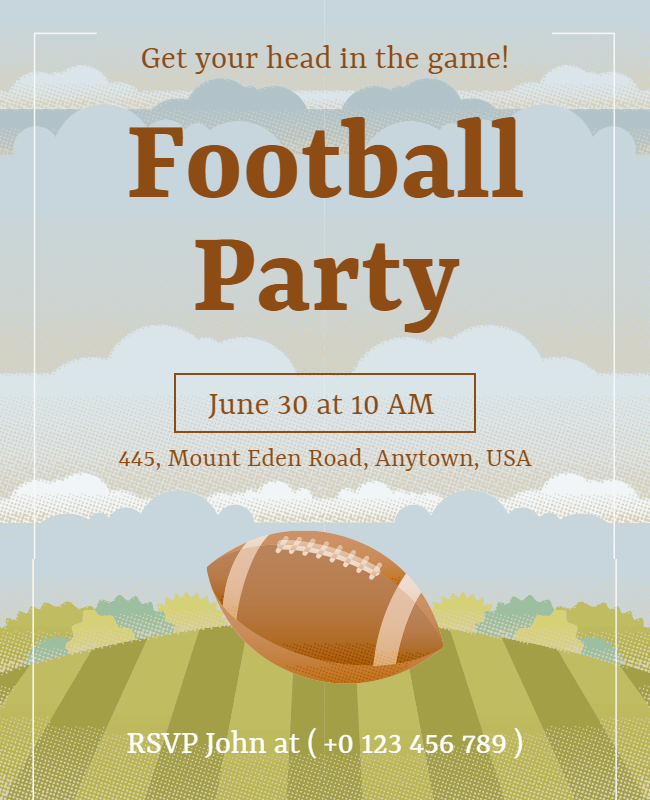 Football Tryout Poster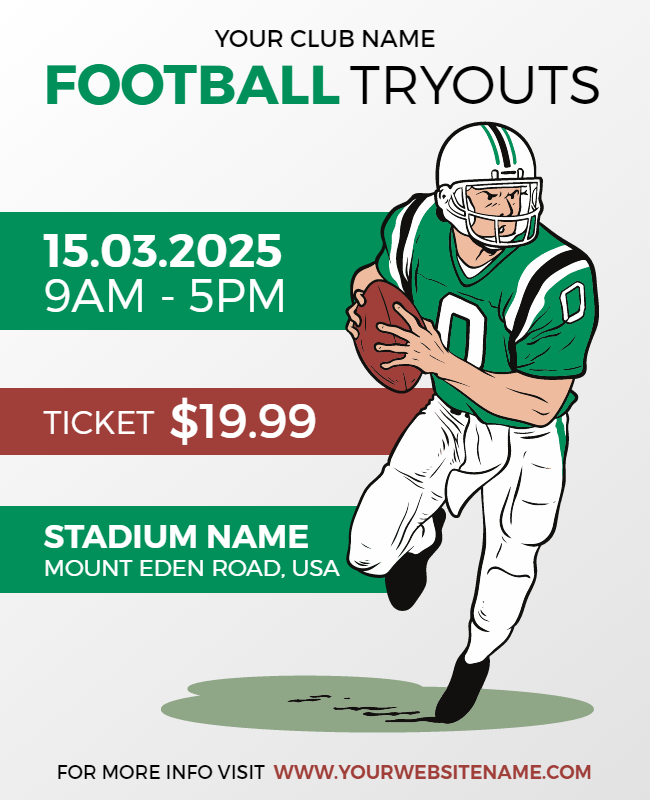 Football League Poster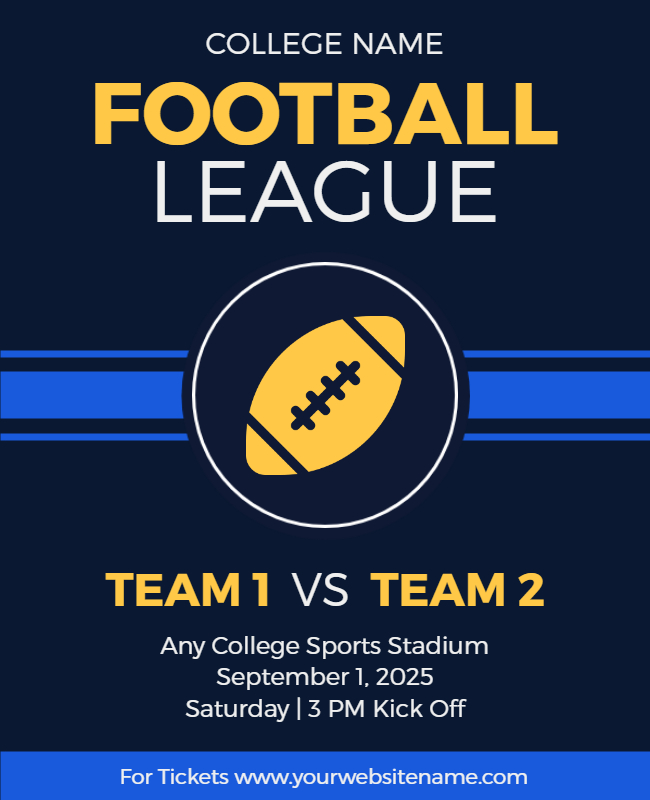 Football Match Poster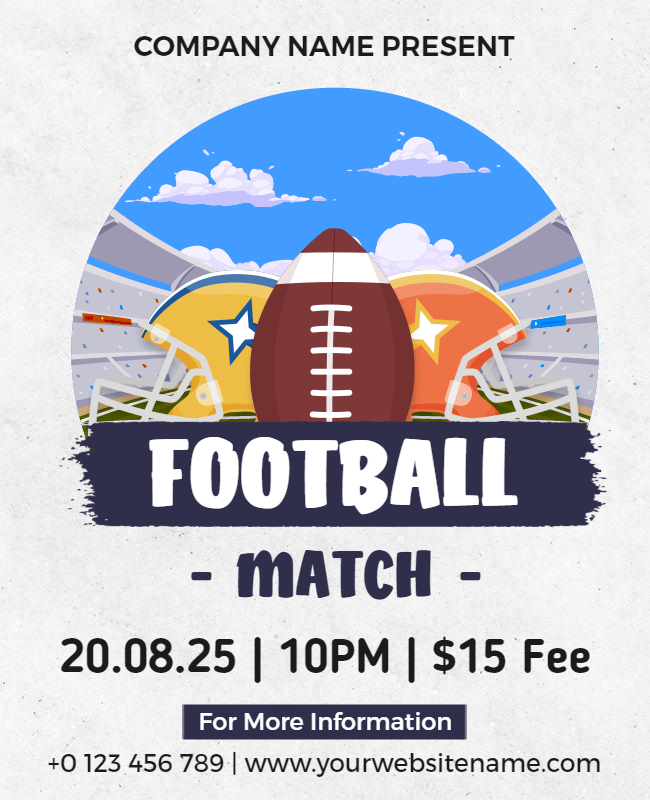 Football Sport Poster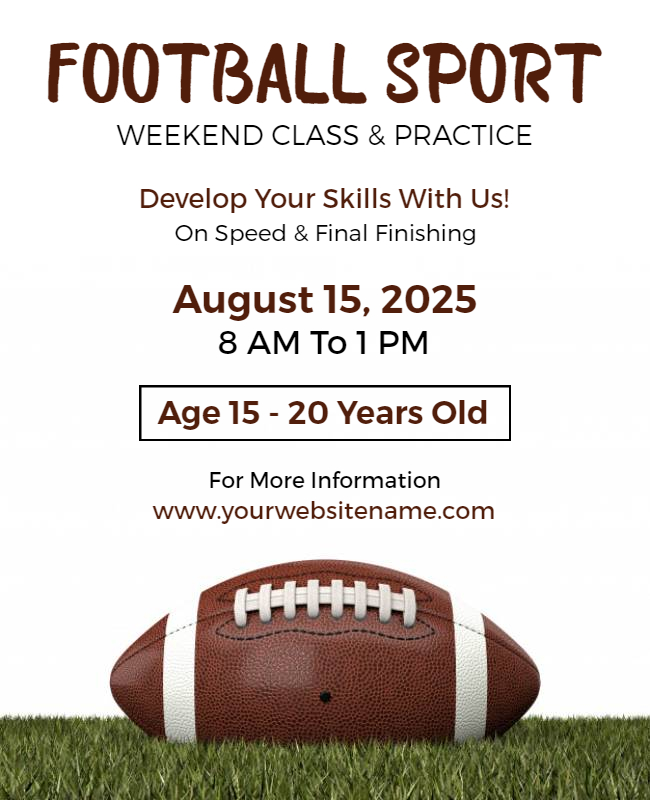 College Football Poster