Planning a football tournament requires that you want people to come to see this incredible football game. Whether you are planning a high school football game, a football night match at the stadium, or even throwing a football party, a football poster is the best way to showcase all the details of the event.
We have covered some amazing football poster ideas here to help you with poster design.

These inspirational football poster ideas will definitely help you attract more attention from the audience and make your tournament a huge success.
Table Of Content
---
Football Poster Ideas
---
PhotoADKing not only allows you to edit your football posters as per your requirements but also provides you with amazing football poster ideas that give you so many options and let you design in just a few minutes with its easy-to-follow editor. Take a look at these simple yet outstanding football poster ideas to make your posters stand out.
Football Camp Poster
Promote your football camp with an engaging poster that highlights the key elements of the program. Incorporate images of young athletes in action, details about the coaching staff, and camp dates, all while showcasing the fun and skill development that participants can expect.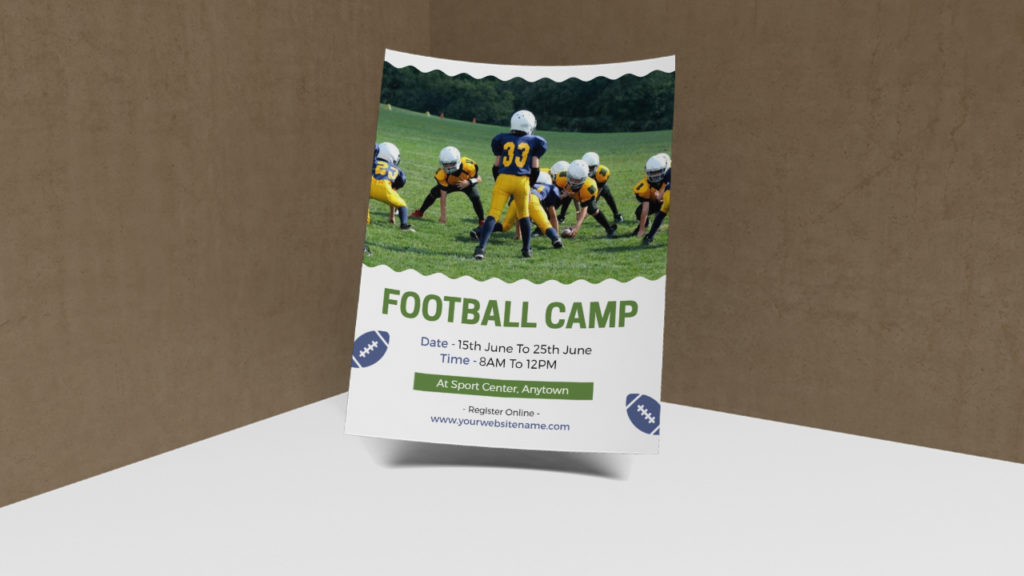 Football Party Poster
Get fans ready to cheer for their favorite team by creating an enticing football party poster. Utilize football-themed graphics, game schedules, and food and beverage details to build anticipation for the ultimate game day gathering, whether it's at home or a local sports bar.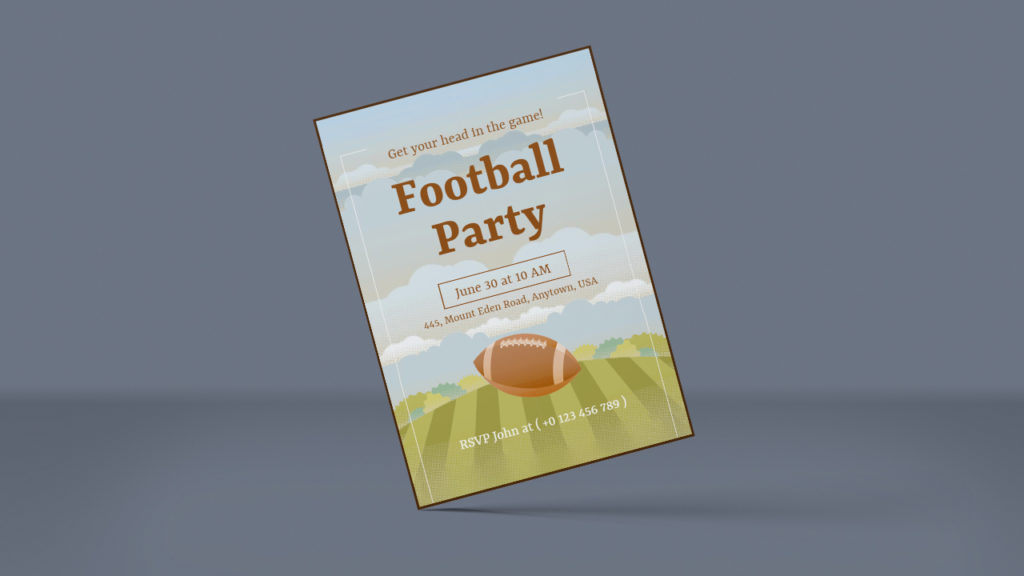 Final Game Football Poster
Capture the excitement and anticipation of the championship showdown with a football final game poster. Use dynamic imagery, team logos, and vibrant colors to convey the essence of the game, making it a must-have keepsake for fans and a motivating piece for the teams.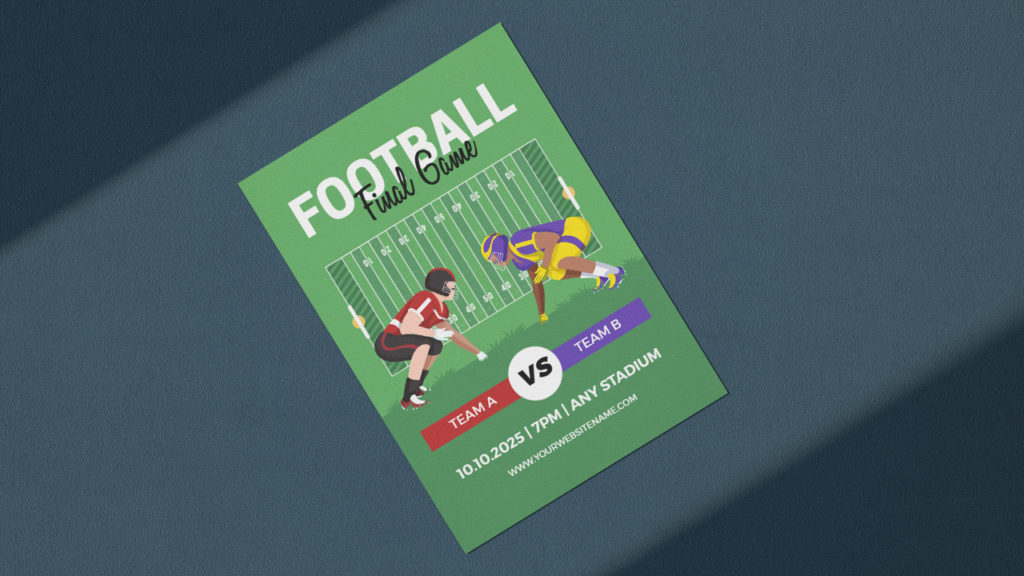 Football Tryout Poster
Generate interest and excitement for football tryouts with a compelling poster. Showcase the opportunity for aspiring athletes to join the team, highlighting key dates, locations, and contact information to ensure a strong turnout of potential talent.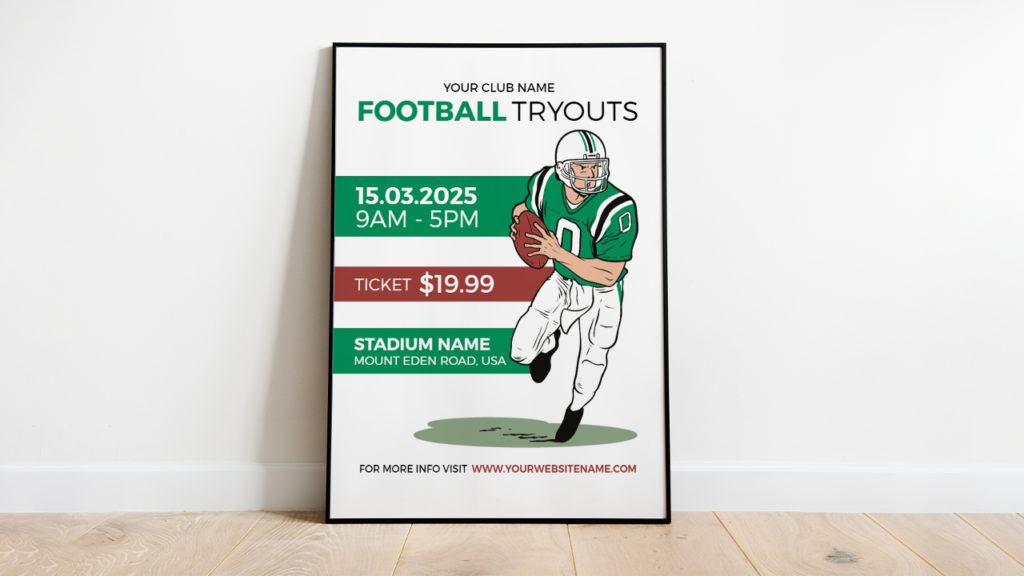 Football League Poster
Create a sense of unity and competition within your football league by designing an eye-catching poster. Incorporate team logos, league schedules, and sponsor information to promote the upcoming season and foster a strong sense of community among participants and fans.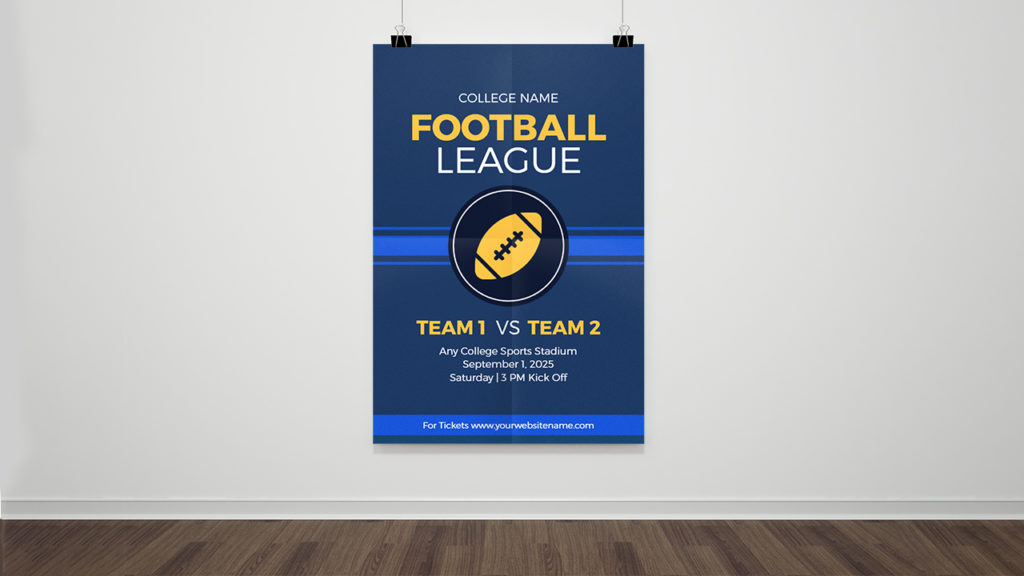 College Football Poster
Promote college football games and teams with posters that capture the essence of campus pride and tradition. Furthermore, incorporate iconic landmarks, mascots, and team achievements to create visually appealing designs that resonate with students, alumni, and fans alike.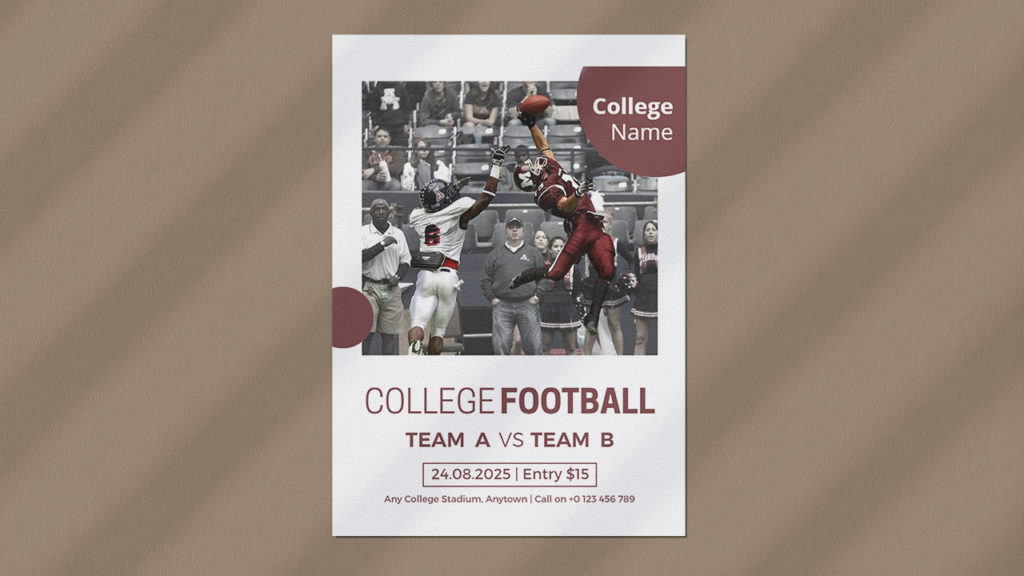 Football Match Poster
Build anticipation for upcoming football matches with visually striking posters. Additionally, incorporate images of star players, match dates, and venue details, emphasizing the clash of rivals and the thrill of the game to draw fans to the stadium or tune in from home.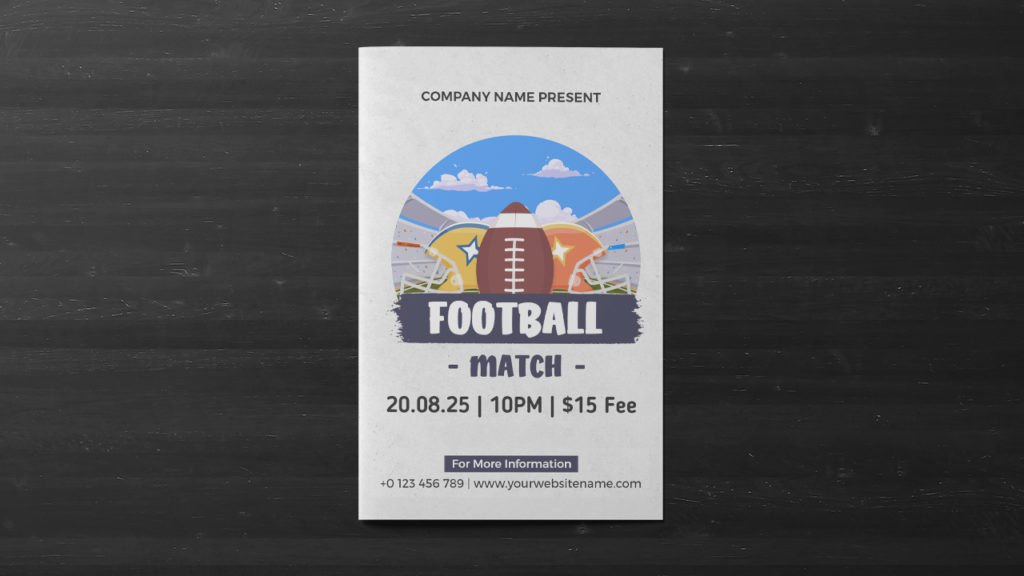 Football Tournament Poster
Create a buzz around your football tournament with a captivating poster that showcases the competitive spirit of the event. Incorporate tournament dates, participating teams, and a compelling visual theme that reflects the excitement and camaraderie that define this sporting spectacle, enticing both players and spectators to join in on the action.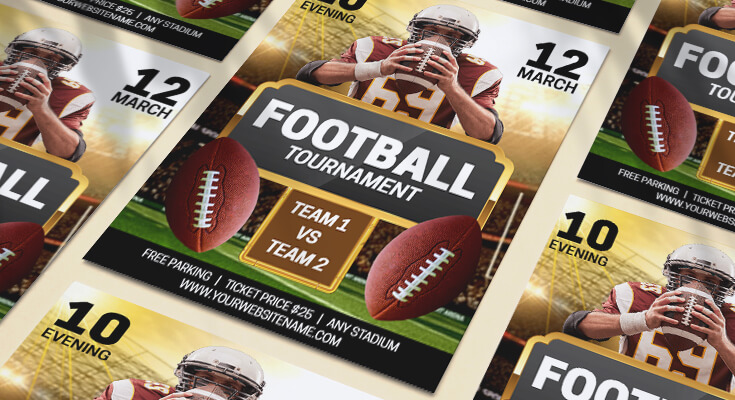 Minimal Football Advertisement Poster
Promote football-related products, services, or events with an attention-grabbing advertisement poster. Use persuasive graphics, compelling slogans, and clear calls to action to engage your target audience and encourage them to attend games purchase merchandise, or participate in football-related activities.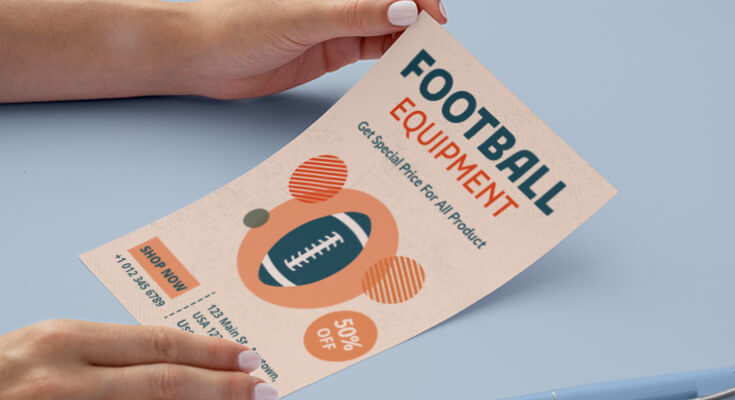 Football Sport Poster
Celebrate the essence of football as a sport with a captivating poster. Blend iconic imagery, such as a football in flight or a player in action, with motivational quotes and team colors to create a piece of art that embodies the passion and spirit of the game.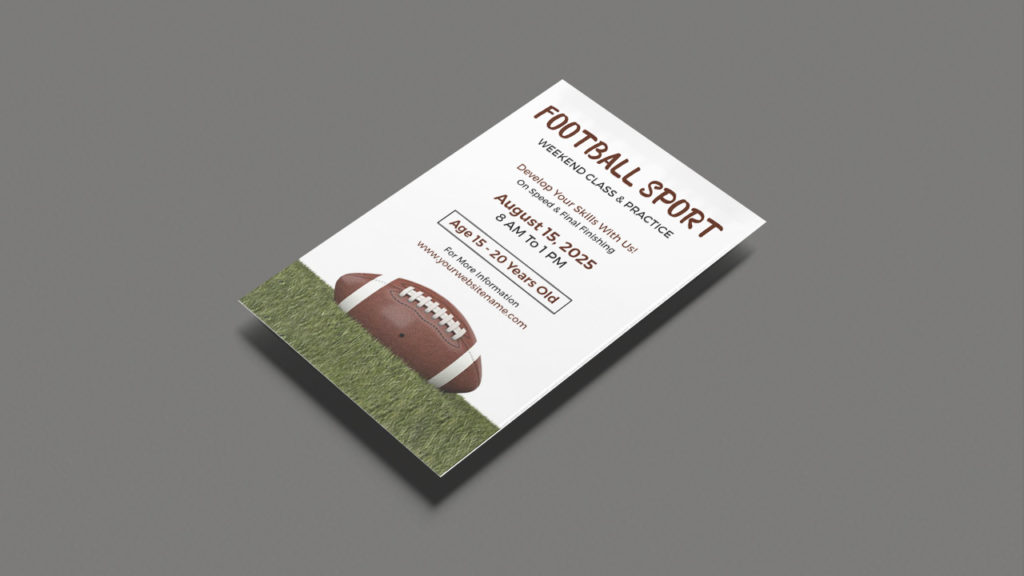 Football Coaching Poster
Inspire aspiring football players and coaches with a coaching poster that offers valuable insights into the world of football. Include images of dedicated coaches in action, coaching philosophy highlights, and contact information for coaching programs or services.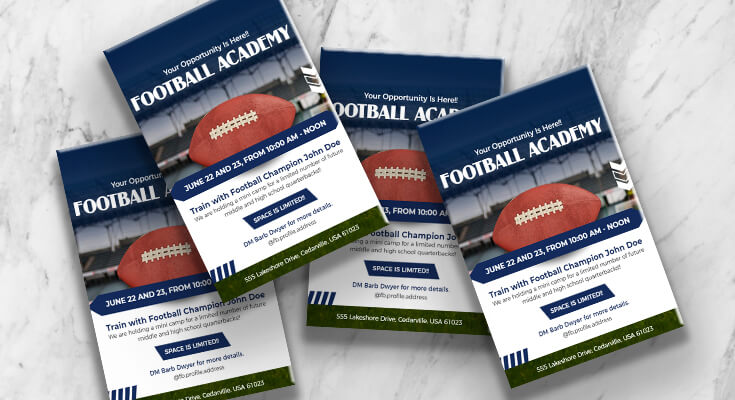 Remember, the key is to capture the essence of football and engage your audience with visually appealing and meaningful designs. Using these poster templates, you can design a poster that can attract your customers for football matches.
Also, after exploring the football poster ideas, we will discuss further about the benefits of using a football poster, who can use it, the elements of a football poster, and where we should use it.
---
Who Can Use Football Posters?
---
Football Event Organizers
It is extremely useful for those who organize football matches regularly to display posters for upcoming football matches.
Marketers
When it comes to planning a successful football tournament, many marketers often follow digital as well as traditional marketing strategies including showcase football posters.
Students
Students can post football posters on school walls for an upcoming football game with the help of football posters.
Football Fundraisers
Besides being a sport, football also brings people together for a charitable cause and helps those who need it most. Therefore, displaying posters about football fundraising is one of the main ways to bind the community together.
---
Why You Should Use Football Posters?
---
Target More Audiences
It will be easier to reach more audiences with football posters, especially those who are interested in football and enjoy watching it.
Further, you can also advertise in your football poster that you will provide them with free food after the event or that you will hold a party after the event in order to attract more attendees.
Promote Your Football Event
A football poster is an ideal way to promote your event, especially if you're starting out. This is the best marketing material to start with if you're unsure of how to proceed.
Awareness Among People
Local communities can be made aware of upcoming events by displaying football posters. Additionally, you will be able to attract more viewers if you schedule your event for the weekend.
---
What to Put in a Football Poster?
---
Organizing Company or Game Sponsor's Name
The initial information at the top should include your organization's name if you sponsor football events. This way, you will not only promote the upcoming football event but also your company.
For instance, you may display your company name at the top of the poster as "XYZ company presents."
You may also include your company's website and contact details on the poster so that visitors can learn more about the upcoming event and buy tickets online.
Event Name
What type of occasion are you planning? Is it a football night tournament or a football party that you're organizing? Or are you planning a football fundraising event?
No matter what kind of event you're planning, your poster needs to emphasize the key reason why it's happening.
Football logo
You can display your football logo on a football poster if you have one, or you can make a football logo using football logo templates. Because that will connect with your viewers.
Date and Time of the Event
The key thing to state in a football poster is when and at which time this forthcoming match will take place so that people may arrange their other activities in advance to attend this fantastic tournament.
Sports Location
Aside from stating the date and time, it's crucial to highlight the venue of this future event.
Ticket Details
Information about the event's tickets, such as the price or whether it's free? You may also include special offers and bonuses in your tickets, such as free meals or other fun activities.
---
Where to Use Football Posters?
---
High Schools and Colleges
Putting up football posters on the walls of high schools or colleges is a great way to draw more people to a high school football game you're planning.
Billboards
Are you a well-known football organizer in your community? Then, advertising the most important upcoming football match on billboards will easily capture the attention of the entire community.
Social Media Platforms
Social media platforms are better options to share your incredible football posters online when you are running low on budget.
However, you must share football posters on all your social media platforms to reach the right targeted audience. You can also take the help of paid or sponsored ads if you want.
Now, we have explored all the important details about football posters. So next, we will show you the steps to create a football poster.
---
How to Make a Football Poster?
---
Here are some simple steps to take while designing a football poster based on your preferences:

1: Open PhotoADKing and search 'Football Poster' in the search bar or simply open the football poster templates.
2: Choose any football poster template as per your choice.
3: After clicking on your selected poster template, you will be directed to a sign-up page. Fill out all the details required for sign-up.
4: Make changes to your template as you want in the editor. Add text, change the background, or add images as per your requirements.
5: Once you finish editing, download it and share it.
Following these steps, you can create your own football poster easily for your next game.
Recommended Blogs:
Football Flyer Ideas
Football Banner Ideas
Basketball Flyer Ideas
Volleyball Poster Ideas
Basketball Logo Design Ideas
Basketball Certificate Ideas
Sports Certificate Ideas & Types
Types Of Poster
Poster Design Ideas
How To Design a Poster Online
Common Poster Design Mistakes to Avoid
How To Create a Minimalist Poster Design
Tips For Poster Promotion
How To Make Poster Design With Your Message
How To Transform Poster Into A Masterpiece
Conclusion
In conclusion, football posters provide a fantastic opportunity to capture the spirit and excitement of the game. Whether it's promoting a match, a team, or a football-related event, the right design can make a lasting impact on fans and spectators. With the help of online tools like poster maker, it is now easy to create a poster in no time. By incorporating eye-catching visuals, dynamic typography, and relevant information, you can create stunning football posters that effectively convey the energy and passion of the sport.
Remember to tap into your creativity, think outside the box, and tailor your designs to resonate with your target audience. So go ahead, unleash your design skills, and create memorable football posters that will have fans eagerly anticipating the next kick-off.

---
FAQs
---
What should I consider when designing a football final game poster?
When designing a football final game poster, consider incorporating the date, time, and location of the game prominently. Use striking images of the teams or players involved, and create a sense of excitement with vibrant colors and dynamic graphics.
What elements should I include in a football camp poster design?
A football camp poster should include essential details such as the camp dates, location, registration information, and contact details. Use images of enthusiastic campers in action and consider using icons or illustrations that convey the fun and learning aspect of the camp.
Who can use football posters?
Anyone involved in football, from teams and coaches to event organizers and fans, can use football posters.
What should I consider when designing a football match poster?
When designing a football match poster, prominently feature the match details, including the teams playing, date, time, and venue. Use action shots or images of key players. Consider incorporating team colors and logos.
Where can I use football posters for the best impact?
Use them at games, sports events, schools, community centers, online platforms, and social media to reach a wide audience.