A basketball logo is essential to a basketball team's branding and marketing efforts. A well-designed logo can create a strong visual identity that fans can connect with and rally behind. The logo should be unique, memorable, and representative of the team's values and identity. A well-designed logo can serve as the cornerstone of your team's visual identity, helping to establish an attractive and recognizable image that sets you apart from the competition.
Elements commonly used in basketball logos include a basketball, a team name, colors, and mascots. The logo should be adaptable to different media, such as print, digital, and merchandise, and have a timeless quality to ensure it remains relevant. A well-designed logo can help a team stand out and create a lasting impression on fans. If you're in need of a basketball logo for your team, organization, or brand, using basketball logo templates can be an excellent starting point.
Basketball Logo Design Ideas
Shield Type Basketball Logo Ideas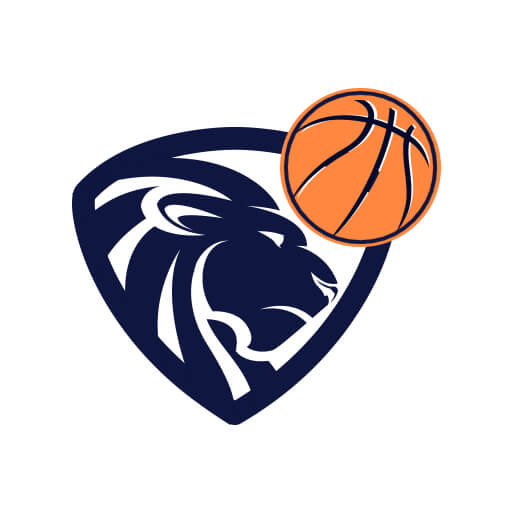 Shield-type basketball logos can convey a sense of toughness and strength. Elements such as a basketball, shield, or team name can be incorporated to create a unique and memorable design. Color schemes may include bold and contrasting colors to capture attention.
Fire Type Basketball Logo Ideas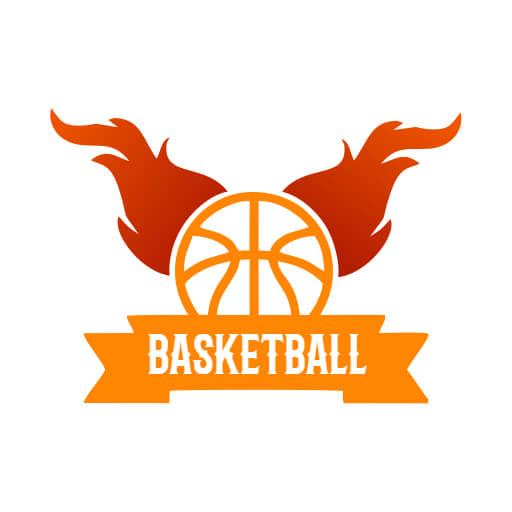 For a fire-type logo, consider using a basketball with flames shooting out of it, or a basketball hoop with flames in the background. A basketball player surrounded by flames or the fiery lettering of the team name is also a great option. Use red, orange, and yellow colors to create a dynamic and energetic logo design.
Royal King Type Basketball Logo Ideas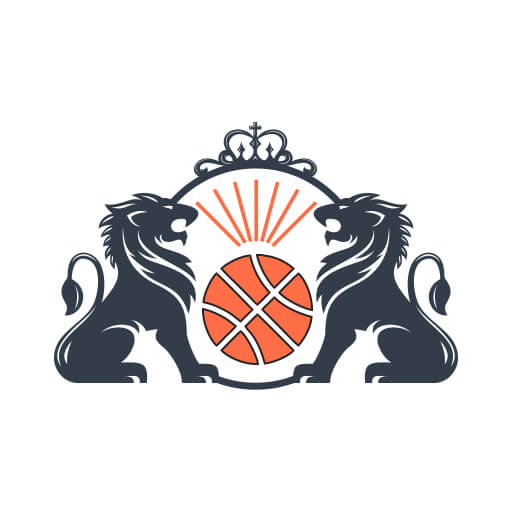 For a royal king-type basketball logo, consider using a crowned lion or a king's crown as the main element. Incorporate basketball elements such as a basketball or a basketball hoop into the design. Use regal colors such as gold, black, and purple to create a majestic and powerful logo. The team name can be written in an elegant script or in bold block letters.
Colorful Basketball Logo Design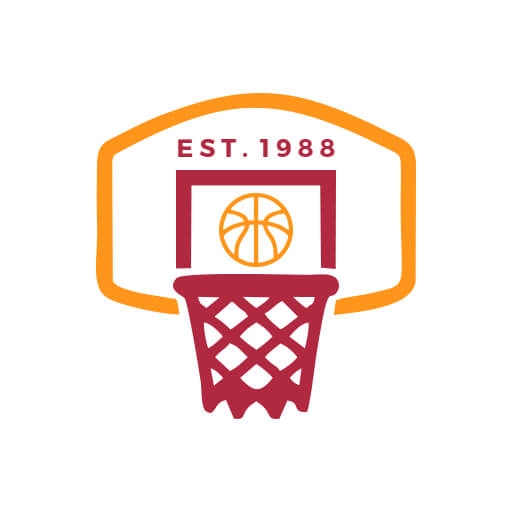 A colorful logo design can incorporate vibrant hues that reflect the team's energy and personality. Using bold and contrasting colors can make the logo stand out and capture attention. The typeface should be dynamic and evoke movement while incorporating basketball elements to create a memorable and visually appealing design.
3D Basketball Logo Design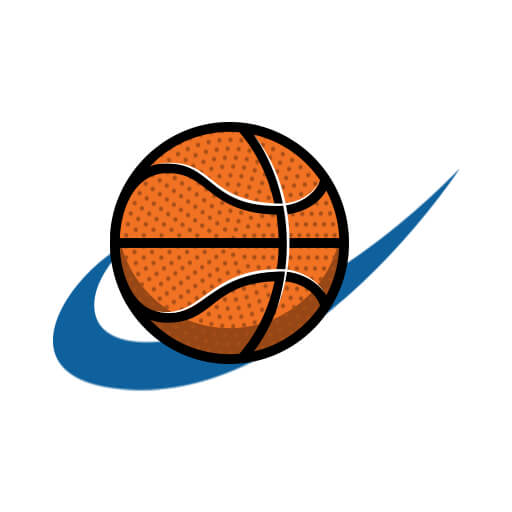 A 3D basketball logo design can add depth and dimension to the design. The use of shading and perspective can create a sense of realism, and the logo can incorporate basketball elements in a way that looks like they are popping out of the screen. The typeface should be bold and dynamic, adding to the overall sense of movement and energy in the design.
Lettering Type Basketball Logo Design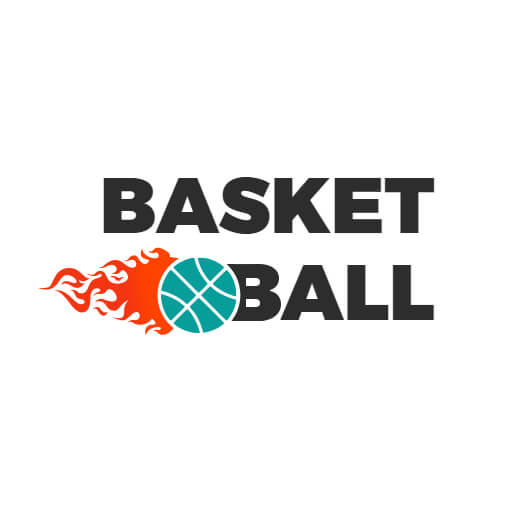 A lettering-type basketball logo design can be an effective way to create a simple and timeless logo. The focus is on the typography, with the letters forming the shape of a basketball or incorporating basketball elements. The typeface should be bold and dynamic, capturing the energy of the game, while still being easily legible and recognizable.
Emblem Type Basketball Logo Design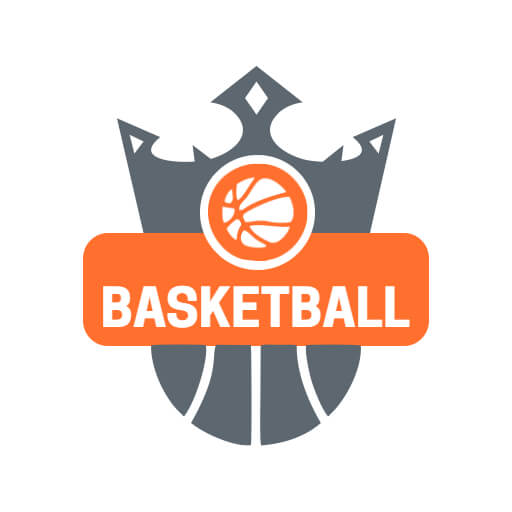 An emblem-type basketball logo design can create a sense of tradition and history. The logo is typically a combination of text and symbols, with the team name or initials surrounded by a shield or crest. The design can incorporate basketball elements, such as a ball or player, while still maintaining a classic and timeless feel. The typeface should be clear and easy to read, while still being bold and impactful.
Circle Basketball Logo Design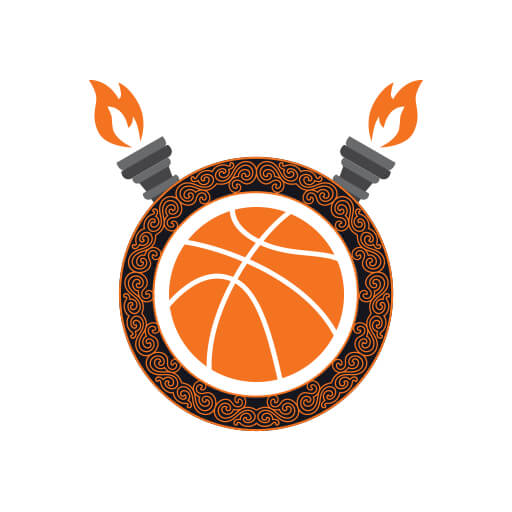 A circle basketball logo design can create a sense of unity and community. The circular shape can represent the basketball itself, or the idea of a team coming together. The circular shape also lends itself well to be easily recognizable and memorable.
Simple Basketball Logo Design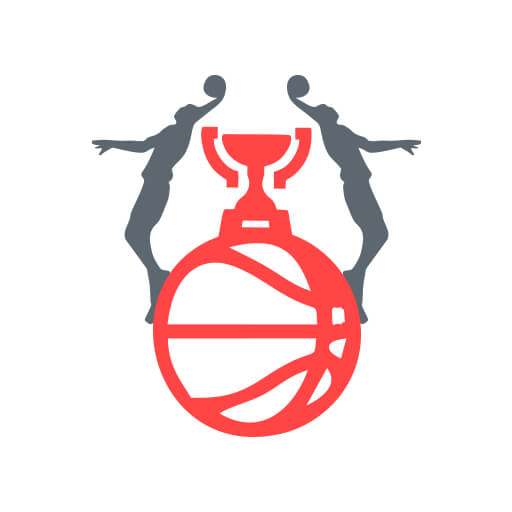 A simple basketball logo design can be effective in conveying a team's identity. The focus is on a minimalistic design, using a few key elements such as a basketball, a player, or team initials. A simple design can be easily recognizable and memorable, making it a great choice for a team logo.
Exclusive Basketball Logo Design Tips
Keep it Simple
A basketball logo should be simple, clean, and easy to recognize. Simplicity makes a logo more memorable and versatile for use on various platforms, including social media, merchandise, and websites. An overly complicated or cluttered logo can be challenging to reproduce and may not be easily identifiable.
Visuals
The visuals of a logo typically include a basketball, sometimes with a stylized design or texture, along with text or other graphics that represent the team or organization. Colors often reflect the team's branding or regional ties, and the overall design aims to convey a sense of energy, athleticism, and competitiveness.
Choose an Appropriate Font
The font you choose for your logo is also critical. A bold and clean font can make your logo look modern and professional, while a more playful font can convey a sense of fun and energy. However, make sure the font is legible, even when the logo is scaled down to a small size.
Keep it consistent
A consistent logo design can help establish your team's brand identity and build recognition among fans and competitors.
Use Appropriate Colors
Colors play an essential role in logo design. The colors you choose for your basketball logo should evoke emotions and convey your team's personality. For basketball logos, bold and vibrant colors such as red, blue, and orange are popular choices. These colors are often associated with energy, excitement, and athleticism, which are qualities that are commonly associated with basketball.
Make It Unique
Your basketball logo should be unique and distinguishable from other basketball logos. Avoid using generic designs, such as a basketball with flames or wings. Instead, try to come up with a design that is unique to your team and reflects your team's personality and values.
Keep the Design Clean and Minimalistic
When designing a minimalist logo, it's important to focus on the essential elements that convey the message you want to communicate. Another way to create a minimalist basketball logo is to utilize negative space creatively. By focusing on the essentials, using a limited color palette, and using simple shapes and lines.
Core Elements of Basketball Logo Design
Fonts
Choose a font that reflects the style of basketball. Basketball is a dynamic and energetic sport, so you may want to consider using a font that is bold and eye-catching. While it can be tempting to use a lot of different fonts or add elaborate design elements, it's important to keep your logo simple and easy to read.
Color
A logo should be designed to be unique from competitors. Strong and dynamic color that is often associated with passion, energy, and aggression. It is important to choose colors that not only look right together but also reflect the team's values and personality.
Unique shape
Try to simplify the shape as much as possible while still retaining its recognisability. When creating a unique shape for a logo design, it's important to consider the overall brand identity and values of the team or organization.
Layout
By considering these elements when creating your basketball logo layout, you can create a strong and memorable design that represents your team's identity.
Design Basketball Logo Using PhotoADKing.
Visit the PhotoADKing and sign up for a free account.
Once you login then select "Logo" from the category. Then type basketball in the search box given next and press enter.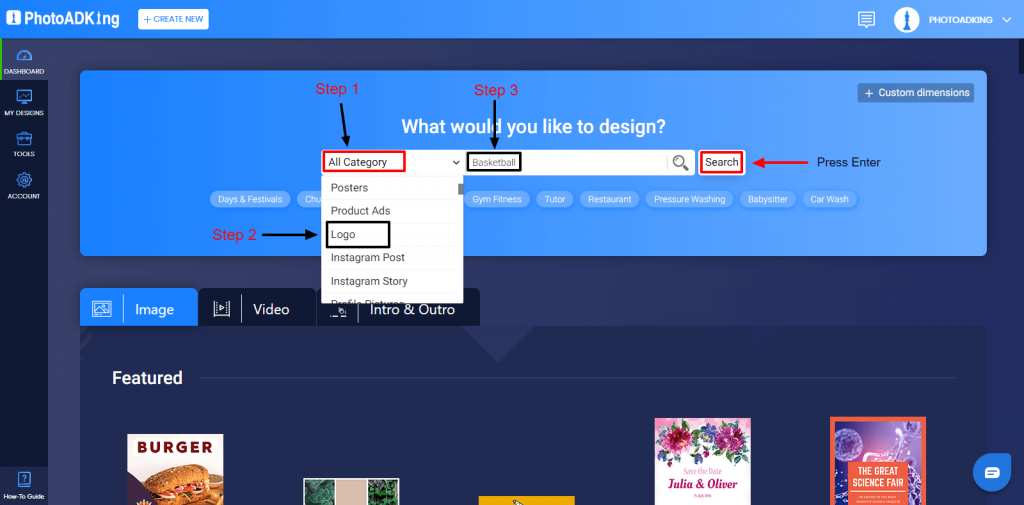 Now select your favorite one of the templates according to your needs.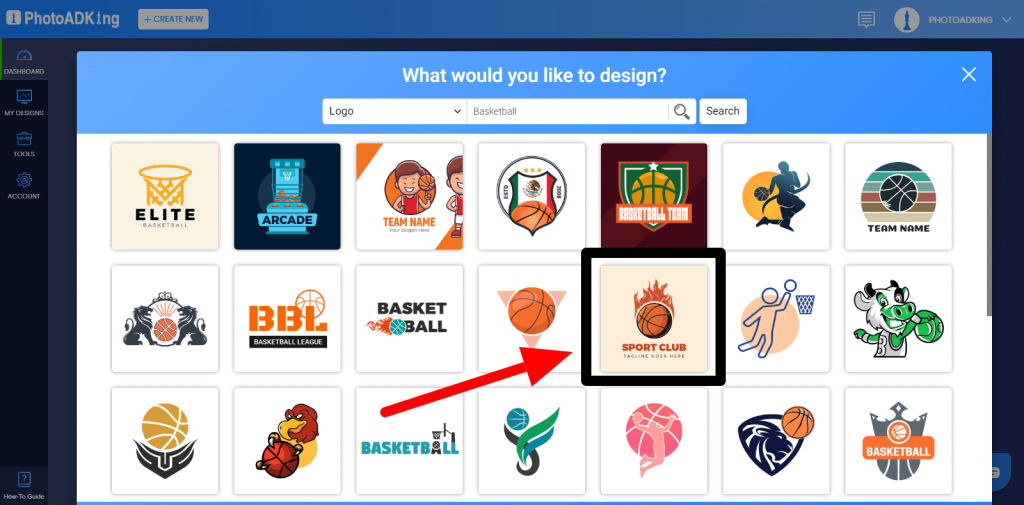 Customize the template with your own add text, images, and design elements.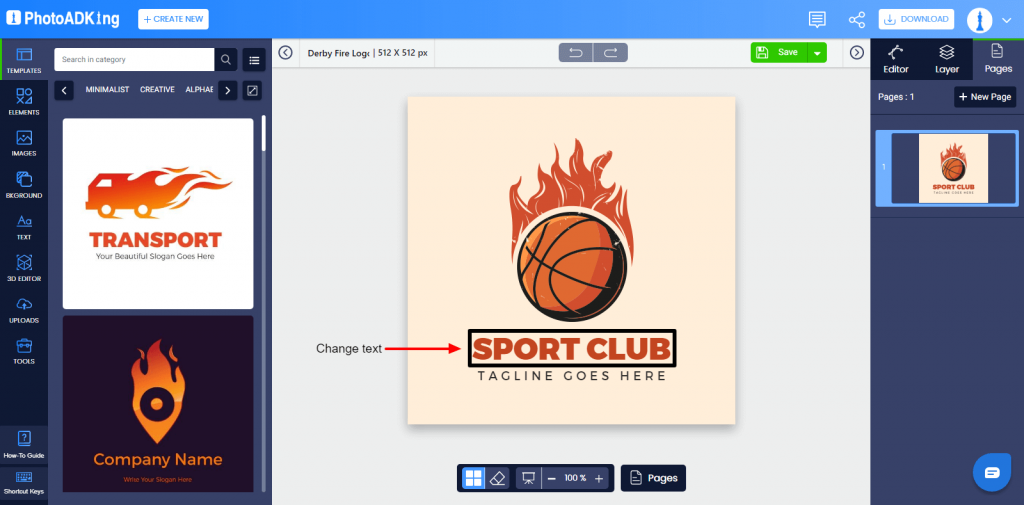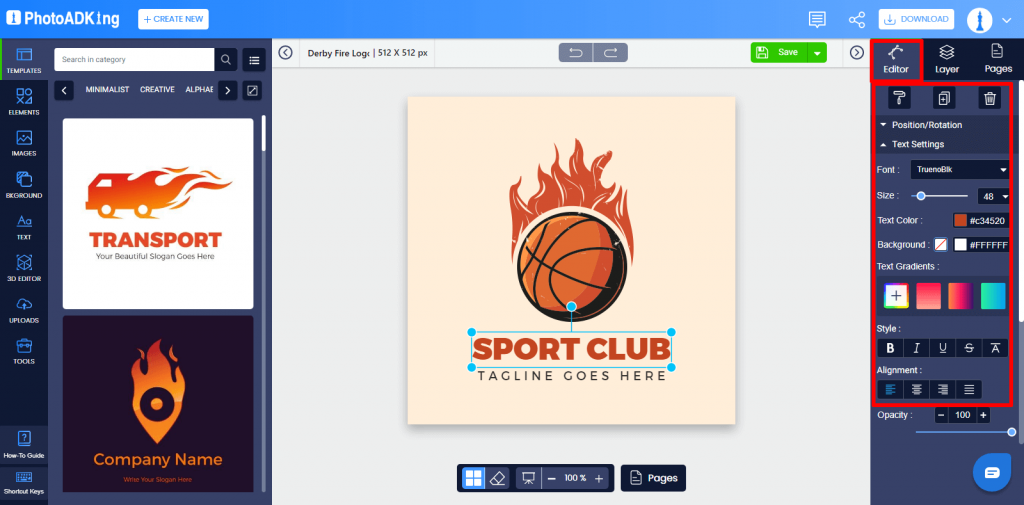 When your template is complete, you can now save a copy, download it, or share it online instantly. And can download the final design in various formats like PDF, JPG, and PNG.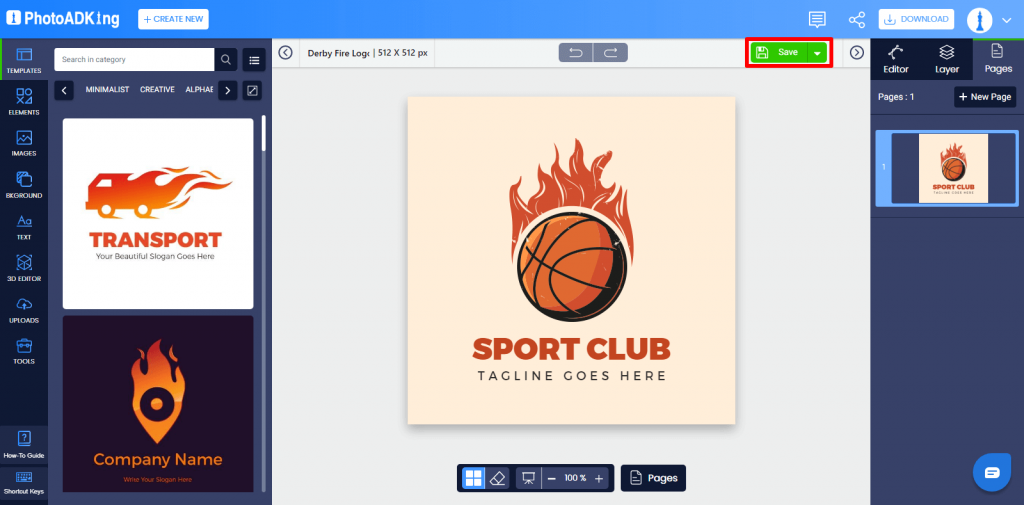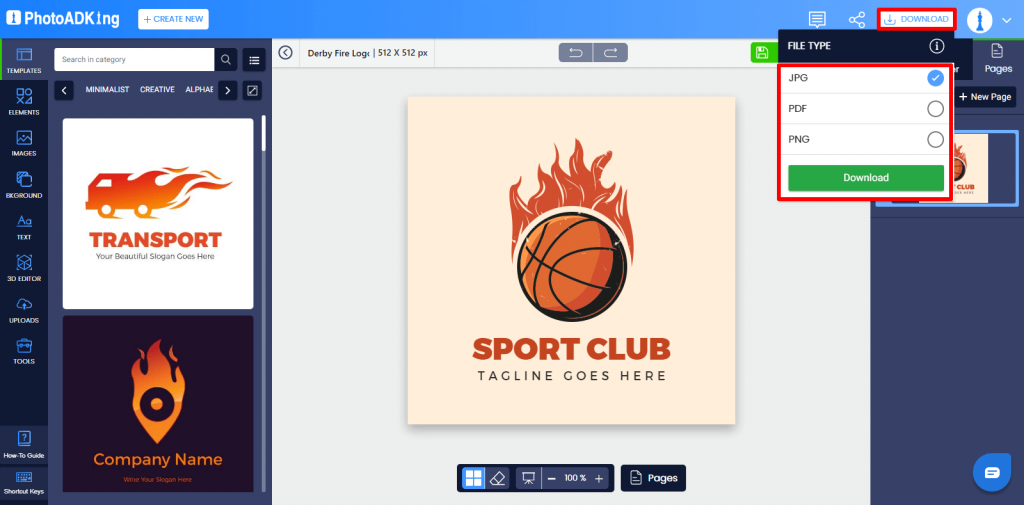 After your Logo is downloaded you can also share it on your social media platforms.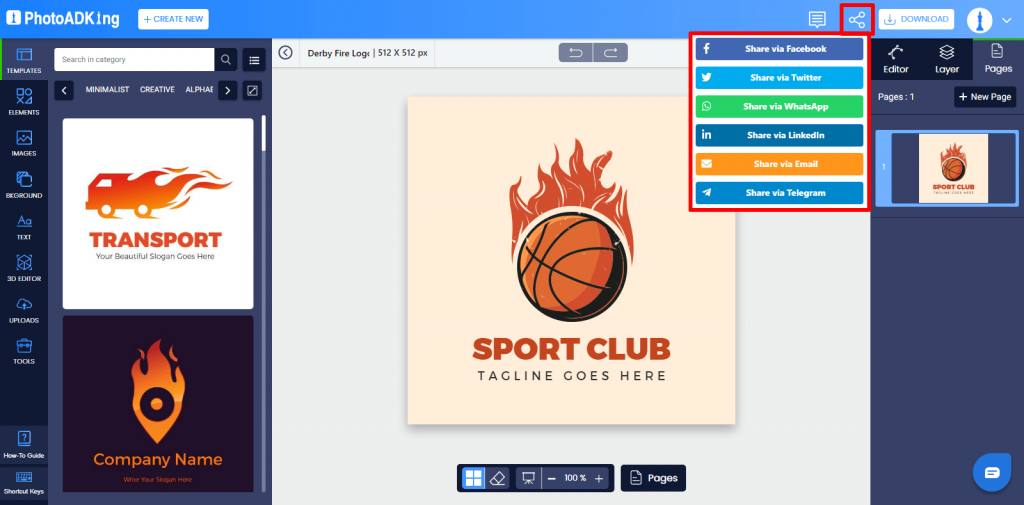 The Bottom Line
In conclusion, designing a basketball logo requires careful consideration of the team's brand identity and values, as well as an understanding of the key design elements that make a logo effective. A successful logo should be unique, memorable, and easily recognizable, while also conveying the spirit and energy of the sport. Some logo ideas for graphic designers include incorporating bold typography, abstract shapes, and vibrant colors. It's important to create a logo that is both visually appealing and memorable, while also accurately representing your brand and the services you offer.