Readymade food drive flyer examples are gracefully taking over traditional invitations. Your food drive flyer examples must be convincing enough to inspire people to donate. They're making it easy to reach hundreds and thousands of people to join hands for charity; feed the needy & be a part of a good. Another option is to use a charity poster template to reach the needy easily.
Needless to say, food drive flyers are handy these days. No matter if you're organizing one or volunteering it on behalf of an NGO business, you'll find relevant food drive flyer templates online. You don't even need to find a professional for the task.
Above all, it is recommended to choose food drive flyer examples that evoke a feeling of trust & authenticity. An ideal food drive flyer makes donors feel they're contributing to a genuine organization that'll feed the needy. Also, allow them to stay connected with the charitable firm even if the food drive ends.
Quick Tips on Making Food Drive Flyers
Personalizing food drive flyer examples could be overwhelming for some because they aren't for business promotions. They're different in many aspects. Let's have a glance at some essential tips on designing food bank flyers, just in case you need them.
Plan in Advance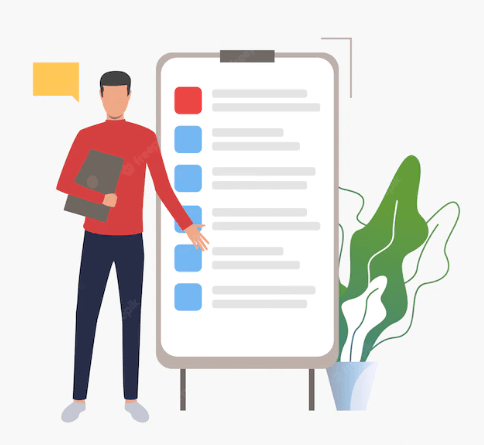 Prepare a list of recipients to whom you'll be providing the donations you'll receive. For instance, you'll have to reach out to the anti-hunger agency, local food bank, etc, and know their terms. Also, determine how you'll be generating awareness with flyers. Your flyers should be focused on hunger issues that make people donate for the same.
Define Your Basics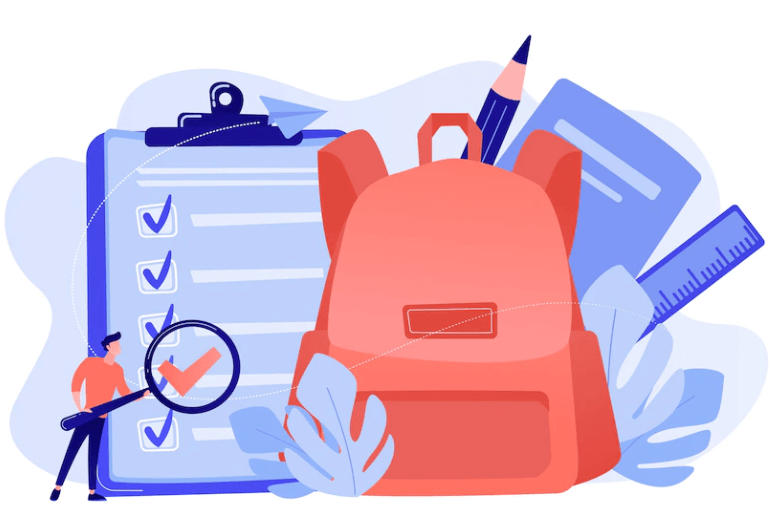 A fun food drive theme is a must. After all, why so serious? Explore trendy food drive flyer examples and create promotional materials that get to be the buzz online and offline. Make sure you're creating a flyer that has basics like start and end dates for food drive, collection sites/apps & goal amount (for example total number of grocery bags, XYZ pounds of food donation, X hundred dollars, and so on).
Focus on Promoting Food Drive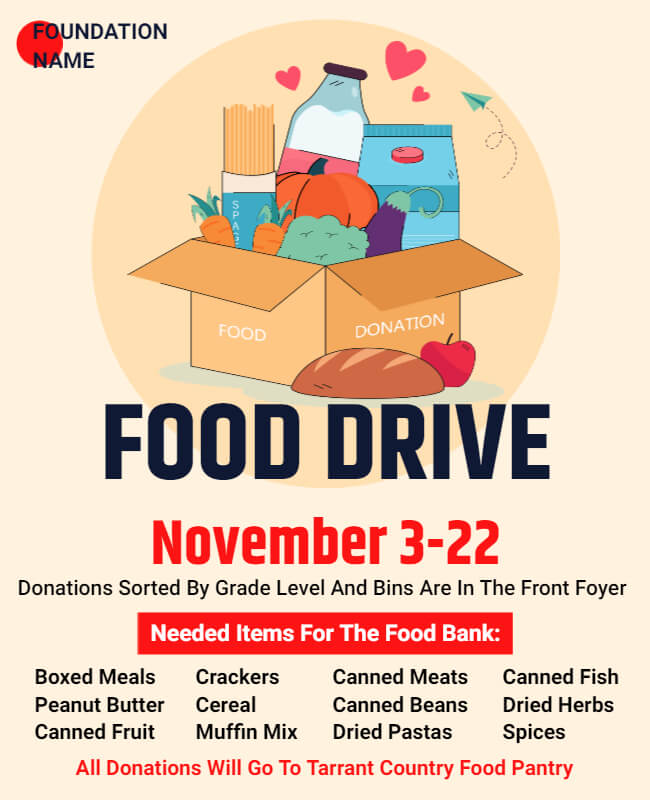 Whatever be the food drive flyer design, the overall goal is to encourage maximum participation. Design an impressive food drive flyer and distribute it in your local community centers. Other hotspots for sharing your flyers could be churches, libraries, social media, school newsletters, and more. For food drive promotion, you should focus on impactful slogans and relevant images that drive attention. They should be compelling enough for the community to come forth and do the needful.
Inform & Educate The Participants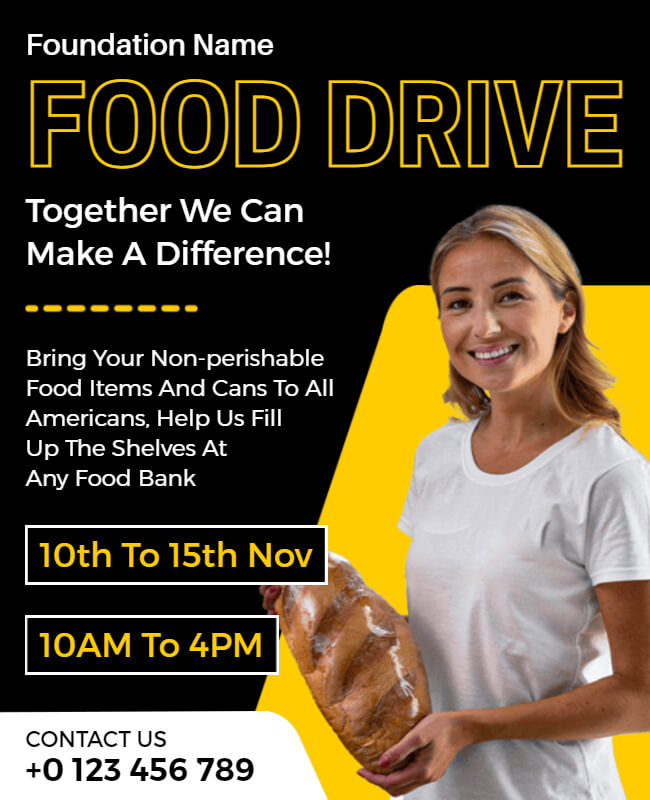 Don't forget to see other food drive flyer examples to understand what information must be included in those flyers. Keep your community in mind and add every essential detail that the viewers would have asked for after seeing your flyer. If this is your first time then take a Hunger-101 tutorial online & view curriculum ideas.
Add Appreciation Quotes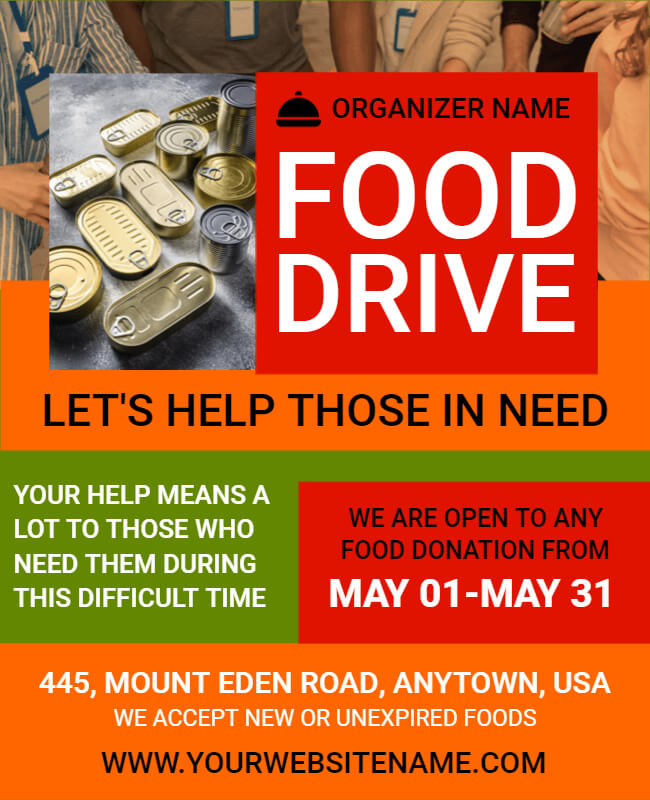 Individuals involved in food drives might not ask for appreciation, but they'll feel valued if you add an appreciation quote to your flyer. Add a line or two recognizing the volunteers, committee members, sponsors, and participants. Appreciate their hard work in advance and if you feel necessary, you may send them handwritten thank-you postcards too.
15+ Food Drive Flyer Examples for 2022
Have a look at the mesmerizing range of food drive flyer examples. They're extremely useful for anyone willing to create a food donation flyer design. You've got everything from 'feed the homeless' food drive to annual food donation, seasonal food drives, and more.
Community Food Distribution Flyer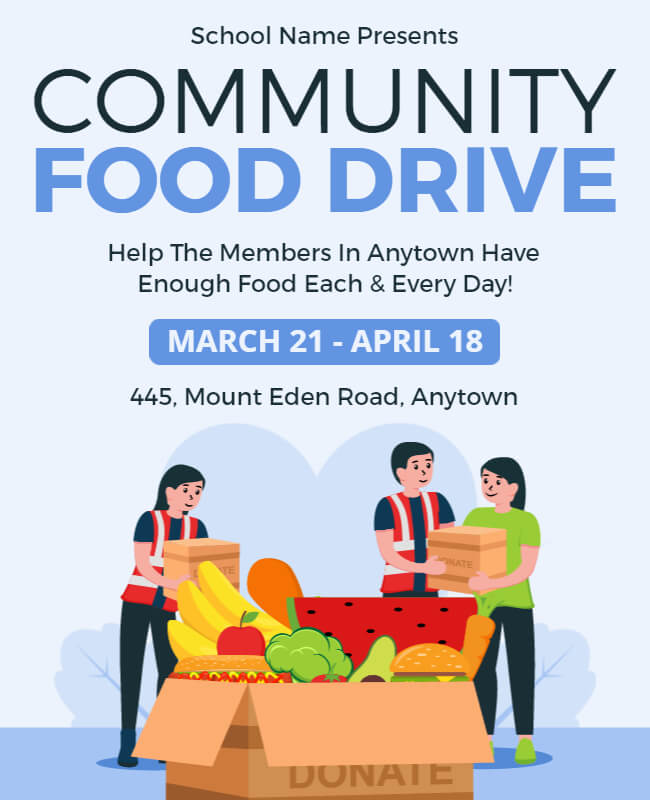 Food & Fundraiser Event Flyer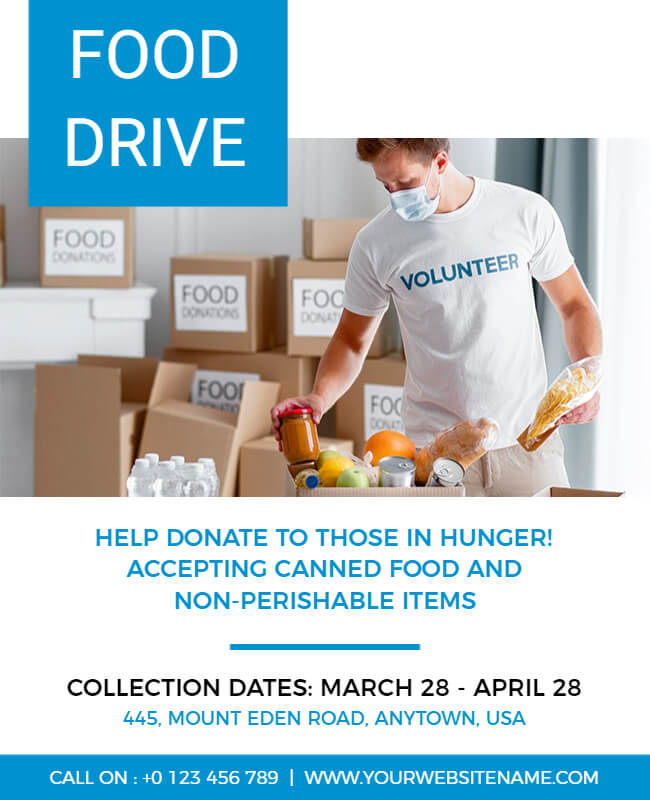 Thanksgiving Food Drive Flyer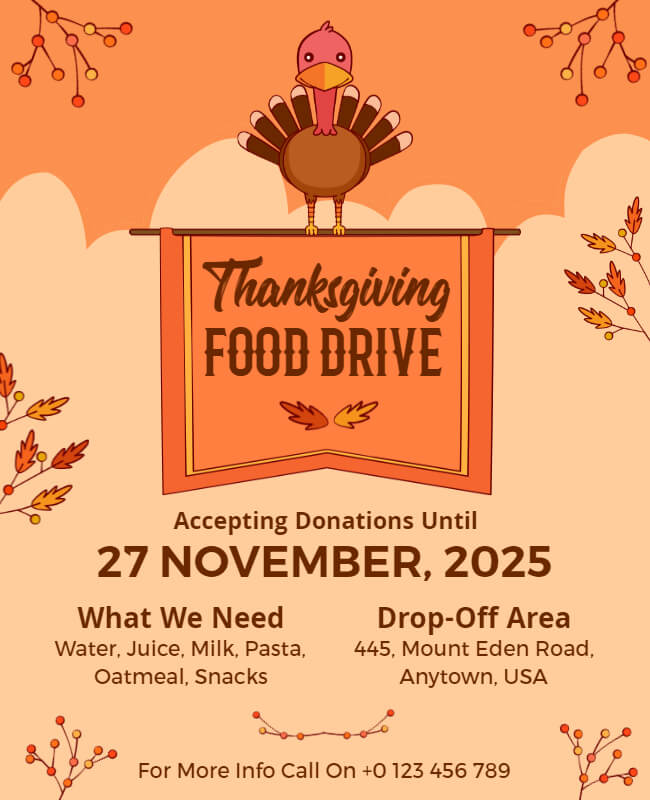 Feed The Homeless Flyer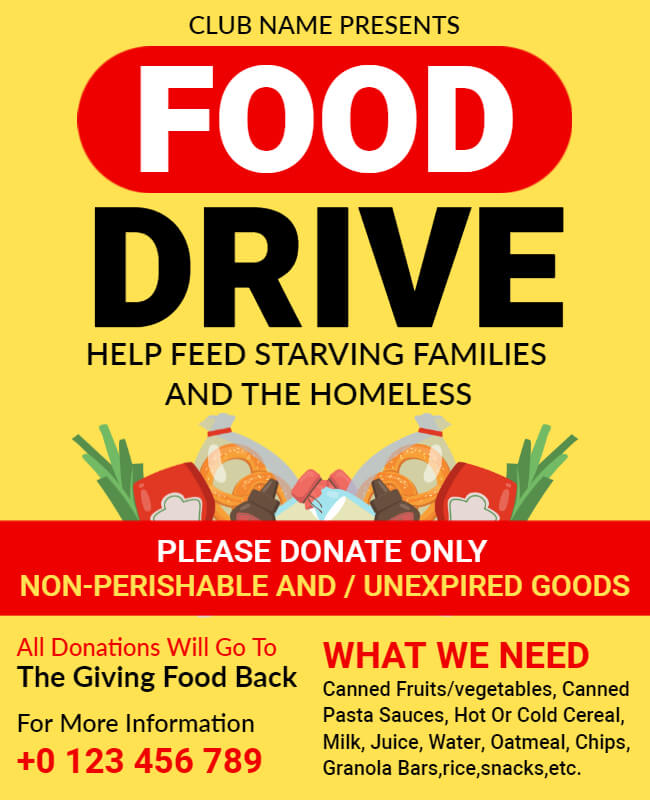 Meat The Need Flyer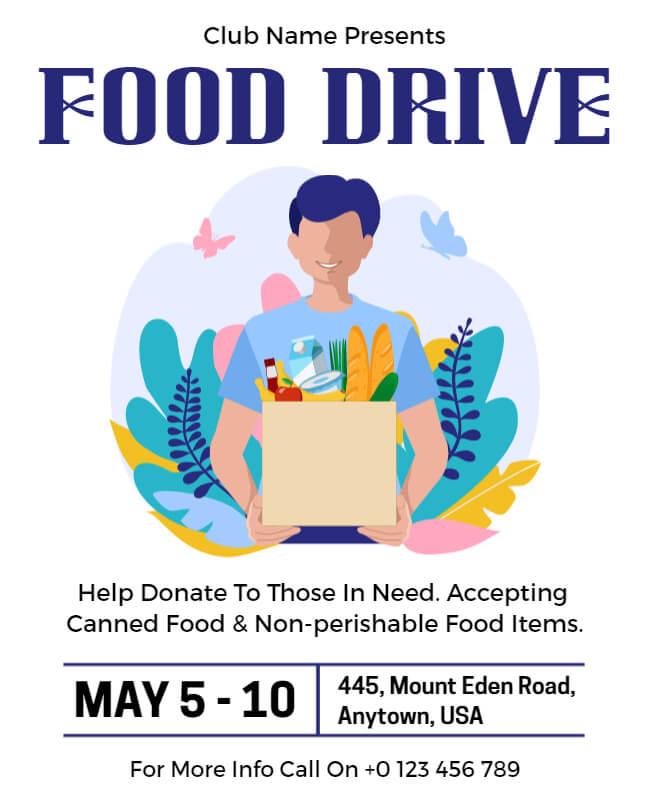 Can Food Drive Flyer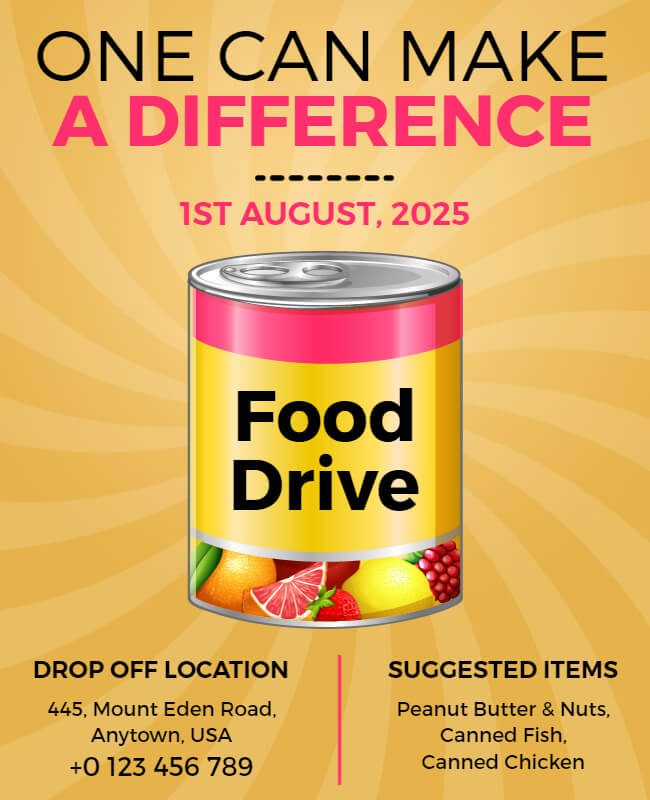 Christmas Food Drive Flyer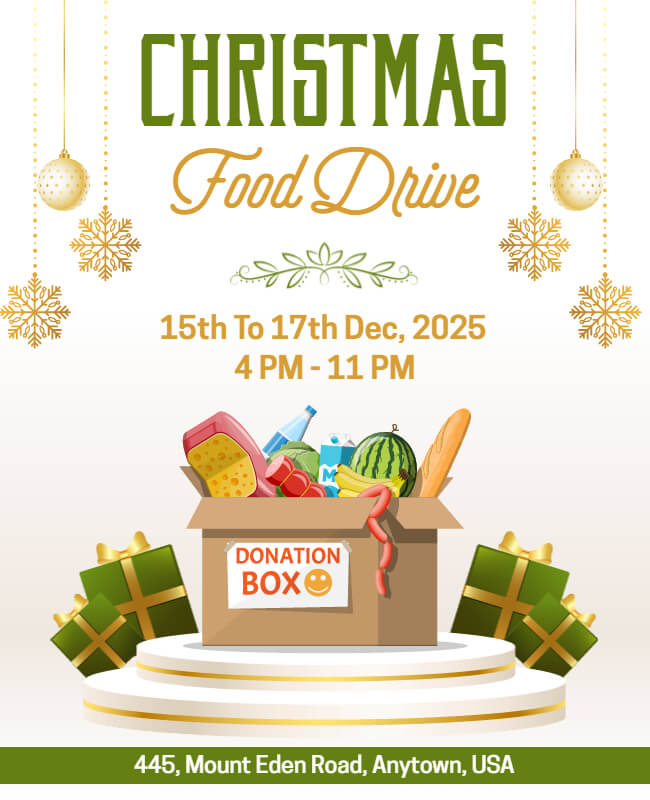 Holiday Food Drive Flyer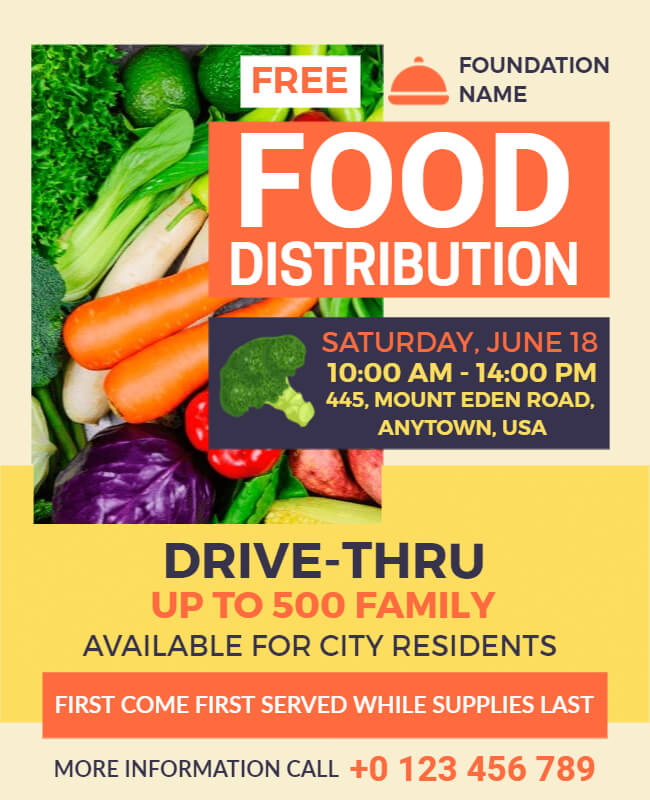 Annual Food Drive Flyer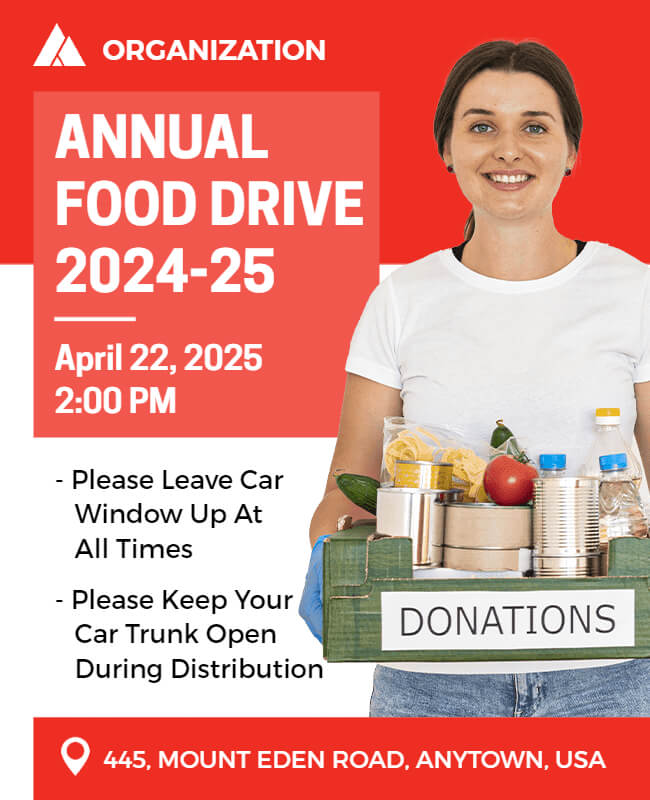 Fundraiser Bake Sale Flyer
Feeding America Food Drive Flyer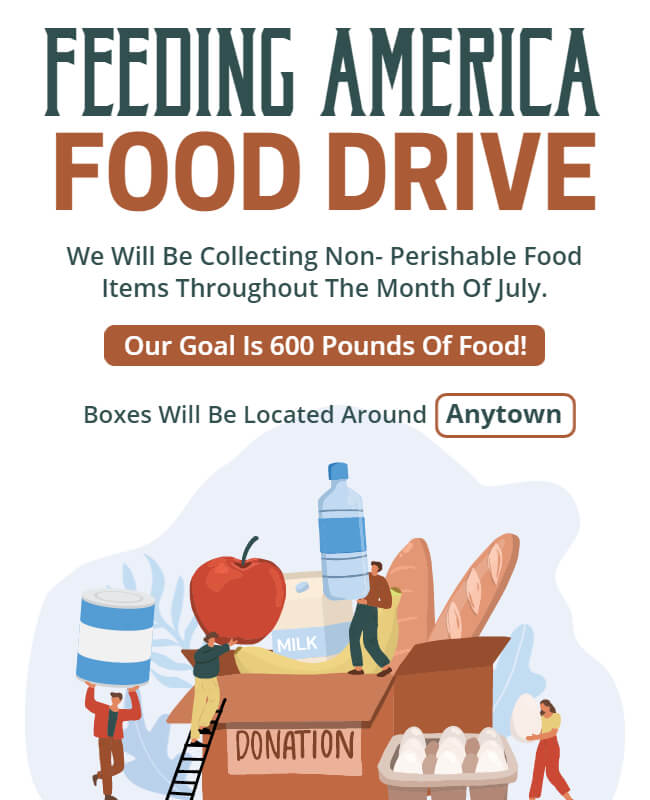 Lunch Hour Cookie Sale Fundraiser Flyer
Fight Hunger Food Drive Flyer
The Monthly Quarkwood Food Drive Flyer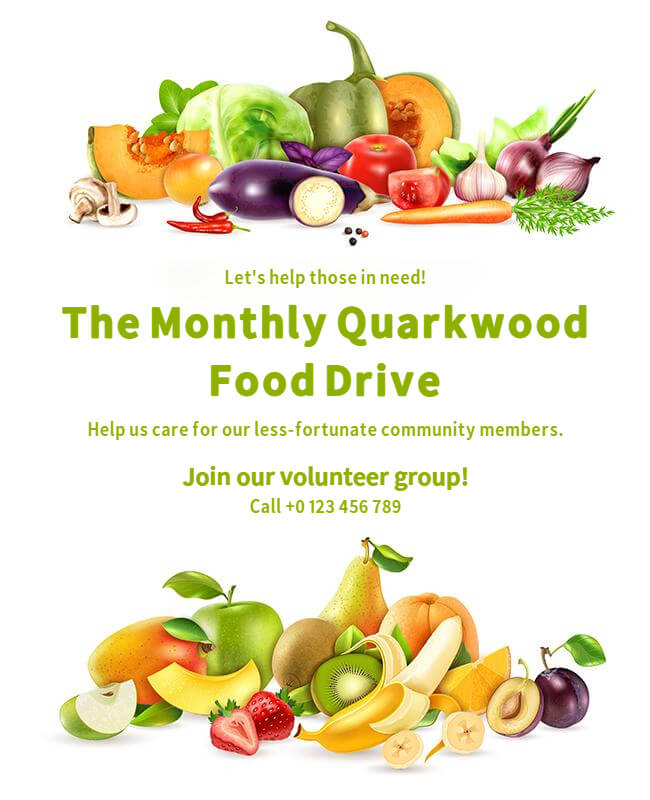 Pet Food Drive Flyer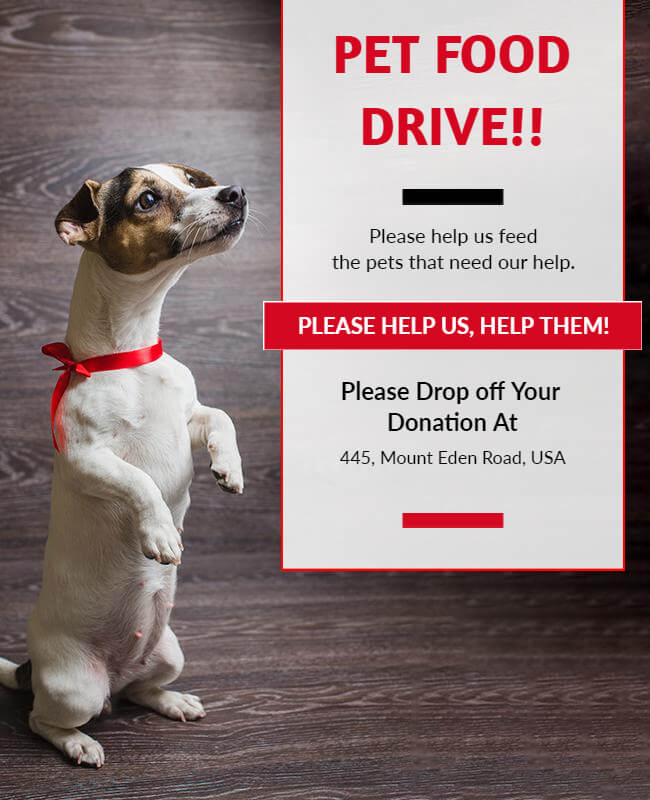 Orphanage Food Drive Flyer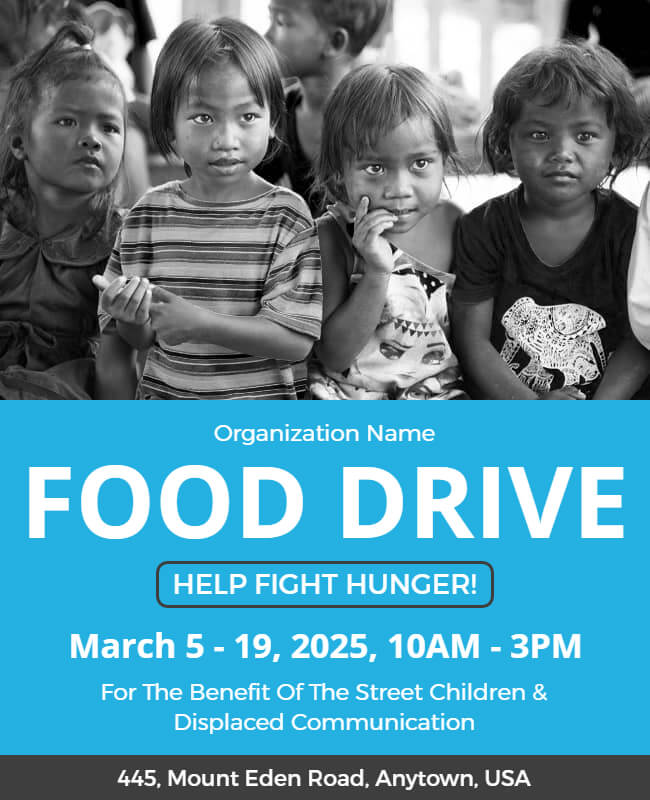 Trending Food Drive Slogans
By the time you'll be making efforts to drive food donations, let us help you with some creative food drive flyer slogans. Feel free to steal those ideas & add them to your flyer straightaway. They're best used as headlines and punchlines for your food drive flyer designs.
Feel Blessed to be a Helper
Donate a Can, because you CAN!
You're a Born Giver
New Season, New Donation
Giving Charity is Receiving Love
Every Food Donor is a Hunger Preventer
Food CHARITY builds POSSIBILITIES
Your Donation is precious!
Peace begins when the Hungry are Fed
Thanks for Giving…
Food is a bigger worry than a Pandemic
Everyone can help someone. How about joining our food drive?
Pay Fine to Cheer Someone Up!
Be a Hunger Hero
Help them. Save them. Feed them.
If you can fix hunger, do it!
Let's fire Hunger together
Bring Blessings Home, Feed a Homeless
Spill the Beans
Leave Easter Baskets for Homeless
Food Donation Never Gets out of Fashion
'Treat' Someone Today!
Spread the Cheer
Our Two Cents
No one has ever become poor by giving. As we know, little by little, a little becomes a lot. If you've got a thing for charity or you're an NGO business then you definitely need new food drive flyer examples to make an impact. Go ahead & make your food drive successful with professionally designed food drive flyer templates online offered by PhotoADKing.