Are you a travel agency struggling to attract new customers? Are you tired of using the same old brochure designs that fail to impress potential clients? In today's competitive tourism industry, having a unique and eye-catching brochure can make all the difference. But with so many different travel brochure examples out there, how do you choose the one that is right for your agency?

That's why getting some inspiration from our travel brochure examples can help you to design your own travel brochure in no time. These well-crafted travel brochure examples have the ability to transport readers to exotic locales, showcase unique experiences, and leave a lasting impression that inspires wanderlust.
If you want to create your own travel brochure that can attract more tourists, PhotoADKing's customizable travel brochure template can be the best option for you. Click the below link to explore the travel brochure.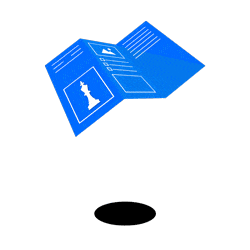 Travel brochures remain a crucial part of traditional marketing since one of the researchers claims that 98% of respondents who were on multi-day trips picked up brochures either before or during their trip. It is for this reason that digital travel brochures are currently booming.
In this blog, we'll explore a curated selection of travel brochure examples that will provide you with a complete understanding of the various types of travel brochures. So, get ready to embark on a journey through these captivating travel brochures, brimming with inspiration and ideas.
Table of Content:
Now, Let's explore the first category of travel brochures with examples.
Theme-Based Travel Brochure
Look at these different theme-based attractive travel brochures for your next travel brochure design. It showcases layout, color, and design that are relevant to your chosen theme.
Minimalist Travel Brochure
If you are a person who wants a minimalist and simple design for their travel brochure then this types of brochure are for you.
Minimalist travel brochure includes clean lines, uncluttered layouts, and a minimal color palette, these brochures create a sense of calm and sophistication, allowing the destination's beauty to take center stage.
Illustrated Design Travel Brochure
An illustrated design travel brochure is the best fit who are looking for a creative and fun design. Moreover, these types of captivating brochures bring destinations to life through enchanting illustrations, taking you on a visual journey filled with vibrant colors, intricate details, and whimsical characters.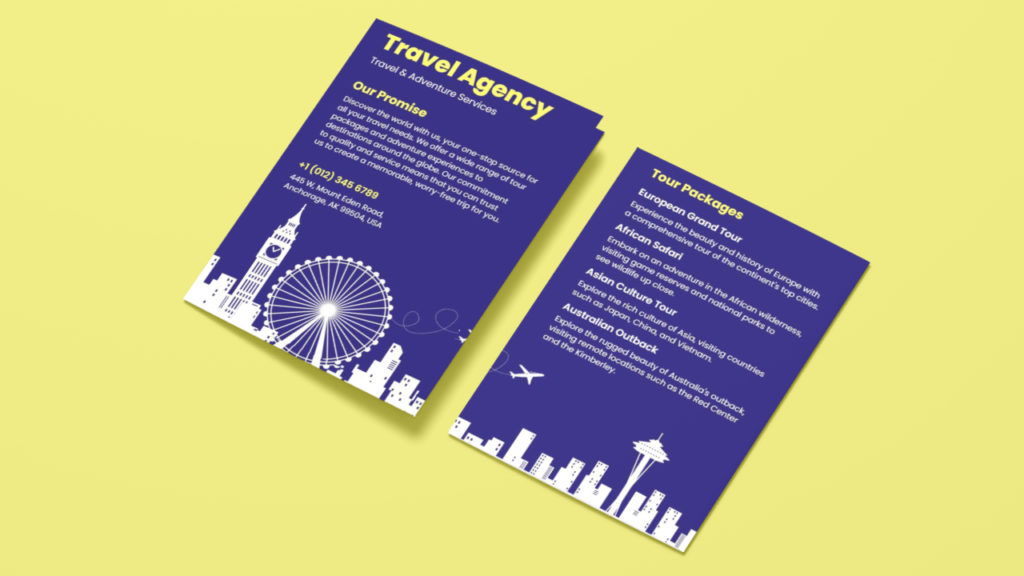 Modern Design Brochure
Modern design brochure is a good choice for attracting young tourists. Moreover, it is a harmonious blend of stunning visuals, captivating storytelling, and interactive elements, enticing travelers to embark on unforgettable journeys with just a single glance.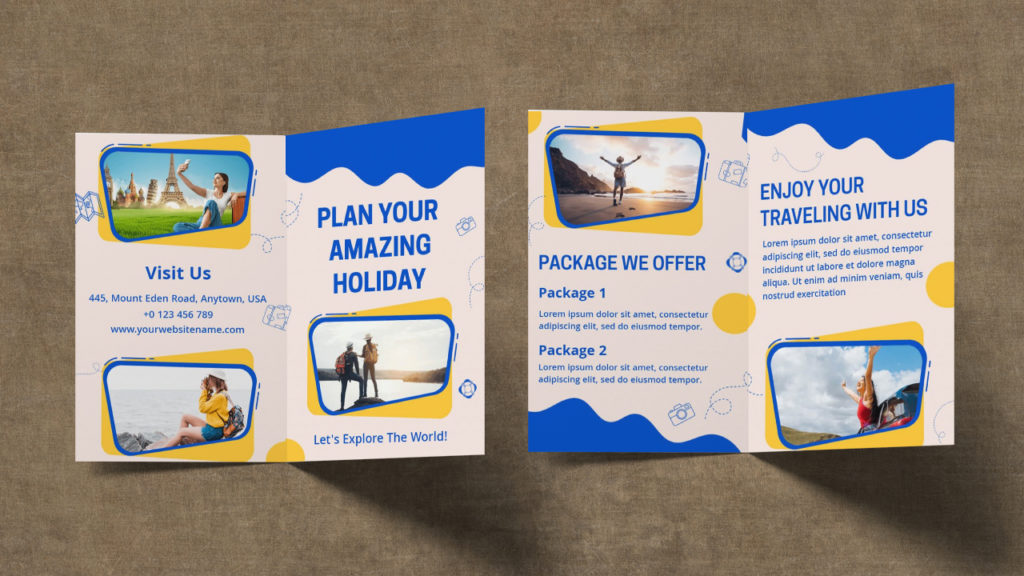 Now that we have covered theme-based brochures, let's move on to the next category of purpose-based travel brochures.
Purpose-Based Travel Brochure
Discover here some purpose-based travel brochures that can give you creative ideas for brochures. Whether you are a travel agency owner or run a travel insurance agency, this example of the brochure is useful for marketing your services.
Travel Agency Brochure
These brochures are beneficial for travel agencies. It typically features information about the agency's expertise, experience, and customer service, as well as details about the destinations the agency serves.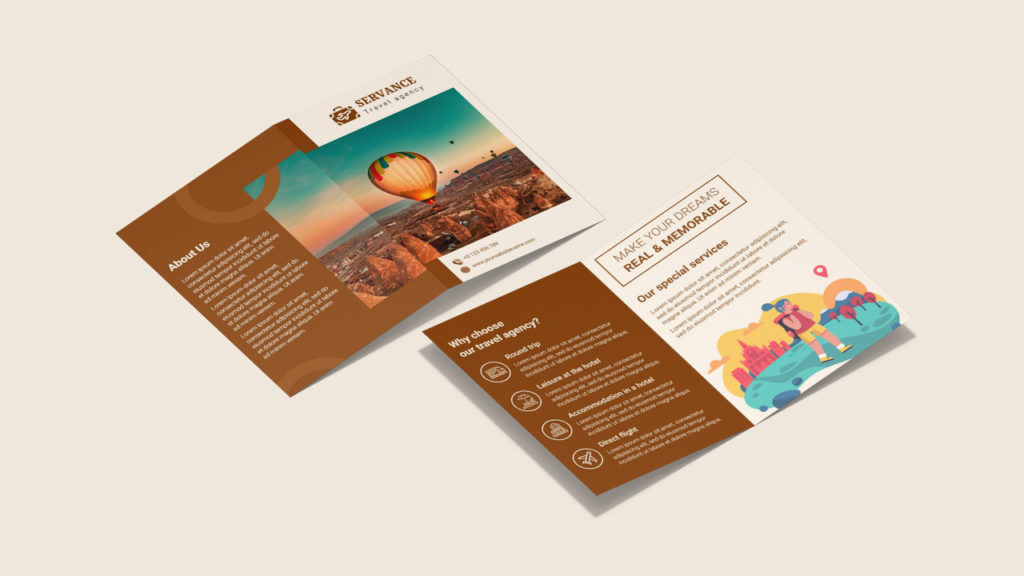 Travel Brochure With Package Details
A travel brochure with package details is a comprehensive guide that presents travelers with all the necessary information about their desired trip, including accommodations, transportation options, and activity packages.
This Brochure design is a good choice when you want to include all package details in your travel brochure.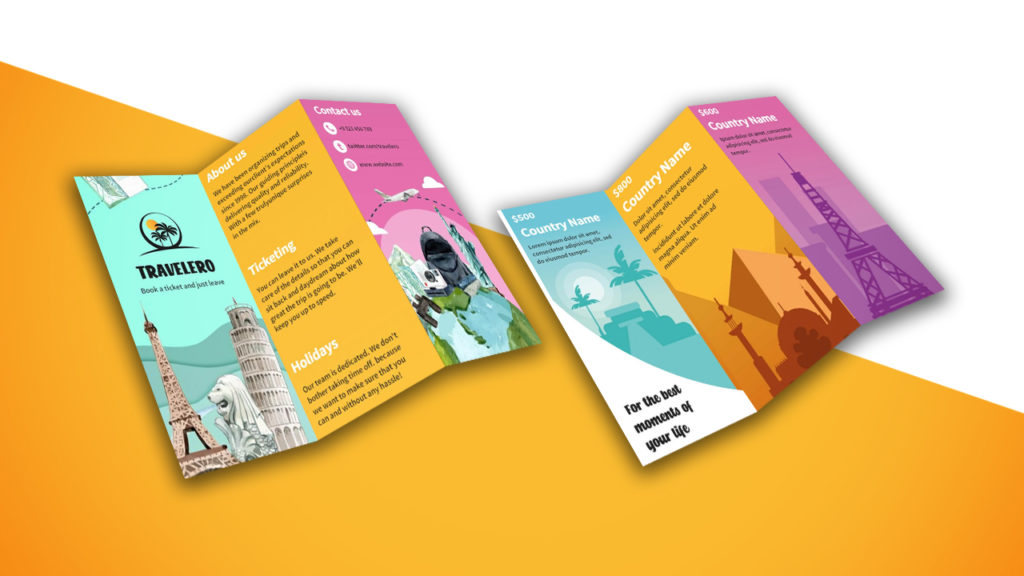 Travel Insurance Brochure
Travel insurance brochure focuses on promoting travel insurance products and services. It features travel insurance benefits in the brochure design such as trip cancellation, baggage coverage, etc.
This type of brochure is useful for insurance agencies that provide travel insurance.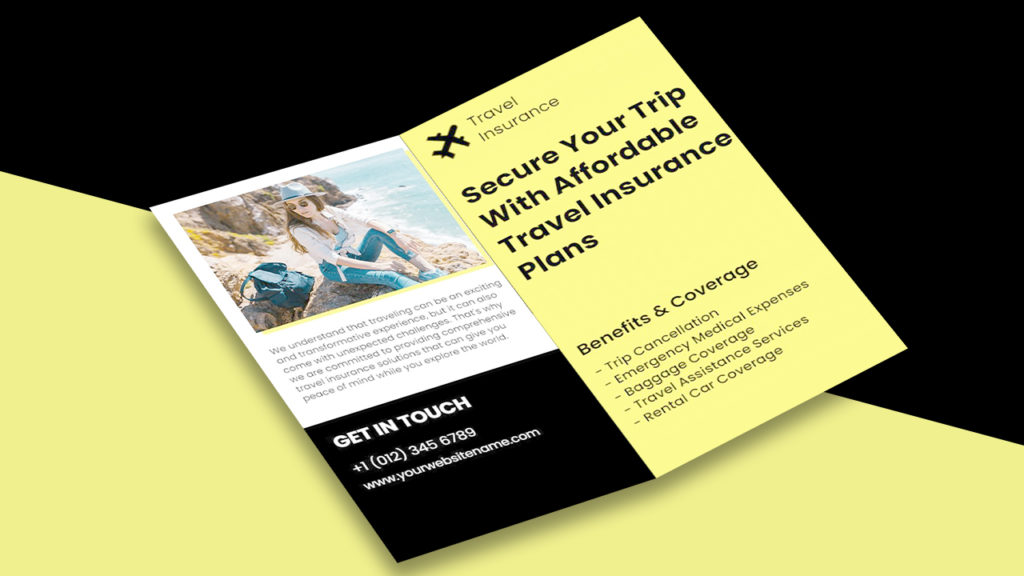 Offer and Promotion Travel Brochure
This type of brochure is best for those who want to share offers and discounts on the next tour package.
Additionally, this brochure template highlights deals and discounts offered by a travel company. It typically features large, attention-grabbing text and images that emphasize the savings available.
Pro Tip: You should design and distribute offers and promotional travel brochures before at least one week to get maximum exposure.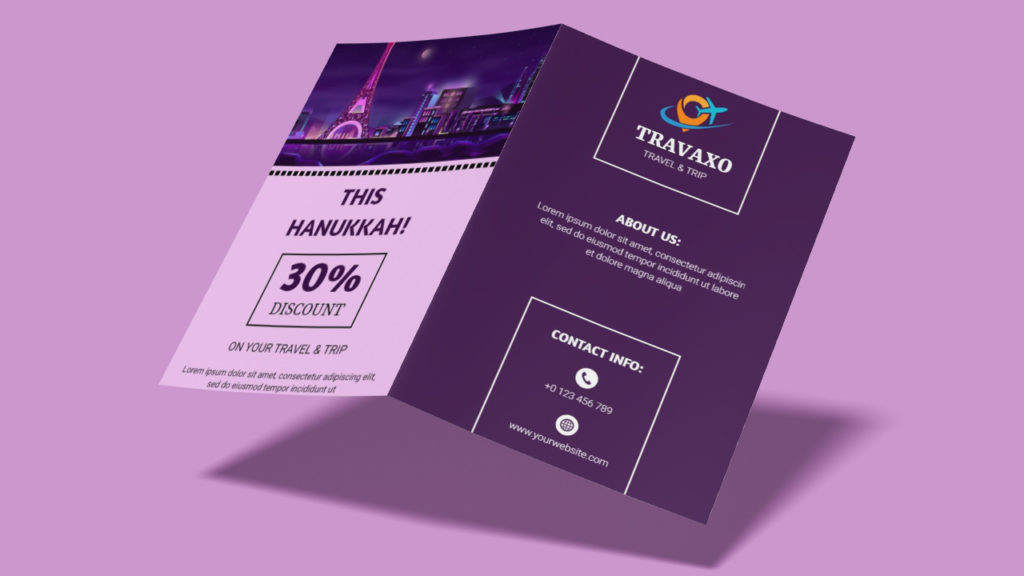 Travel Guide's Brochure
The travel guide's brochure is important for an agency or person that provides tour guide service. This brochure showcases the expertise and offerings of professional travel guides, highlighting their extensive knowledge and personalized services.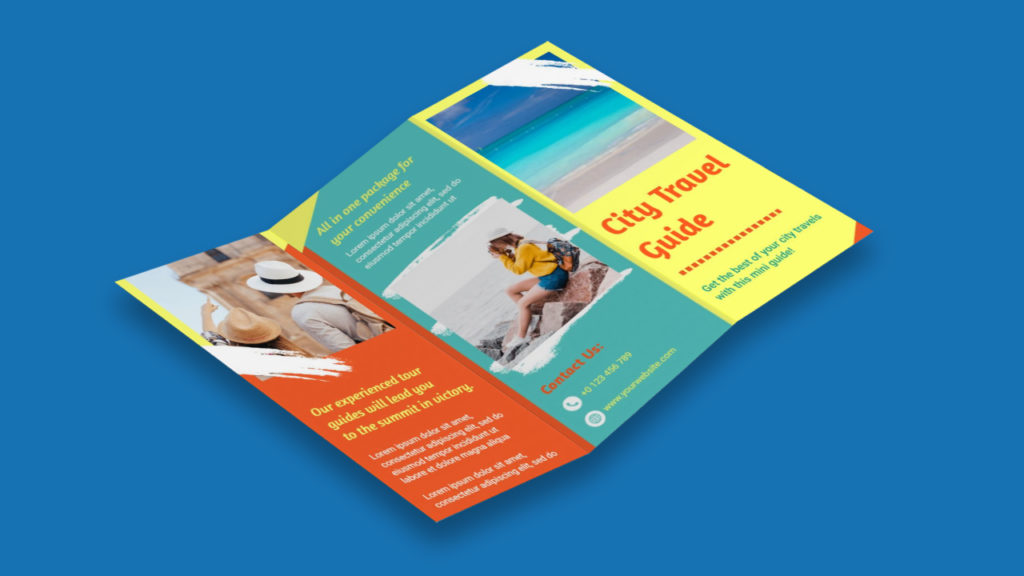 Hopefully these purpose–based brochure examples are helpful to you. Now, let's discover user-based travel brochure examples.
User-based Travel Brochure
This travel brochure example is created by keeping in mind the interest of travelers. It is ideal when you are targeting tourists who are interested in adventure and summer camp activities.
Jungle Adventure Travel Brochure
This type of brochure is perfect for promoting adventure and eco-tourism. The design features lush green hues, evoking the dense foliage of the jungle, while vibrant pops of color bring the exotic flora and fauna to life.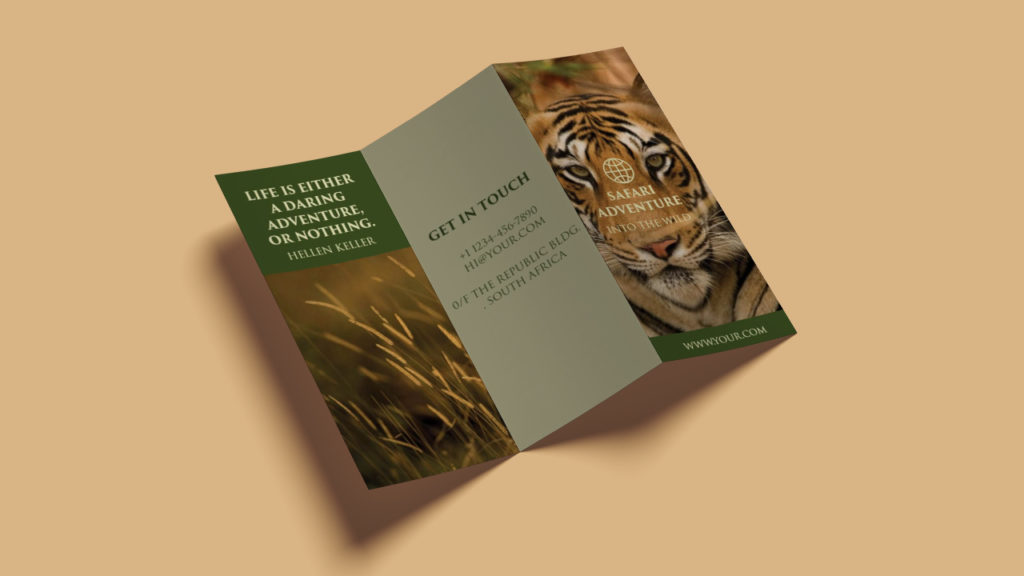 Destination Focused Brochure
Destination-focused brochures showcase the unique features and attractions of a particular location. They typically highlight key activities, landmarks, and other points of interest to encourage visitors to explore and experience all that the destination has to offer.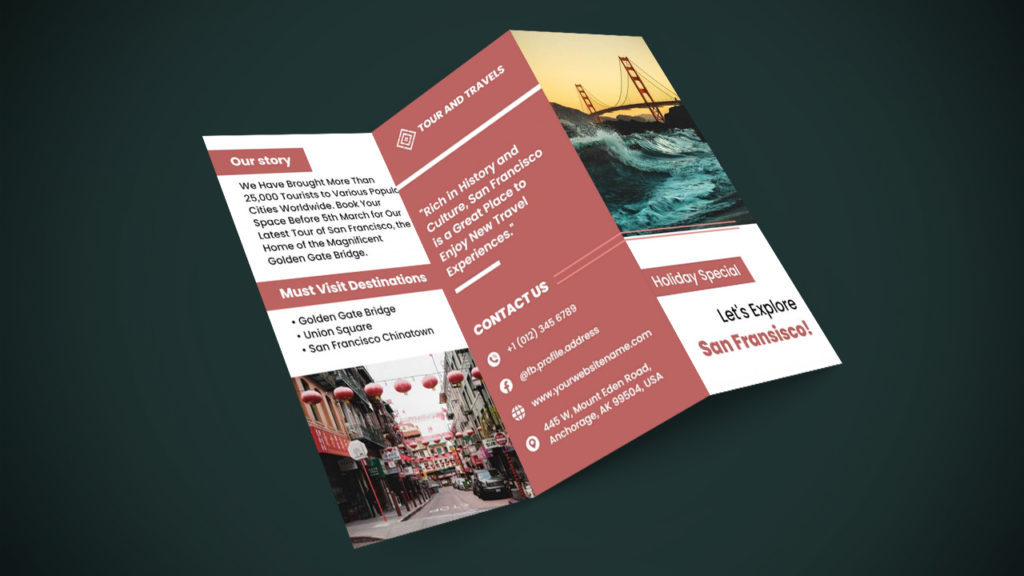 Summer Camp Brochure
A summer camp travel brochure captures the excitement and adventure of a memorable summer experience, featuring images of outdoor activities, team-building exercises, nature exploration, and detailed descriptions of camp facilities.
This type of brochure is perfect when your target audience is kids and young tourists who are interested in adventure.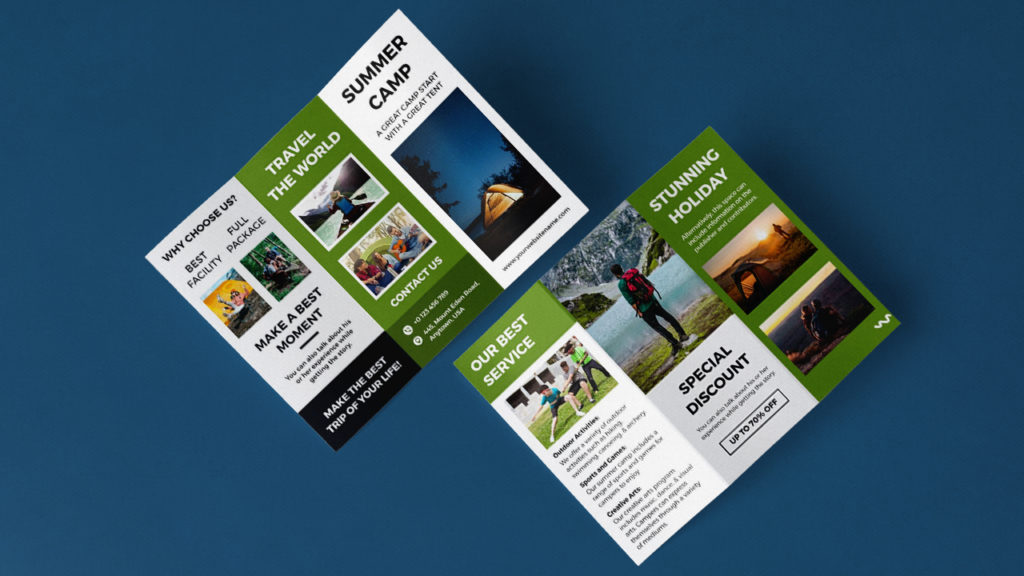 Beach Travel Brochure
For beach-loving people, this is the perfect example of the brochure. With images of the beach, vibrant colors, captivating imagery, and enticing descriptions of coastal activities and beachfront accommodations, this design captures the essence of a beach getaway.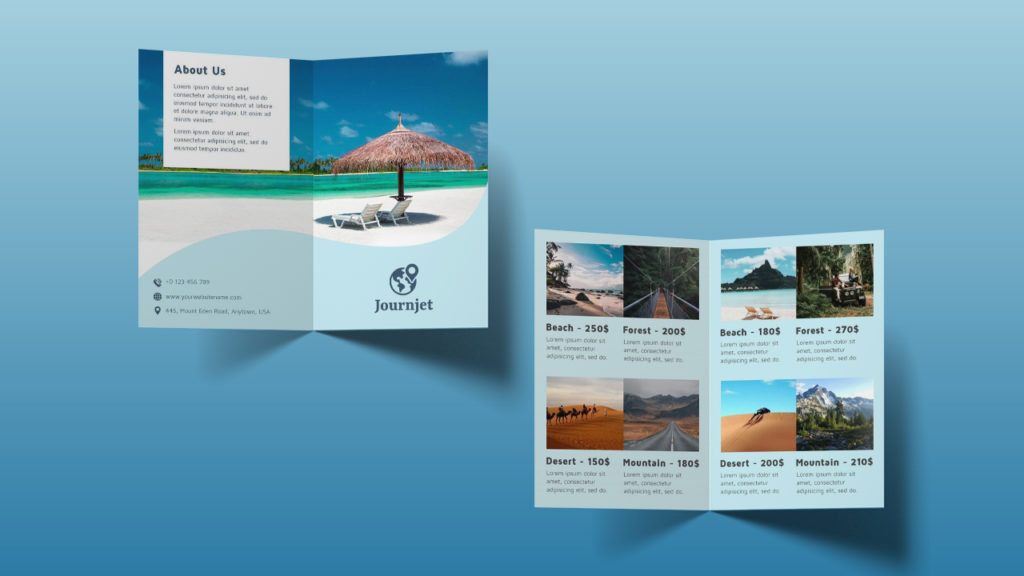 After getting all brochure design ideas, now it is time to know how to make a travel brochure. Our blog post on "How to Make a Travel Brochure" provides step-by-step instructions and helpful tips to make the process as easy as possible. So don't wait any longer, head over to our blog now and start creating your perfect travel brochure!
Want to get some more details on the brochure design, here are some blog recommendations for you:
Recommended Read:
Importance of Brochures in the Travel Industry
As we know, brochures play a significant role in the travel industry, serving as a valuable marketing and informational tool. Here are some key reasons why brochures are important in the travel industry:
Gives Visual Appeal and Inspiration: Brochures use captivating visuals and enticing descriptions to inspire travelers and create a desire to explore.
Provide Tangible Information: In the digital age, brochures offer a tangible and convenient source of information. They provide comprehensive details about destinations, including attractions, activities, accommodation options, transportation, and local culture.
Effective Personalization and Targeting: Brochures can be tailored to specific target audiences, allowing travel companies to personalize their messaging.
Easy to Distribute: Brochures can be distributed through various channels, such as travel agencies, tourist information centers, hotels, and events.
Help with Branding and Credibility: Well-designed brochures contribute to establishing a strong brand presence in the travel industry. They showcase professionalism and attention to detail, instilling confidence in travelers.
Easy to Keepsake and Sharing: Brochures serve as a tangible keepsake for travelers, reminding them of their past trips and inspiring future adventures.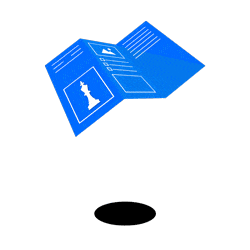 Bottom Line
In conclusion, there are various types of travel brochures that can be designed to attract tourists from all walks of life. From minimalist design to modern design brochures, beach-themed design to adventure theme design each type has its unique advantages and target audience. Ultimately, designing an effective travel brochure requires a deep understanding of your target audience and their preferences, as well as the ability to incorporate the latest design trends and technologies to create a memorable experience for the reader.
Attractively designed travel flyers can also help you to get more tourists. If you want to get more details about travel flyer design, then read our blog on travel flyer design ideas.
FAQs
Why do travel agencies need brochures?
Travel agencies use brochures to showcase their services, destinations, and packages. A well-designed brochure can provide potential customers with valuable information about the agency's offerings and inspire them to book their next trip.
What information should be included in a travel guide's brochure?
A travel guide's brochure should include information about the destination's history, culture, attractions, and local customs. It may also provide practical tips for travelers such as transportation options, language phrases, and currency exchange rates.
For whom, you can use beach themed travel brochure?
Beach-themed travel brochures are typically aimed at anyone who enjoys spending time at the beach or by the ocean. This could include families, couples, solo travelers, and groups of friends. People who are interested in activities such as swimming, sunbathing, surfing, snorkeling, or relaxing on the beach would be a good fit for this type of brochure.
When you should use a modern design travel brochure?
You may want to use a modern design travel brochure if you are targeting a younger demographic, or if you want to present your destination as trendy and cutting-edge. Additionally, if your destination is known for its modern architecture, art scene, or fashion industry, a modern design brochure can help to reflect these characteristics.
When is the best time to use the offer and promotion travel brochure?
An offer and promotion travel brochure can be particularly effective during the off-season or slower times of the year when there is lower demand for travel.
Who can be the target audience for the jungle adventure-themed brochure?
The target audience for a jungle adventure-themed brochure typically consists of travelers who are seeking an immersive and adventurous experience in a natural setting. This could include individuals, couples, families, or groups of friends who enjoy outdoor activities such as hiking, camping, wildlife watching, and exploring remote areas.
Which type of travel brochure should I create to attract children aged between 10 to 15?
To attract children aged between 10 to 15, you may want to create a travel brochure that has a fun and creative illustrated design with details of the activities and adventures you provide.
What should you include in the travel brochure with package details?
A travel brochure with package details should include a variety of information. Such as itinerary, accommodation details, meals, transportation, inclusions, exclusions, pricing, and booking instructions.