Are you struggling to create an engaging recruitment poster design? In a world filled with distractions, how can you ensure your job opportunity stands out to potential candidates via poster?
Look no further. we're here to provide you with recruitment poster ideas to create posters that not only stop candidates in their tracks but also leave a lasting impression about the opportunities your organization has to offer.

In this article, we're going to share some amazing ideas for creating recruitment posters that grab attention and show off your cool job opportunities.
Table Of Contents:
---
Engaging Recruitment Poster Ideas
---
A carefully crafted recruitment poster has the potential to not only convey essential information but also to captivate and engage the right candidate. With PhotoADKing's hiring poster templates, you can easily design an engaging hiring poster.
Let's explore some amazing recruitment poster ideas.
Digital Marketing Manager Recruitment Poster
This modern digital marketing manager recruitment poster design has a minimal layout and bold fonts. You can add details like interview time & date, required qualification, and experience in the recruitment poster. Also, you can incorporate phrases like "Join Our Team and Shape the Digital Landscape."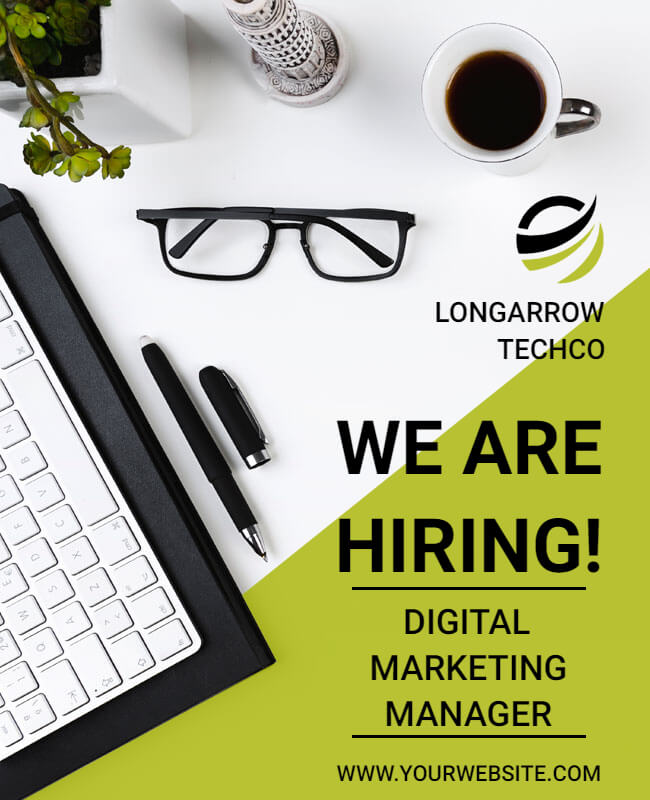 Software Developer Recruitment Poster
The Software Developer poster design should mirror the dynamic nature of the role—incorporating a mix of futuristic visuals, coding symbols, and a modern color palette. Outline the benefits of the role, such as continuous learning, collaboration with tech experts, and a flexible work environment. The headline should be bold and enticing, encouraging potential candidates to consider the exciting opportunities within the company.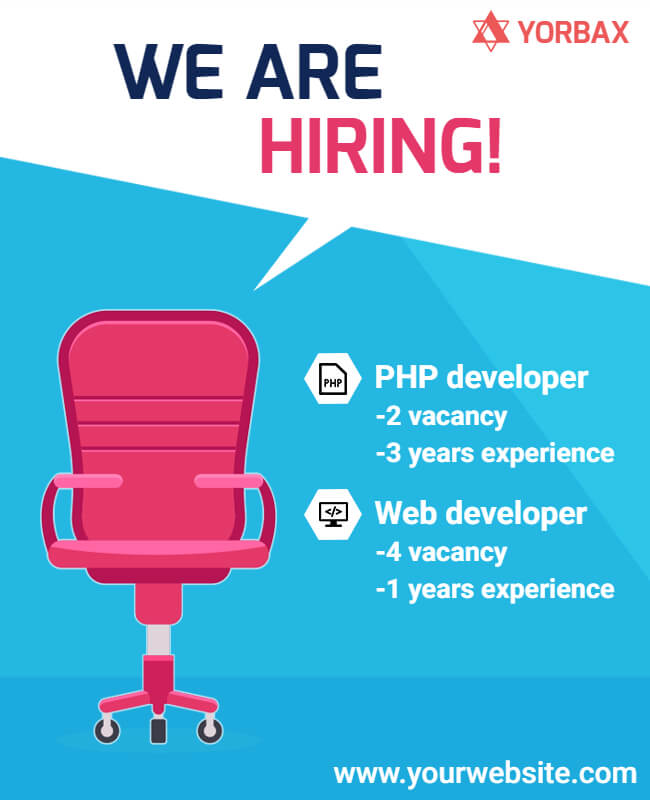 Graphic Designer Recruitment Poster
Use the poster itself as a canvas to exhibit the creative role of a graphic designer. Include snippets of colorful designs and mention the opportunity to visually communicate ideas. Also, use colorful layouts and illustrations. Captivate with the phrase "Designing the Extraordinary."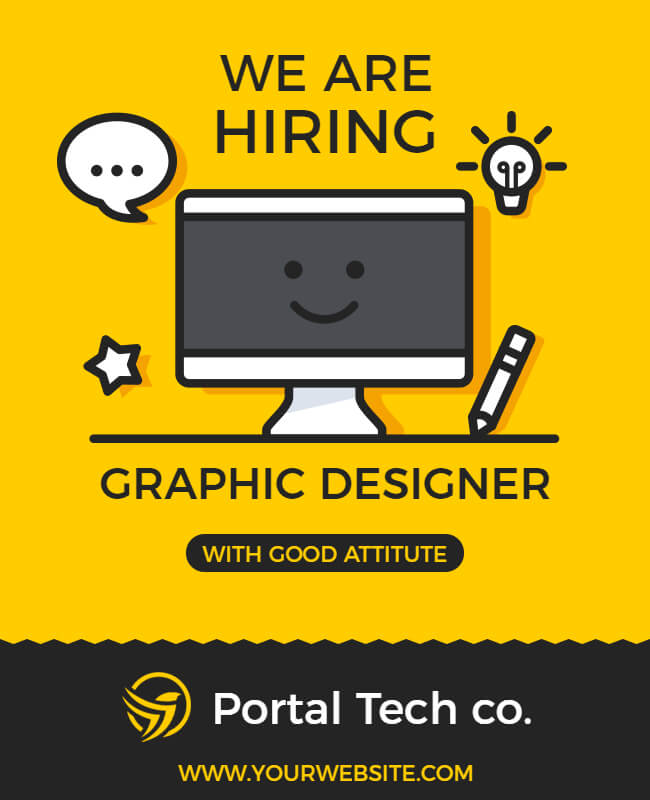 Delivery Boys Recruitment Poster
Design a poster that conveys speed and reliability. Furthermore, showcase the convenience of flexible hours, quick earnings, incentives, and allowances, while emphasizing being an essential part of the delivery process. To catch attention, use the phrase "Deliver Smiles, One Package at a Time."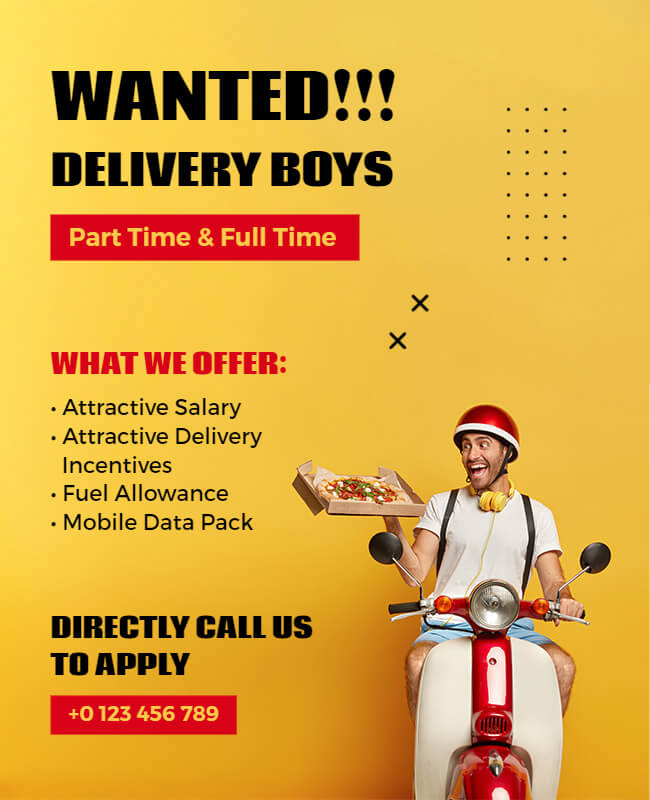 Telemarketing Recruitment Poster
Crafting an effective telemarketing recruitment poster requires a balance of visual appeal and persuasive messaging. Incorporate images of headsets and friendly communication to illustrate the role of telecallers. Use a color palette that conveys energy and professionalism.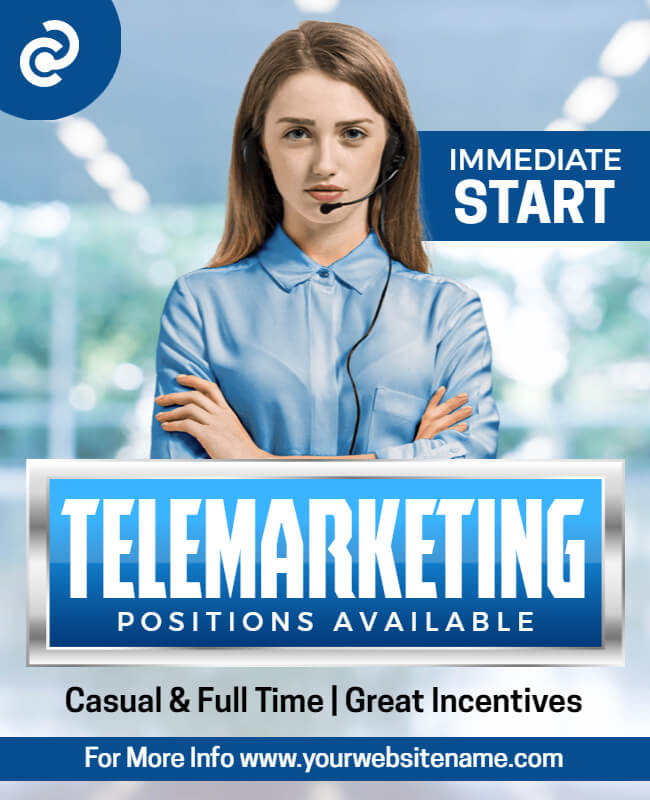 Photographer Recruitment Poster
Crafting a Photographer Recruitment Poster demands an artistic touch. Moreover, feature captivating photographs on the poster and emphasize the power of visual storytelling. Additionally, highlight opportunities to capture memorable moments and create visual narratives. Lastly, give details of the required experience or position available.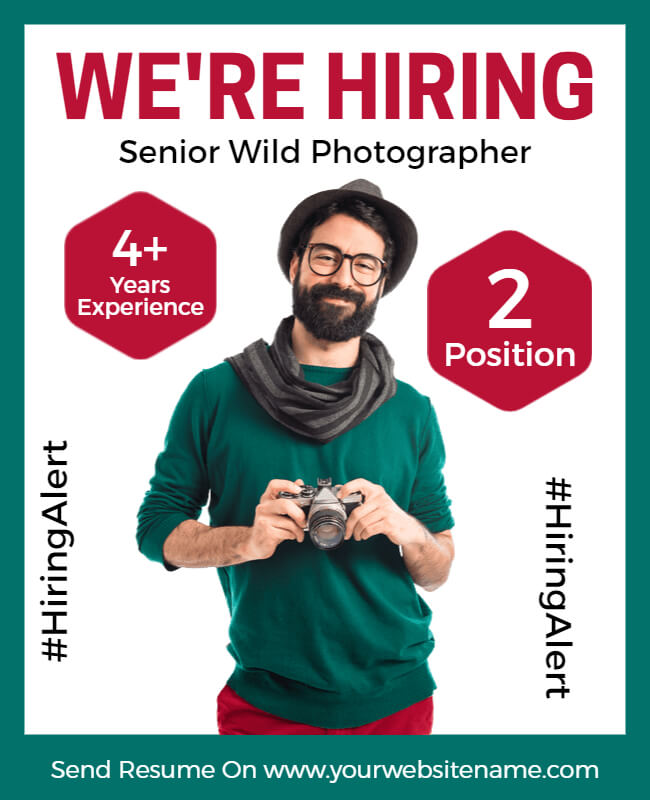 Social Media Manager Recruitment Poster
For a Social Media Manager Recruitment Poster, fuse modern visuals, and digital hues. You can use icons of popular social media platforms to symbolize the role's significance. Highlight the chance to strategize campaigns, engage audiences, and drive brand awareness. Write about the job role in detail.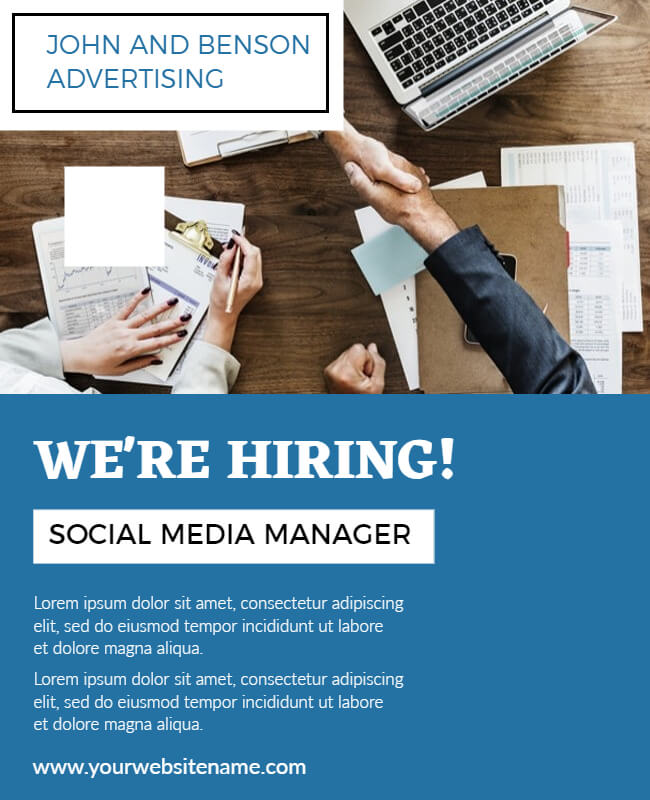 Teacher Recruitment Poster
Craft a Teacher Recruitment Poster with warm visuals, inviting colors, and a headline like "Inspire Young Minds." Additionally, showcases the role's transformative power, growth opportunities, and the joy of imparting knowledge. The design should captivate potential educators, ultimately inviting them to shape futures in the realm of learning.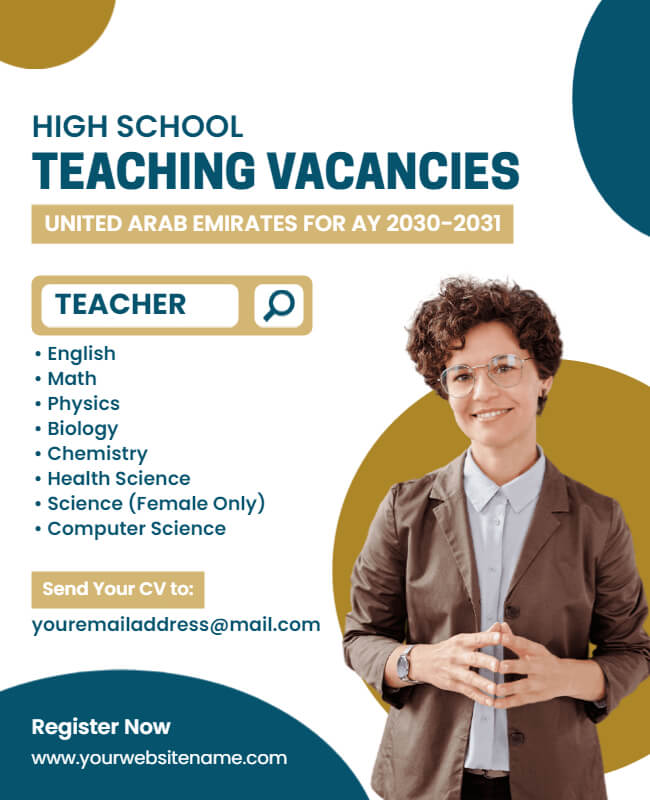 Waitress Recruitment Poster
Feature a table setting and a cheerful waitress to capture the essence of the role. Moreover, emphasize the chance to provide excellent service, interact with people, and be part of creating memorable dining experiences. The design should entice potential waitstaff, ultimately inspiring them to embark on a journey of culinary service excellence.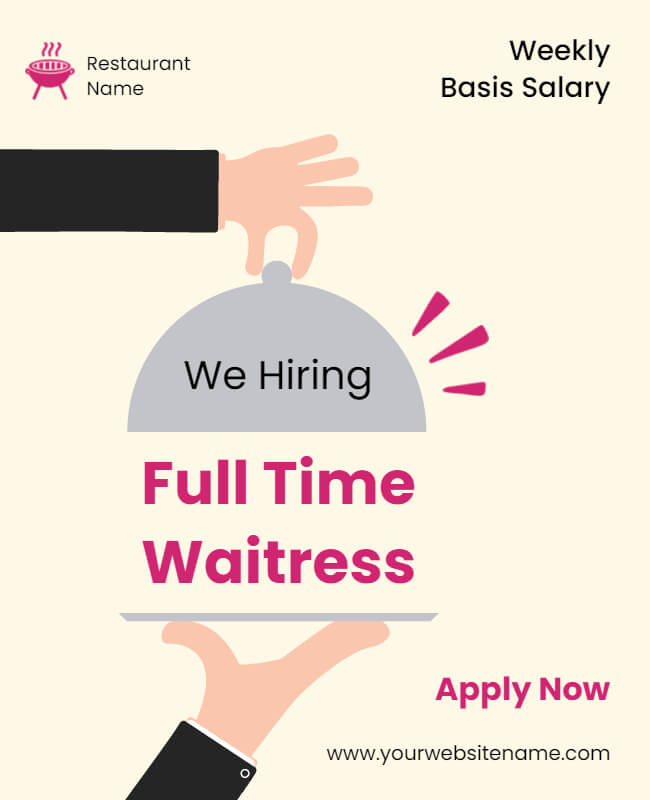 Content Writer Recruitment Poster
Include images of typewriters or open books to symbolize the world of writing. Furthermore, highlight the power of storytelling, the opportunity to craft compelling narratives, and the freedom of expression. The design should resonate with aspiring writers, inviting them to embark on a journey of crafting compelling narratives.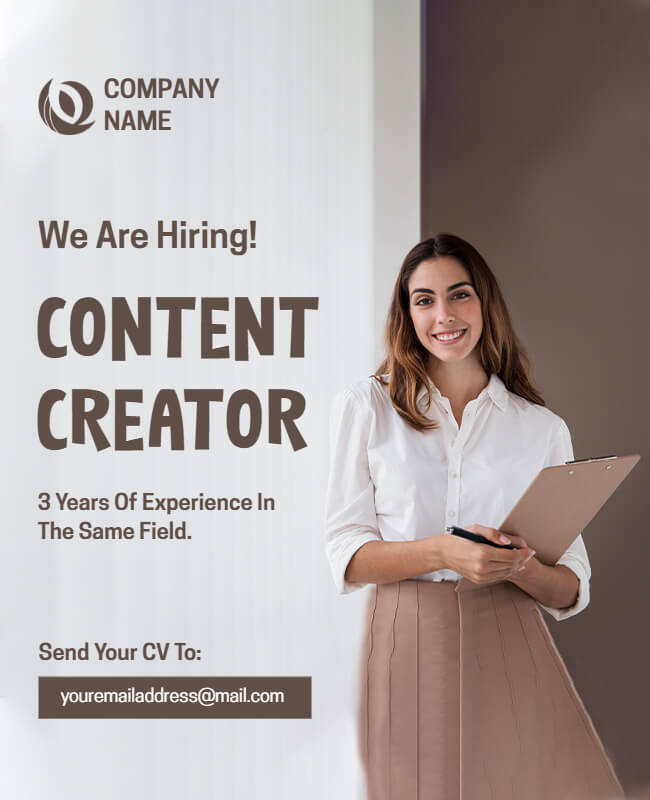 Sales Manager Recruitment Poster
Incorporate elements that convey growth, such as upward arrows or a sales graph. Add details like required qualifications, experience, and job responsibilities. Emphasize the chance to build relationships, meet targets, and be rewarded for performance. Motivate with "Unlock Your Potential in Sales."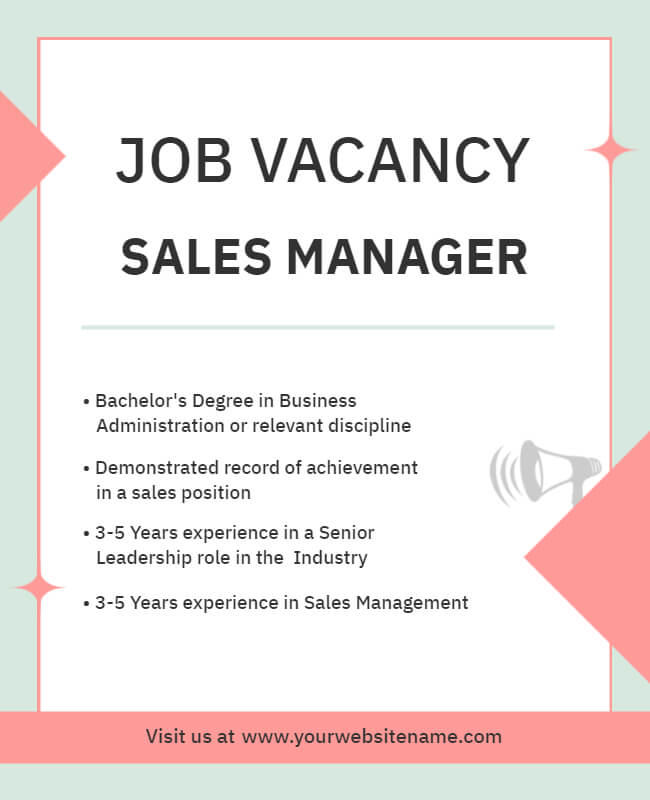 UI/UX Designer Recruitment Poster
For a UI/UX Designer Recruitment Poster, blend sleek visuals, and a modern color scheme. Moreover, showcase user-centric design, innovation, and the opportunity to shape digital interactions. The design should resonate with aspiring designers, ultimately inspiring them to embark on a journey of user experience transformation.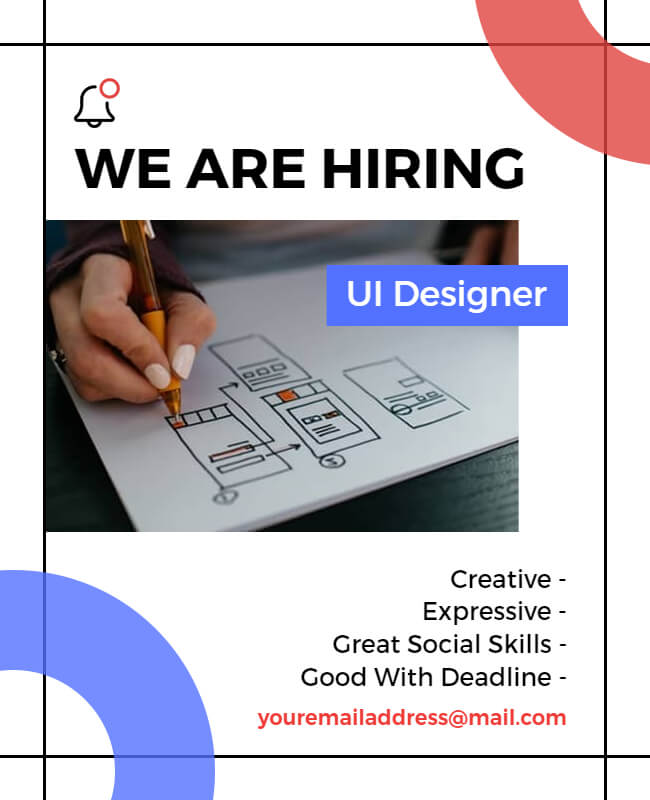 Creating effective recruitment posters requires a blend of creativity and strategic thinking. Furthermore, tailor each poster to the specific role and audience to attract candidates who align with your company's values.
After Exploring these engaging recruitment poster ideas, we are also sharing here important elements of recruitment posters that you need to keep in mind.
---
Important Elements of Recruitment Poster
---
Creating a compelling recruitment poster involves several crucial elements that collectively convey the essence of the opportunity and capture the attention of potential candidates. Here are some key components to consider:
Visual Imagery: Select engaging and relevant visuals that resonate with the role and company culture. High-quality images can evoke emotions and provide an immediate connection.
Headline: Craft a concise, impactful headline that communicates the core message of the poster. It should encapsulate the essence of the role or the company's value proposition.
Tagline or Subheading: A brief subheading can complement the headline by providing additional context or reinforcing the key message.
Key Information: Highlight the most important details about the role, such as job title, key responsibilities, qualifications, and location. Use bullet points or short paragraphs for clarity.
Benefits and Perks: Showcase the unique advantages of the role. Highlight growth opportunities, benefits, work-life balance, and any distinctive perks.
Branding: Integrate the company logo, color scheme, and other branding elements to create a consistent and recognizable visual identity.
Call to Action (CTA): Incorporate a clear and actionable CTA that guides candidates on how to proceed. Whether it's applying online, attending an event, or contacting a specific person, the CTA should be prominent.
Contact Information: Include clear and accurate contact details, such as an email address or phone number, for candidates to reach out with inquiries.
By integrating these elements thoughtfully, a recruitment poster can effectively communicate the value of the opportunity. Additionally, it can resonate with potential candidates, fostering a stronger connection, and ultimately motivating them to take action toward joining your organization.
Recommended Blog
---
Conclusion
---
In conclusion, crafting an effective recruitment poster is a creative endeavor that requires a thoughtful blend of design, messaging, and audience understanding. By employing the various recruitment poster ideas discussed in this blog, you can create a poster that not only captures attention but also resonates with potential candidates on a deeper level. Moreover, utilizing the user-friendly features of PhotoADKing's poster maker, designing an effective recruitment poster becomes a seamless and engaging process. Remember, the key lies in balancing visual appeal, informative content, and a clear call to action.
Therefore, go ahead and let your imagination soar as you design recruitment posters that leave a lasting impression.

---
FAQs
---
How can a software developer recruitment poster stand out? 
Showcase the chance to work on cutting-edge projects, collaborate with skilled teams, and contribute to technological advancements.
What elements should be highlighted in a graphic designer recruitment poster?
Emphasize the role's creative challenges, opportunities for portfolio growth, and the chance to visually shape brand identities.
How can a photographer recruitment poster attract potential candidates?
Emphasize the creative freedom, diverse photography opportunities, and the chance to capture memorable moments.
Why is visual imagery crucial in a recruitment poster?
Visuals create an immediate connection and convey the essence of the opportunity or company culture, capturing attention.
How can branding elements enhance a recruitment poster?
Branding elements like logos and color schemes create consistency and build trust with potential candidates.