Looking to create the perfect gym poster that grabs attention and motivates action? Seeking innovative ways to design a poster that stands out in the bustling fitness landscape?
Your search ends here! In this blog post, we're unleashing a plethora of gym poster ideas that will take your marketing efforts to new heights. Whether you're aiming for bold and vibrant visuals or a minimalist approach with maximum impact, we've got you covered.

Get ready to discover the art of crafting compelling gym posters that compel action and convey your fitness message with flair.
Table of Contents:
---
Stunning Gym Poster Ideas
---
When it comes to promoting your gym or fitness event, a well-crafted poster can be the key to grabbing attention and sparking interest. With PhotoADKing's gym poster templates, you can easily create a stunning gym poster.
Moving ahead, let's explore these amazing gym poster ideas.
Gradient Color Gym Poster
A gradient color scheme can transform your gym poster into a captivating visual masterpiece. Balance the gradient with clean typography and striking fitness imagery for a visually appealing and motivating design. Whether it's for a promotional campaign or for showcasing gym benefits, a gradient-colored gym poster is sure to attract the audience.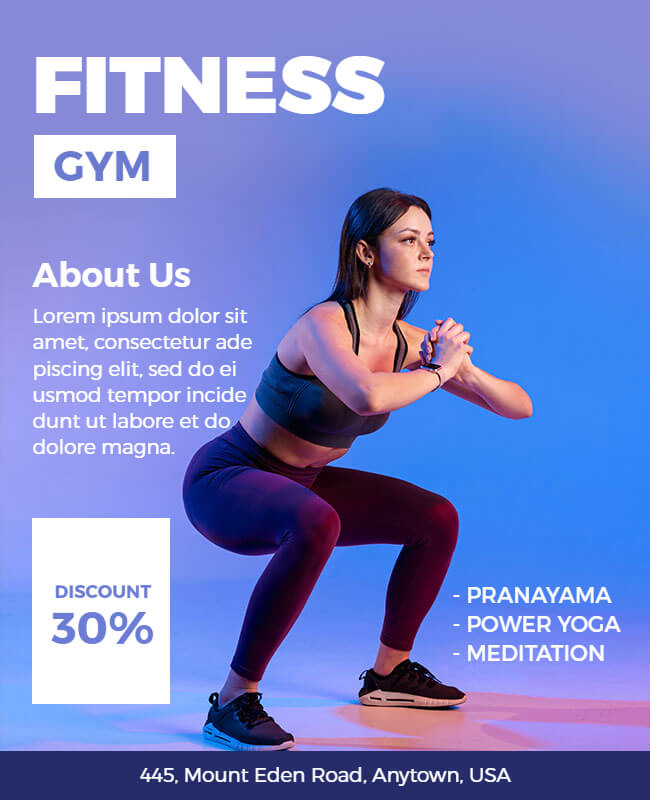 Modern Elegance Gym Poster
A modern design gym poster embraces clean lines, minimalism, and innovative typography. Incorporate high-quality images of fitness equipment and facilities, maintaining a clean and sophisticated layout for a compelling and refined design.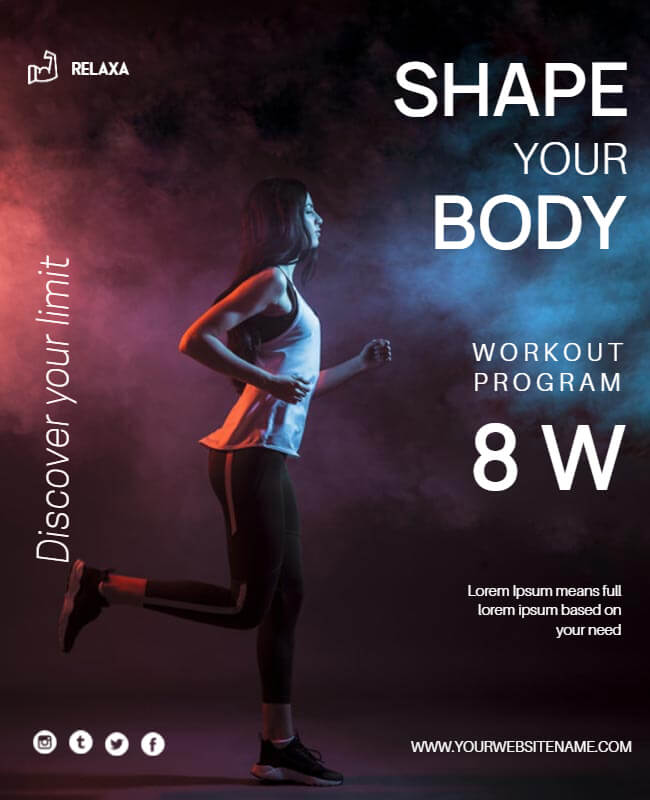 Minimalist Gym Poster
Embrace a restrained color palette, abundant white space, and simple typography to achieve a clean and minimalist aesthetic in your gym flyer design. Furthermore, a minimalist gym poster embodies the "less is more" ethos, using simplicity to make a bold statement.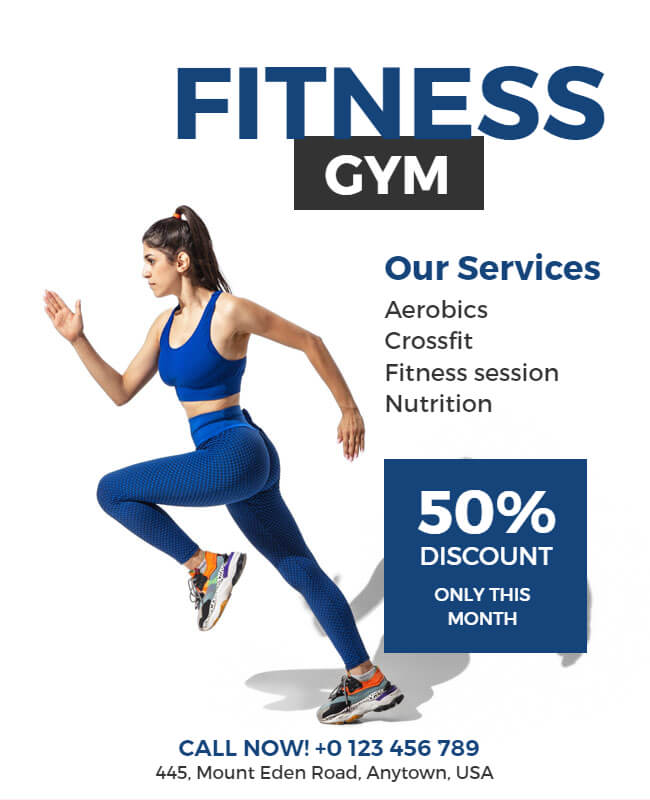 Illustrated Gym Poster
An illustrated gym poster bursts with creativity, using vibrant visuals to convey the spirit of fitness. Moreover, through captivating artwork and dynamic imagery, it captures the excitement of workouts and the joy of movement. Combine vibrant colors, bold outlines, and playful typography with the illustrations to evoke a lively and energetic atmosphere, making your poster stand out.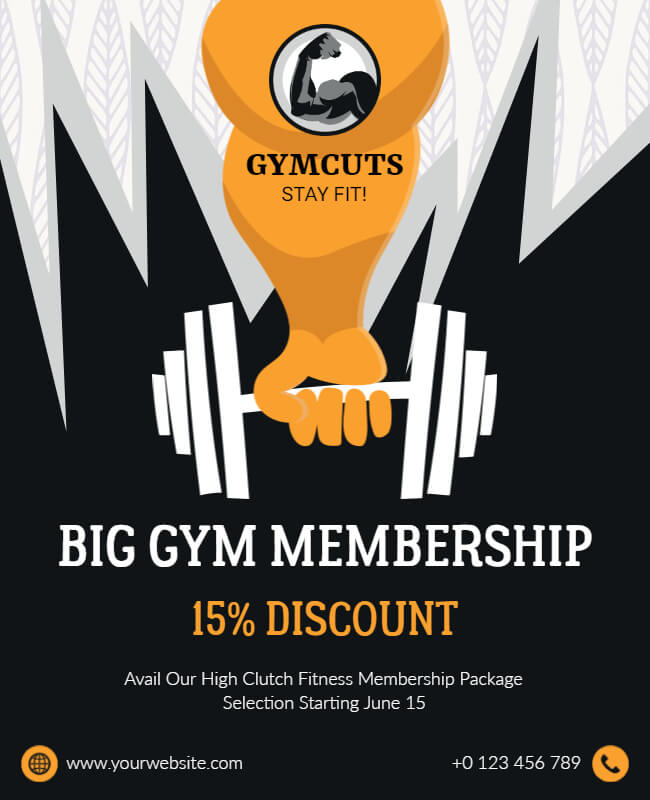 Artistic Decor Gym Poster
Elevate your fitness poster with this artistic decor gym poster, where dynamic brushstrokes and vibrant colors seamlessly merge to embody the spirit of creativity and energy. Use different colors for texts to give it a more artistic look. Unleash your inner artist as you embark on a path of poster design like never before.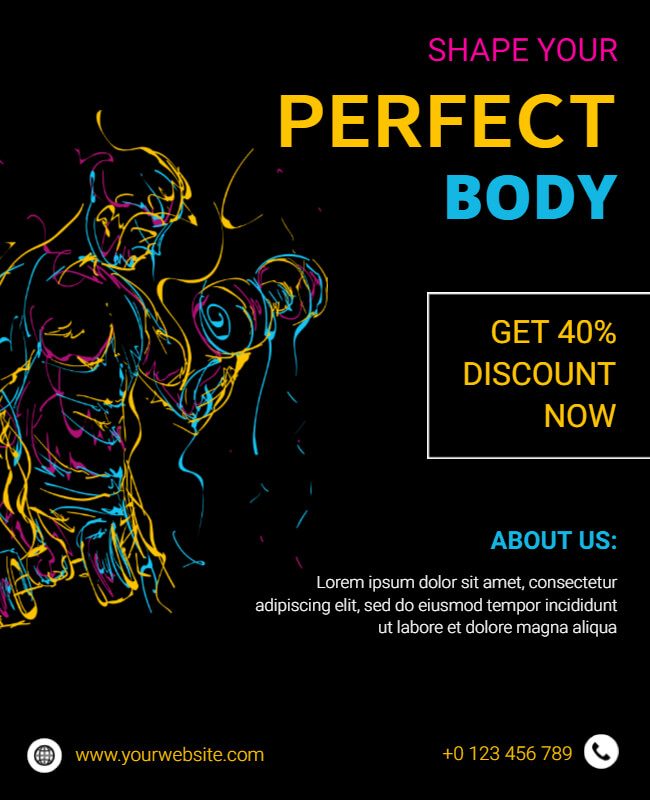 Photographic Gym Poster
Experience fitness in its visual splendor through this photographic gym poster. Incorporate high-quality images for poster background. Use bold text to highlight your message on poster design.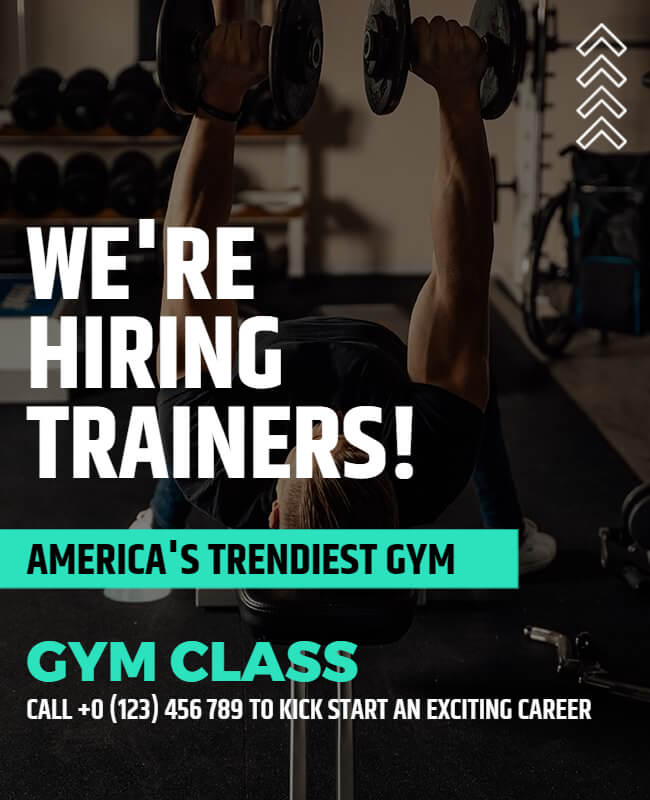 Innovative Cut-out Gym Poster
Break through the conventional barriers of poster design with this innovative cut-out gym poster. Additionally, geometric patterns and modern design intersect to represent your gym promotion. Keep the poster design layout minimal for a better cut-out design look.
Gym Poster With Transformation Picture
Design your gym poster with before and after pictures of body transformation. Real people, real stories, and real transformations – a testament to the dedication and hard work that define your fitness odyssey.
Gym Poster For Yoga
Infuse calming colors like soft blues and earthy tones, accompanied by minimalist yoga pose illustrations. Furthermore, combine with a spacious layout to evoke a sense of openness and harmony. Opt for elegant, flowing fonts that mirror the fluid movements of yoga poses.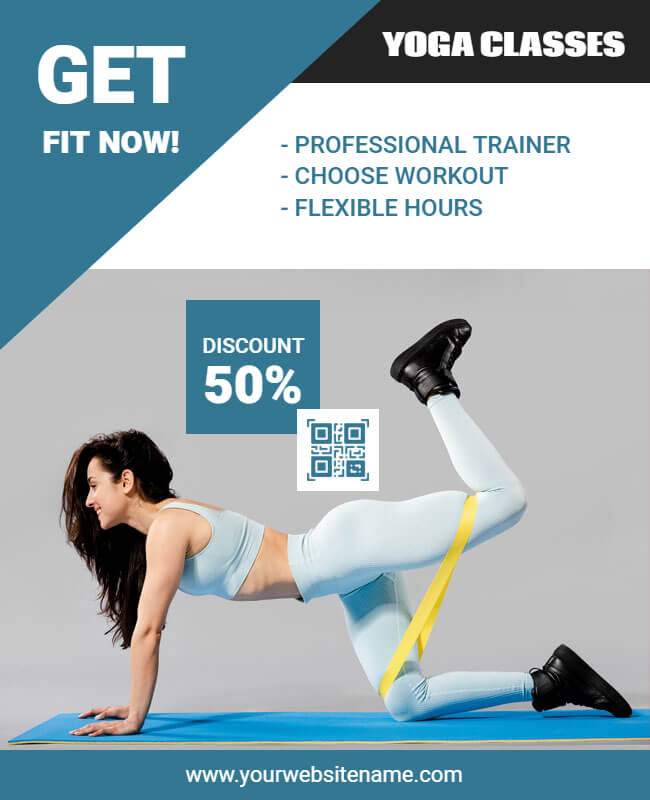 Motivational Quote Gym Poster
Use impactful fonts and varied text sizes to emphasize motivational quotes on your gym poster. Combine a vibrant color palette with contrasting backgrounds to make the quotes pop, creating an energetic and uplifting visual impact.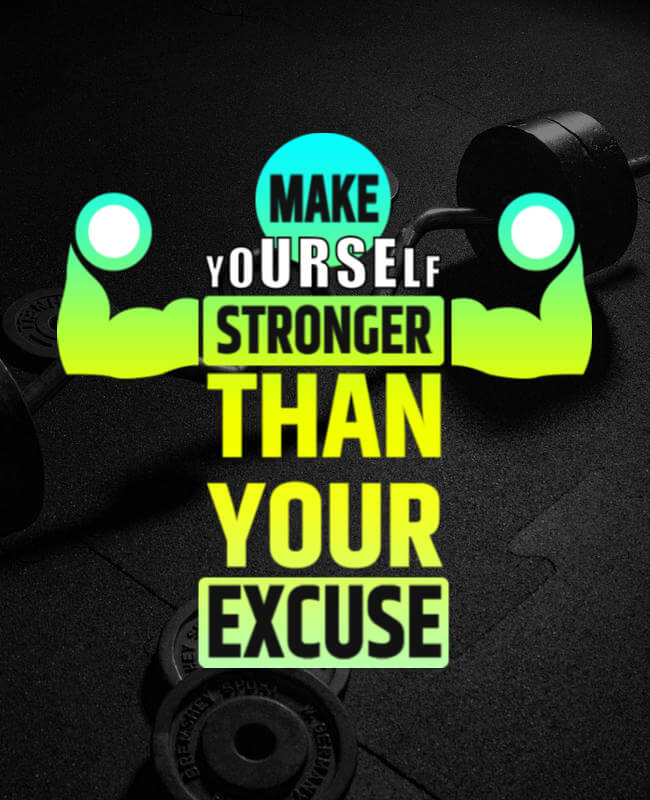 Gym Competition Poster
Infuse energetic graphics and bold typography to convey the spirit of competition on your gym competition poster. Moreover, ensure event details, dates, and registration information stand out prominently amidst the design, facilitating easy access to essential information for interested participants on your poster.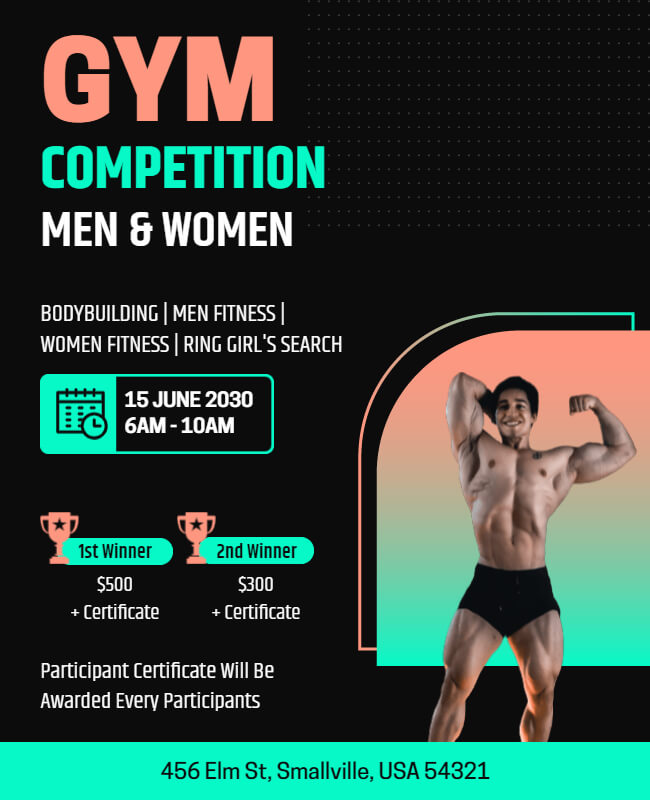 Personal Training Poster
Utilize a clean, professional layout with focused typography, emphasizing the trainer's credentials and unique training philosophy to instill confidence and attract clients seeking dedicated guidance. Showcase before-and-after images or custom illustrations that highlight the transformative impact of personalized training.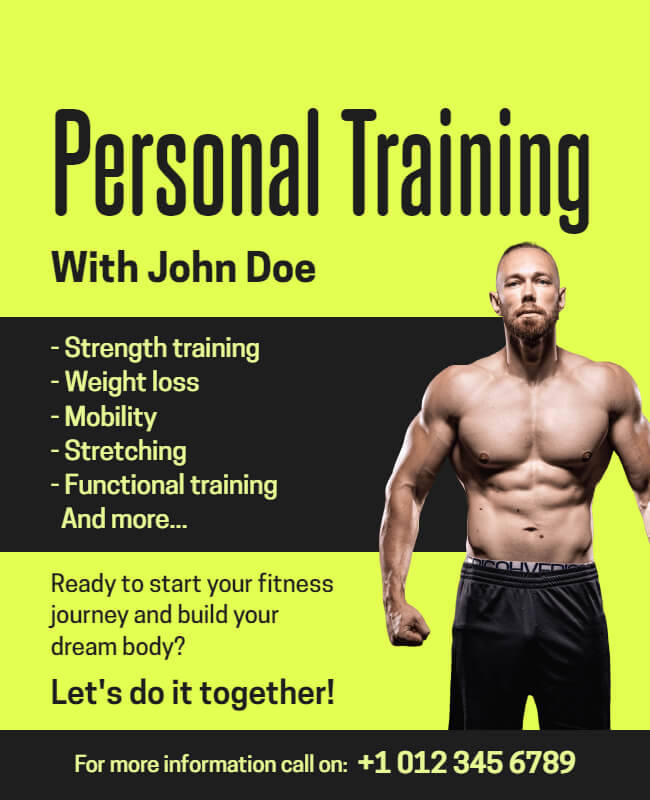 Gym Poster For Zumba
Use vibrant colors and rhythmic patterns that echo the pulsating energy of Zumba on your gym poster. Additionally, incorporate silhouette illustrations of dancers in various energetic poses to visually capture the diverse range of movements and styles that make Zumba a joyful and engaging fitness choice.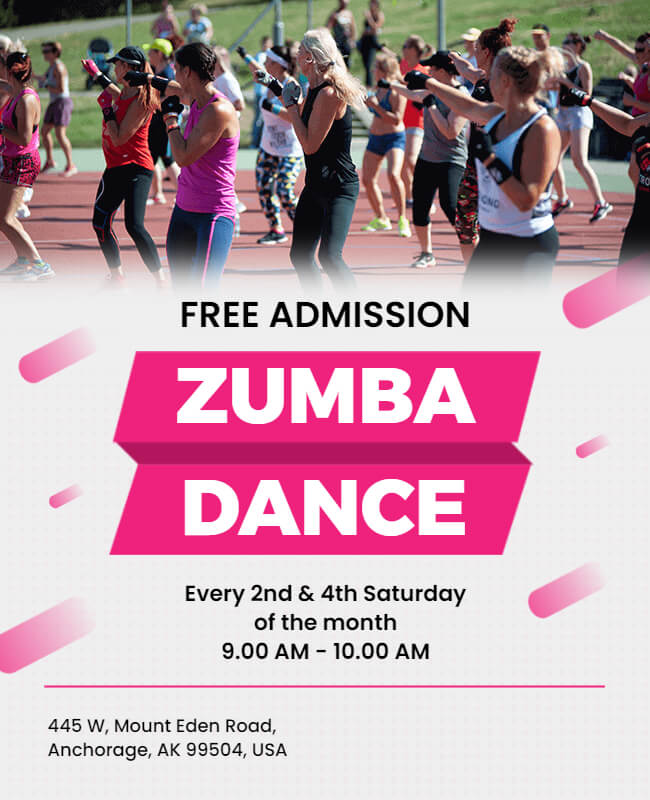 Gym Poster For Women
Create an empowering gym poster for women by featuring strong and confident images of women engaging in diverse workouts. Showcase the variety of fitness options available, from group classes to personal training. Moreover, infuse a touch of feminine elegance through soft design elements like delicate patterns and graceful typography.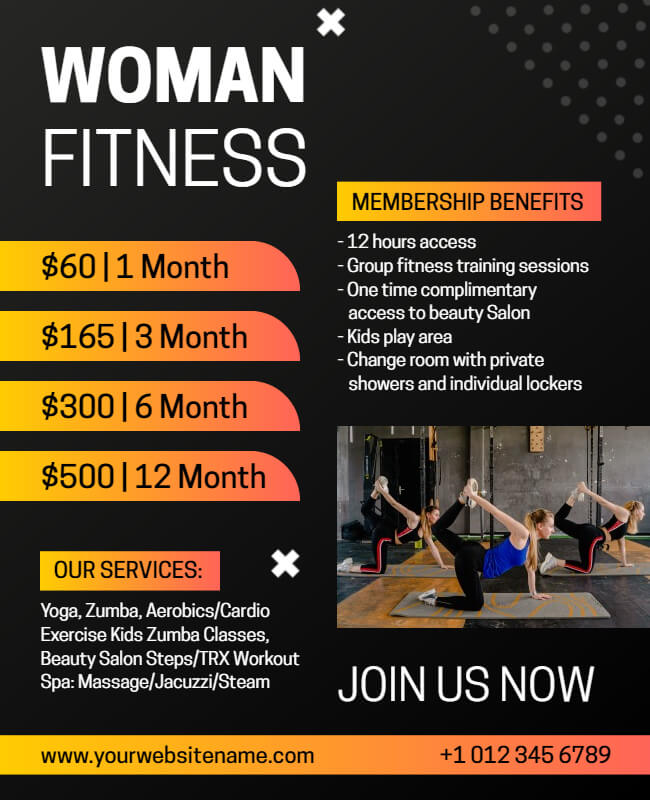 Fitness Training Poster
Opt for bold and energizing colors that reflect the dynamism of fitness, paired with modern fonts for a sleek, impactful design that resonates with active individuals. Create a collage of diverse exercise images that encompass strength, cardio, and flexibility training on your fitness training poster.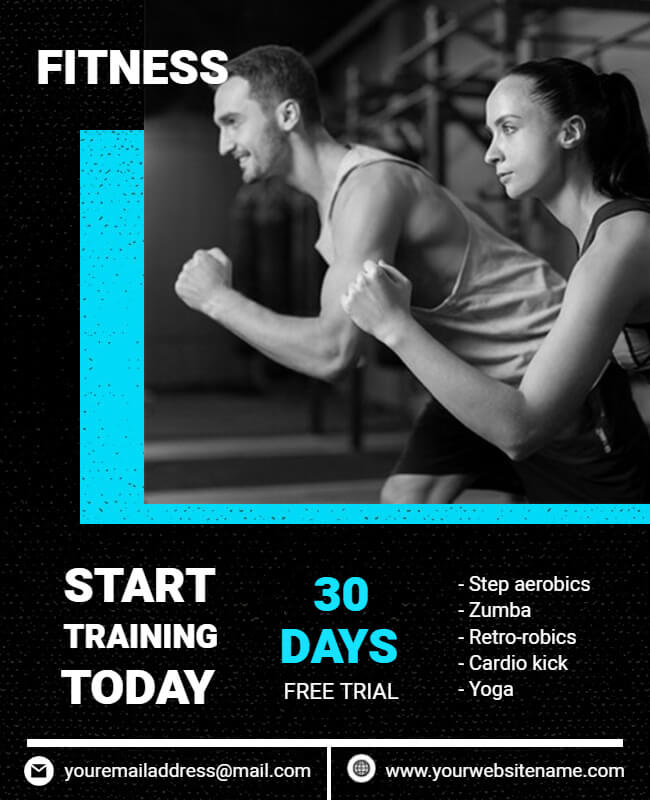 Once you've delved into these amazing gym poster ideas, it's essential to familiarize yourself with the key elements that make a successful gym poster.
---
Elements to Consider for Gym Poster
---
It's essential to incorporate the right design elements that capture attention, convey information clearly, and inspire individuals to take action. Here are some key design elements to consider when creating an engaging gym poster:
Eye-Catching Title: Create a bold and captivating title that clearly represents the theme or message of the poster.
High-Quality Imagery: Use high-resolution images of fit individuals engaged in various workout activities. The images should be inspiring and relatable.
Color Scheme: Choose a color scheme that aligns with the gym's branding and evokes energy and motivation. Bright and energetic colors often work well.
Clear Message: Communicate the main message or purpose of the poster in a concise and straightforward manner. Whether it's promoting a special offer, a new class, or fitness tips, make sure it's easy to understand.
Typography: Use legible fonts that complement the overall design. Consider using different font sizes to emphasize key points and headings.
Key Information: Include essential information such as the gym's name, logo, contact details, location, operating hours, and website/social media links.
Benefits: Highlight the benefits of joining the gym or participating in a specific class. Use persuasive language to convey how it can improve the viewer's health and well-being.
Call to Action: Encourage action with a clear and compelling call to action, such as "Join Now," "Sign Up Today," or "Claim Your Free Trial."
Social Proof: Showcase any awards, certifications, or partnerships that the gym has, as it builds credibility and trust.
Remember, the goal of the gym poster is to inspire, inform, and encourage action. Additionally, balancing aesthetics with clear communication will help you create an effective and visually appealing poster.
Recommended Blog:
Gym Flyer Ideas and Examples
Gym Brochure Design Ideas
Fitness Logo Ideas
Gym Logo Ideas
Fitness Flyer Ideas
Veterans Day Poster Ideas
Yoga Flyer Examples, Ideas, and Tips
Zumba Flyer Ideas
Types Of Poster
Poster Design Ideas
How To Design a Poster Online
Common Poster Design Mistakes to Avoid
How To Create a Minimalist Poster Design
Tips For Poster Promotion
How To Make Poster Design With Your Message
How To Transform Poster Into A Masterpiece
---
Conclusion
---
In conclusion, by utilizing these innovative gym poster ideas, you can effectively promote your fitness services. Furthermore, with the user-friendly poster maker tools available today, crafting these impactful gym posters has never been easier. Through captivating designs and persuasive content, you can capture the attention of your target audience.
With a clear call to action and relevant information, these posters offer a powerful marketing tool. Incorporating special offers or promotions can entice potential customers to take action. So, take advantage of these creative concepts to boost your gym's outreach and success.

---
FAQs:
---
What are some key elements of a modern elegance gym poster design?
A modern elegance gym poster typically includes clean lines, sleek fonts, and minimalist graphics. Using a contemporary color palette and high-quality images can also contribute to this aesthetic.
What are the benefits of using illustrated elements in a gym poster?
Illustrated elements can add a unique and visually appealing touch to your gym poster. They can help convey specific fitness activities or themes and make your poster stand out.
What are some innovative cut-out techniques I can use in my gym poster design?
Innovative cut-out techniques involve creating visual interest by using unique shapes or cut-out effects in your design. You can experiment with irregular shapes, layered elements, or even die-cut printing for physical posters.
What are some design tips for a yoga-themed gym poster?
A yoga-themed gym poster should feature calming colors, serene imagery, and elegant fonts. Incorporate yoga poses and relaxation symbols to convey the theme effectively.
What should I consider when creating a gym competition poster to attract participants?
When creating a gym competition poster, include event details, registration information, and enticing visuals of the competition. Highlight prizes, rules, and deadlines to generate interest.
How can I create a gym poster specifically for women to promote a women's fitness program?
To create a women's fitness program poster, use feminine colors and imagery, highlight female-focused fitness activities, and emphasize the benefits of your program for women's health and fitness goals.