When do you think of Gift card designs? Most probably when you remember some gifting occasion at the last minute or you are out of ideas on what gift you should bring for your loved ones.
Well, designing a gift card only takes a few minutes but a touch of personalization that you add to it steals the show. Gift card maker is none other than E-commerce sites and as most websites provide an exclusive option to create gift cards, some hardly think of other ways to make the same. 
Let's explore something new today!
We're about to share some wonderful and creative gift card designs that aren't just outstanding but will be the sunshine to whoever it is given to.
"A gift card is also known as a gift certificate in North America and also as a gift voucher or gift token in the UK."
10 Amazing Gift Card Design Templates to use at least Once!

1. Neat & Clean Gift Card Design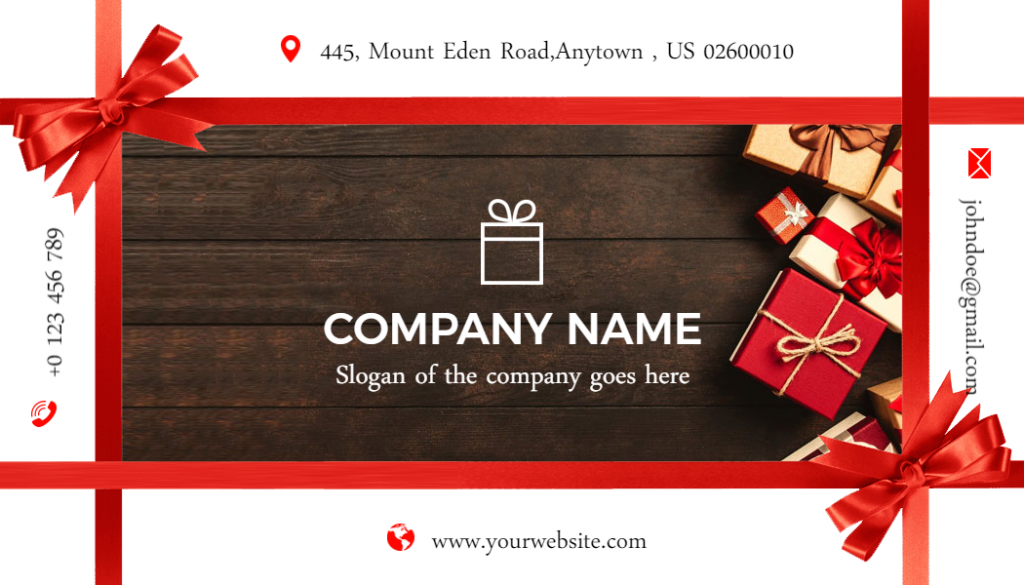 As you can see, it's a great instance of sophistication. It has details in the borders for a smarter visual appeal. This template is ideal for formal use when you don't want to mention much but the minimalist message is to be passed on.
2. Wedding Gift Card – That's Interesting!
Attending a wedding? Are you confused about what should be handed over to the newly-wed? Here you have a wedding gift card. You can choose from a lot of wedding themes highlighting the couples at the center in creative font styles. Give special attention to the color schemes, it can be as pleasing as you want it to be.
3. Go astray from Traditional Shape & Size
Who says gift card designs can only be postcard size or in a horizontal way? Such printable gift cards free are rocking in their own way. The background image is less important here. Choose this template if you have more text to display but make sure that you don't make it messy with too much text dumped together. The more the text is readable, the more it will be a pleasurable view.
4. Crush over Colors
Gift card design templates that make you fall in love, at first sight, are none other than the ones with decent graphics and striking messages winning at a glance. This is an instance of a return gift card given to the customers with a promotional offer to shop again. With nominal details and a clear-cut message, you are done in a few minutes only.
5. Not just another Gift Card
If you have been using gift cards, you wish to be a bit creative this time. With such gift card templates, you can also add QR codes as well as have blank space & required details for a professional appeal.

6. Celebration Gift Cards
When it is about celebrations, gift cards add more to happiness. It's a beautiful combination of hiding and show. The background visible from the corners set the theme and the center text popping out loud is the message to be passed on. What else do you need?

7. Decency at its Best
Businesses preferring not to go overboard would opt for gift cards that have a sorted appeal, just like this one. See the way the fonts take the courtesy alone. If you have terms to be added or anything else to be noticed, you can add more text here along with a barcode. Things placed well get your job done as it should be.

8. Birthday Gift Card Design
Birthdays and candles, flowers, cakes, and gift boxes go hand-in-hand. While this is only an instance, you can try as many designs as you wish from our Pro templates. The receiver will remember you for years!

9. Food delights are a must to display!
Let's say you are a restaurant owner and provide gift cards in exchange for cash from customers, what do you think of this template? Don't worry, you can add any food icons to this & customize it as you want. You can add a few details on the backside like validity, website, etc. The frontside this stunning is irresistible!

10. Keep a track of your Gift Cards
What if you want to keep track of the number of gift cards you have created and the ones redeemed from them? You can also add a serial number for your records.
5 Lesser Known Facts on Gift Cards
Hard to believe, but here are some interesting facts on gift cards you would like to discover:
1. People wish for Gift Card more than Gifts
Be it as holiday season, birthday, anniversary, or any other occasion, many people have a hidden desire that they receive a gift card instead of a gift. (If you think the same, you can feel it!). The benefits of Gift certificates are huge, give them a chance for once at least.

2. Gift cards can be registered too
If you fear that your gift card might be lost or stolen, you can keep it safe and protected by registering it online. Once registered, you can use its value whenever desired. However, this is facilitated by bank-branded gift cards and some retailers also provide this facility.

3. Unwanted Gift Cards are also sold online
There are instances when you have received a gift card for a store you don't want to buy anything from or you are looking to turn it into cash. At such times, you can find websites that buy gift cards and give cash back in return. For instance, you may get a cash value of 70% to 90% in return for a gift card.

4. Gift Cards not only belong to less popular business
Some Gift card design templates are too stunning to give you an idea about the genuineness of the firm. Beware during such occasions. You should always create gift cards with websites that are very popular or with stores that sell well. This way you can be free from the worries of getting scammed.

5. Create Gift cards for the most popular category
Since you decide to make a gift card online, you should also see what's trending. Walmart, Amazon, as well as some restaurants, are popular choices to create gift cards.
Things to keep in mind while making a Personalized Gift Card
Make sure that your free gift card generator has more theme & personalization options. For instance, you might be creating a gift card for office staff during Christmas or making one for your beloved's birthday, it should have that theme accordingly.
The look and feel as well as the details appearing on the gift card matters a lot. Be concerned with the final appearance of your gift card so that the right message is passed on.
Personalized gift cards can also be created to multiply sales. Let's say, for example, you're offering a $10 discount on the next purchase to the customers who shopped for $300 this month. Don't miss out on this if you want to raise the sales bar.
Utilize the facility of customization to the fullest by altering the font styles, color, theme, and everything that is possible.
Make sure that your customized gift card always has a short and sweet message added to it. No matter if it is for business or personal use, adding a message will make the user feel delighted. Remember that there is an emotion attached to the same.
It's a good day to use our free gift card generator!