A gift card is a type of present that allows the recipient to buy something they want or need from a specific store, website, or service. The card acts like a prepaid debit card with a set amount of money loaded onto it. When the recipient uses the card to make a purchase, the cost of the item is deducted from the card balance. Gift cards can be physical cards with a magnetic stripe or barcode, or electronic gift cards sent via email or text message.
They are often given as gifts for birthdays, holidays, or special occasions when you want to give someone the freedom to choose their own gift. Also, you can use gift certificate templates. These templates include spaces to fill in the recipient's name, the gift amount and a brief message or note from the giver.
What is Gift Card?
Before we delve into the process of making a gift card, let's first understand what a card is. Gift cards are prepaid cards that contain a certain amount of money. It can be used to purchase goods or services from a specific retailer or group of retailers. Besides, gift cards can be physical or digital, and they are a convenient way to give someone a present without the hassle of picking out a specific item. Also, you can use a pre-designed gift card template that can be used to create customized gift cards for various occasions such as birthdays, weddings, holidays, and more.
What You Need to Know Before Designing a Gift Card?
Define the Purpose of Your Gift Card
A gift card is a specific amount of money loaded onto it. Gift cards are given as a present to someone else, so they can buy products or services from a particular store or website. It's an easy and convenient way to give a gift because the recipient can choose exactly what they want to buy. Gift cards are often given for special occasions like birthdays, holidays, or graduations.
Consider Your Branding
Branding is a way for a company to establish its identity and reputation in customers' minds. It involves creating a name, logo, design, and messaging that represents the company's values and goals. The right branding can help a company stand out from its competitors and build loyal customers. It's important to consider branding when creating marketing materials or developing brand-new products. This ensures consistency and recognition across all aspects of your business.
Determine Your Card's Value and Restrictions
To create a gift card, you need to decide how much money it will be worth and if there are any rules for using it. You should make sure the recipient can easily use the entire amount and let them know about any restrictions like expiration dates or minimum purchase requirements.
Also, you can also check out gift card ideas that allow the recipient to choose their own gift. You can get gift cards from various stores, restaurants, or online retailers.
Make It Easy to Redeem
When creating a gift card, it's important to make it easy for the recipient to redeem. This can include providing clear instructions on how to use the card. It can also include ensuring that the card can be used both in-store and online and offering customer support in case the recipient has any issues utilizing the card.
How to Make Gift Card Using Templates: Step-by-Step Guide
Step 1: Signup or Login PhotoADKing
To start designing your gift card using PhotoADKing, you need to create a free account on their website. Go to the PhotoADKing website and click on the "Sign Up" button. Moreover, fill in your details, and you're ready to get started.
Step 2: Search "Gift card" In the Search Bar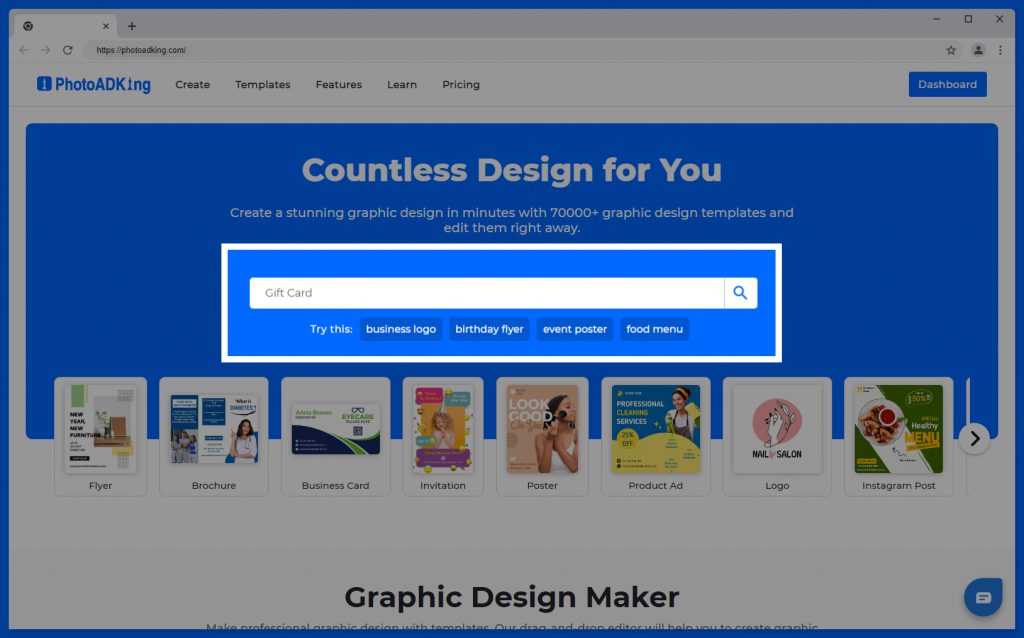 After logging in, search for "Gift card" in the search bar. This will give you lots of card templates to choose from.
Step 3: Choose Your Gift Card Certificate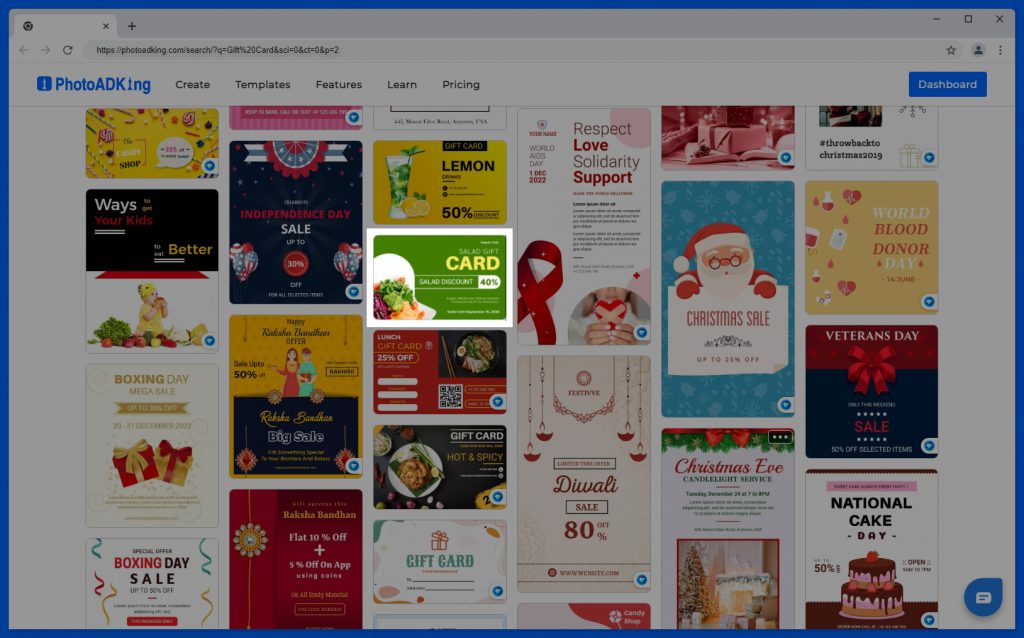 From the list of templates, choose the one that perfectly suits your theme. Don't worry if it doesn't look exactly like what you imagined. You can always customize it to your liking in the next step.
Step 4: Customize the Gift Card Certificate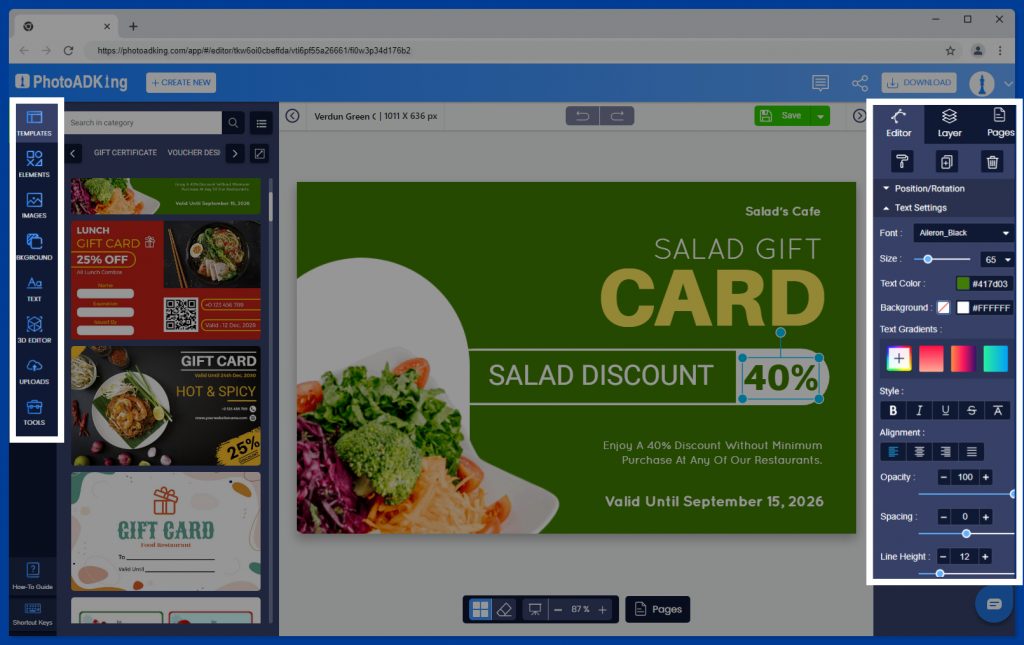 Customize the certificate template to fit your theme and style. As well as, here are some ways to personalize a certificate.
Step 5: Download and Share Gift Card Certificate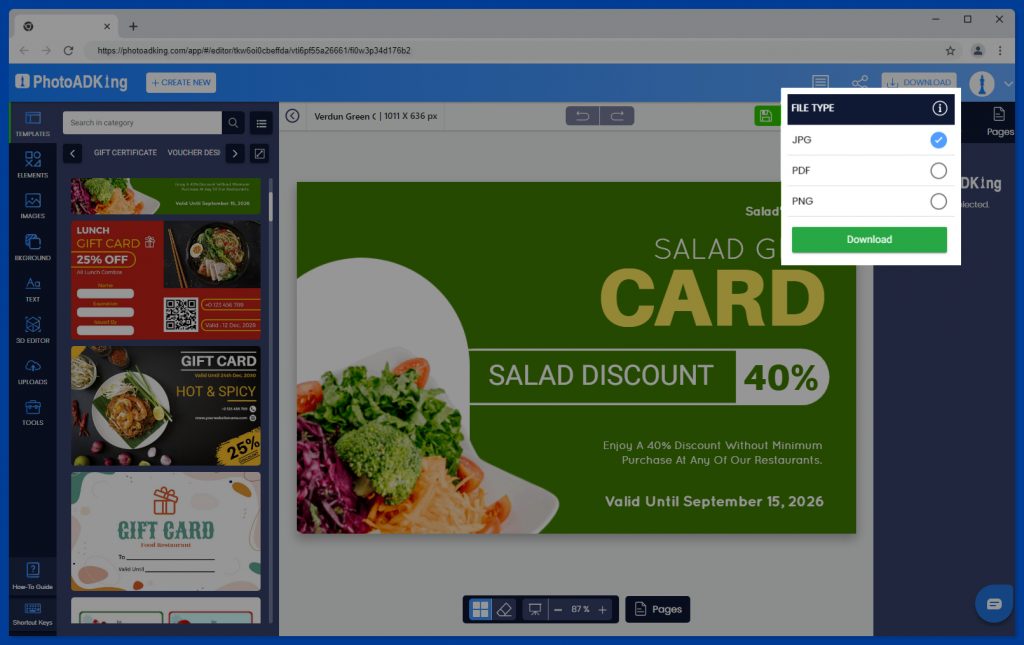 Finally, download the card certificate in a high-quality format and share it with your guests. You can print it out and share it digitally via email or social media.
Also, you can check out the gift certificate size. These refer to the physical dimensions of a voucher received as a present. Besides, it can vary in size depending on the brand or type of card being purchased.
The Conclusion
In conclusion, making a card is a simple process that anyone can do. All you need is some paper or cardstock, scissors, and markers or pens to decorate it. Start by folding the paper in half and cutting it to the desired size. Add your design and message using markers or pens. Finally, write down the amount and any additional details on the card. With these easy steps, you can create a personalized card for any occasion! You can also use a gift certificate maker that enables users to design and create personalized gift certificates. It offers a range of templates, fonts, and designs that can be customized with the user's text, logo, and images.