Gift vouchers are a popular choice when it comes to gifting. They provide the recipient with the flexibility to choose their own gift, and they can be customized to suit different occasions and preferences. If you're looking to create a gift voucher, whether for your business or personal use, this article will provide you with a comprehensive guide on how to make a voucher that is unique, effective, and appealing to the recipient. So, if you're looking for a quick and easy way to create personalized gift vouchers, consider using a gift certificate maker. A gift certificate maker is a tool that allows you to customize and design gift vouchers according to your preferences, such as adding your own text, images, and logos. With a gift certificate maker, you can create unique and eye-catching gift vouchers that are sure to impress the recipient.
Table of Content
Before You Start to Design a Gift Voucher
Understanding the Purpose
The first step in creating a voucher is to determine its purpose and value. Consider the occasion for which you are creating the voucher, such as a birthday, anniversary, or holiday and the preferences of the recipient. That will help you design the voucher accordingly.
Define Ideal Customer
Before you start designing your voucher, it's essential to define your ideal customer. This means identifying the target audience or the specific group of customers you want to attract with your gift vouchers. Understanding the interests and needs increases the chances of generating a positive response.
Know Your Brand Personality
Incorporate your brand elements, such as your logo, colors, and fonts, into the design of the voucher. This will help create a cohesive and consistent look that aligns with your brand identity and reinforces brand recognition.
Convey Your Message
Clearly convey the message of the voucher. This includes the value of the voucher, any terms and conditions, and any specific instructions or restrictions. Make sure the message is concise and easy to understand.
Clear Call to Action
Include a clear and prominent call to action that tells the recipient what they need to do to redeem the voucher. This could be a website URL, a phone number, a QR code, or a physical address, depending on how the voucher can be redeemed.
Steps How to Make a Gift Voucher
Here are steps to follow while designing your voucher
Step-1 Visit the PhotoADKing Website
Firstly you can visit the PhotoADKing website, Then signup with PhotoADKing.
Step-2 Search the Gift Voucher
After signup, you can search your template on the search bar like "Gift Voucher". You will see many pre-designed templates.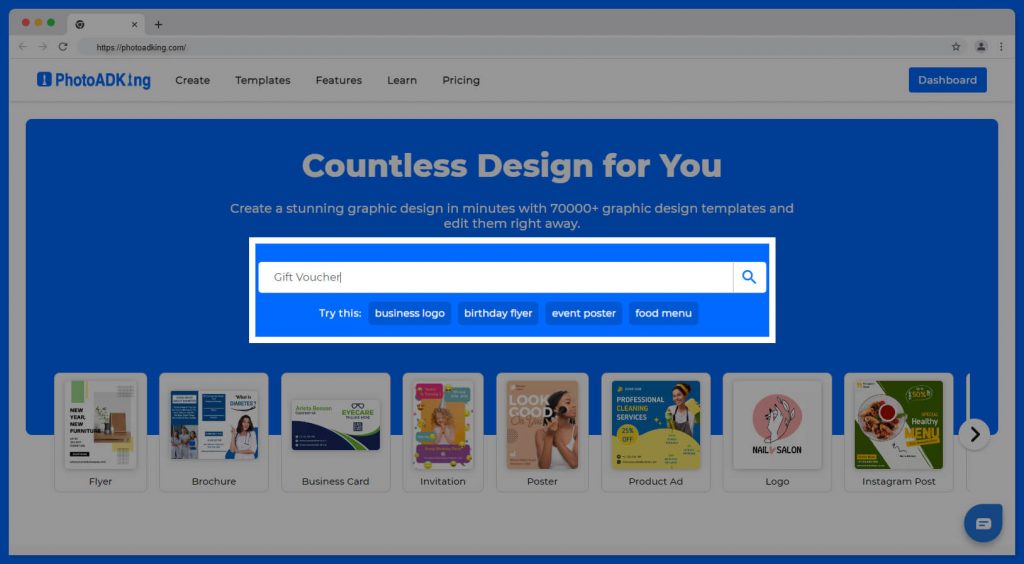 Step-3 Choose Your Gift Voucher Template
Choose a suitable template for your needs, such as a gift voucher template, and decide whether you want to edit it.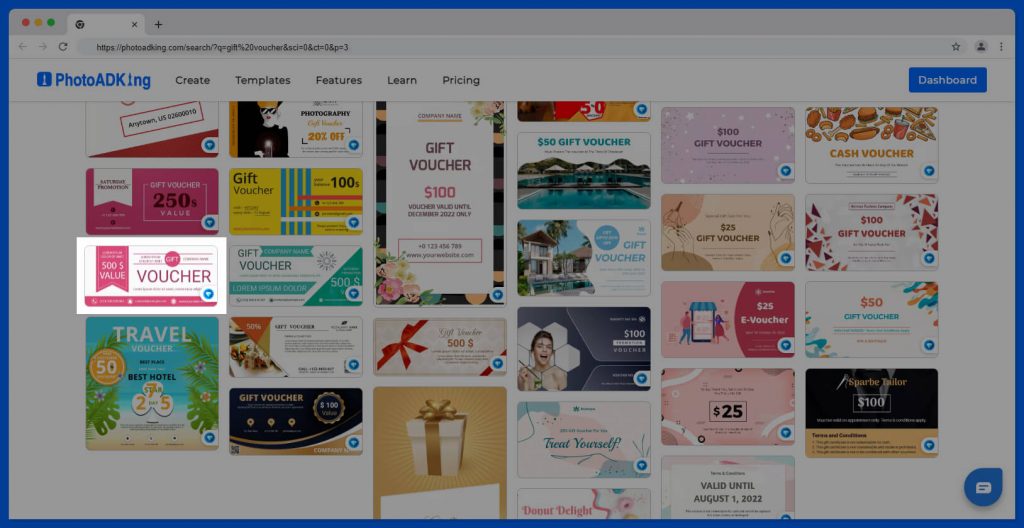 Step-4 Customize the Your Template
Once you have chosen your template, now you can customize it as per your needs. You can change the colors, layouts, and font of the template to match your brand and theme. You can also add your images, logos, and voucher descriptions.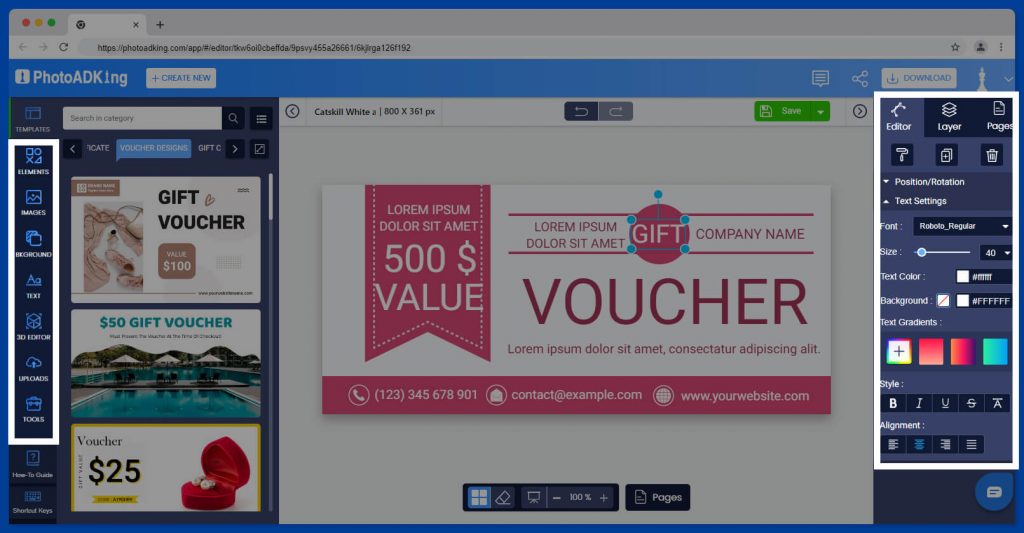 Step-5 Download and Share
After customizing your voucher, it's time to download and share it with the world. Click on the "Download" button in the top right corner of the screen to download your design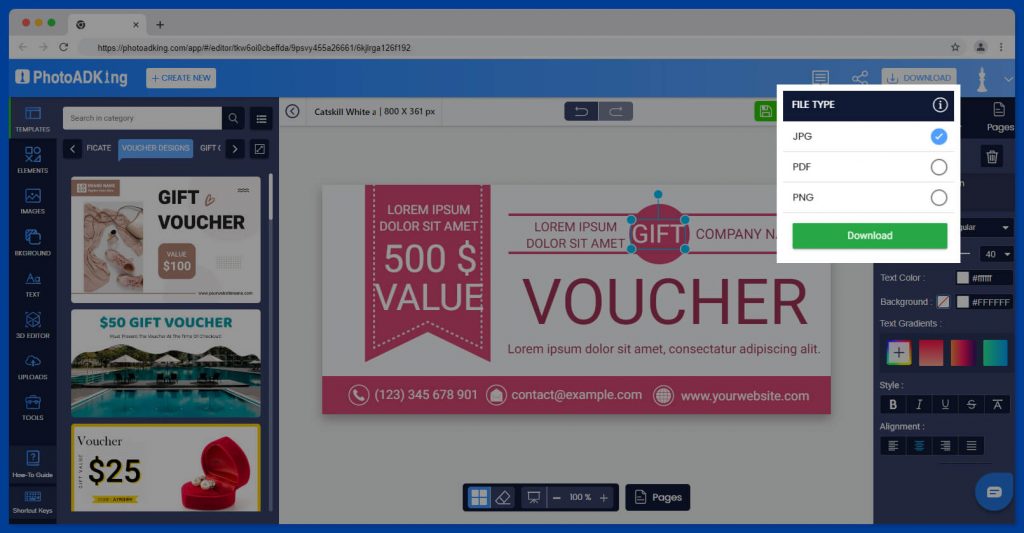 However, if you are confused about which size is most appropriate for your gift certificate, please check out our article on gift certificate size and dimensions to help you create a certificate.
Read more: How to Make Halloween Cards in 5 Easy Steps
Conclusion
In conclusion, creating a gift voucher can be a valuable marketing tool for businesses or a thoughtful gesture for personal gifting. By following the steps outlined in this article and incorporating the tips provided, you can create a unique, effective, and appealing gift voucher that is sure to delight the recipient. With a well-designed and well-crafted gift voucher template, you can make a memorable impression and provide a meaningful gift to your intended recipient.