Graphic design is an essential part of communication and marketing, and it is the art and practice of planning and projecting ideas with visual content. The field is considered a subset of visual communication and communication design, but sometimes graphic design is used synonymously.
As a business owner or entrepreneur, you know the importance of marketing and promotion. Canva is a good tool; however, it's not the only option. There are plenty of other great Canva alternatives to help you achieve the same results.
Canva vs PhotoADKing (Quick Comparison)
There are two primary online graphics designing tools available – Canva and PhotoADKing. While both platforms offer a great range of design features, PhotoADKing comes out on top of overall functionality and value for money.
Here's a quick comparison of the two tools to help you decide which is suitable for you: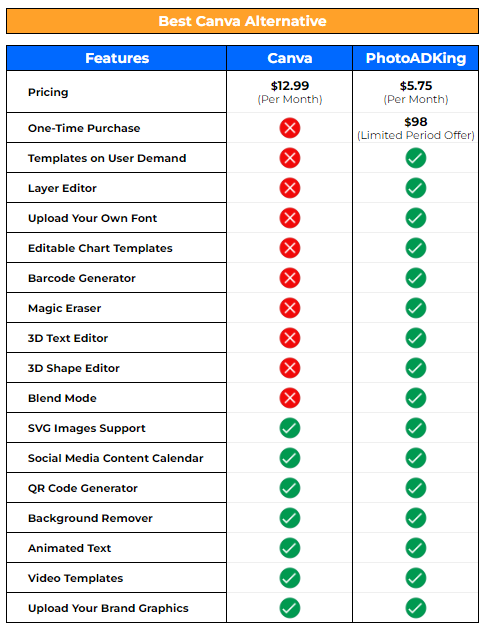 The Key Features of PhotoADKing – An Amazing Canva Alternative
PhotoADKing is a powerful Canva alternative that enables users to create stunning visuals for their projects. The platform offers a wide range of features that allow users to edit photos, create flyers, posters, banners, brochures, etc. Here are some of the critical features of PhotoADKing:
Pricing (Per Month)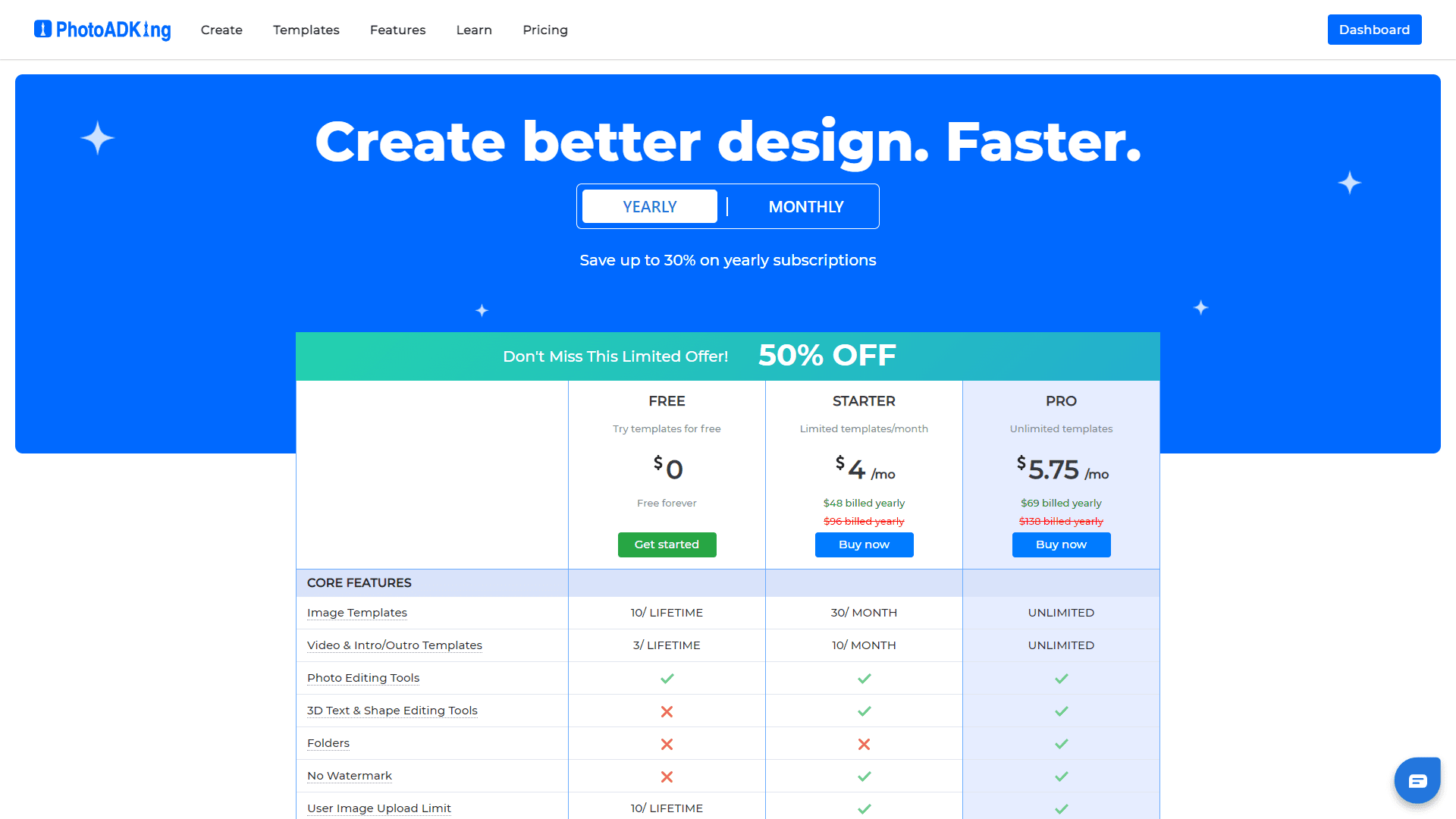 The pricing of PhotoADKing is very reasonable, making it an affordable Canva alternative for those who want to create high-quality photos and designs without spending too much. The pricing of PhotoADKing is much more affordable than Canva, as you can see in the table above.
One-Time Purchase (Limited Period Offer)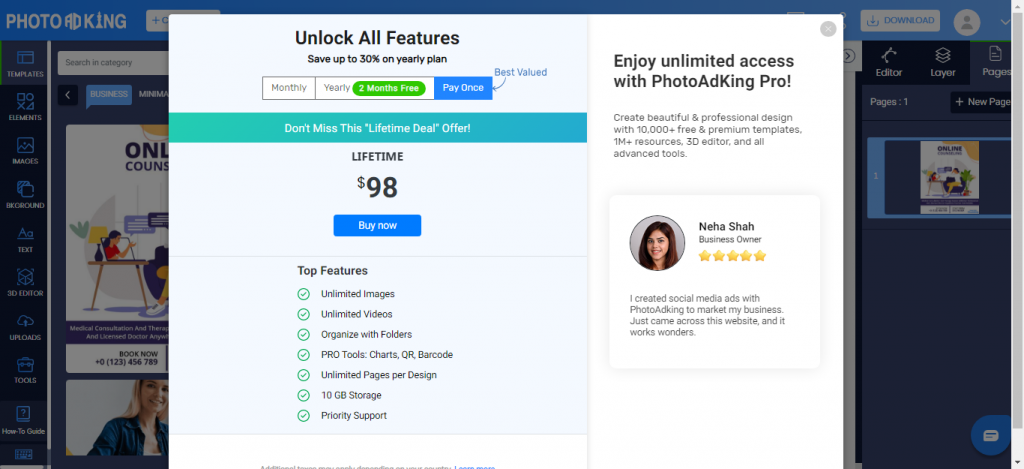 If you're looking for an affordable, one-time purchase option for your design needs, PhotoADKing is the way. You won't find this option with Canva, so if that's what you're looking for, PhotoADKing is your best bet. With their One-Time Purchase option, you'll get access to all templates and tools for a fraction of the price.
Templates on User Demand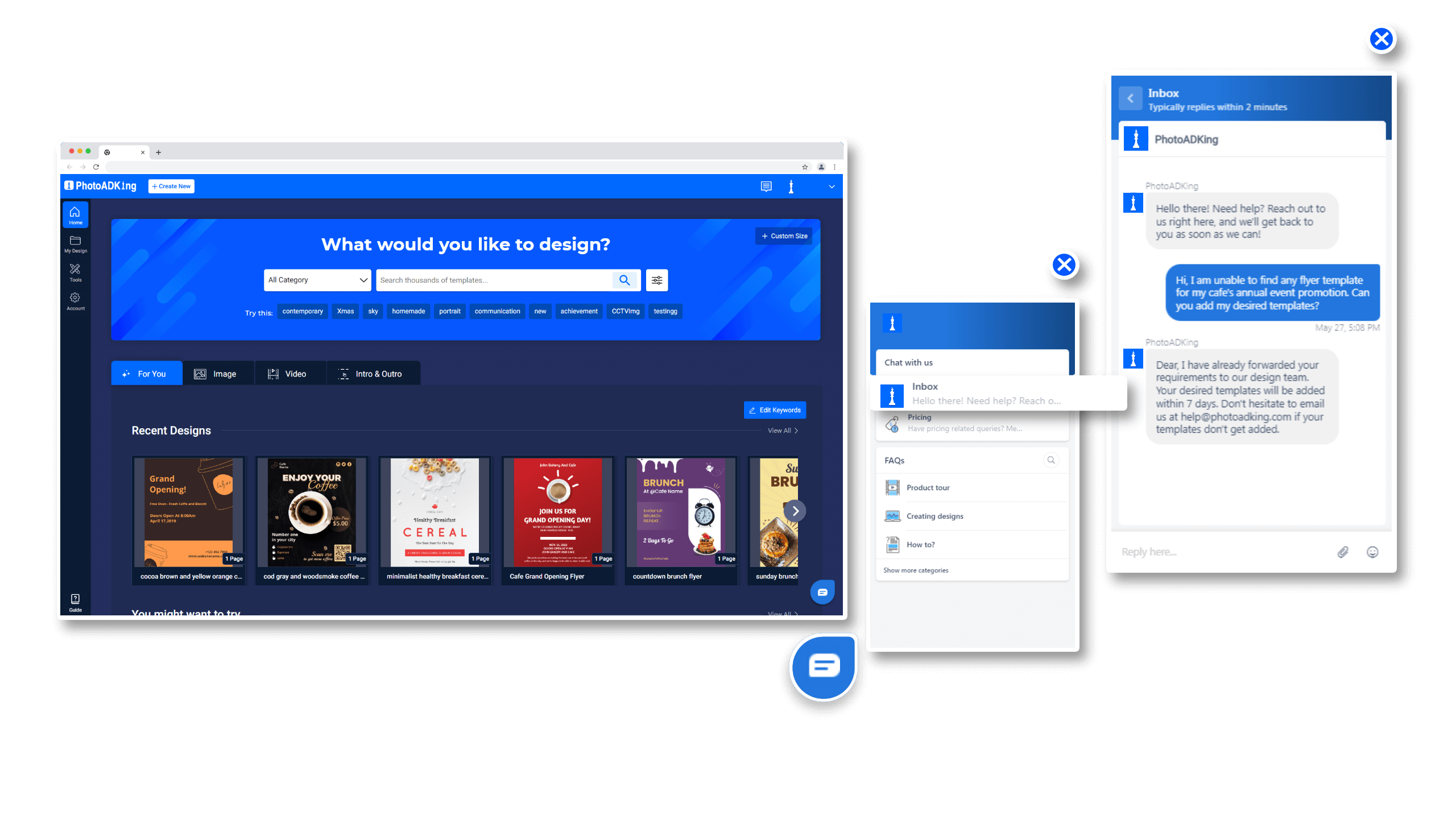 The templates on the User Demand option are now available on PhotoADKing. This means that you can directly request specific templates you would like to see on our site.
To make a request, message us through the help center or send an email with your template request. They will do their best to create the template and make it available as soon as possible.
Layer Editor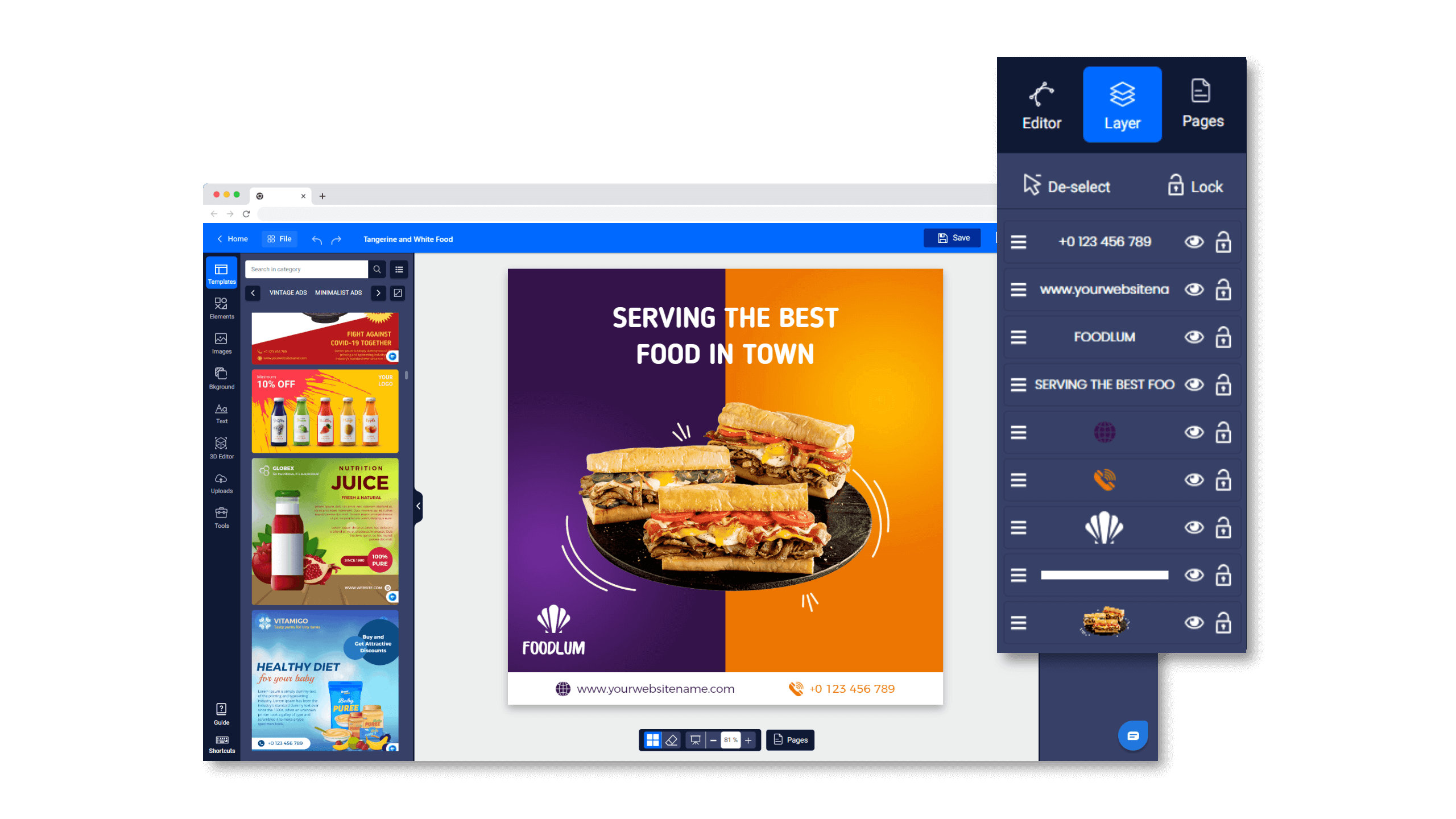 If you're serious about your craft, you'll want to use an alternative with more features and options than Canva. PhotoADKing's Layer Editor is an excellent example of a feature that Canva doesn't provide. With the Layer Editor, you can easily manage your design elements and make changes with just a few clicks. You can position different layers in the templates as you need, and also, you can hide and lock layers.
Upload Your Own Font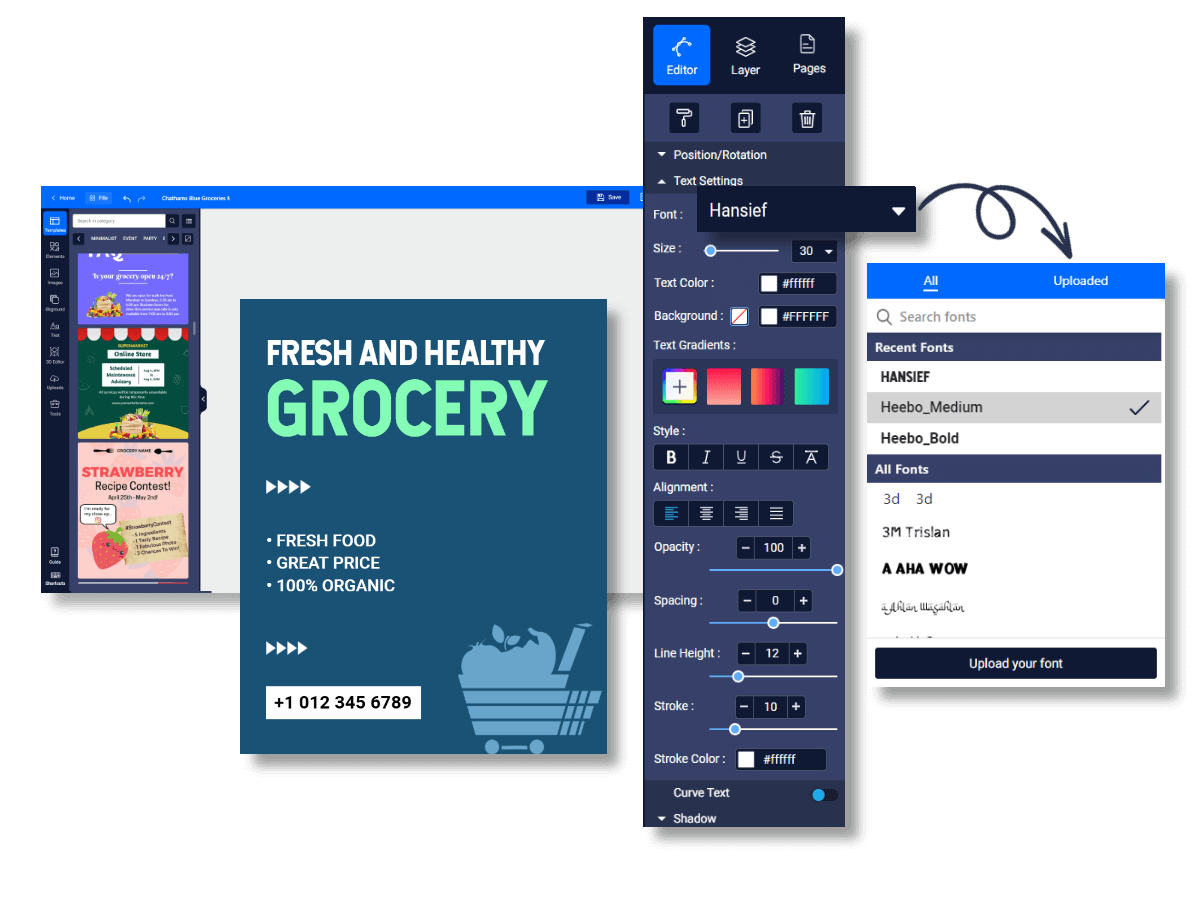 Did you know that you can upload your fonts to PhotoADKing and use them in your designs? This is a great way to ensure that your designs have the perfect typography to match your brand identity. Click the "Upload Font" button in the Text Setting, and select the font file from your computer. Once uploaded, you can use it just like any other font in our library.
Chart Templates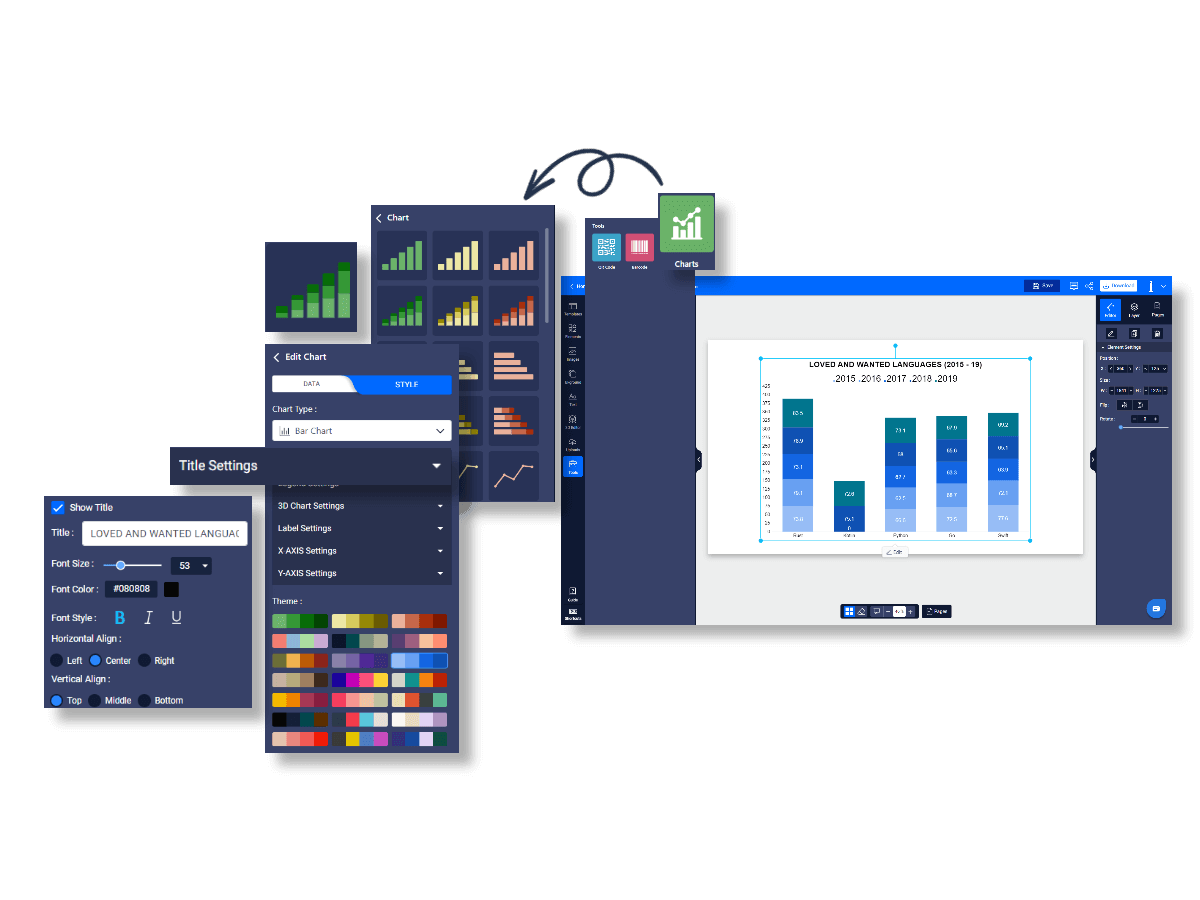 This feature from PhotoADKing is second to none when creating charts. Their easy-to-use interface and wide selection of built-in templates and designs make it easy to create unique and eye-catching charts.
Whether you're looking to create a simple line chart or a complex multi-layered pie chart, Chart Maker has all the tools you need to get the job done quickly and easily.
PhotoADKing's chart templates are a great way to make your data visually appealing. With various designs and styles to choose from, you can easily find one that fits your needs. The templates on PhotoADKing are easy to use and edit, so you can customize them to fit your specific requirements.
Social Media Content Calendar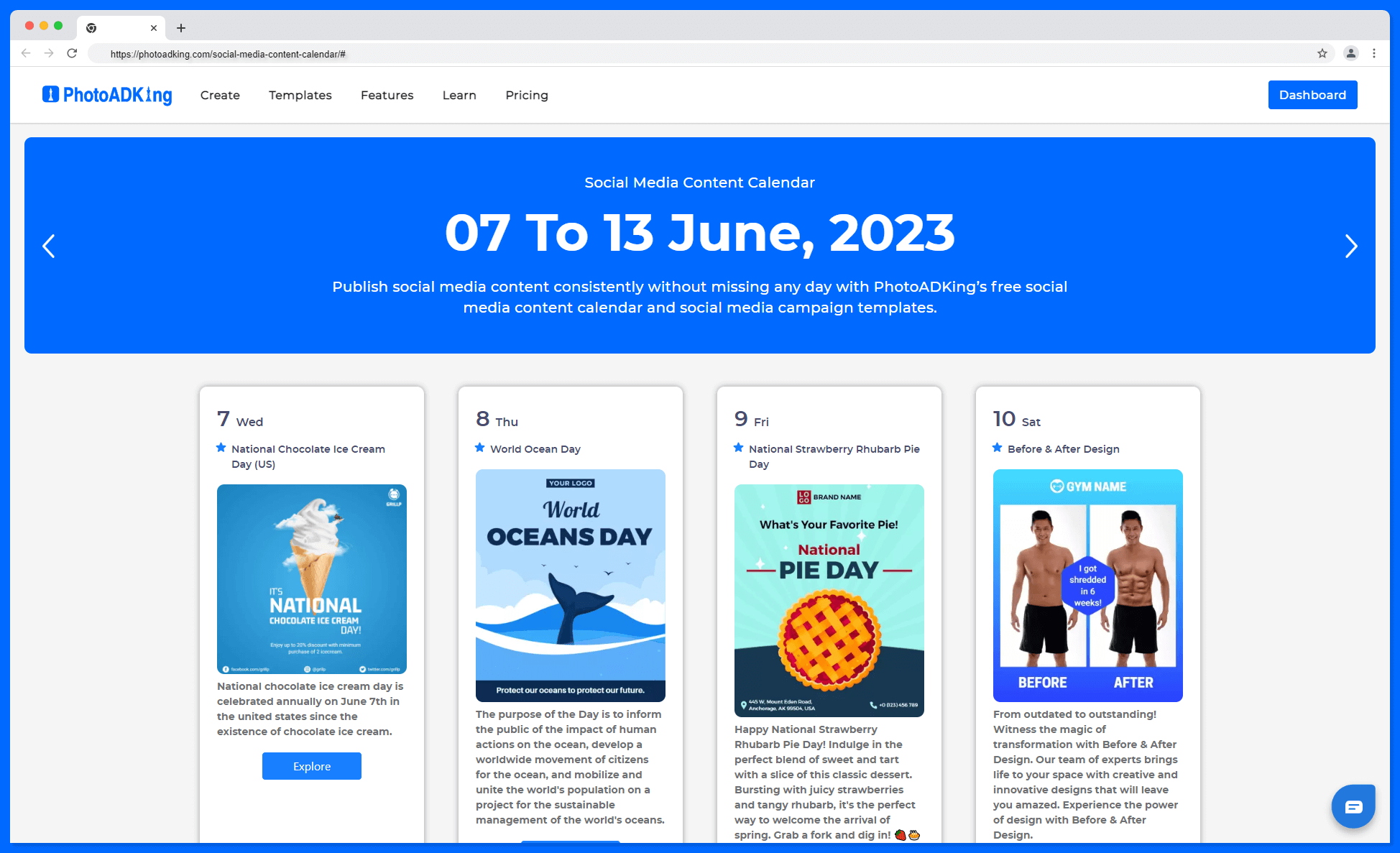 If you're looking for a social media content calendar option, you can find one on PhotoADKing. This tool will help you keep track of your content and publish it on important days. With this calendar, you can plan out your content in advance and ensure it's aligned with your business goals. Having a content calendar is a great way to stay organized and focused on your social media marketing strategy. And the best part is that templates according to the special days are available with just one click. You can also edit the designed templates as you wish.
QR Code Generator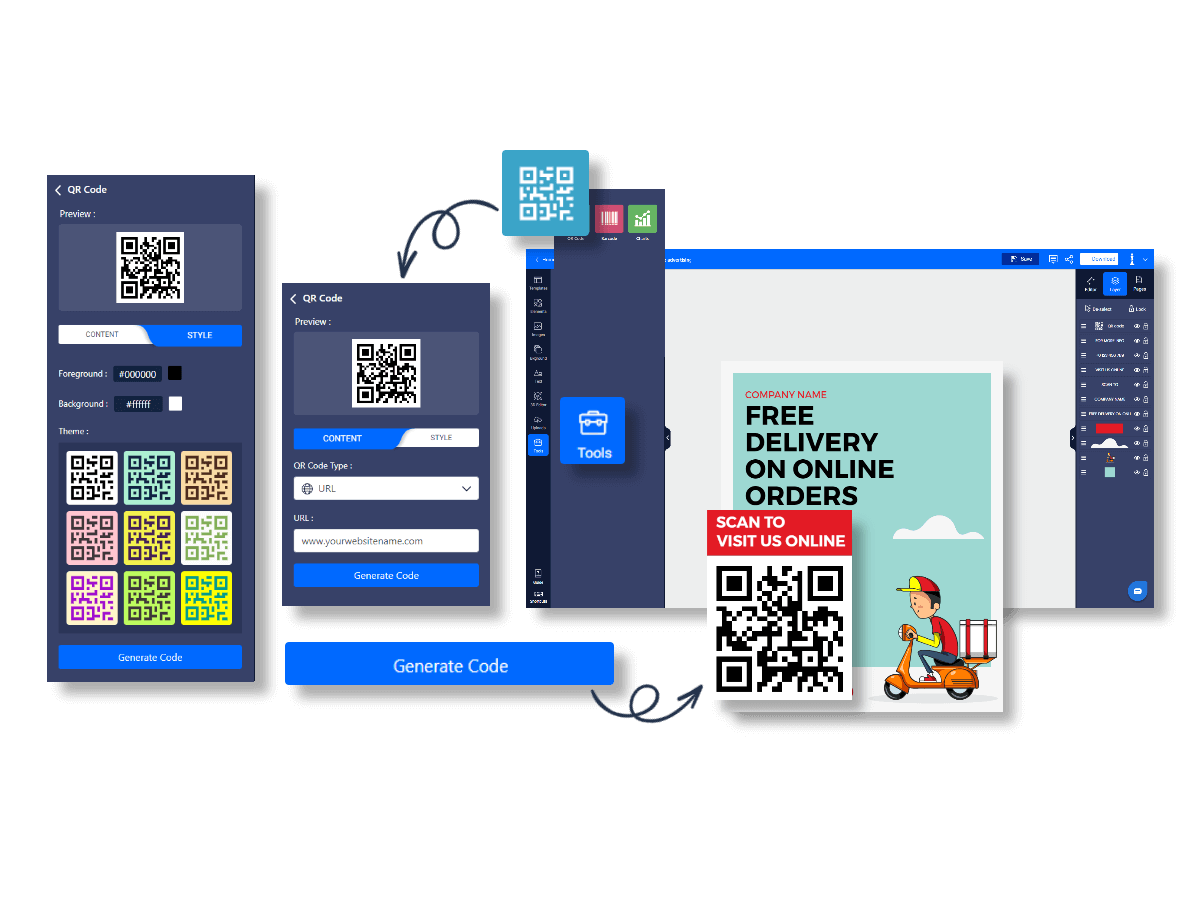 This feature from PhotoADKing makes it easy to create custom codes for your business or brand. You can create codes tailored to your specific needs with our easy-to-use tools. You can choose the code's size, shape, color, and data you want to encode.
Barcode Generator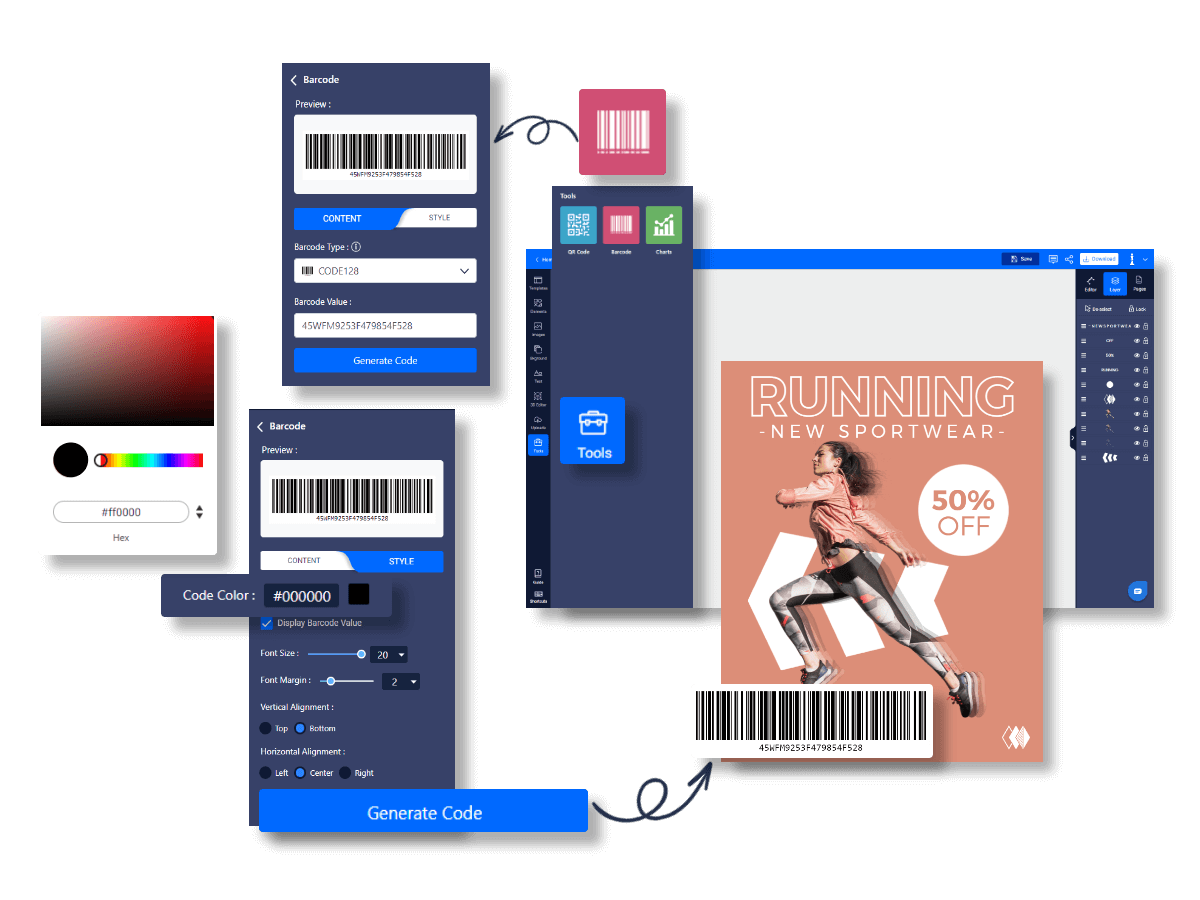 This Canva alternative will help you to generate a barcode that can be used for any purpose. Whether you need a barcode for your product or your business, they have the perfect solution for you. The barcode generator is easy to use and can be customized to fit your needs. PhotoADKing also offers various sizes and colors to find the perfect one for your project.
Blend Mode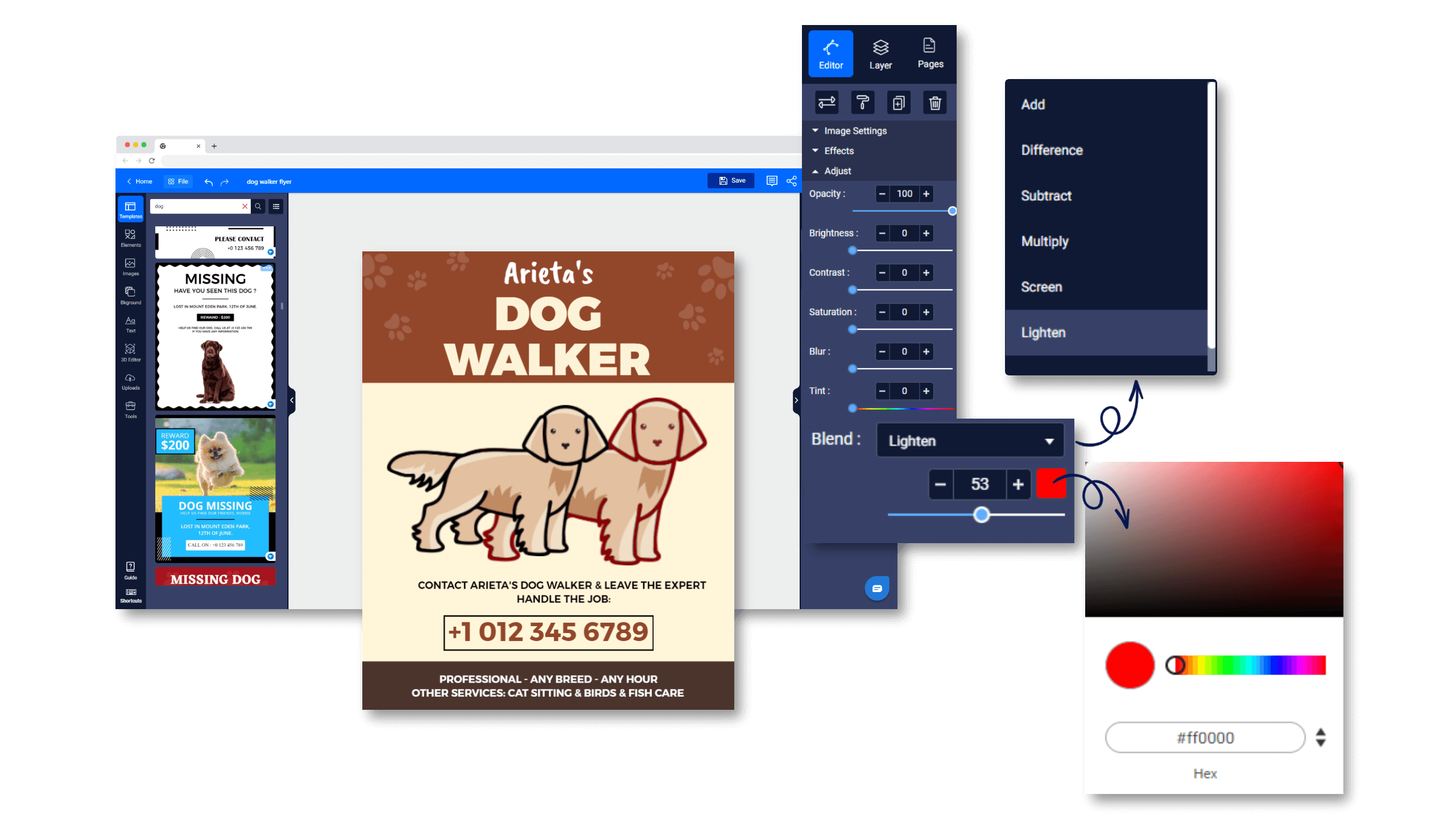 The Blend Mode option of PhotoADKing is a great way to add a little bit of creativity to your photos. With this option, you can easily add different colors and effects to your photos, making them stand out from the rest. You can use the Blend Mode to create various looks, ranging from subtle to dramatic.
3D Text & Shape Editor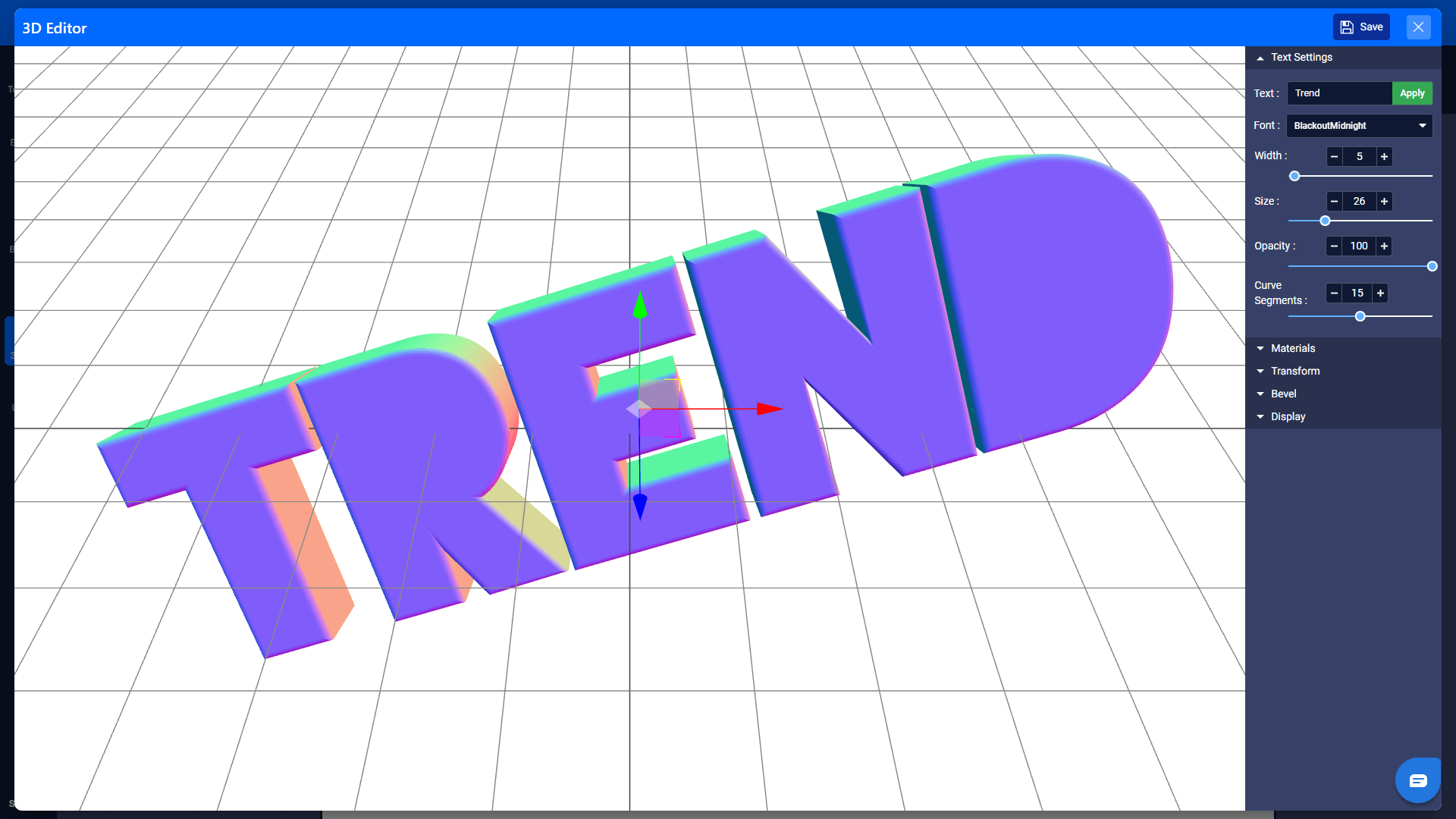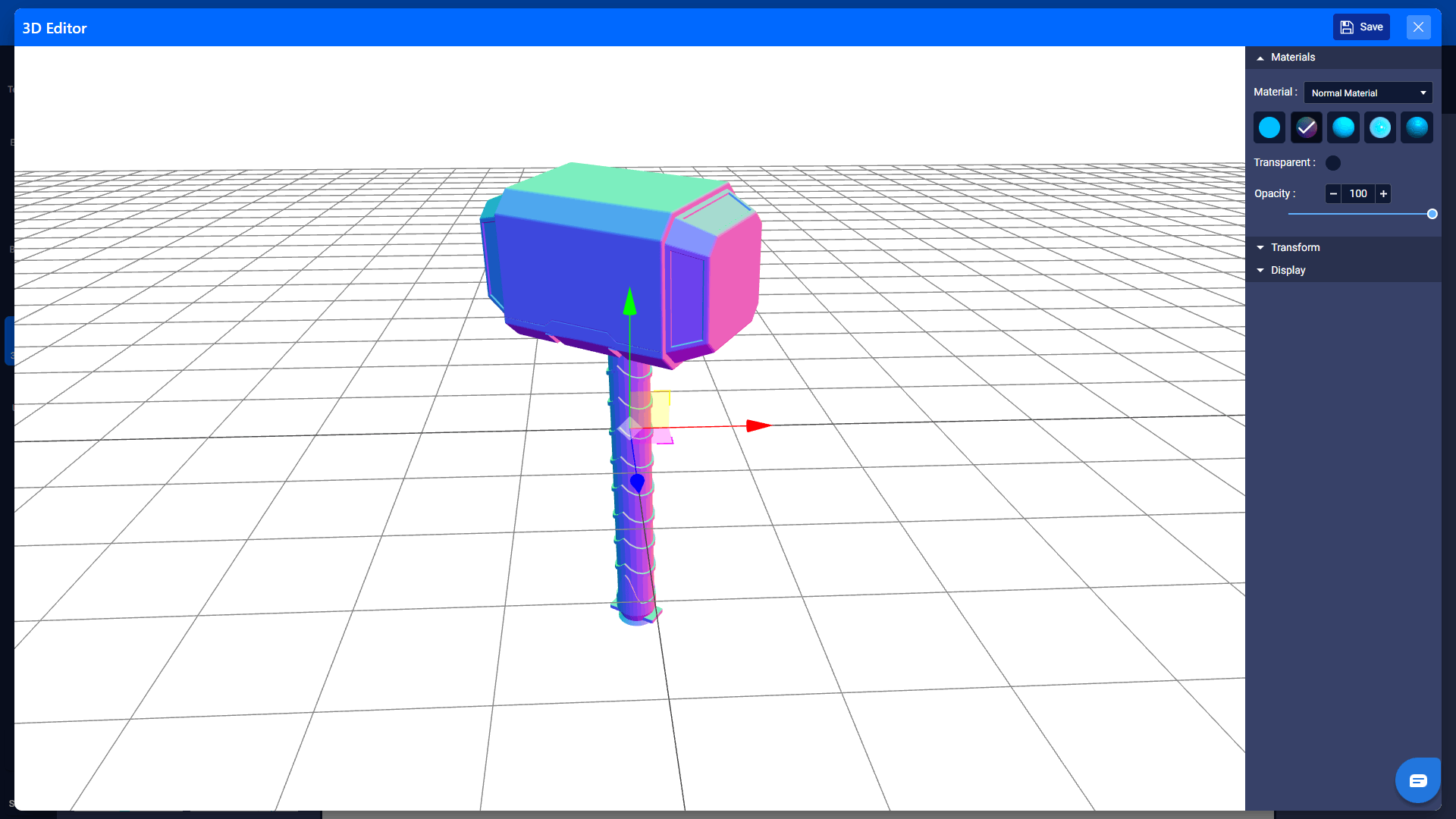 This feature by PhotoADKing is perfect for you to make your designs stand out. With this feature, you can easily add three-dimensional shapes and text to your designs, giving them a unique and professional look. And best of all, you won't find this option on a website like Canva, and PhotoADKing gives this option to take your design work to the next level.
Conclusion
Canva is a popular online graphic design tool often used by small businesses and individuals to create professional-looking designs. However, PhotoADKing is a more robust online photo editor with a broader range of features. For example, PhotoADKing provides a more excellent selection of templates, more customization options, and more tools for working with photos and images.
In addition, PhotoADKing's online design studio is more user-friendly and easier to navigate. As a result, if you are looking for an online tool to create professional-looking designs, PhotoADKing is the better choice.