If you want to design a logo for your business and you're looking for an easy way to do it, you're on the right track. In this article we are discussing some best logo design apps to help you find the perfect fit for your logo creation needs.
Remember, a good logo should make people feel good and remember your brand. Usually, if you hire a fancy designer or a big company, you'll get a great logo, but it can be super expensive. If you're just starting your own business and want to create a business logo, these logo design apps are a great way to get started and figure out what kind of logo you like.
So, if you're just starting out in business, these logo design apps are an easy way to create a logo that will connect with your customers and stick in their minds.
---
What is a Logo Design App?
---
A logo design app is like a tool on your phone or tablet that helps you make your own logos. It's different from logo makers on computers because it's meant for small devices. These apps are super handy when you want a logo quickly and at a low cost. Even though computer options have bigger screens for editing, logo design apps are the fastest and cheapest way to create a logo.
---
The Best Free Logo Design Apps
---
Picking a logo design app should be easy, especially if you're new to this. To make it simple, we've put together a list of the best logo design apps. These apps are user-friendly, even if you're just starting out. They'll help you design business logos in no time, whether you run a small business or just want to get creative.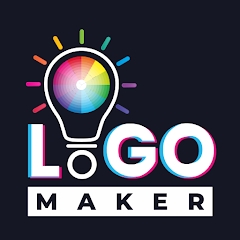 Logo Maker – LogoWiz
LogoWiz is a best app for make logo. Whether you're running a small business, starting something new, or just want a cool logo for yourself, LogoWiz has you covered. You can pick different fonts, add your own pictures, and create a logo that shows who you are. It helps you tell your story and stand out from others. So, use logo maker app to be creative and make a logo that people will remember.
Features:
5000+professionally designed logo templates
Save and edit later
Intuitive and easy-to-use interface
Custom logo design
Pros:
User-friendly for all skill levels.
Create unique and memorable logos.
Cost-effective compared to hiring a designer.
Suitable for businesses, startups, and individuals.
Endless possibilities with fonts and graphics.
Cons:
Some advanced features might need you to pay a subscription fee.
Price:
The app can be downloaded for free, and you can use it for free or choose to pay up to $4.99 for extra features.

---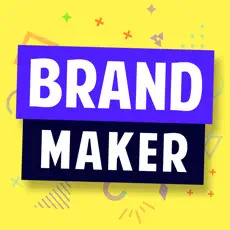 Logo Maker for Business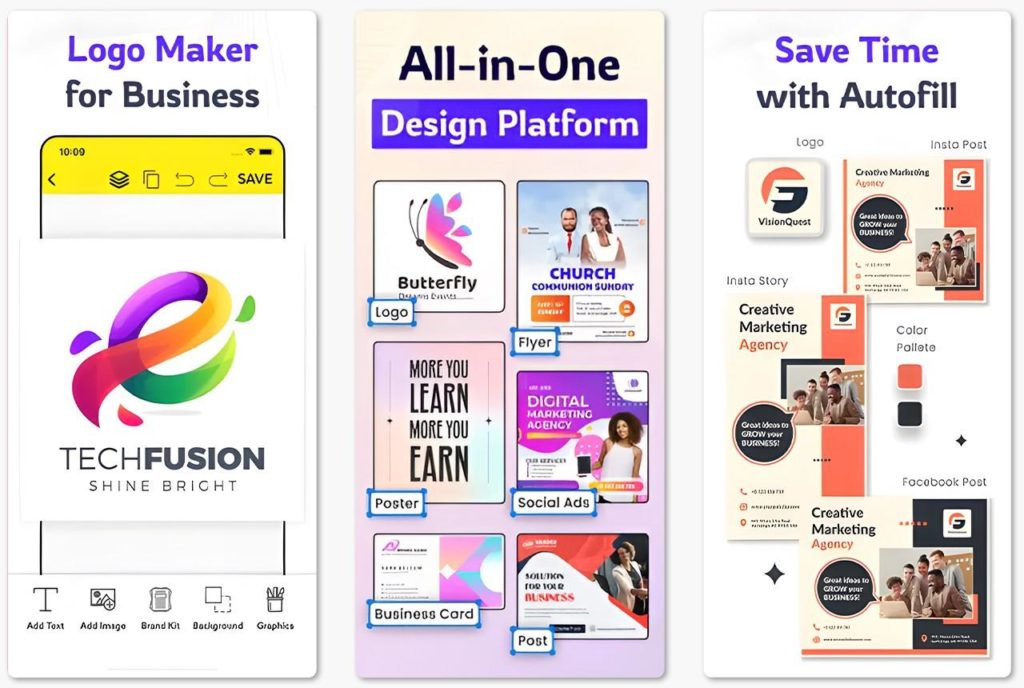 Logo maker for business is a super easy app to help you create your brand's logo. You don't have to be a design expert to use it. You can choose from ready-made logos or make your own, change colors, fonts, and shapes to make your design special, and add text and cool designs. There are lots of fonts, shapes, pictures, and stickers to choose from. If you're looking for the best logo maker app for business, this user-friendly app should be your top choice. You can keep working on your designs until you're happy and then save and share them on social media.
Feature:
Pre-design logos and customization options.
Extensive font and graphic resources.
Versatile, suitable for various branding materials.
Iterative editing for design perfection.
Save and share designs on social media.
Pros:
Quick and easy design process.
Versatile for different branding materials.
User-friendly, accessible to all skill levels.
Time-saving design solution.
Inspirational design ideas.
Cons:
Some extra things might ask you to spend money on a subscription.
Price:
You can get the app without paying anything. You can use it for free, or you can choose to pay up to $4.99 for extra features.

---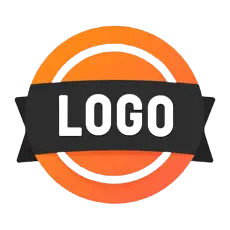 Logo Maker Shop – Creator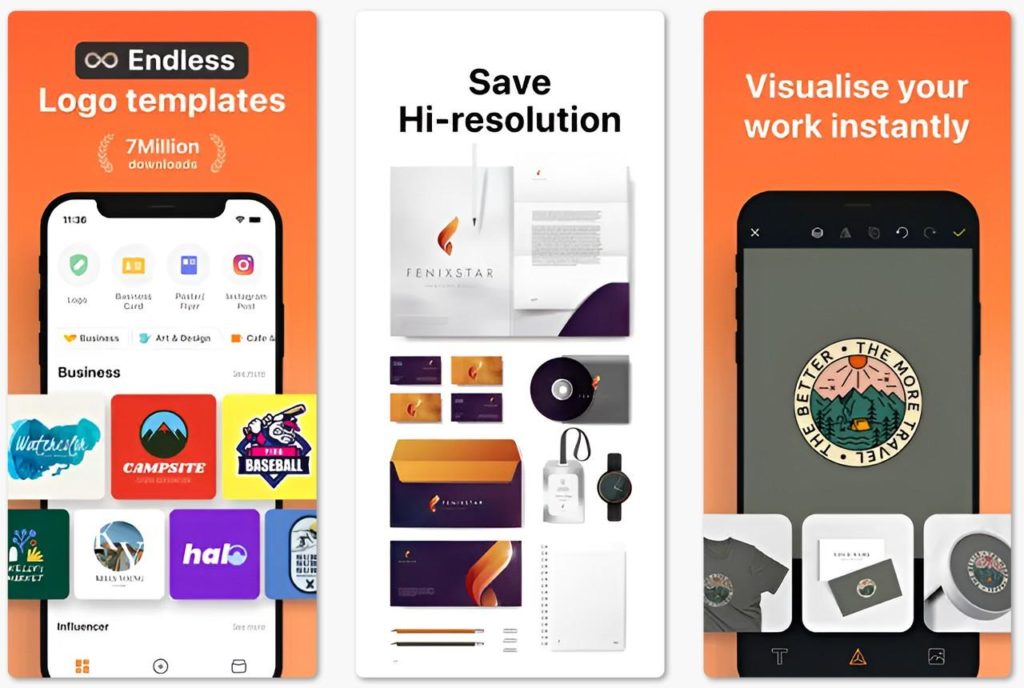 Logo maker shop is an easy and best app to create a logo. It comes with more than 1000 logo designs to choose from, so you don't have to start from scratch. You can make your logo unique by picking from over 200 different fonts and adding symbols and backgrounds. Even the free logo options are stylish and modern. Whether your brand is trendy and bold or simple and clean, this app has you covered. It's one of the best logo-making apps I've tried, and it's perfect for anyone looking to make a great logo for their business or project.
Features:
10K+ pre design logo templates
Edit your logos anytime, anywhere
Auto-save feature
High-resolution export
Pros:
Versatile creative tools
User-friendly for beginners
No mandatory premium purchase
No locked content
Great for logo creation
Cons:
Limited daily use of AI generator
Premium features require payment
Some backgrounds and fonts are locked
Desire for more snap points
Price:
Some basic templates are free, But most templates are available in the pro version. If you pay for a pro. The subscription costs $12.99 per month.
---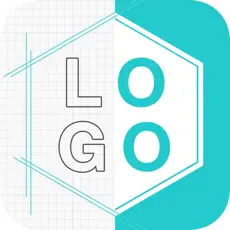 Logo AI – Brand Design Maker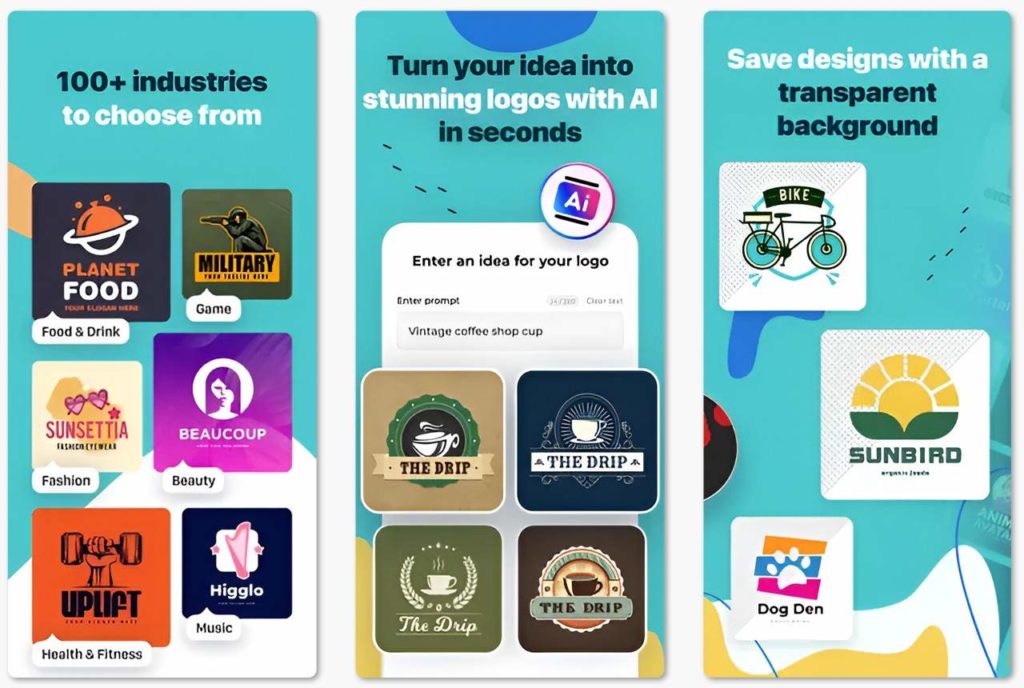 Logo AI is the best app to create logo for your brand. You start by picking a basic black and white logo from the options available. Some of them are free, while others you need to unlock in the app. After choosing your logo, you can edit it on a canvas where you can change fonts, colors, and add extra things like stickers and even your own pictures. This app is user-friendly and you can create a logo for your brand, whether you're a pro designer or just starting out.
Features:
Create multiple logo variations.
Ability to add stickers and personal images.
Export and share options for logo creations.
Preloaded design resources, including backgrounds and icons.
Community sharing and feedback platform.
Pros:
User-friendly design.
Versatile logo customization.
Fun and creative editing.
Extensive premium assets
Cons:
Limited free features.
Less suitable for B2B branding.
Costs for premium options.
Price:
Free three-day trial and then $12.99 per month

---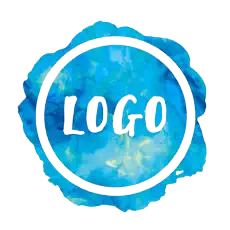 Watercolor Logo Maker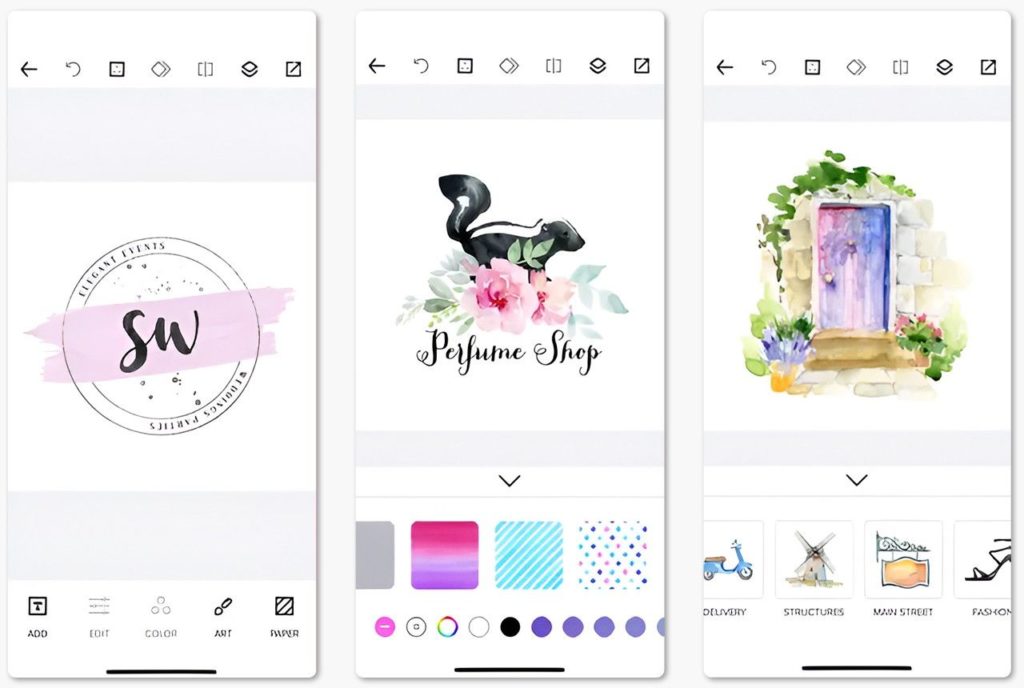 Watercolor logo maker is a handy app for small businesses to design logos easily. You start by picking a watercolor-style shape for your logo's background, and then you can change colors and add text using the editor. The special thing about this app is that real artists paint each logo with watercolors on paper, making it great for businesses that create beautiful and creative products or services. If your business is like an art store or an ice cream shop and you want a cute and whimsical logo, this app is a good choice.
Features:
Watercolor-style logo backgrounds.
Customizable colors and text.
Artistic hand-painted logos.
User-friendly interface.
Quick logo creation.
Pros:
Unique artistic appeal.
Easy logo design for non-designers.
Personalization options.
Ideal for creative businesses.
Time-saving logo creation.
Cons:
Limited design options.
Quality depends on creator skills.
Possible subscription costs.
Price:
Free app with limited range, and pay $9.99 to access all options.

---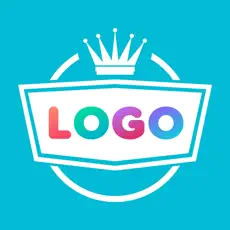 Logo Maker – Logo Design Shop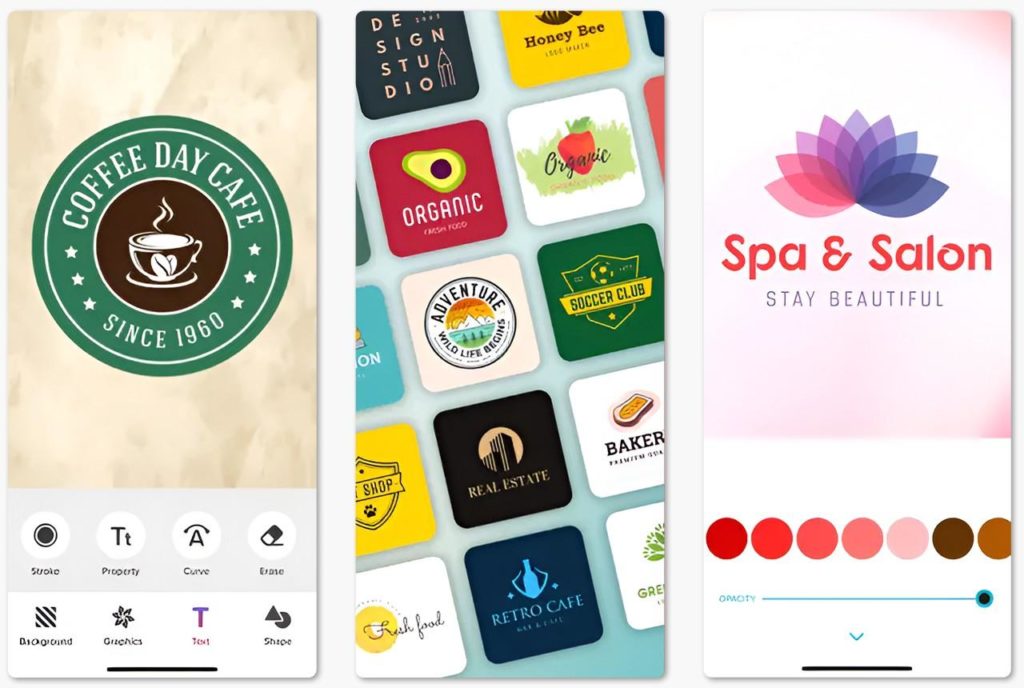 Logo maker – logo design shop is a really easy app to make logos and designs. You can use it for your business or personal projects, even if you're not a design pro. It helps you create logos, icons, symbols, business cards, and lots of other stuff like posters and flyers. You get to choose from more than 500 ready-made logo designs made by professionals. Plus, you can customize them with over 500 fonts, icons, symbols, and backgrounds. So, you can make all sorts of logos, like vintage, watercolor, retro, artistic, abstract, and more. It's the quickest and simplest way to create awesome logos that stand out.
Feature:
Customization with 500+ pre-design templates. fonts, icons, symbols, backgrounds.
User-friendly for non-designers.
Quick logo creation.
Logo design for business and personal use.
Pros:
Accessible for non-designers.
Extensive template library.
Time-efficient.
Versatile styles.
Supports various design needs.
Cons:
Limited uniqueness with templates.
Not having fancy design options.
Price:
App is free with basic features, paying $6.99 for full access.

---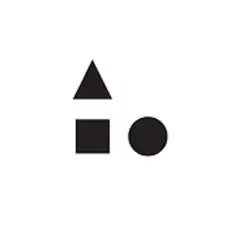 ICONA – Logo Maker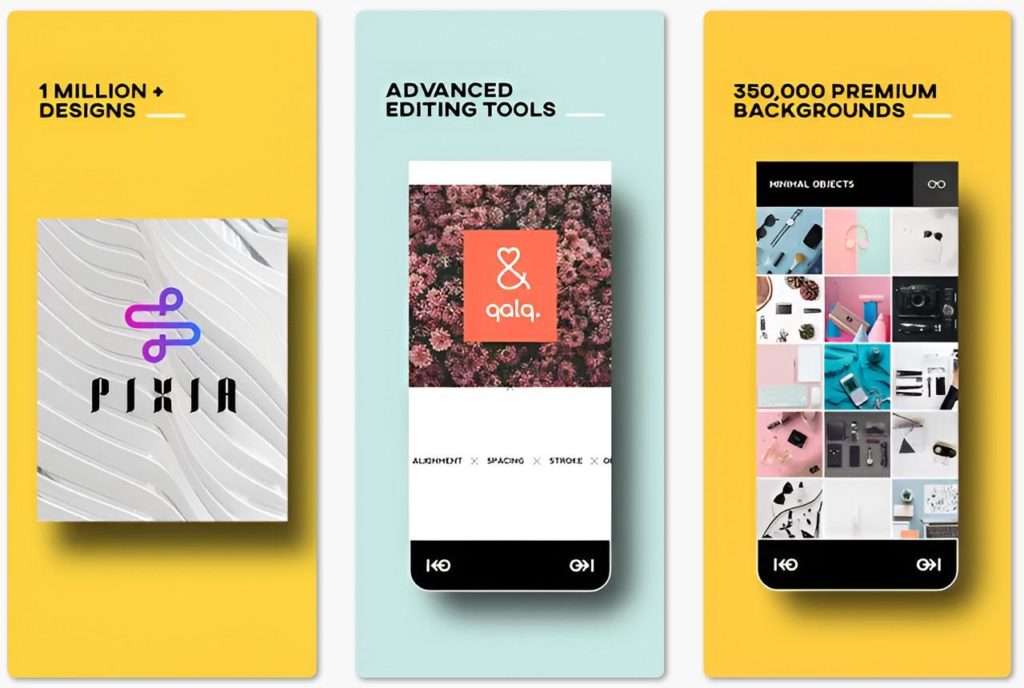 ICONA – logo maker is a simple and user-friendly app for creating logos. It starts with a blank canvas where you can use three basic elements: shapes, text, and drawings. If you need an icon for your logo, you can search for one that fits your industry. Then, you can add your company's name and choose a font that matches. This app is perfect for those who want a clean and simple logo with an icon.
Features:
User-Friendly Interface
Blank Canvas for Creative Freedom
Basic Elements: Shapes, Text, Drawings
Icon Search for Industry-Relevant Icons
Text Customization with Font Choices
Pros:
Simplified Logo Creation
Rapid Logo Generation
Icon Library for Visual Elements
Text and Font Customization
No Watermarks on Exported Logos
Cons:
Design Limitations with Predefined Elements
Limited File Format Options for Export
Lack of Advanced Design Features
Price:
You can Pay $1.99 to download the app.

---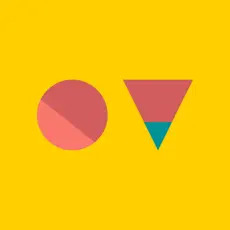 LogoScopic Studio – Logo Maker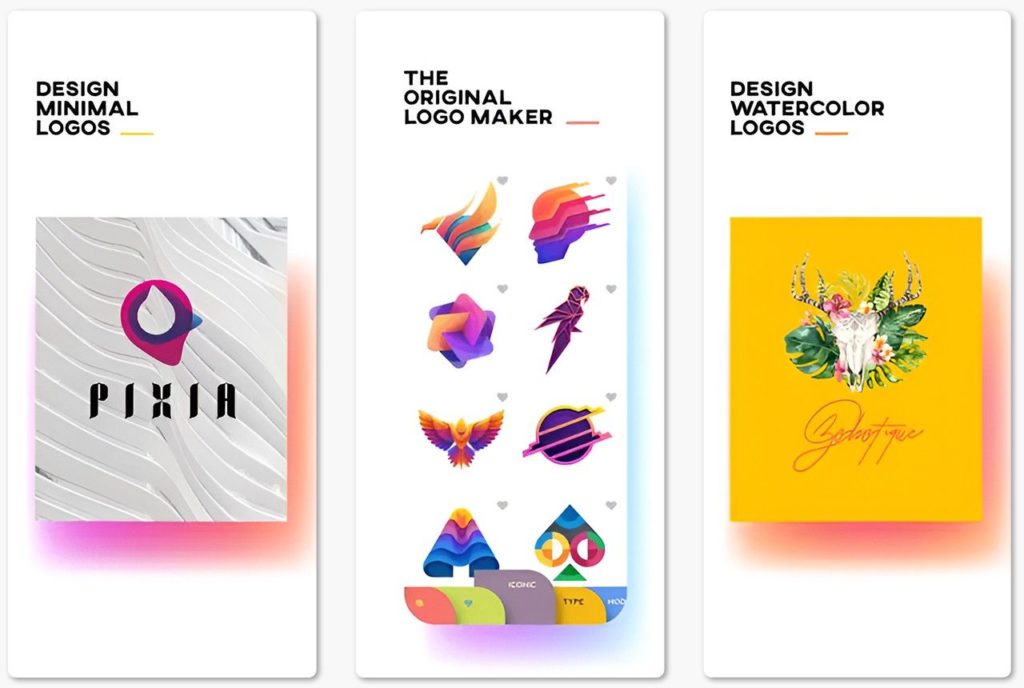 LogoScopic studio is a super cool app that helps you create awesome logos on your iPhone. It has over 1,000 logo templates in nine different styles, so you can make logos for all sorts of things. Whether you like classic or modern designs, colorful art, or simple letters, LogoScopic has it all. So, whether you're into sports, want a trendy logo, or need something for your specific business, LogoScopic has got you covered. Plus, if you have an iPad, you can easily change the colors and make the logos fit your style perfectly. It's a great way to make your brand look fantastic!
Features:
1,000+ logo templates design
Easy customization for colors and styles.
Compatible with iPhone and iPad.
Industry-specific logo templates.
User-friendly interface.
Pros:
Wide variety for diverse branding needs.
User-friendly for all skill levels.
Simplifies industry-specific branding.
Saves time in logo creation.
Cons:
Limited to iOS users.
Potential subscription costs.
Price:
There's a free logo app with limited choices. To get all the features, it costs $39.99 per year for the premium version

---
Logo Maker – Vintage Creator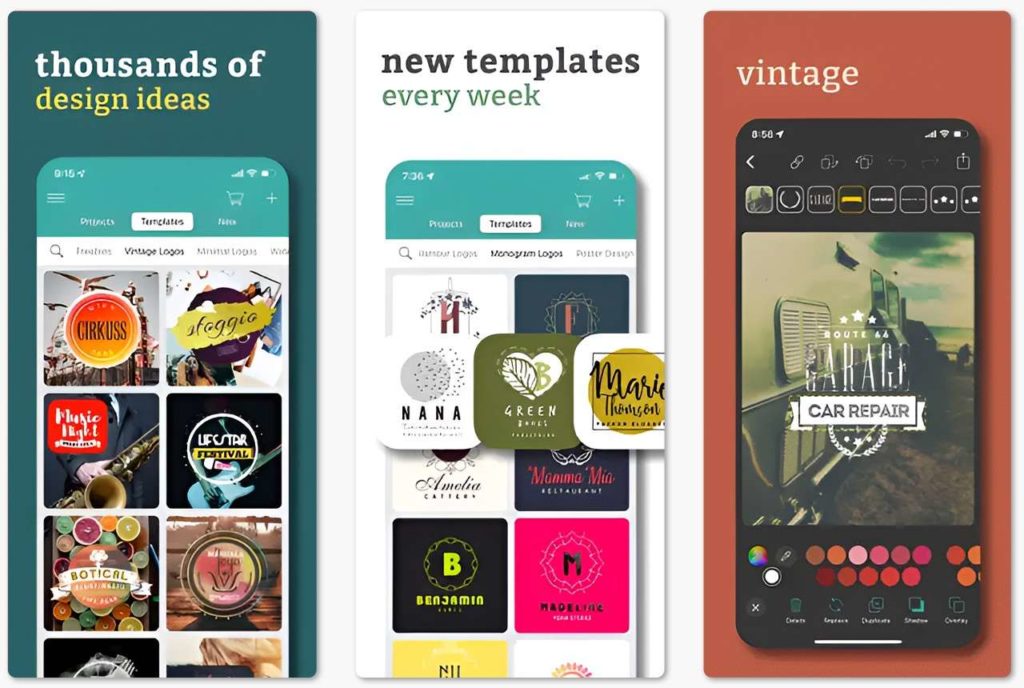 Logo maker – vintage creator is an iPhone app that makes old-fashioned logos and more. You can pick from different old, simple, and watercolor styles. This app helps with business cards, flyers, personal cards, and T-shirt designs. It also makes your Instagram photos look great. Also you get lots of templates, backgrounds, and overlays. You can add your own pictures and text, and find free fonts online. You can save your work in the app and edit it later. When you're done, you can share your designs. It's a fun way to make things look vintage and cool.
Features:
3000+ premade logo templates.
7000 royalty-free backgrounds.
Custom photo editing feature.
Import photos and fonts.
Export and sharing options.
Pros:
Design diversity for various needs.
Time-saving templates and backgrounds.
Customization options for creative freedom.
Easy sharing and collaboration.
Cons:
Potential learning curve for new users.
Limited in-app customization resources.
Price:
You can use it for free, but if you want some extra cool stuff, you can pay up to $9.99.

---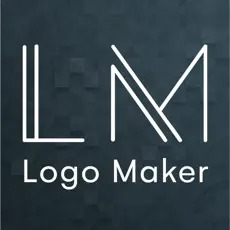 Logo Maker – Design Creator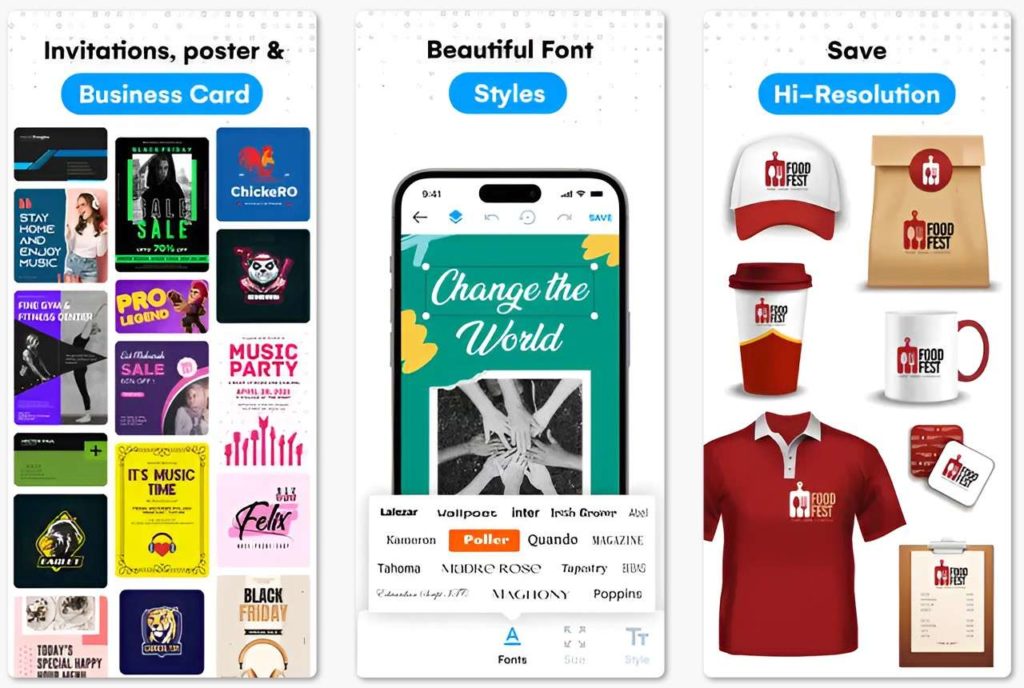 Logo maker – design creator is a super simple app for your iPhone or iPad that helps you create cool logos, even if you're not a design expert. It's like having a bunch of logo ideas in your pocket. You can choose from over 2,000 logo templates, add more than 5,000 icons, and pick from 100 different fonts to write your company name. There are also cool editing tools, like flipping and resizing. Plus, you can save your logo on your device and use it for things like business cards, websites, or T-shirts. The best part is that everything you make with the logo maker is free to use for your business or personal stuff. It's a handy tool for creating your brand's logo in a snap.
Features:
2000+ Fully Editable Logo Templates
5000+ Icons in 30+ Categories
Commercial and Personal Use
Professional Editing Features
Customized Text
Pros:
User-Friendly for Beginners
Extensive Template and Icon Library
Customization Options
Quick Logo Creation
Cons:
Design Limitations for Specific Needs
Basic Design Skills May Be Beneficial
Price:
The app is free to download and use, but it costs $11.99 to get your logo.

---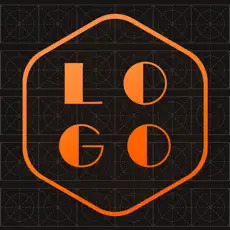 Logo Maker – Watermark Designer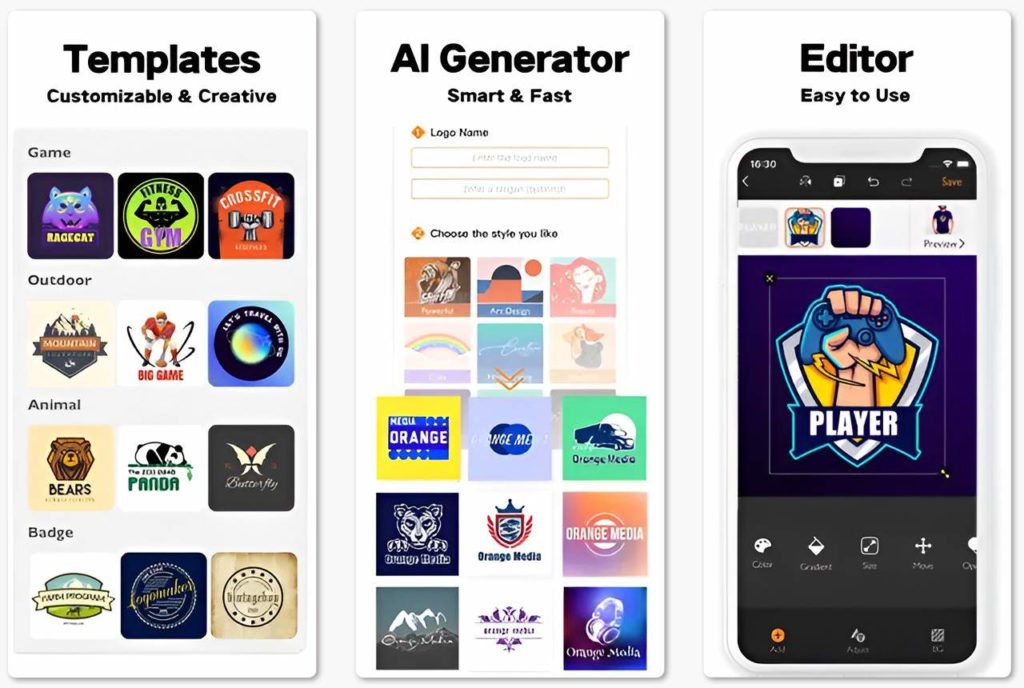 Logo maker a watermark designer is a best logo creator app that lets you make logos and watermarks easily. You can choose from more than 2000 logo designs and customize them with different fonts and backgrounds to make them special. You can also use the app to create posters, flyers, business cards, birthday cards, and social media signatures. It's like having your own creative studio on your phone. You can save your creations in high quality, and it's super simple to use. Give it a try and make your designs stand out!
Features:
Extensive library with 2000+ logo templates.
Customization with fonts and backgrounds.
Versatile design for posters, cards, and more.
Quick social media signature creation.
High-resolution PNG or JPG export.
Pros:
User-friendly and intuitive.
Abundant design options.
Personalization for branding.
Multiple design possibilities.
Efficient social media branding.
Cons:
Design complexity limitations.
Reliance on pre-made patterns.
Price:
The app is a freebie, but personalizing your logo comes with a $13.99 monthly fee.

---
Above all are the best logo design apps for iPhone. For more information on designing apps, please refer to our article on graphic design apps for iPhone. So let's examine these thoughts more closely.
---
The Advantages of Logo Design Apps
---
Using logo design apps has several advantages for people and businesses who want to make a special and professional logo. Here are some of the main benefits:
Variety of Templates: Many logo design apps offer a wide range of pre-made templates to jumpstart your design process. These templates can serve as inspiration or be customized to suit your brand's unique identity.
Affordable: Logo design apps are usually much cheaper than hiring a professional designer. They offer cost-effective solutions for creating a logo.
User-Friendly: These logo design apps are easy to use, even if you're not a design expert. They come with user-friendly interfaces and simple tools.
Quick Results: You can create a logo in a matter of minutes or hours, rather than waiting for a designer to complete it, which might take days or weeks.
No Design Experience Required: These apps are designed to be accessible to individuals with little to no design experience. This means that even those without graphic design skills can create professional-looking logos.
---
Recommended Article
---
---
Conclusion for Logo Design Apps
---
In conclusion, these best logo design apps for iPhones are a great way for anyone, even if you're not a design expert, to make your own unique and memorable logos. Also they have lots of ready-to-use templates and are easy to use. Plus, they're a budget-friendly option, making them perfect for small businesses and startups. You can experiment with different designs, and you don't need any design experience to use them. So, if you want to create a logo that stands out and represents your brand, these logo design apps are a fantastic choice.
---
FAQs for Logo Design Apps
---
Which app is free for creating logo design?
There are several free applications that will help you design professionally looking logos, but the LogoWiz app is one of the most popular ones. It helps you to design logos that look professional and attractive.
What are the advantages of logo design apps?
Logo design apps are cost-effective, user-friendly, and customizable, allowing quick and controlled logo creation. They offer a range of templates and vector formats, ensuring brand consistency, and are ideal for those seeking to establish a visual identity without the need for professional design services.
What are some key features of Logo Maker – LogoWiz?
Logo Maker – LogoWiz offers over 5,000+ professionally designed logo templates, save and edit functionality, an intuitive interface, and customizable logo design options.