In the past, graphic designers didn't have a lot of different apps to choose from for their work. However, nowadays, there are many options available for different purposes. To make it easier for you to choose the right one, we've created a list of some of the best graphic design app for android phone. In this article we'll tell you where they work, what they're good at, and what's good and not-so-good about them.
So let's explore the best graphic design app for android.
What's in This Guide
---
Best Graphic Design App for Android You Must Try
---
The following list includes best graphic design apps for creating flyers, banners, posters, social media posts, and logos while you're on the move. It's like having a toolkit for graphic designers that you can carry around with you. You don't have to be at your computer to design stuff – you can do it anywhere. So, why not get started and learn about these handy apps that will help you do all these creative things? It's like a survival kit for graphic designers who are always on the go.
---
Flyerwiz to Make a Flyer
---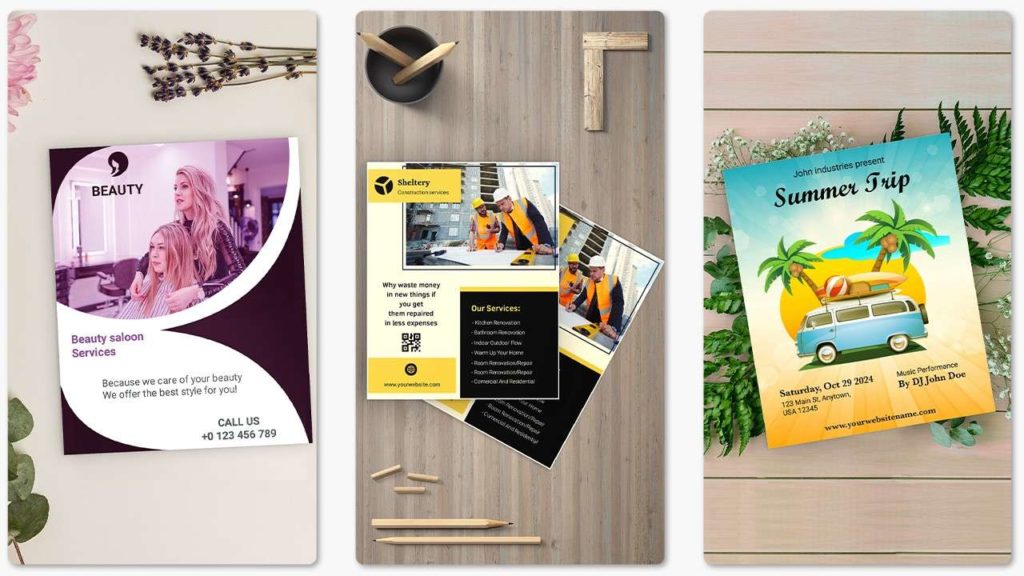 A Flyerwiz is a game-changer for beginners. With its user-friendly interface and a vast library of flyer templates, it's the perfect platform to kick-start your design journey. Whether you're creating flyers for your social media posts, or business flyers. Flyer maker app provides endless possibilities. Also, it empowers you to effortlessly design and share dynamic digital flyers, ensuring your events stand out and attract the attention they deserve. Elevate your design game today with FlyerWiz!
Feature:
20,000+ Creative Templates:– Flyerwiz has thousands of creative flyer templates for different businesses such as real estate, restaurant, cafe, etc.
One Click Download:- You can save your flyers with a single click for quick and easy access.
Auto Save:- This is the most powerful feature in this app. It automatically saves your work as you go, preventing data loss.
Social Media Integration:- It enables effortless sharing of flyers on social media platforms, expanding their reach.
Re-Edit:- Flyerwiz offers the capability to re-edit. This means that users can revisit and make modifications to their flyers even after initial creation.
Benefits:
Always accessible flyers, anytime and anywhere.
Cost-efficient design, saving time and money.
No graphic design skills required
Flexibility for last-minute changes.
Promotes across various marketing channels.

---
Postwizz for Instagram Post Design
---
Postwizz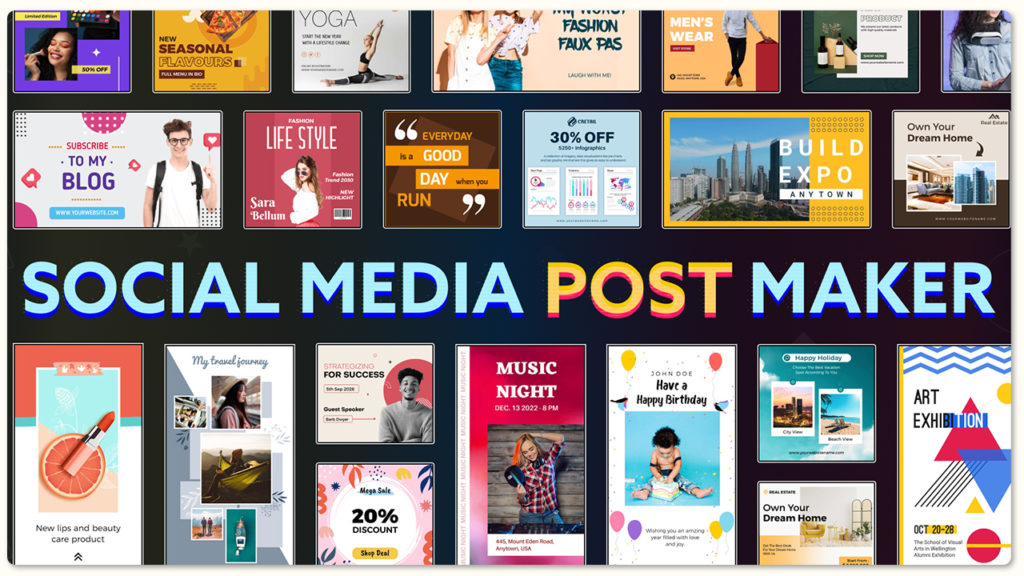 A Postwizz is an all-in-one social media post maker, graphic design, and poster maker app. It's like having your own creative tool with a wide range of professionally designed templates, so you can easily make cool stuff for your social media. You don't need to be a graphic designer to create a post. The best part of post maker app is that you do not even need to log in. Additionally, you will be able to schedule posts for your social media accounts with this app. So if you're a business owner, influencer, marketer, or someone who wants to improve their social media. The Postwizz app is here to help you out.
Feature:
Post Schedule: Postwizz allows you to plan and schedule your posters for future posting, ensuring an organized and consistent online presence.
Professionally Design Templates: Postwizz provides 5,000+ professionally designed poster templates for easy selection, catering to various user needs.
Text Magic: feature, users can easily add and enhance text in their posters by choosing from various fonts, styles, and text effects.
Customize Graphics: You can easily switch out backgrounds and stickers with your own pictures using this app.
Seamless Sharing: With this feature you can easily share your design on social media platforms or save to a device for quick distribution.
Auto Saving: This feature ensures users' work is automatically saved, preventing data loss due to technical issues or accidental exits.
Benefits:
Easy-to-use graphic design app for social media posts.
No login required, ensuring a hassle-free experience.
Auto-saving feature prevents data loss.
Versatile for businesses, influencers, marketers, and more
Text enhancement options with various fonts and styles.

---
Poster Maker to Create a Poster
---
Poster Maker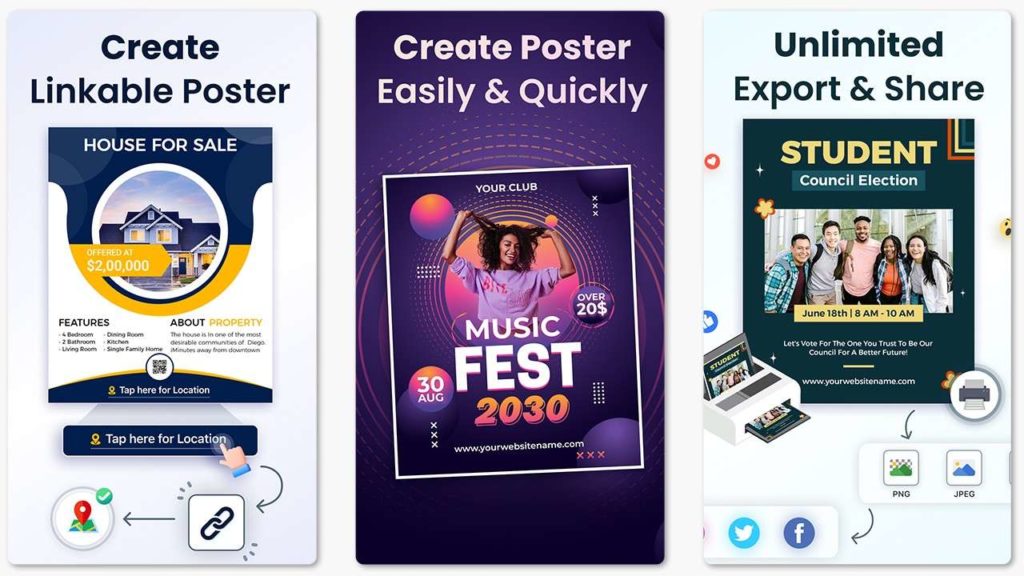 A Poster maker app is a versatile and user-friendly graphic design app that empowers individuals to create eye-catching posters and graphics with ease. These apps typically offer a wide range of templates, fonts, colors, and design elements, it also allowing users to craft visually stunning posters for various purposes, such as promoting events, sharing information, or expressing creativity. Whether you're a business owner, event organizer, or simply someone with a creative idea to share, a poster maker app simplifies the design process and puts professional-quality graphics at your fingertips.
Feature:
Easy-to-Use: Postwizz is a simple and user-friendly app. Anyone, whether they're experienced or new to design, can use it easily to create posters.
Versatile Graphic Design Templates: It offers lots of different templates for making posters. These templates cover many styles and themes, and the app always adds new ones to keep things fresh and trendy.
Customization: With Postwizz, you can change the colors, fonts, pictures, and text to make your posters look just the way you want.
Easy to save: With Postwizz, you can quickly save and share your posters. It's hassle-free and ensures your work is safely stored for later use.
Professional Quality: Postwizz helps users create professional-quality graphics and posters.
Benefits:
User satisfaction and engagement.
Improved user satisfaction
Cost-efficient design solution
Versatility for different purposes
Online customer support

---
LogoWiz to Create a Logo
---
LogoWiz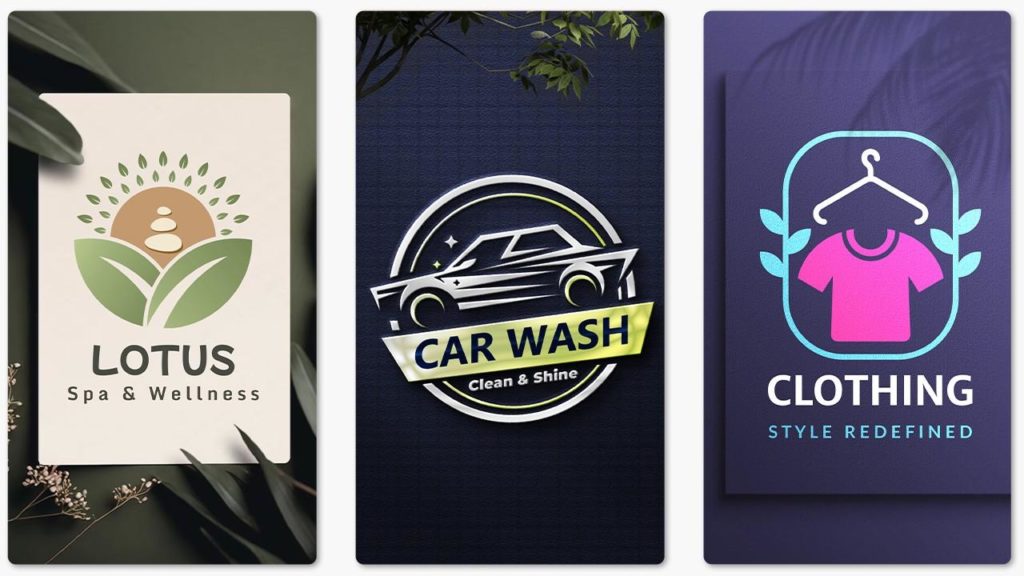 A Logowiz is the best design app for crafting a distinctive brand identity that truly stands out. With LogoWiz, you have the power of creativity at your fingertips, enabling you to bring your unique vision to life. So whether you're a small business owner, a startup founder, or an individual building a personal brand, with this custom logo maker app you can design a logo that encapsulates your essence. Unleash your creativity with a vast selection of custom fonts, personalized graphics, and limitless possibilities. Let LogoWiz help you create a logo that tells your story and sets you apart from the competition, making your brand unforgettable.
Feature:
User-Friendly Interface: LogoWiz offers an intuitive and user-friendly interface that allows even those with limited design experience to create stunning logos.
Versatile Color Palette: Select from an extensive color palette to match your brand's color scheme, ensuring consistency across all branding materials.
Save and Edit Later: LogoWiz allows you to save your work and come back to it later, so you can refine your logo over time.
Brand Consistency: Ensure your brand's consistency by using LogoWiz for various branding materials, from business cards to websites.
Custom Logo Design: You can craft a logo that perfectly reflects your brand's identity and vision with a wide range of customization options.
Benefits:
User-friendly interface for all design levels.
Save and edit your work at your convenience.
Customize logos to reflect your brand's vision.
Suitable for businesses, startups, and individuals.
Endless possibilities with fonts and graphics.

---
eBrochure to Customize a Brochure
---
eBrochuremaker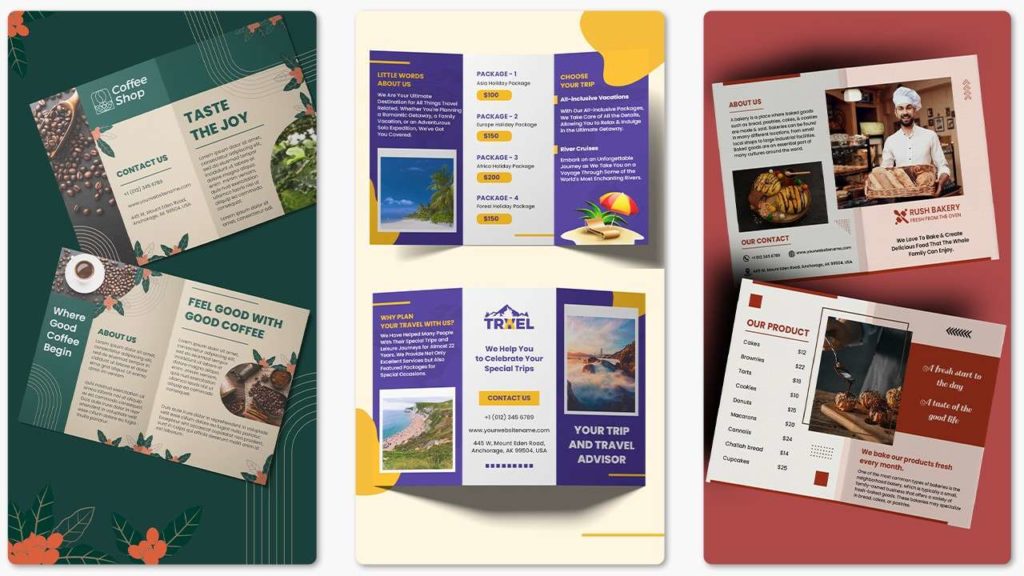 An eBrochuremaker is the easy way to customize a brochure. You don't need to be a design expert. It's quick and hassle-free. You can also use pre-design brochure templates to make a brochure to save time. With brochure maker app, you can change text, pictures, and icons with a simple tap. Brochures are great for telling people about your brand. You can pick professional fonts or even use your own to make your brochures special. With eBrochuremaker, making attractive brochures is a breeze!
Feature:
User-Friendly Interface: The app features an intuitive and user-friendly interface, making the design process straightforward.
Customizable Templates: Choose from a range of pre-design brochure templates and easily personalize them with your own content.
Save and Share: Once your brochure is ready, you can save it for future use or share it with your audience in various digital or print formats.
Brand Promotion: Brochures are a fantastic way to promote your brand, and this app makes it simple to create eye-catching promotional materials.
Versatile Usage: Whether for business, events, or personal projects, this app is versatile and suitable for a wide range of applications.
Benefits:
Effortless brochure creation, no design skills needed.
Time-saving with customizable templates.
Professional fonts and icon integration for impactful brochures.
Quick and easy text and image editing.
Enhances brand visibility and recognition.

---
1invites to Make an Invitation Card
---
1invites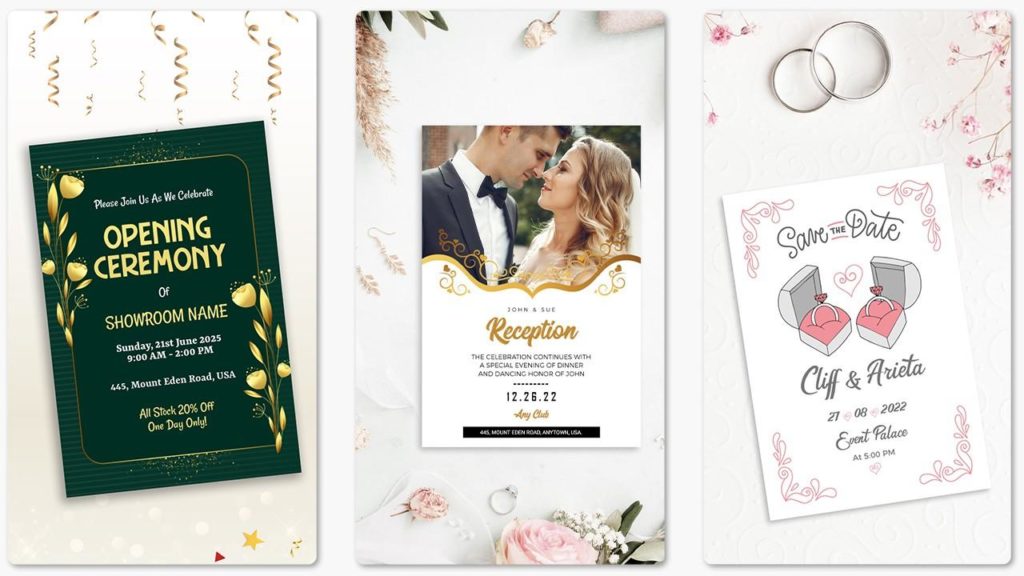 A 1invites is a versatile invitation maker app designed for crafting personalized event invitations, such as wedding cards, birthday invitations, and greeting cards. This user-friendly application offers a wide range of invitation templates, making it a quick and simple tool for creating digital invitations in pdf or png format. With 1invites, you can create an invitations card without the need for design skills. It provides customizable printable templates for various events, also you can save time and effortlessly choose from both formal and casual designs. The app also offers font customization options for a professional touch or the ability to use your preferred fonts, making it a practical solution for those seeking an easy way to create, download, print, or send event invitations online.
Feature:
User-Friendly Interface: The app is designed for ease of use, ensuring that both beginners and experienced users can craft invitations effortlessly.
Diverse Invitation Templates: 1invites offers a vast library of invitation templates suitable for various occasions, such as weddings, birthdays, and more.
Digital Invitations: Create digital invitations in the form of PDF or PNG images, providing a modern and eco-friendly alternative to traditional paper invitations.
Save and Edit: You can save your invitation designs within the app and return to edit or customize them at a later time, simplifying the process for event planning.
Event Flexibility: The app is suitable for a wide range of events, from formal affairs to casual gatherings. It also offers designs that cater to various styles and themes.
Benefits
Wide range of template options for various events.
Easy customization with no design skills required.
Time-saving and user-friendly.
Cost-efficient invitation creation.
Easily create digital invitations with a simple and intuitive interface.

---
Lisi for Restaurant Menu Design
---
Lisi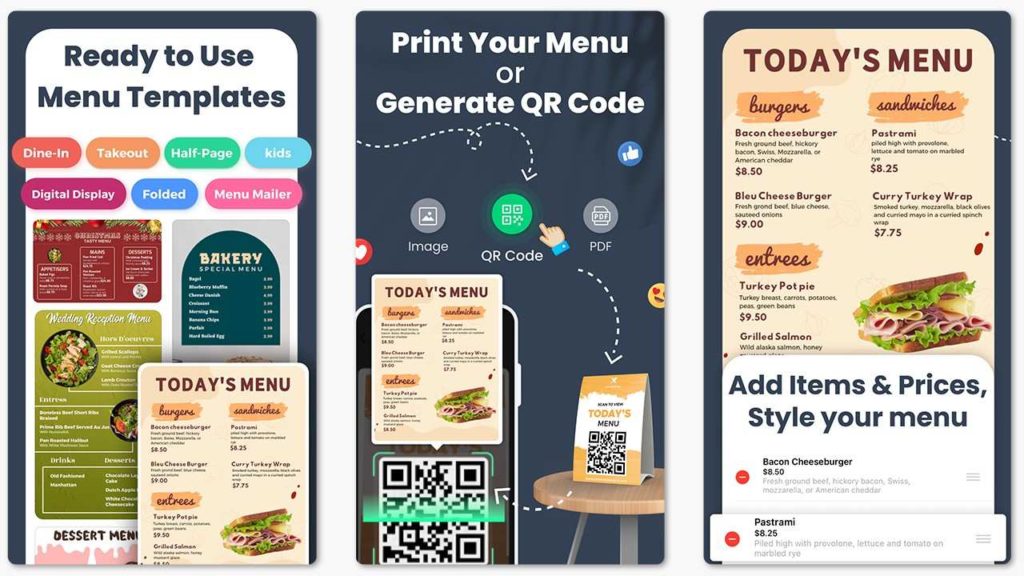 A Lisi menu maker, the ultimate solution for effortlessly creating menus in just minutes. With a wide selection of menu templates at your fingertips, this user-friendly app makes the process quick and easy. Additionally, you can create a price list for your cafe by using the price list maker. Whether you run a cafe or a restaurant, Lisi menu maker allows you to customize menu templates, all without requiring any menu card design skills. By going digital with your menu, you can enhance your restaurant's online presence and reach a wider audience through social media. So with menu maker app, you can efficiently craft a stunning menu and elevate your business to new heights.
Feature:
Digital Menu Creation: Lisi enables you to go digital with your menus, making it easy to share them on your website, social media, and other online platforms.
Wide Range of Menu Templates: Lisi offers an extensive collection of professionally designed menu templates for various types of restaurants, cafes, and food businesses.
Saves and Exports: You can save your menus for future reference and export them in various formats for printing or sharing digitally.
Customization: You have the freedom to personalize your menu templates. Customize fonts, colors, images, and layout to make your menu unique and on-brand.
Mobile-Friendly: The app, is designed to work seamlessly on mobile devices, tailored for mobile app development, ensuring that you can create menus on the go.
Benefits:
Access a wide range of menu templates for diverse restaurant types.
Boost your business across social media platforms.
Quick and easy menu updates for changing offerings.
Save time and money by eliminating the need for a menu designer.
Boost online presence and attract more customers with digital menus.

---
Banner Maker to Make a Banner
---
Banner Maker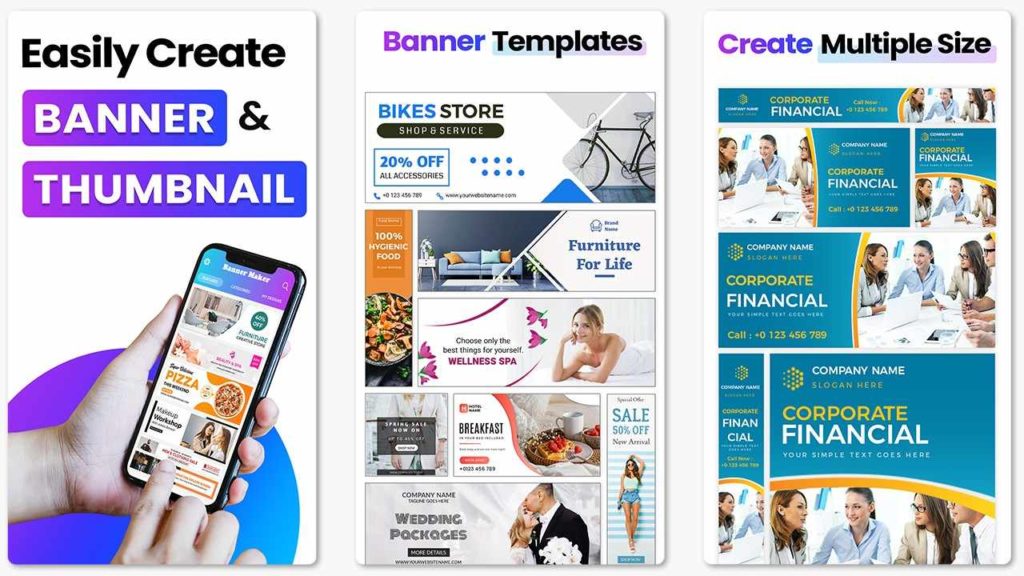 A Banner maker app is an amazing app for creating banners and thumbnails. It's perfect for people who like to design, run businesses, or enjoy social media. So whether you need a cool banner for your website or a catchy thumbnail for your videos, this app is here to help. It's really easy to use, so you can bring your creative ideas to life and make a big impression online. With banner maker you can make your designs stand out and look great without any hassle.
Feature:
Custom Templates: Choose from a variety of customizable templates to kickstart your designs or create from scratch for a unique look.
Versatile Design Options: Tailor your banners and thumbnails with a wide range of fonts, colors, images, and shapes to match your branding and style.
User-Friendly Interface: This app is made to be easy for everyone to use. Whether you're new to design or a pro, you can use it easily.
Endless Possibilities: You have a lot of options for making banners, thumbnails, and cool social media posts. You can customize things a lot, so you can create whatever you like.
Time Saving: We know that time is important, especially for designers, so our app is made to help you create designs quickly.
Benefits:
Effortlessly create eye-catching banners and thumbnails.
Share your content seamlessly on social media.
Access a wide range of templates and design elements.
Save time and money with an easy-to-use design app.
Enhance your digital presence with professional designs.

---
Mockup Creator to Create a Product
---
Mockup Creator
The Mockup creator app is a user-friendly app that makes designing easy. It's great for creating professional-looking designs quickly. So whether you're a business owner who make custom T-shirt design for team or a designer selling your creations, this app has you covered. It's simple to use with drag-and-drop feature to add your text, images, and graphics. You can easily create designs that match your style or experiment until you find the perfect one. mockup creator also has a bunch of ready-made templates. You can pick one that fits your taste, whether you like simple or eye-catching designs. So, it's easy to bring your design ideas to life with mockup creator.
Feature:
Drag-and-Drop Editor: The app includes a drag-and-drop editor, which simplifies the design process and allows for quick adjustments and experimentation.
Vast Template Library: mockup creator provides a wide variety of pre-designed templates, ensuring there's something to suit every style and purpose, from professional to casual designs.
Text Editing Tools: The app includes tools for customizing text, such as choosing fonts, sizes, colors, and alignment, to achieve the desired look.
Instant Mockup Generation: mockup creator can generate realistic mockups of the designs, giving users a clear preview of how their creations will appear in real life.
Save and Export: Users can save their designs and export them in various formats, making it easy to share or print their creations.
Benefits:
Realistic mockup generation for clear design previews.
Time-saving and user-friendly app for designers and businesses.
Simplified drag-and-drop interface for quick adjustments.
Easy export and sharing options for convenience.
Easy design customization for professional and unique creations.

---
Business Card Maker to Create visiting Card
---
Business Card Maker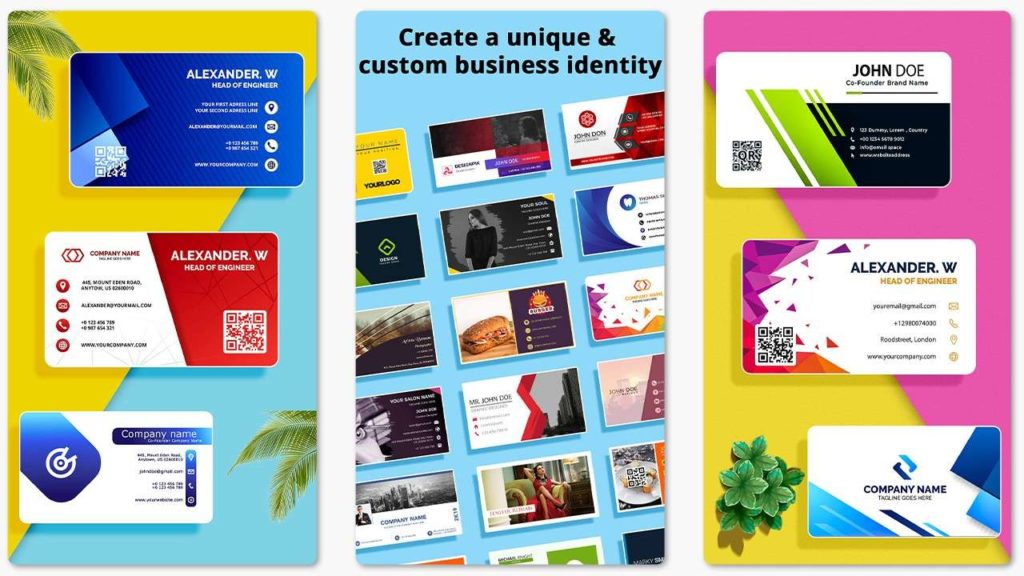 A Business card maker is a user-friendly graphic design app that allows you to create professional business cards quickly and easily. With a vast selection of creative templates to choose from, also this app is designed for convenience, helping you save time and effort in the process. So whether you're a small business owner, entrepreneur, or corporate professional, our business card maker is a valuable resource for designing customized business cards that represent your brand effectively.
Feature:
User-Friendly Interface: The app offers an intuitive and easy-to-use interface for both novice and experienced users.
Creative Templates: Provides a wide range of professionally designed templates to choose from, ensuring that users have ample options to match their brand aesthetics.
QR Code Generator: Quickly make QR codes for your business info.
Social Media Sharing: Share your cool business cards on social media to reach more people.
Stunning Customization: Select from a range of captivating backgrounds and stickers or upload your own.
Benefits:
Personalize your card to fit your business.
Crop images into various shapes.
Share on social media for more exposure.
Save and edit your work at your convenience.
Customize backgrounds and stickers.

---
Ad Maker to Make Advertisement Post
---
Ad Maker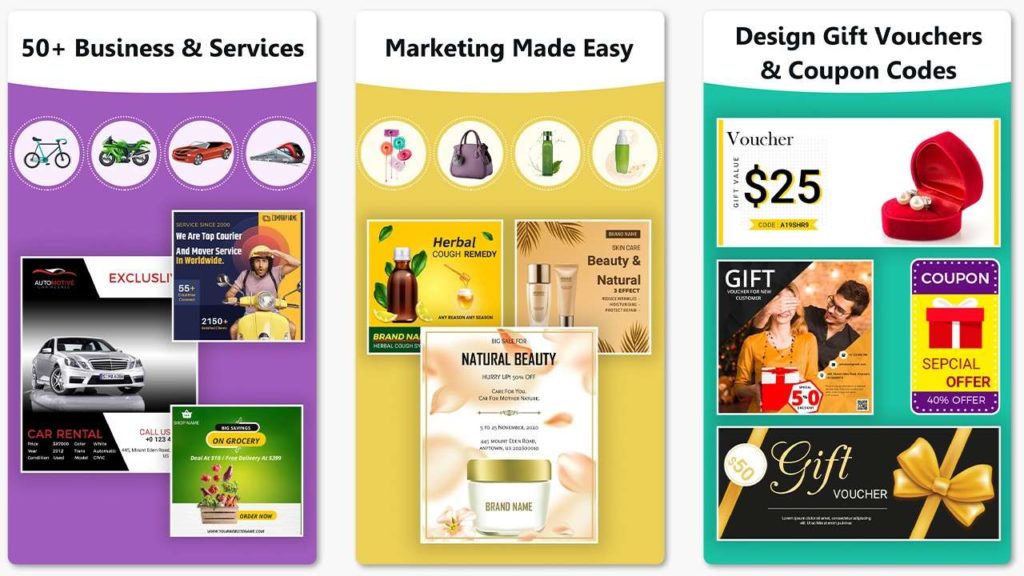 An Advertisement maker is a user-friendly app that helps you make advertisements quickly and without the need for any design skills. You won't have to hire a graphic designer because we provide a range of editable advertisement templates in this app. So with this app you can easily customize these templates to suit your business needs, so whether you're promoting a product or service. This app simplifies the process of creating ads, making it accessible to everyone, regardless of design experience.
Feature:
Template Library: You can choose from many pretty ad designs made for different businesses and events.
Customization Options: You can make these designs unique by adding your own words, pictures, and brand stuff (like your logo).
Text and Typography Tools: You get to play with different fonts, sizes, styles, and colors to make your words in the ad look interesting.
Re-Edit: You can go back and change your ads anytime, which keeps them up-to-date and effective.
Save and Share: Once your ad is ready, you can save it in different ways or put it on social media, email, or other places where you want to show it to people. Also this helps with your marketing.
Benefits:
Create professional ads without design skills.
Save time and money on graphic designers.
Engage your audience with eye-catching visuals.
Easily save and share ads across platforms.
Access a variety of customizable templates.

Above all are the best graphic design apps for android phones, it allows you to create your own design without having any design experience. Also, if you are interested in learning about the best apps to create flyers for Android, then you can check out our article on the best apps to create flyers for android. Let's take a closer look at these ideas.
---
Factor to Consider While Selecting the Best Graphic Design Apps for Android
---
When choosing a graphic design apps, here are essential factors to consider:
Design Goals and Projects: Define your design objectives. Are you creating flyers, logos, posters, brochures, or banners?. The type of projects you'll be working on will influence your choice.
User Interface (UI): Consider the app's interface. Is it user-friendly and intuitive for your workflow?. Some prefer a simpler interface, while others might need more advanced tools.
Features and Benefits: Evaluate the tools and features available in the app. Look for essentials such as layers, brushes, text tools, and vector drawing capabilities. Consider any specific features you need, such as 3D modeling or animation.
Performance: Consider how well the app performs on your device, especially for resource-intensive tasks. Does it run smoothly, or does it lag?
Updates and Development: An app that receives regular updates and improvements can be a good long-term investment, as it's more likely to stay relevant and up-to-date.
Reviews and Recommendations: Read reviews and seek recommendations from other designers to get insights into real-world experiences.
---
Recommended Articles:
---
Final Words
---
In final words, making cool designs has never been easier, due to this best graphic design app. Here we've talked about some of the best graphic design apps for android phones, such as flyerwiz, postwizz, logowiz, lisi, ebrochure, 1invites, baner maker, poster maker, mockup creator, business card maker, and ad maker. Also each of these apps has special features, and you can use them for all sorts of design tasks. Whether you're just starting as a designer, running a small business, or planning events, these graphic design apps help you turn your ideas into awesome graphics that people will remember.