Award certificates are awarded for various achievements. These can be given to any person who has achieved something special, whether it is an award for winning the gold medal in an event, completing a certain distance, or reaching a certain age. The main objective of awarding a certificate is to encourage new achievement and to reward someone who has already worked hard to achieve something. You can easily create a certificate using a certificate template. Read along to know, How to make a certificate? How to use them? What to include in an award certificate? and various award certificate examples.
Table of Contents
What Are Award Certificates and How to Use Them?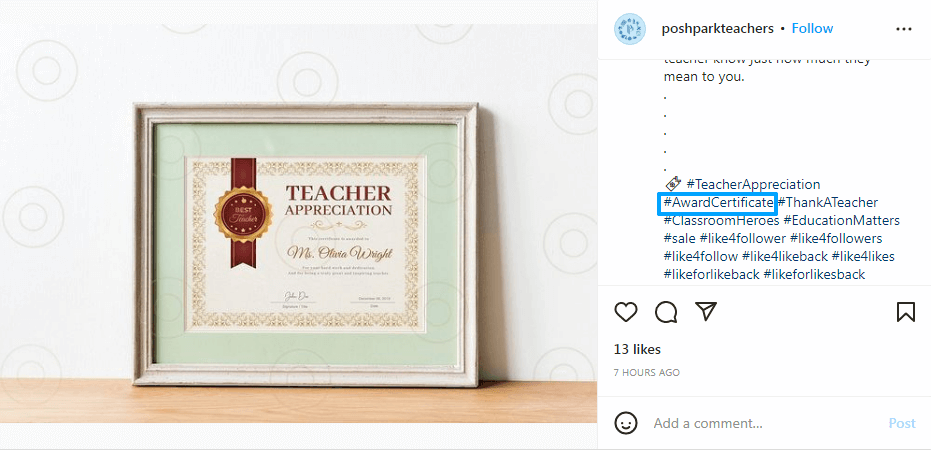 Award certificates are the badges or awards you earn while doing something important to you. They're a way of saying "thank you" to yourself and others, and they can be used to show off your accomplishments in a fun way!
They are also a great way to present awards or gifts at events like conferences, sporting events, award shows, or other public gatherings. And they make great keepsakes—you can. They come in both digital and hard copy so that you can choose whatever works best for you.
Award certificates are used for various reasons:
To recognize employees' hard work and dedication by identifying them with an award certificate.
For showing appreciation for work well done by giving a certificate to someone who deserves it or has done something special.
To reward students who have performed well in their classwork or extracurricular activities.
To reward students who have gone above and beyond what was expected of them when completing specific tasks.
What to Include in an Award Certificate?
There are various award certificate templates available online, which you can use to create an award certificate.
The main Element of an Award Certificate is the wording used in it. It should be words of gratitude to recognize the receiver's achievements.
The following text elements are commonly found on award certificates:
Heading or Title
Awarding line
Receiver's Name
Reason for the certificate
Who's Giving the Award?
Date
Signature
It is optional to line up the information in this format. You can arrange the elements of the Award certificate as per your preferences. Graphic features such as borders, logos, seals, and lines for signatures, dates, and other text elements are also required components of an award certificate.
You can brainstorm ideas for award certificates and use the same to create a sample or samples of your choice. You will get numerous award certificate examples just by brainstorming and creating those samples. If not, you can also find various award certificate examples online by brainstorming.
When Do You Create Award Certificates?
The certificates are often used in different situations, such as company awards, recognition events, employee rewards, and many more. In this article, we will discuss when award certificates should be created and how they can help in creating a memorable event for your company.
Ceremonies can be organized to felicitate the recipients of the award. The award Certificates should be awarded along with medals or trophies to the receiver. Award Certificates are the gratitude toward the recipients who have achieved a milestone for/in the organization. Hence, it becomes a necessary element while awarding.
Award Certificate Design should be based on the event of certification like:
Certificate of Excellence
Certificate of Completion
Recognition Award
Certificate of Achievement
Certificate of Recognition
Appreciation Certificate
Award Certificate
Certificate of Participation
Award of Excellence
Achievement Award
Various samples can be created not only based on the event but also on the organization from which the receiver is receiving the award.
How to Create an Award Certificate Online?
Your employees or students can print and frame your certificates as a tangible reminder of their achievements or for another purpose. If your certificate is bigger, you can use printed copies as a result. The same is true for too-large certificates.
Steps to follow:
Sign up for or log into PhotoADKing.
Choose the 'Certificate' category and subcategory that best fits your requirements.
Then, choose the template and start tweaking it.
After you've finished editing your certificate, you can download and print it.
You can also create a certificate online using the YouTube tutorial of PhotoADKing, get various award certificate examples, and create multiple templates of your own choice.
Award Certificate Examples to Inspire You
There are the following award certificate examples that can inspire you to create one:
Academic Certificate
An academic certificate is a certificate to recognize students' achievements in academics. You can present it to secure ranks or achieve the highest marks in any subject, etc.
Sports Certificate
A sports certificate is a physical or digital document that recognizes and certifies participants in a sporting event. During sports leagues and contests, participants, coaches, students, and sports event lovers can receive this type of certification. Moreover, for this type of certification, you can use various sports-related graphics to make the certificate look funky.
Membership Certificate
Membership certificates exist in a variety of styles, appearances, and functions. The most popular is a membership certificate for all new members of a group or organization. Additionally, these can help your members feel acknowledged and valued, and it's simple to make them feel like they're a part of the group.
Workshop Certificate
A workshop certificate is more than proof that you attended or completed a course or training. On paper, it conveys a sense of success and credibility. Moreover, for those looking for their dream job or a promotion, a certificate proves that keeping your abilities up to date boosts your chances of development.
Internship Certificate
An internship certificate is a formal document that certifies that the intern has finished their allocated internship with the listed organization. The certification also specifies the field or department where the intern worked and verifies the individual's qualifications to pursue a higher-level position in the industry.
Achievement Certificate
One such tool of recognition is an achievement certificate. The intention is to honor and appreciate an individual's accomplishments in their area of excellence, whether it be in work or effort.
An Employee of the Month Certificate
Happy employees are those who get recognized. This certification also acknowledges an employee's hard work formally and reinforces practices that improve performance.
Certificate of Appreciation
Appreciation certificates are an excellent way to show others how much you appreciate their time, effort, or hard work. Furthermore, they are typically used to express gratitude to someone who served as a resource speaker for a conference. Additionally, they can be given to kids who have excelled in academics or extracurricular activities in school, or to employees who have made significant contributions to the organization in professional settings.
Course Certificate
Students receive a type of certification for completing a course. It is an achievement that a student acquires. Hence, a certificate to recognize the student as a particular major.
Certificate of Experience
A certificate to recognize someone's experience and expertise in some field. This a significant milestone to celebrate.
All in all, each and every type of certificate must have a major element- Words of Wisdom. The wording should be so accurate that it motivates the recipient and makes them happy and grateful in the same way that the organization is towards them. Adding various graphics and fonts can also make them look attractive.
If you like what you read on our blog, you might also be interested in checking out some of our other blogs.
---
Recommended Blogs
How to Make an Award Certificate
How to Make a Certificate Online
Certificate Size
Certificate Layout
How to Choose the Right Certificate Size for Your Design
What Are the Different Types of Certificates?
The Ultimate Guide to Choosing the Perfect Certificate Font
Certificate Border Design Ideas
How To Use Certificates For Marketing Your Business
Certificate Background Design Ideas
Best Strategies and Practices to Promote Certificates
---
Conclusion
You can also create your own certifications from the ground up. Furthermore, as previously stated, all you need is a PhotoADKing account to select your desired size. Once you've poured your heart and soul into it, your template is ready to download, share, and keep. We hope you enjoyed this article and that it was helpful to you in some way, whether that was from the explanations, examples, or tone of writing. So, what are you still waiting for? Begin right away!