Certificates can be a fun and rewarding way to recognize someone's accomplishments or to make a gift more personal. Using the right tools and a little design know-how, you can easily create a certificate with the help of customizable certificate templates that meet your needs. Therefore, here we'll show you how to make a certificate step-by-step, from choosing the right size and layout to adding graphics and text, to printing it.

Whatever your level of design experience, we will help you create meaningful and beautiful certificates.
Table of Content
How to make a certificate
Who can use a certificate?
Why certificates are important?
What content should be included in a certificate?
What are the different certificate sizes?
Certificate ideas & examples
In Conclusion
FAQs
So let's dive in and learn how to make a certificate that will make a lasting impression and add a touch of prestige to any occasion.
You can easily create certificates online with PhotoADKing's easy-to-use editor in just a few minutes. The following steps will help you create an outstanding certificate:
How to Make a Certificate
Sign up or sign in to PhotoADKing.
Search for the certificate template
Choose the template
Custimize certificate template
Download and print
Now, let's explore the wide range of individuals and organizations that can make use of certificates.
---
Who Can Use a Certificate?
---
Many individuals and organizations use certificates for various purposes. Here are the following examples:
Teacher/Trainers
Students may receive certificates for completing a course or program of studies, such as a degree or certification program. Use these certificates to demonstrate the student's knowledge and skills in a particular area. In short, certificates are a way for students to recognize their accomplishments in specific courses or programs. Therefore, many teachers use certificates on different occasions to appreciate their students' skills and hard work.
Employers
Employees may receive certificates for completing training programs or for achieving certain milestones in their careers. These certificates can also demonstrate the employee's expertise and professional development. As a result, employers can use certificates to recognize employees' achievements or mark their service years.
Professional Organizations
Certificates may recognize members who have completed certain levels of education or training, or who have shown exceptional abilities.
Community Groups
Certificates are used to honor volunteers, regardless of whether they work for a non-profit or for a community group.
Overall, anyone can use certificates to recognize and honor the achievements of others.
Moving on, we'll delve into why certificates hold such significance in acknowledging achievements.
---
Why Certificates Are Important?
---
Recognition
Individuals and organizations receive certificates in recognition of their achievements or contributions. Thus, it is a tangible way to acknowledge and celebrate the hard work and dedication of others.
Motivation
Receiving certificates can serve as a powerful motivator since it is a reminder of the recipient's accomplishments and encourages them to keep working hard.
Validation
Certificates can also be a validation tool, showing that someone has recognized and valued the recipient's skills, knowledge, and contributions.
Professional Development
Certificates can be a useful tool for professionals to demonstrate their expertise and commitment to continuous learning and development.
Personal Satisfaction
The recipient can feel a sense of achievement and satisfaction after receiving certificates. In addition to serving as a reminder of their hard work and progress, it can also serve as a motivational tool.
Overall, certificates can play a meaningful role in recognizing and celebrating the achievements of individuals and organizations. Now, let's consider what key elements should be included when designing certificates.
---
What Content Should Be Included in a Certificate?
---
The content of a design depends on the purpose and information it contains. It may include the following elements: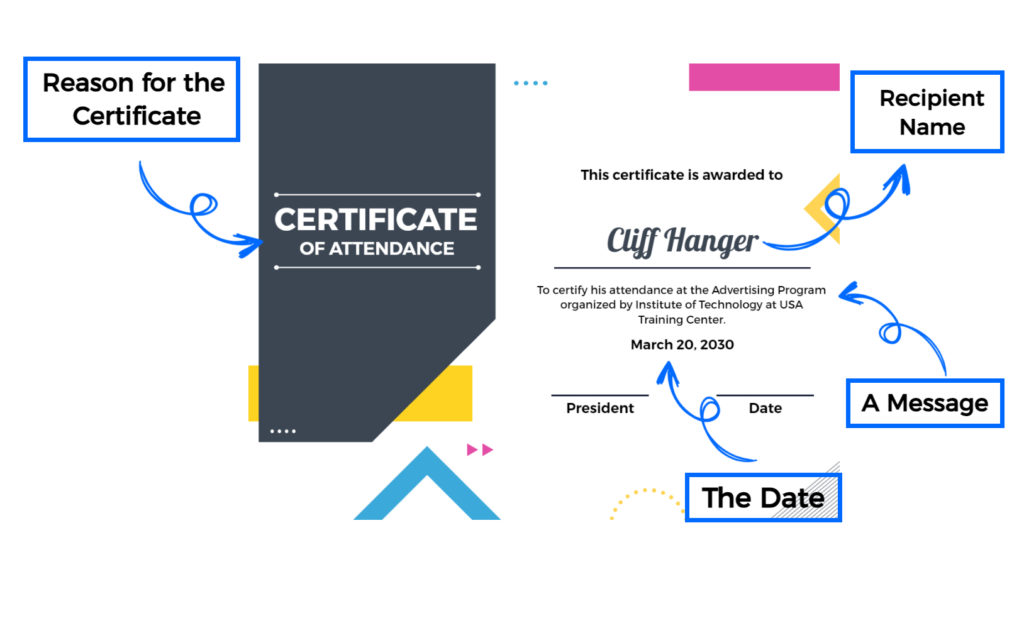 The name of the recipient: This is usually the main focus of certificates and should be displayed prominently.
The reason for the certificate: Award it to recognize a specific achievement or contribution, such as completing a course of study or certification program.
The date: Include the date the certificates is being issued as it serves as a record of when the achievement or contribution was made.
The issuer: Certificates can be issued by an individual, a group, or an organization.
A message or citation: Include a quote or brief message that reflects the significance of the achievement or contribution being recognized.
Graphics or image: You may want to include graphics or image to make it more visually appealing and to add a personal touch.
Tailor the content to its purpose and the information you want to include overall. It's essential to include the necessary information clearly and prominently, while also making the certificates visually appealing and meaningful to the recipient.
Let's look at the various sizes available for certificates and how to choose the right one for your needs.
---
What Are the Different Certificate Sizes?
---
Certificates size can vary, but some common sizes include:
8.5 x 11 inches: Use this standard size for most documents, also known as "letter size."
8.5 inches by 14 inches: This size is known as "legal size," and is often used for legal documents and also other documents that require more data.
11 inches by 14 inches: Refer to this size as tabloid size, and use it for certificates that need to stand out visually.
5 inches by 7 inches: Use this smaller size commonly for displaying or keeping smaller certificates or awards.
It's important to note that these are just some common sizes and they can vary depending on the needs of the issuer and the intended use of the certificates. For more guidance on choosing the right certificate size, you can read how to choose the right certificate size for your design.
---
Certificate Sizes for Digital Platforms
---
Certificates on digital platforms vary in size based on platforms and intended uses. The following are a few common sizes for digital certificates:
Standard web size: 640 pixels by 480 pixels
Large web size: 1024 pixels by 768 pixels
Extra large web size: 1600 pixels by 1200 pixels
Print size: 300 DPI (dots per inch) at actual size or larger
It is important to note that these are only general guidelines and that the size of digital certificates may vary depending on the platform and intended use. You may need to resize certificates based on their intended use (for example, for printing or display on a website), such as platform requirements.
---
Certificate Sizes for Business
---
There are different sizes of certificates commonly used for business purposes. The following common sizes include:
8.5″ x 11″ – This is the typical size for most documents, including certificates. It is generally used for graduation, achievement, or recognition certificates because it is easy to print and frame.
11″ x 17″ – This size is slightly larger than standard and is often used for certificates that are displayed prominently. Certificates presented at events or ceremonies can be this size.
16″ x 20″ – A larger size that is often used for more formal or prestigious certificates. Certificates presented at graduations or other major events are also well-suited to this size.
20″ x 30″ – This is the largest size used for certificates, and it is often used for very special or important certificates, such as those awarded to employees for long service.
Choose the size based on the purpose and importance of the certificate, as well as the preferences of the recipient ultimately. If you know more, check out certificate size.
Let's explore creative and explore some inspiring certificate ideas and examples.
---
Certificate Ideas and Examples
---
Academic Certificate Example
When designing an academic certificate, it's crucial to incorporate elegant fonts and academic symbols, such as graduation caps and scrolls. Moreover, a color scheme that complements the school's branding can enhance its appeal. Include the student's name, the institution logo, and the degree earned to create a memorable keepsake.
Also Read: Academic Certificate Example
Sports Certificate Example
A sports certificate should reflect the dynamism of the athletic achievement. Hence, consider vibrant colors, and sports-related graphics. Additionally, including the event details and the athlete's name prominently ensures it's a cherished memento.
Also Read: Sports Certificate Ideas
Membership Certificate Example
Membership certificates should exude exclusivity and prestige. Thus, using high-quality paper stock and incorporating the organization's emblem is essential. Furthermore, a minimalist design with a focus on the member's name and the date of induction can make it an elegant token of membership.
Also Read: Membership Certificate Sample
Workshop Certificate Example
Workshop certificates often convey learning and skills. Therefore, a design that showcases knowledge acquisition is key. Incorporate icons representing various skills, along with a clean, professional layout. Additionally, including the workshop's name and the recipient's accomplishments is vital.
Certificate of Internship
Designing an internship certificate should highlight professionalism and growth. Utilize corporate colors and a simple, modern font. Include the company's logo and the intern's name prominently. Indeed, adding a brief testimonial from the supervisor can enhance its significance.
Also Read: Internship Certificate Sample
Certificate of Achievement
Achievement certificates should evoke a sense of accomplishment. Thus, optional for ornate borders or decorative elements. Include the recipient's name and the achievement's specifics boldly. In fact, adding a motivational quote or message can amplify its inspirational value.
Also Read: Certificate of Achievement Sample
The Employee of the Month Certificate
Employee of the Month certificates should radiate appreciation. Incorporate the company's branding and logo for authenticity. Use employee-specific details like their name, department, and achievements. Additionally, consider a space for a heartfelt thank-you note from the management.
Also Read: Employee of the Month Certificate Sample
The Employee of the Month certificates recognize and honor an employee's outstanding contributions and accomplishments during a specific month. It is typically presented to the employee at a company meeting or event and may include a cash prize or other reward.
Certificate of Appreciation
Certificates of appreciation should convey gratitude sincerely. A classic design with warm colors can evoke a sense of recognition. Include the recipient's name and the reason for appreciation prominently. Furthermore, a personal signature adds a meaningful touch.
Also Read: Example of a Certificate of Appreciation
Course Certificates Example
Course certificates should emphasize learning and competence. Thus, choose a clean, modern design with space for the course name and participant's name. Incorporate relevant course-related images or icons for context. In addition, mentioning the completion date is essential.
Certificate of Experience
Certificates of experience should reflect professionalism and competence. Therefore, use a minimalist, business-like design. Include the candidate's name, the position held, and the duration of employment or involvement. A concise description of the role's responsibilities adds value.
Also Read: Work Experience Certificate Format
If you like what you read on our blog, you might also be interested in checking out some of our other blogs.
---
Recommended Blogs
Certificate Size
Certificate Layout
How to Choose the Right Certificate Size for Your Design
What Are the Different Types of Certificates?
The Ultimate Guide to Choosing the Perfect Certificate Font
Certificate Border Design Ideas
How To Use Certificates For Marketing Your Business
Certificate Background Design Ideas
Best Strategies and Practices to Promote Certificates
---
In Conclusion
---
In summary, certificates are a simple yet powerful way to recognize achievements and motivate individuals across different domains. Remember, you can easily create your own certificates using PhotoADKing's certificate maker tool, simplifying the process and adding a personal touch to your acknowledgments. Whether it's in education, the workplace, or community service, certificates serve as tangible proof of success and offer a sense of pride and accomplishment. Then what are you waiting for? Start right away!
---
FAQs
---