When asked if an image or video content creator performs better for user engagement, you'll find many votes & thumb-ups for videos. This doesn't mean images savor any less popularity because where videos score likes & comments, images are better for clicks!
As we'll be discussing a lot of wonderful video content creator apps for 2023, we took for this brief discussion as to why you should prefer video content creator apps more often?
Everything sums up how effectively you create video content & the way it attracts the target audience. The better & unique your idea is, the more successful it can be.
Key Highlights
People spend more time watching video content & short video ads.
It takes more time for the target audience to decide whether they want to watch your video or not as compared to approx. 3 seconds deciding the time for them to check out image content.
14 DIY Video Content Creator Apps for Personal & Professional Use
1. 1SStory – Insta Story Art Editor & Collage Maker
Legit for Instagram marketing, 1SStory is one of the best apps you would ever use for Instagram story tips. Regardless of your story theme, you'll have 5000+ template choices for personalizing video stories and many more. The best thing is you can use this app efficiently with zero skills required.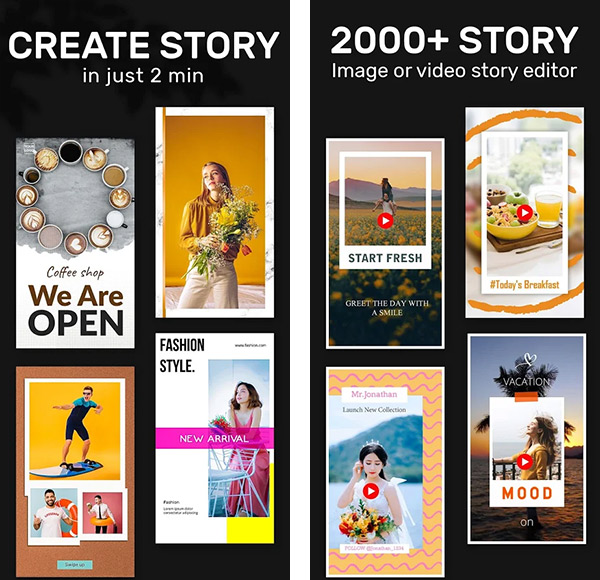 2. Intro Maker, Outros Maker, Intro Templates
Hiring a graphic designer to create intro videos is too mainstream. You can now use Intro maker templates with breathtaking Intro & Outro templates for gaming, Vlogs, music, etc. If this is less, you can also create fascinating 3D intros or use an mp4 cutter to trim your videos precisely. Predefined sizes for social media will help you design video content in a few minutes only.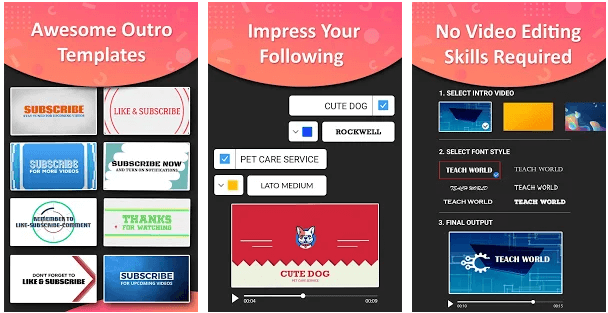 3. Animated Text Maker – Marketing Video, Intro Maker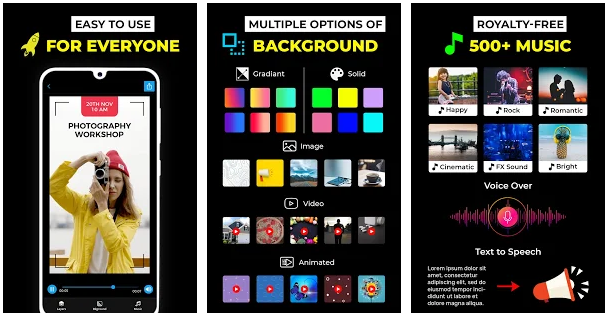 Your target audience will likely stop by & watch your video if it is well-begun. Trust me; you'll add Animated Text Maker to your app list after this blog. Animating text is a pleasing view & audience-approved. You'll love to create animated videos with lots of stunning animated video examples & stories with a unique template collection in this app.
Moreover, it offers abundant font choices to animate. And you can also animate this text on your photo or any stock images. There's also a stunning funny cartoon video illustration. How cool it is!
4. Intro Maker, Promo Video Maker, Ad Creator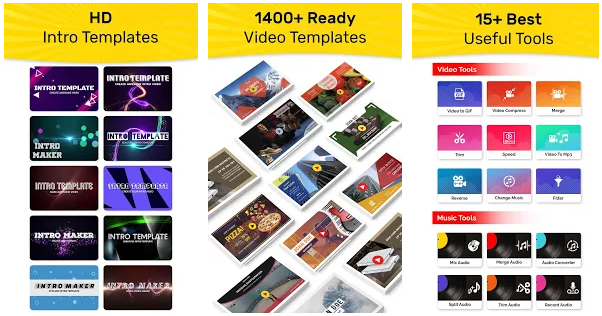 "This ad will cost you $$" could be the worst nightmare for any entrepreneur who is new to the business (and even for those who're running with a tighter budget.
No need to worry about this anymore as you have your Ad Creator & Promo Video Maker with this app. Whether you're looking for Facebook post, Facebook Ads templates, Instagram post, YouTube video ad making, or any other social media promo video making, this app serves eye feasts.
Be amazed by the readymade Video Ads templates that require minimum editing & your Video Ads are ready to launch.
5. Marketing Video Maker, Slideshow Creator, Ad Maker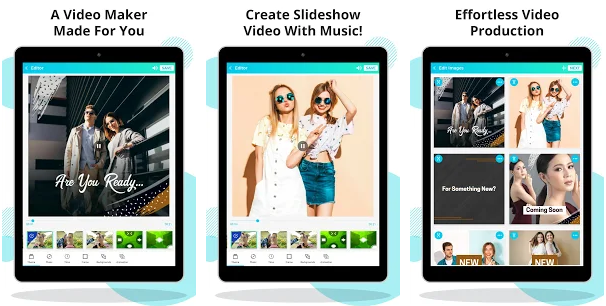 Do we need to mention you can create hundreds of video types to bring your business to the limelight? Marketing video maker facilitates you with slideshow & ad making like a professional graphic designer. Customize trending template designs in minutes.
6. Social Media Video Post Maker & Video Story Maker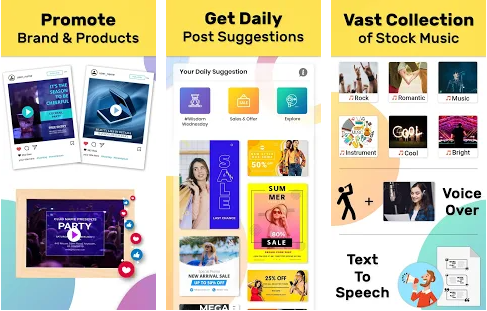 To all those curious marketers who keep hunting for the latest social media video post templates, this app is all you need right now.
Nowadays, we all are aware of social media stories. Dedicated to social media video posts & stories, this app lets you know the social media story tips. Pick a template, add graphics or illustrations; customize video speed/trim it as desired, and do more of such video editing like you already know it. Instant video download & one-click sharing is also available.
7. Video Invitation Maker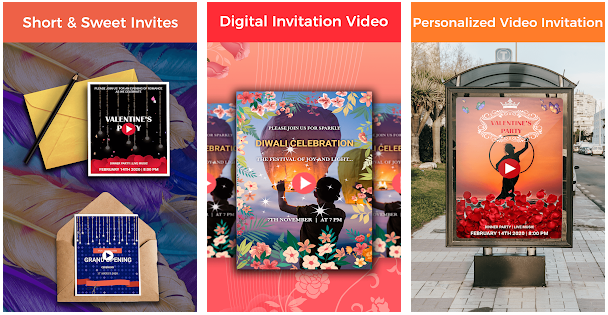 Here's a shout-out to all the photography studios & event invitation makers out there! Video Invitation Maker will change the way you think about invitations.
You'll have adorable video template options where you can add desired images & perform text animations. You can do everything that makes your invitation attractive. It can be your wedding invitation or any corporate event invitation, you'll rock it.
8. Ad Maker, Video Editor, Explainer Video Maker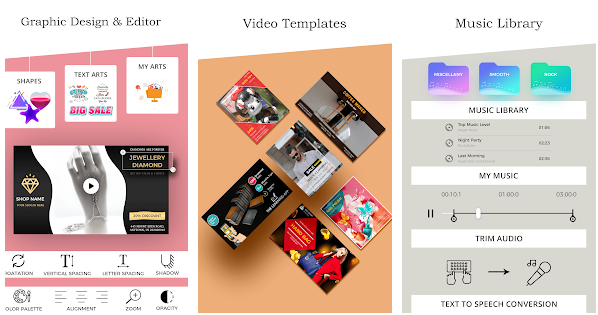 "Creating Explainer Videos is not for everyone" – It could be the biggest myth among people who don't know how to create explainer videos.
This Ad Maker will change your concept & you'll get to know that anyone can create explainer videos with crisp editing. It would be hard to recognize whether it is you who did it or a professional who did the job.
Make beautiful & elaborative explainer videos with desired animation effects, text, sound, etc. without any knowledge required.
9. Video Flyers – Flyer Maker, Make Poster, Video Ads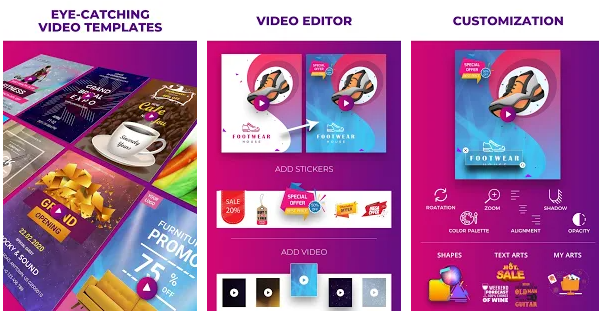 Taking flyer promotions to the next level, it's an era of Video Flyers. Where digital flyers were only limited to HD images, video flyers let you explain the broad spectrum impressively. In other words, this app lets you create highly engaging video flyer templates, posters & ads that make an impression on your target audience.
10. Digital Video Business Card Maker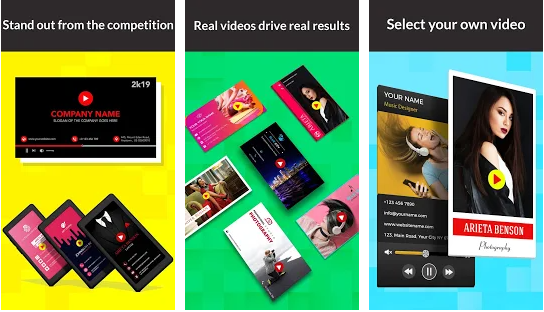 The first impression is the last & this is so true for digital business cards. What if you change the trend with digital video business cards? Yes! You can now send Video business cards online & let your clients know that they're working with an innovative firm. It could be one of the best uses of technology you'll ever make for introducing your business profile.
11. Wedding Card Design & Photo Video Maker With Music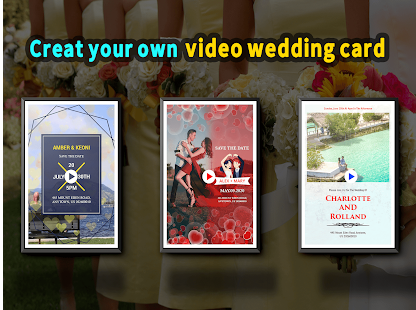 It's a major concern for wedding card makers & content creators as to where they can find creative ideas to present graphics interestingly. Here's your take. Find all the mesmerizing templates, effects, and adorable stuff for stunning wedding card & video customization with engaging elements.
12. Video Brochure Maker – Video Marketing Templates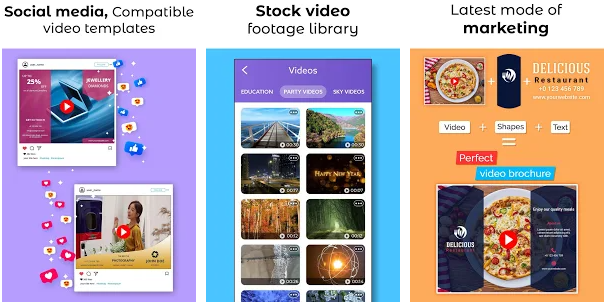 Video Brochures are making their way as innovative marketing techniques & you cannot afford to leave them untapped. This app has so many unique & professional video marketing templates you've been looking for elsewhere. Just download this app & it will guide you with the goodness of video brochures it treasures.
13. Video Banner Maker – GIF Creator For Display Ads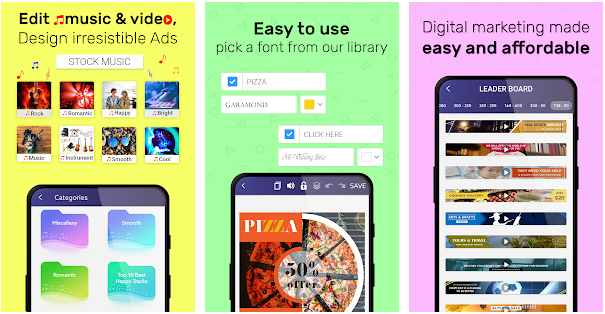 You've come a long way here looking at the superstar video-making apps for flyers, brochures, social media posts, and stories, and this one specializes in Video Banners.
Make appealing GIFs for your Display Ads in no time using Video Banner Maker. Test your creativity with this app & as it has the best video banner suggestions to level up the marketing campaigns.
14. Video Editor, MP3 Converter, Ringtone Maker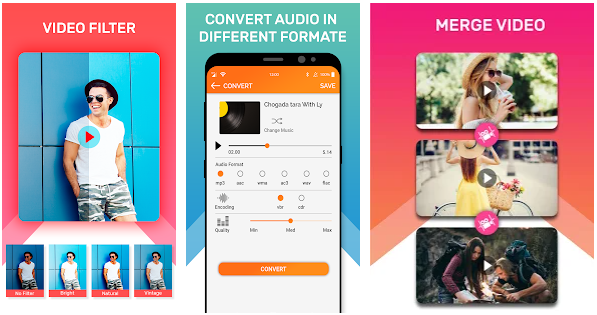 A pocket-friendly video editor that gracefully converts MP3 & is also your ringtone maker is none other than this one. You'll love to use this extremely convenient application for personal as well as professional video editing that lets you do much more than you expect from "just another" video editor.
Get started with the Best Video Content Creator Apps Today!
You've seen our handpicked video content creator apps that won't leave any stone unturned for making the best videos for social media feeds & ads in minutes. Which of these did you find more useful according to your needs? Share your thoughts in the comments & don't forget to share this blog with your community so that they can find their picks too. After all, sharing is caring.
Stay tuned with us for more such helpful reads.