Many times, you may need to remove the background of your logo and make it transparent to use it on different backgrounds, such as website headers or social media profiles. Making a logo transparent can seem like a daunting task, but with the right tools and knowledge, it can be a straightforward process.

In this blog, I will guide you to make a logo transparent using the AI Background Remover Tool. I will explain step-by-step how to use this free tool to make your logo transparent so that you can use it for any design without any hassle. So, let's get started and learn how to make your logo transparent!
Make a Logo Transparent for Free: Step-by-step Guide
With the help of an AI background remover tool, you can easily make a transparent logo for free in just a few simple steps. Here is the highlight you can have.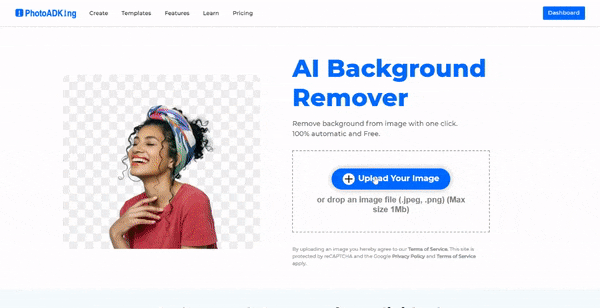 How to Make a Logo Transparent
Step 1: Open Background Remover Tool
Step 2: Upload Your Logo
Step 3: Wait for the Process
Step 4: Download Your Transparent Logo
Step 1 – Open PhotoADKing's AI Background Remover
The first step is to open PhotoADKing's free background remover tool.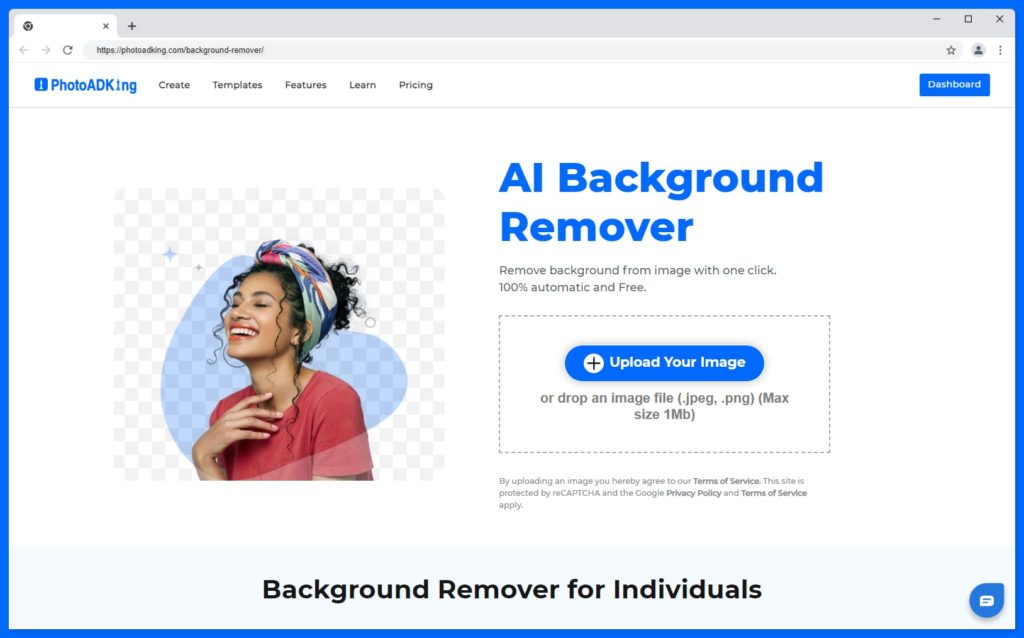 Step 2 – Upload Your Logo
To make a logo transparent, you need to upload your logo by clicking on the "Upload Your Image" button and selecting the logo file from your computer and there you go.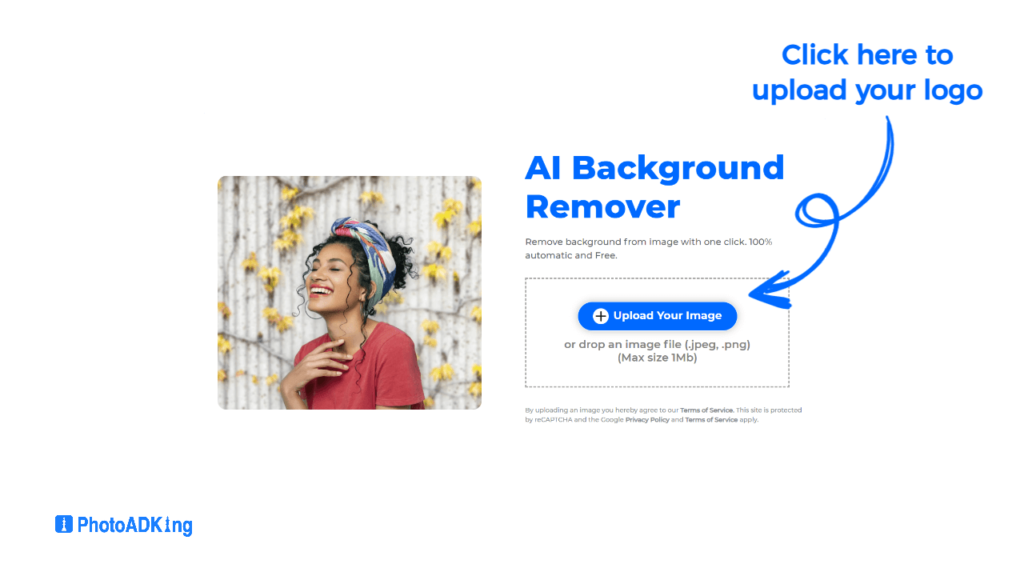 Step 3 – Verify Background Removed Logo
After uploading your logo and removing the background, you need to check the difference between the original logo and the logo with the background removed. This will help you ensure that the logo looks exactly the way you want it to.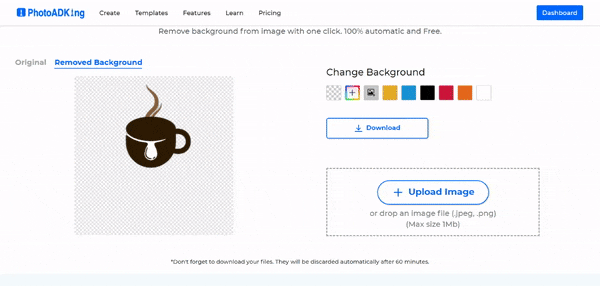 Step 4 – Download Your Transparent Logo
Once you confirm that your logo background is removed, you can download your transparent logo by clicking on the "Download" button. Your logo will be saved in PNG format with a transparent background.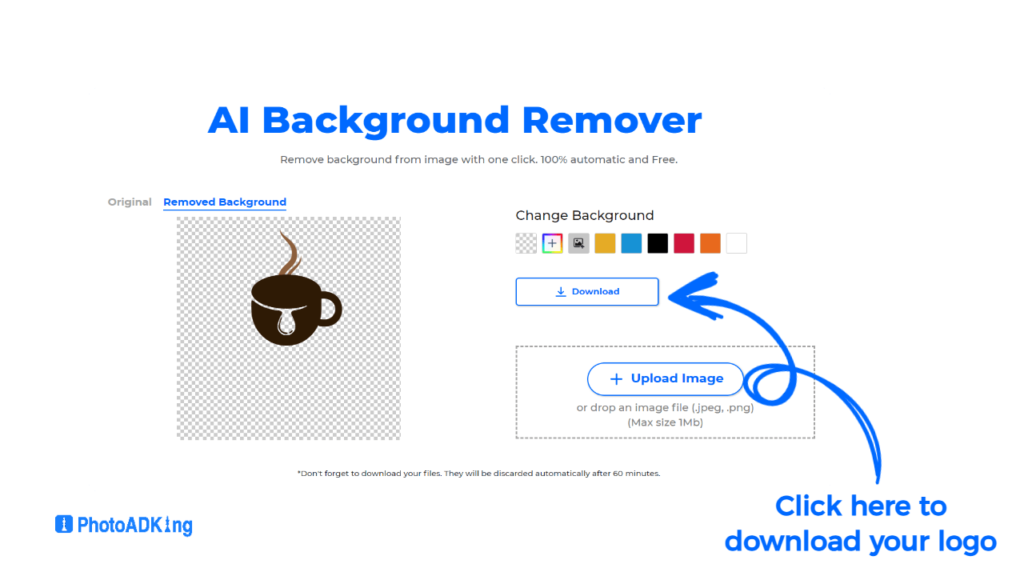 Special Tip: You can change the logo background if you want
If you want to change the background of your logo, you can do by selecting a color as well as adding your choice of image for the background. However, if you want a transparent background, you can skip this step.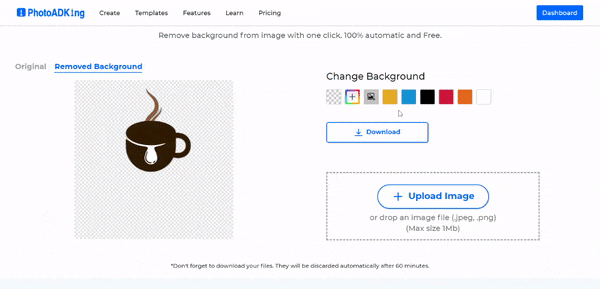 Why Transparent Logos Are Important?
Professionalism
A transparent logo looks more professional and polished. When a logo has a solid-colored background, it can look amateurish or outdated. A transparent logo gives the impression that the brand is modern and up-to-date with current design trends.
Branding
A transparent logo ensures that the focus is on the brand, not the background. By removing the distraction of background color, the logo becomes the sole focus, increasing the chances of the brand being recognized and remembered.
Versatility
You can easily place a transparent logo on a variety of backgrounds without any issues of clashing colors or unwanted borders. This makes it easier for the logo to be used in a variety of applications, from digital to print media.
Consistency
Transparent logos are consistent across all mediums, ensuring that the brand identity remains recognizable and consistent. It eliminates the need to create multiple versions of the logo to match different backgrounds or media types.
Here are some more resources where you can learn something new related to the logo.
Best Practices for Using Transparent Logos
Maintain Visual Consistency
Your transparent logo should be visually consistent with your brand's overall design aesthetic. Ensure that the logo's color, style, and overall feel align with the rest of your branding elements.
Optimize File Format
When saving your transparent logo, ensure that it is saved in a suitable file format such as PNG or SVG. These file formats maintain the logo's transparency while ensuring high quality and resolution.
Test on Different Devices
Last, but not least, Make sure to test your transparent logo on different devices and screen sizes to ensure that it appears correctly across all platforms. This will ensure that your logo remains legible and recognizable, regardless of the device it is viewed on.
---
Conclusion
In conclusion, making a transparent logo can help enhance its design and make it more versatile for use on different platforms. By following the step-by-step guide outlined you can easily create a transparent logo for your business. Remember to consider the tips provided when using a transparent logo to ensure it is effective and legible.