As a business owner, you know that a logo is one of your most important assets. It's the face of your company, and it needs to be designed well in order to express your brand in the great way possible. But what about the dimensions of your logo? What are the standard sizes for logos?

In this article, we'll go over the different logo dimensions and provide you with a guide to logo sizes. We'll also show you some examples of how different logo sizes can be used across various platforms. So whether you're just starting out and need to create a logo for your business or you're looking to refresh your existing logo, read on for all the information you need!
Table of Contents
Why Size Matters for a Logo?
Think about it: Your logo is one of the most visible parts of your brand. It's the face of your company, and it's the first thing visitors see when they encounter your brand. So it's important that your logo is designed in a way that looks good at any size.
Logo size is one of the most important aspects of logo design.
Works as Identity
It's the first thing people see, and it's one of the most key ways to make an excellent first impression. A logo that's too small or too large will be difficult to see and might not make an impact.
Attracts Customers
Compelling and suitable logo sizes with excellent design will force customers to have a look at it, which drives traffic.
That's why it's important to choose the right size for your logo. In most cases, a logo's dimensions should be at least 250 pixels wide and at least 125 pixels tall. However, if you're using your logo for a website or an app, you'll need to make sure it's designed at a higher resolution.
Logo Sizes for the Website
Having your logo on your website is an excellent way to send a warm welcome to your visitors and give them a direct experience of your brand.
You can display it in the header or favicon so that it is represented anywhere a user goes on your website.
Just remember, for those accessing your mobile site on their phones or tablets, the logo dimensions may appear very small, so make sure to upload an image of the highest quality for optimal user experience.
You should aim for a logo dimension file size of less than 200 KB when using it online- anything more significant might be too heavy for some websites. To help you out, here are some basic guidelines for logo sizes on websites.
When it comes to your website logo, you'll want to use a high-resolution logo size and image so that it looks sharp and clean on all screen sizes. We recommend uploading an idea that's at least 1200px comprehensive—this will ensure that your logo looks great on desktop and mobile devices.
The standard logo dimensions for websites are:
Format
Size
Vertical Layout
160 x 160 px
Horizontal Layout
250 x 150 px
350 x 75 px
400 x 100 px
Favicon Logo Size
16 x 16 px (The most common)
32 x 32 px
48 x 48 px
Navigation Bar Logo Size
Full banner: 468 x 60 pixels
Vertical layout: 160 x 160 pixels
Horizontal layout: 350 x 75 pixels;
250 x 150 pixels; or
400 x 100 pixels
Logo Sizes for Social Media Platforms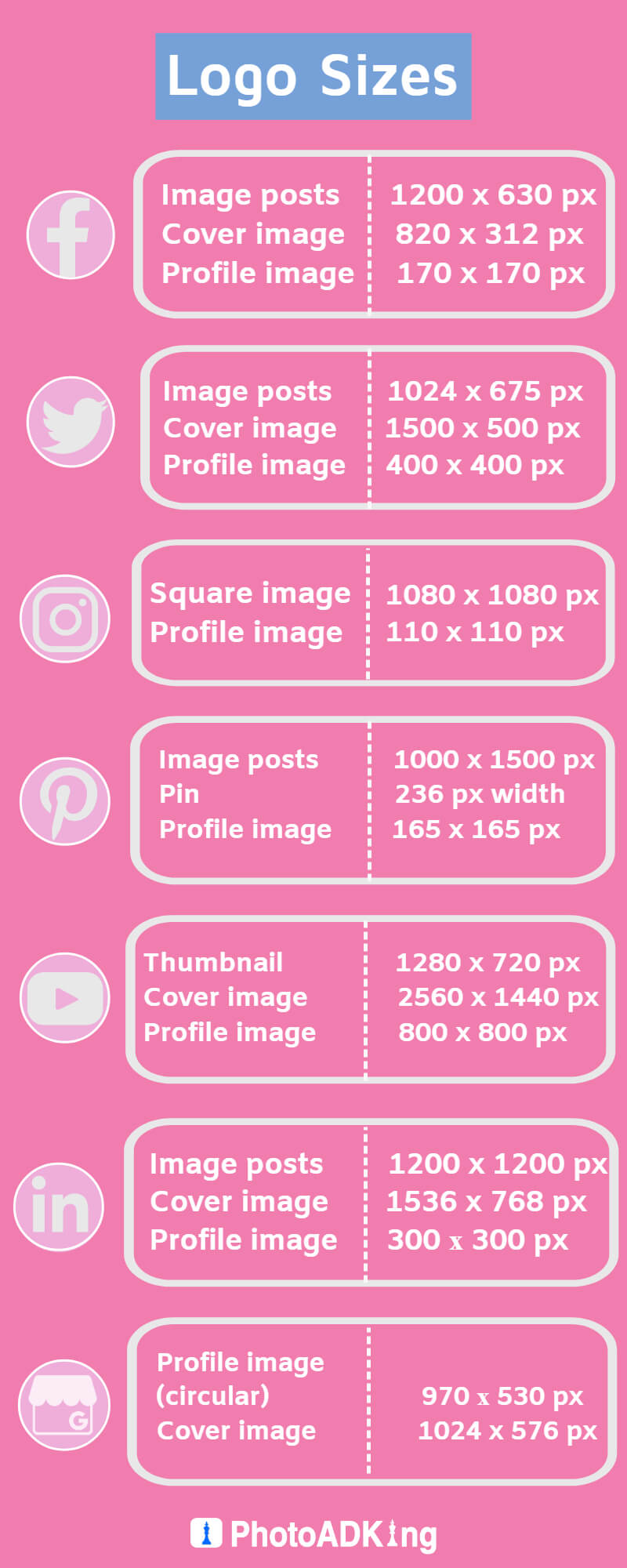 If you're looking to promote or advertise your company on social media, there are plenty of options for displaying your logo. From Instagram posts showing off your excellent products to engaging Twitter conversations, social media is an excellent place to start connecting and spreading the word. As far as logo dimensions go, you can pick from profile photos (circular or square), cover photos and banners (narrow and rectangular), or image posts with varying shapes, such as square, horizontal, or even vertical!
To enhance your user experience, you should be aware of the following logo dimensions before posting anything on social media:
Different Platforms
Sizes
Facebook
Image posts: 1200 x 630 px
Cover image: 820 х 312 px
Profile image: 170 х 170 px
Twitter
Image posts: 1024 x 675 px
Cover image: 1500 х 500 px
Profile image: 400 x 400 px
Instagram
Square image post: 1080 x 1080 px
Portrait image post: 1080 x 1350 px
Profile image: 110 x 110 px
Stories: 1080 x 1920 px
Reel: 1080 x 1920 px
Pinterest
Image posts: 1000 x 1500 px
Pin: 236 px width
Profile image: 165 x 165 px
Youtube
Thumbnail image: 1280 x 720 px
Cover image: 2560 x 1440 px
Profile image: 800 x 800 px
LinkedIn
Link posts: 1200 х 628 px
Image posts: 1200 x 1200 px
Cover image: 1536 x 768 px
Profile image: 300 х 300 px
Google My Business
Profile image (circular): 970 х 530 px
Cover image: 1024 x 576 px
Logo Sizes for Email
When choosing your email signature, the size may differ depending on the platform and how it's seen by viewers. Ideally, keep it small but still legible, like a website logo. You'll have to consider if a square or rectangular dimension for logo design works best for the specific platform as well.
You also want to make sure your logo is optimized for the web so it doesn't take too long to download or appear blurry.
Use smaller file sizes and save your logos as. PNG files instead of.JPEGs.This will help to reduce the file size but still maintain a high level of quality.
Make sure your logo dimensions match the design style of the signature itself. If the signature has a professional look and feels, your logo should reflect that vibe as well.
| | |
| --- | --- |
| Email | 300-400 pixels wide by 70-100 pixels |
Logo Sizes for Print
Print materials are becoming increasingly less popular, but they're still important to consider when designing logo dimensions. The print logo dimensions will depend on what type of material you're printing it on. Generally, the bigger the print area, the bigger the logo should be.
Whenever you print your logo, it's best to use an SVG file. This ensures that the logo maintains its quality, no matter how much it's enlarged or decreased in logo size. Most printers can assist with making necessary adjustments, and it's important to keep multiple versions for different spaces. Additionally, remember that when printing logos, the colors should be done in CMYK rather than RGB – design your logo with CMYK in mind to make transitioning easier.
The primary logo dimensions for print are:
| | |
| --- | --- |
| Standard Print Size | 8.5 x 3 inches |
| Business Card Size | 3.5 x 2 inches |
| T-Shirt Print Size | 14 x 15 inches |
Things to Consider While Choosing the Logo Size
Whether you're redesigning a logo or creating one from scratch, figuring out the right size can be tricky. Many times there's no one-size-fits-all solution. Here are key points to remember while determining the best size for your logo:
Type of Use
Different types of uses have different size requirements, such as if your logo is going to be printed or used on TV or the web.
Pixel Density
You should consider pixel density and resolution when creating a logo for print. While higher-resolution images do look better, low-resolution images are much easier to load and resize if needed.
Formats
Make sure that you create your logo in multiple formats so it can be used both digitally and in print form. JPG, PNG, EPS, PDF, and TIFF are the most common formats that should cover any type of use.
Orientation
Some logos come in portrait or landscape orientation. Choose the proper direction depending on how you want your brand to appear and what dimensions work best for each type of use.
Conclusion
So, what are the dimensions for logo files? What size should your logo be for your website or YouTube channel? This guide to logo sizes will answer all of your questions!
There are three different types of logo dimensions that you need to worry about: the physical size of the logo, the resolution of the logo, and the size of the logo in pixels. Each of these dimensions will vary depending on the type of logo you have and the platform you're using it on.
Moreover, you can use customizable logo templates that not only allow you to design as you wish but also come in the right size. It's so easy to create your own logo online, isn't it? Give it a try!